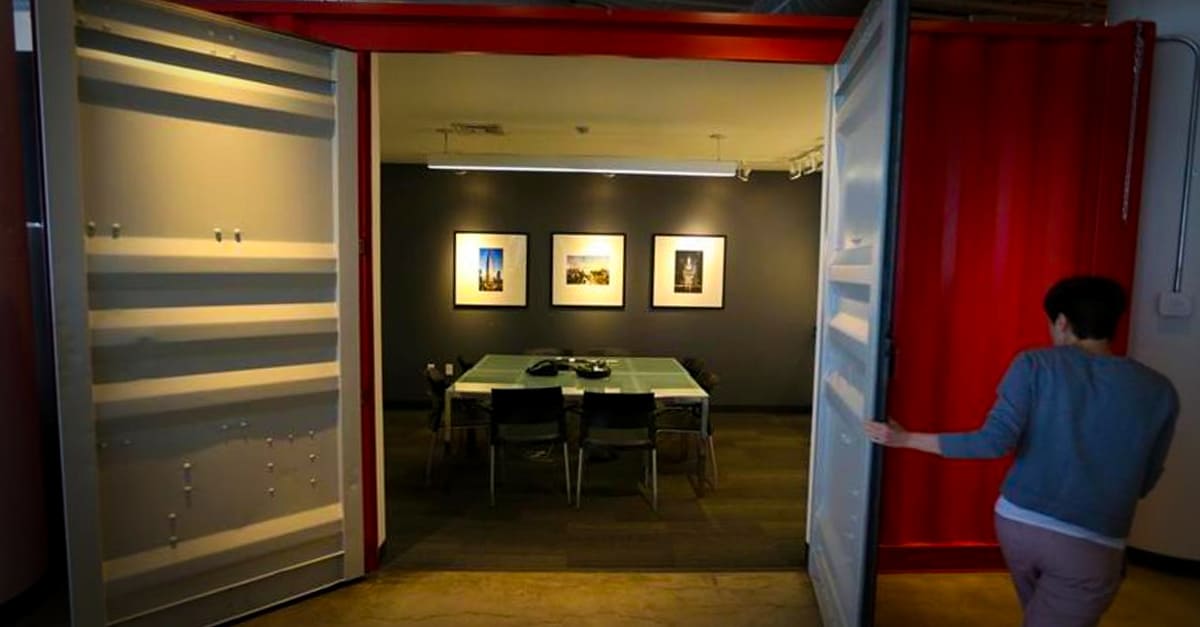 Shipping containers….what are they good for anyways? Well, you're about to find out because there's at least 50 examples of creative people using shipping containers in completely unique ways. As storage, sure, but also as pools, living spaces and farmland. You're about to blown away, so make sure you stick around for the top 10!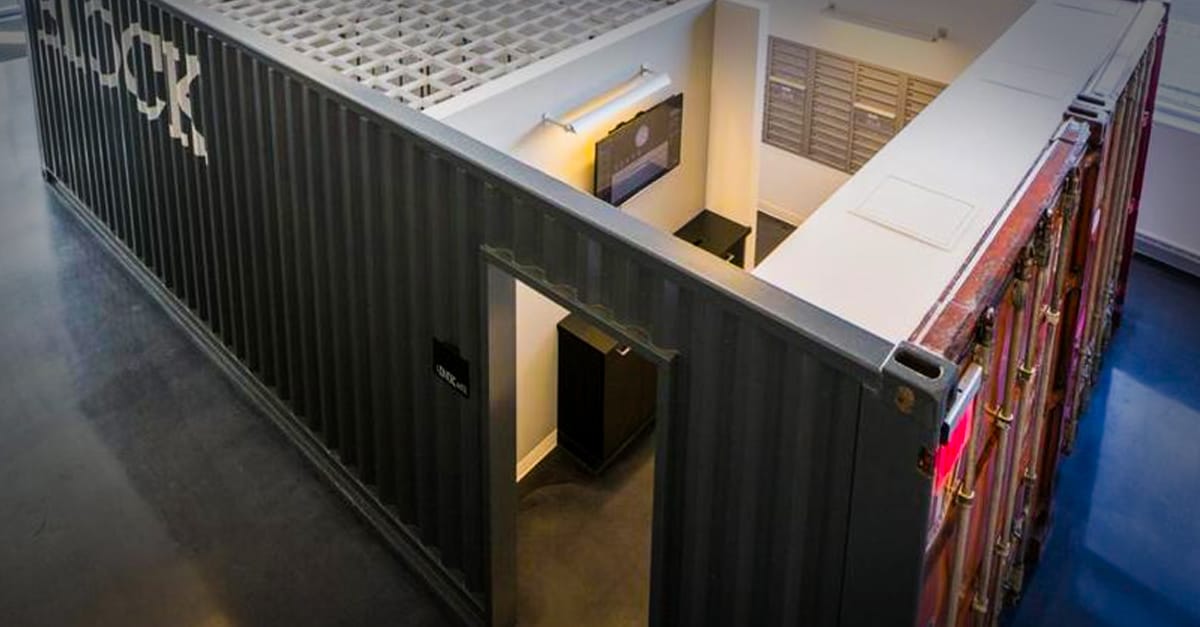 50. Mail Room
At a luxury apartment complex (Ink Block) at the South end of Boston, shipping containers found a unique purpose. Two of them were inserted into the luxury high rise to serve as a mail room. It's just another way shipping containers are being repurposed to meet the challenges of business and life. This one features an open style concept to open the space up and let light in. Of course, that serves to lower the burden of adding gross amounts electricity for lighting the container. Ambient light from the building, and fluorescent bulbs offer plenty of light. And since it's protected from the elements, the roof could be removed.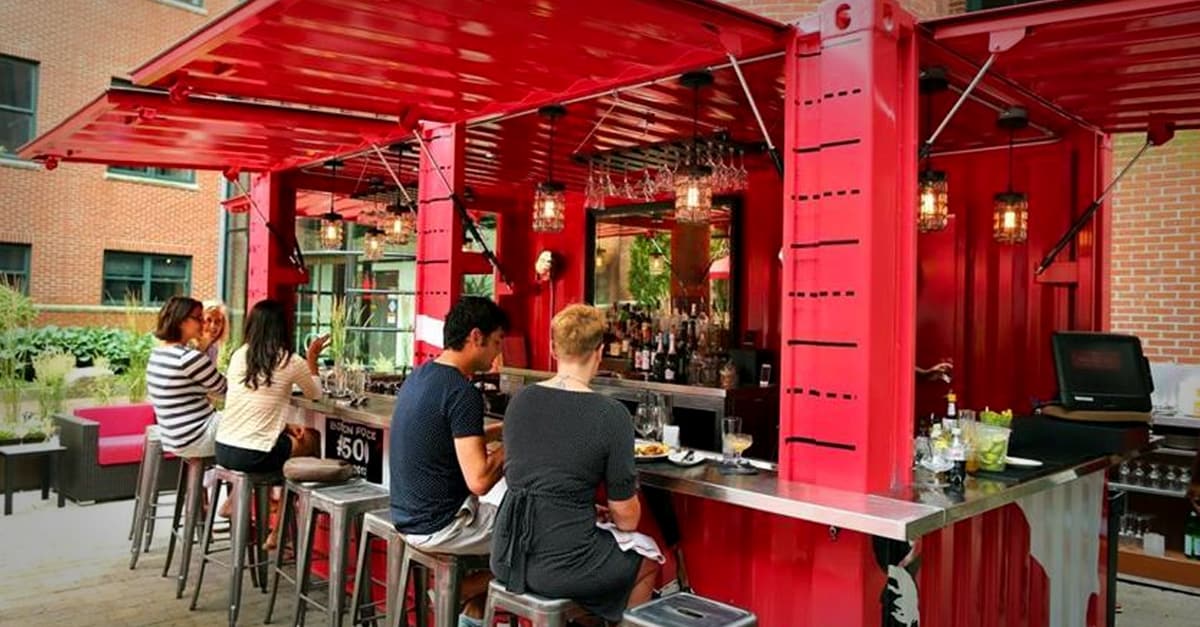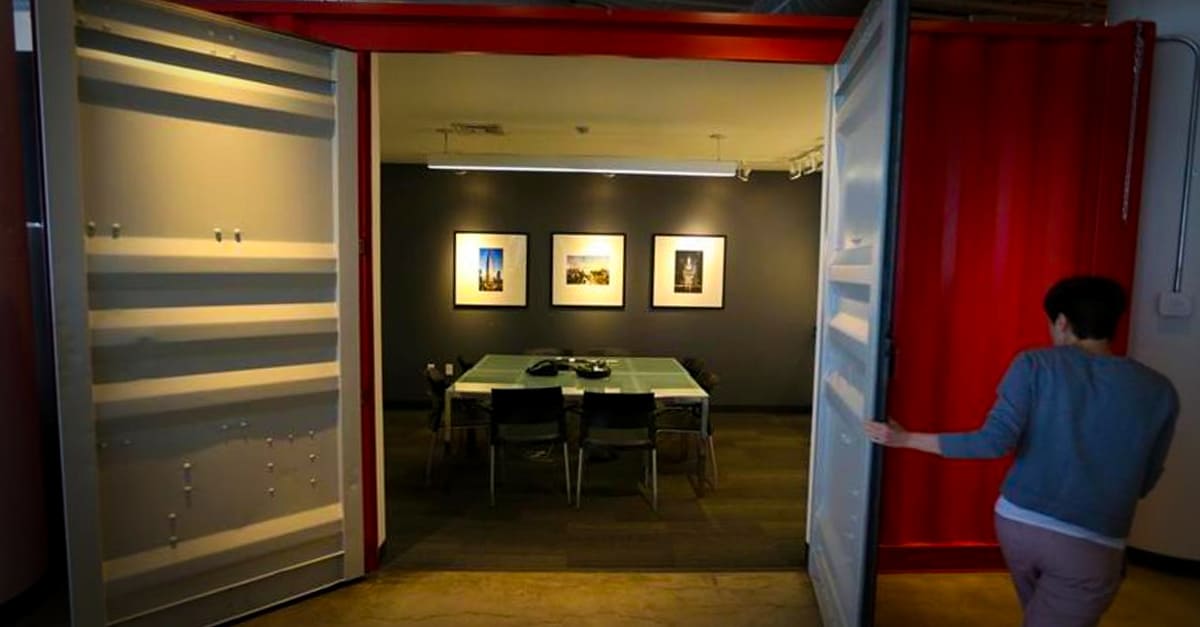 49. Meeting Room
Neoscape took a shipping container and turned it into a meeting room. Of course, the massive metal doors gives a clue regarding the meeting room's former use. Yet, Neoscape is sold, This is but one of three shipping containers they have scattered throughout their building. Two others serve as a bathroom and workspace. Some of the other spaces only use a portion of the shipping container. However, the company reports employees are delighted to see mundane objects repurposed into functional, aesthetically pleasing design elements. The company also featured a shipping container in one of their videos to let employees know they were moving to the waterfront.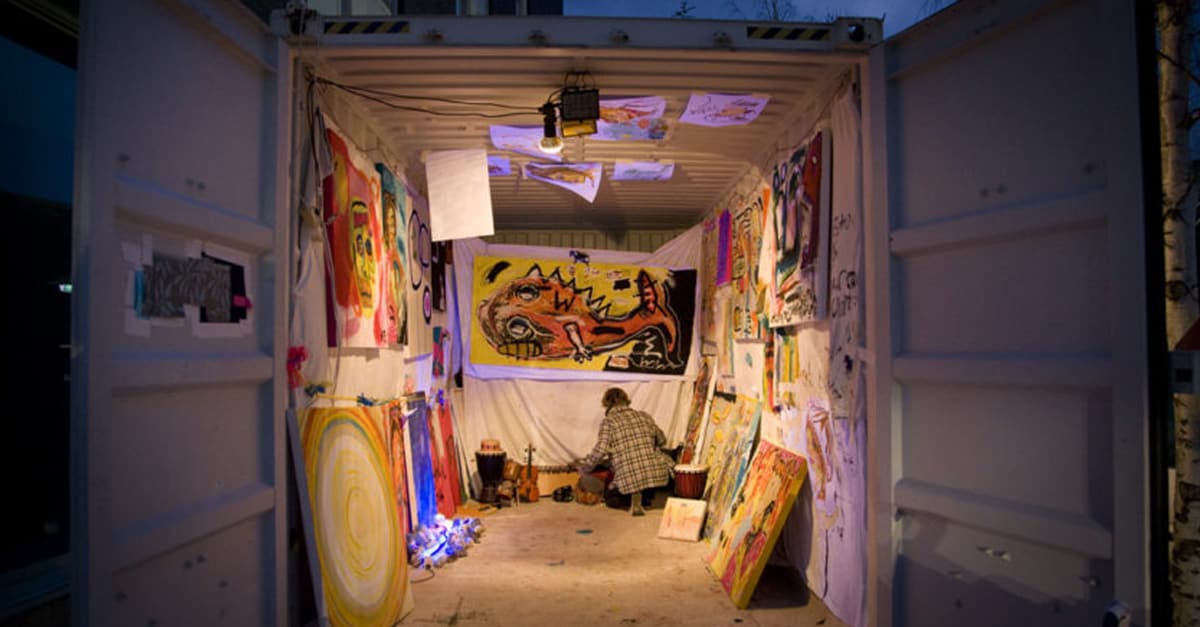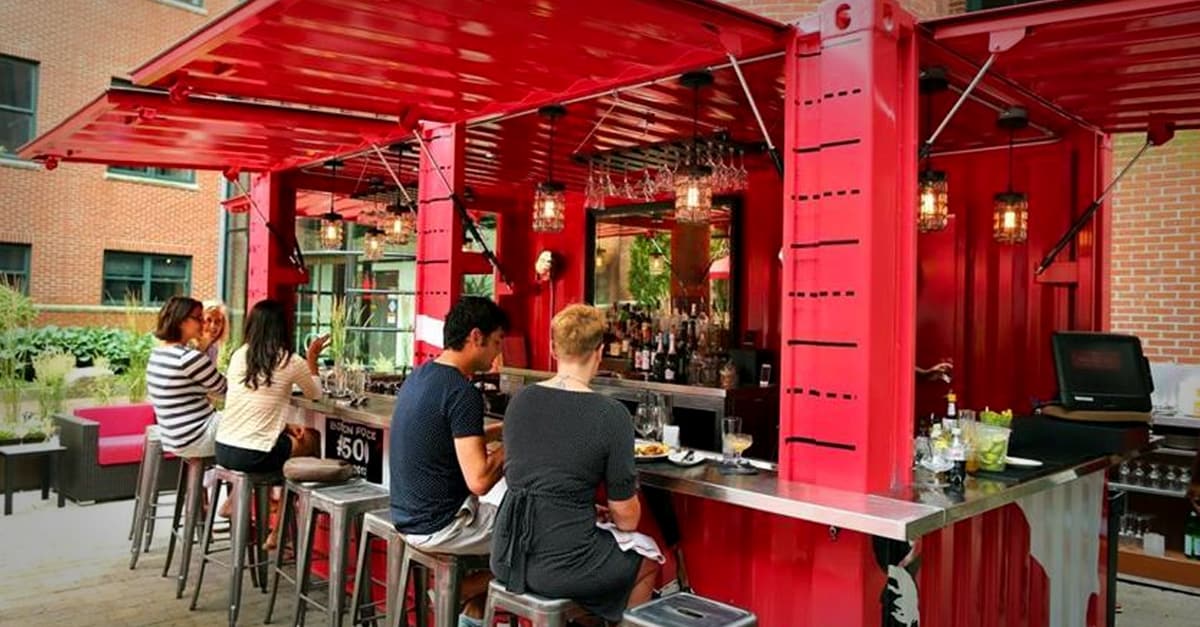 48. Outdoor Bar
Cinquecento Roman Trattoria in Boston has found a clever use for a shipping container. They converted it to serve as an outdoor bar (it's even open during the warmer winter months). The modification included cutting out portions of the side so guests can access the bar. The sides are raised and lowered by hydraulic arms. Once raised, the cut out portions of metal serve as awning to shelter guests from sun and rain. Yet, perhaps the best part is closing time. All the bartender has to do is lower the sides and lock them down. The container is instantly secure and ready for reopening the next day!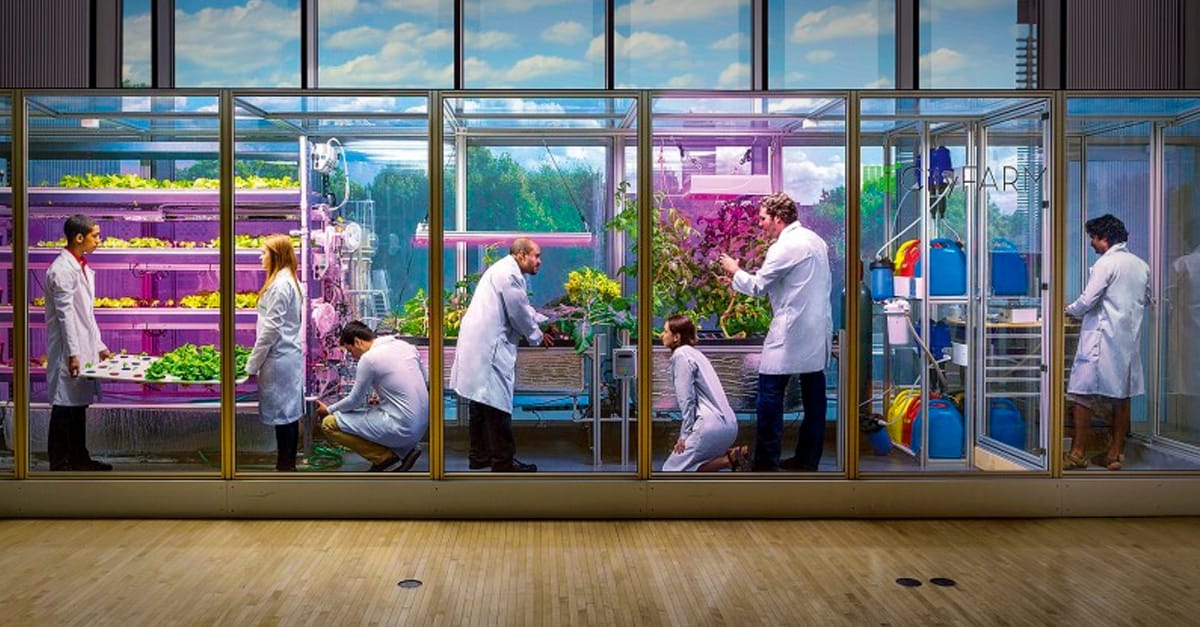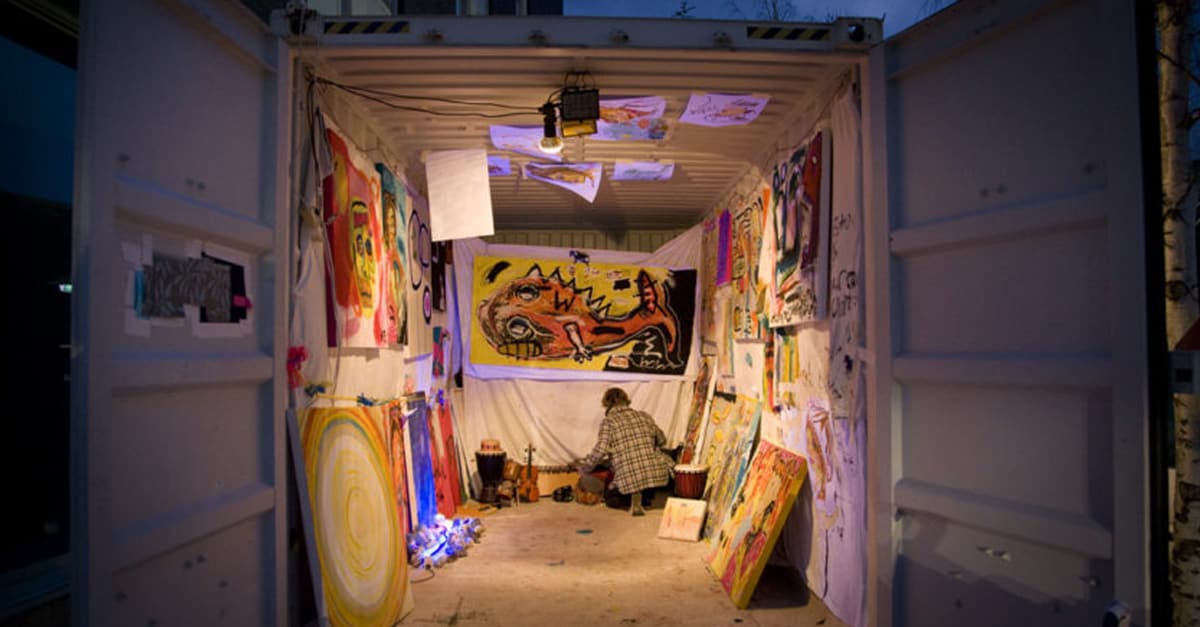 47. Art Studio
Container Professionals Inc. offers shipping containers converted into art studios. And, they have some clever ideas to make them a truly custom experience. For instance, you can paint the outside to match your style or attitude. In addition, they can install a sliding glass door so you have access to the outside world as well as a view. Finally, they can cut vents out of the roof so you can close your container and enjoy a more intimate environment if you choose to. Oh yeah, and these are square containers too. They measure 20×20, the perfect size for an artist studio!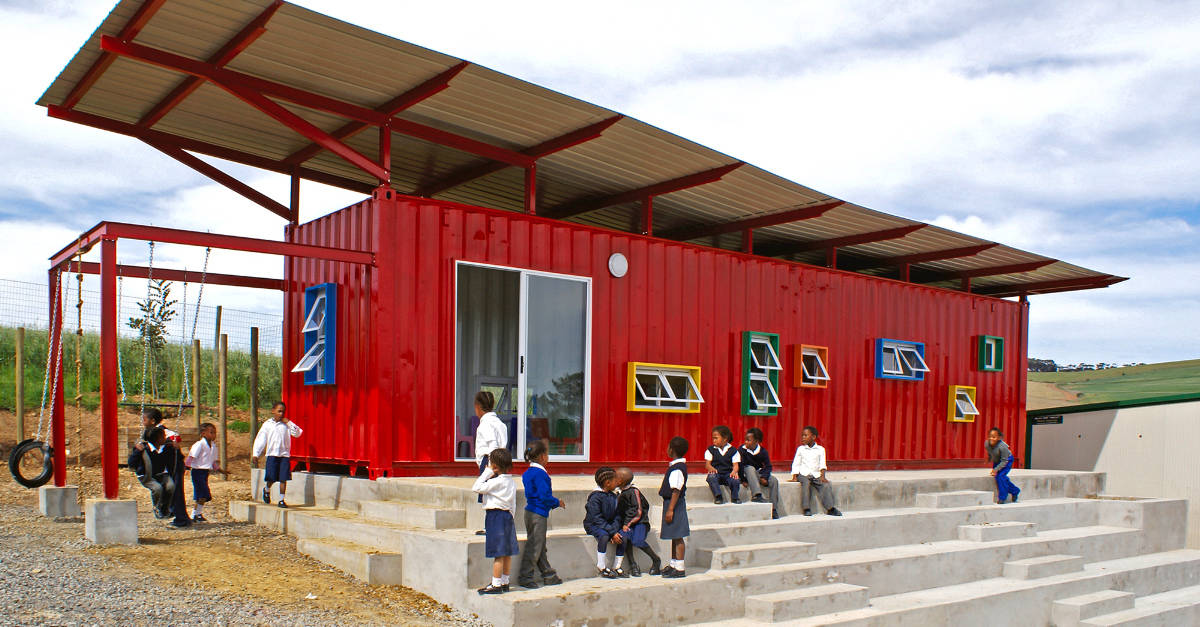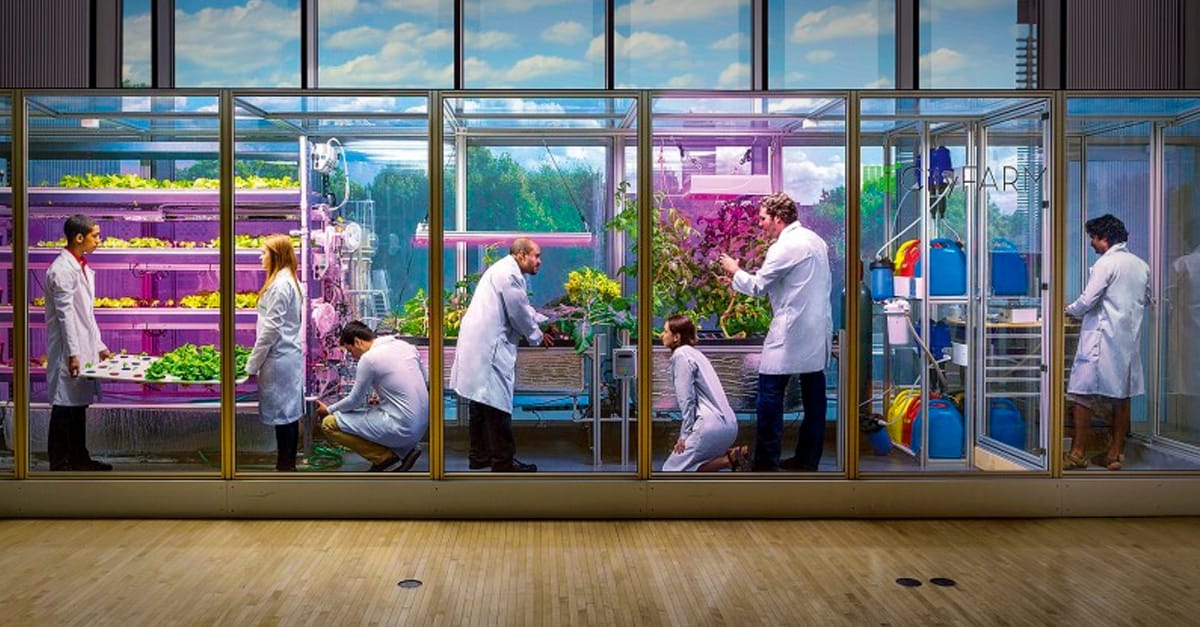 46. Growtainers
Growtainers are farms of the future. They are incredibly versatile too. The basic idea is to take a shipping container and turn it into a farm to grow whatever you like. Entire system is controlled by a PC-based microprocessor. He's especially helpful if you like green fingers, but they have more practical uses as well. For instance, the United States military will use retainers and locations. Extremely fresh vegetables. Incontro probably become household staples as technology and innovation make farming solutions.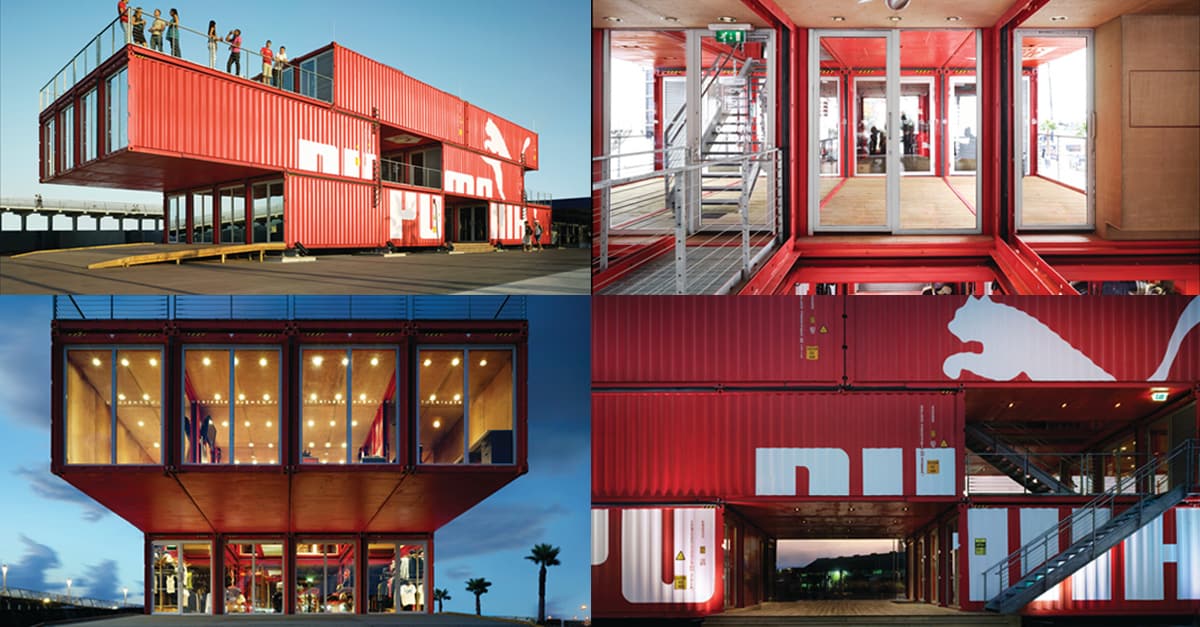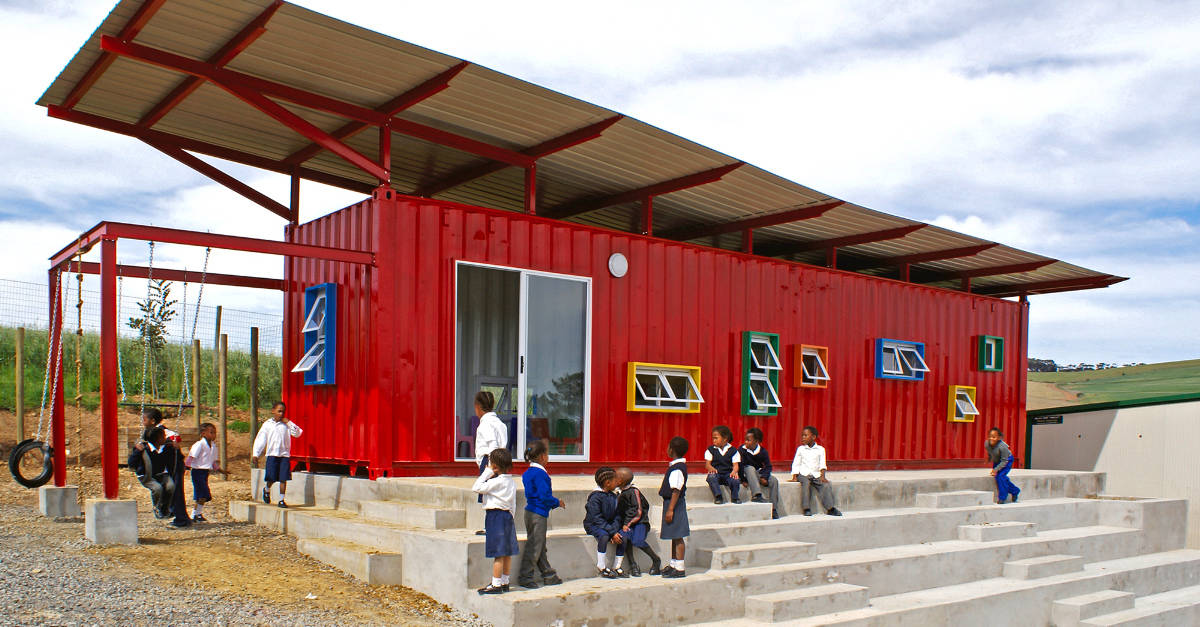 45. School
This clever shipping container conversion is located just outside Cape Town, in the Durbanville Wine Valley area. It's an elementary school designed to serve children of farm workers and or economically depressed communities. The entire conversion was sponsored by three distinct South African companies, Woolworths, Safmarine and Afri-Sam. The classroom measures 12 m which is about 40 feet and serves kindergarten and first grade age students. The container conversion also features a vegetable garden and play area. The play area itself was designed to be an extension of the container conversion. Tying it together is a metal canopy which also serves to keep the classroom cool under the blistering heat of the sun.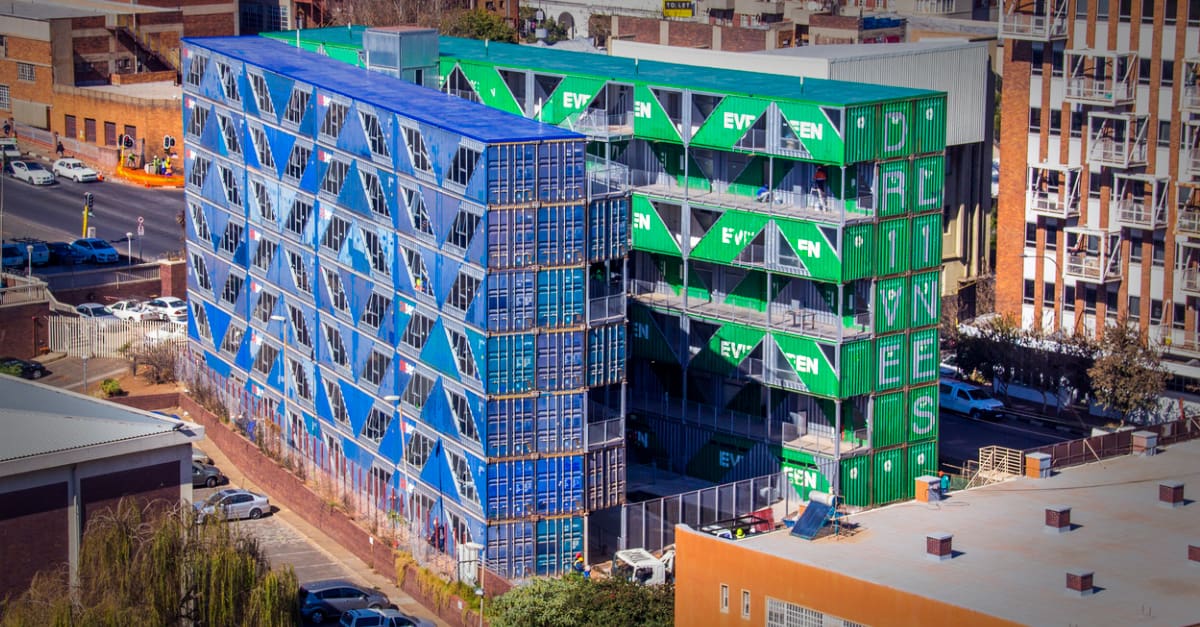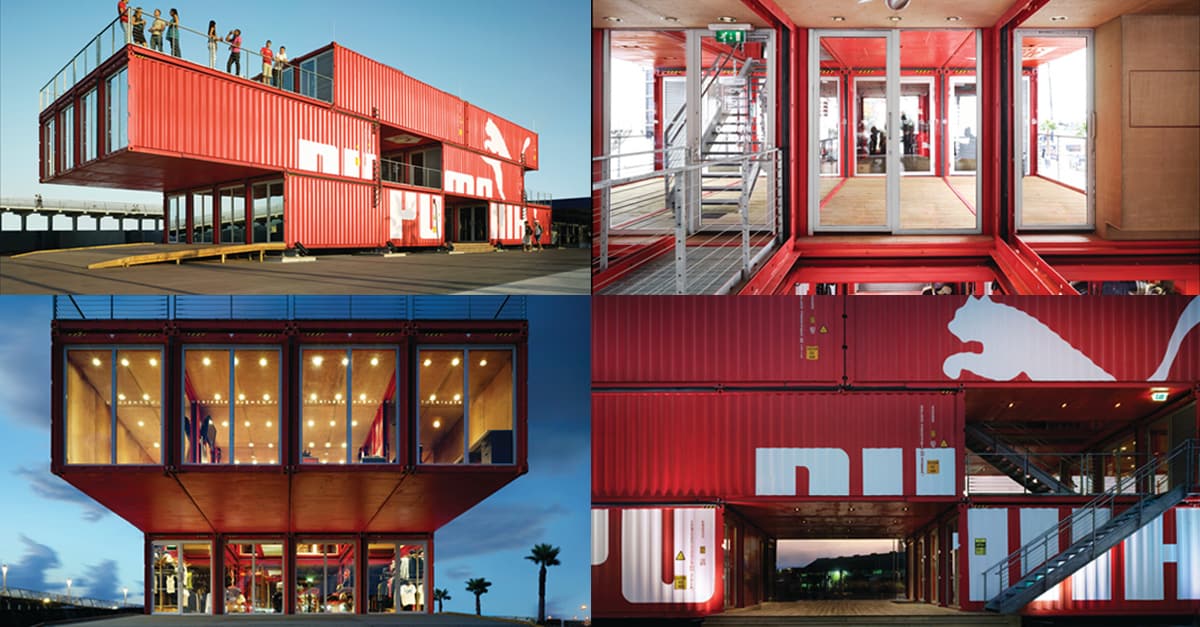 44. Puma Store
As unique as shipping container conversions are, they have received a bad rap recently. Seems like many people perceive conversions to be nothing more than marketing PR spin for major companies. However, that's not the case with LOT-EK. They specialize in creating stunning architectural shipping container conversions. The one you see here is a feature at their New York location. It is just one of many they have scattered across the globe. This shipping container loft is located in the meatpacking district. They bought it for a song in the early 90s when the district was less than desirable. Since then, they have used this sort of space as a pattern for relocating shipping containers,and then converting them into cycle pieces of modern, functional art, or a trendy Puma store like the one you see here.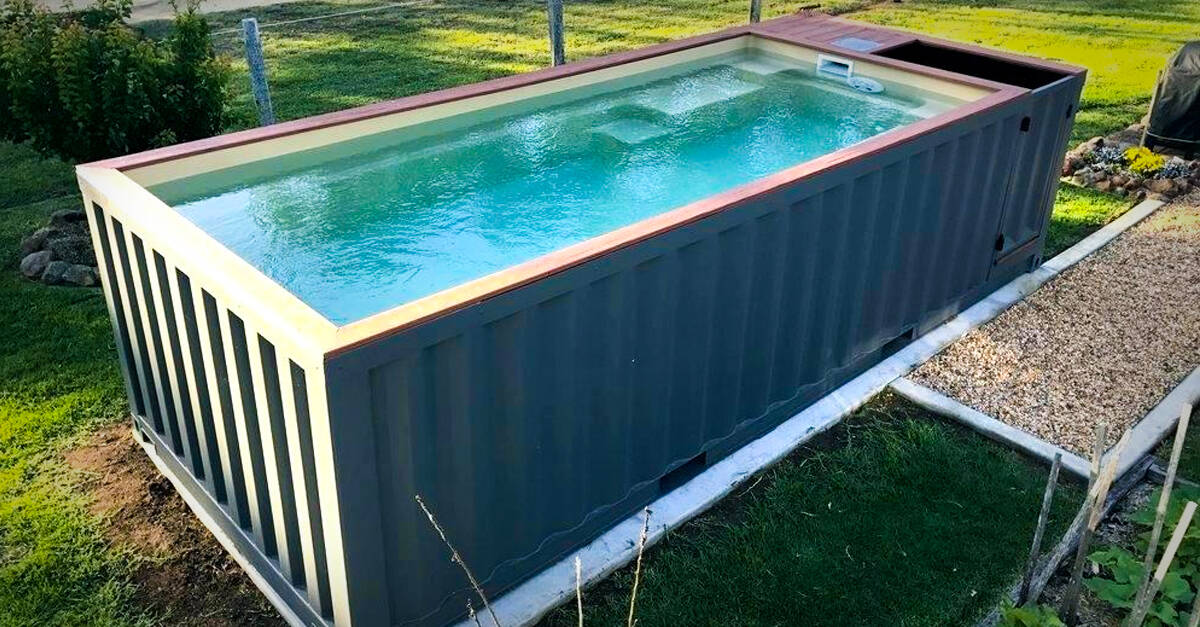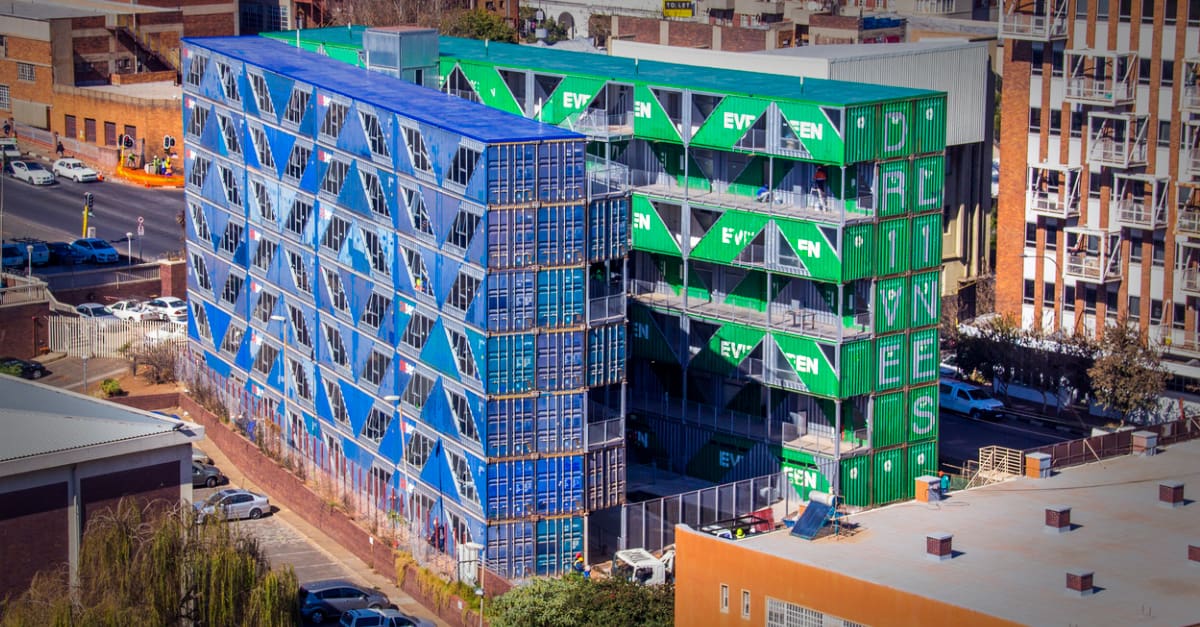 43. Residential Apartments
This house in Brooklyn, New York is also part of LOT-EK's experimental architecture involving, container conversions. Looking at this one, it is actually several containers made into one unique house. It almost looks Frank Lloyd Wright in appearance. The builders said it was an attempt to build something monolithic in appearance, while at the same time building something sculptural. The end result was too define the inside space while at the same time opening the outside up to something unique and interesting. Yet, they didn't stop there. They continued the idea to create the huge apartment complex you see here. Not bad for a couple of artists with a start-up and a dream!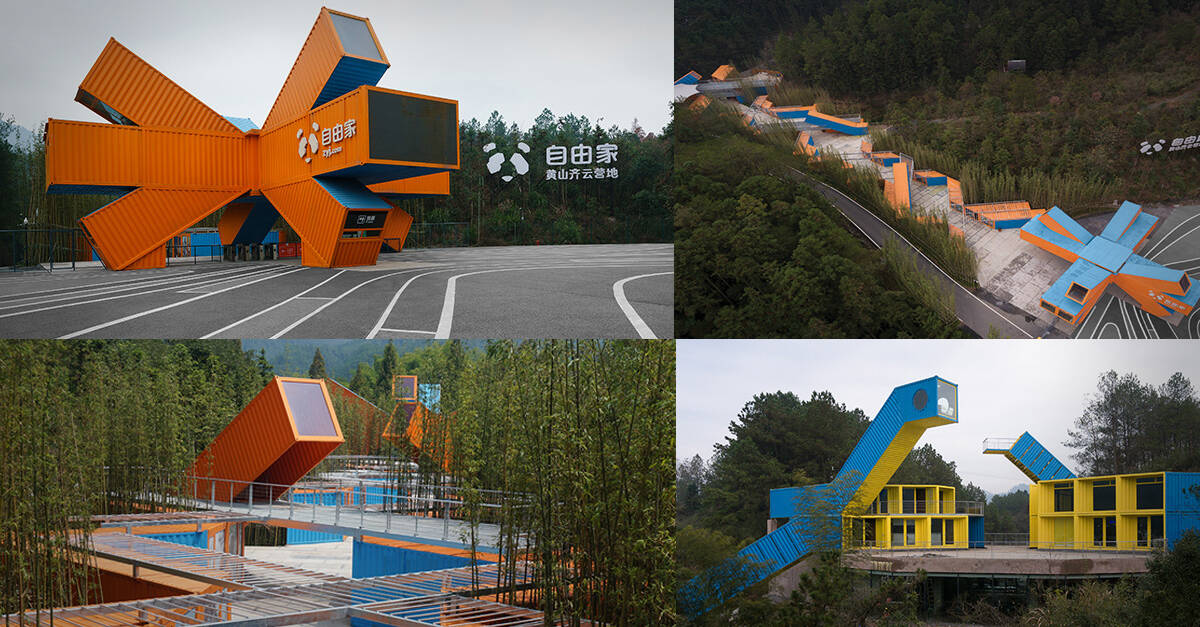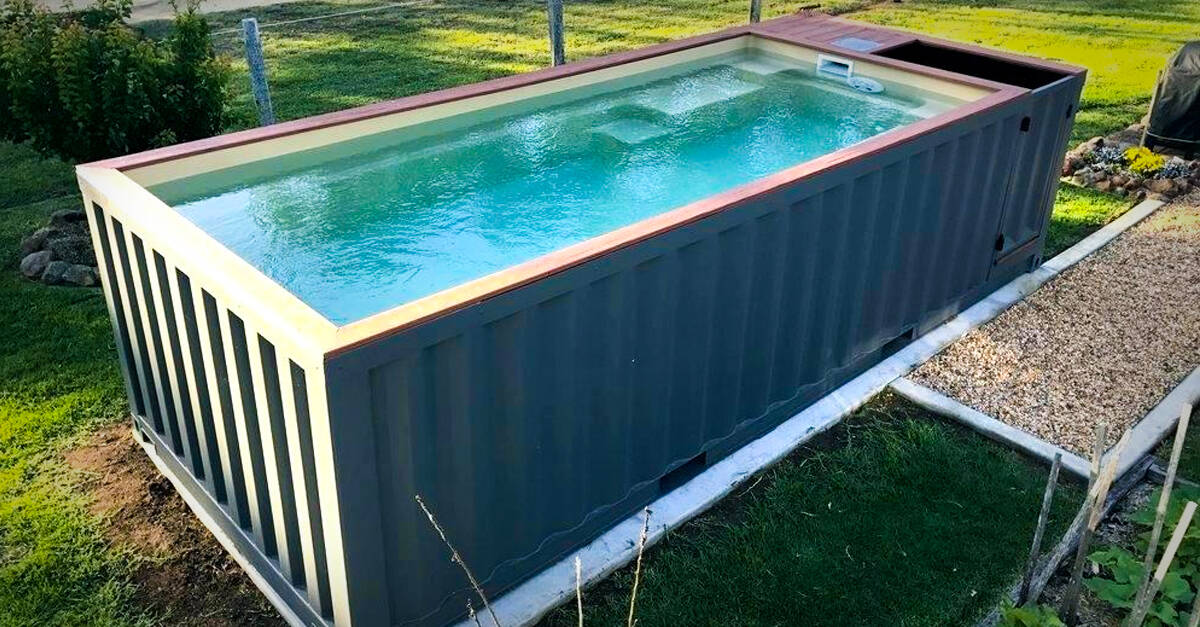 42. Pool
At first glance, this looks easy. Fill a shipping container with water and you have an instant swimming pool. However, not so fast. A few things first. Reinforcements for one. In order to hold 4,800 gallons of water the container must have additional support. After that, the sky is the limit. You can contract with a company to sink it in the ground for a traditional pool experience. Add in LEd lights and fog if you like You can even run wiring for a fountain or heater to warm up on those cold nights. Their popularity is increasing because there are now pool companies who specialize in converting shipping containers into swimming pools. All you need now is a lounge chair and umbrella drink!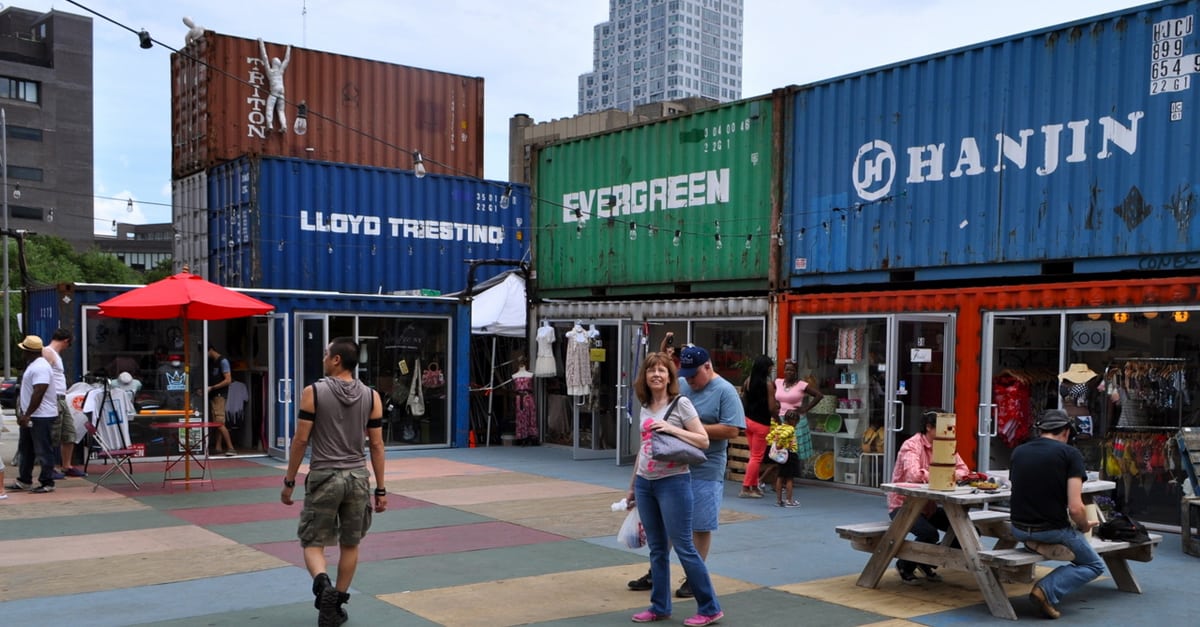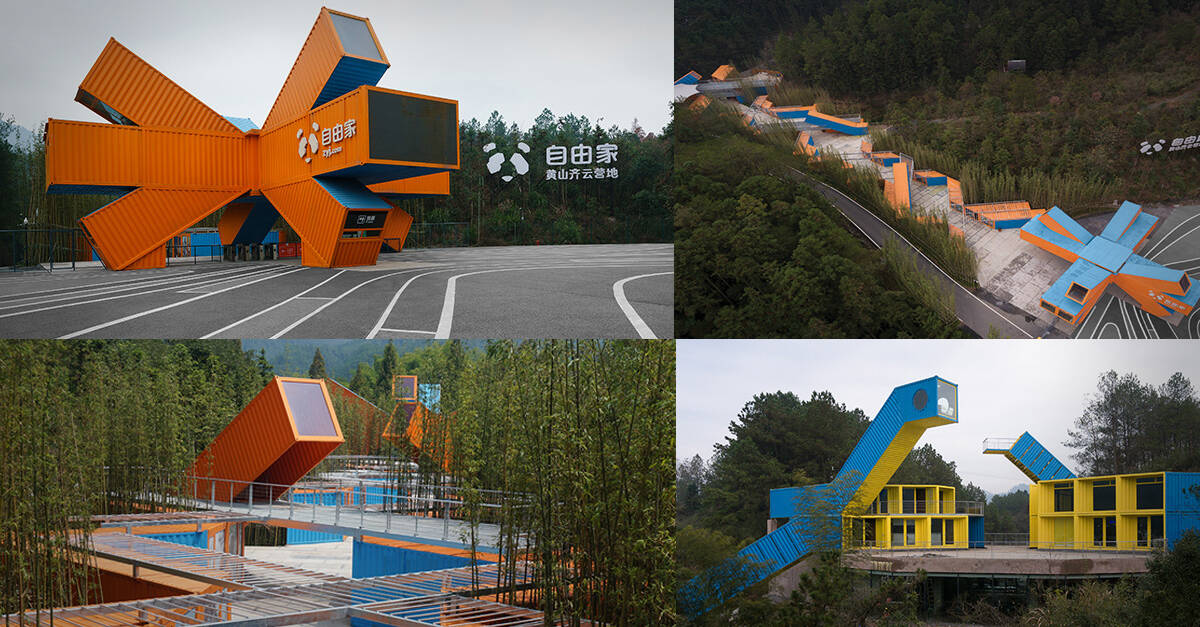 41. Qiyun Mountain Camp
Qiyun Mountain Camp is rather unique. It is an extreme adventure park made of shipping containers. It's huge too. In total 75,000 square feet of shipping containers have been joined, tilted, modified and color coded to create a wonderland for extreme sport enthusiasts. The camp features shops, restaurants and living quarters all designed from shipping containers. They are color coded to denote different parts of the camp and give clues to visitors as to where they are at any given moment. The camp ends with a pier made from blue shipping containers, which is located near kayak storage, also made from shipping containers. The end design elements leave you awestruck at every turn.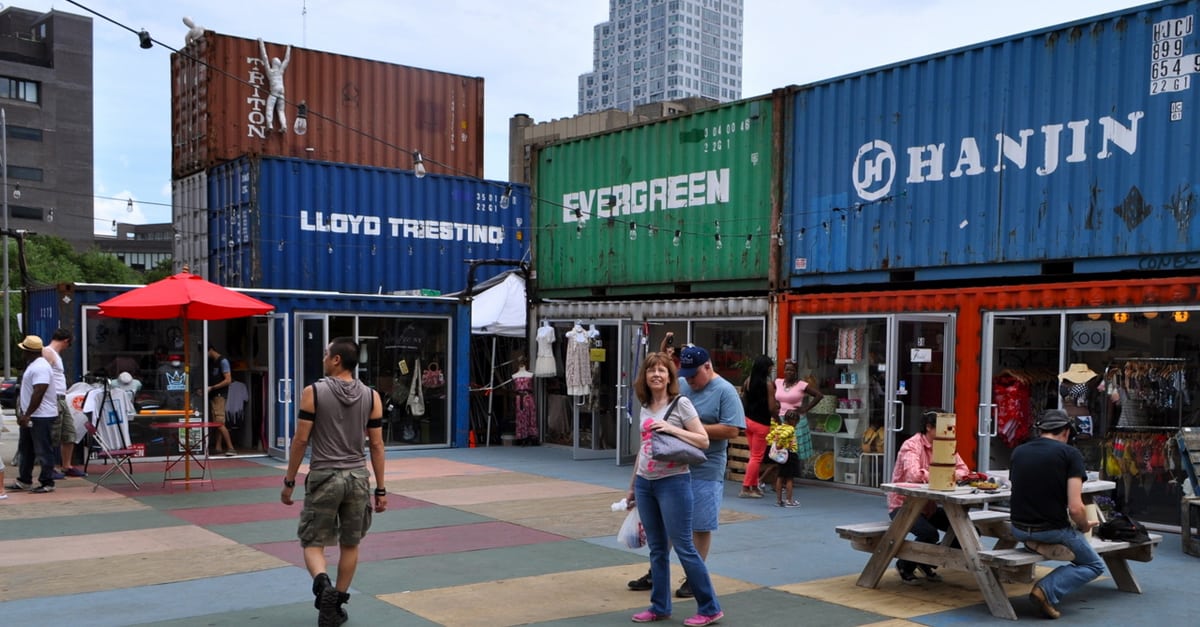 40. Marketplace
It's no surprise that Brooklyn has an entire market space created entirely from shipping containers. The ultra-chic Dekalb Market located in downtown Brooklyn up-cycled several shipping containers to create more than 60 food and retail shops! The containers serve as a sort of frame for outdoor programs and events, and by all accounts, the community loves it! Maybe it has something to do with the permanent beer and wine garden (known as the Dekalb Garden). It comes to life on the weekend to as outdoor vendors fill in some of the outdoor spaces to peddle goods and services. It's an ultra cool urban backdrop that perfectly offsets downtown Brooklyn. Many locals have to taken the oasis and foodies love it too. After all, where else can you eat chicken and waffles inside a storage container?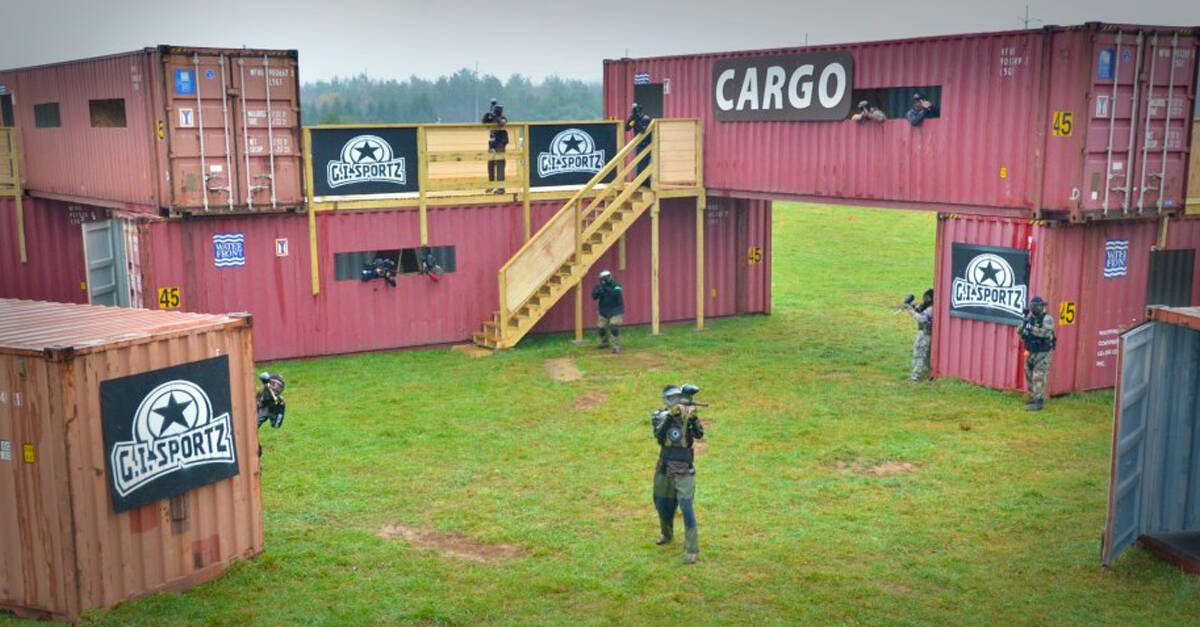 39. Garage
Here's a pretty unique idea involving containers. This individual in Floresville, Texas wanted a barn of sorts positioned directly between two shipping containers. So, after pouring a 4 inch concrete slab measuring 20′ x 32′ wide, work began. The unique thing about this build? Everything attaches to the existing shipping containers. The roof itself stretches over the shipping containers on each side with a little overhang. In total, each wing measures 8′ x 20′. The 3/12 pitch steel frame creates a 60×20 square-foot purlin, with one side enclosed. This was a truly custom build involving "no maintenance" materials. The best part? Nothing had to be anchored to the ground. The slab and shipping containers serve as anchors to create a truly one-of-a-kind storage facility.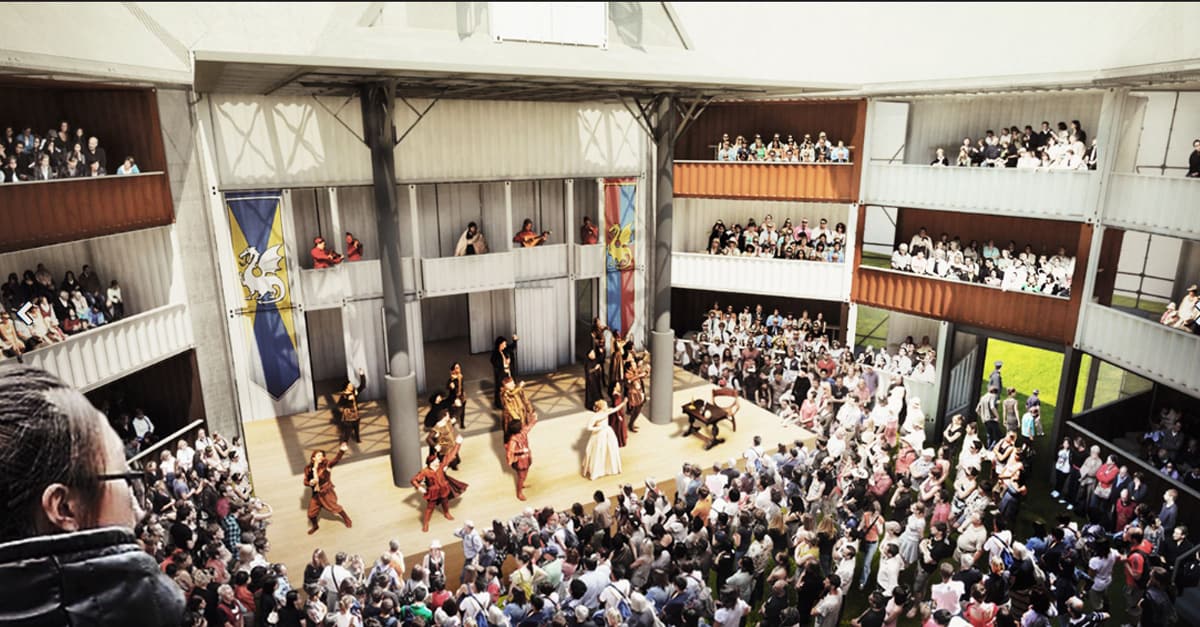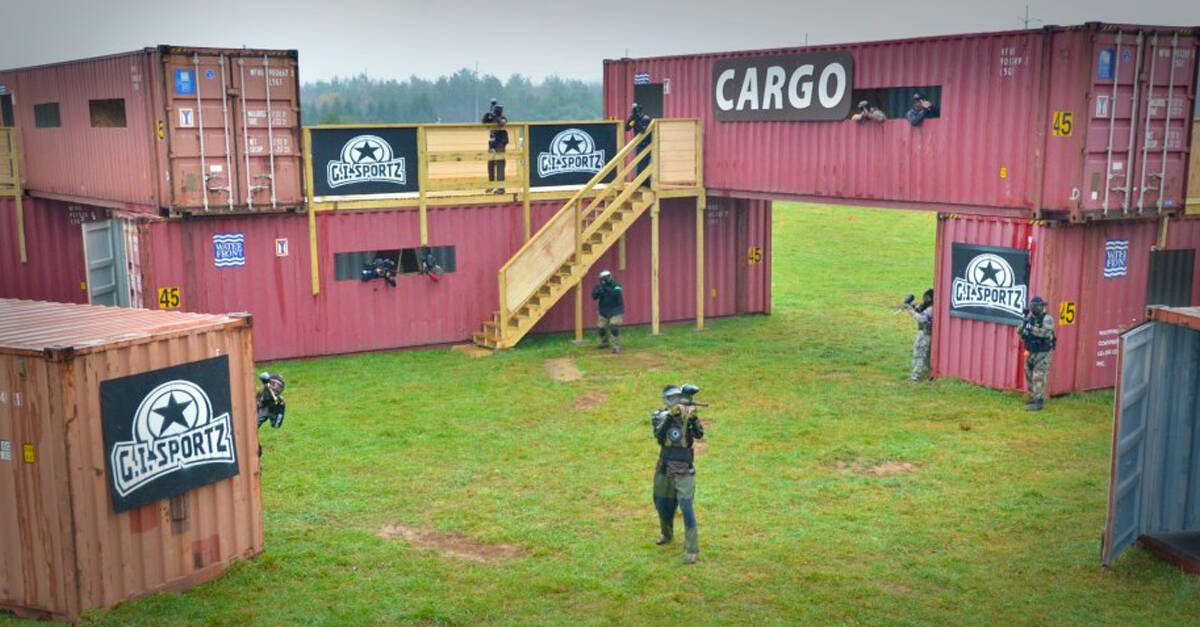 38. Paintball Fort
Next, we head to Brisbane in Queensland Australia for our next awesome shipping container modification. Gateway Containers makes paintball fields entirely from modified cargo containers. Looking at the picture, seems like we would have an epic time trying out our skills, or lack thereof. Cargoes are stacked, turned and modified with cut outs, stairs and hideaways to create the ultimate paintball environment. You can take cover, snipe from a window or breach entryways to try and defeat your opponents. The best part? There is a park in Pennsylvania made by this Australian company. In fact, they have been in existence since 1984 and recently took a nod from video games to develop their new Cargo field. In total, 18 second hand shipping containers were modified with stairs and bridges to connect them all together. Who wants a road trip to Skirmish USA?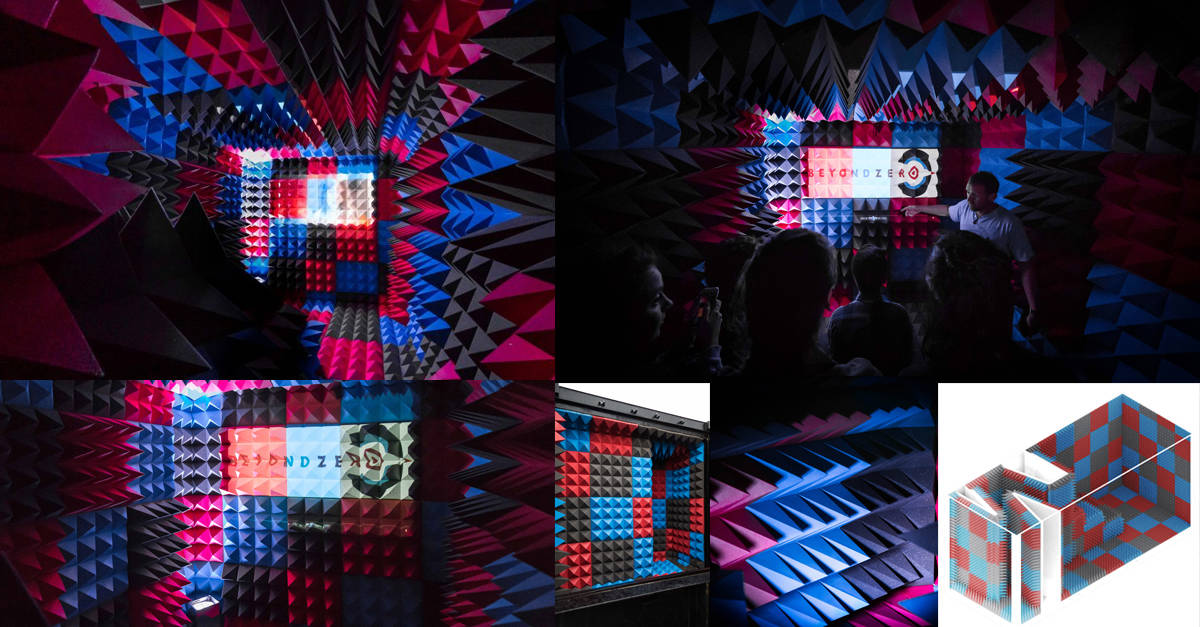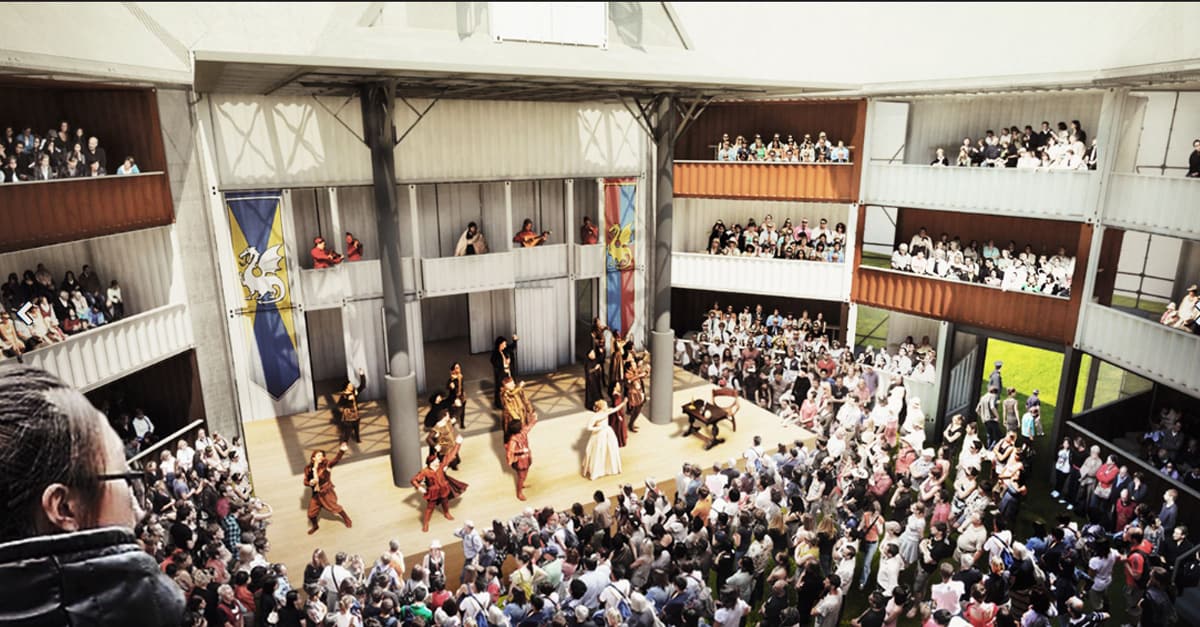 37. New Globe Theater
Of course it makes perfect sense to create a Shakespearean theater out of shipping containers. And if all goes well, Detroit will be the location. The plan is to create a replica of the Globe theater. The benefit of making it out of shipping containers is mobility. However, creator Angus Vail says he would rather opt for a permanent home. Hence, Detroit is a consideration. In addition, Vail has support from the Shakespeare Globe in London, the Shakespeare Theatre Association, and Folger Shakespeare Library in Washington. Vail is originally from New Zealand. He visited Detroit in the 1980s and was instantly hooked. The container theater will be the first of its kind anywhere.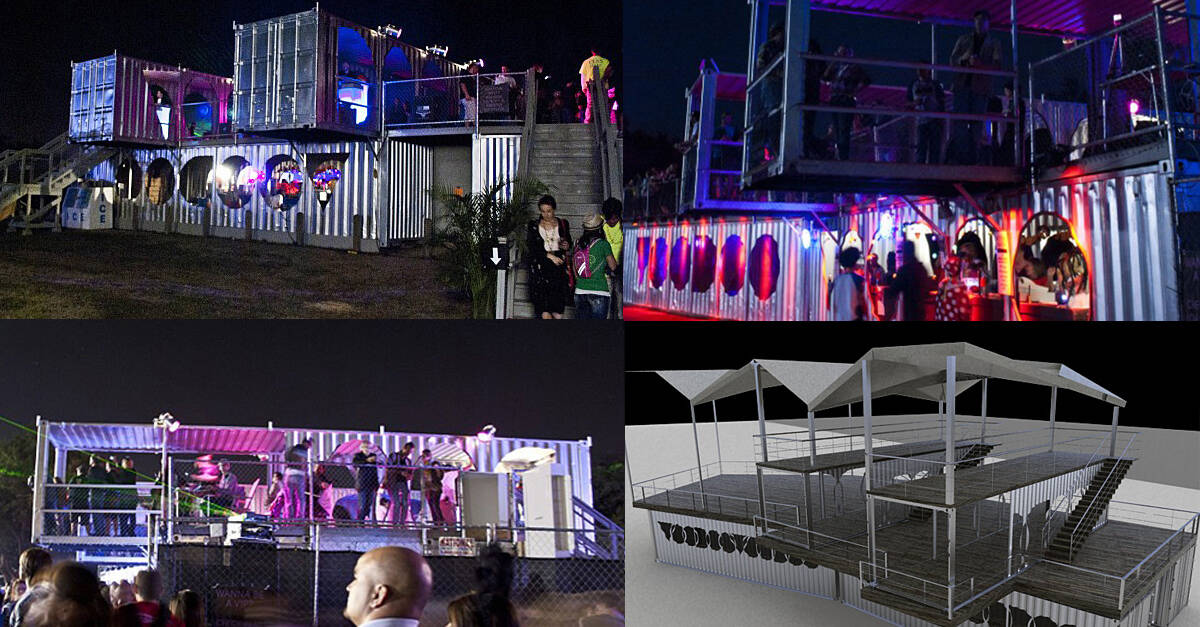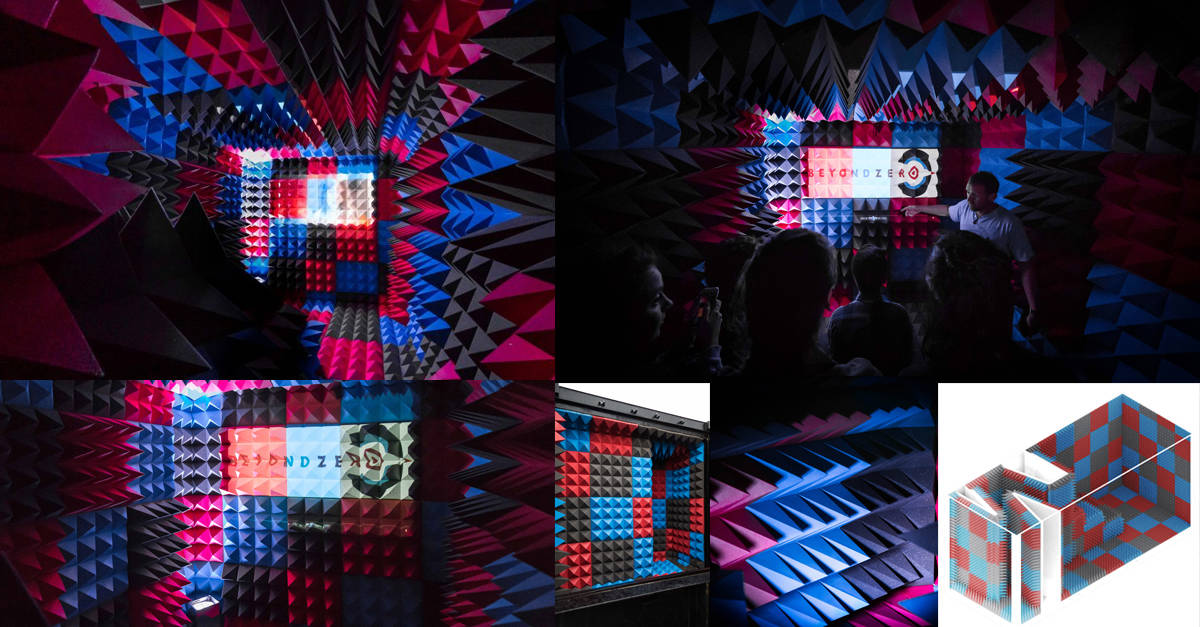 36. Informational Video Room
This is one of the more clever uses of shipping containers we've seen. What you're looking at is a creation called caution cinema. It's a shipping container filled with more than 1000 foam pyramids. Essentially, it transforms a very utilitarian piece of cargo shipping into a pop-up cinema focusing on vital health and safety information for port workers and one of the United Kingdom's largest operations. Purchase bins enter the shipping container through a maze of foam pyramids where they are ultimately led to a viewing room. The floor, walls and ceiling are covered with the foam pyramids. And while it looks painful, it's actually quite comfortable. The pyramids actually serve as noise dampening to block out all noise from busy operations taking place just outside.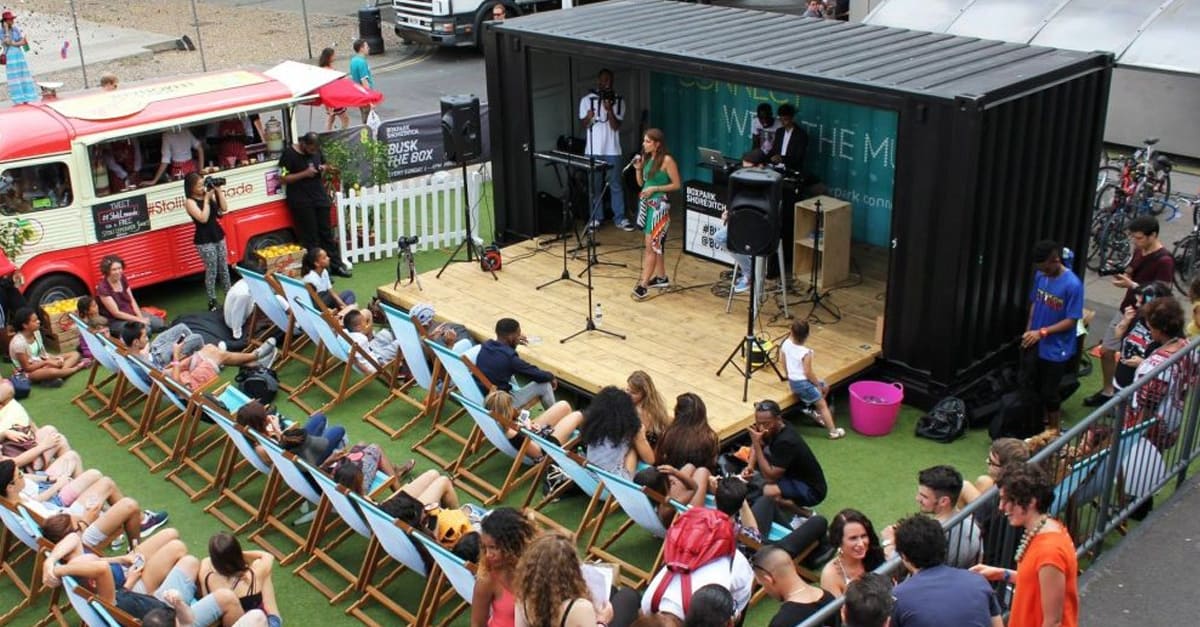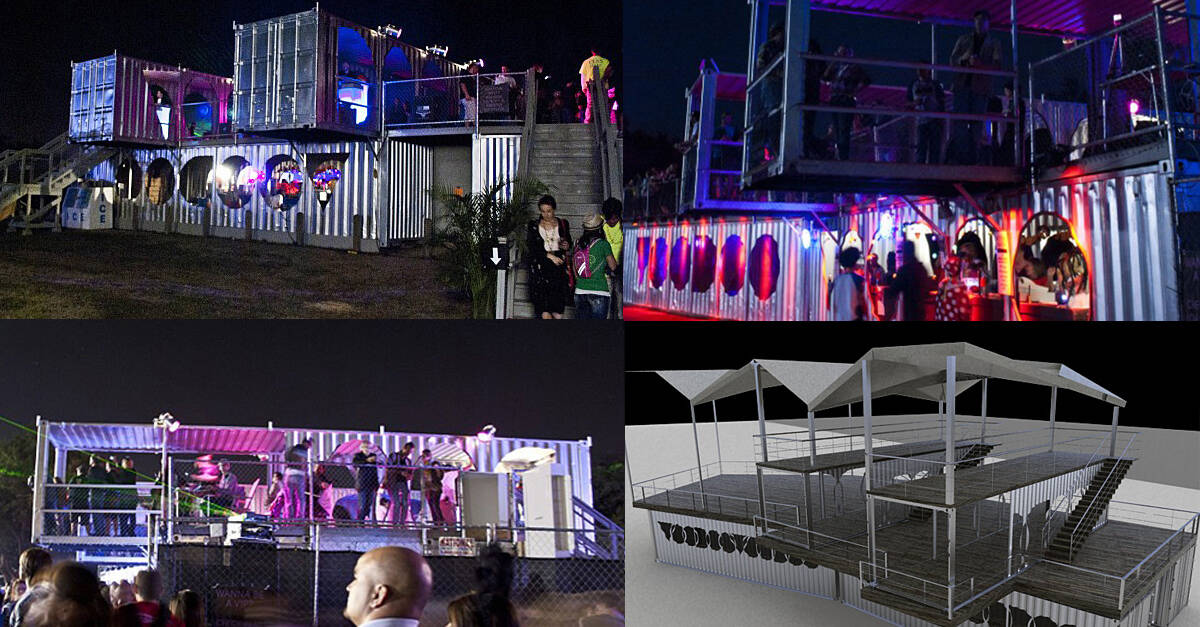 35. Voodoo Music Festival
If you attended the 2009 Voodoo Music and Art Festival in New Orleans this concoction might look familiar. It's a VIP lounge made from shipping containers.They were coupled and stacked on top of each other to create the ultimate VIP experience. Features include club seating and two bars. Even more trendy, the containers were reused for the 2010 festival, albeit reconfigured to create a new experience. The plan is to continue recycling these containers, possibly adding more, to create new experiences for audiences to view acts like Lenny Kravitz and KISS. In total, six 40 foot containers were used to create each unique concert structure. The word "Voodoo"was cut out of the side, serving to both brand the event and double as viewing windows for concertgoers.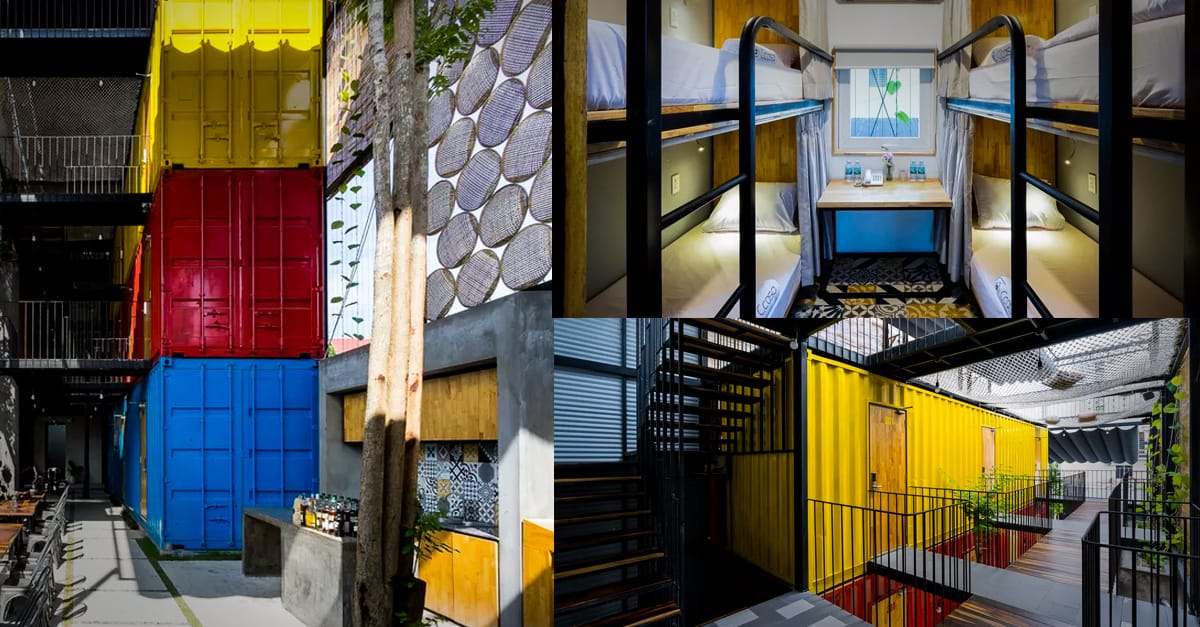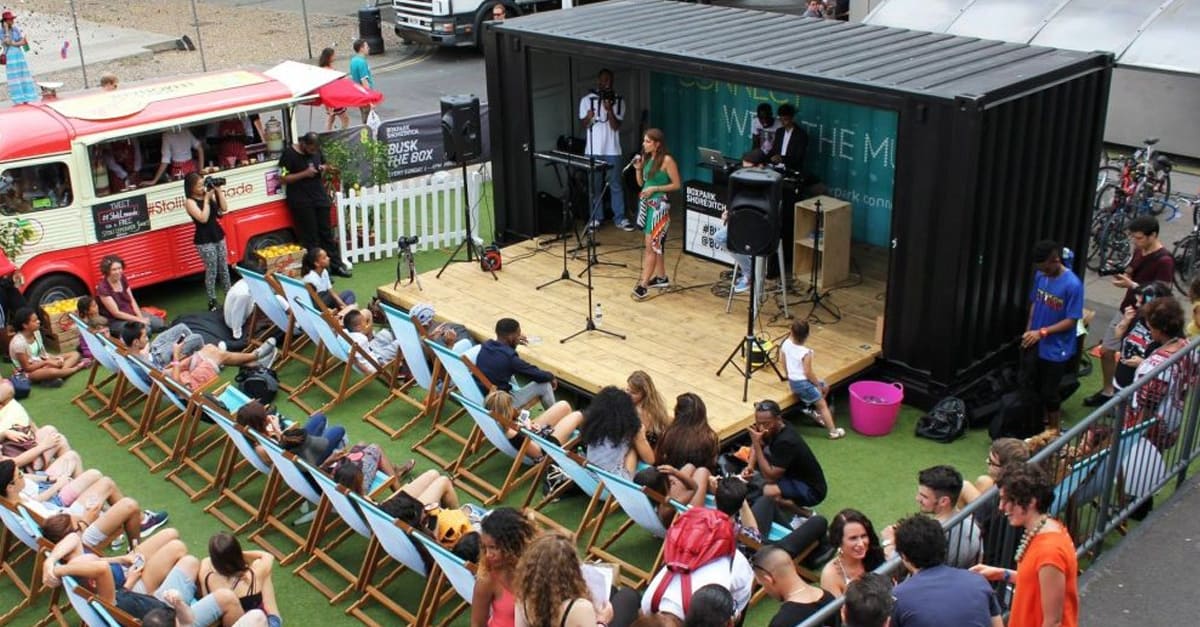 34. Stage
Here's another unique idea for converting a shipping container. Working with conversion experts EE and Boxspark, ISO Spaces cleverly outfitted another installment for "Shoreditch" in the United Kingdom. The creation is a pop-up acoustic stage design for Sunday "Busk in the Box Sessions." It's a 20 foot container conversion outfitted with a hydraulic deck. The deck lowers to serve as staging for various bands and DJs. Once the show is finished, it raises with the push of a button and securely locks. This means bands can store their equipment inside without fear of theft, as well as protection from the elements. Nobody likes to set up in the rain after all. This is just one more clever way shipping containers are being used to enhance public spaces.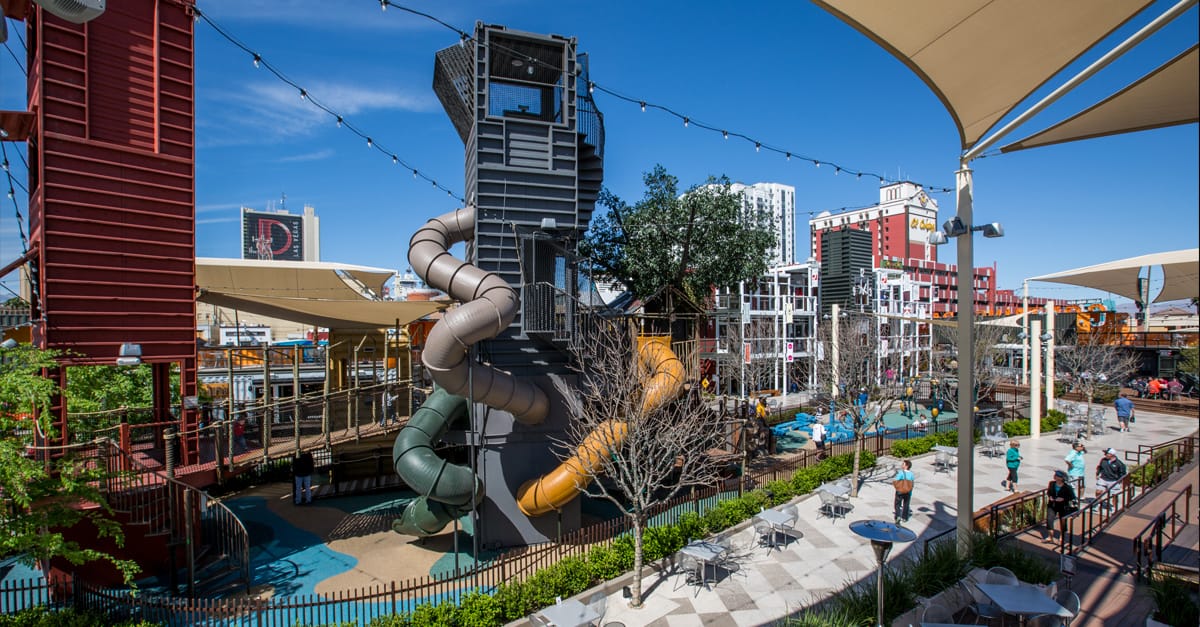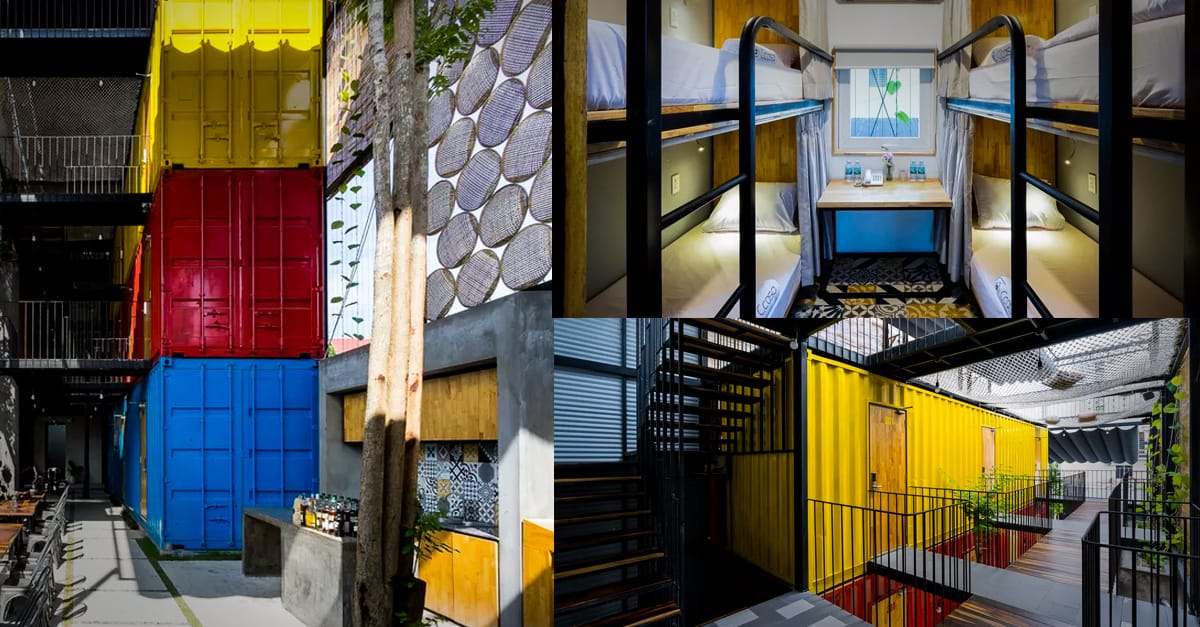 33. Bunk Rooms Ccasa Hostel
We know shipping containers are the definition of the word utilitarian. However, how about a hostel in Vietnam? Yes, the two year old Ccasa Hostel is exactly what it looks to be. The entire hostel is made from brightly colored shipping containers stacked on each other like they are in a container yard. However, these have stairs and pathways, balconies and bunkrooms. The decidedly open-air feel works well with the shipping containers Guests can make use of the bar at night or simply enjoy the rooftop play area featuring suspended rope nets. While it looks light and airy, once inside, hostel users are treated to private quarters with a decidedly modern look.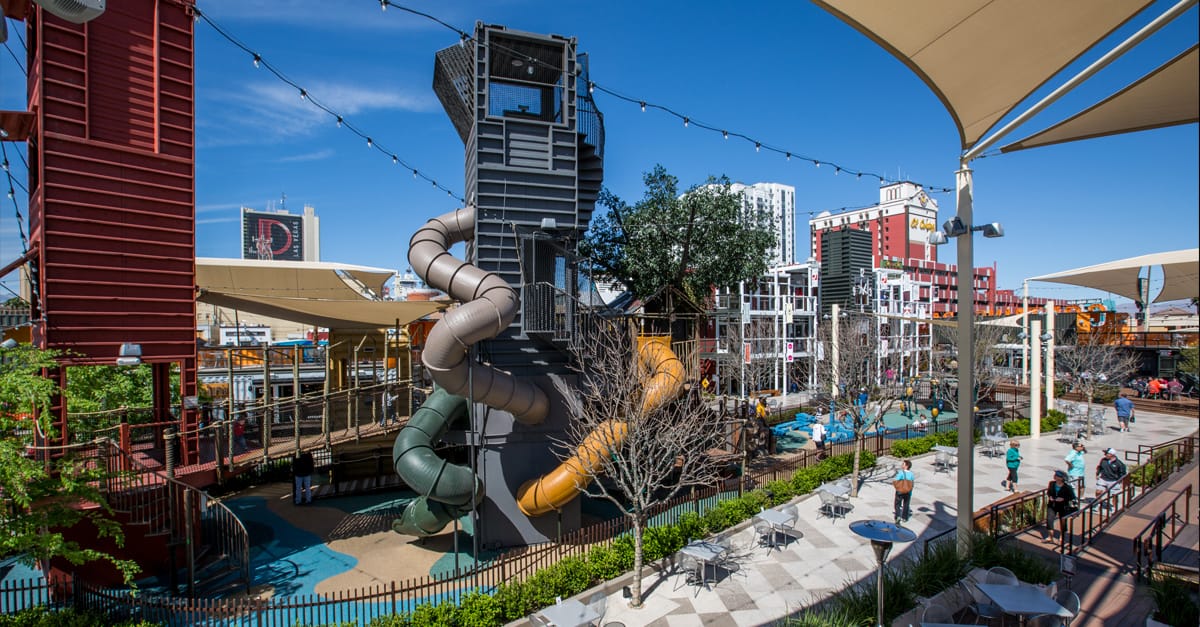 32. Playground-Container Park
So you're walking through downtown Las Vegas enjoying the Bellagio fountains when something on the travel brochure catches your eye. It looks familiar, yet inviting, playful and friendly. "Are those shipping containers?" you ask yourself. Yes, indeed they are. The downtown Container Park is the brainchild of local manufacturer Xtreme Cubes. The open-air retail park can be found at 707 Fremont St. and has something for everybody. Around the container park you can find boutique shops, amazing cocktails, incredible barbecue and live entertainment on the center main stage. Of course, your kids will love the container playground featuring a massive tree house. This is one more thing to add to your Las Vegas to do list the next time you visit sin city. The best part?The park is free. Save your money for slots and table games!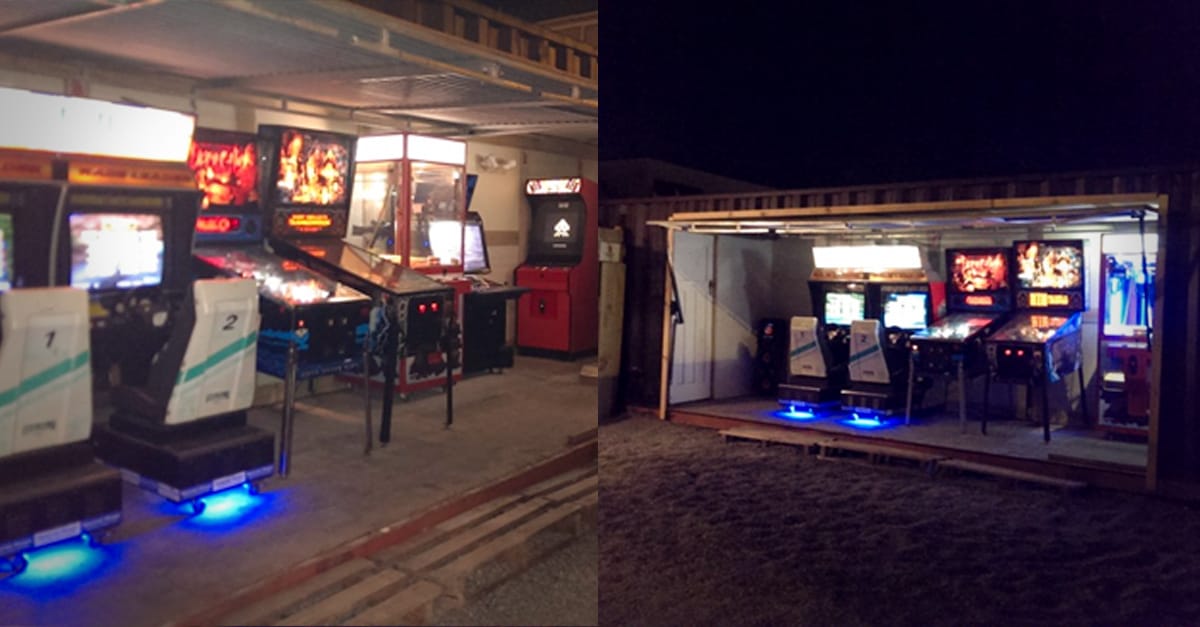 31. Playground-Container Park
This bonkers house design uses shipping containers in the shape of a desert flower-like cascade. From London-based designer James Whitaker. It's a 200-square meter house that has a kitchen, a living room, and three en-suite bedrooms. Built on the client's 90-acre plot of land in California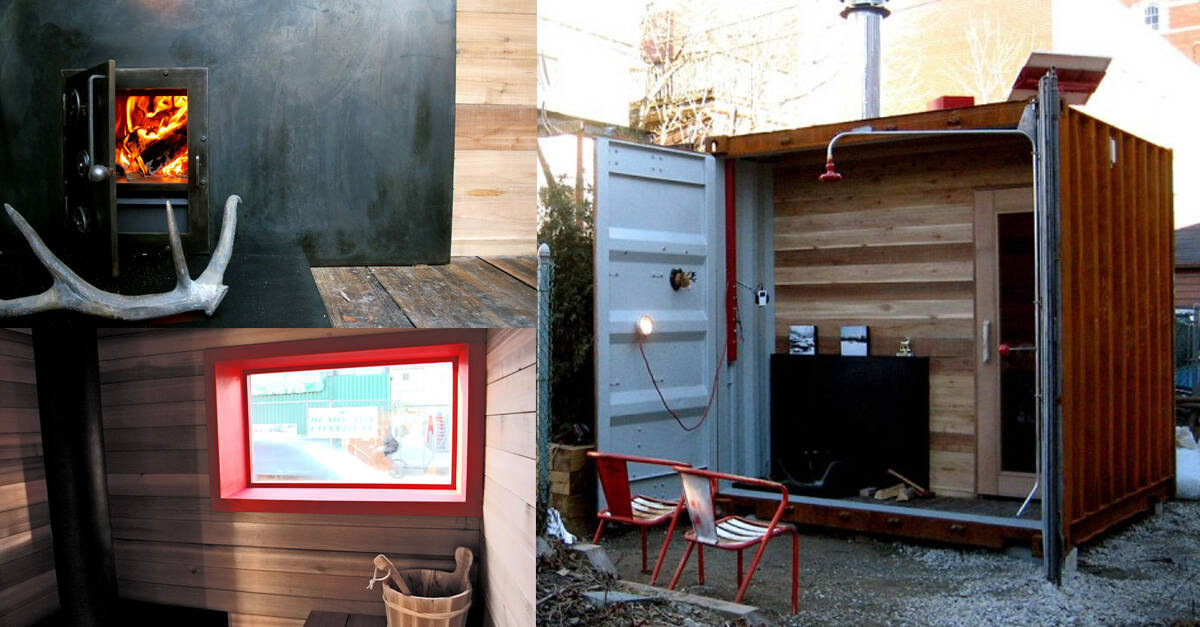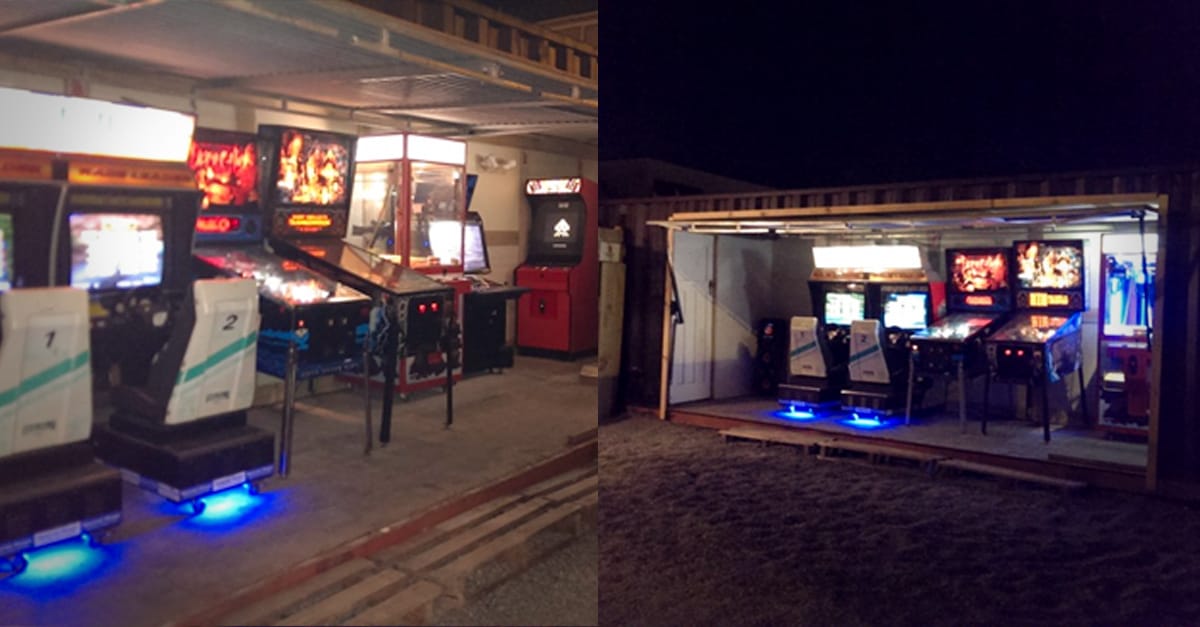 30. Arcade
Because sand and sun go hand in hand with container arcades, that's why. Isn't this thing awesome? It just goes to show you how many uses shipping containers have. This one makes a nice arcade. The side floats up with the help of hydraulics to reveal pinball machines and other arcade games for beachgoers to enjoy. Conversion work is easy too. Just cut the side and outfit the necessary electrical components. After that, plug in the games and let the money making begin! Of course, the food stand right beside it helps sate hunger so beach lovers can enjoy games well into the night!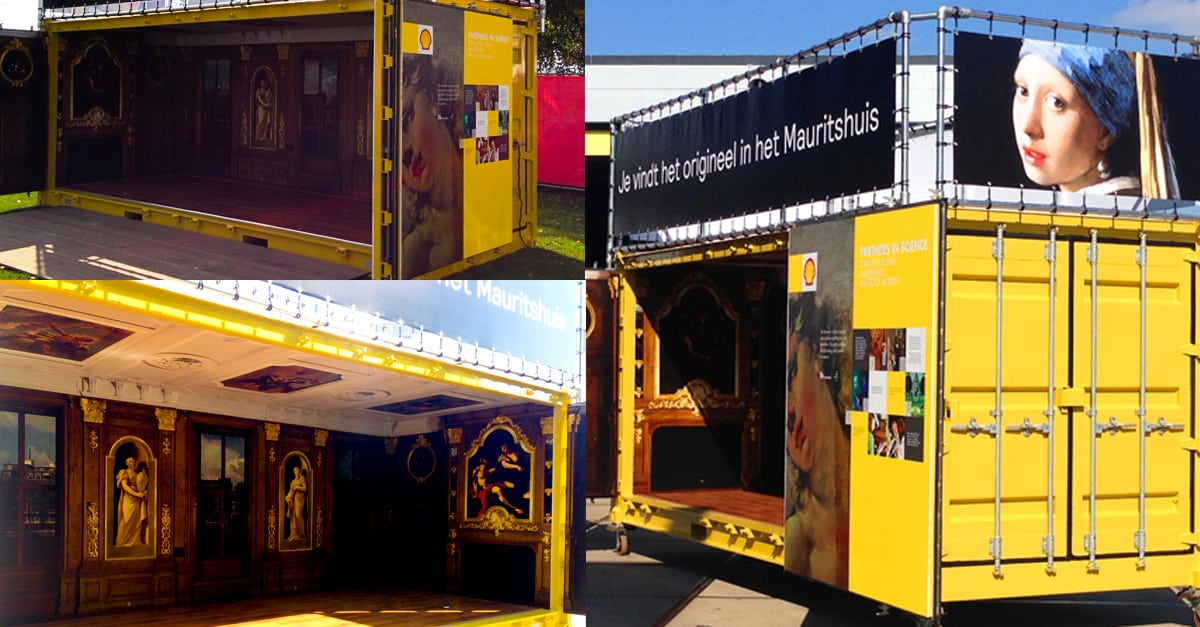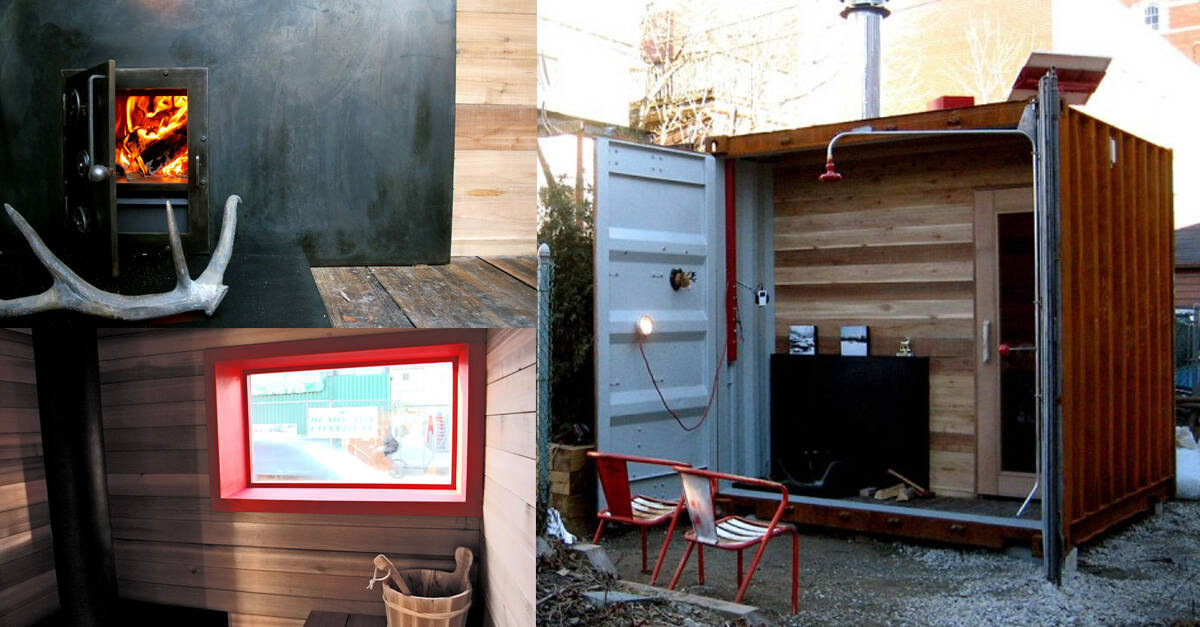 29. Sauna
When you want a sauna and have an old shipping container lying around, why not convert it? That's what this clever individual did. It's a smaller shipping container, only measuring 8 x 8, yet the conversion is extraordinary. Castor Design, based in New York turned this into a Finnish style sauna. It reaches more than 150°F via a cast iron wood-burning stove. The cube is well insulated and every western red cedar board was applied by hand. There's even a window installed so you can enjoy the view while you sweat it out. Also, the sauna cube is outfitted with a solar panel to power stereo speakers, a magnetic truck light and an electric guitar. This conversion is pure genius.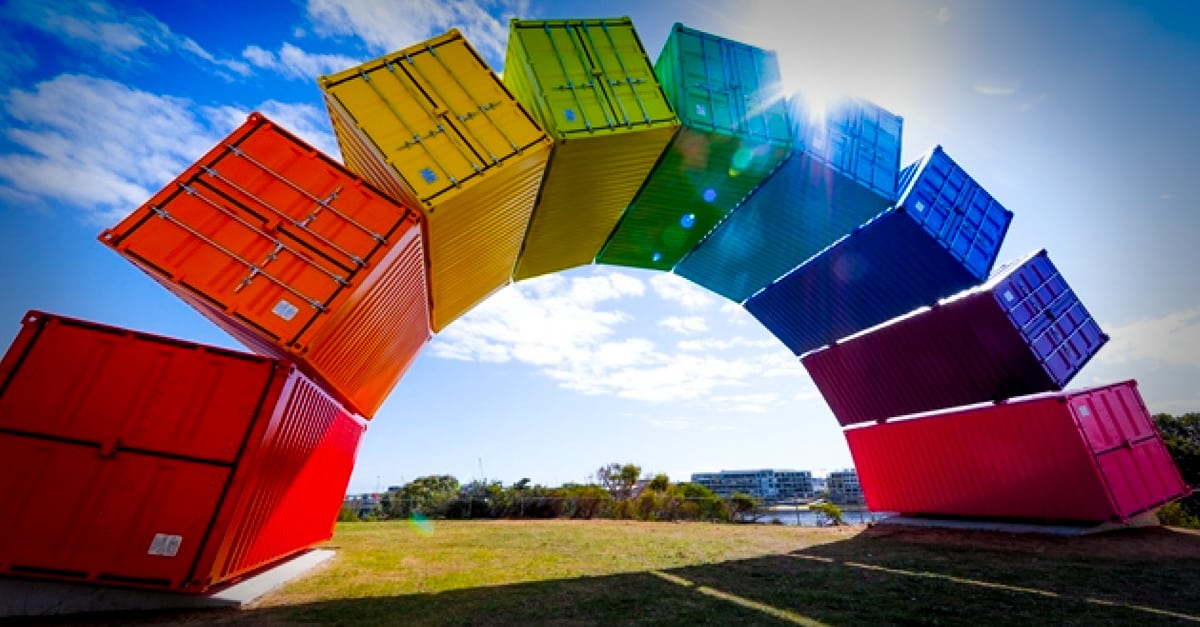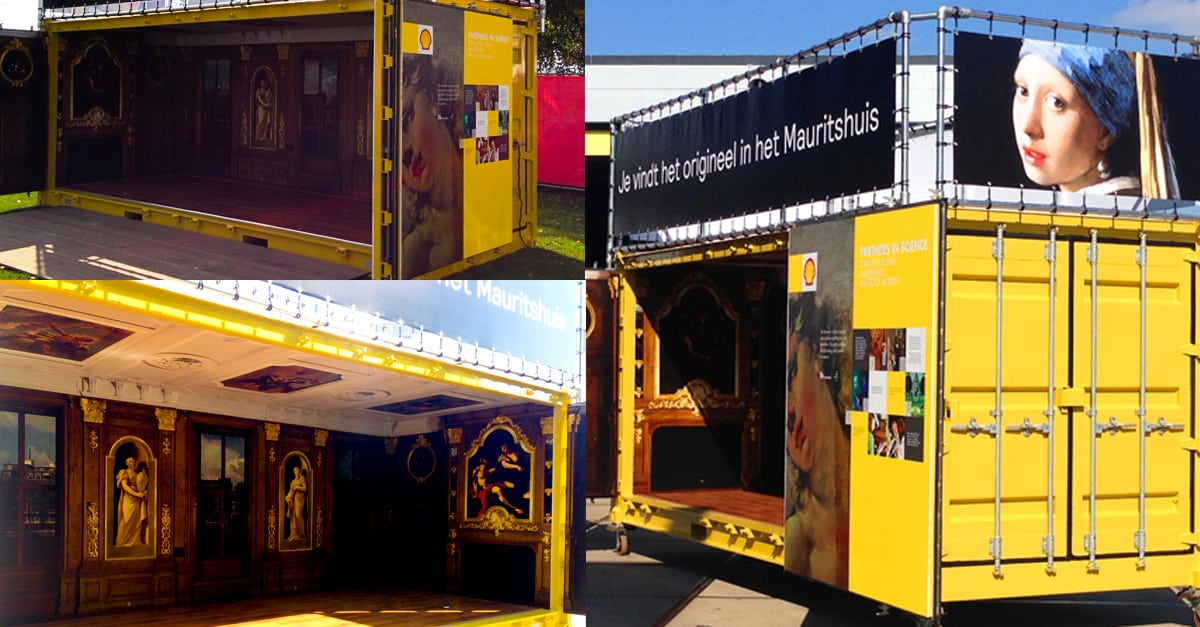 28. Pop Up Museum
The Mauritshuis houses some of the best Dutch paintings from the Golden age. Yet, by looking at the structure you wouldn't know it. It's an old yellow shipping container. Placed near the heart of The Hague, you would never guess something so compact would contain world-renowned treasures inside. Such masterpieces as The Anatomy Lesson of Dr. Nicolaes Tulp by Rembrandt, Girl with a Pearl Earring by Vermeer, The Goldfinch by Fabritius and The Bull by Potter are tucked inside this mobile museum. It's designed to encourage people to visit the full museum where more than 200 works by Dutch and Flemish masters are on full display. Consider the 20 foot container to be a teaser of sorts. One step inside and you forget about cargo altogether.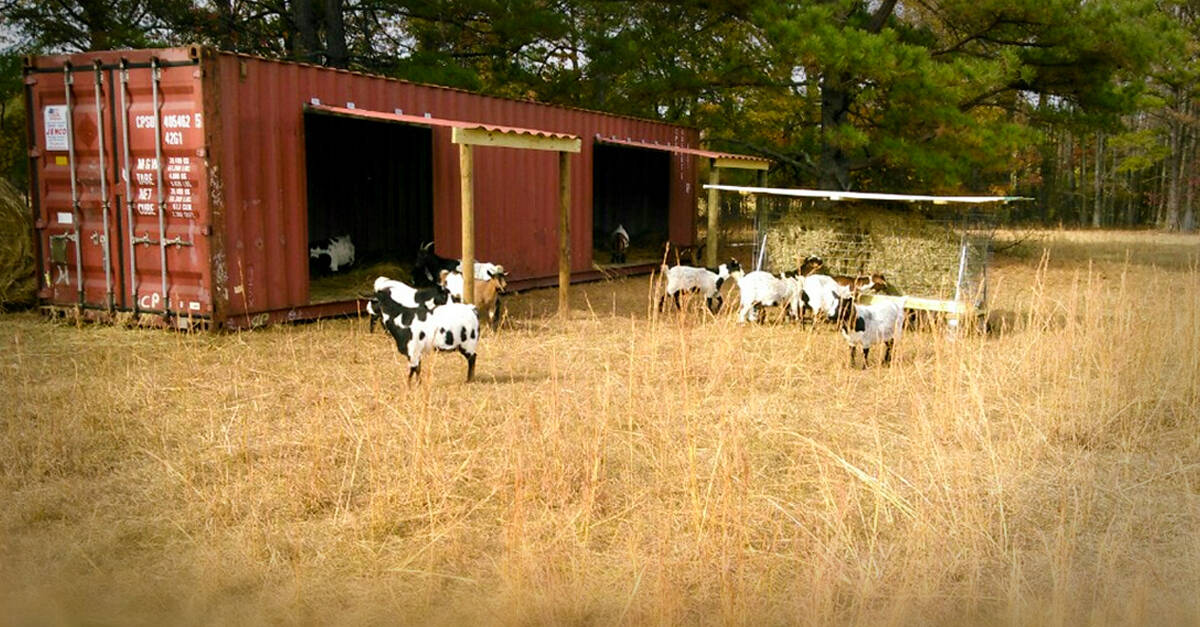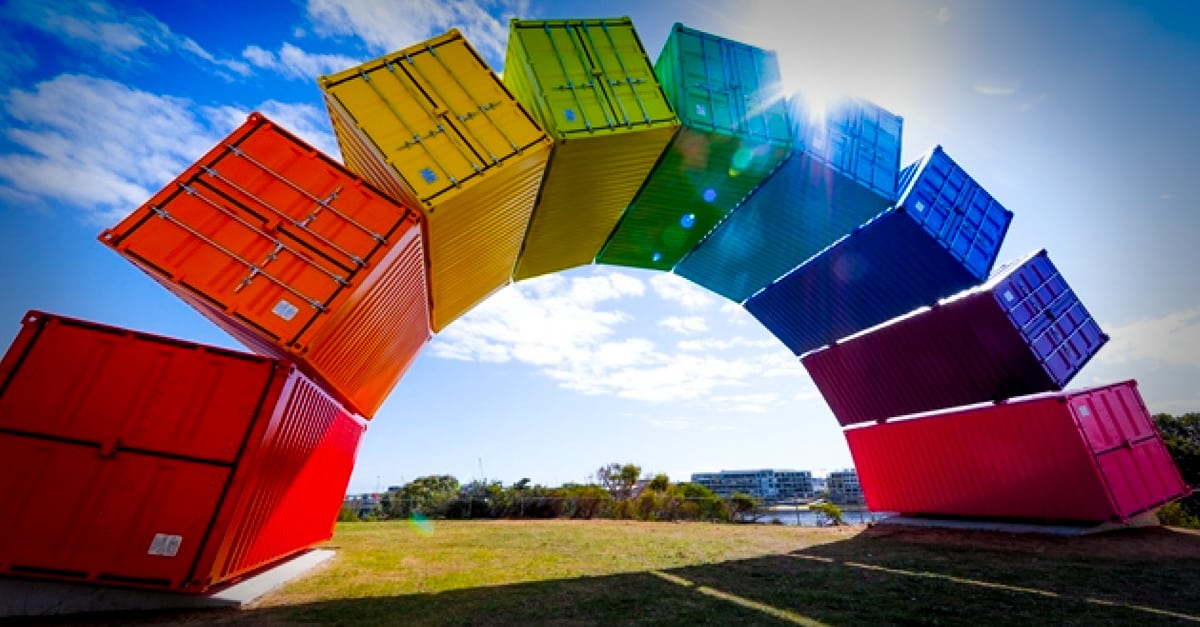 27. Rainbow
A couple of years ago the city of Fremantle in Western Australia commissioned an art piece by Marcus Canning. It was a simple rainbow arch. However, this rainbow arch consisted of nine shipping containers, all custom painted, to create the colorful art piece. Since installation, it's become somewhat of a national icon. People travel from all over the world to view the colorful arch. Interestingly enough, this design beat out 28 other applicants. Once the city approved the piece, it took a full 12 hours to build. It now serves as a focal point to welcome visitors to the city of Fremantle. You can Google #containbow to find out more.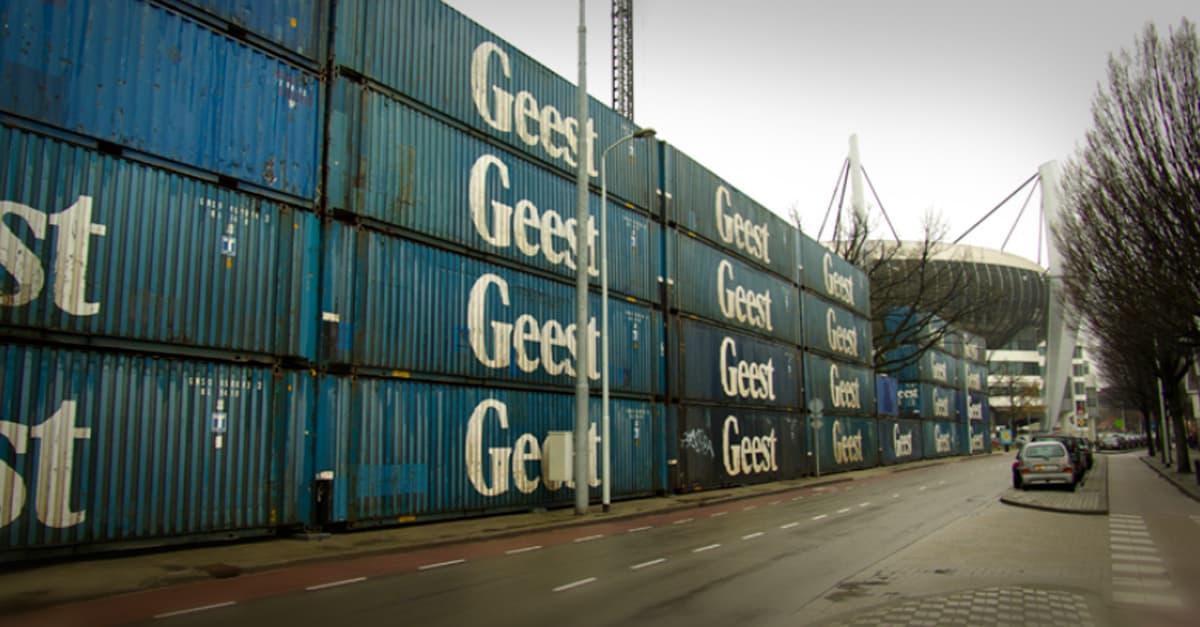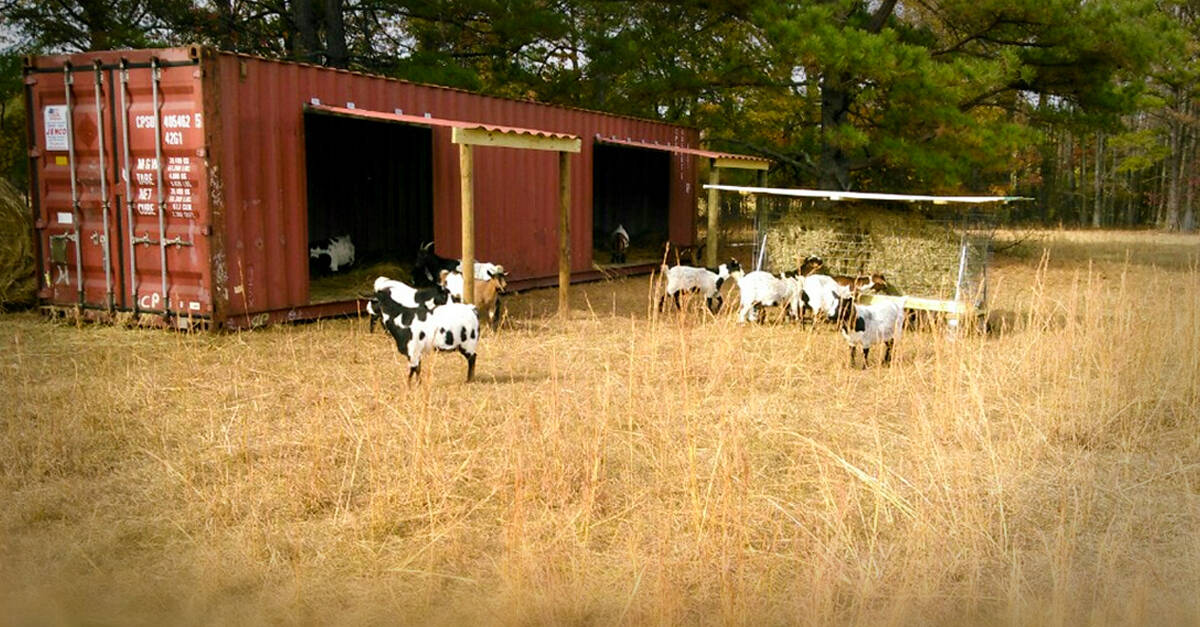 26. Barn
How about a goat shed? That's what this farmer decided to do. The container conversion was fairly simple. Two cut outs serve as awnings to shade the goats during the heat of the day. The inside of the container is large enough for a small tractor to get in and do some work as need be. Of course, since it's goats that means cleaning out droppings, replacing hay and making sure the inside is free of vermin. This is a genius use of a shipping container, and one of the more utilitarian ones we have seen. These would make great chicken coops too!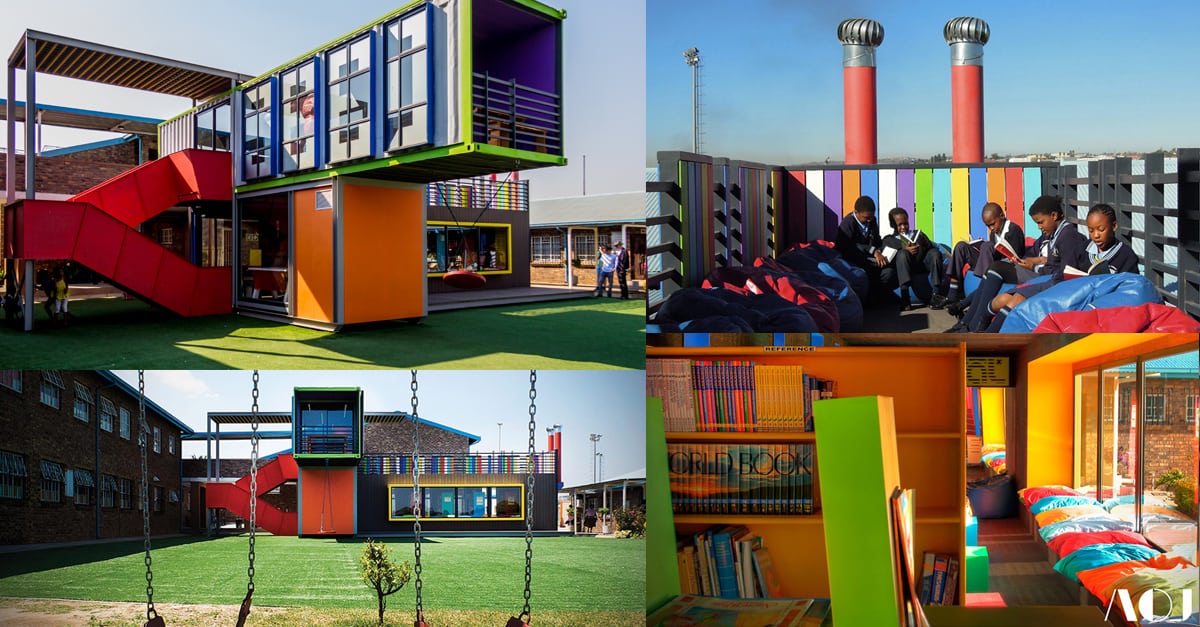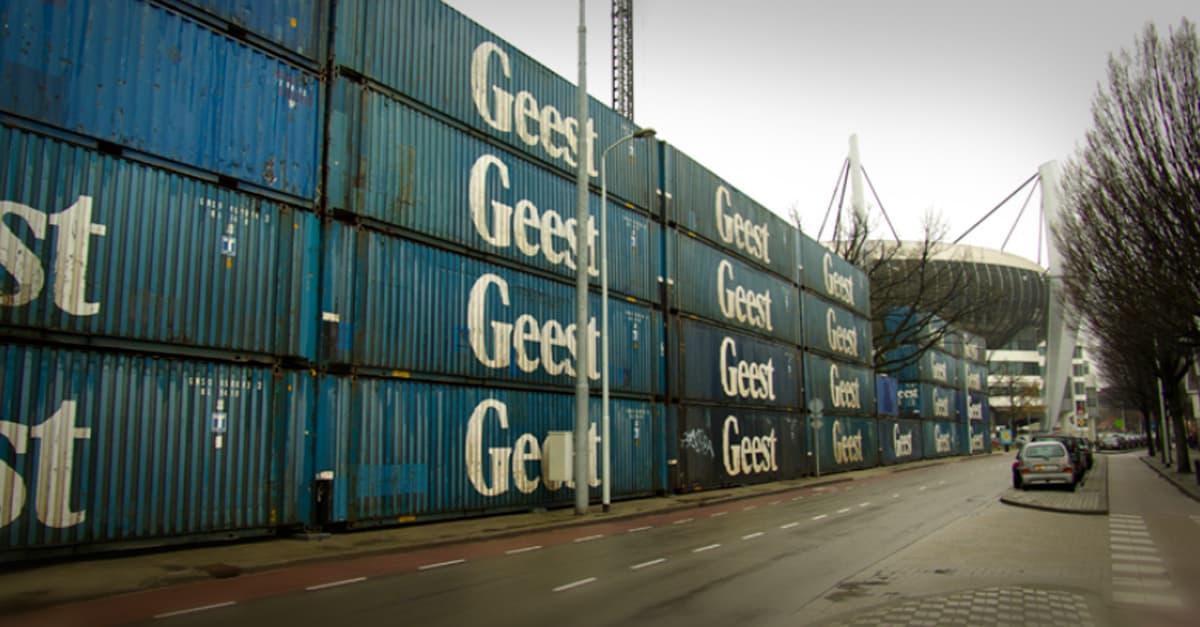 25. Container Soundproof Wall
When a new parking structure was designed for Philip Stadium in the Netherlands, there was a problem. Noise from constant drilling was kept neighbors awake all hours of the night. The solution? Construct a barrier made entirely from shipping containers. The structure involves more than 80 containers, each with a length of 40 feet. The only downside to the wall is there are gaps because removing trees was off-limits. Therefore, there are a few noise leaks. However, all in all, Eindhoven residents are pleased that the constant noise of drilling is kept somewhat at bay. The idea was a clever one, and really inexpensive to boot.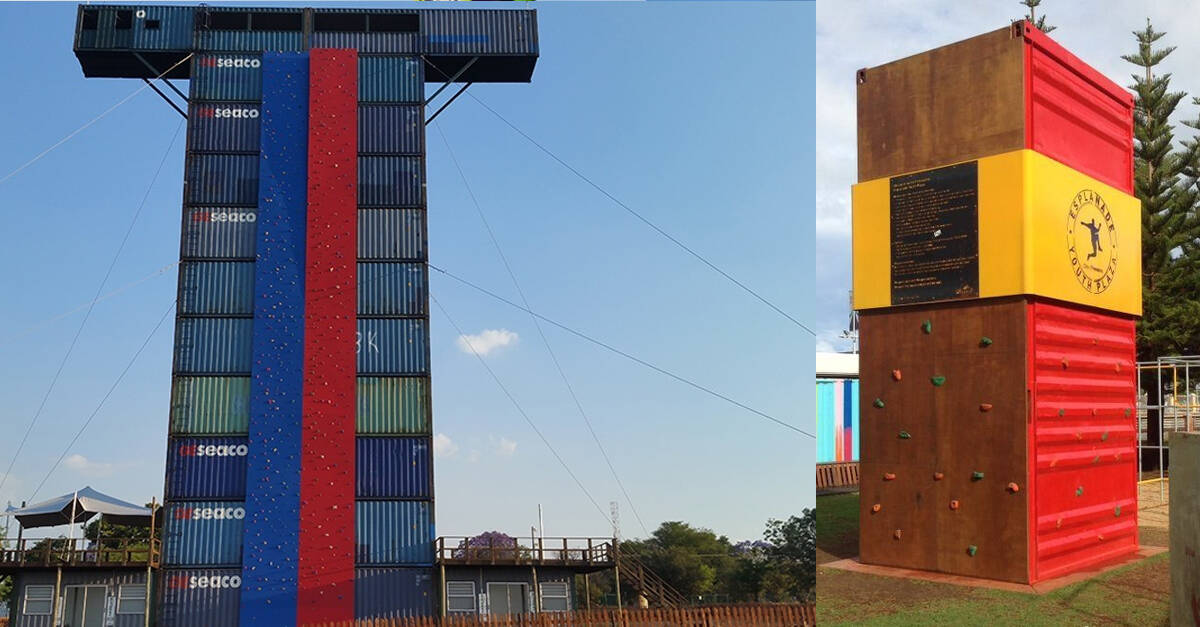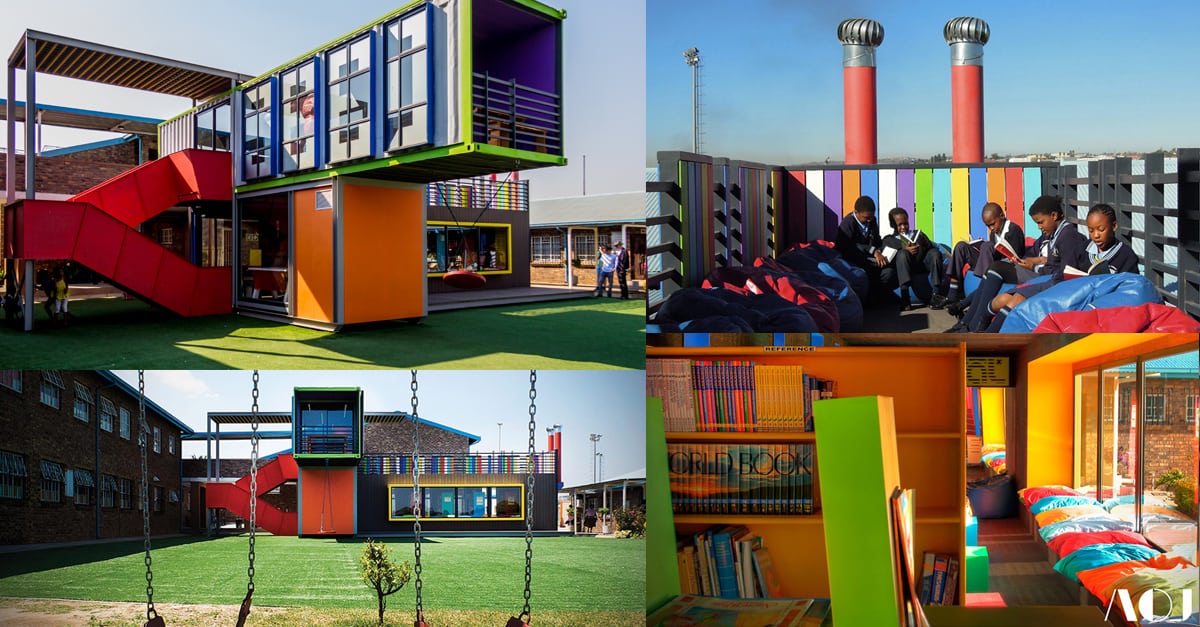 24. Library
This elementary school is made completely from shipping containers. Found in Johannesburg South Africa, it's another way to create affordable spaces for public education and other civil-service areas. The space you see here is actually a library. It's the SEED II Library located in Alexandria Township. It was designed to be a clever, engaging space for students to read and research and as you can tell, it works like a charm. Kids love the whimsical appearance and the shipping containers make assembly quick and inexpensive. Furthermore, the same company that designed this library also works to design affordable housing for low income families as well as other public and municipal structures.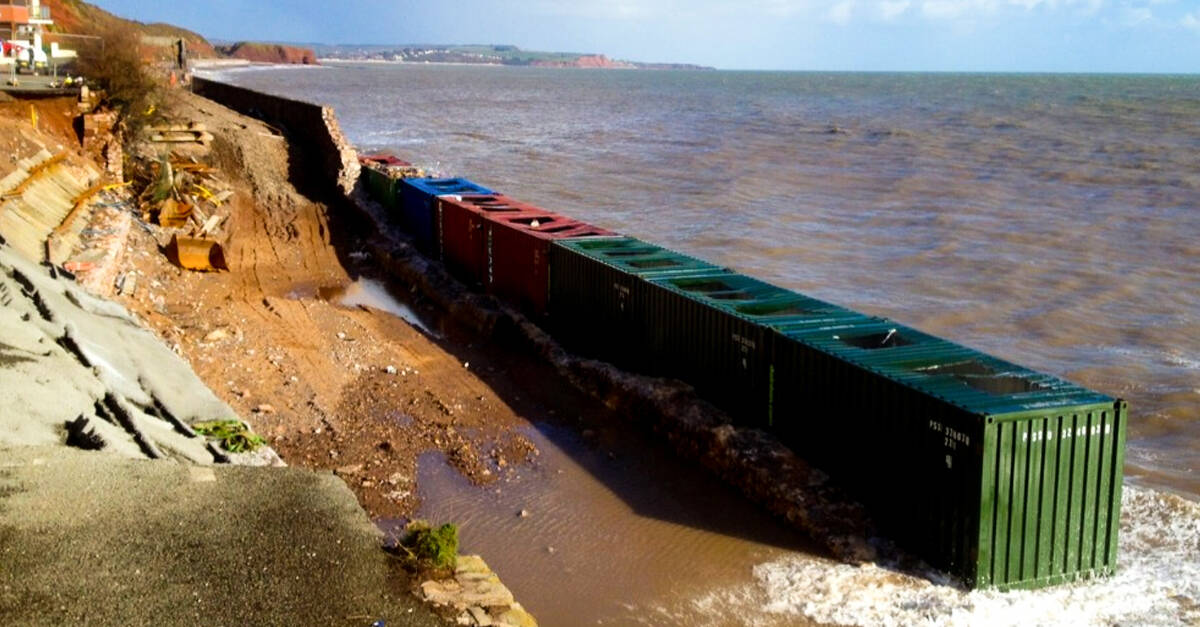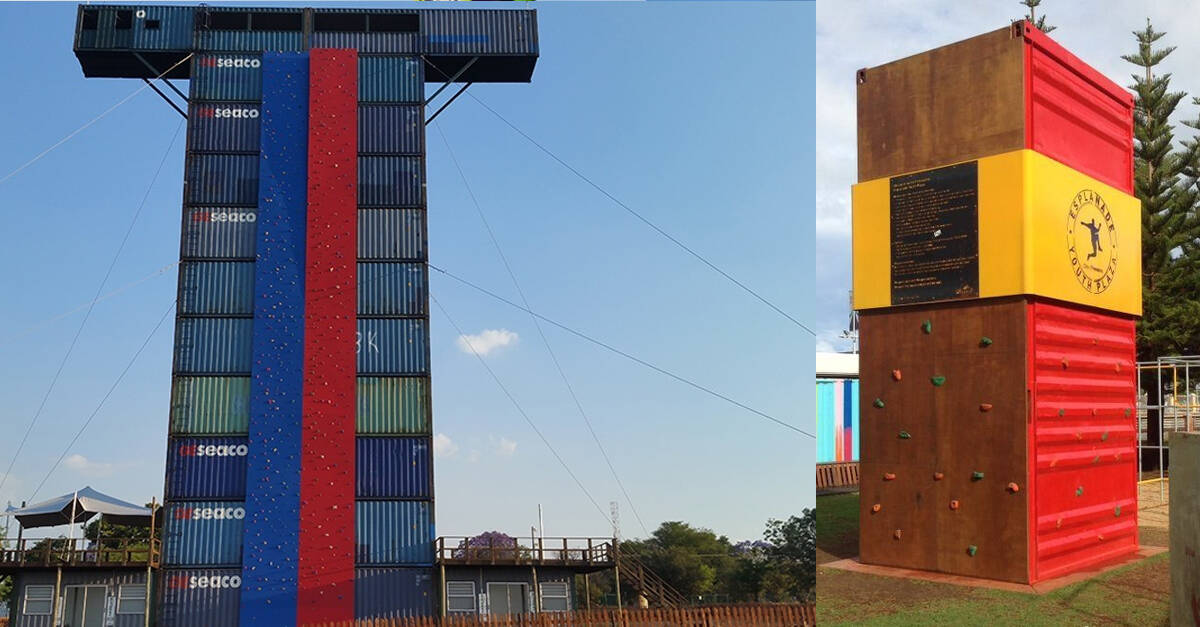 23. Climb Wall
We've seen some pretty clever designs and innovative uses for shipping containers. So, why not build a climbing wall out of one? There are several ways to do it. You can go simple with a few handholds and minimal variation, or go full on military grade like the container style climbing wall you see here. This one is known as the Optimus Prime wall and is located in South Africa's GOG Lifestyle Park, just outside of Johannesburg. It's the largest climbing wall in South Africa, measuring just over 95 feet tall. Think about that the next time you want to go repelling. Doing so in South Africa will mean you have to climb up almost 100 feet before you sail back to earth.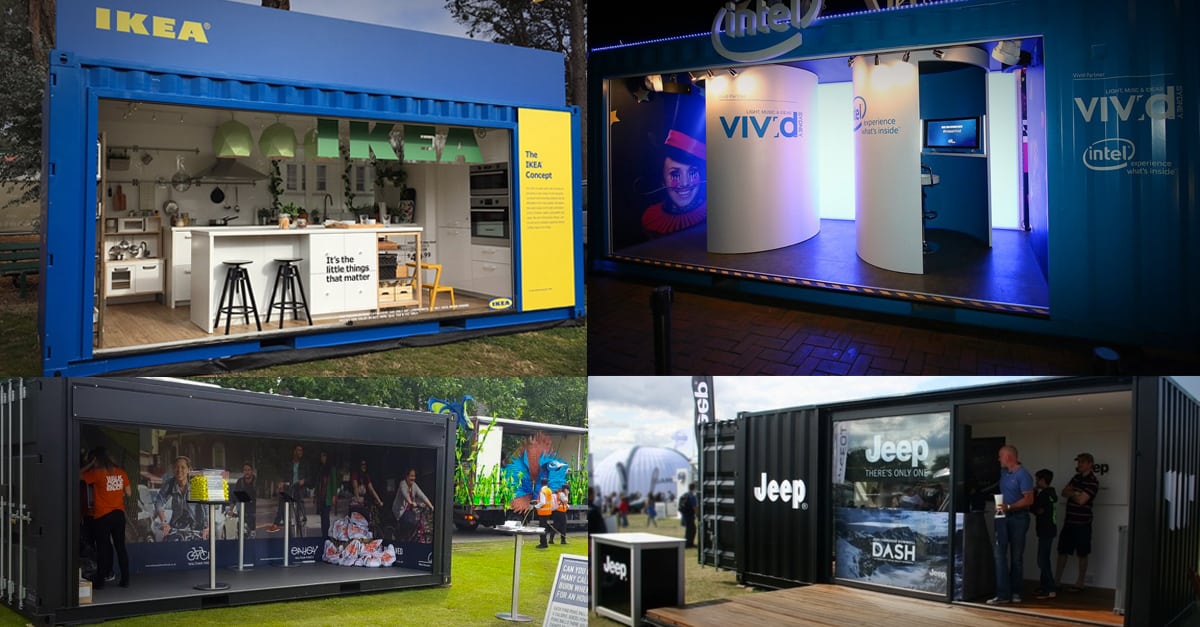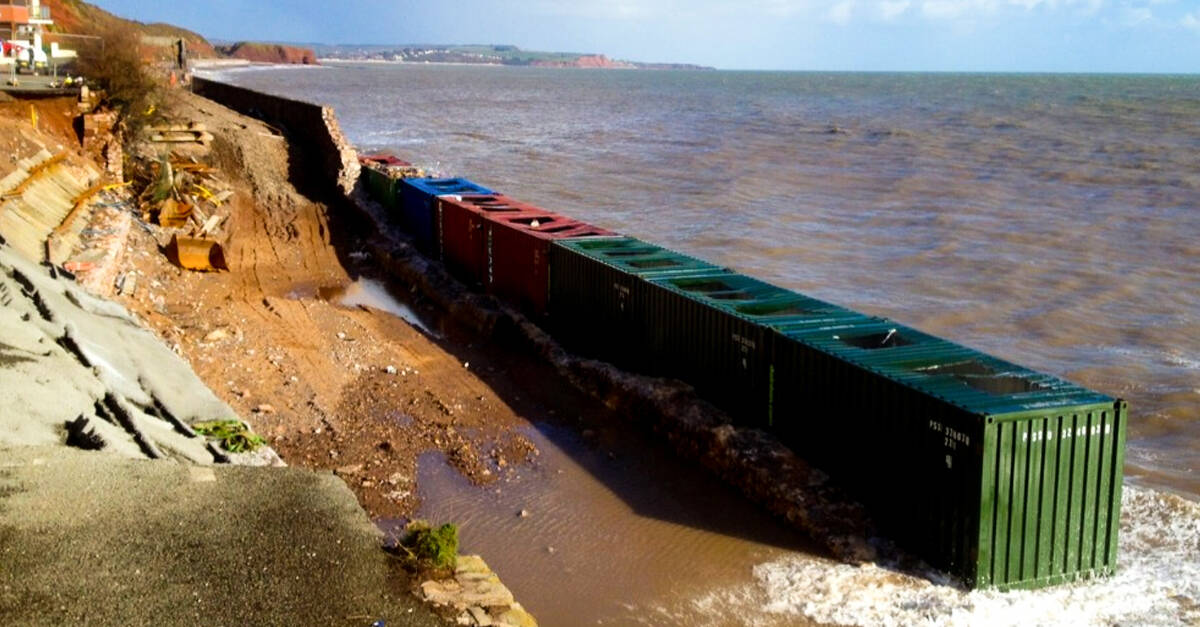 22. Flood Defense
Dawlish is a beautiful seaside town in Teignbridge. Tourists flock to the area to enjoy the beach, sand and sun. However, when it floods, conditions can be serious. This is because the railway line runs along the coast. When flooding washed away a portion of the line, it was incredibly difficult to stop further erosion. So, containers were placed as barriers to keep waves from doing further damage. It was a low cost alternative to constructing a more permanent fixture and did a nice job of protecting the coast until railway line repairs could be made. Now, it's back to business as usual!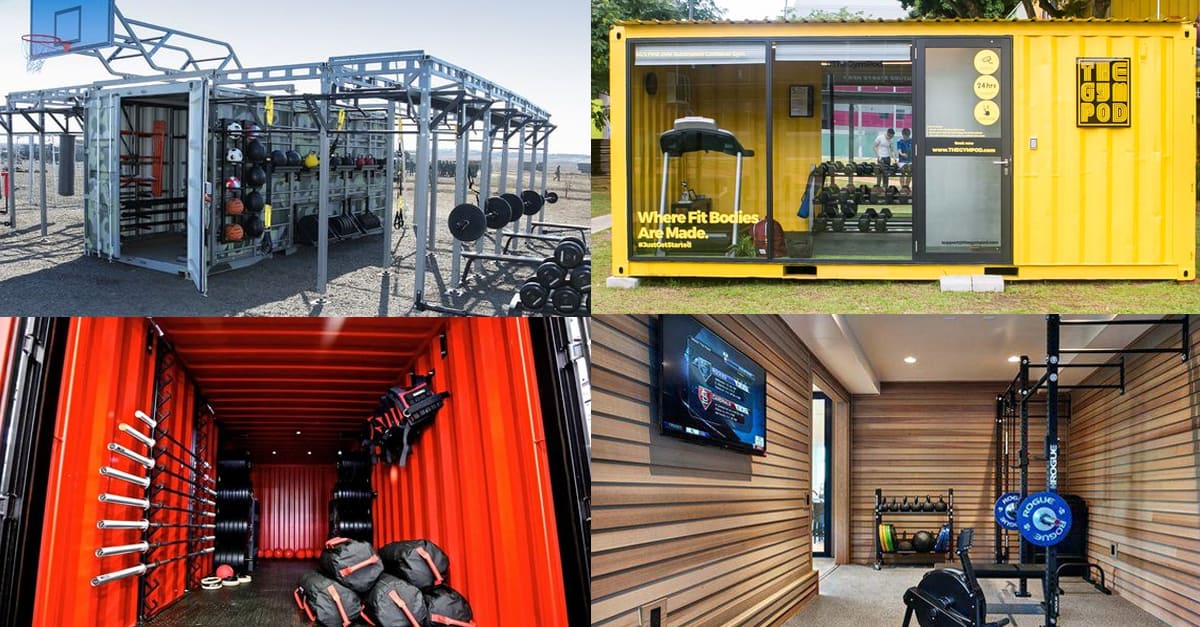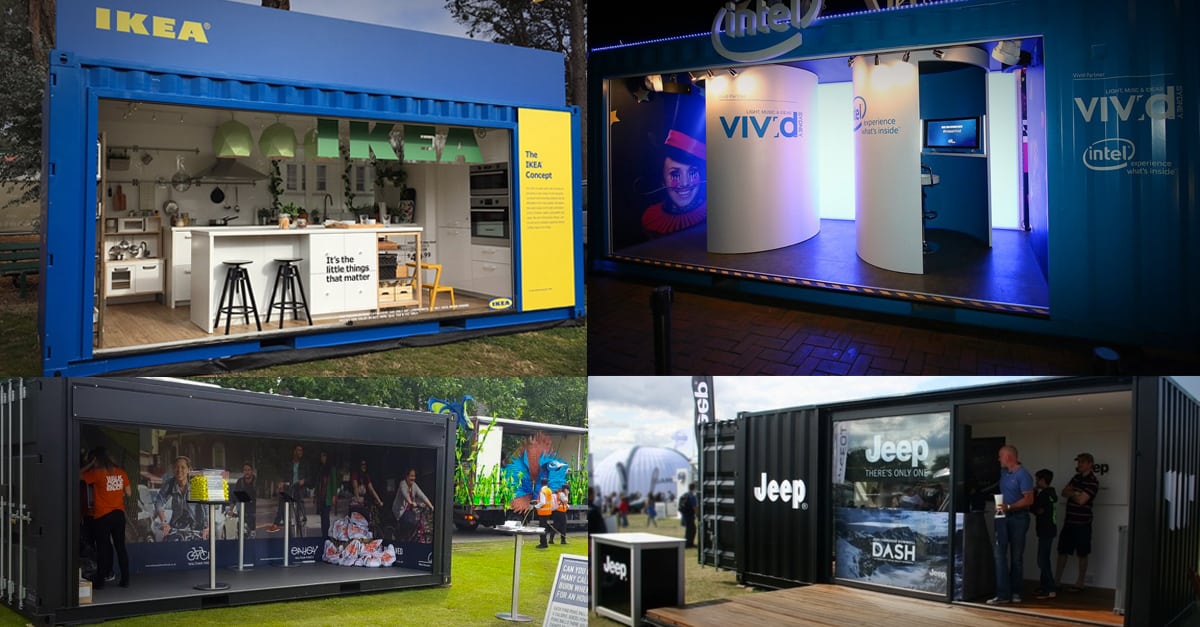 21. Trade Show Containers
Ikea, Intel and Jeep use containers for clever trade show spaces. The side of the container can be cut out, retrofitted, lifted, floated or any number of combinations to make clever event spaces. The containers are themed with paint, decals and other branding to create a truly one of a kind experience. Trade show attendees can enter the container cube and be treated to a fully immersive brand experience. Contekpro is the brainchild behind most of these designs, though other companies are beginning to emerge. Container presentations are a way to showcase branding and innovation in a somewhat permanent way. Once the show is over, they can be moved to other locations. They are shipping containers after all!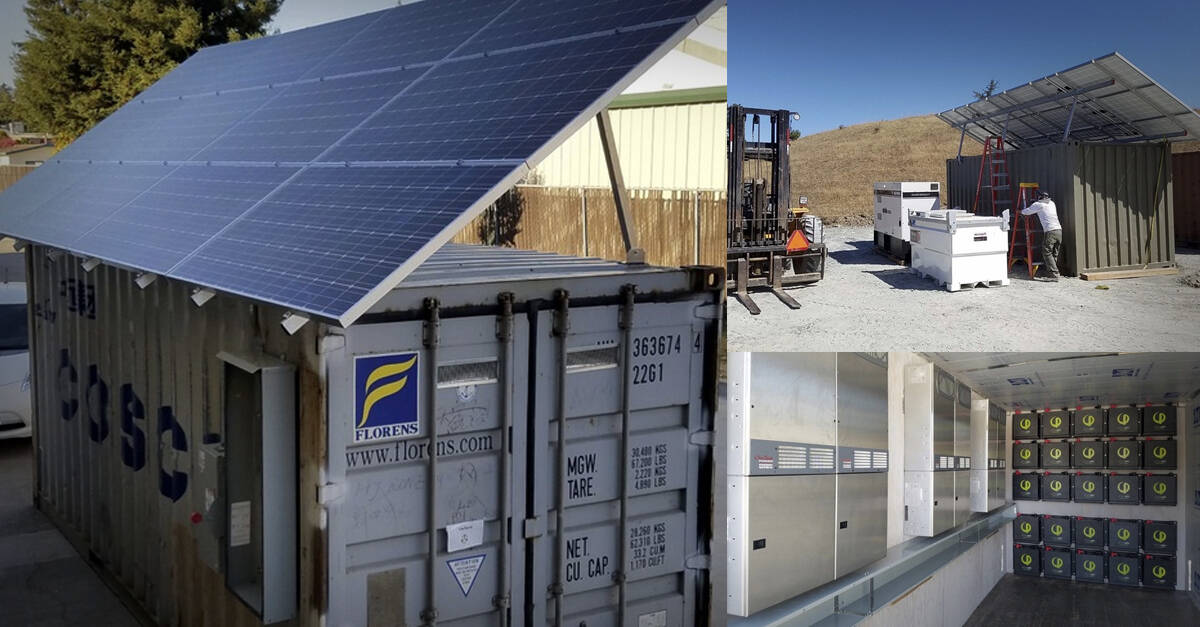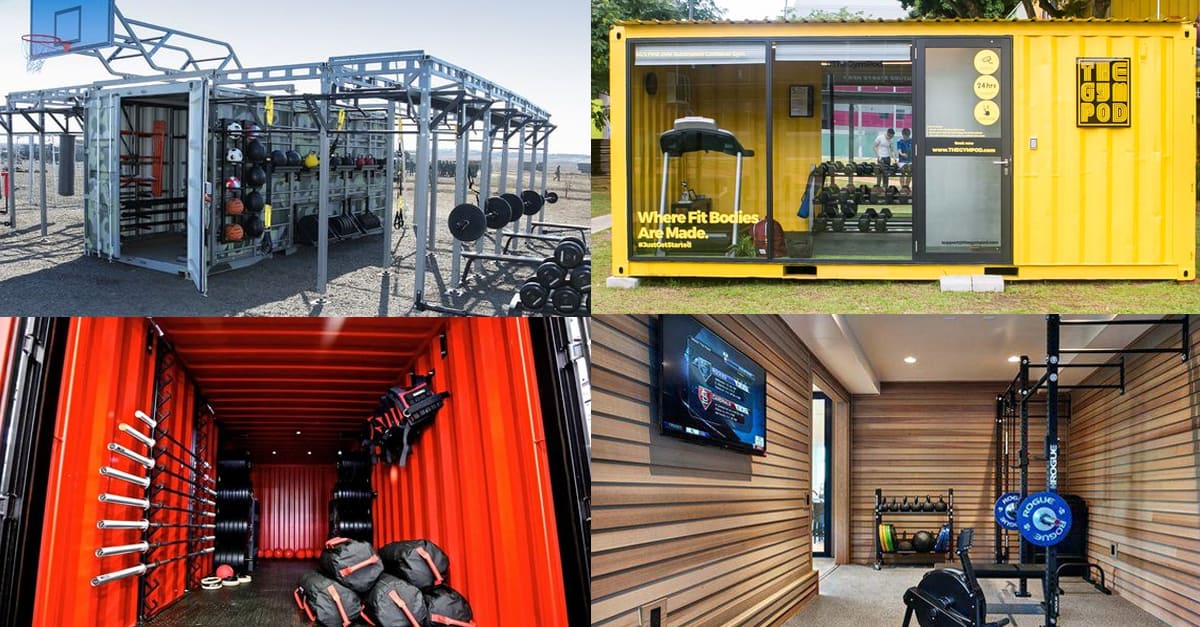 20. Gym
Looking for a portable, customizable and efficient gym solution? Why not convert a container into one? The idea is actually catching on. They are the perfect solution for home and corporate gyms. Customizing your gym can involve, ventilation, cut outs, security, custom paint, insulation, doors and partitions. Ultra creative gyms involve multiple shipping containers in different configurations with full length windows. This allows space for larger pieces of equipment. They can be used as gyms, yoga studios and cardio rooms. Companies like Saf-T-Box are well versed in creating these container workout gyms. It's the perfect way to add something to your home or office without spending enormous amounts of money with a new home addition.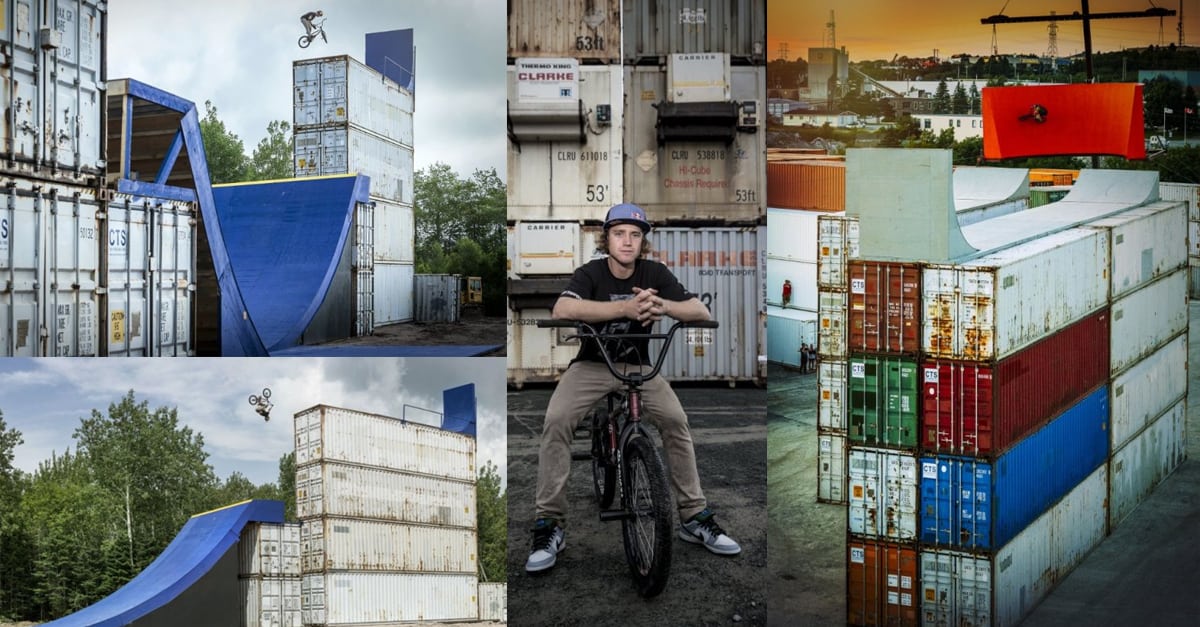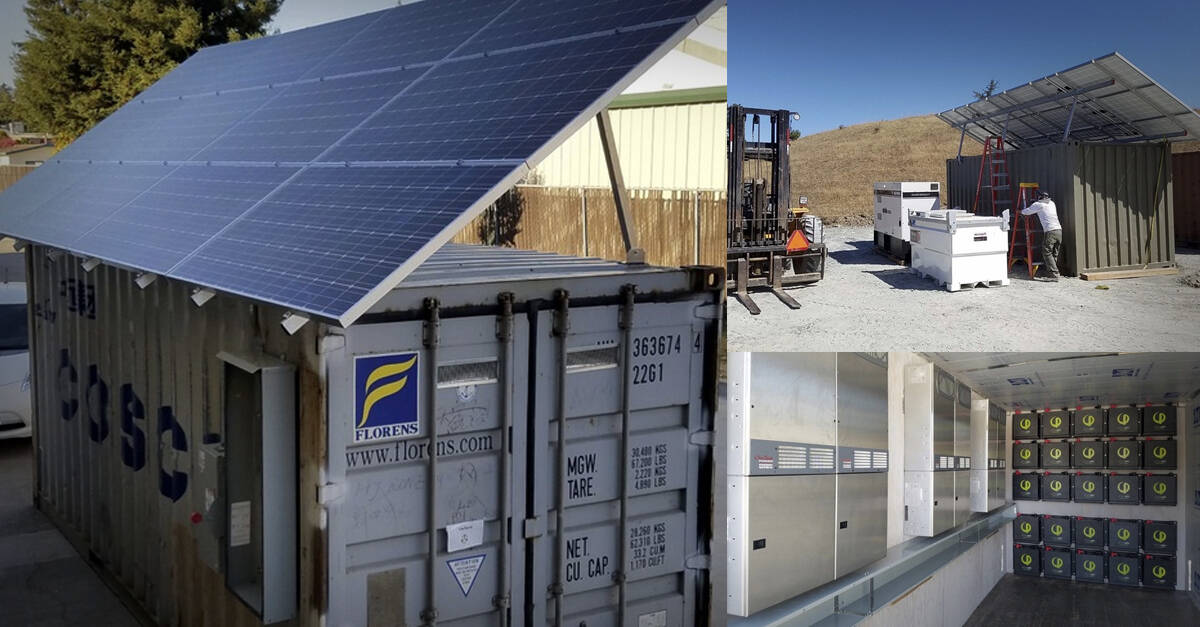 19. Solar Microgrid
When you need additional power and storage what do you do? Convert a shipping container to meet your needs! Dreamed up by Pure Power Solutions, it is the perfect solution when power is needed in remote locations. The first system rolled out in 2016 in Sonoma, California. It replaced former power solutions involving diesel. The new system is cleaner, more efficient and uses non-toxic batteries. The 450 acre test site at Vacherie Ranch proves the microgrid power technology has application for many locations and terrain spaces. Plus, the ranch has saved half a million dollars by making the switch to the new technology. All we see is another cool use for shipping containers!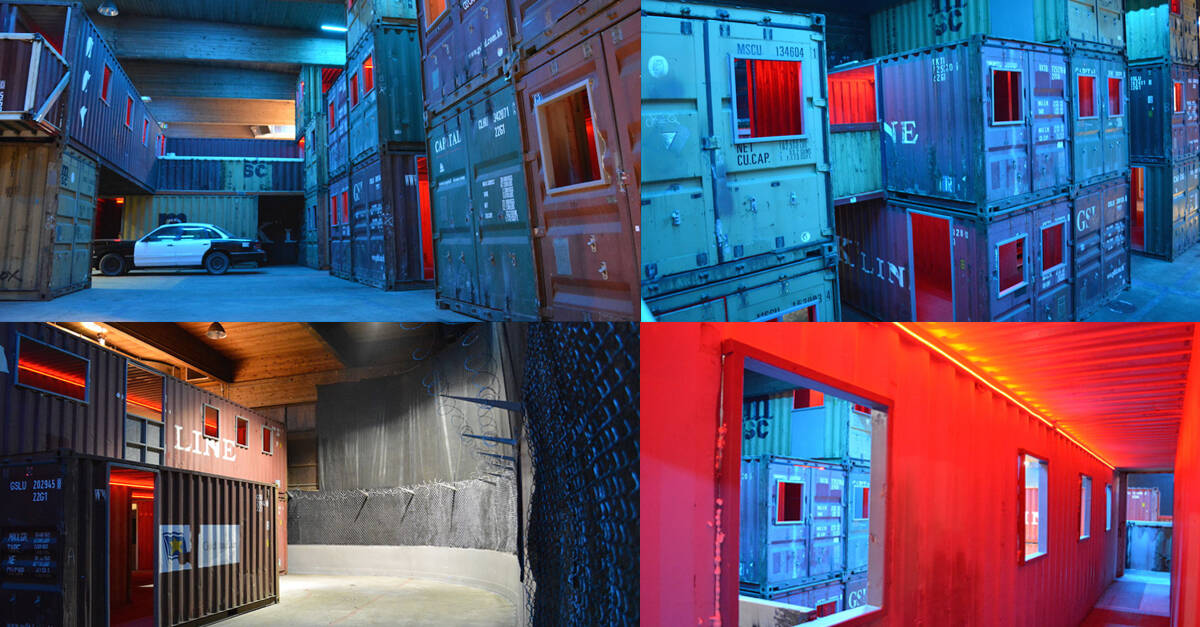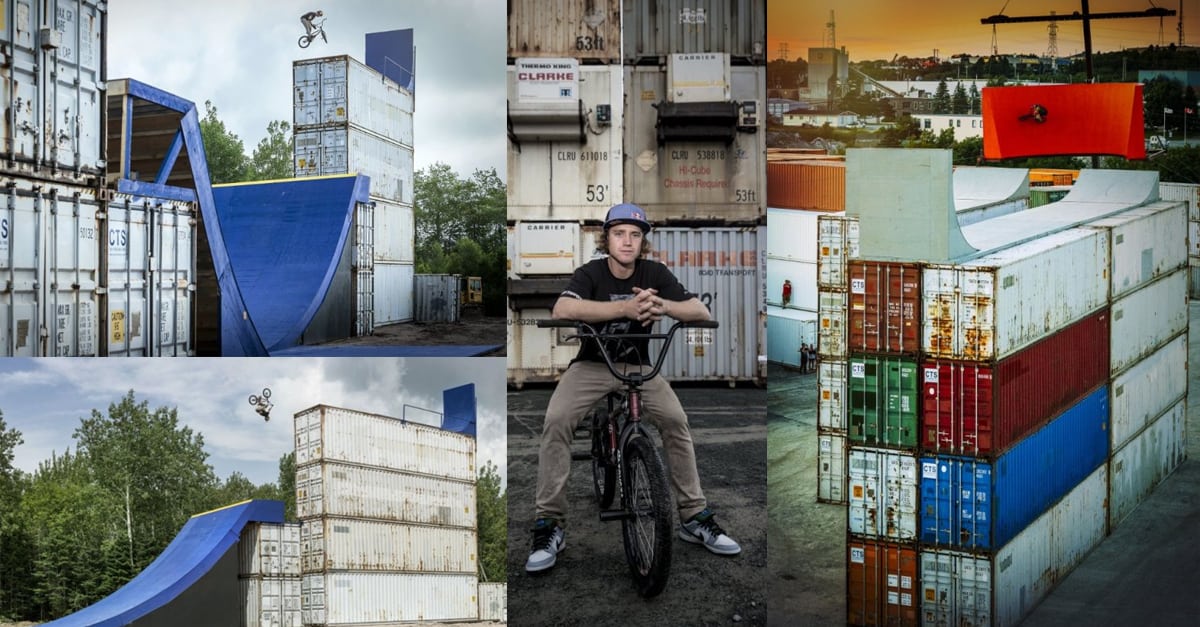 18. BMX Ramps
If you happen to be a BMX athlete, like Drew Bezanson, then shipping containers serve a completely different purpose. Here, we see them configured into a BMX park. It begins with a vertigo inducing 40 foot drop. Drew is known for pushing the sport of BMX to new levels. It seems like he's always a step ahead looking to make things bigger and more daring. In his latest Red Bull video, Uncontainable, we see him navigate the park deftly. However, the culmination involves a jump from the top of shipping containers stacked four stories high to a curved wall suspended in midair, where he then navigates back to a stack of shipping containers to end the stunt. Drew says you have to push yourself out of your comfort zone in order to be successful. And while that's true, we think that's a little too uncomfortable for us. We'll just watch him do it instead.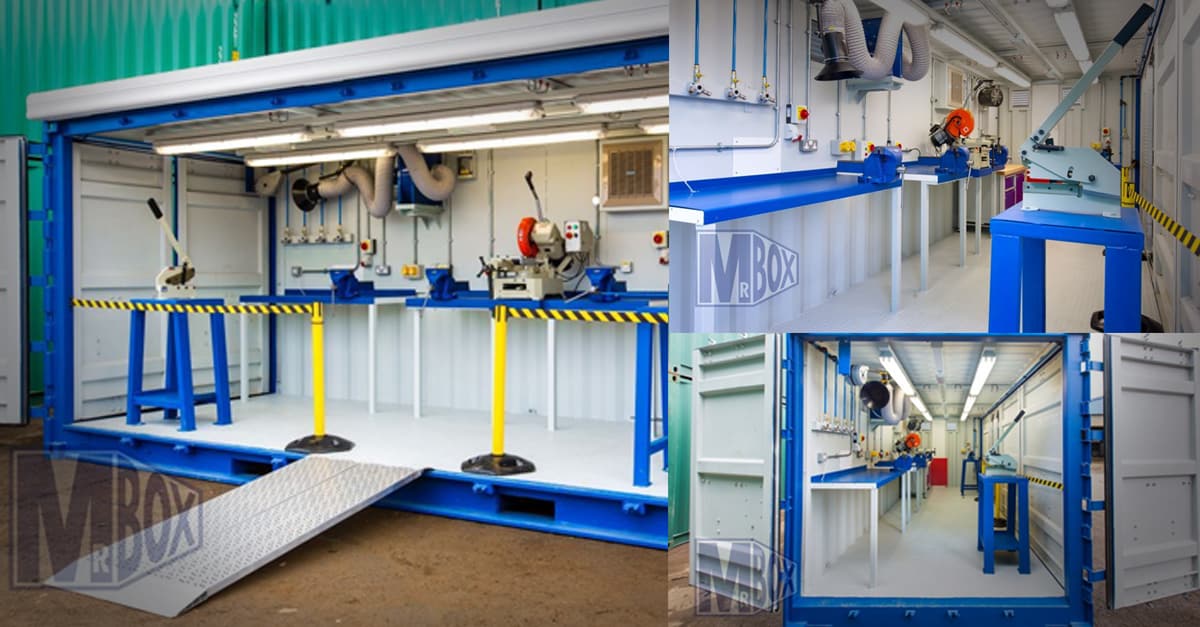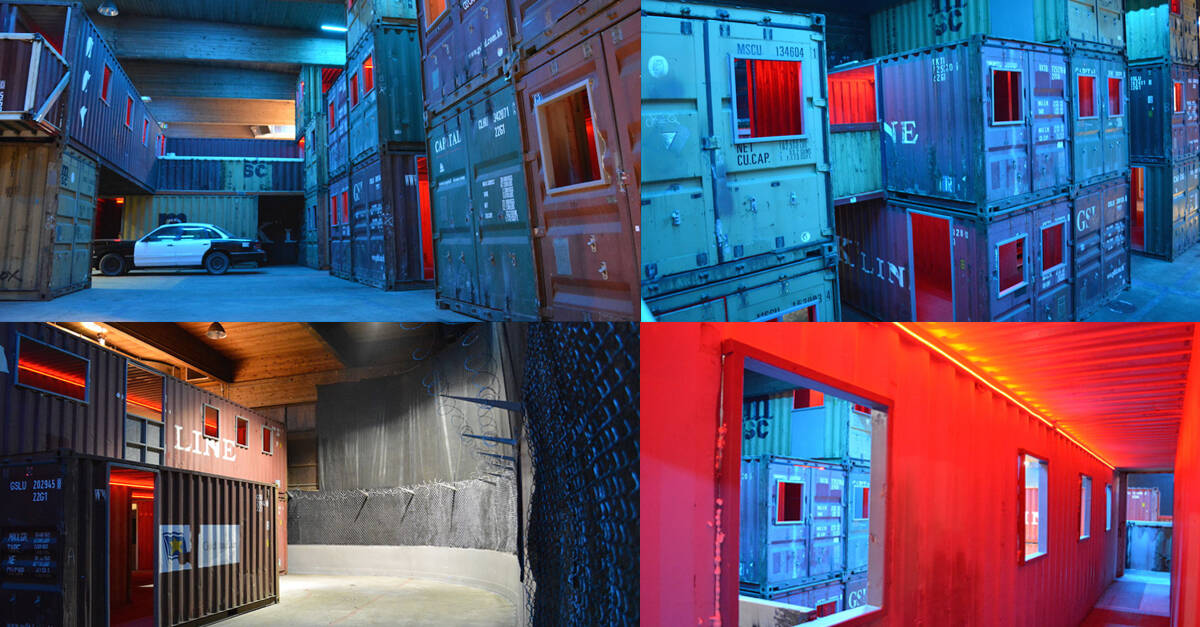 17. Laser Tag Arena
Travel 40 minutes west of Chicago for our next epic container conversion. Paintball Explosion takes indoor laser tag to another level by incorporating shipping containers into the playing field. Participants group together and shoot it out in an industrial style setting complete with ambient lighting and sound designed to immerse you in the experience. The complete course covers more than 40,000 ft.² and has multiple levels, the highest being three stories. It's a great way to experience what it would be like to enter a top-secret government shooting facility. That's the setting and by all accounts we would say they nailed it! Cutouts provide vantage points to snipe people from above. Also, there are plenty of open areas and spaces like bridges, to yield the perfect opportunity for other players to snipe you. So, if you find yourself at Paintball Explosion, be ready to rumble!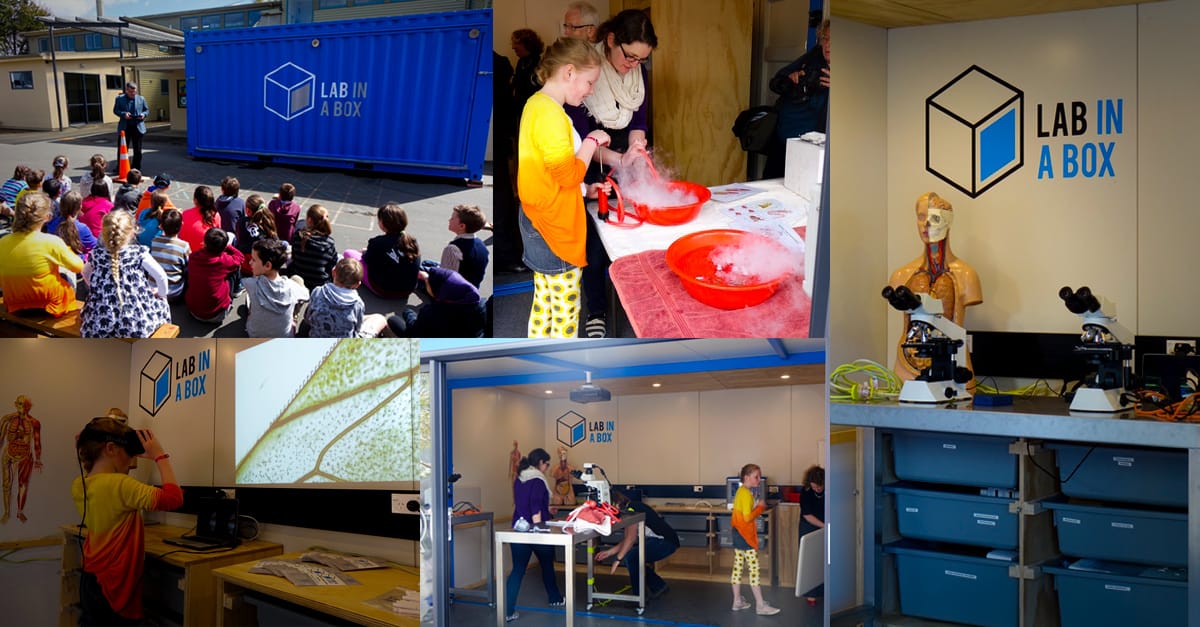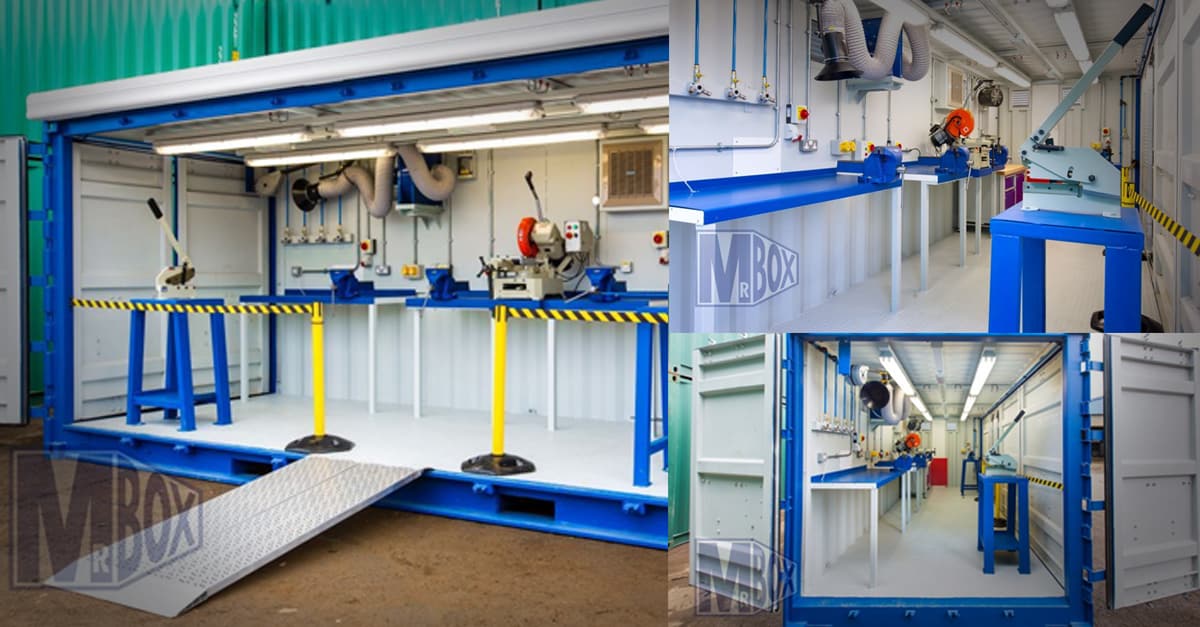 16. Workshop
How about this for a conversion? Mr. Box is known for unique shipping container conversions. They do everything from self storage to office units, chemical storage and open sided container workshops. That's what you see in this photo. The beauty of this configuration is the workshop is completely mobile. This particular set of mobile workstations was designed for an individual who services Navy ships. Each 20 foot workspace is outfitted with double, bi-fold doors, louvered vents, hooks for cables and welding lines as well as foundation plates so machinery can be properly secured. In addition, the workspace was outfitted with a few saws, vices and cupboards for storage. Loading ramps stow inside when not in use and the entire thing can be easily moved for accessibility while working on different sections of a ship.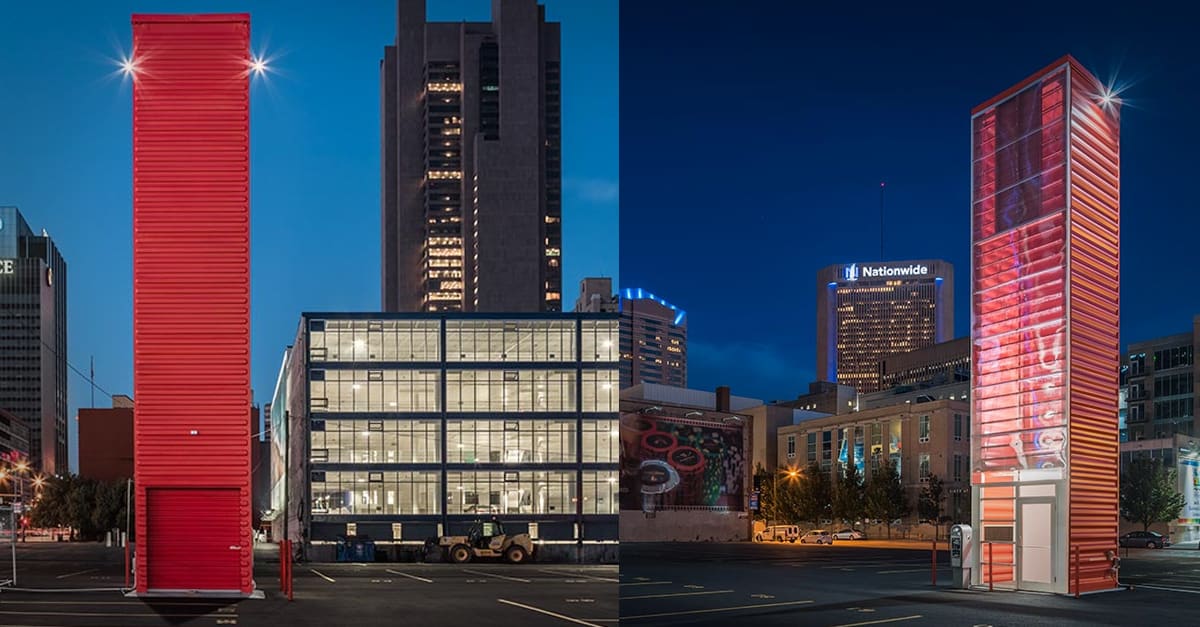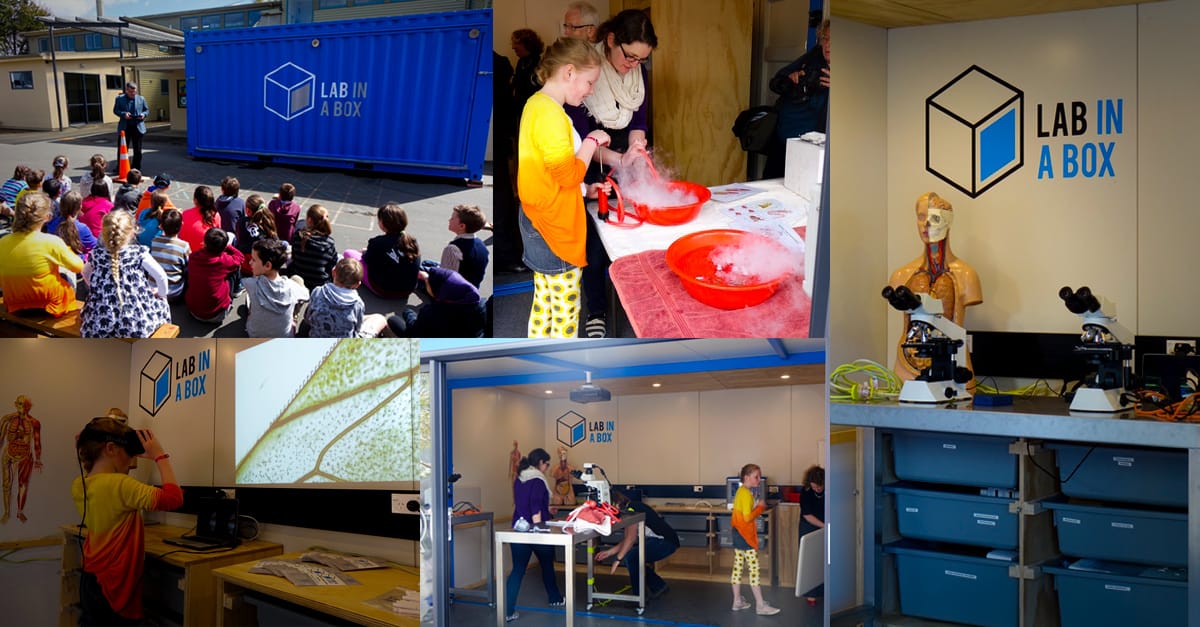 15. Science Classroom
Remember the first time you got that little chemistry set at Christmas? You were maybe six or seven years old and science was fascinating. Well,this container conversion is that science kit on steroids. It's a New Zealand Lab in a Box designed to take science programs to rural areas. The project received $150,000 grant from the government to outfit the container. It's crammed full of high-tech equipment, including precision microscopes, a 3D printer and VR goggles. It's designed to be fully transportable by roadway or sea. Also it's outfitted with electric winches to ensure the doors open fluidly. The container travels to schools to help augment their science programs. Kind of makes you want to move to New Zealand, doesn't it?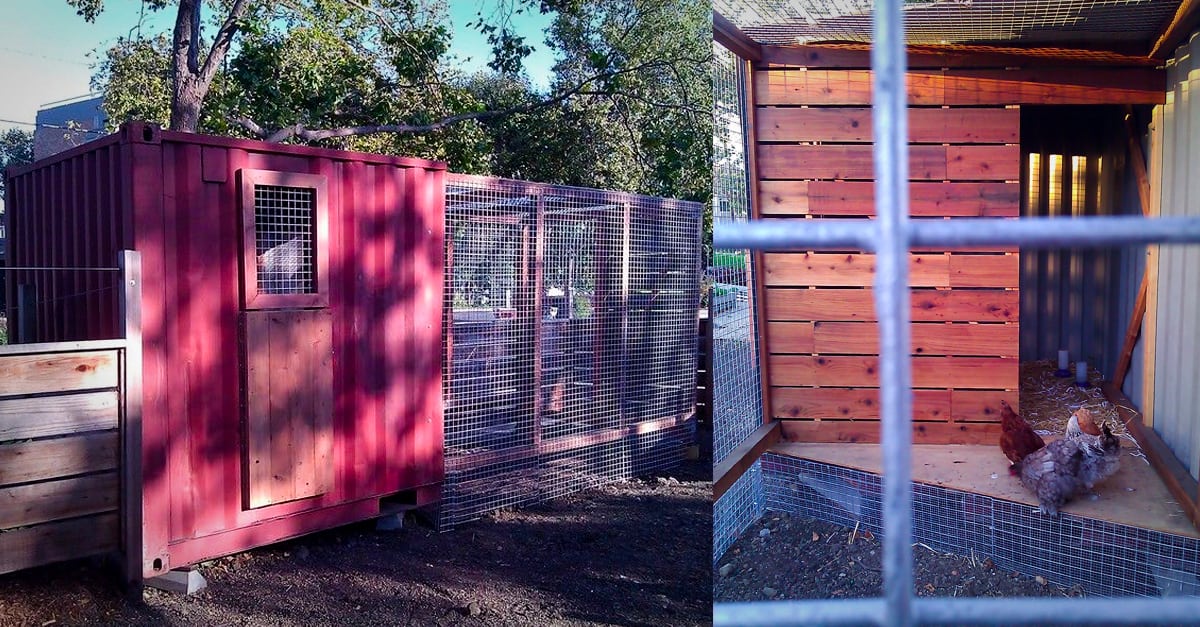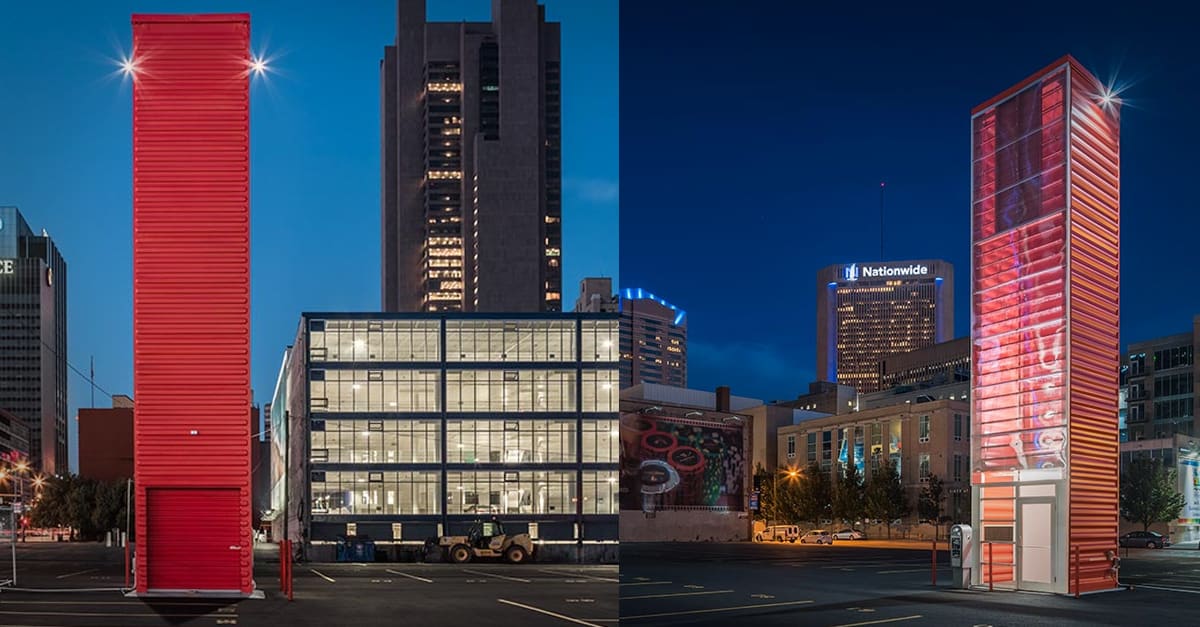 14. MicroTower Parking Booth
Here's a great idea for cramped spaces. This container conversion yields a cool end result… a Microtower parking booth. This will replace traditional toll booths for parking attendant employees and has some pretty cool features inside. For instance, the bottom level will serve as traditional booth space for attendants to take money or issue tickets for parking. The upper two thirds are designated as flexible program space. What this means is there are spaces designed for food cart and coffee cart service as well as bike storage. This gives parking booth employees space to store their bikes keeping them safe from the elements. At roughly 8 x 9 x 40 feet, these are sure to become a hit in time simply because they're inexpensive and readily available.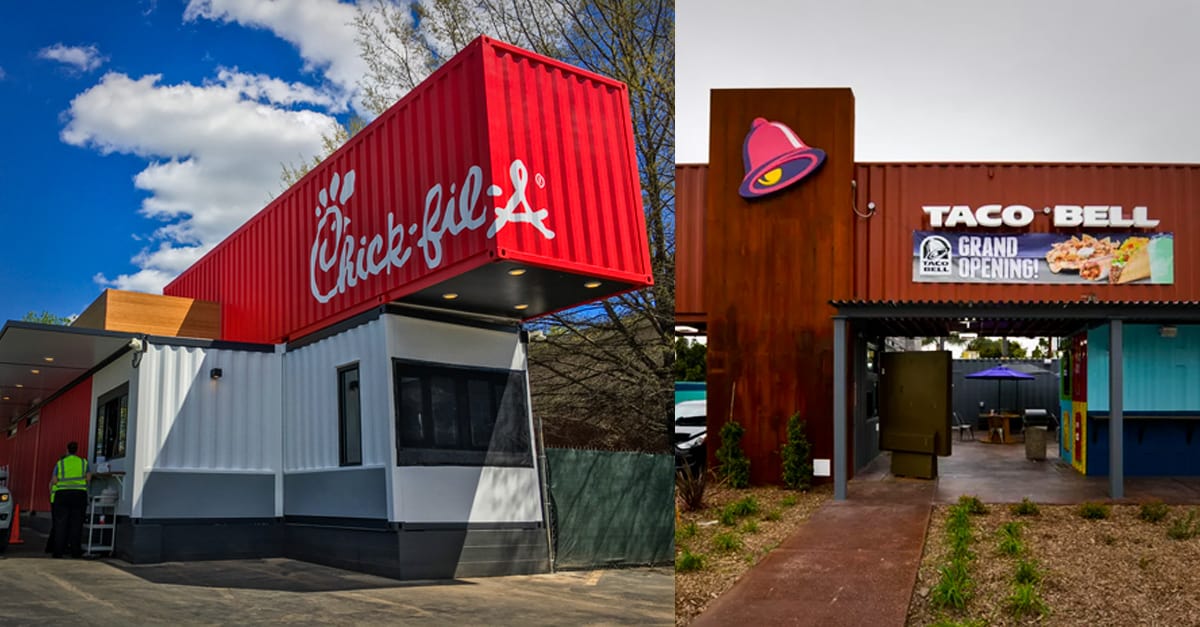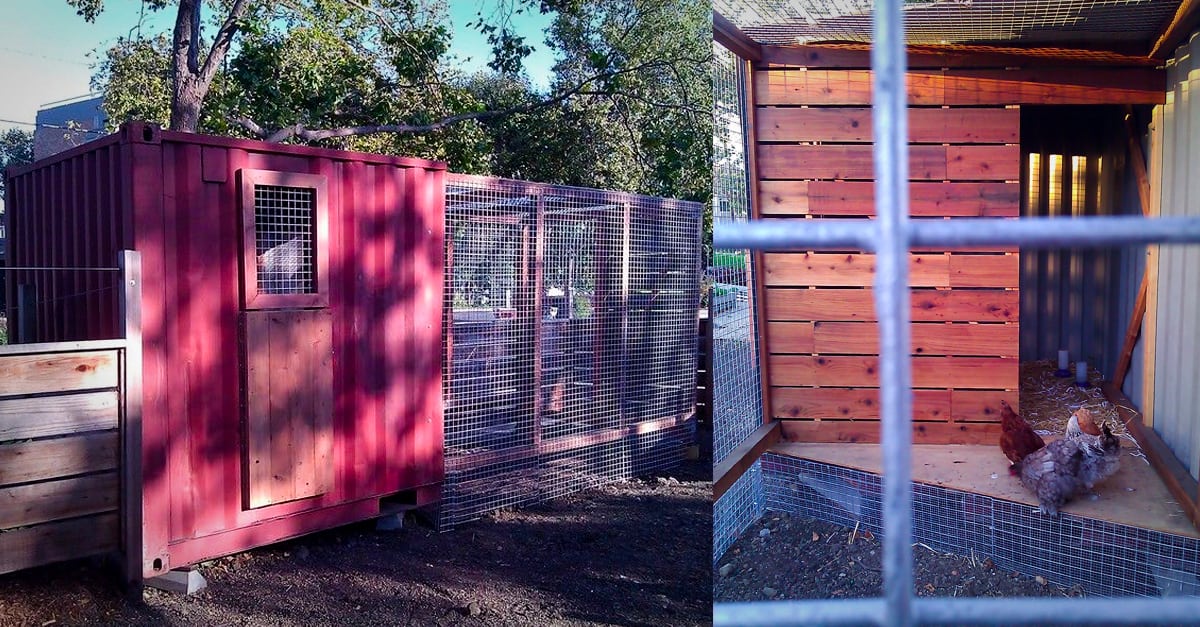 13. Chicken Coop
Remember the goat farm we saw earlier? It was a clever container conversion designed to Hals goats. Well, here is another conversion. This one is a chicken coop. It's pretty straightforward too. Simply cut out the top and sides, then apply chicken wire. A tiny door on one side gives access for coop maintenance. The inside is outfitted with wood to serve as nesting boxes for laying eggs and hatching broods. Perhaps the most clever part is the foundation. Since the container is lifted off the ground, the floor was cut away and chicken wire applied all the way to the ground so the chickens have a place to scratch and well, just be chickens. What a clever conversion!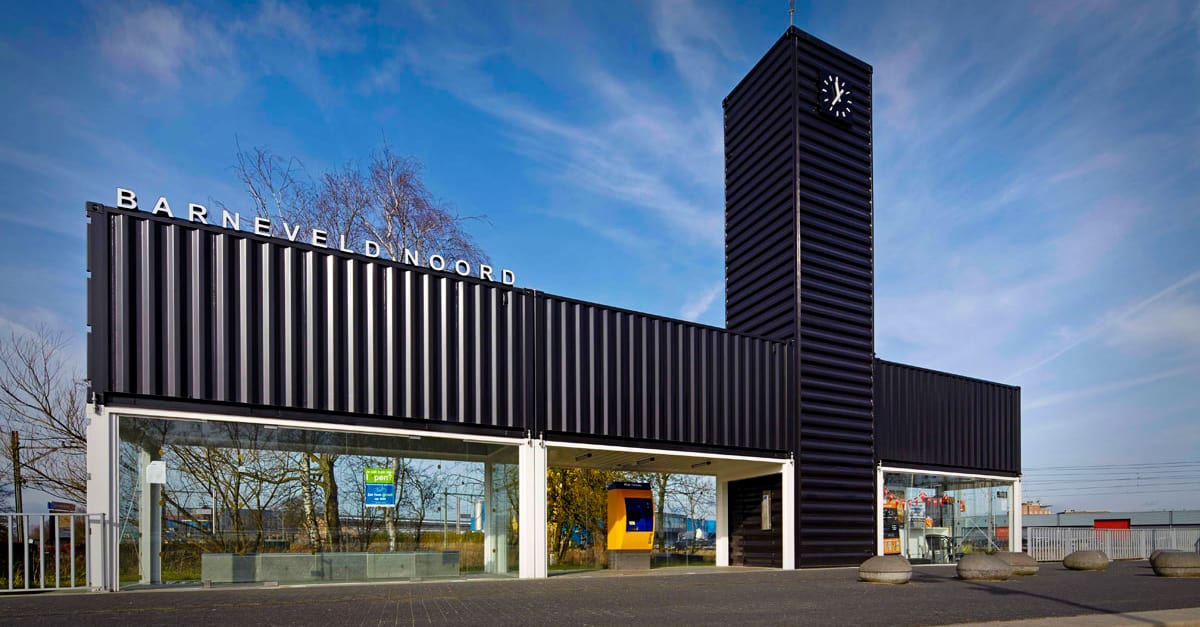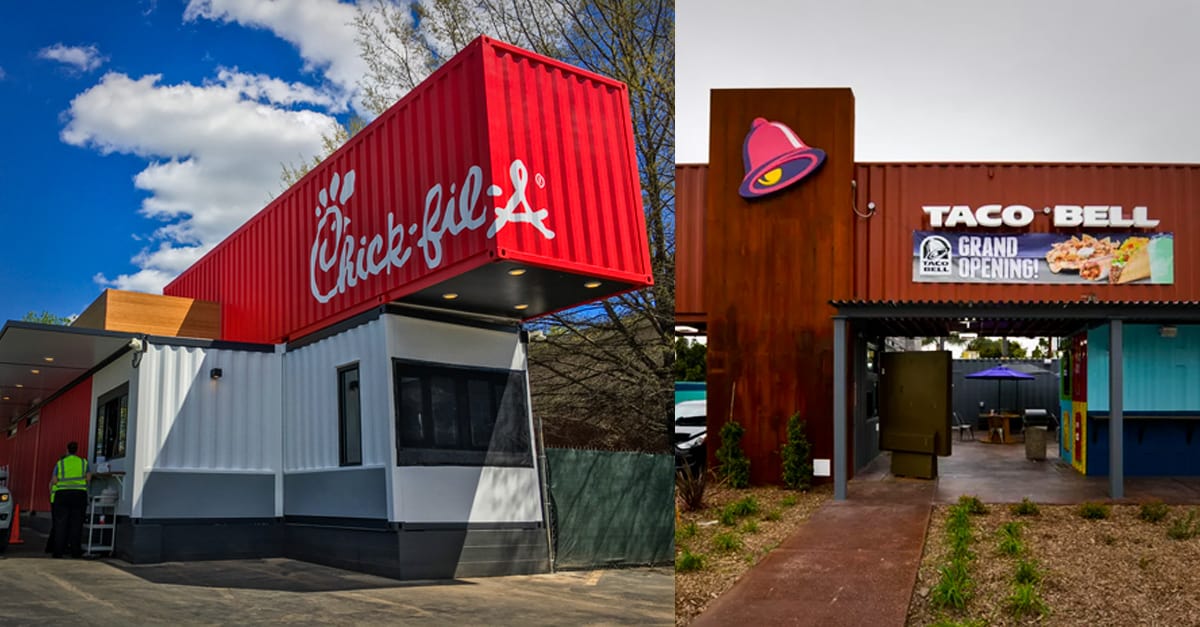 12. Fast Food
Leave it to Los Angeles to get creative with architecture and shipping containers. If you happen to crave a late night Taco Bell snack, simply go through their drive-through shipping container. That's right, the Southgate location has a corporate franchise store designed completely from shipping containers. The 1000 square-foot taco stop serves hundreds of people every day who can't get enough Taco Bell. Originally, this was a brand installation design for Taco Bell featured at the SXSW festival in 2015.In fact, the Chick-fil-A container restaurant was designed for the same purpose. After the conference ended, the corporation decided to make it a permanent structure and chose Southgate as the location. It's a first for the company, but speaks to their desire to expand and stay relevant. We think both of them are a hit!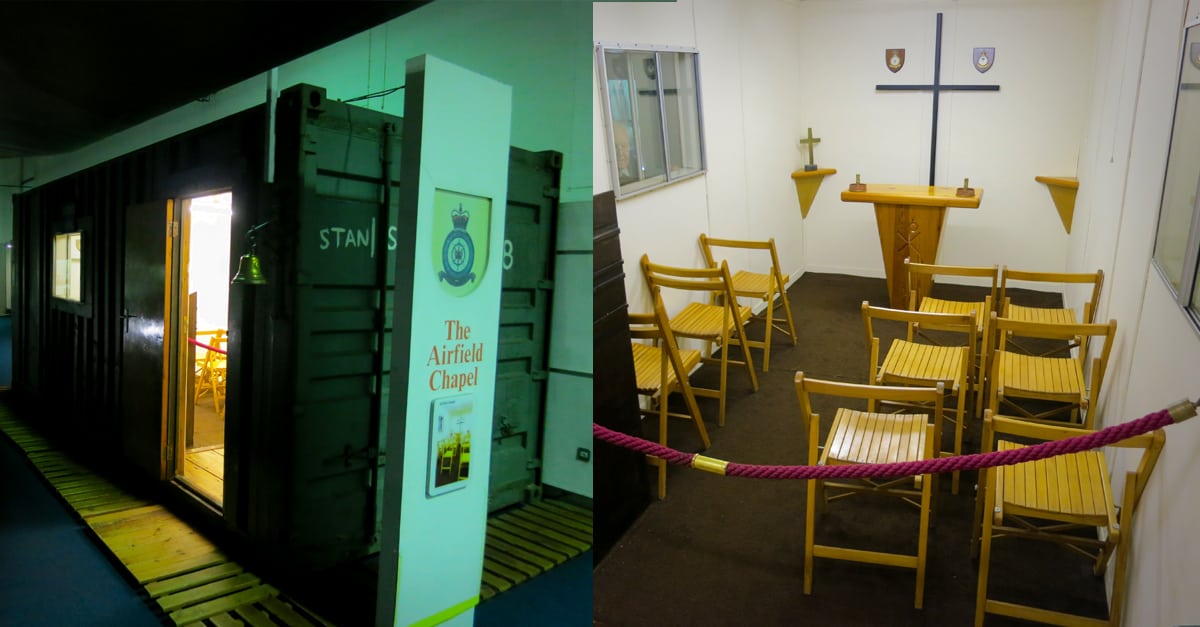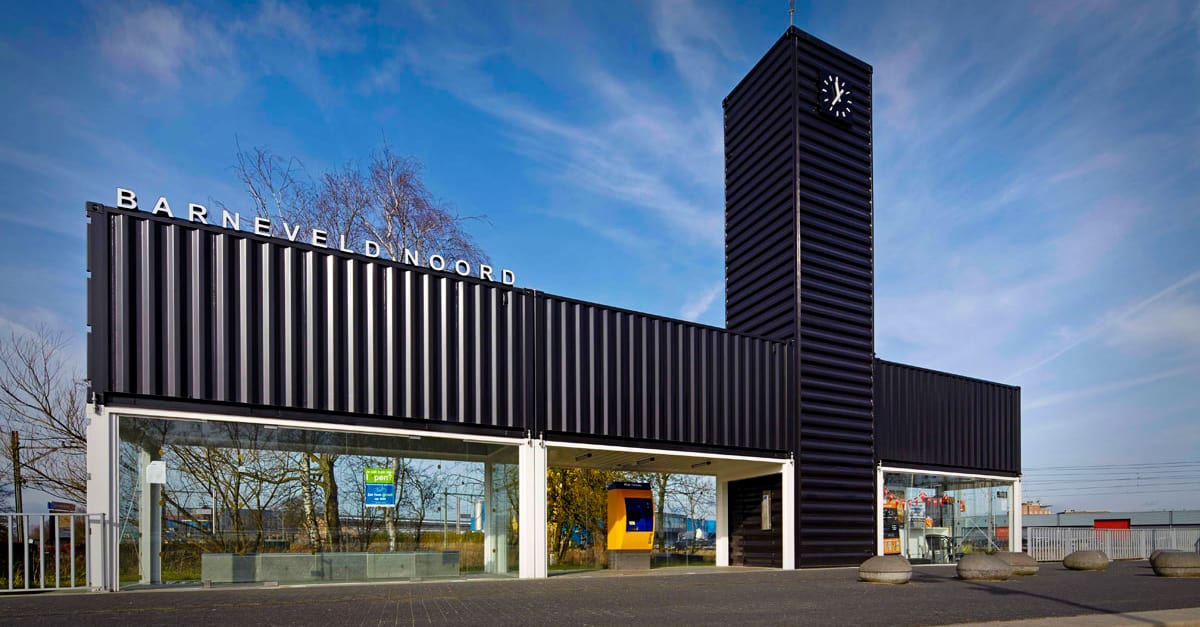 11. Bus Station
Here's a new one. Architectural firm NL Architects designed the Barneveld Noord Bus Station in the Netherlands completely from shipping containers. The end result is a bold statement. However, it serves double duty. It's hard to miss this bus station and the Inside was outfitted to include a waiting area and café. These were efforts to make travel less stressful for passengers. Then result is a striking, iconic monolithic structure that also gives off an air of warmth and intimacy. Only a Netherlands architectural design firm could pull off something like that! Plus, it's hard to miss the bus. The structure is huge!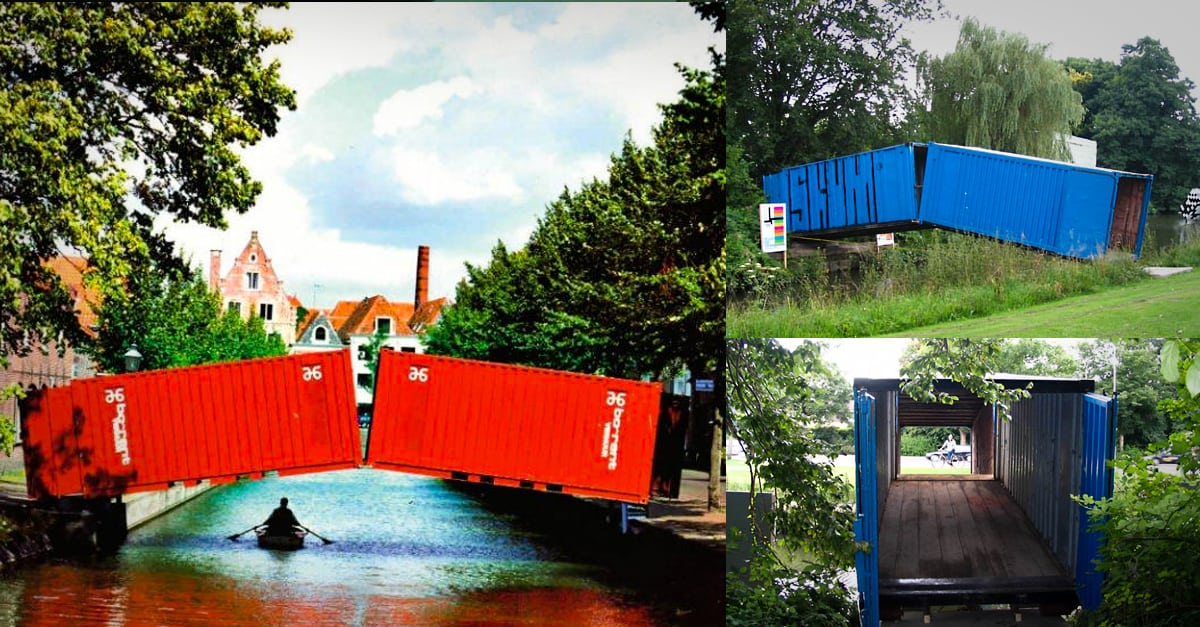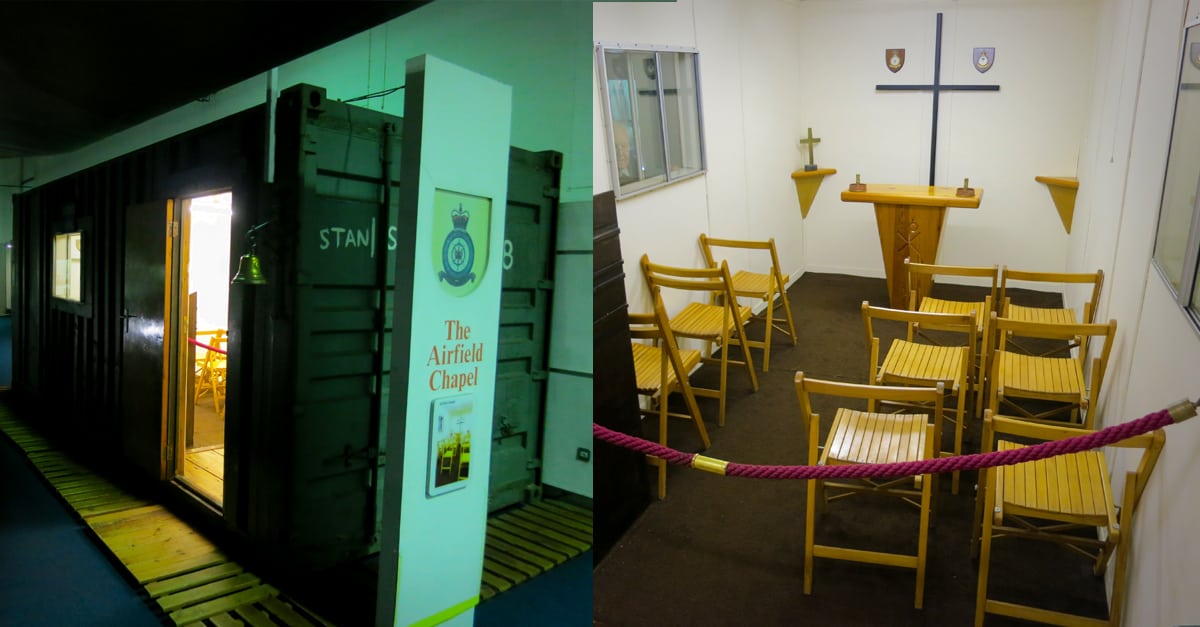 10. Chapel
When military personnel need a chapel, sometimes they turn to shipping containers. This is an airfield chapel made from a small shipping container. The conversion process is fairly straightforward. Windows were cut into the side and a few florescent light bars were installed overhead to provide ample lighting. Inside, there is space to seat about 10 people comfortably. Military personnel can use the chapel for times of personal reflection, or schedule to see the base chaplain for a time of counsel and prayer. It's a great way to repurpose containers. There are no shortage of them as they are used to supply troops with everything from food to weapons and vehicles. This chapel conversion gives soldiers and other military personnel a private space to express their faith whenever they want to.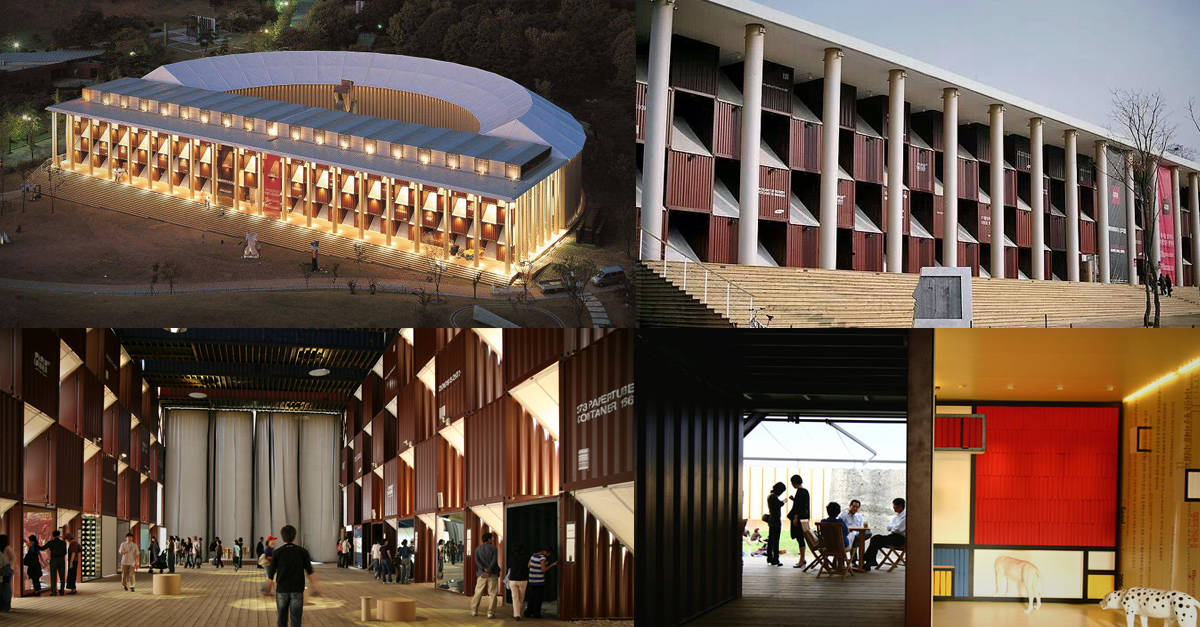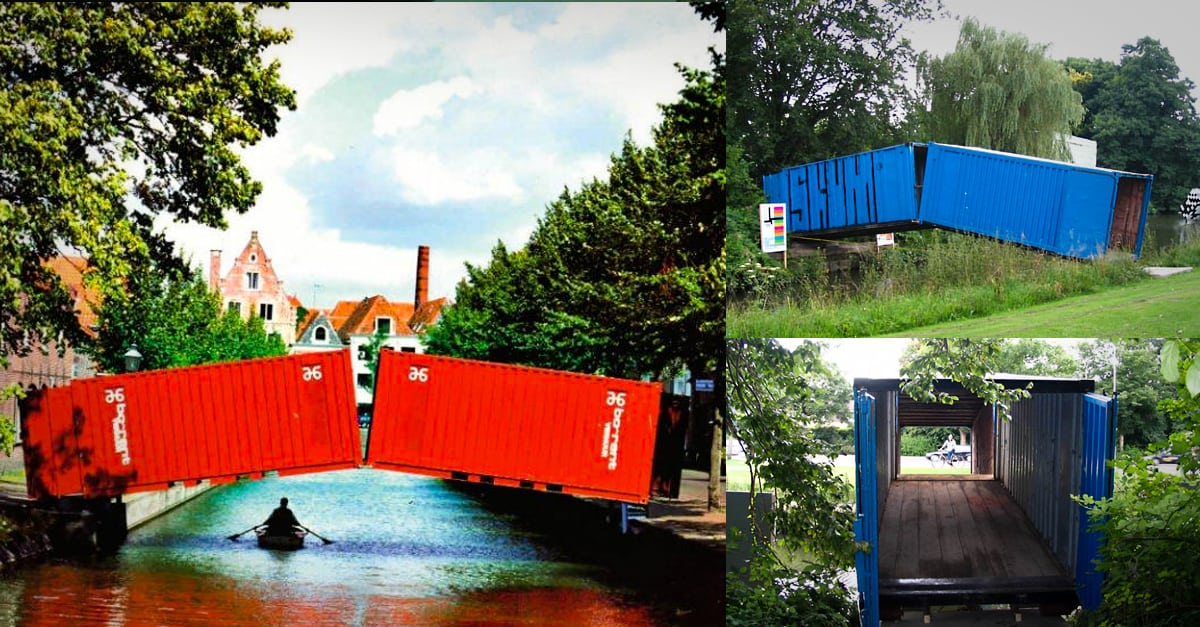 09. Bridges
Need a bridge and are all out of ideas? Why not weld two shipping containers together? It's the perfect marriage of utilitarian and sustainability. Built on a steel base, these clever bridges make quite a statement. And as stark as they are, they fit really well with natural scenery. Plus, as a bonus, they can serve as shelter if the weather gets inclement. Beyond that, they make the perfect covered footbridge, with no building required! Countries around the globe are waking up to the idea of shipping container bridges. They are a plentiful resource and really easy to make.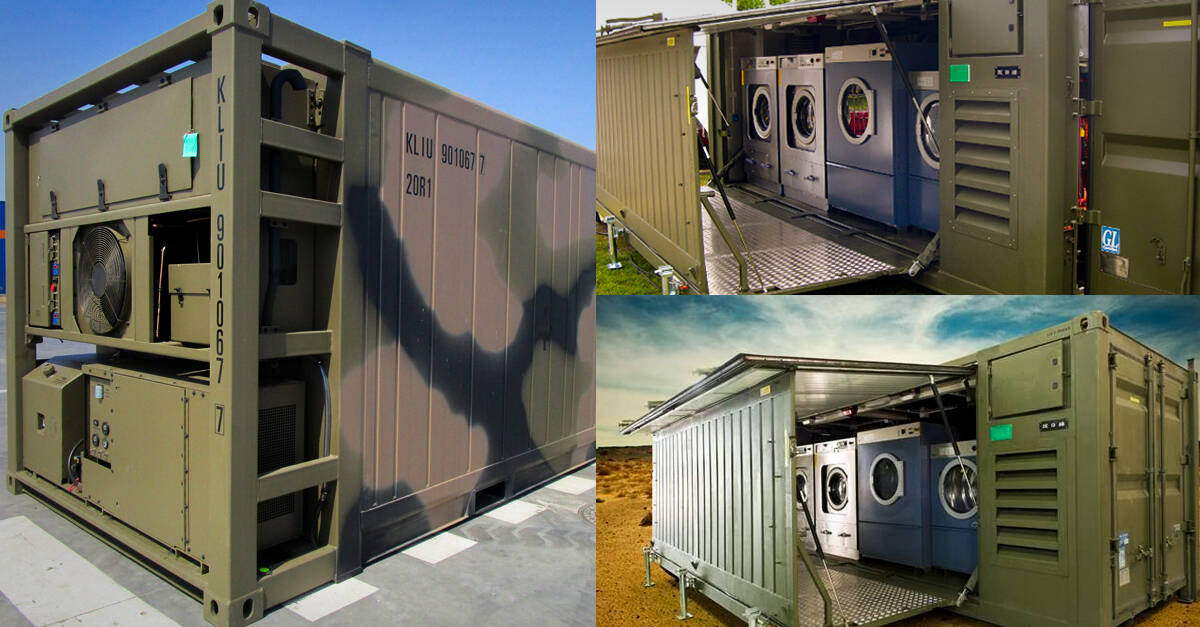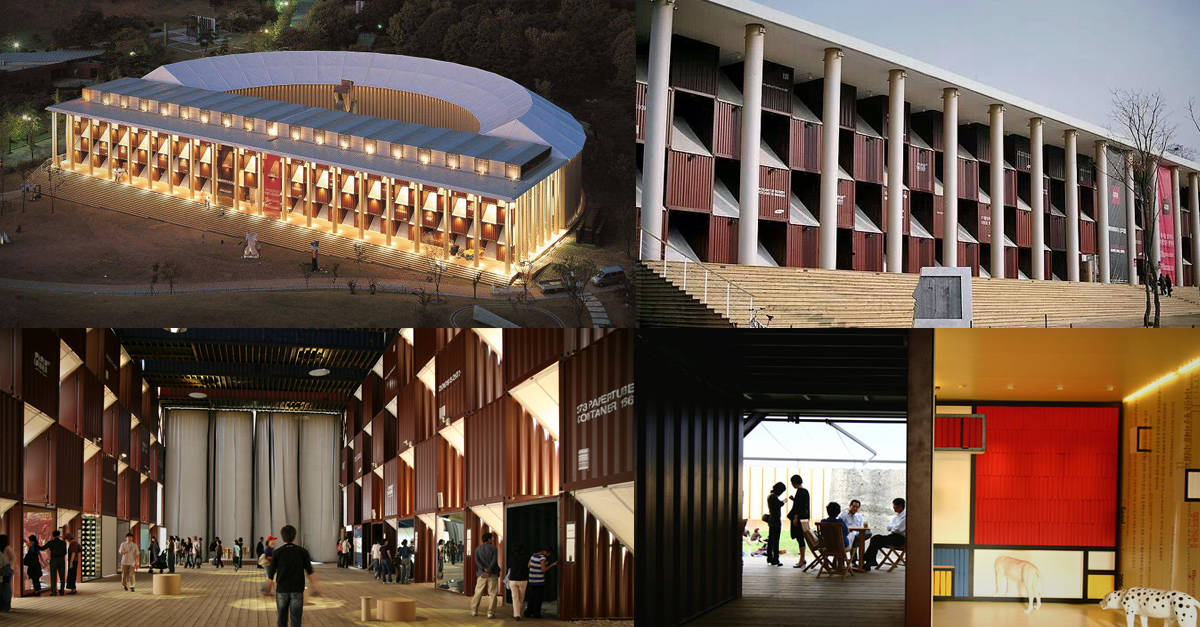 08. Papertainer Museum
Check out Papertainer. It's a museum based in Seoul, South Korea. It's made entirely of old paper cargo containers. However, there is an even cooler aspect. The entire structure is supported by dense tubes of paper. This gives it a unique aesthetic appeal that very few buildings possess. Also, don't let the location fool you. The entire museum is designed to be easily dismantled and taken to other locations. However, the most awesome thing about this construction? It's water and fireproof. The secret lies in paper density. It's not near as vulnerable as the paper we are used to seeing. Even more impressive? No stone or cement was used to complete the museum. It is a true living expression of eco-consciousness and sustainability.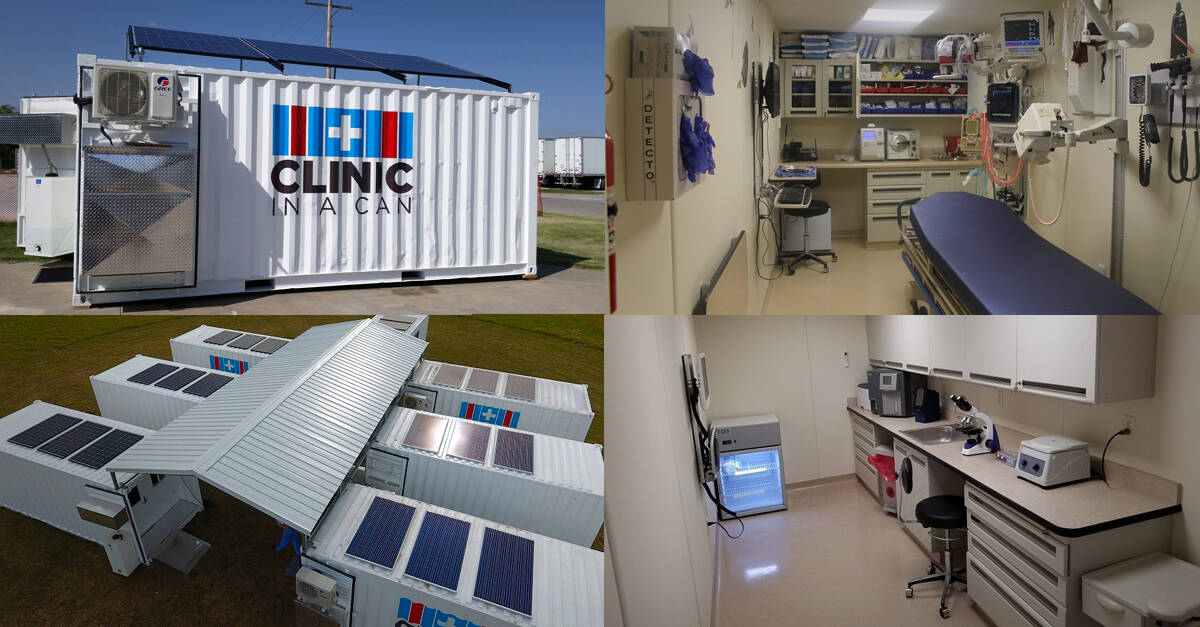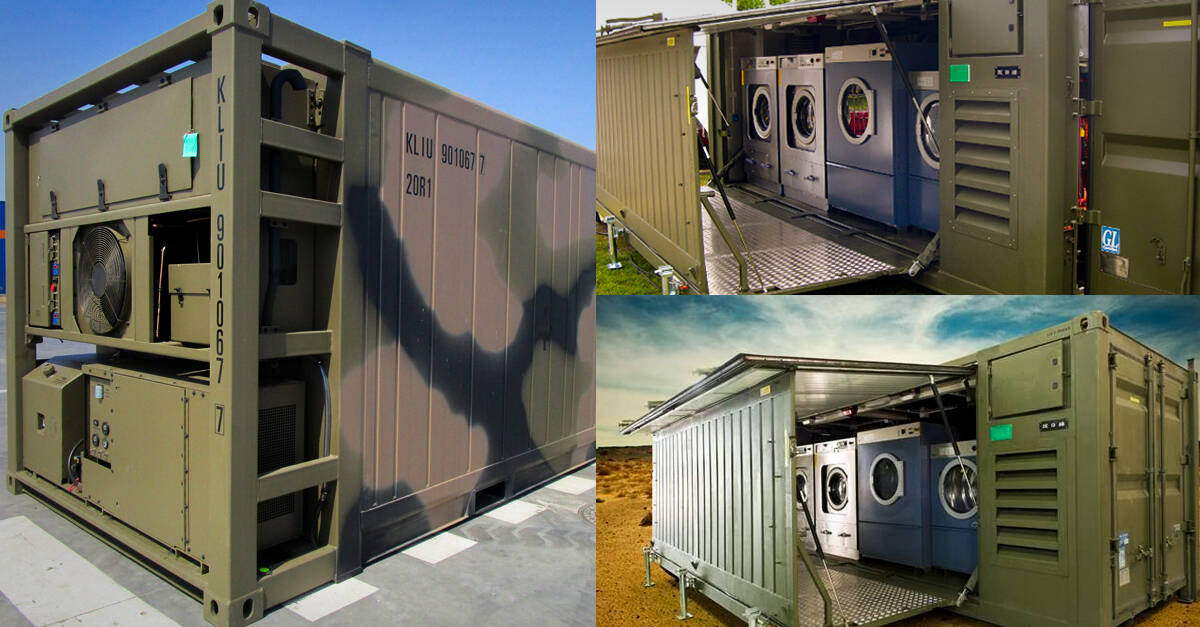 07. Laundromat
What do you do when you need to wash your clothes and your washing machine goes kaput? Simple, travel to one of these mobile laundromats. This is the genius of Container S.A. and provides a solution for residents in urban or remote locations. The laundromats can be easily picked up and moved. The only hookups they require are electricity and a water supply line. Some locations become permanent fixtures, while others move around different parts of the city in foreign countries. In that regard, you schedule laundry according to when the laundromat will be present. There have even been a few container laundromats designed for military use in the field. It's rather funny to see something so rugged and military house washing machines and dryers. But hey, those uniforms have to get cleaned somehow, don't they?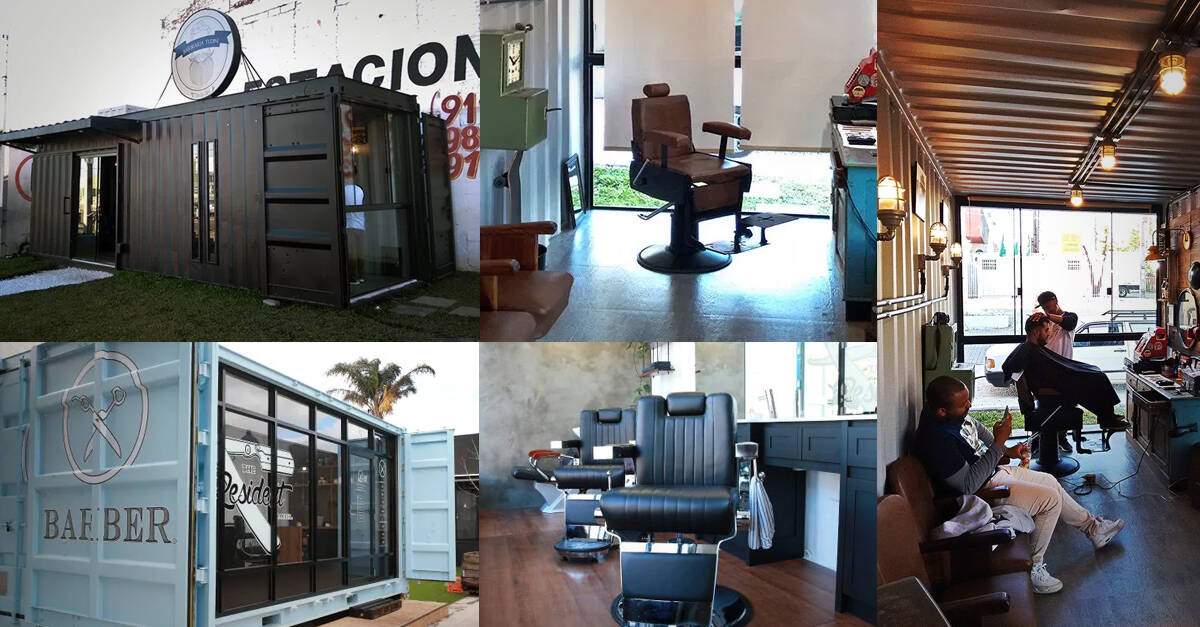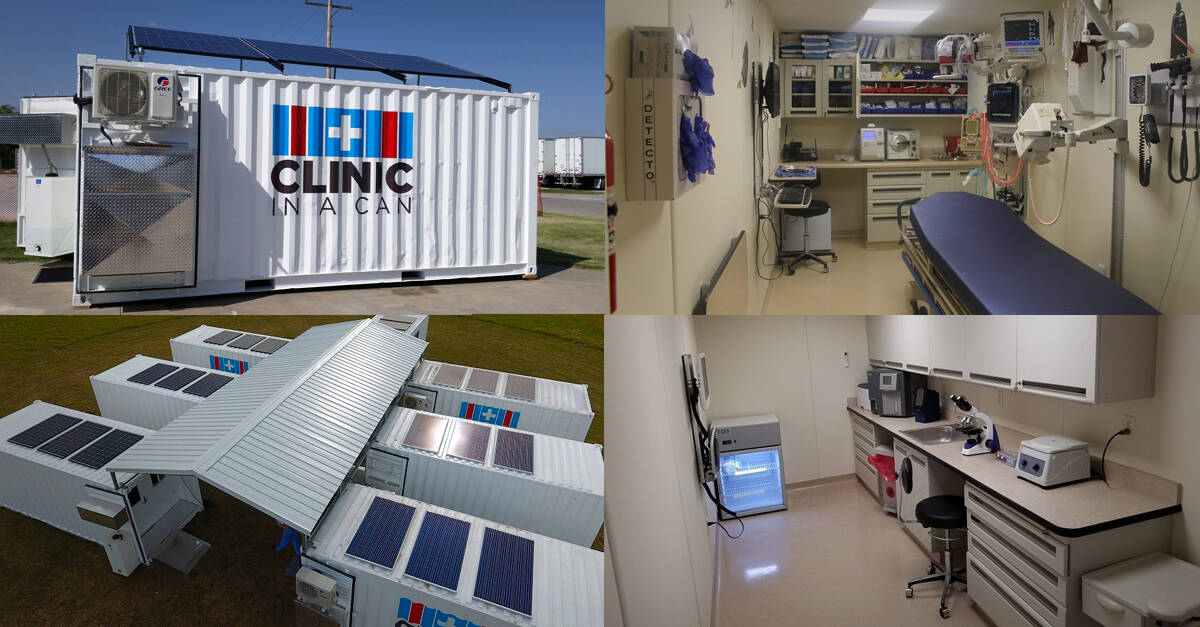 06. Clinic
Clinic In a Can could become the perfect answer to disaster response. The solar powered clinics are used by doctors and nurses worldwide to establish triage and trauma units to treat victims after disasters like earthquakes, hurricanes and war. Even better, these mobile clinics can be strung together to create entire treatment boards. Inside, state-of-the-art diagnostic equipment is used to treat injuries. The mobile units are a great help and can perform all of the functions you would expect to find in a normal hospital as well. Diagnosis, x-rays and surgery are all possible with Clinic In a Can. It's another innovation involving humble shipping containers. Who knew they could be so versatile?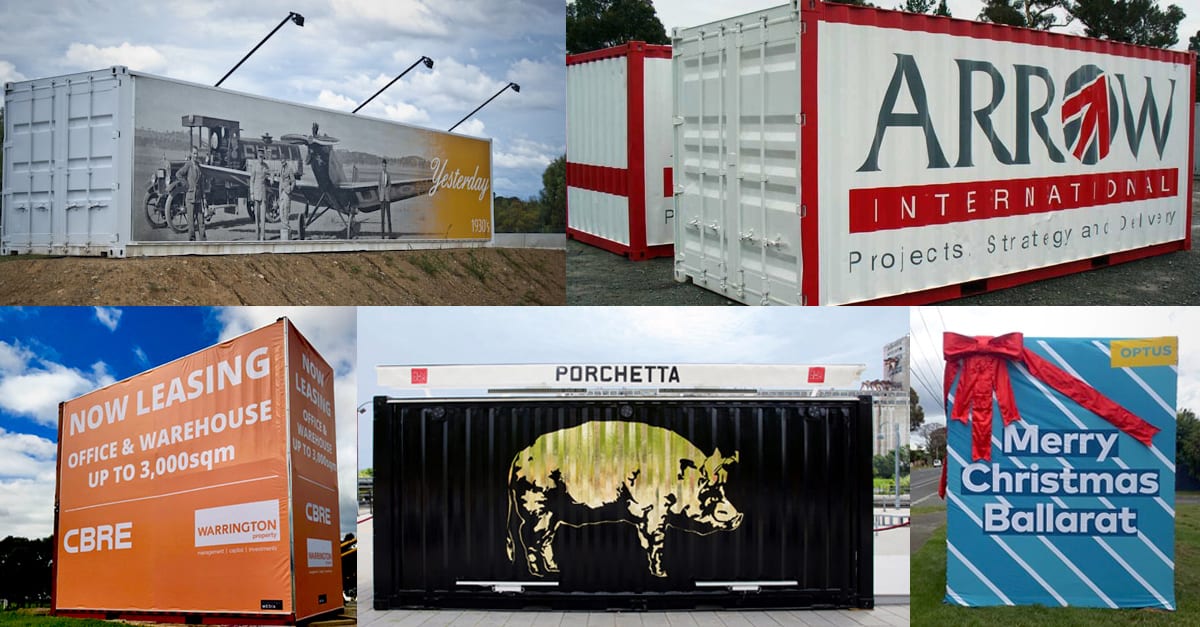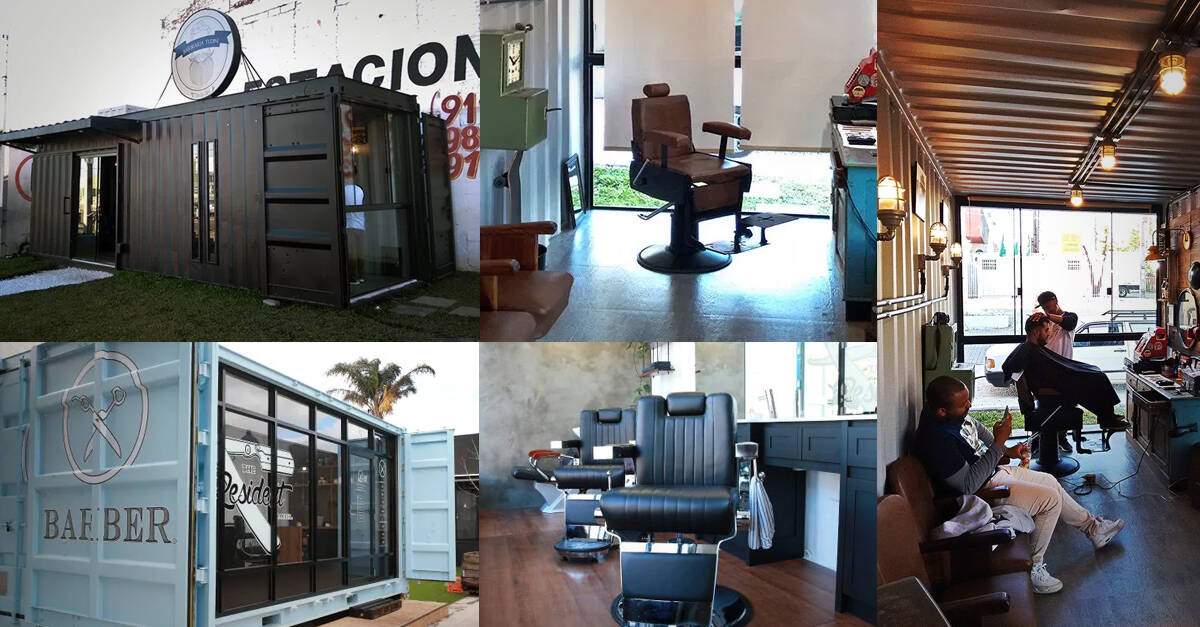 05. Barbershops
So we've seen just about everything else a shipping container can be used for. Why not a barber shop? It's a rather clever idea. The inside of this Hispanic barber shop was painted to create a warm soothing, man cave like environment. Next, lights were installed so both the customer and the barber can see what's going on. Finally, cabinets and shelves were fixed to the container walls to provide workstations. A few fans and some Cuban music are all that's needed to set the ultimate island mood. The next container is an Australian entrepreneur's dream come true. Josiah Munday opened the shop in West Geelong with intent to expand. He is currently hiring a team of barbers to work with him. We love the branding and all glass front. You might say it's a cut above.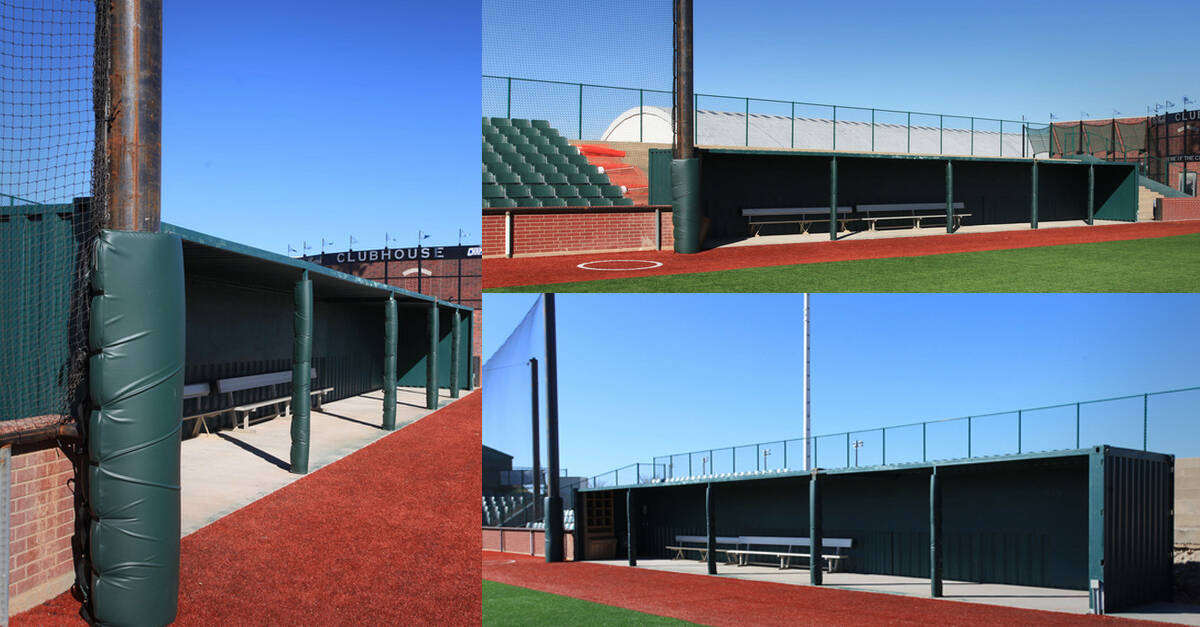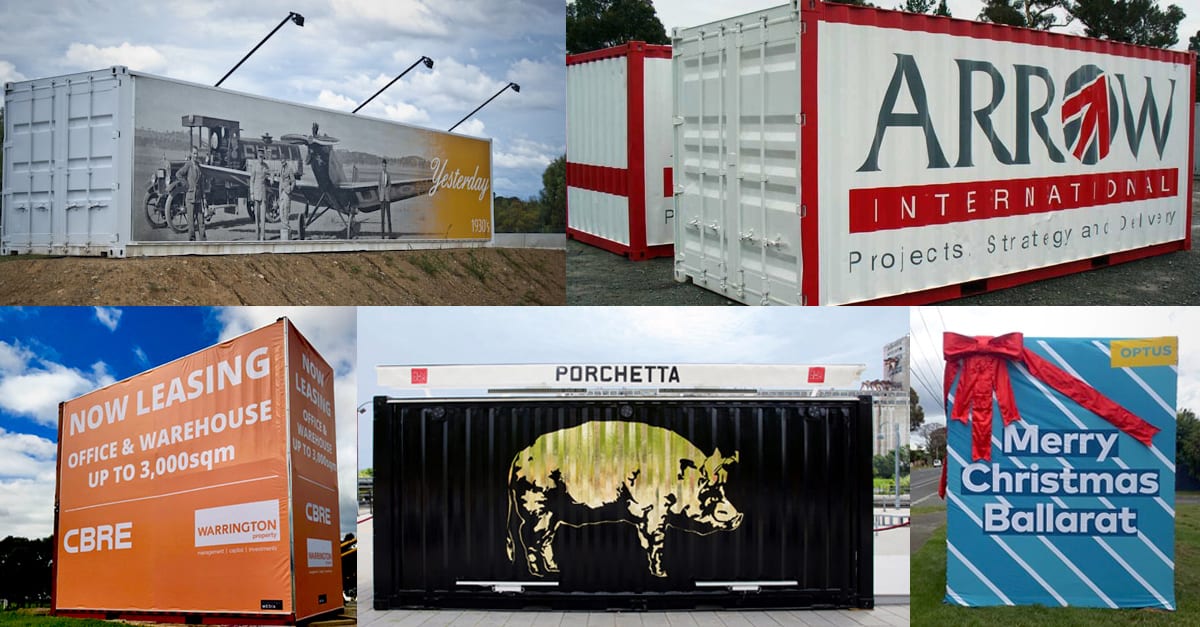 04. Advertisements
For cheap advertising solutions, why not use a shipping container? There are several reasons they make an excellent choice. First, they come in a range of sizes so you can choose one to fit well within your budget. Second, they are perfect eyecatchers! During the day they are hard to miss. Add a few lights to illuminate the entire space at night and nobody will drive past without taking notice. Even a small one could not be missed. Plus, think of other benefits. You could use it for storage too! Rent it out for advertising and storage. That's two birds, one stone, shipping container style.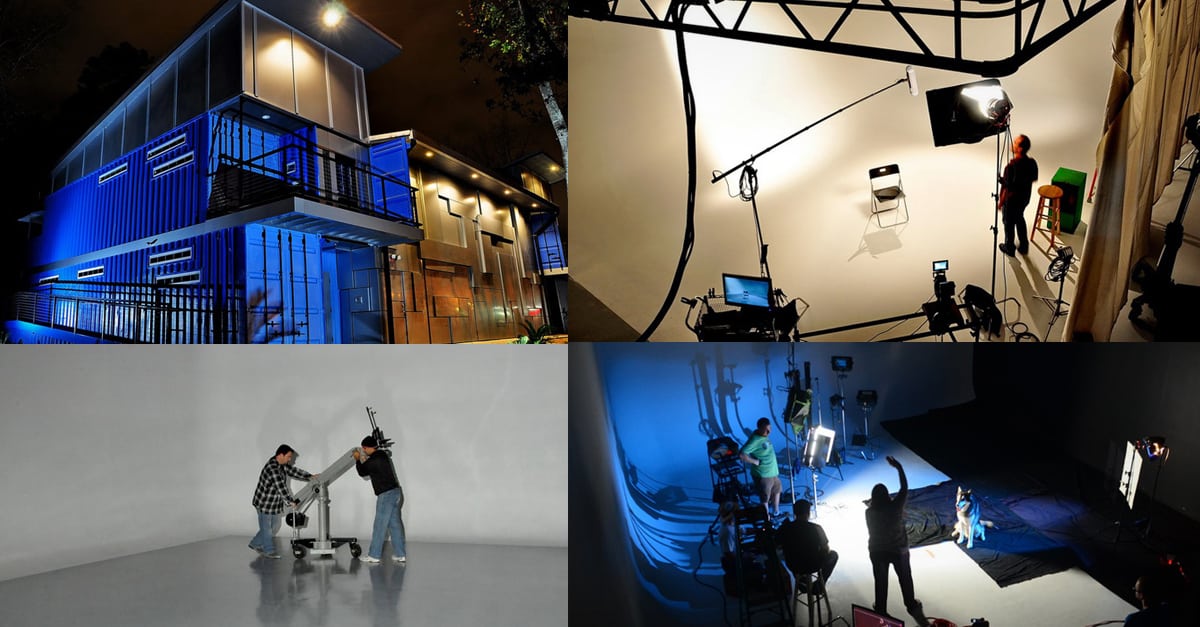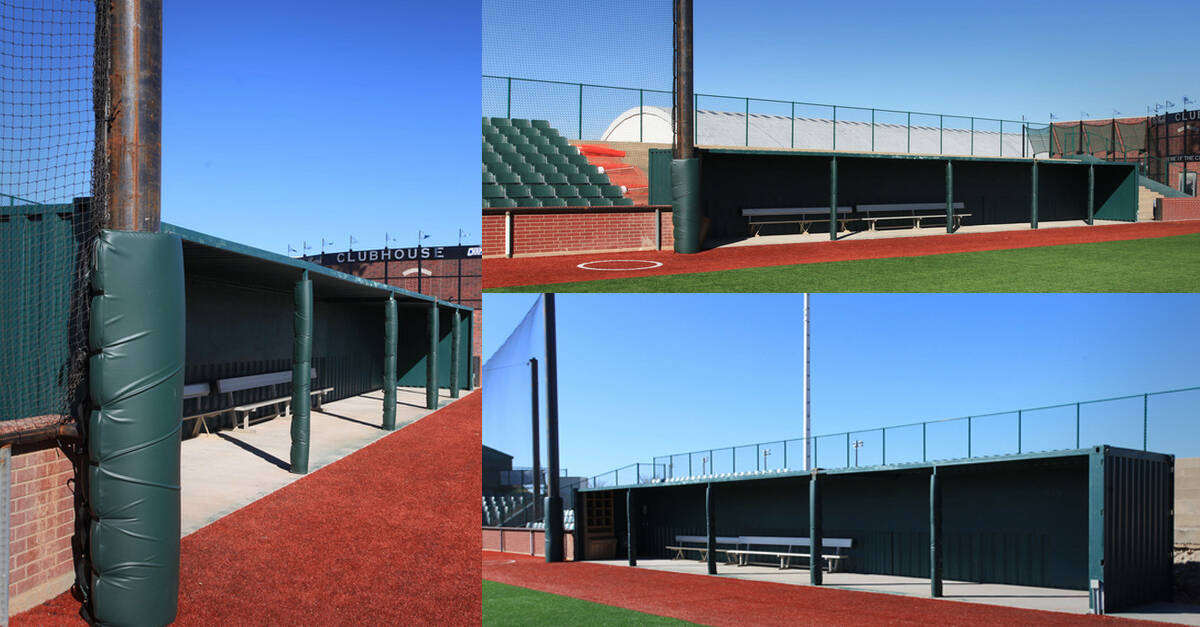 03. Dugout
For $50,000, a Lubbock Texas college installed new dugouts for their sports fields. The goal was to raise the dugouts up so the players could be more intimate with the game. Shipping containers made sense because they are plentiful. The beautiful part about constructions is most of it was already done. Essentially, one side of the container was cut out and benches were installed for players. What a pure genius idea! The university saved thousands of dollars by using shipping containers instead of going with a traditional dugout redesign. Plus, it is an eco-friendly way to upcycle an item that requires a massive carbon footprint to create in the first place.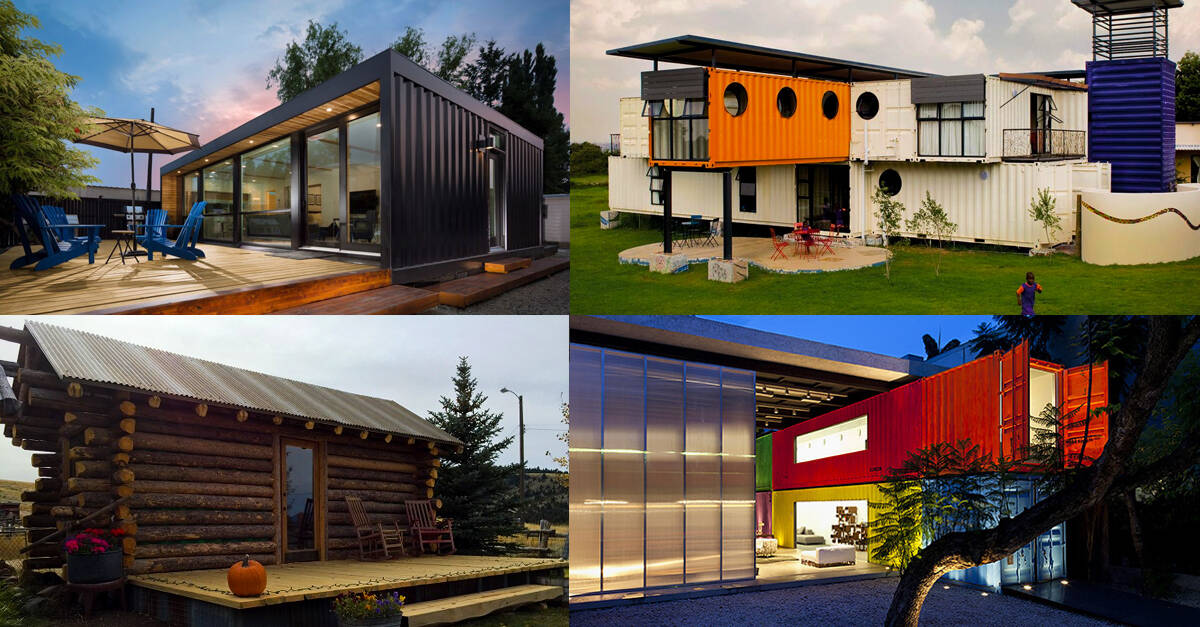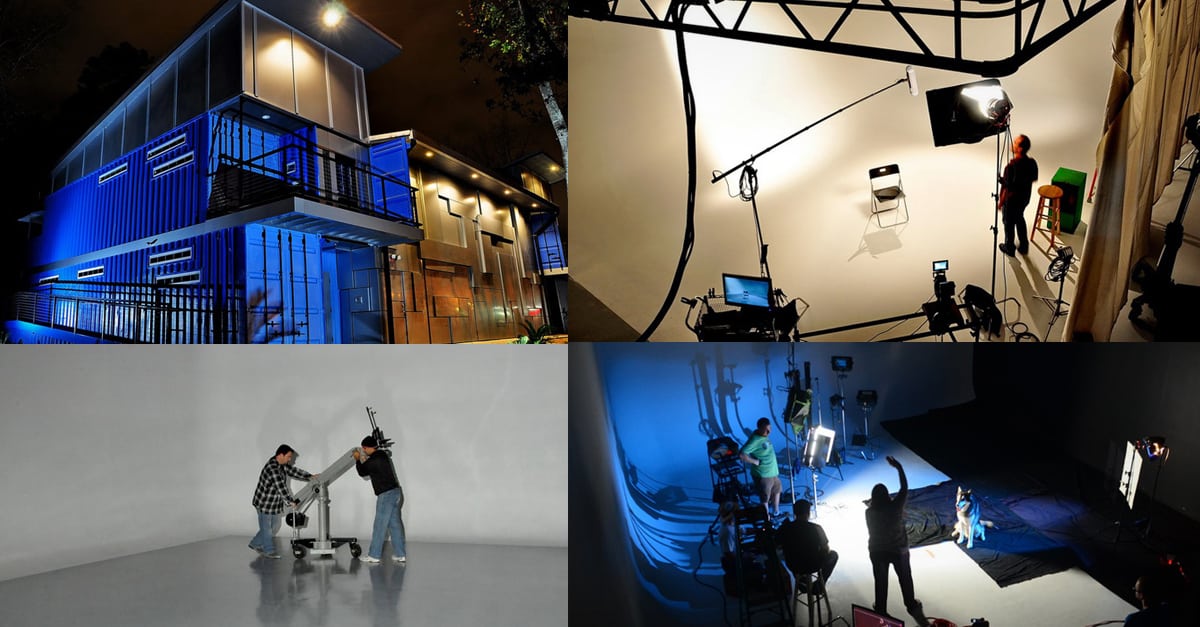 02. Creative Studio
Need a movie studio? Grab a few shipping containers and convert them. That's exactly what Epic Creative Studios did. They took several shipping containers and joined them together to create a film studio. The funny thing is looking at the building does not immediately give away its origin. It takes a minute to sink in. However, once it does, the only thing you can do is marvel. The inside is tastefully outfitted to house filming for multiple marketing/content projects. And to think, they work with some of the biggest names in the industry… from the inside of their shipping containers. Think about that!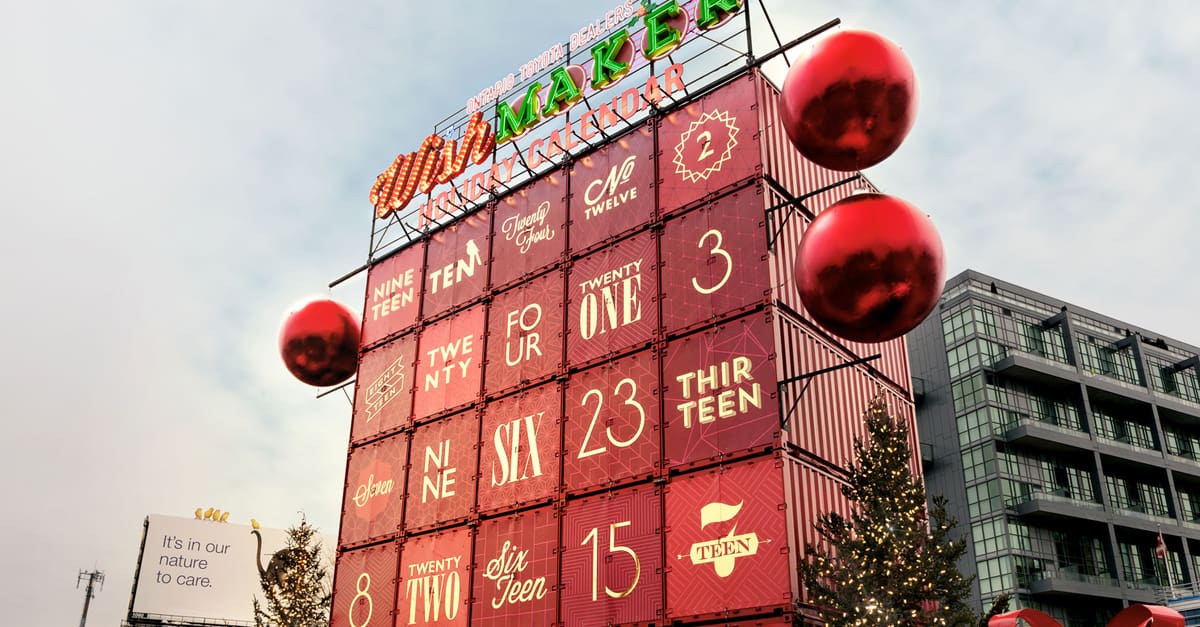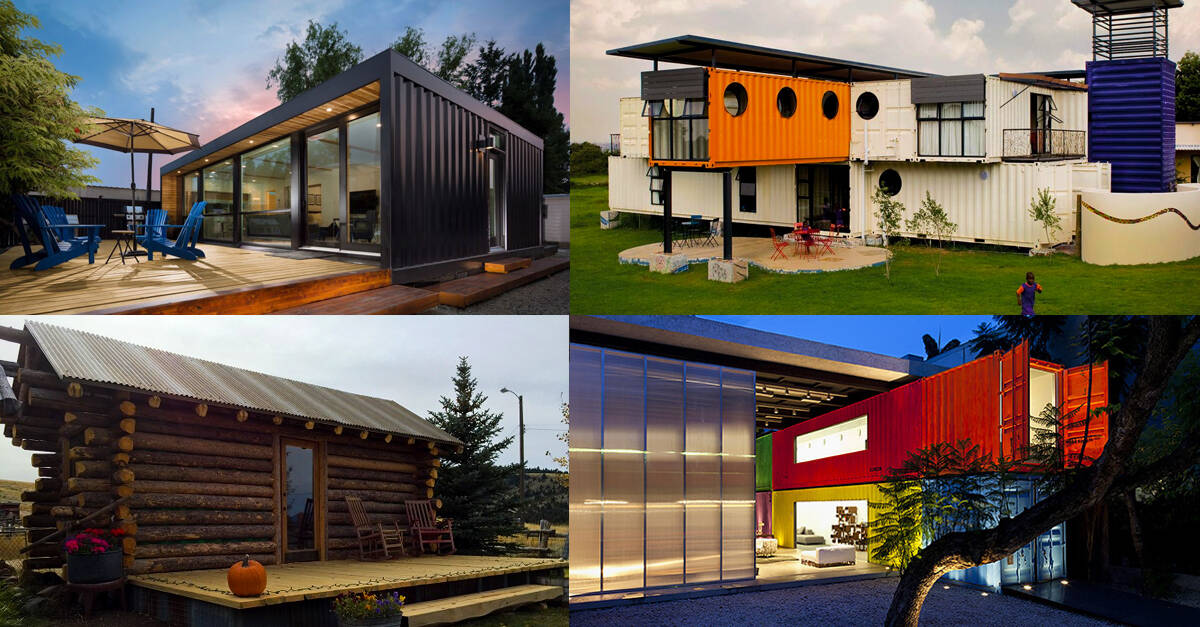 01. Homes
Of course, to end our list we have to feature a few container conversion homes. If you have an imagination, the sky is the only design limit. Of course, keep in mind, most container conversion homes will have a decidedly modern look and feel. The square shape and bold structures lend themselves to that type of architecture. However, if mid-century modern is your thing, a shipping container home might be just what you are looking for. They are so much cheaper than what you would spend on a traditional home, without sacrificing aesthetics or structural integrity. And with all the awesome container conversions we have seen, our future may look very boxy!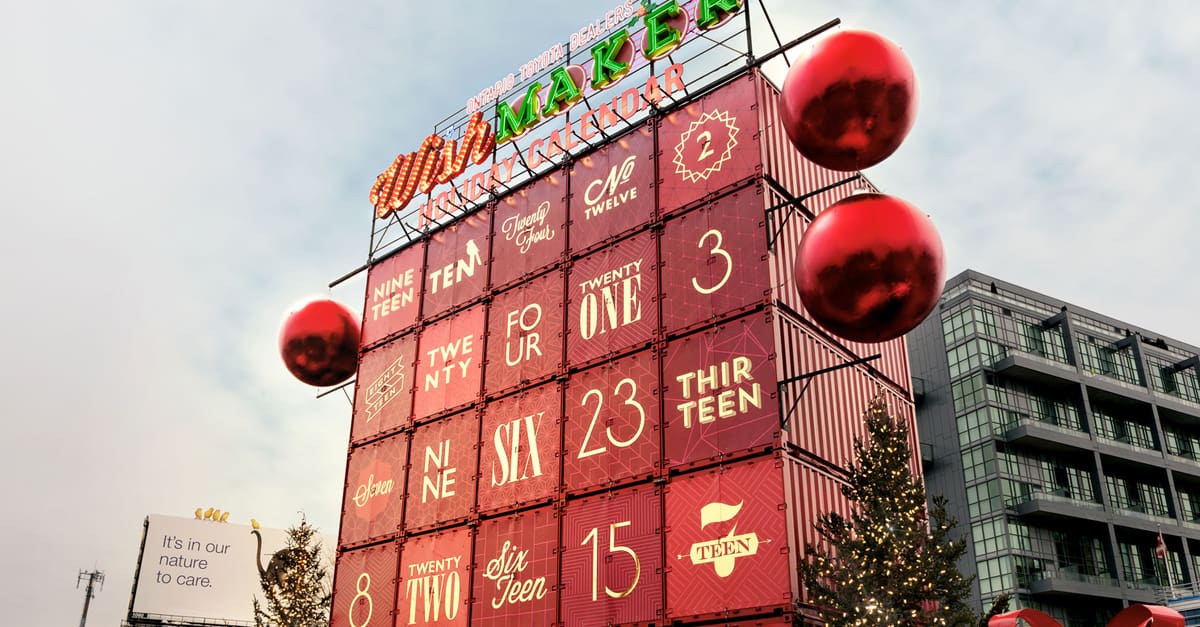 Bonus: Advent Calendar
In 2014, the Toyota Dealership Association in Ontario, Canada created an Advent calendar made entirely from metal cargo containers. The huge structure was placed downtown and residents were asked to submit the name of an individual they thought was worthy of a huge Christmas wish. Participants were asked to submit nominations throughout November. Selected winners traveled to the advent calendar to receive their gifts. Wish list items included trips to Disney World, laptops and dance shoes. Of course, the advent calendar was the buzz of downtown Ontario. After all, it's not every Christmas you see a 60 foot tall advent calendar made entirely of shipping containers!