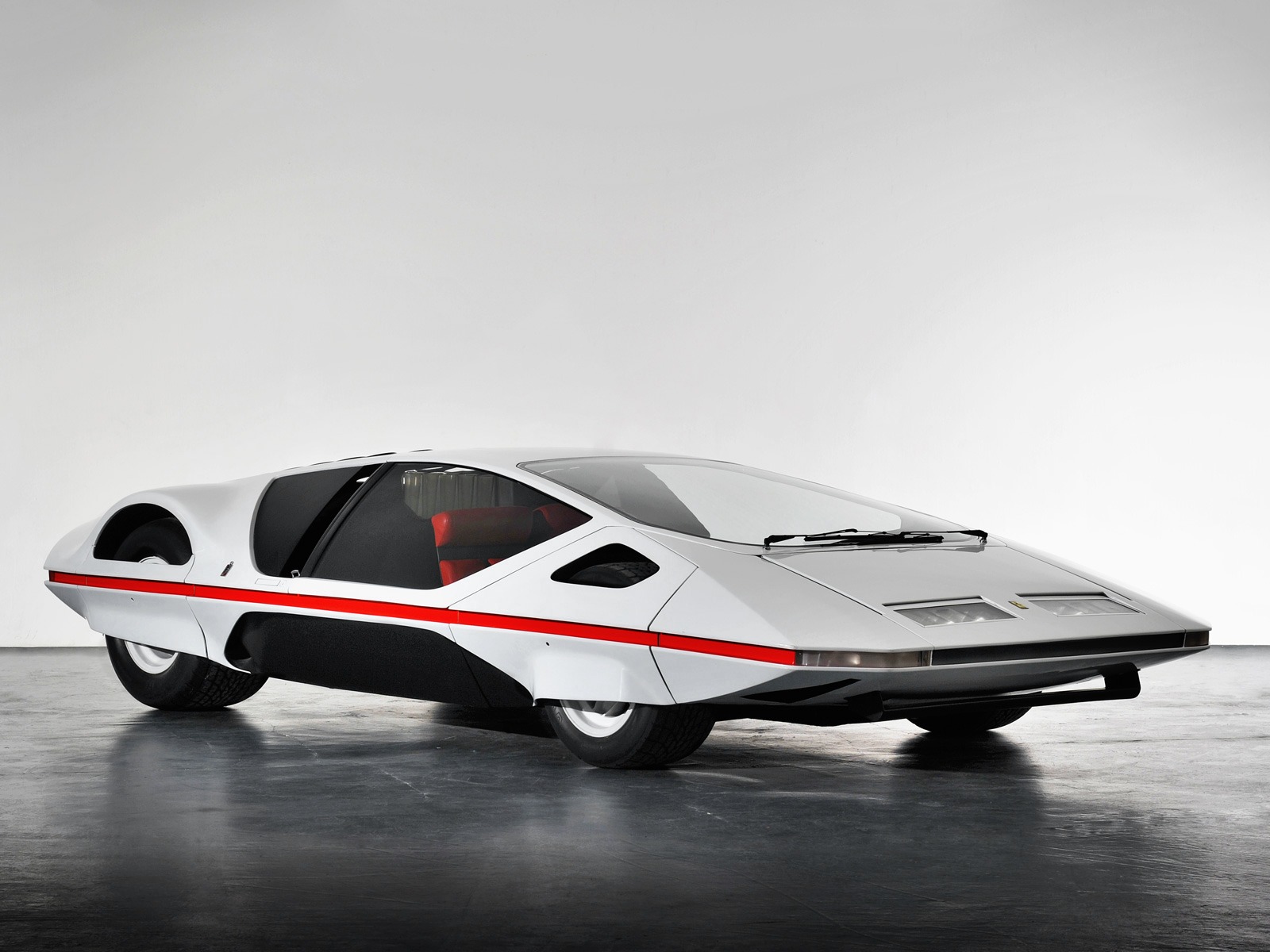 Manufacturing a car is never an easy task. Some cars are too big, too small, too expensive, not dependable enough, and many other reasons why vehicles fail. Creativity is also another hard task for automobile designers, with some vehicles looking too futuristic, too old, too boxy, too tall, too skinny, too short, or too long.
However, we think we have found some designs that are completely off the wall and out of this world. From the most practical, odd, and different vehicles around, people may never see these cars anywhere else, let alone see them on the street. That is what is so fun about them. You may find yourself really wanting one or two of these vehicles when you realize just how practical they could be.
Maybe you like a few of these because you just like to have the odd and unusual vehicle, instead of the most recent and popular vehicle. Either way, we have found the vehicle for you on this list. Get ready for the world's strangest cars. 30 of the weirdest cars on The planet.
Citroen Karin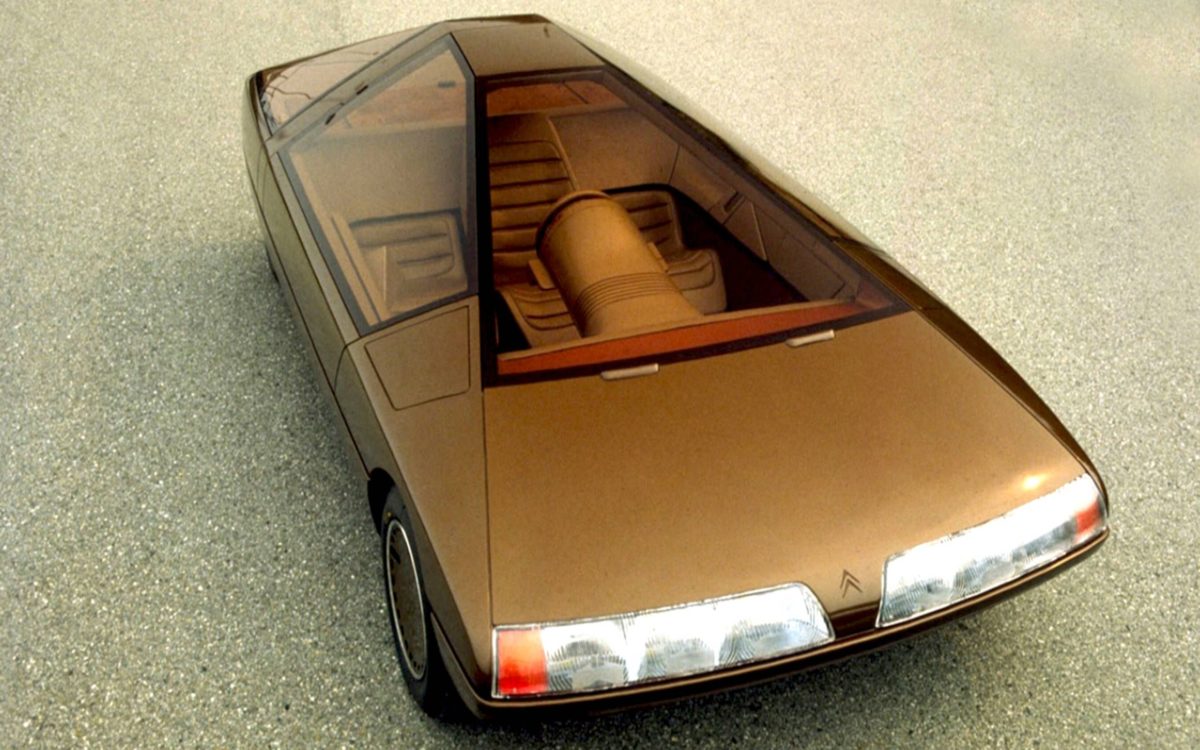 Citroen Karin was a concept car that debuted at the 1980 Paris Motor Show. It features a unique three-seat layout with the driver in the middle. Does this car look familiar? Maybe it's the spiritual grandfather of the new Tesla truck.
NEXT: Bet you've never seen this Ferrari!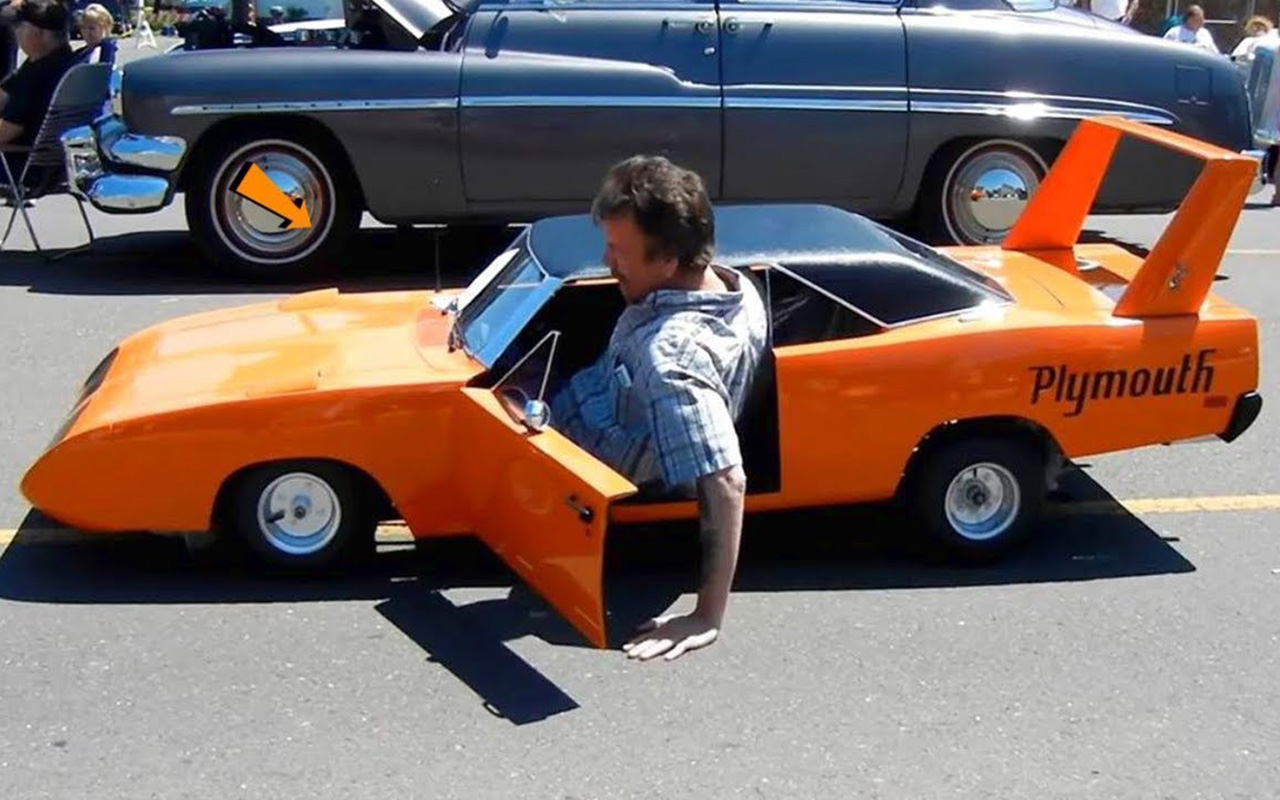 Ferrari 512S Modulo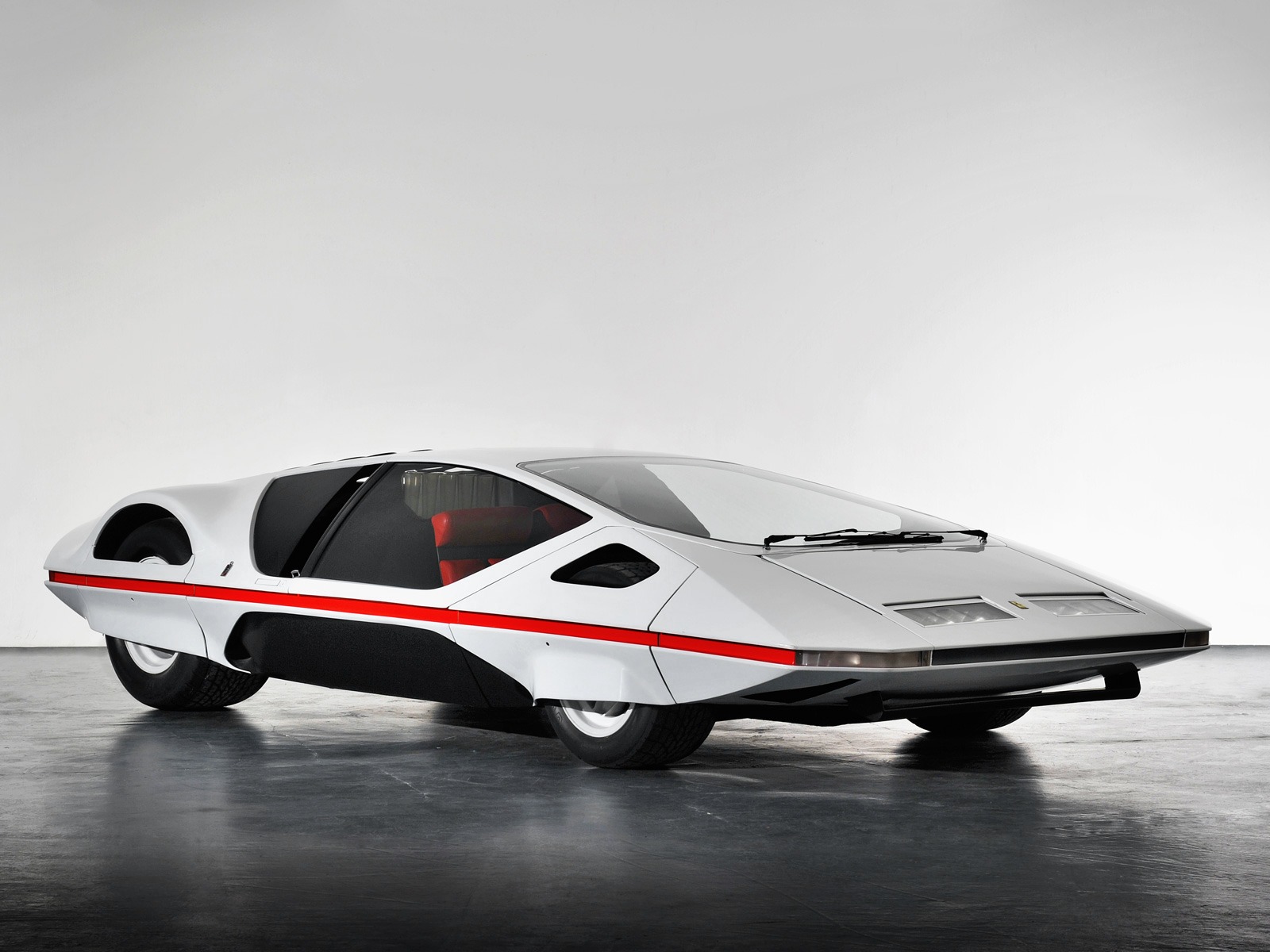 Ferrari 512S Modulo
A concept sports car designed by Paolo Martin of the Italian carrozzeria Pininfarina, unveiled at the 1970 Geneva Motor Show. It is one of the sleekest (and by sleekest we mean thin and strange) cars ever made!
NEXT: Classic muscle car like you've never seen!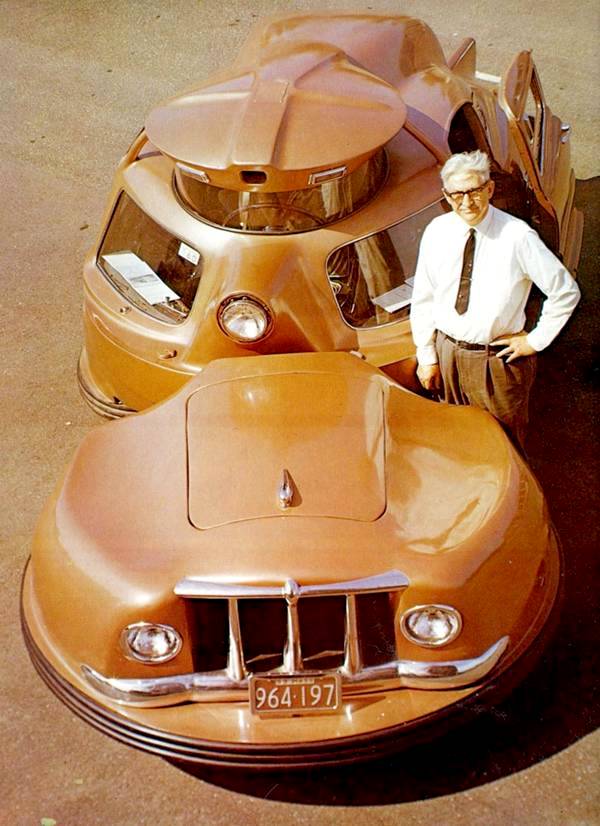 Plymouth Superbird (Super-Small Edition)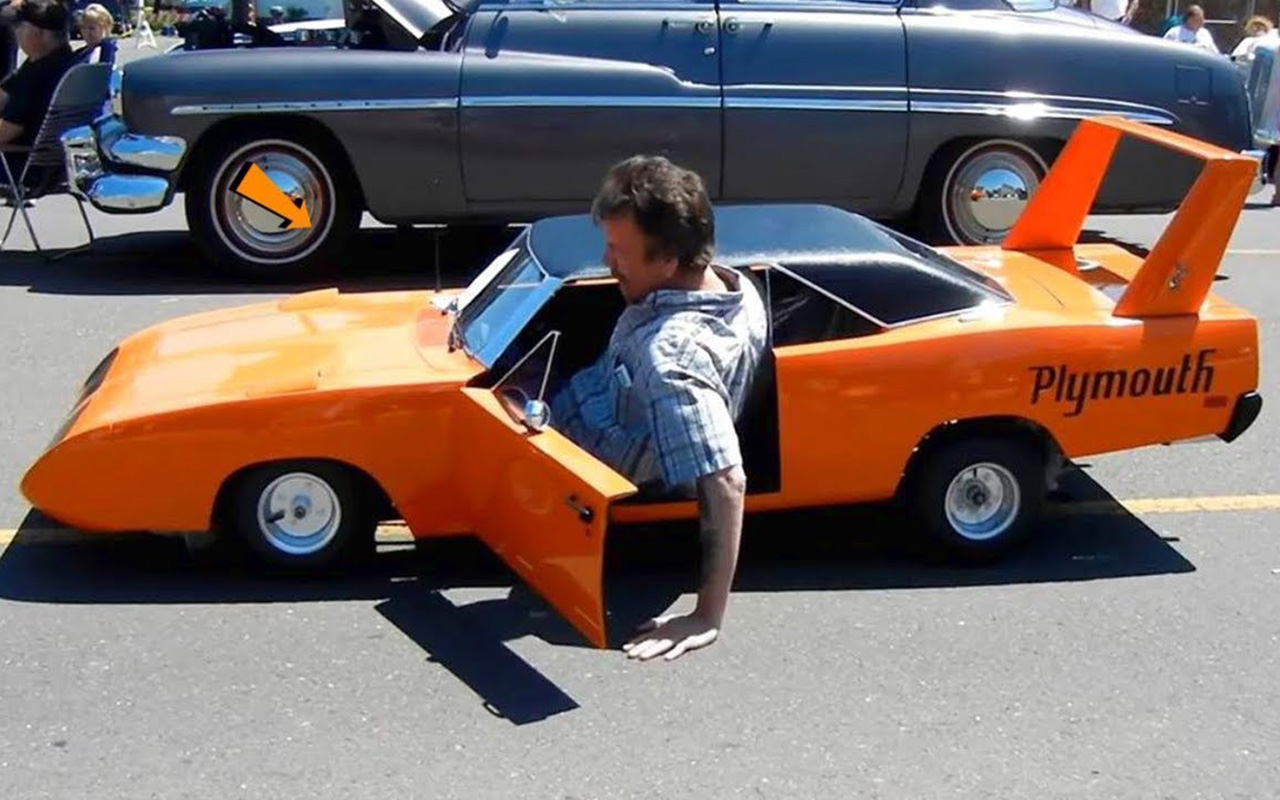 Plymouth Superbird (Super-Small Edition) This Superbird remodel looks more like a finch, or a swallow. Certainly not the Superbird we all remember from the Golden-era of muscle cars! This wild miniaturized version actually drives though, which is the crazy part. Could you fit in there?
NEXT: The sir vival concept…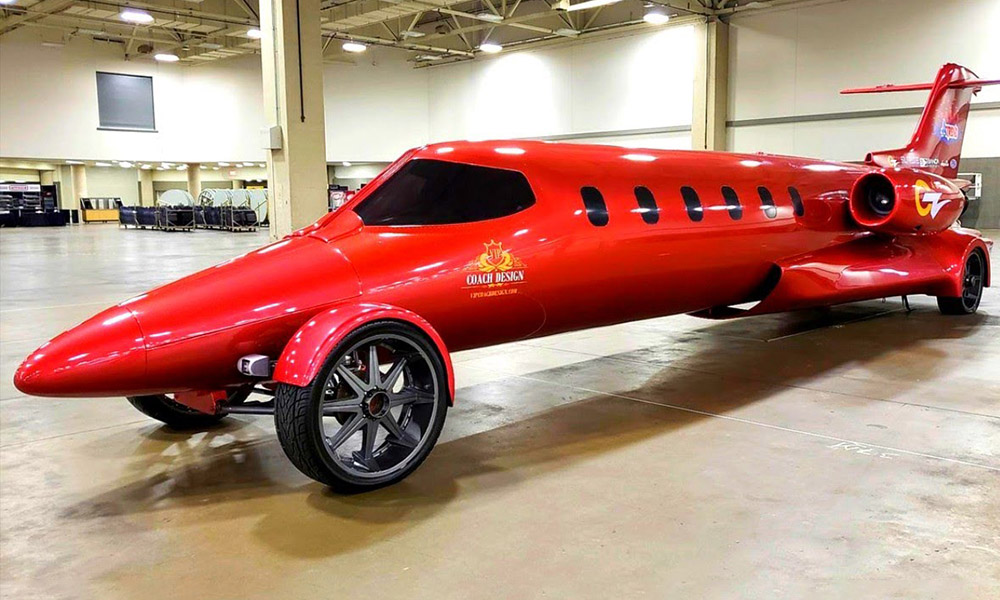 Sir Vival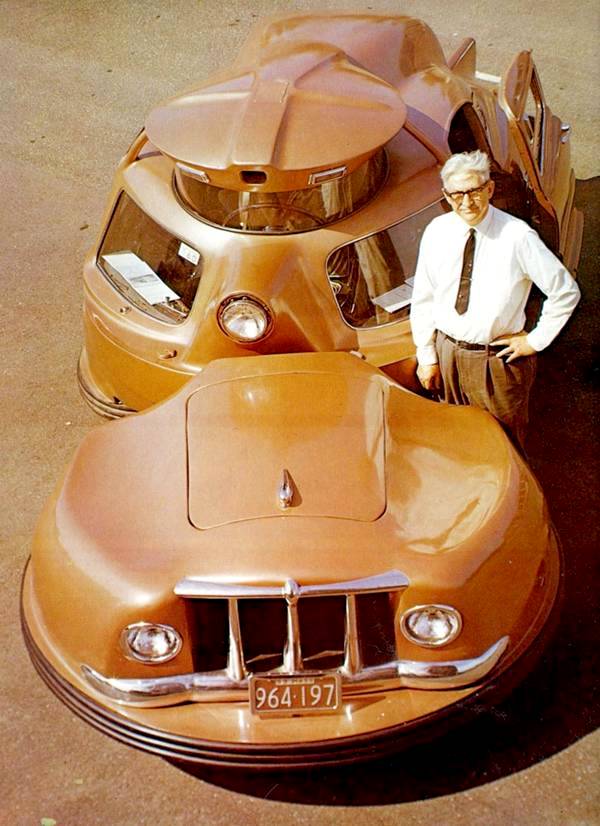 Sir Vival was a concept car created in 1958. the Sir Vival featured many innovative car safety concepts that would later become standard such as seat belts, a roll cage, sliding side doors, rubber bumpers, and side lights.
NEXT: Is this a car or a jet?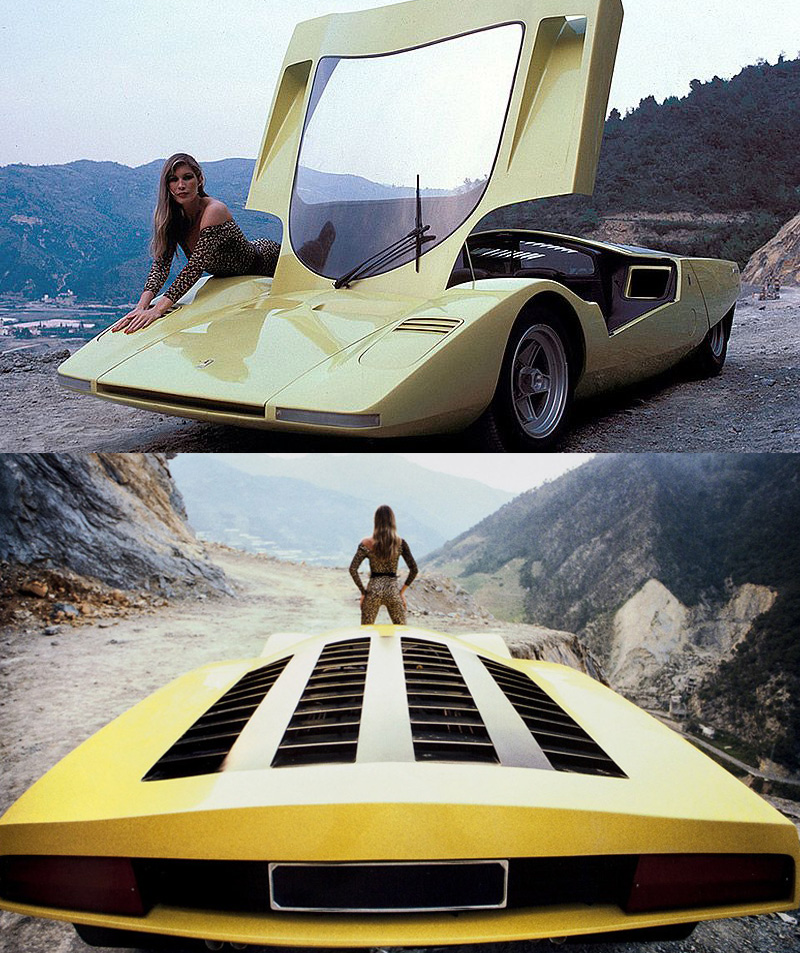 Learjet Limo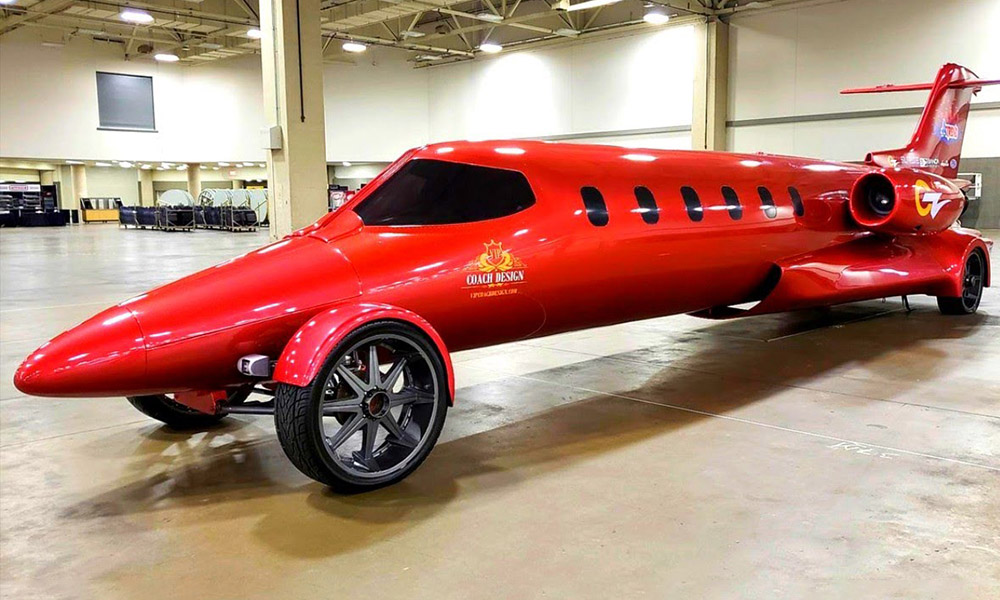 Learjet Limo One of the only street-legal jets in the world, this Learjet Limo is official one of the strangest cars on earth – particularly because it is used and seen on the road quite often. This killer combo comes with a $5 million price tag!
NEXT: A concept that looks strange but pretty cool!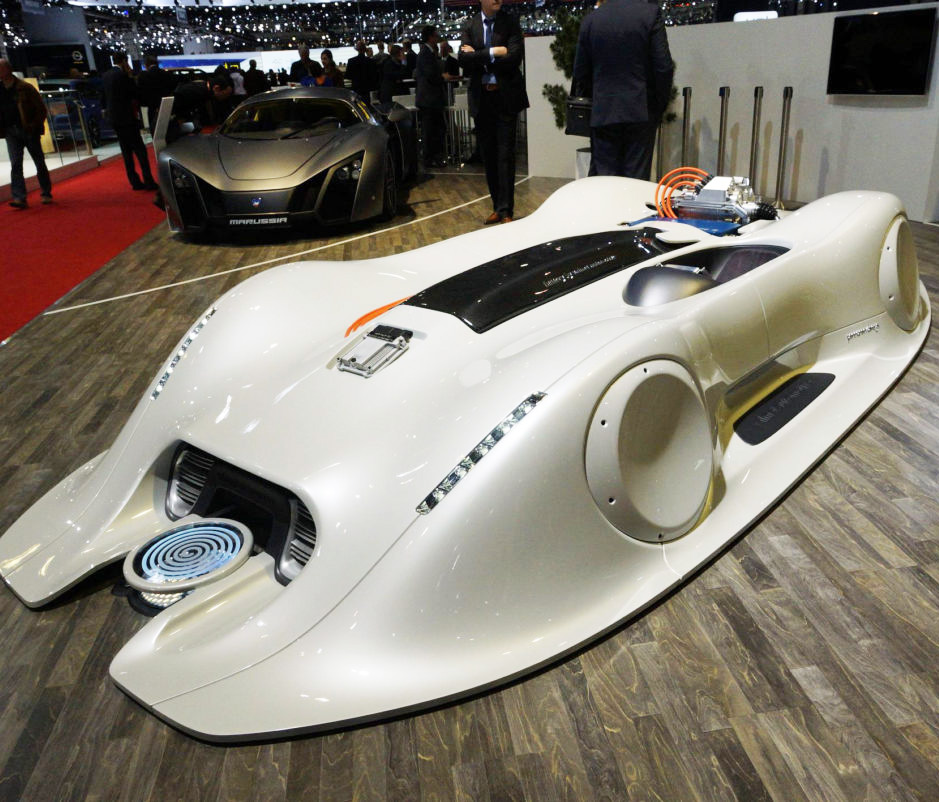 Ferrari 512 S Berlinetta Speciale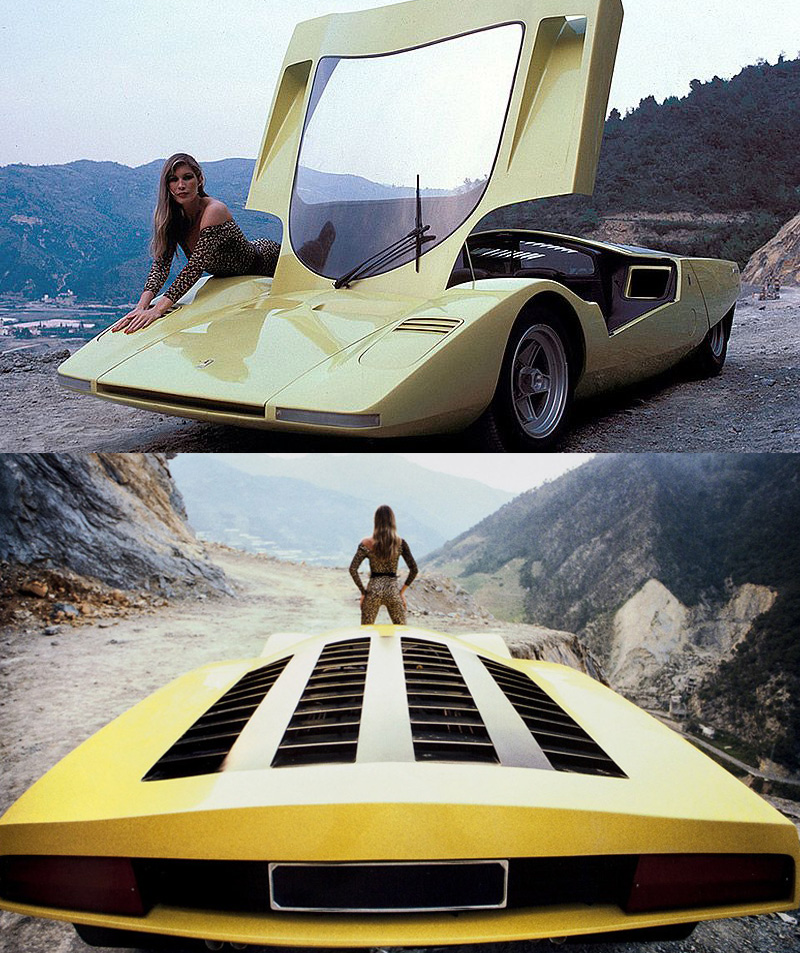 Ferrari 512 S Berlinetta Speciale I think we're more curious about how you would be able to see out of this thing than we are surprised at how odd this vehicle opens. Either way, a strange car indeed.
NEXT: The velmet dawn…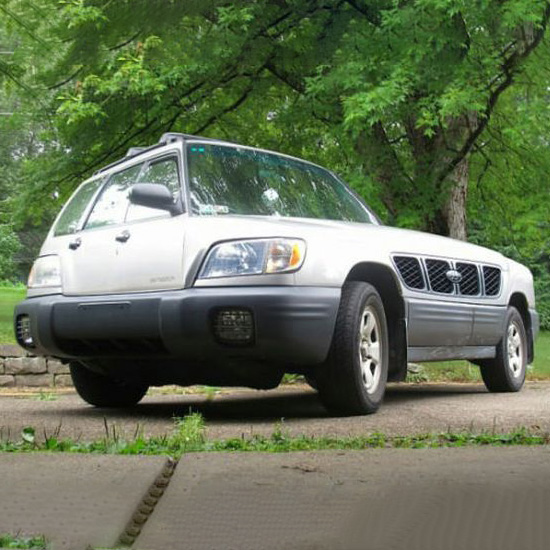 Valmet Dawn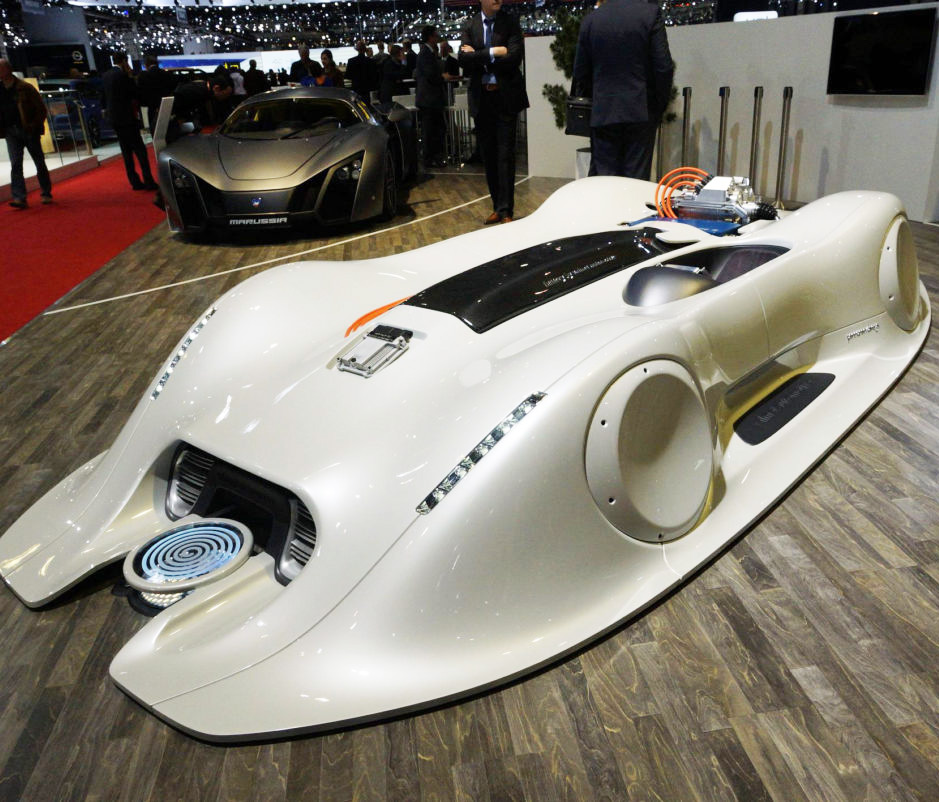 Valmet Dawn This bad boy debuted at the Geneva Auto Show years ago. The Dawn EV has a universal outlet plug for charging but also features a wireless induction charging system highlighted at the front of the vehicle.
NEXT: A small car that has become entirely too large.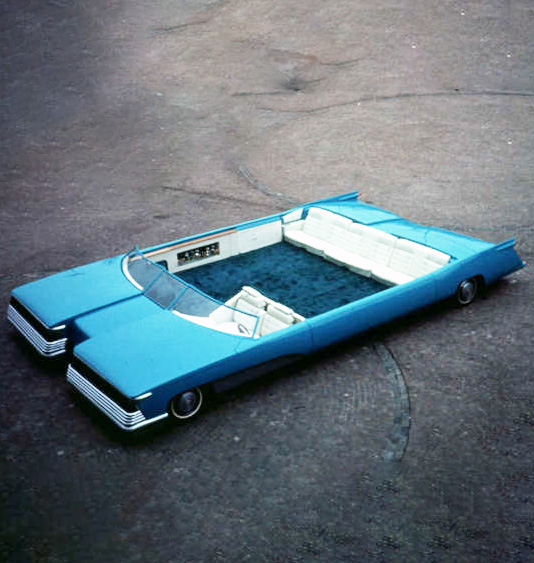 The Sideways Subaru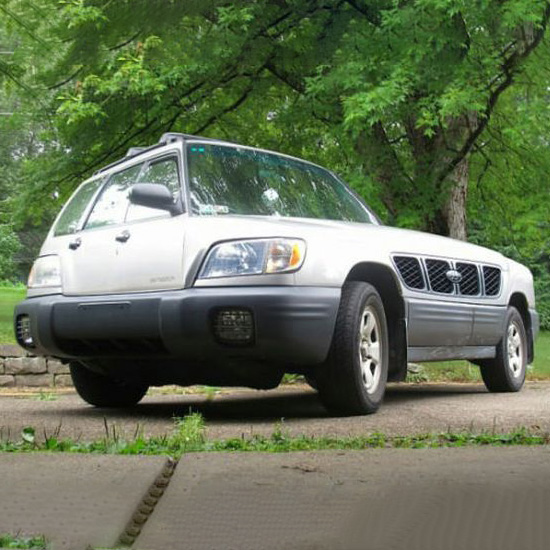 The Sideways Subaru This is some kind of Subaru Forester or Outback custom-made for the Australian off-roads. This sideways beauty is more focused on keeping an eye on the sides of the trail than in front. What a strange car.
NEXT: The double limo…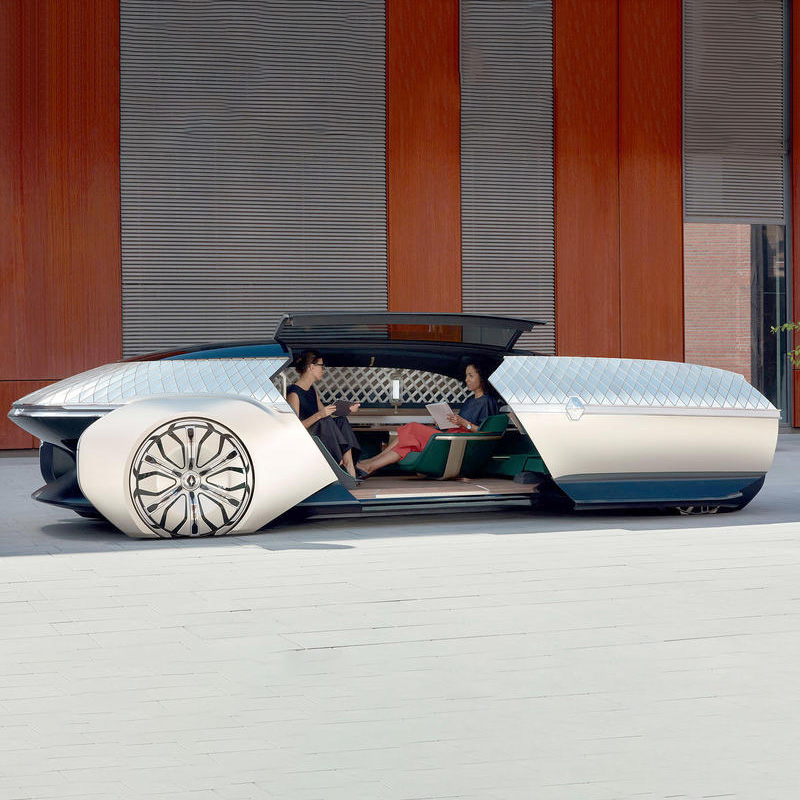 Double Wide Limo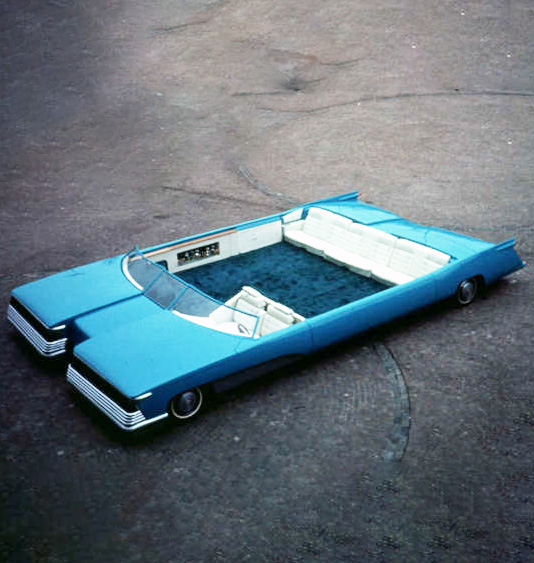 Double Wide Limo This odd car is owned by collector Jay Ohrberg. You'll recognize some of the other cars he owns. The General Lee, KITT from Knight Rider, the DeLorean from Back to The Future, The Panthermobile, The Flintstone's car and more.
NEXT: The most high tech limo ever!
Renault EZ-ULTIMO Limo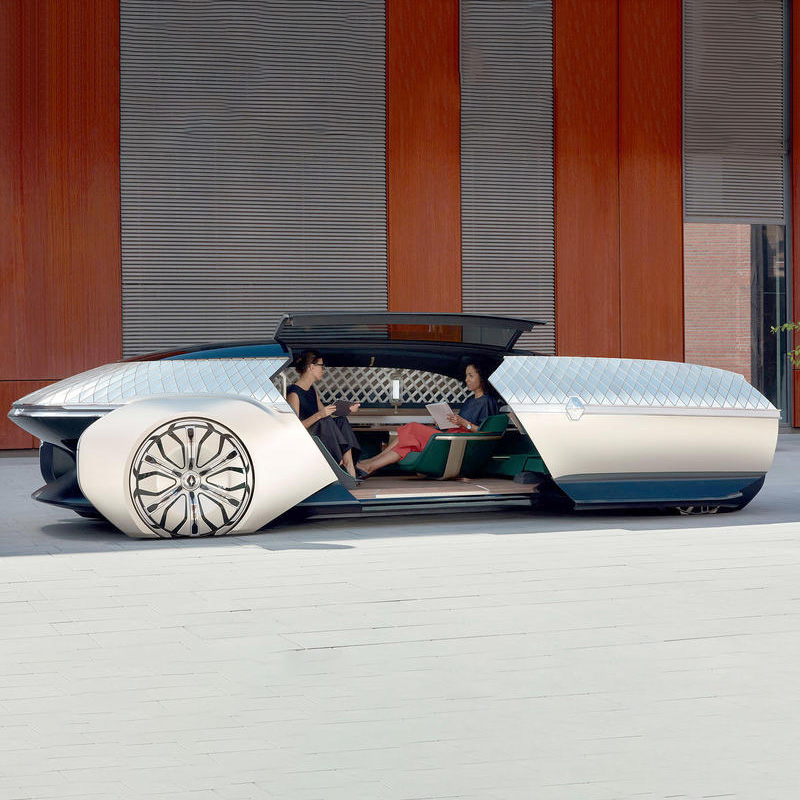 Renault EZ-ULTIMO Limo This one is actually yet to be produced for real, but it is well underway. This driverless limo is the future! The autonomous, ride-share capable, beautiful, and ever-connected Renault EZ Limo is the third prototype released from Renault in the "EZ" family in the last couple of years.
NEXT: Is this a Cadillac or Caterpillar tractor?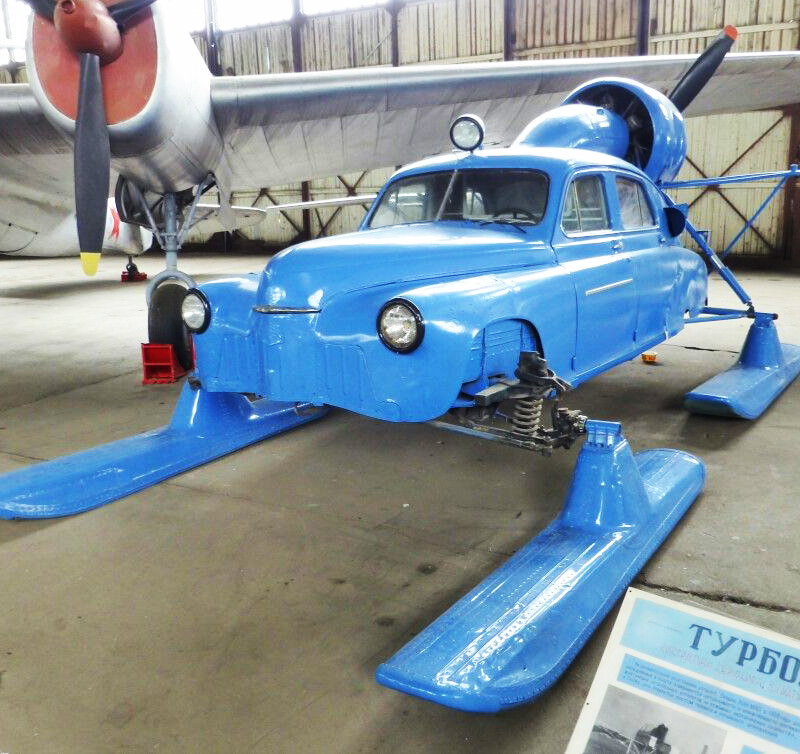 The City's Tax Dollars At Work
The City's Tax Dollars At Work Old School Cadillac cop car, but with a twist. And by twist, we mean excavating machinery attached the the frame. Honestly, probably a pretty useful machine. Definitely strange.
NEXT: You've never seen a car like this!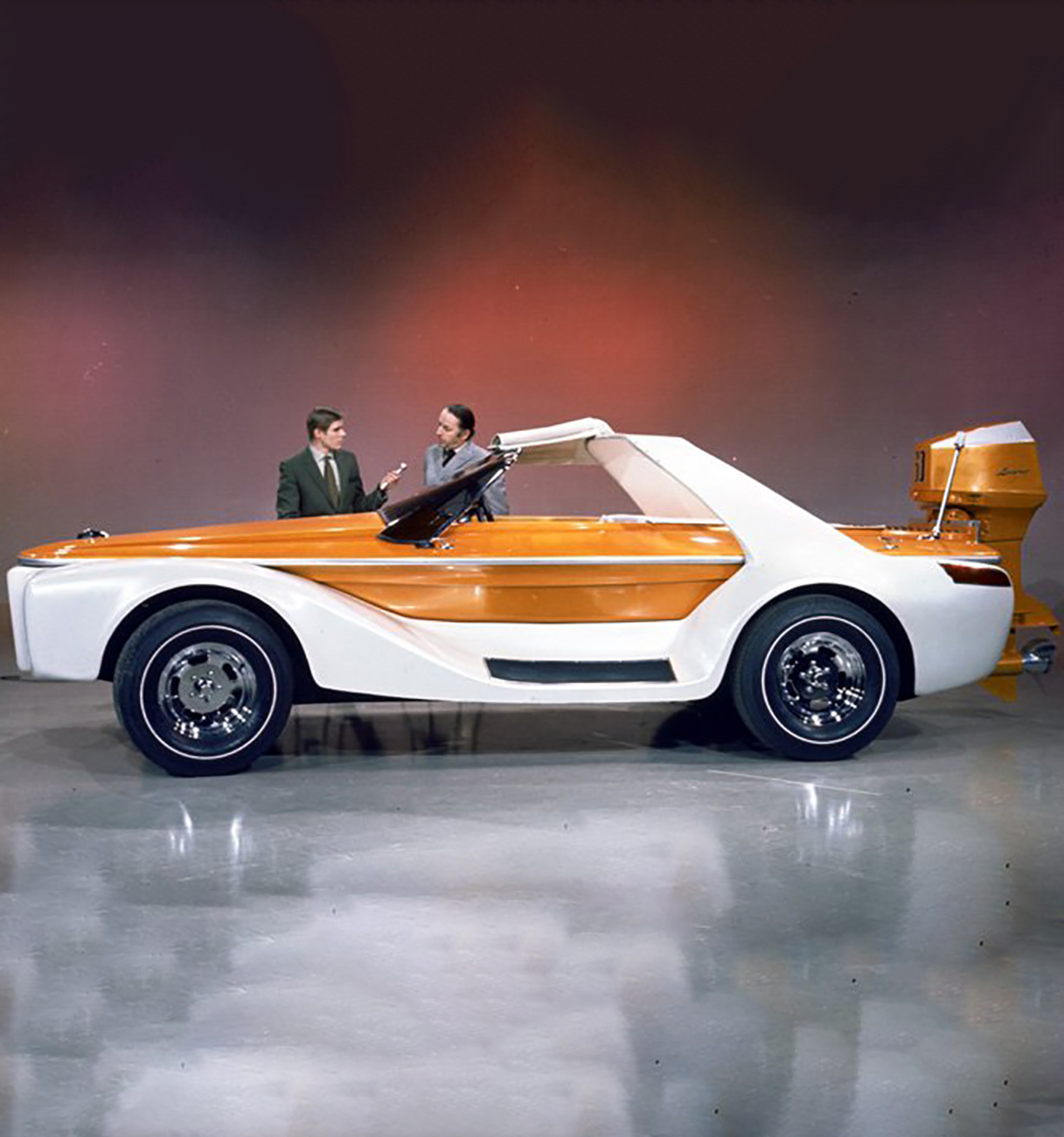 The Weirdest Car on 4 Sleds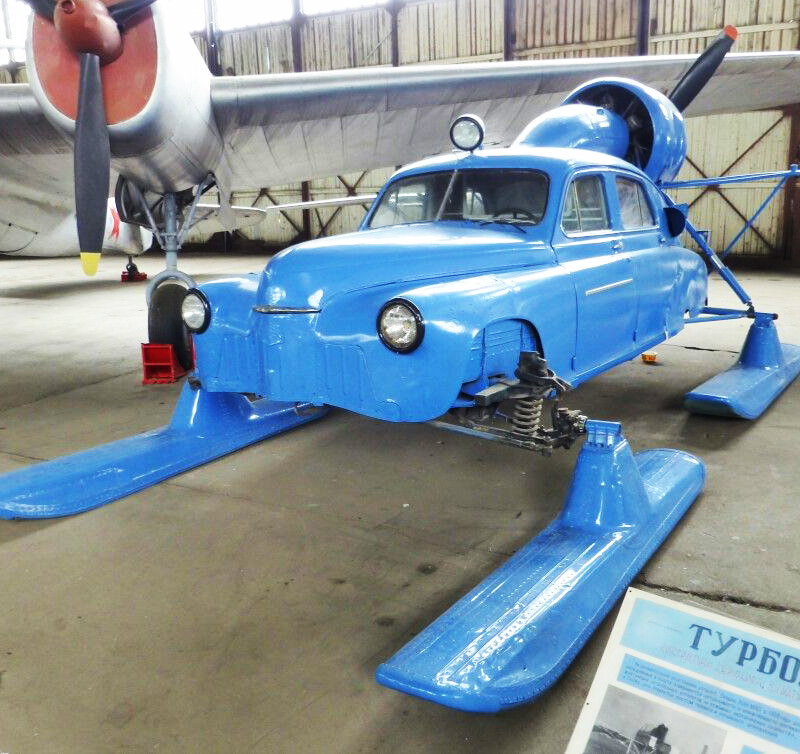 The Weirdest Car on 4 Sleds Clearly there's not a dry road for miles wherever this crazy car resides. Strictly ice and snow underfoot, it appears. Ah, of course it's from Russia!
NEXT: The boat car…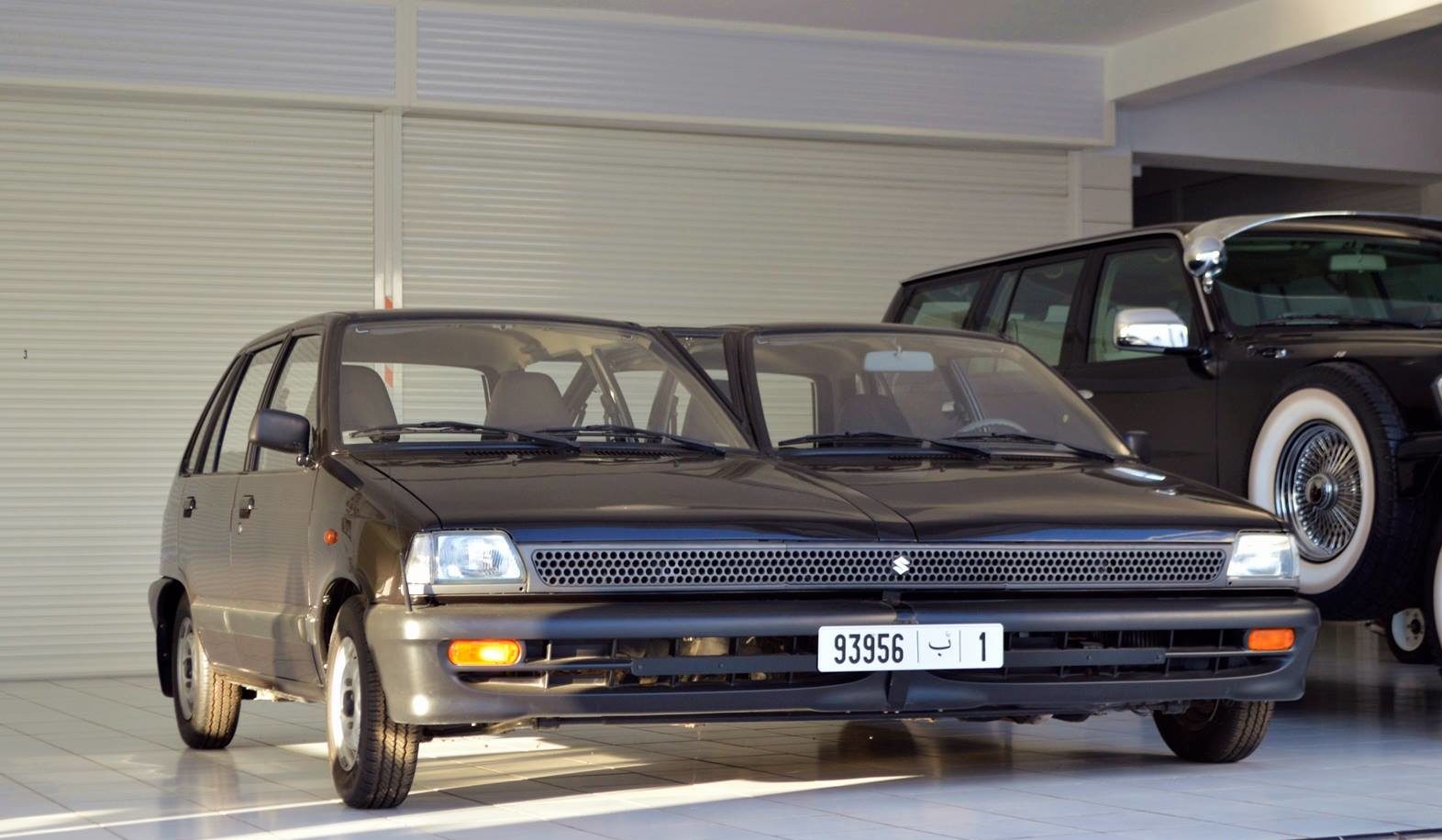 Evinrude Rooney Lakester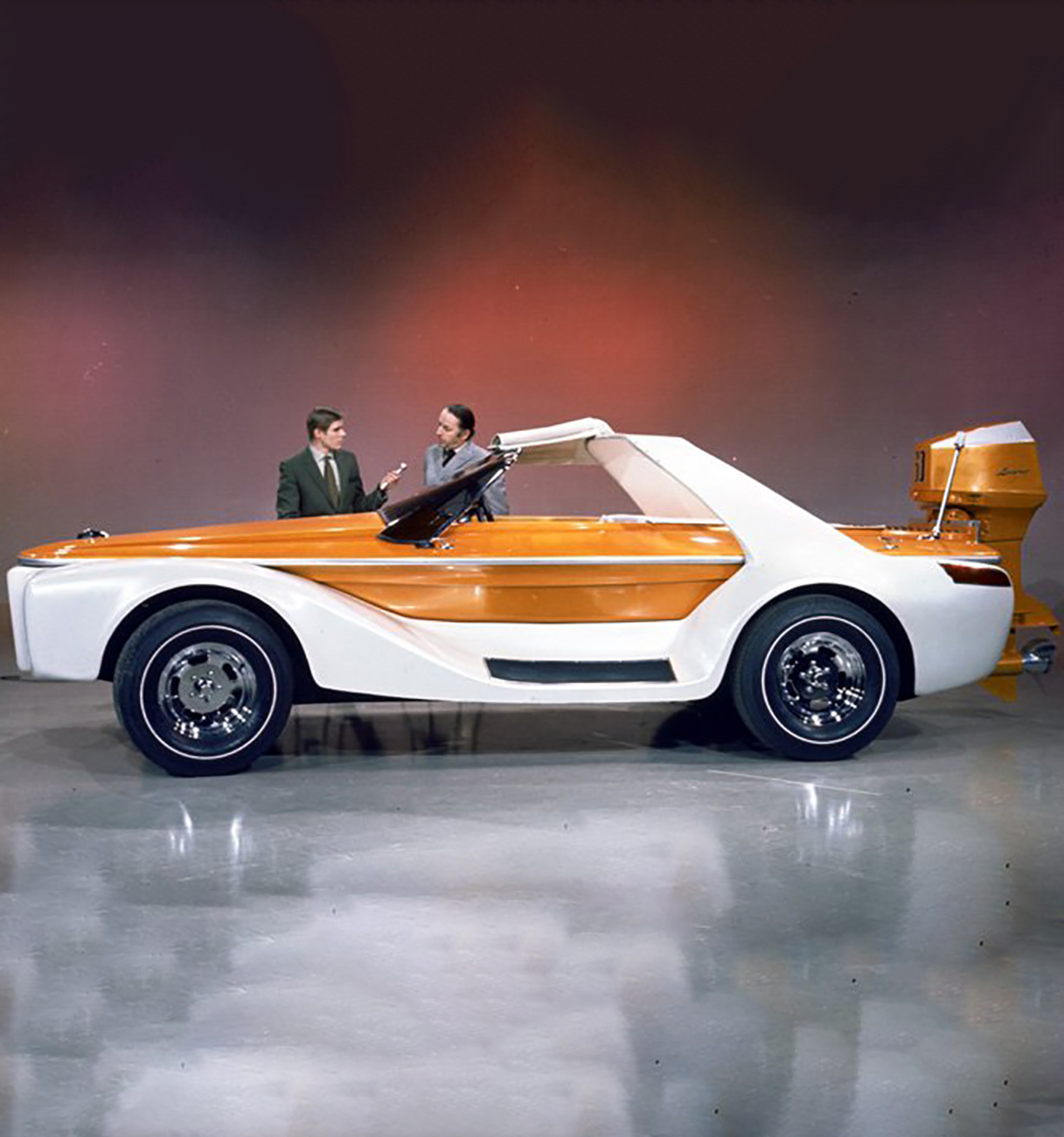 Evinrude Rooney Lakester The principal idea was to combine a boat and a dune buggy into one vehicle. It was referred to as the "boaterized dune buggy." It was introduced at the San Francisco Sports & Boat Show in 1970.
NEXT: Is this one car or two?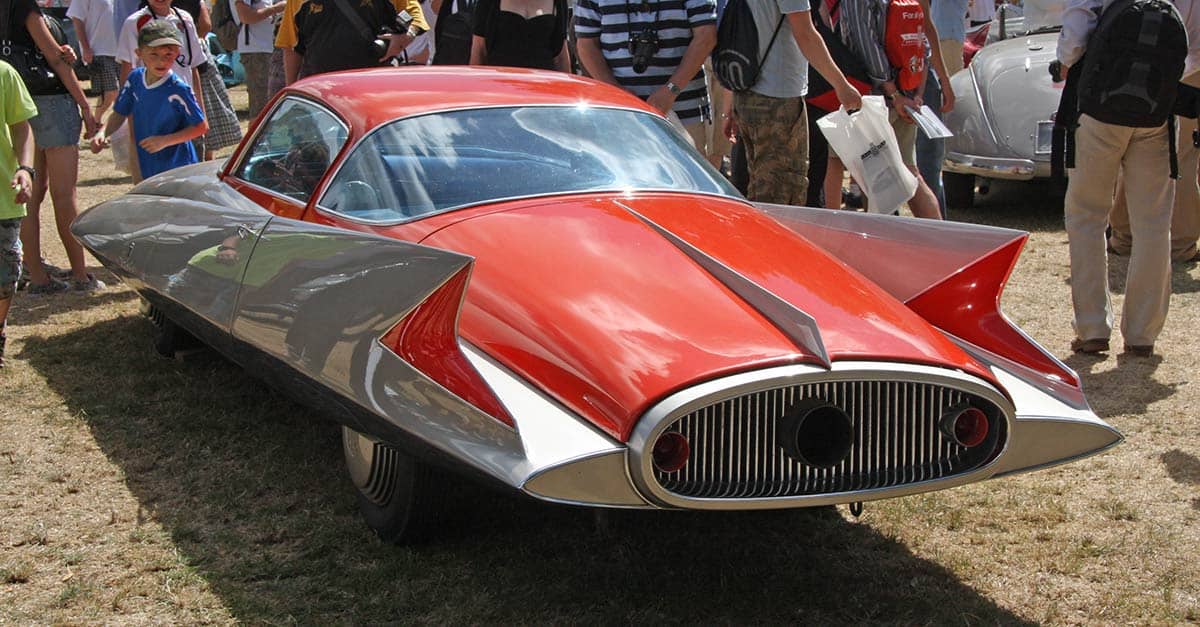 Double Suzuki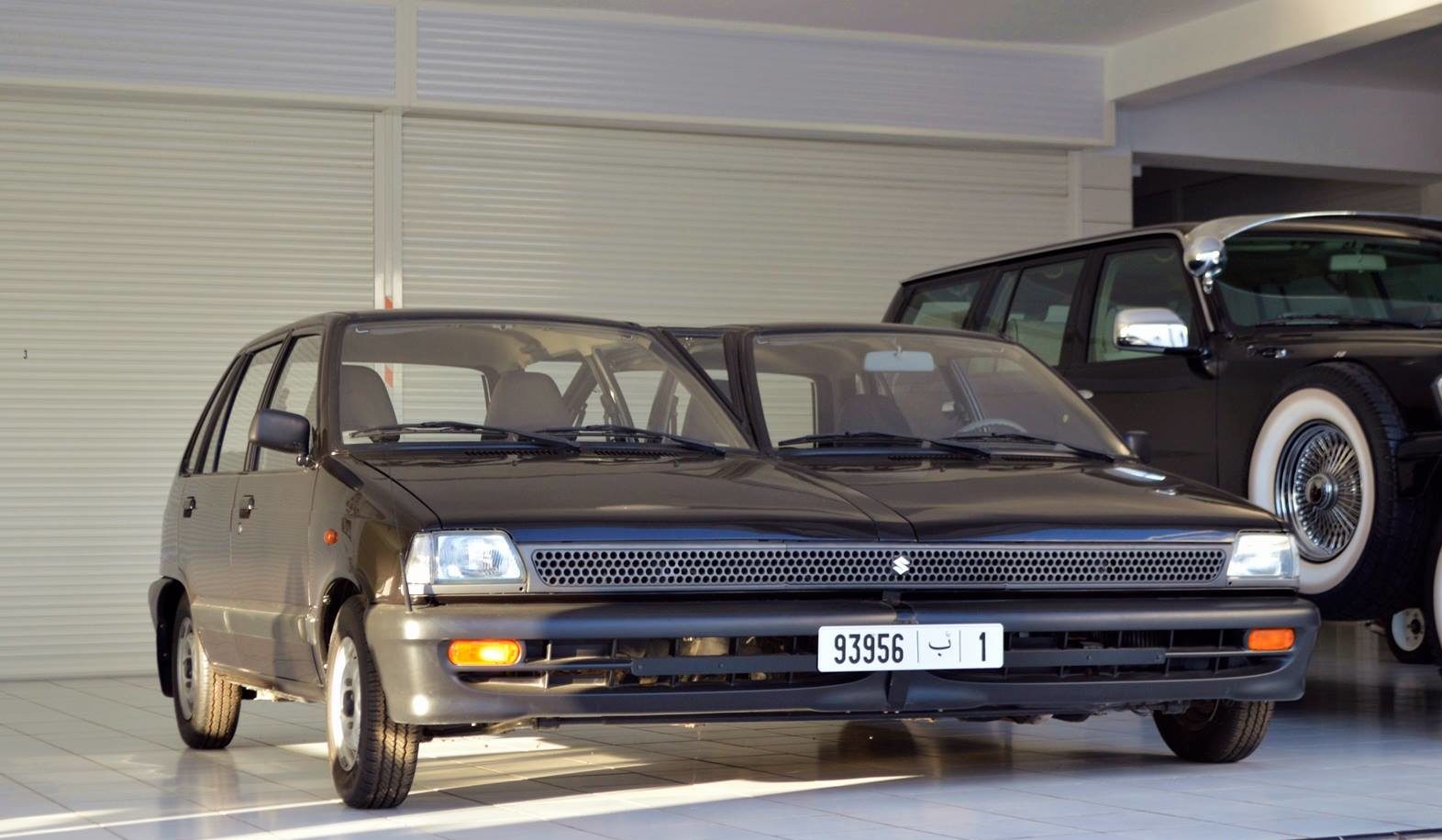 Double Suzuki Well, folks, you're witnessing history right here in front of your eyes. The first (and probably last) ever, Double Suzuki! This co-joined coupe welded together down the middle is certainly one of the strangest cars ever made.
NEXT: The Chrysler Streamline…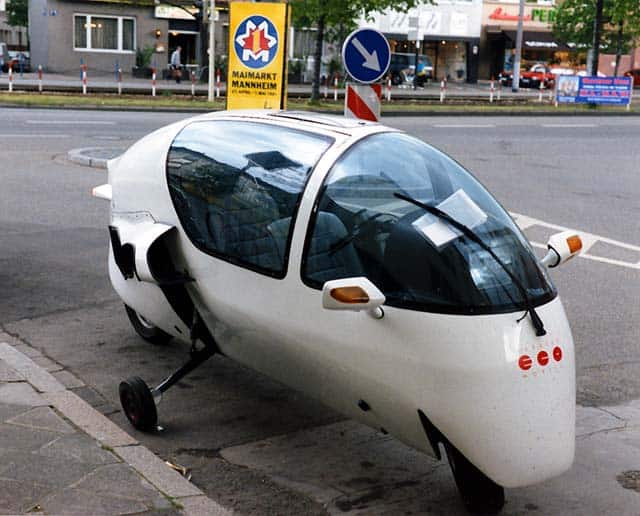 1955 Chrysler Streamline X Gilda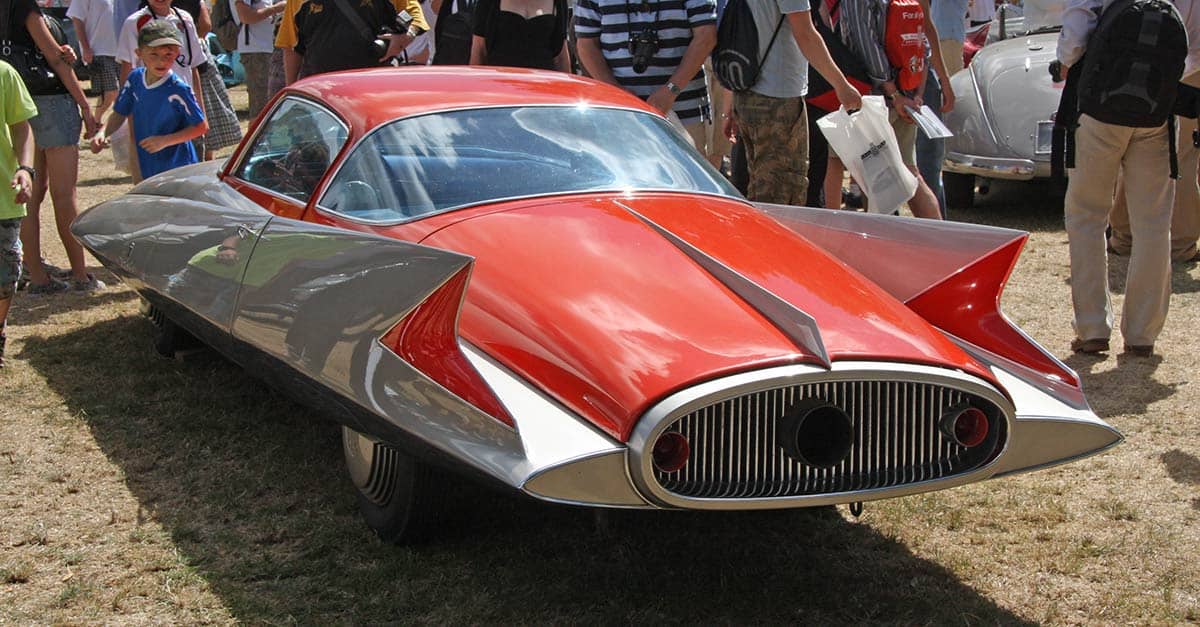 1955 Chryseler Streamline X Gilda The 1955 Chrysler (Ghia) Streamline X Gilda was fitted by Italian firm Khia, with a 1.5-liter engine made for touring.
NEXT: The vehicle aircraft…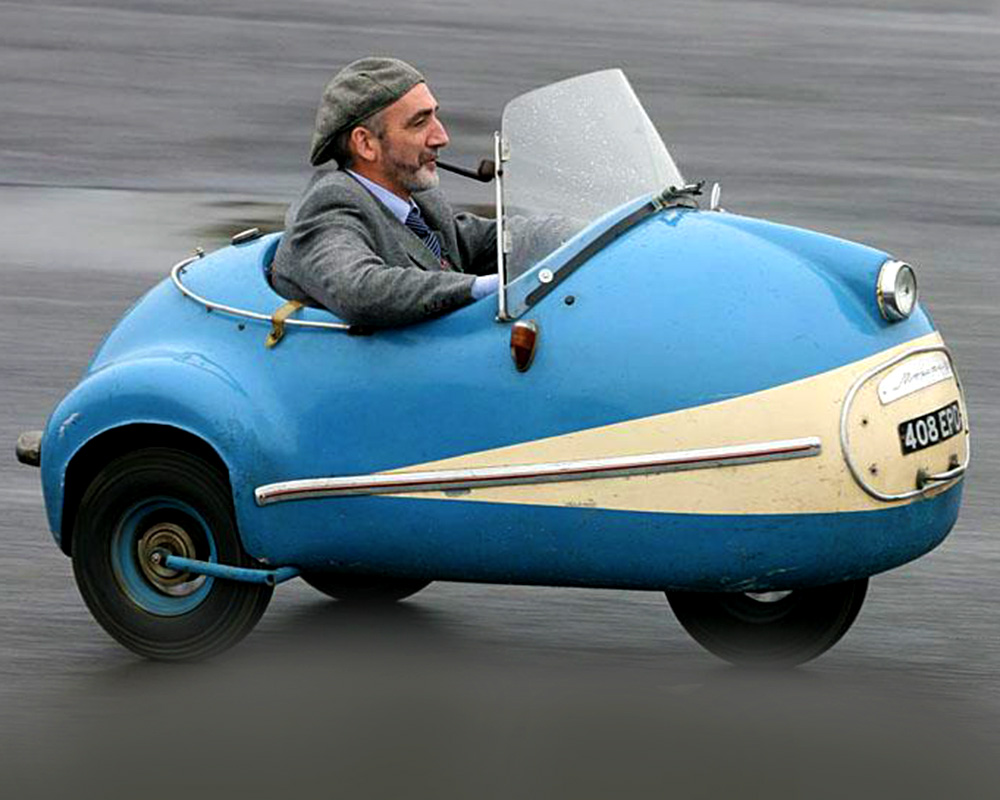 Aircraft or Vehicle?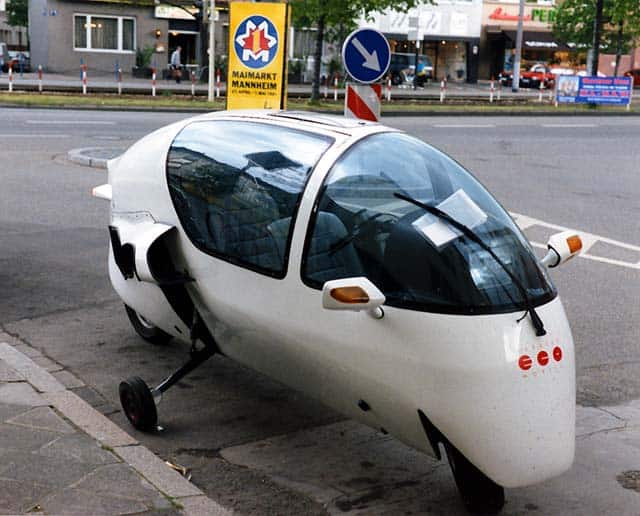 Well, look at this little egg on wheels, how cute. Seriously, it is pretty cool when you break it down. This is the eco-mobile, and it hails from Switzerland. Think of it as a sort of motorcycle hybrid.
NEXT: The 3-wheel car…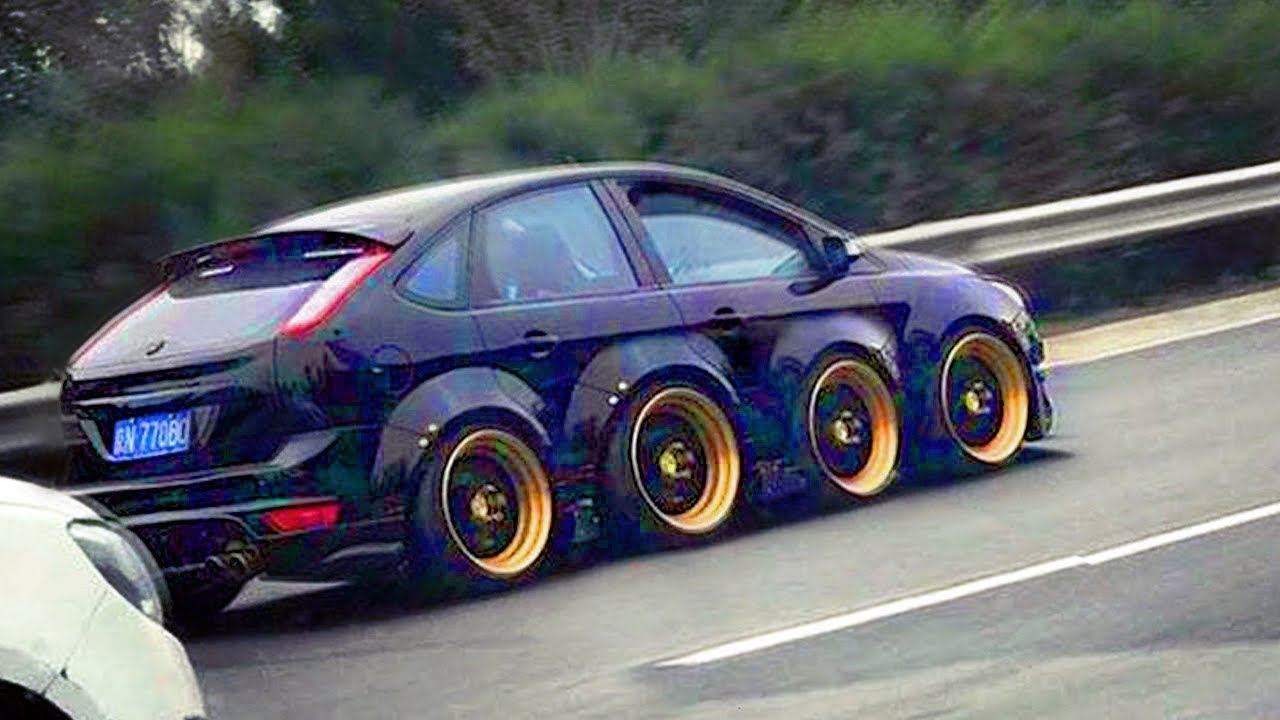 Brütsch Mopetta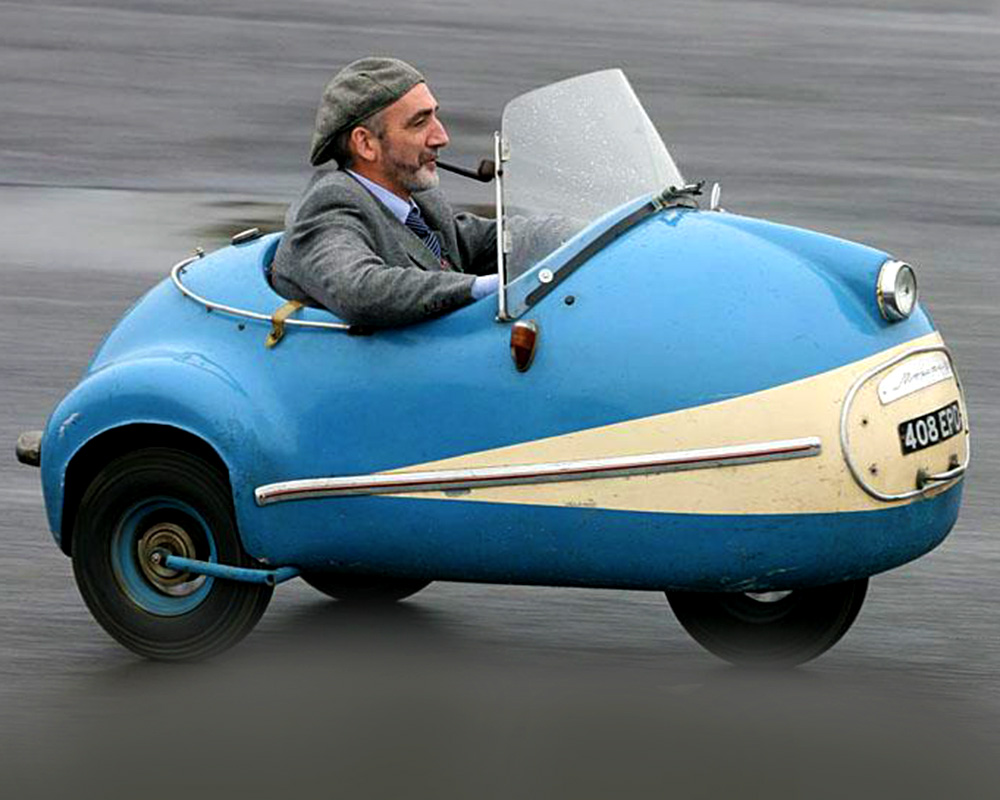 That man's cigar is bigger than the car! This thing is smaller than most people's closets, it's hard to believe it's street legal. If only all microcars are this cute! That's the Brütsch Mopetta, a single seat, 3-wheeled roadster that can zoom up to 45 km/h (28 mph). Only 14 were ever made.
NEXT: The 8-wheeled hatchback…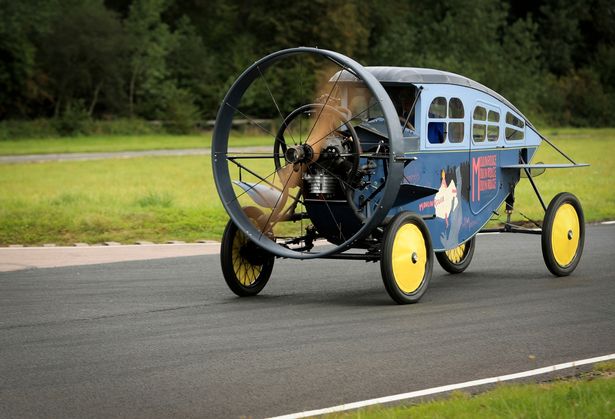 4 Doors, 8 Wheels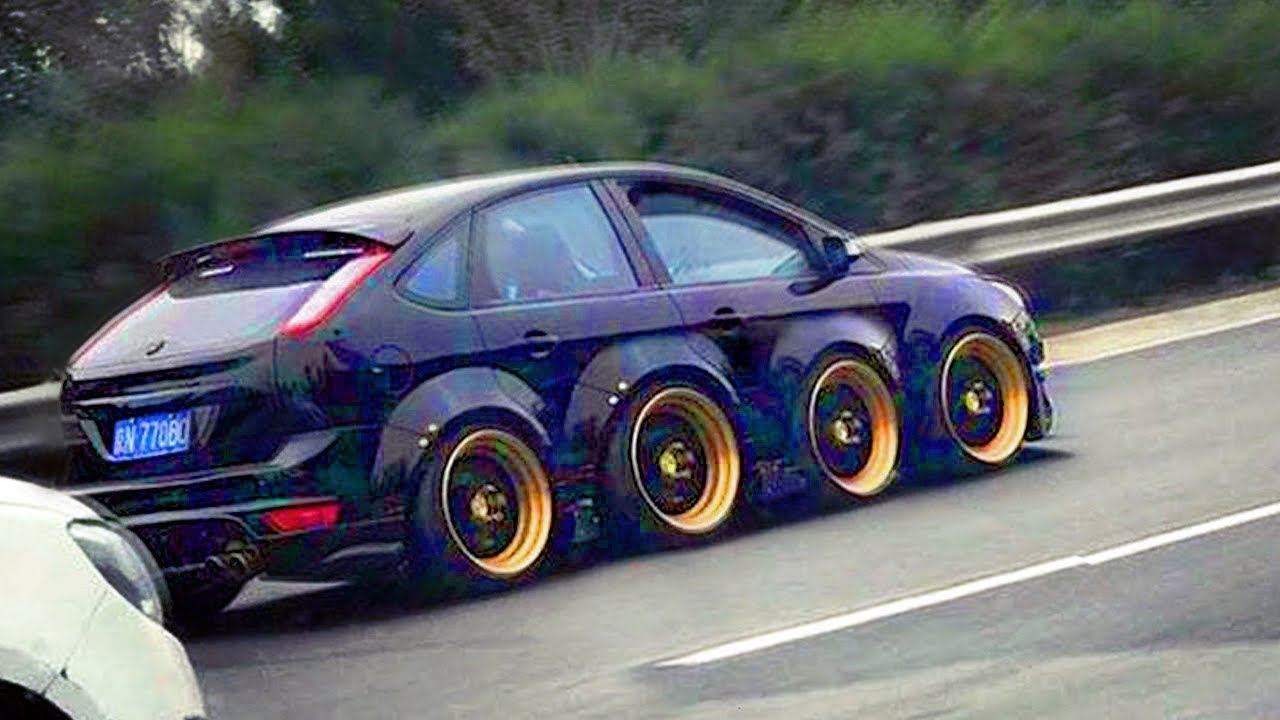 A thousand different things to say about this one-of-a-kind monstrosity that someone clearly believed was a good idea. The only thing we can say for sure is that it's real, it's street legal and it has increased to price of new tires twice over.
NEXT: The propeller car…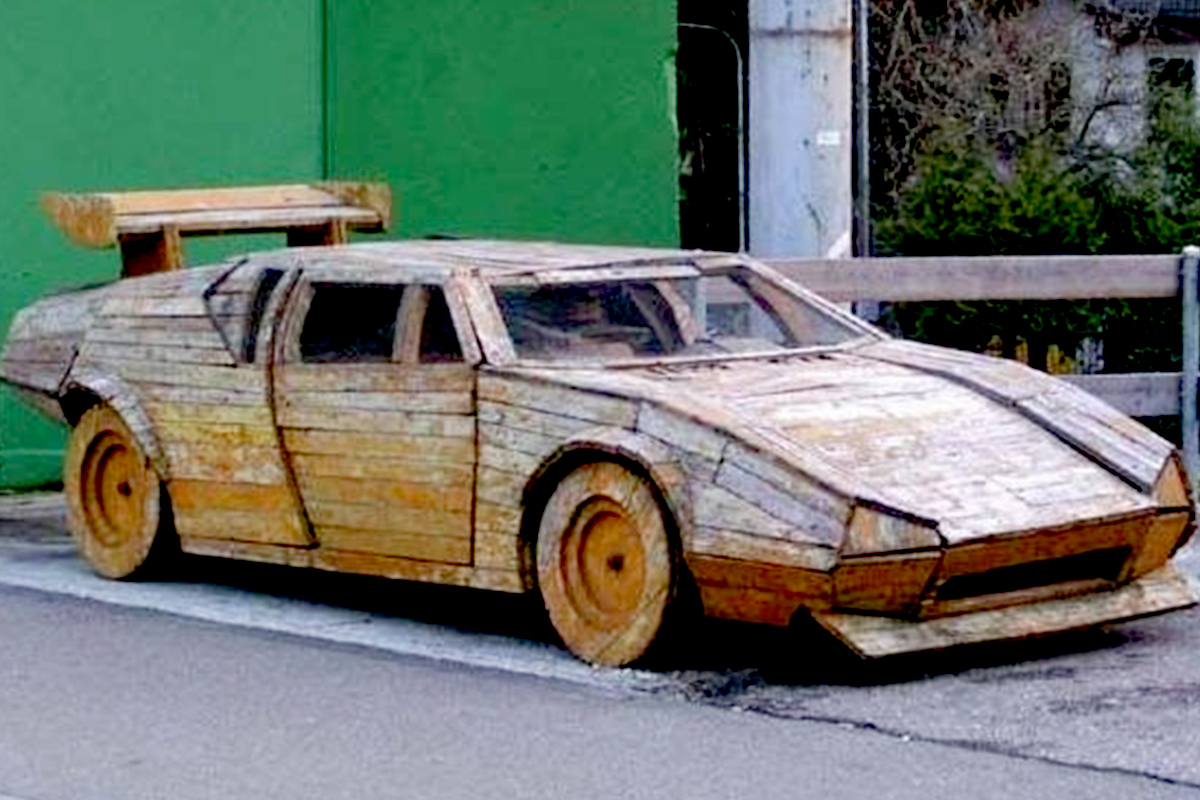 Prop Car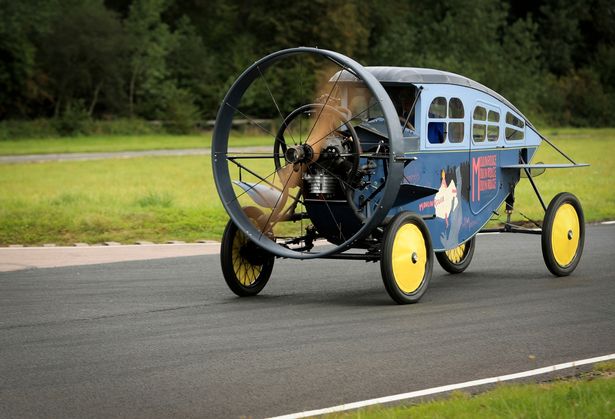 This is not the only car in this list that can't make up its mind if it's a plane or an automobile. This honestly looks like a carriage from the 1850s borrowed the fan from an Everglades cruiser and then tossed in some wheels to produce this uhhhh….beautiful piece of art.
NEXT: The wooden lambo…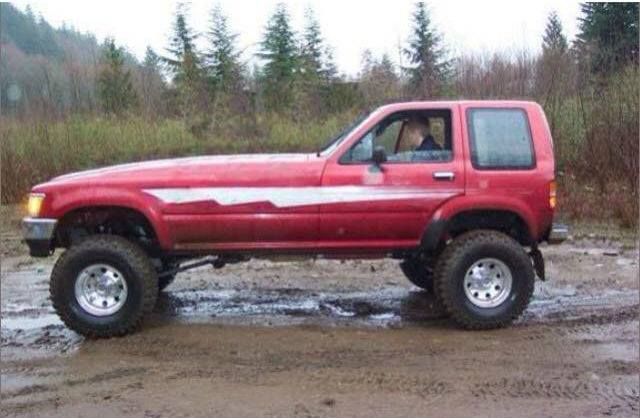 Wooden Lamborghini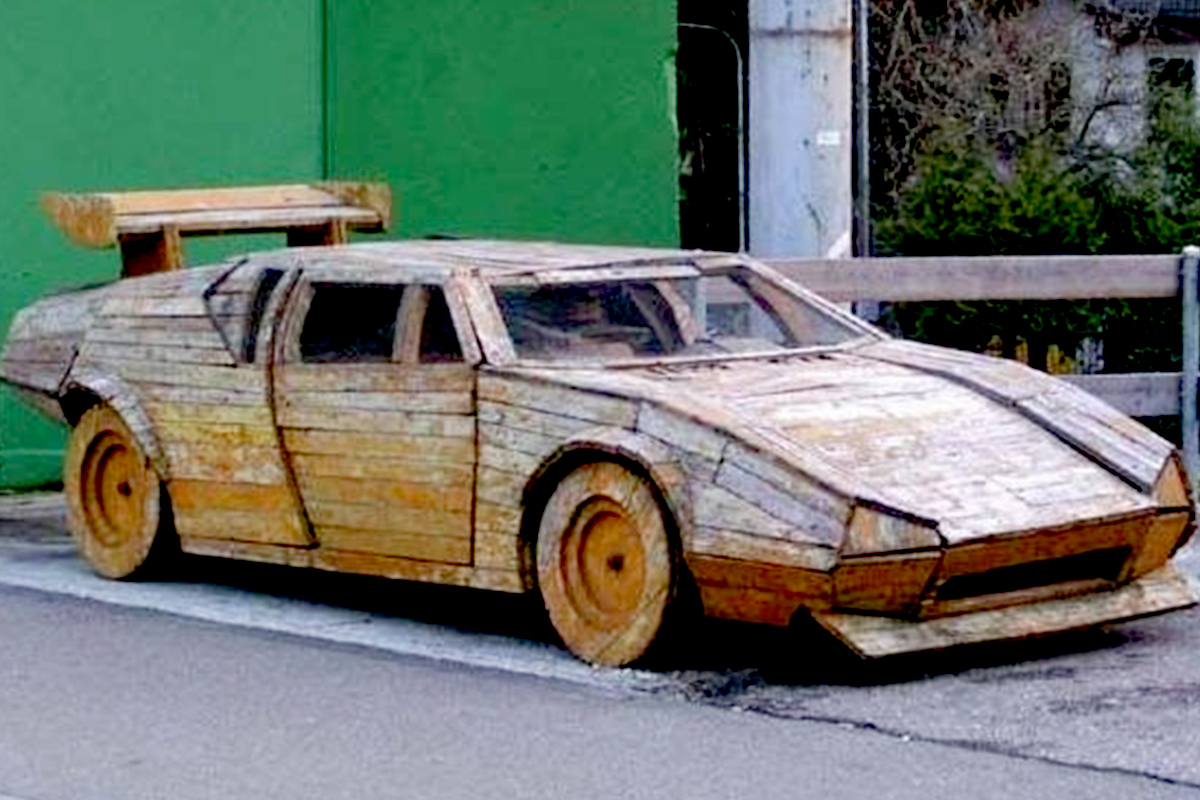 Not everyone has Lamborghini money. Sometimes you need to get a little creative to get the things you really want.
NEXT: They got a little carried away, no?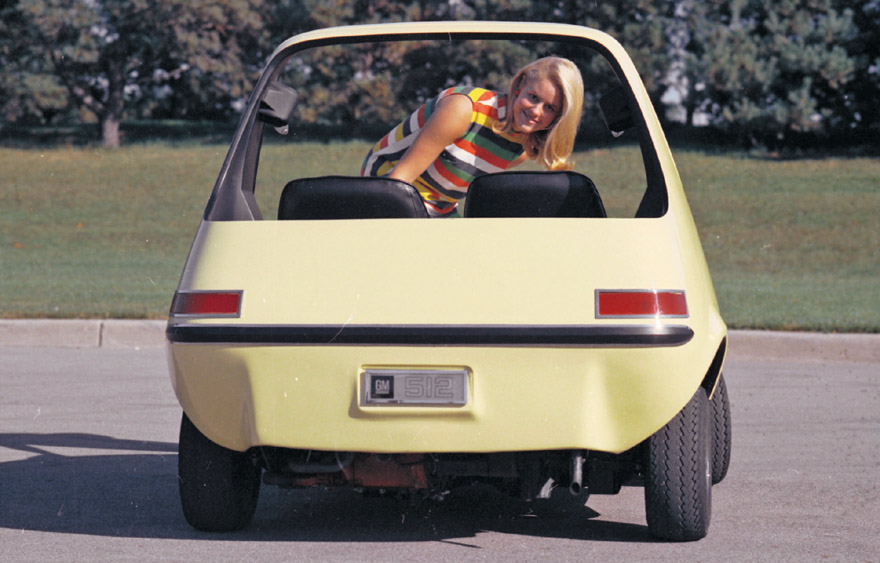 Two-Seater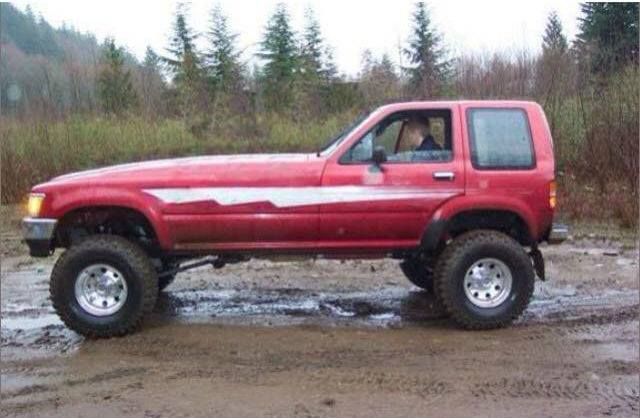 Complete with all the bells and whistles: three engines, 14 batteries, an extended-radiator hose and the world's longest hood.
NEXT: If it's on this list, it's a strange, strange car.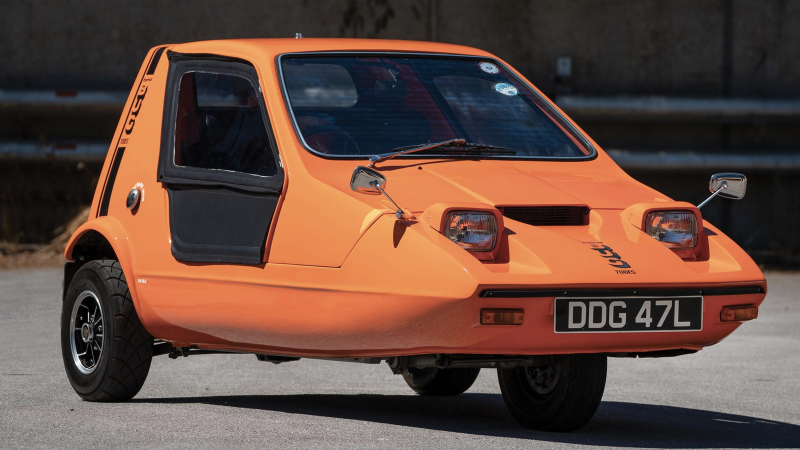 Little Guy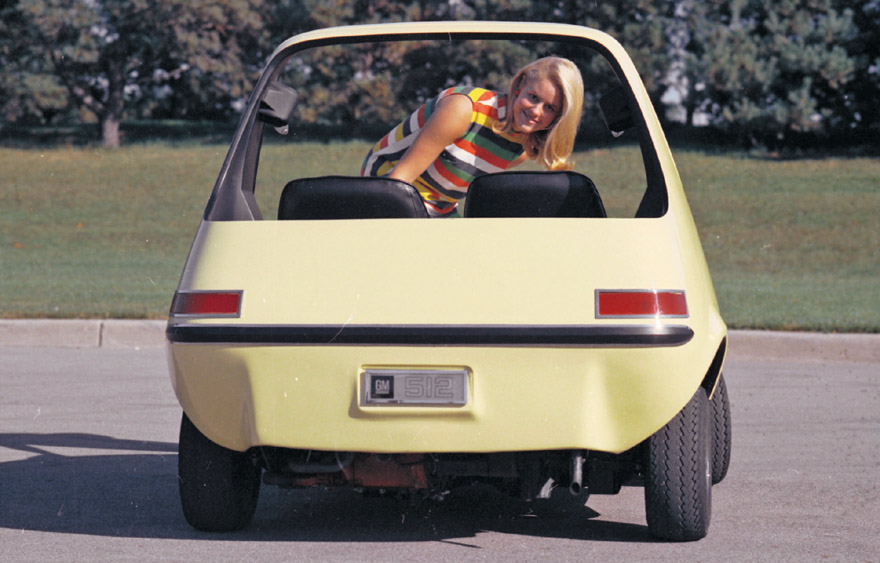 Strange car. Strange size. Strange photo. What else more could you possibly want to know?
NEXT: How does it even balance, much less drive?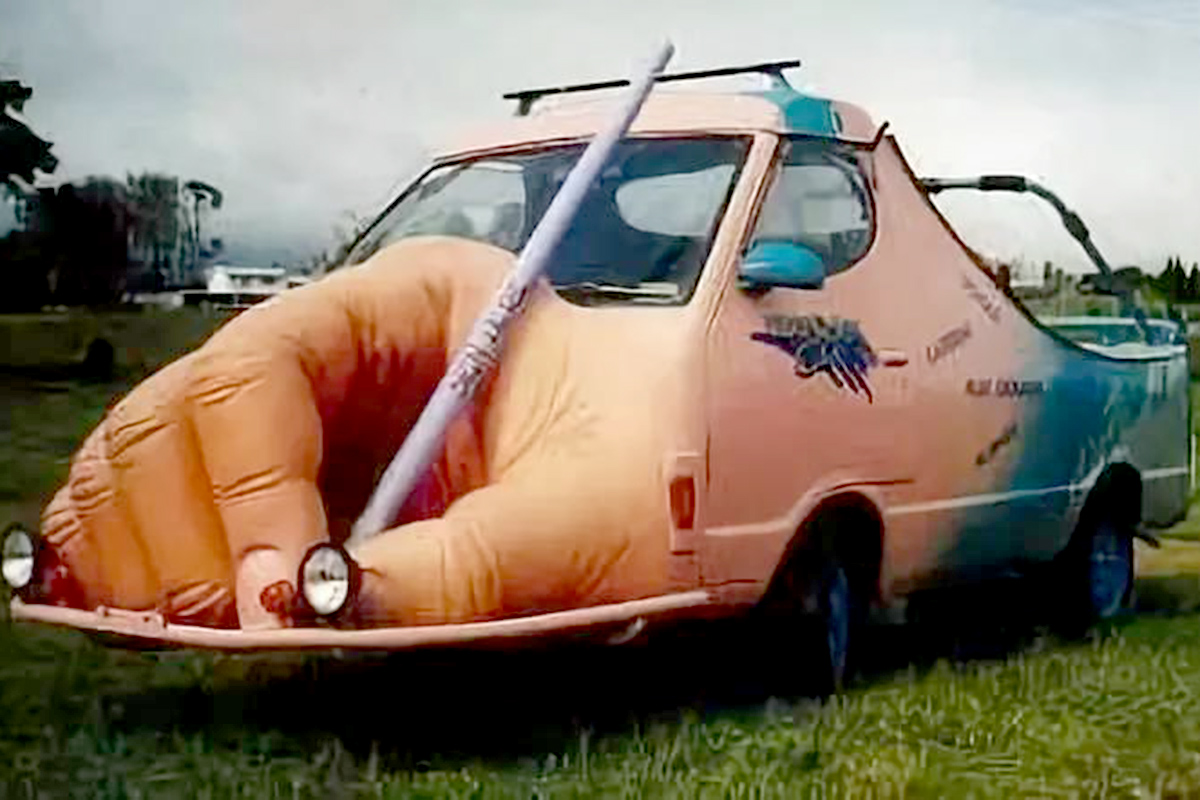 DDG 47L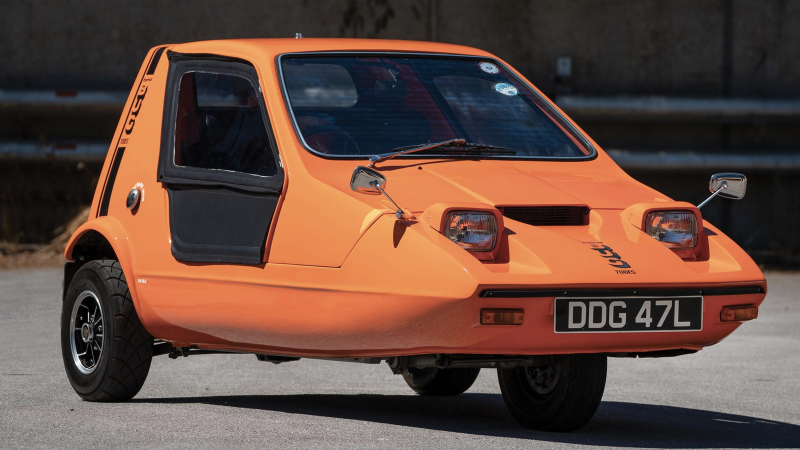 It's a trike! But it's also a car…and a toy? It's an odd ensemble, of that we're sure.
NEXT: Off-Roading in the DeLorean?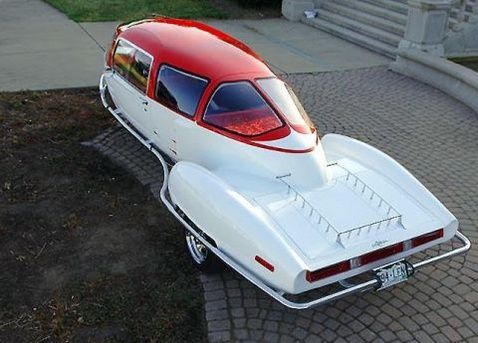 Signature Car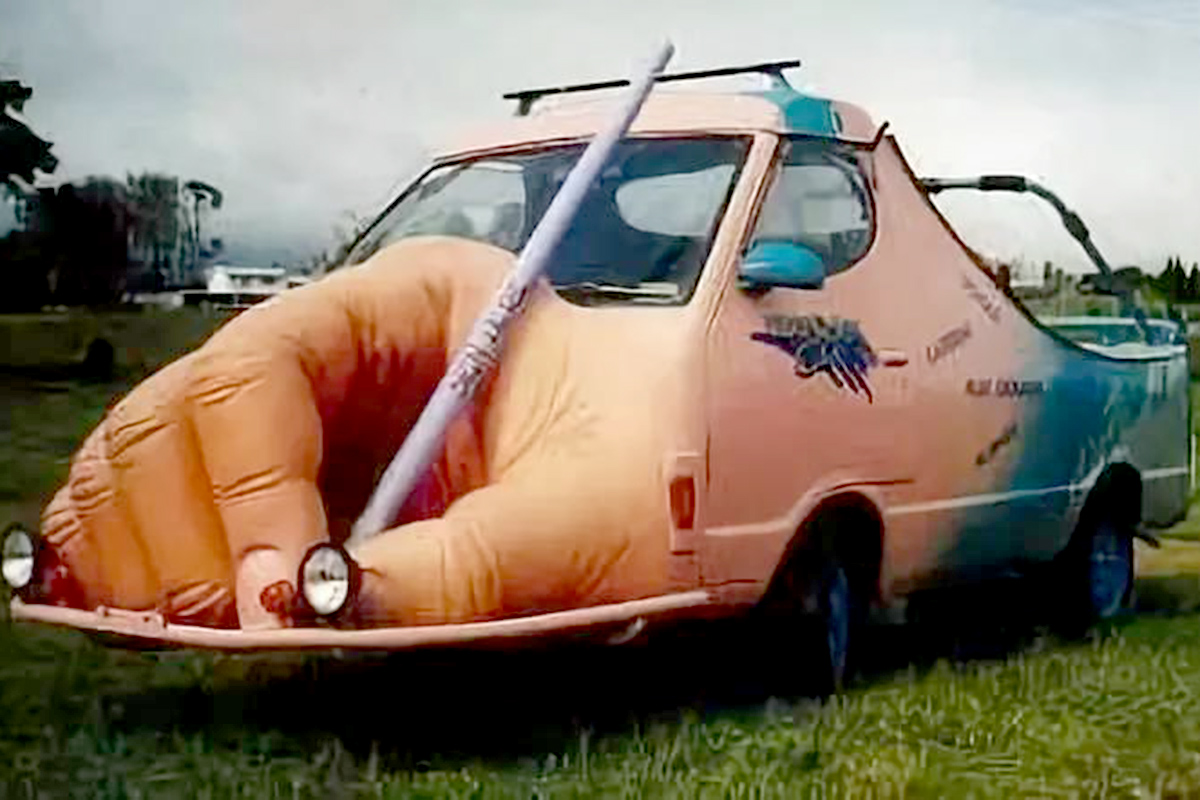 We have to imagine the amount of time and hard work it took to put this vehicle together. It is also very strange. It must be a nightmare trying to see around the pen.
NEXT: Which way is front and which way is back?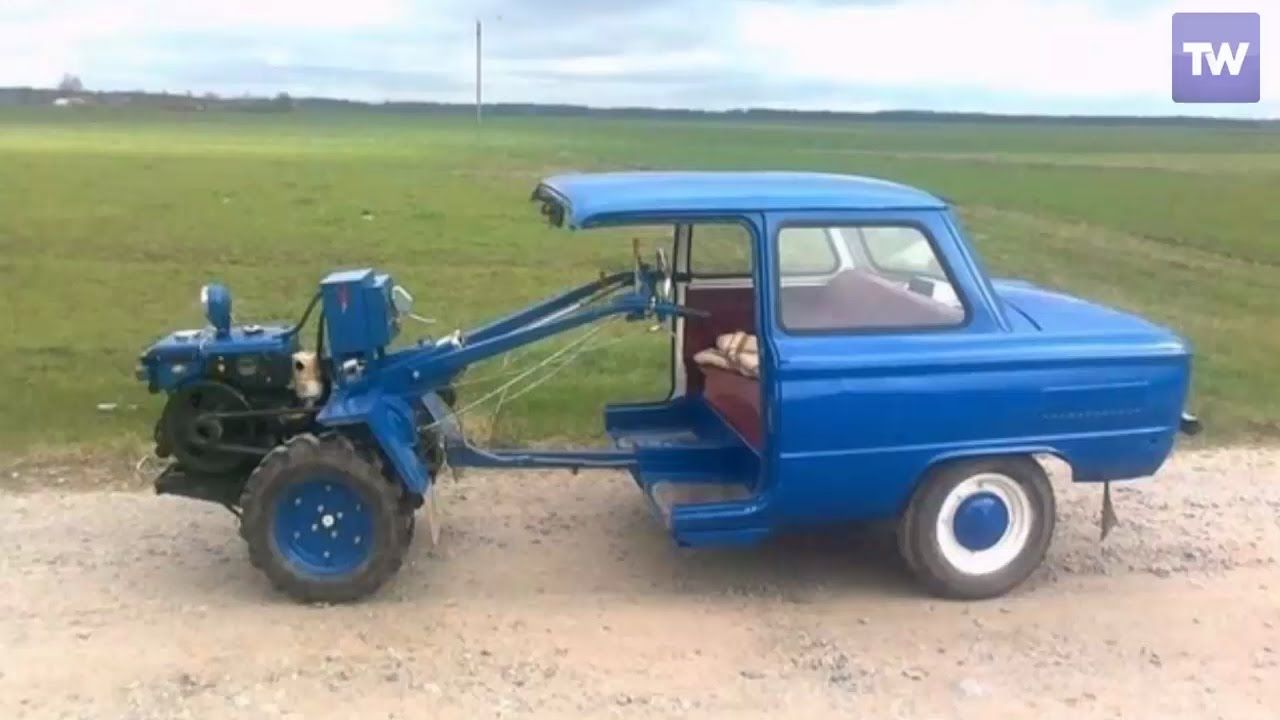 Which Way Is Up?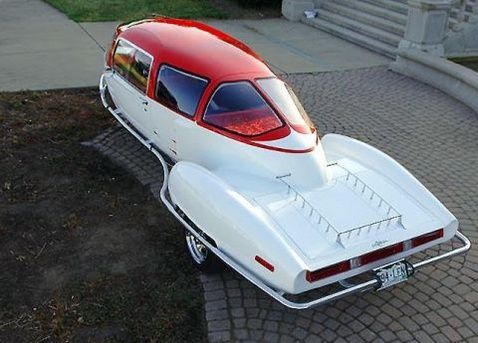 Honestly, we've studied this for hours and we change our minds every 30 minutes. Which way is forwards and which way is backwards??
NEXT: A tractor and a car meet…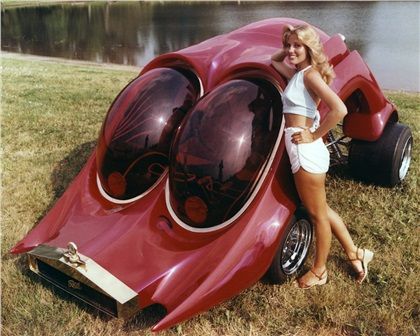 Tractor Trailin' A Car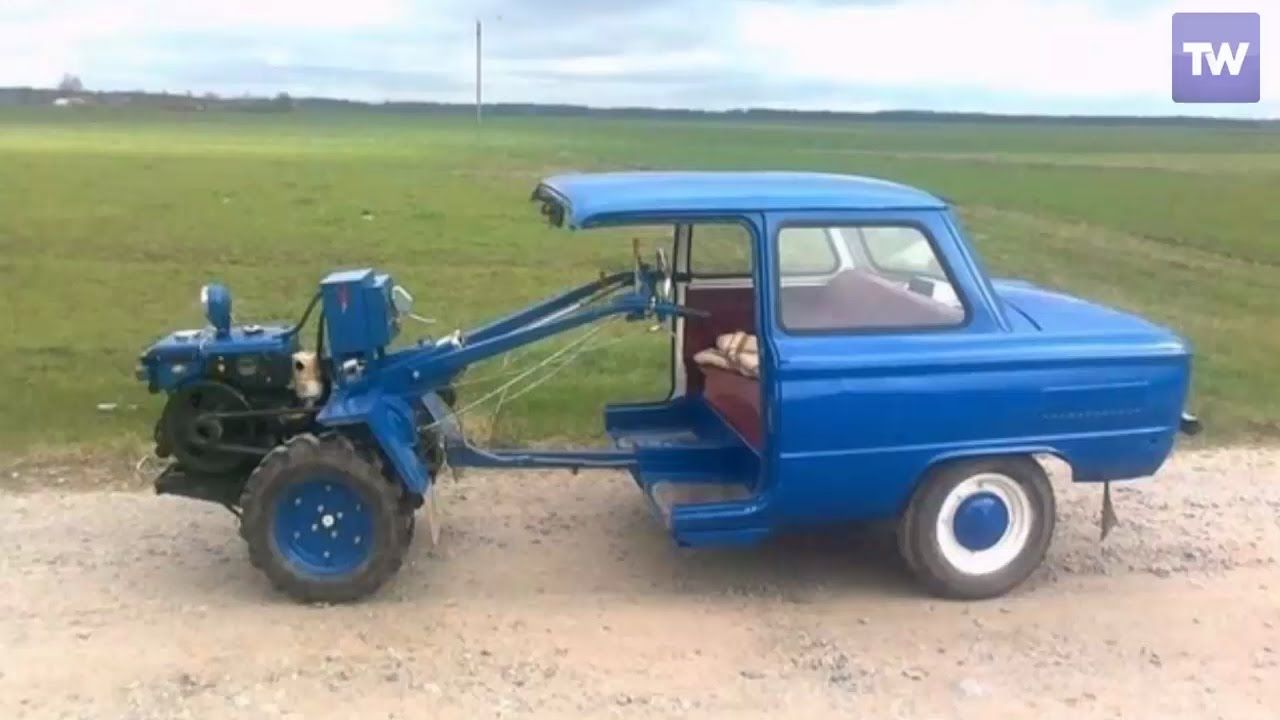 Hey sometimes the best farm equipment is the stuff you create on your own, for your own needs! This chopped off old coupe is welded to a specific piece of machinery for framework. What a strange, but useful ride!
NEXT: A bit bug-eyed there, aren't ya?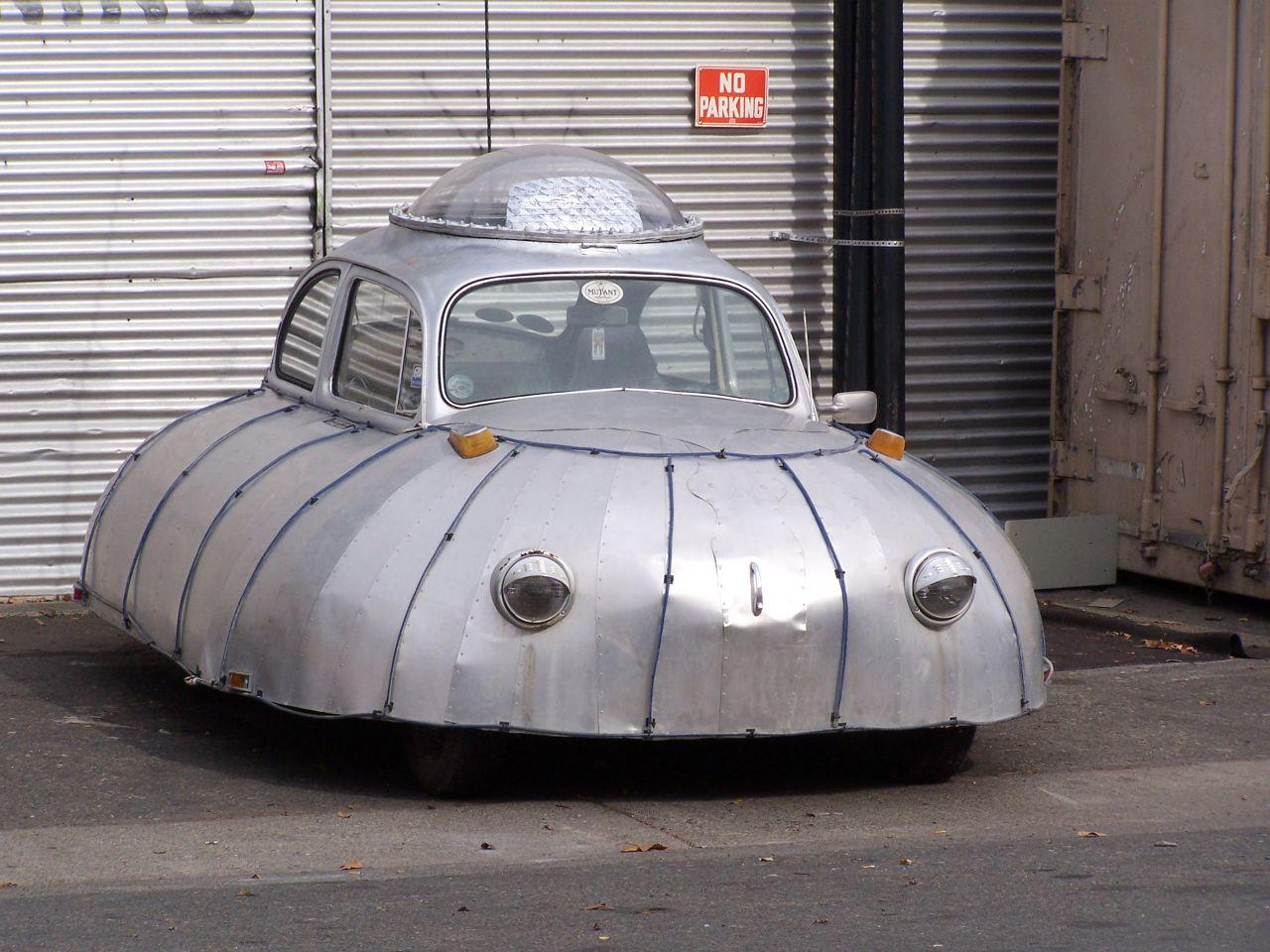 Bug Eyes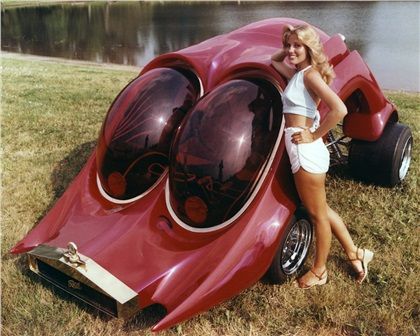 What was the plan here? This dual-windshield, arched vehicle prototype was never actually produced. And for good reason…
NEXT: UFO's are real!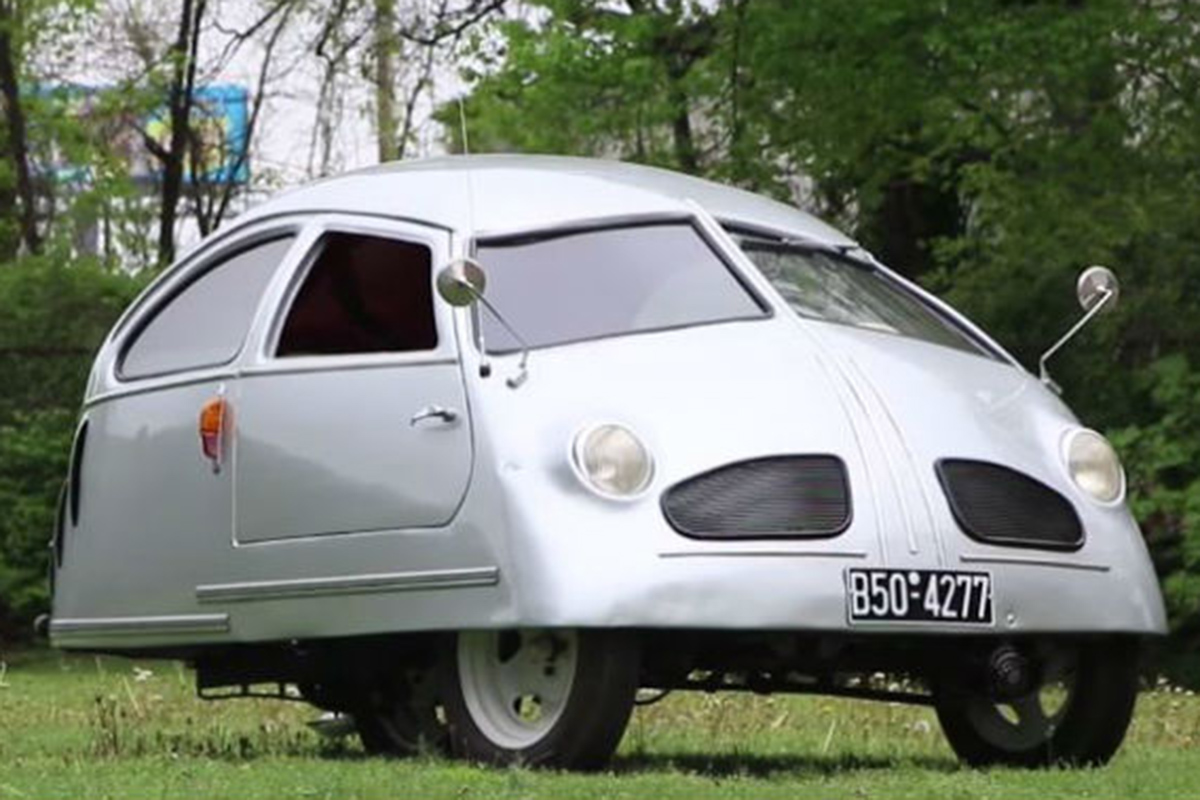 A Skirt or a UFO?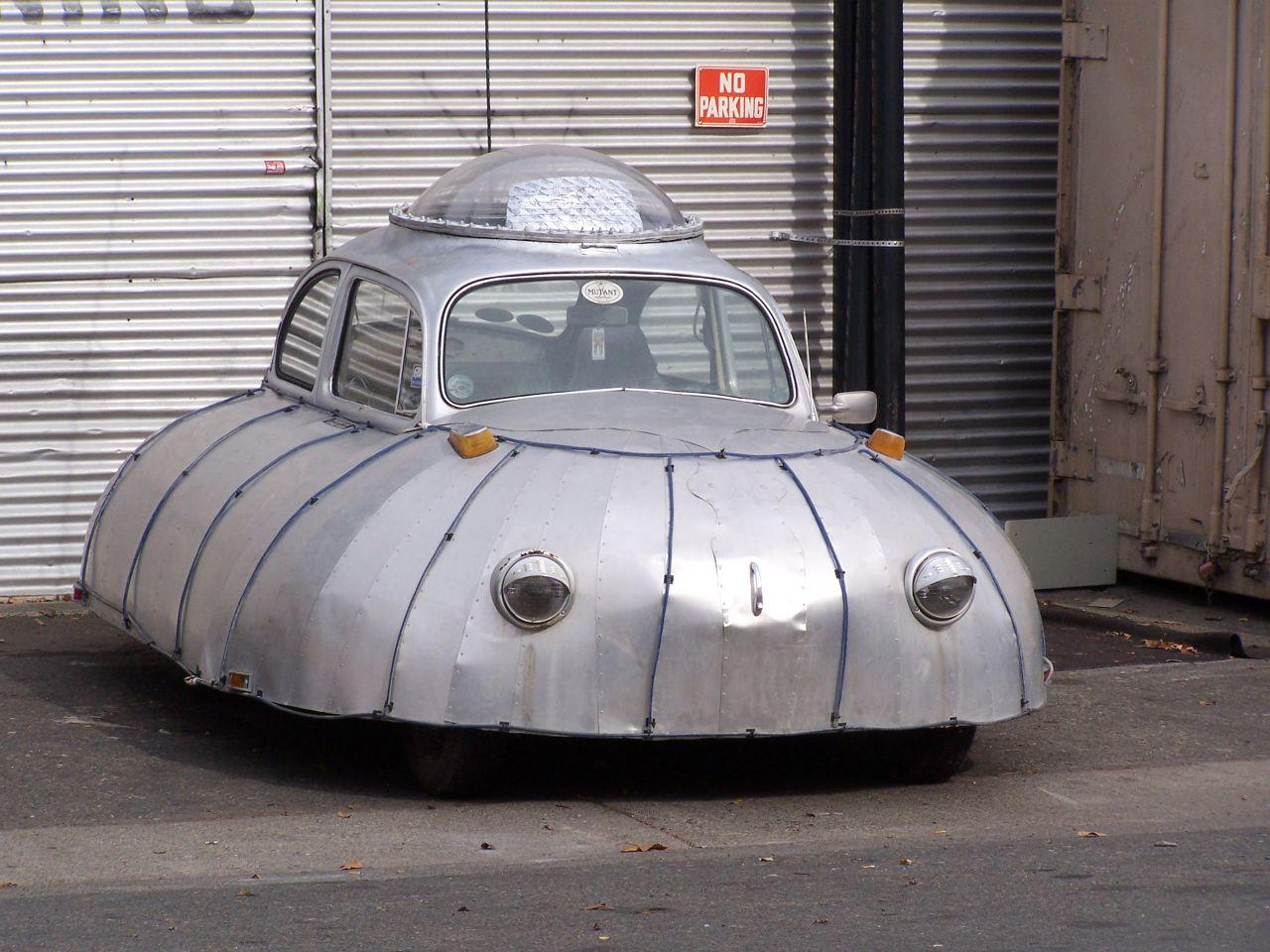 There's no way this is a real UFO – not because they don't exist but because if they did they would never be as bulky and gross as this one! This is clearly some backyard garage type of machinery!
NEXT: The pinkest and most fabulous Thunderbird of all time?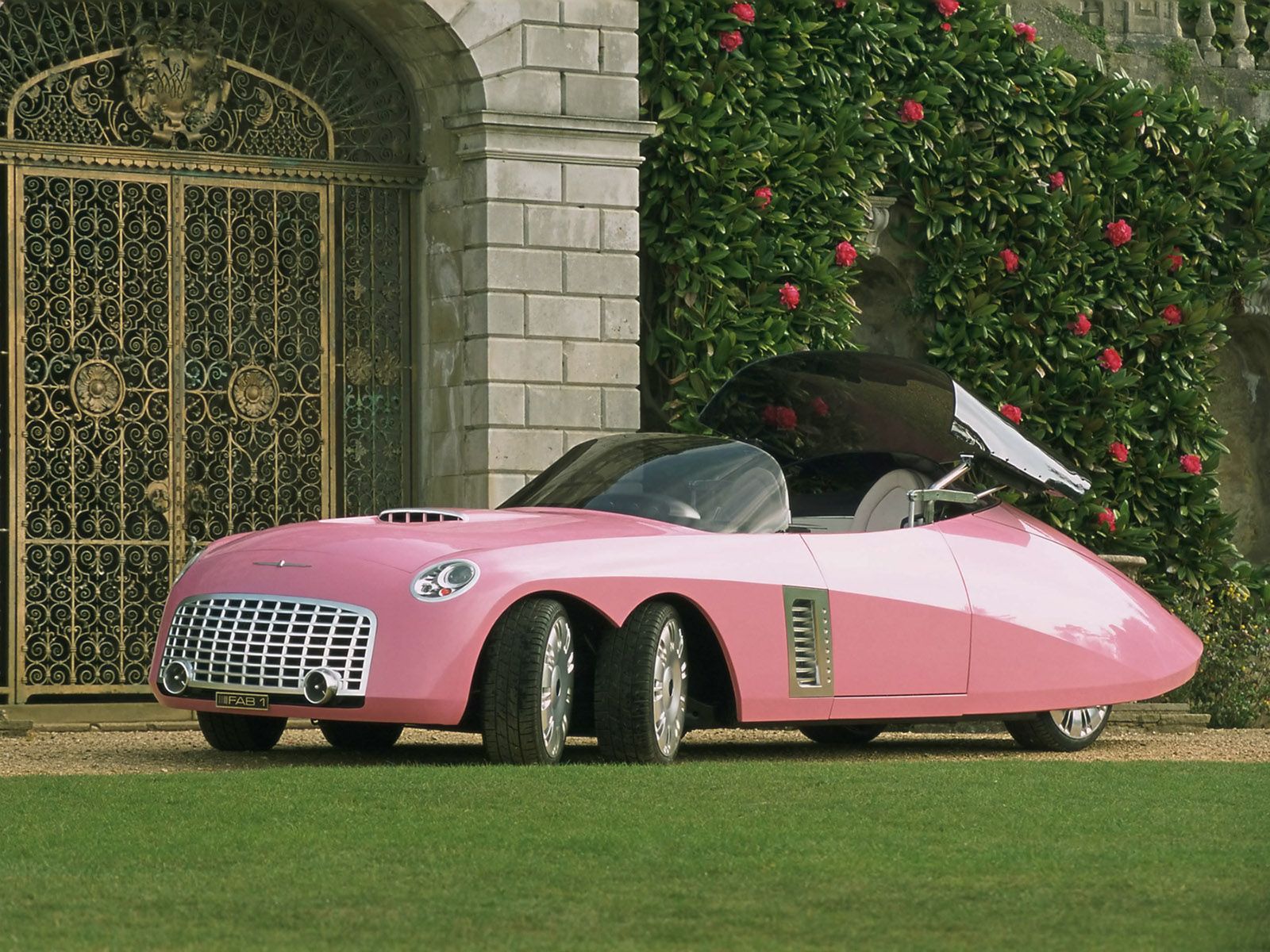 Hoffman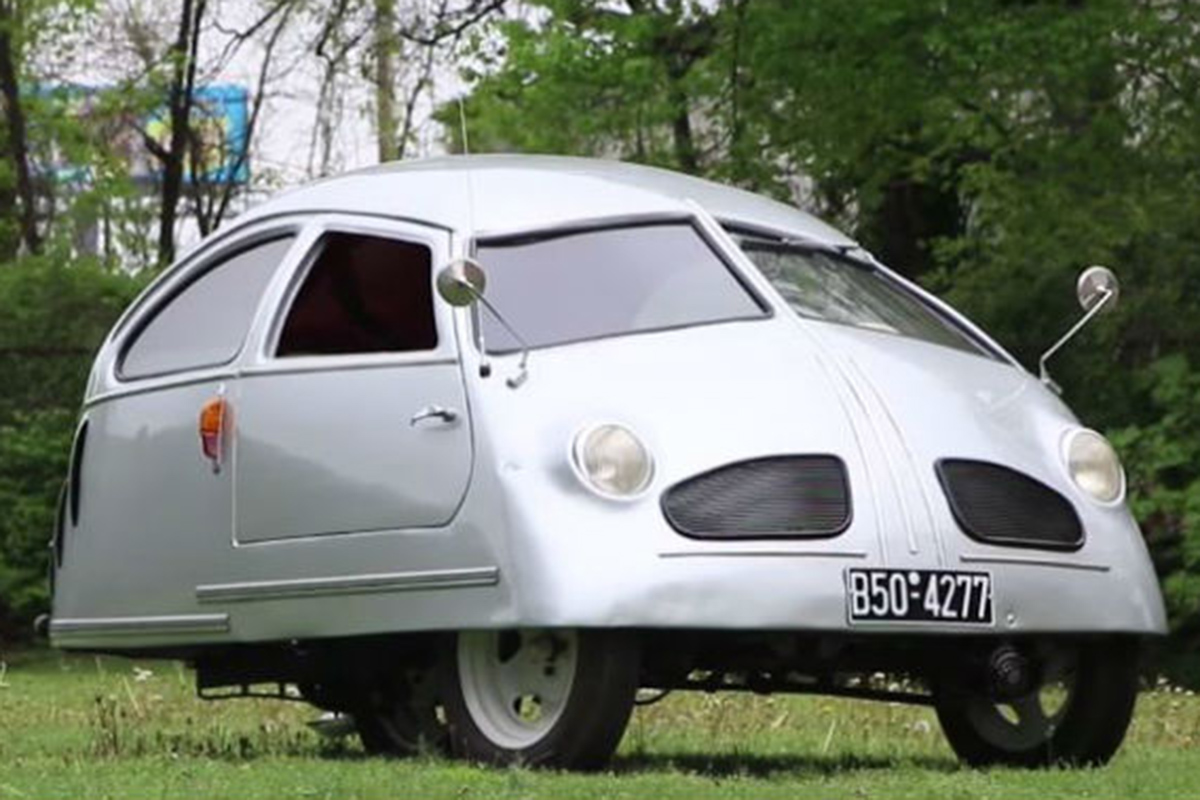 This is the Hoffman. It's a weird vehicle that was a pain to drive.
NEXT: The weirdness continues…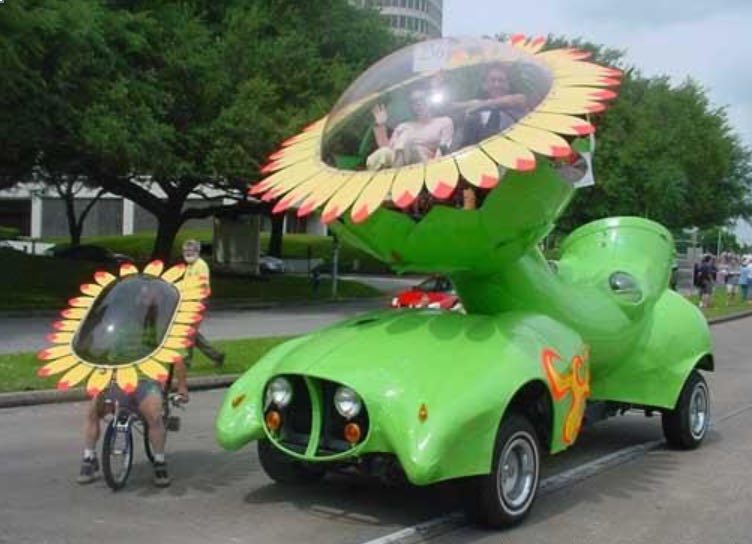 Fab 1 Lady Penelope Thunderbird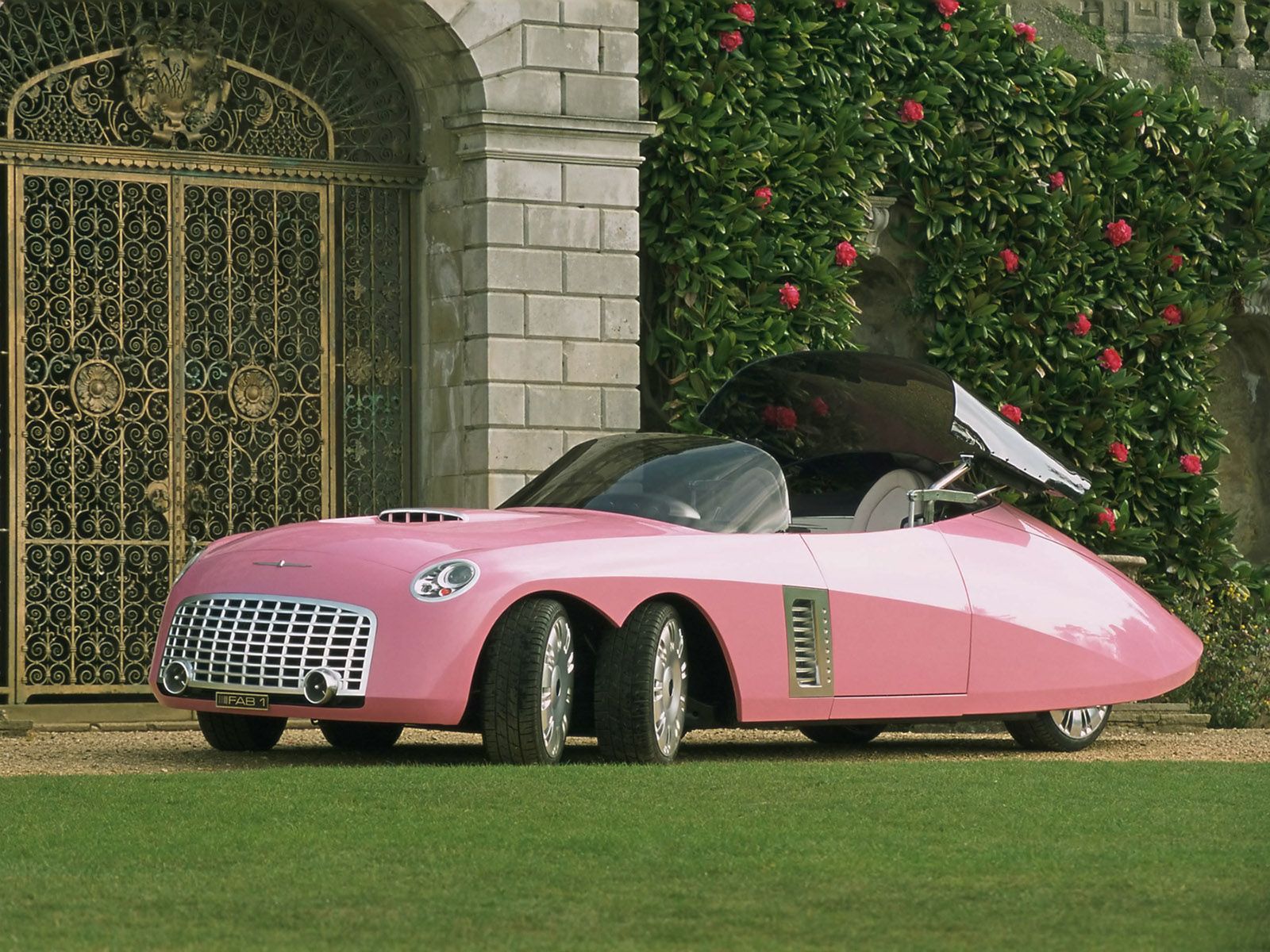 FAB 1 is a pink, six-wheeled car seen in the 1960s British science-fiction television series Thunderbirds, its three film adaptations and its reboot, Thunderbirds Are Go.
NEXT: The weirdness continues…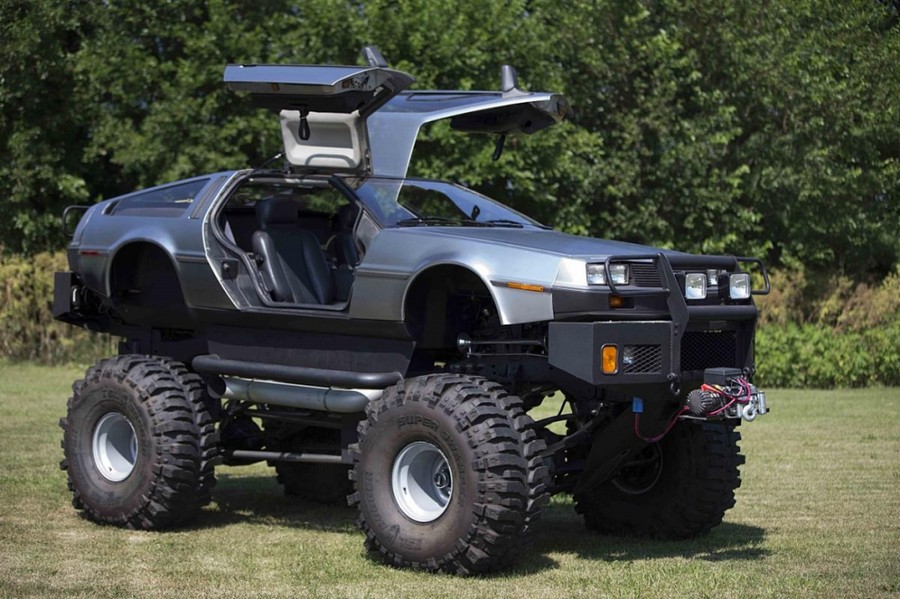 Sunshine Powered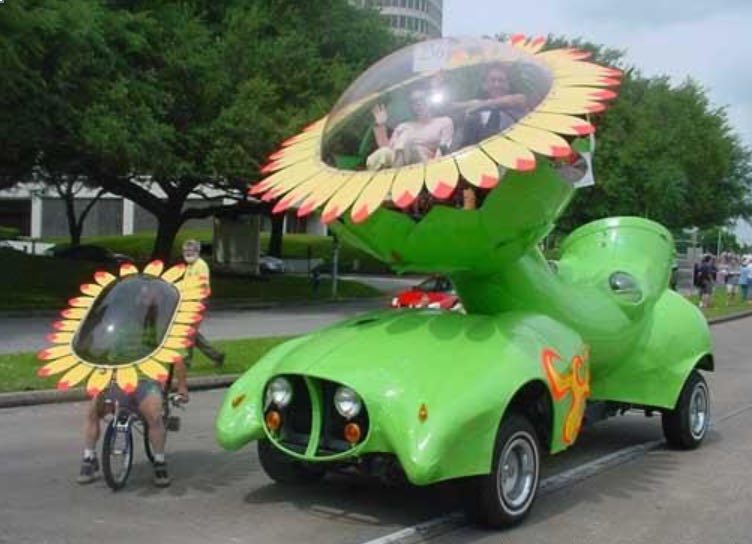 All this bad boy needs is some Vitamin D and it's off the races. Is it actually solar-powered? No, it isn't. They missed an excellent opportunity here.
NEXT: The got a little carried away, no?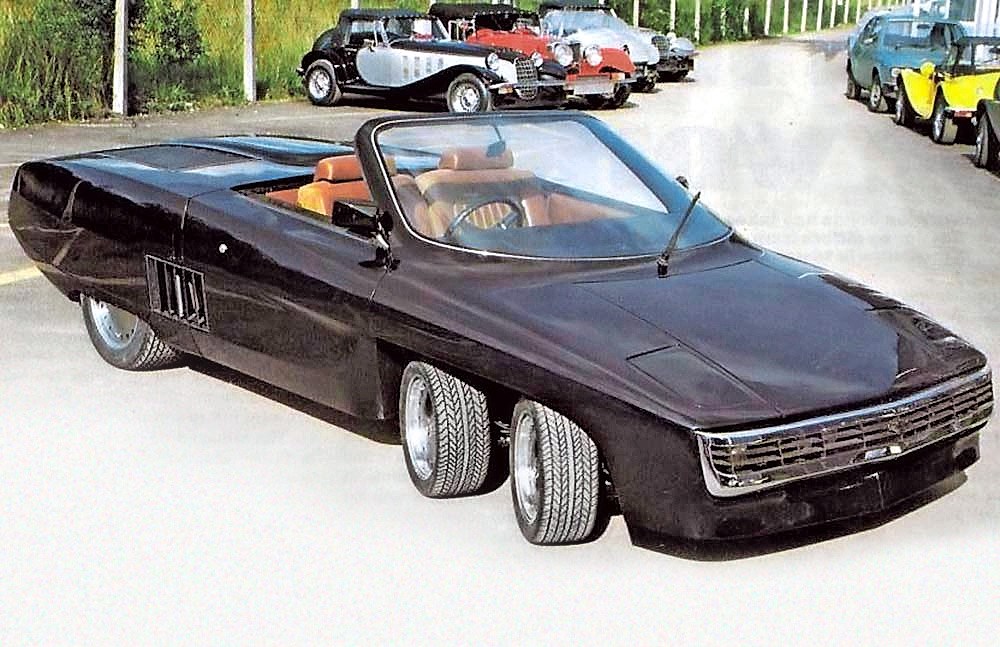 4×4 Time Travel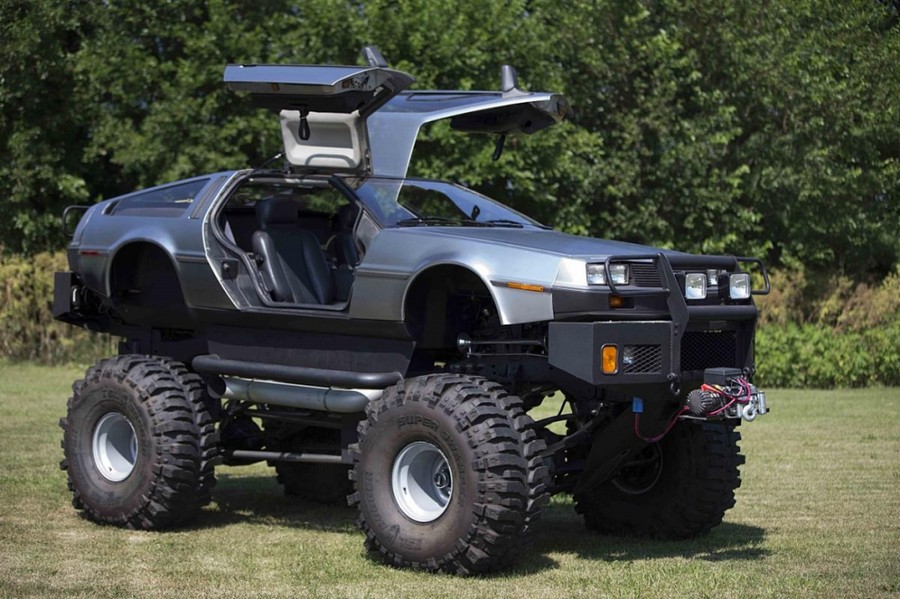 Could this thing get to the requisite 88mph in order for time travel to work? Doubtful. Could it handle any terrain in any time zone? Probably.
NEXT: Which way is front and which way is back?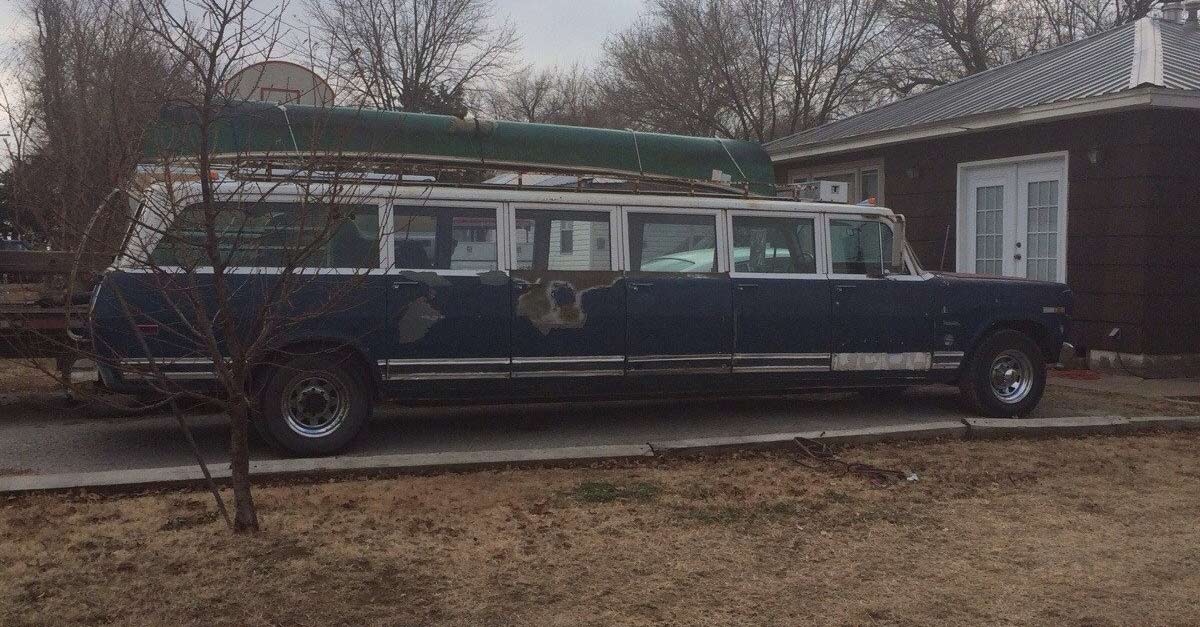 A Six Pack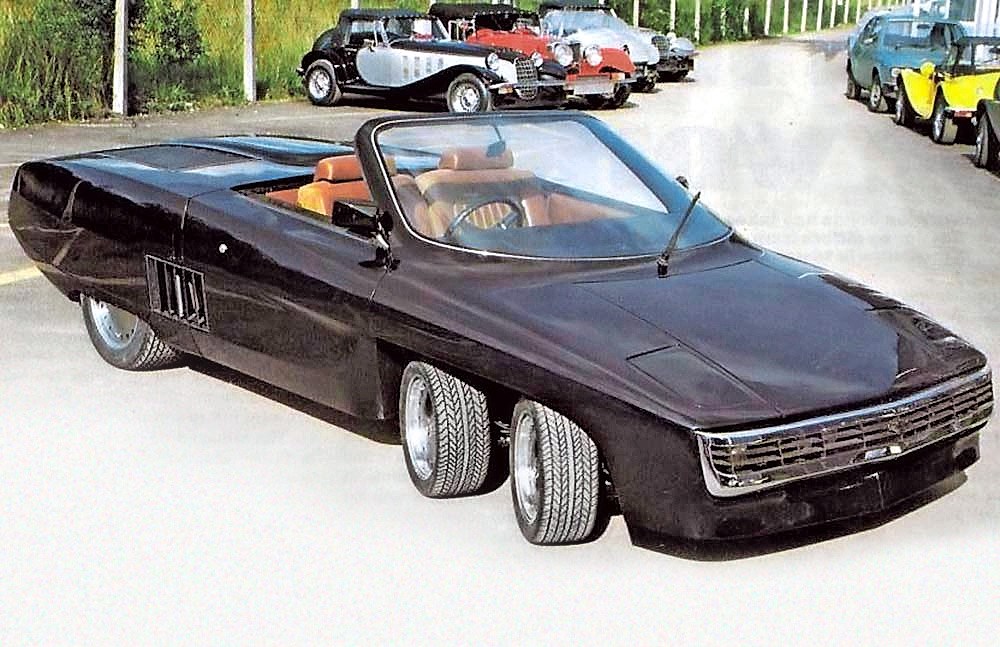 Out of all the cars in the lot at this European auto show, this six-wheeled convertible easily takes the cake for most interesting ride. I mean, how could you not want to stare at this thing for hours on end?
NEXT: 4 wheels, but about 50 doors…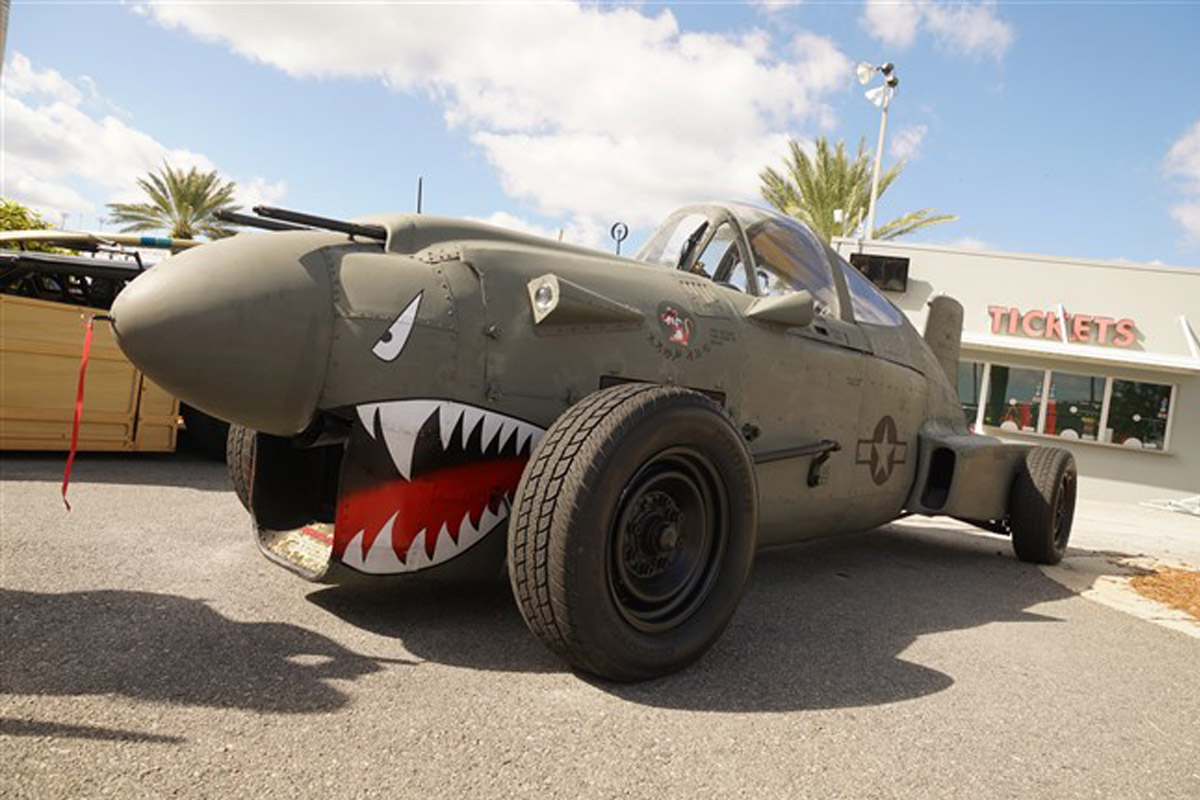 1969 Travelall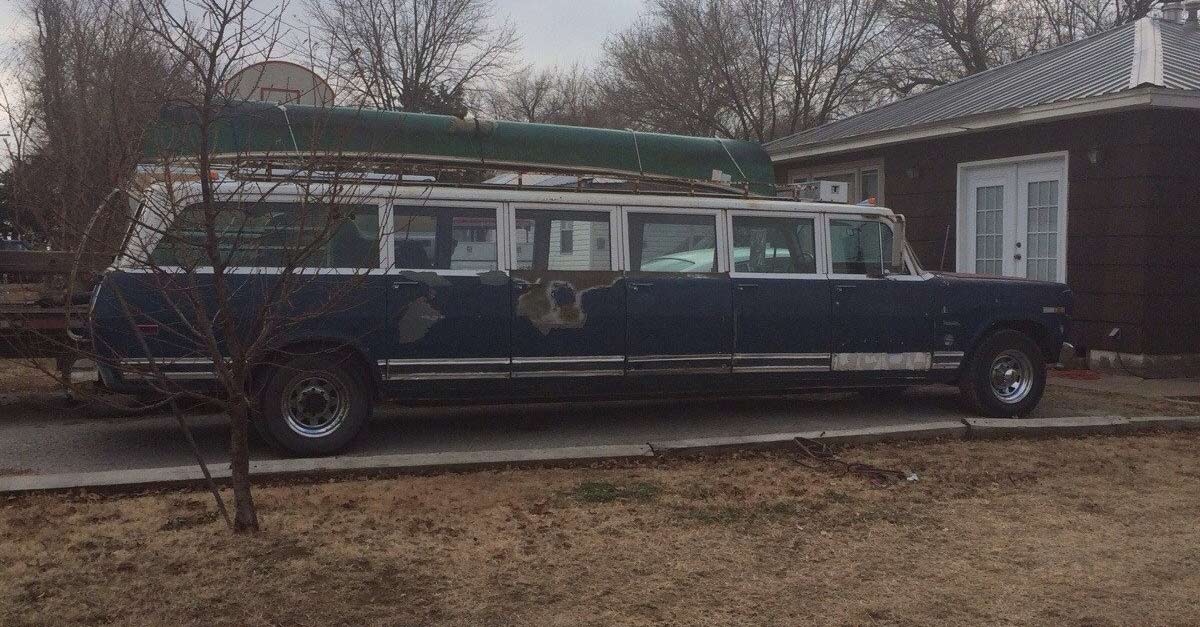 This is a Stretch 1969 Travelall manufactured by International Harvester. It's designed to seat anywhere from 3 to 47 people (don't quote us on that) and apparently, it's big enough to fit an entire standard-sized canoe inside. What a ride!
NEXT: Who remembers the P-40?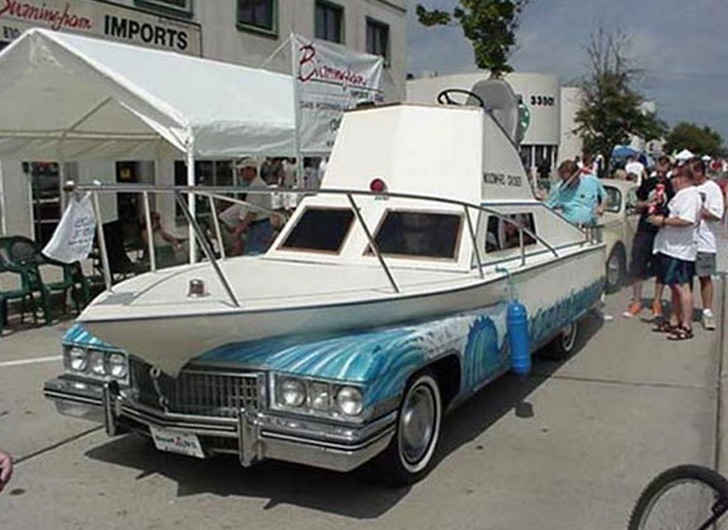 Curtiss P-40 Warhawk Cruiser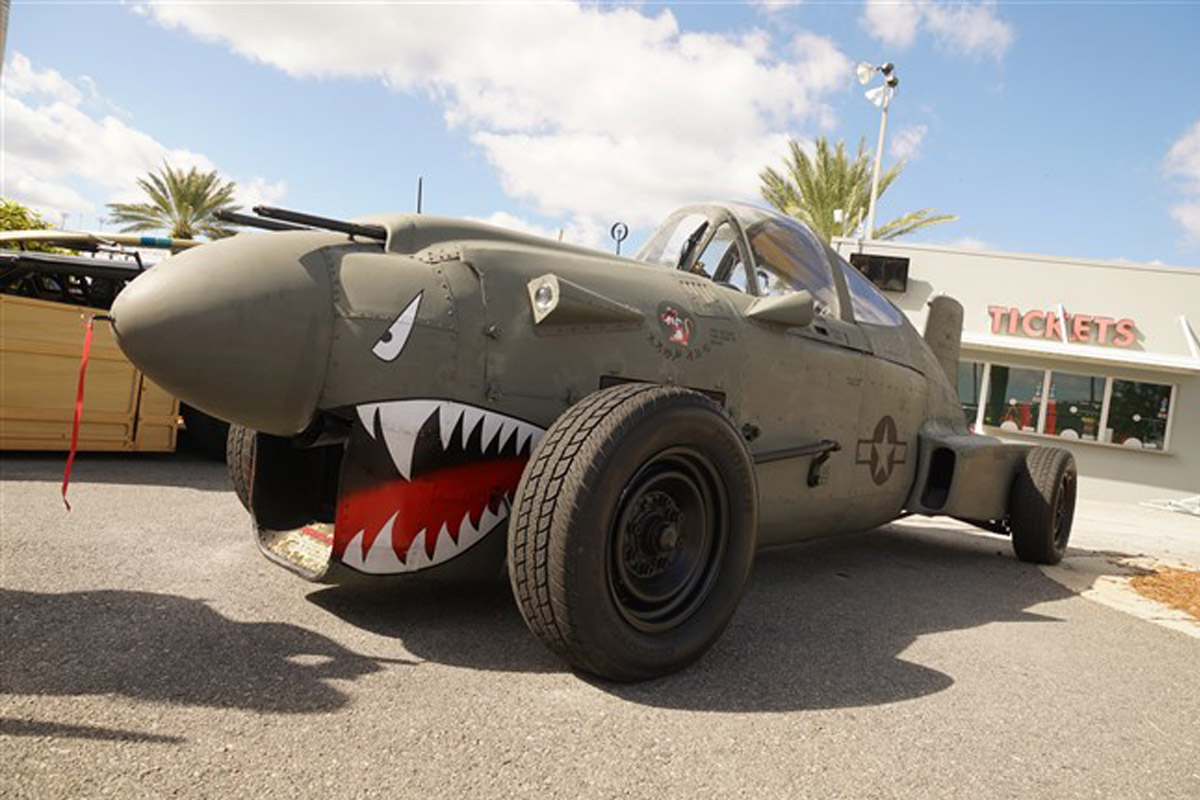 The Curtiss P-40 Warhawk has seen it's trademark teeth grace the nose of several different vehicles across several different genres. It's an iconic, aggressive, and cool symbol. But what do you think of this entire P-40 remake?! This street legal ride is insane!
NEXT: 1 if by land, 2 if by sea…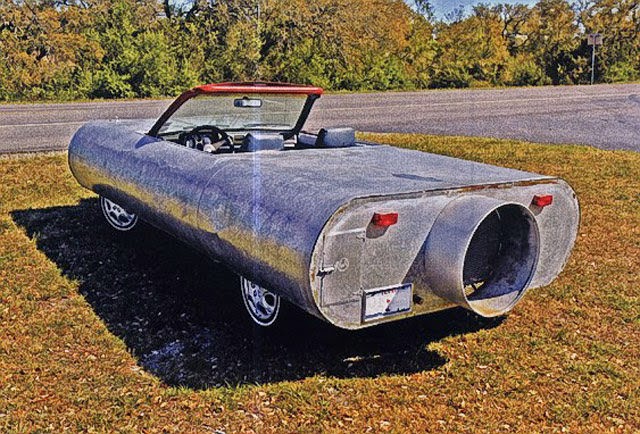 The Land Yacht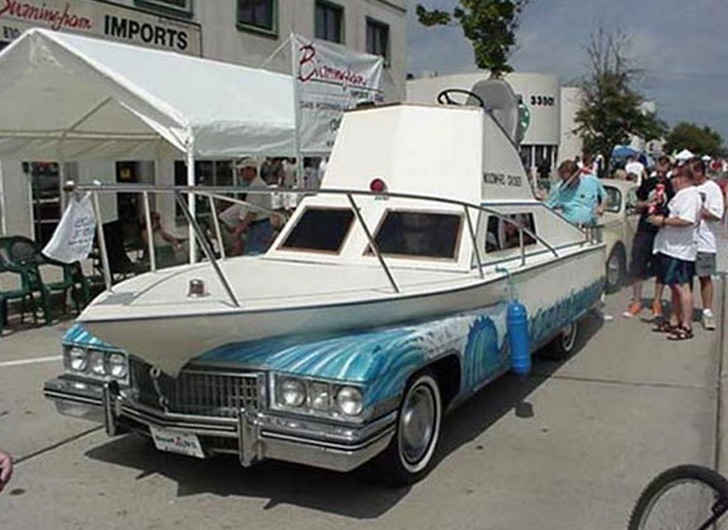 The worst part about this is that although it's made out of a boat, it's not even water-ready! Just a regular old water car. One of the strangest we've ever seen…
NEXT: If a bug could become a car…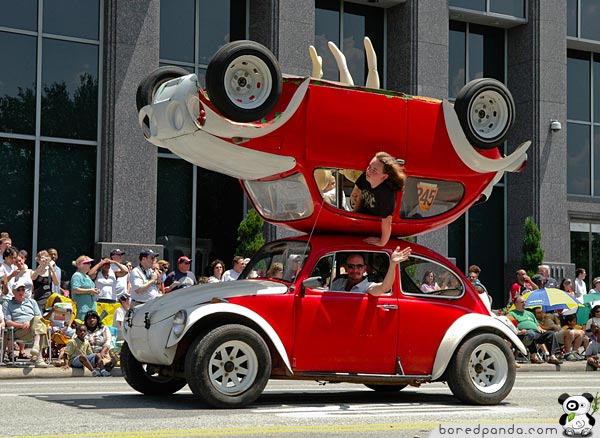 The Muffler Car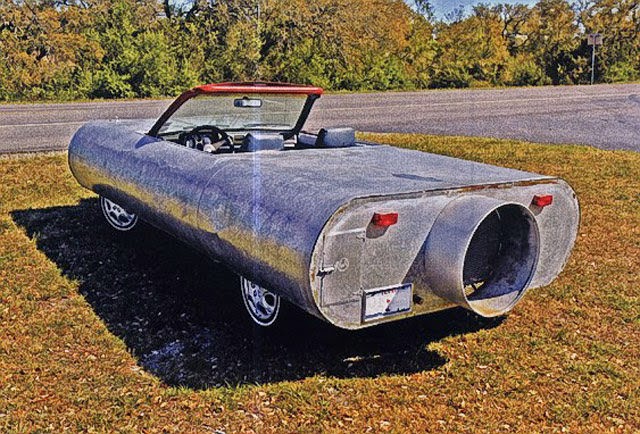 Its not often if ever, you'd see a car as unique as this! You might say it "baffled" drivers by. One thing is for sure, this one shouldn't have any trouble passing an emissions test.
NEXT: If your a fan of 8 wheels, you'll love the car coming up…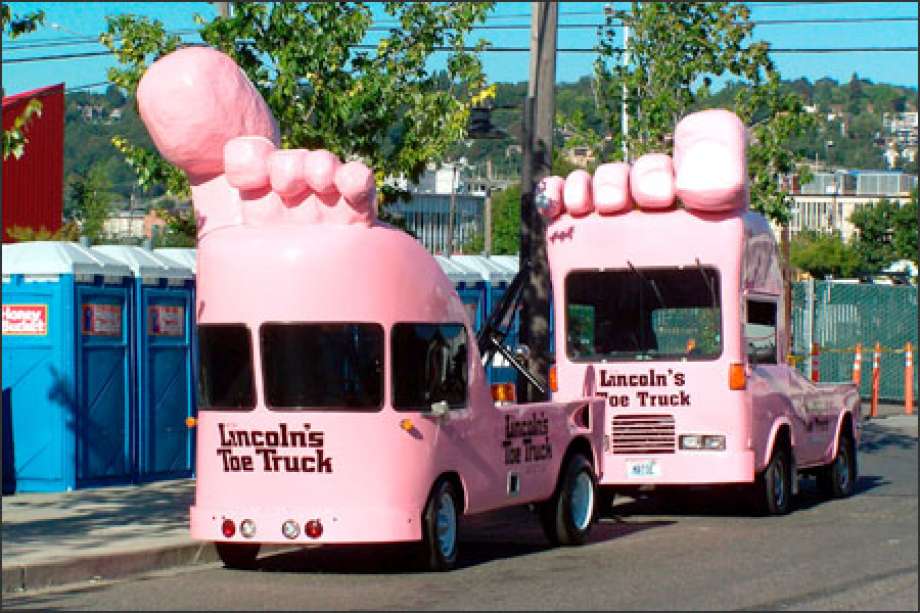 Mirrored Image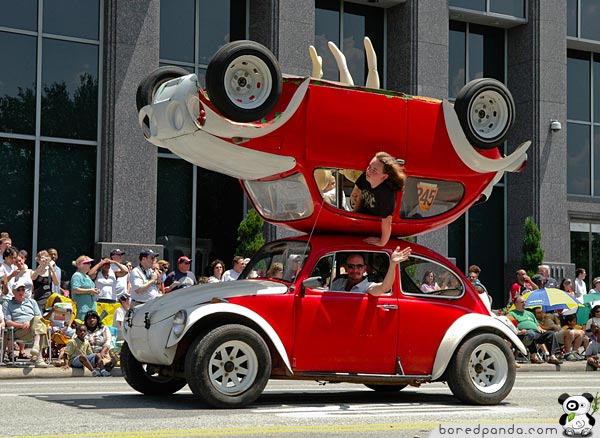 The good news about this one is that if it flips while out on the road, no it didn't. You can't keep this beauty from moving forward even if you tried!
NEXT: They put the 'toe' in tow truck….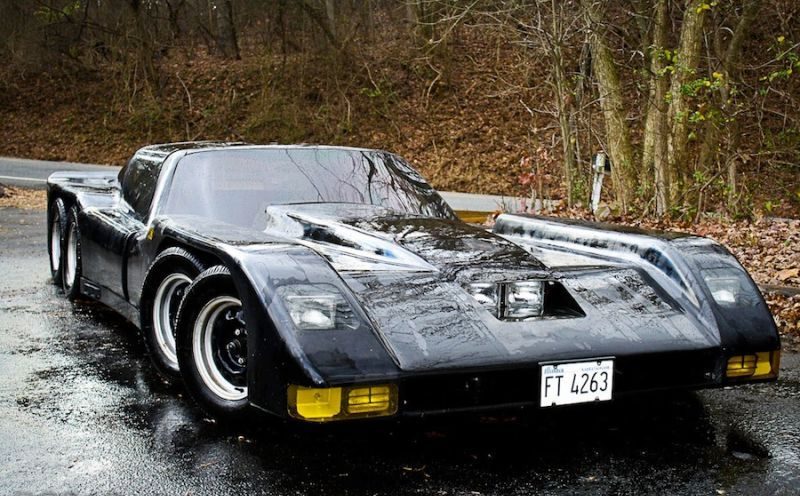 The Toe Truck….Get It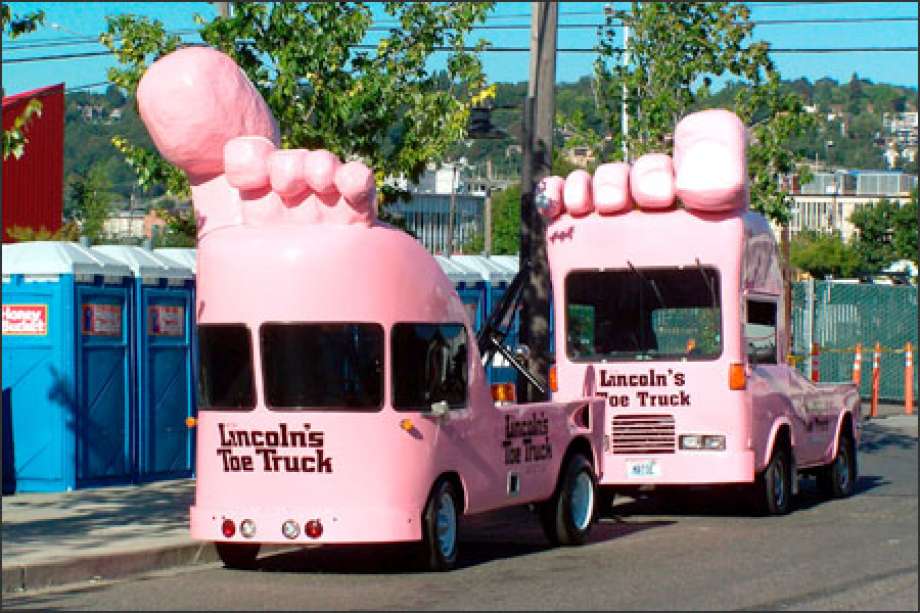 I think this picture is pretty self-explanatory. Obviously, if you own a towing business, the first thing you want to do a theme your tow truck fleet out like feet, paint them pink and accentuate the big toe. At least if you are the owner of Lincoln's Towing Service then that is what you want to do. In fact, you want to do that so much that you did it twice. Take a look at the picture and just give yourself a moment.
NEXT: Speaking of 8 wheels….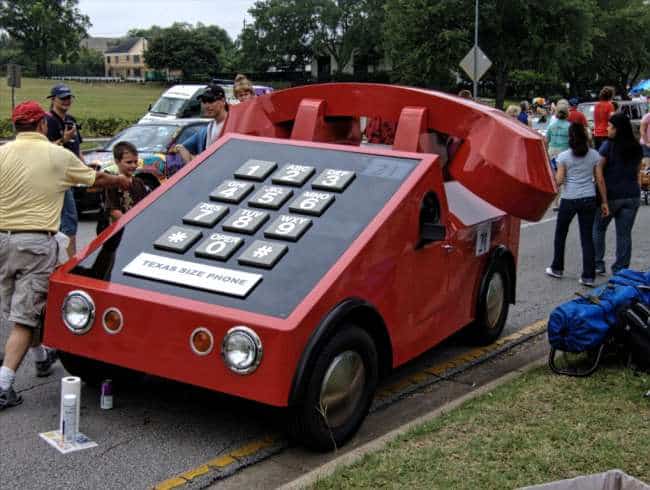 The Fastest Car on 8 Wheels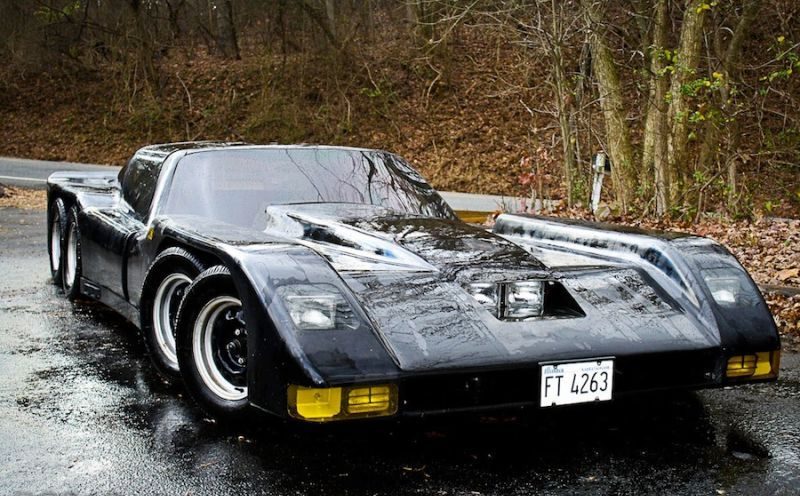 We have no idea why, and we have no idea who. All we know is that we absolutely love it! What a sweet, strange ride. This sweet ride looks like it would have no problem sliding under the gap of a big rig. What do you think?
NEXT: The party you are trying to reach is unavailable, please dial 1-800-Car-Phone
1-800-Strange-Car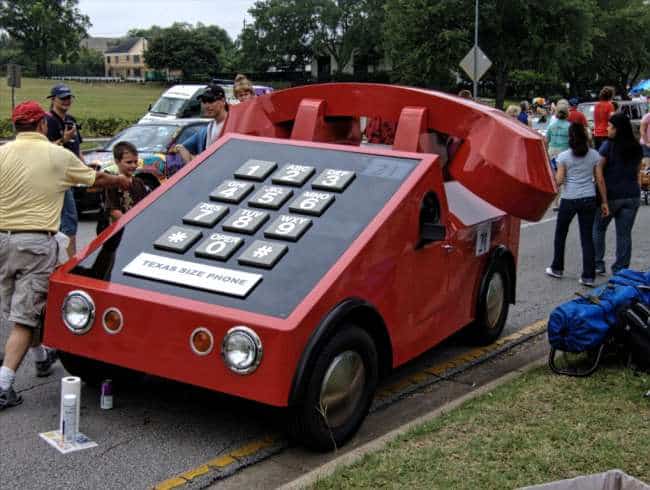 This next car gives a whole new meaning to what we once knew as "the car phone". It is the brainchild of Howard Davis, who happens to own a telecom company. That's no surprise, I know. It is a fully functional vehicle, named after an old style telephone. So how was the car made? Well, it's pretty clever. They took an old 75 Volkswagen Beetle and kept the chassis. After removing the body, they simply fabricated a large red telephone and slipped it over the top to create the world's first telephone car. What's more, the car is actually street legal. I know that's a shocker, but it is actually registered in Massachusetts.
NEXT: You've seen some cars with 8 wheels, now get prepared to see one with 3 wheels!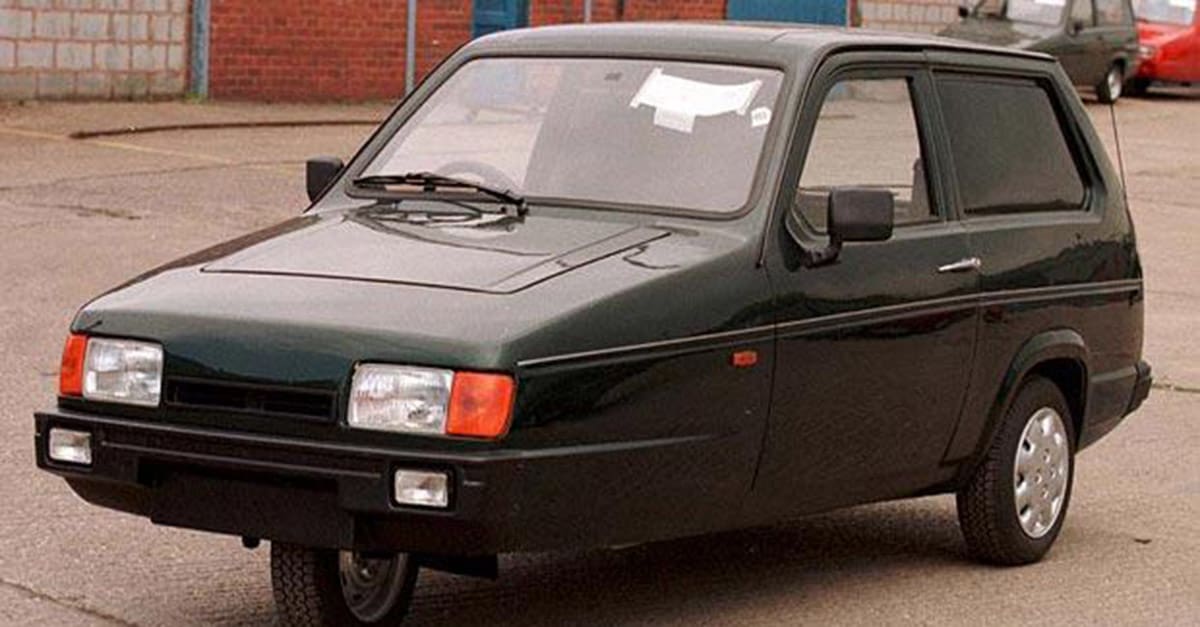 L.L. Bean Cruiser
It's a vehicle designed to be used as an advertisement for the famous outdoor clothing and gear company. In 2012, they made quite a splash going through Boston to make an appearance at various school activities and area events. The "bootmobile" was all part of their 100th-anniversary celebration. That's quite an achievement for a clothing company and the vehicle. Look closely, and you can tell that while the boot looks new, the vehicle used to frame it out is obviously a few years older. Hey, the marketing department had to save money somehow, right?
NEXT: Something of a pyramid…but a car.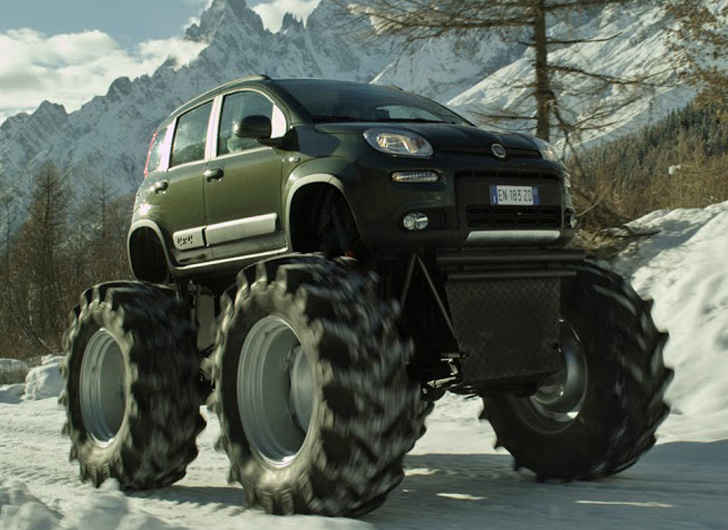 It's A Trike!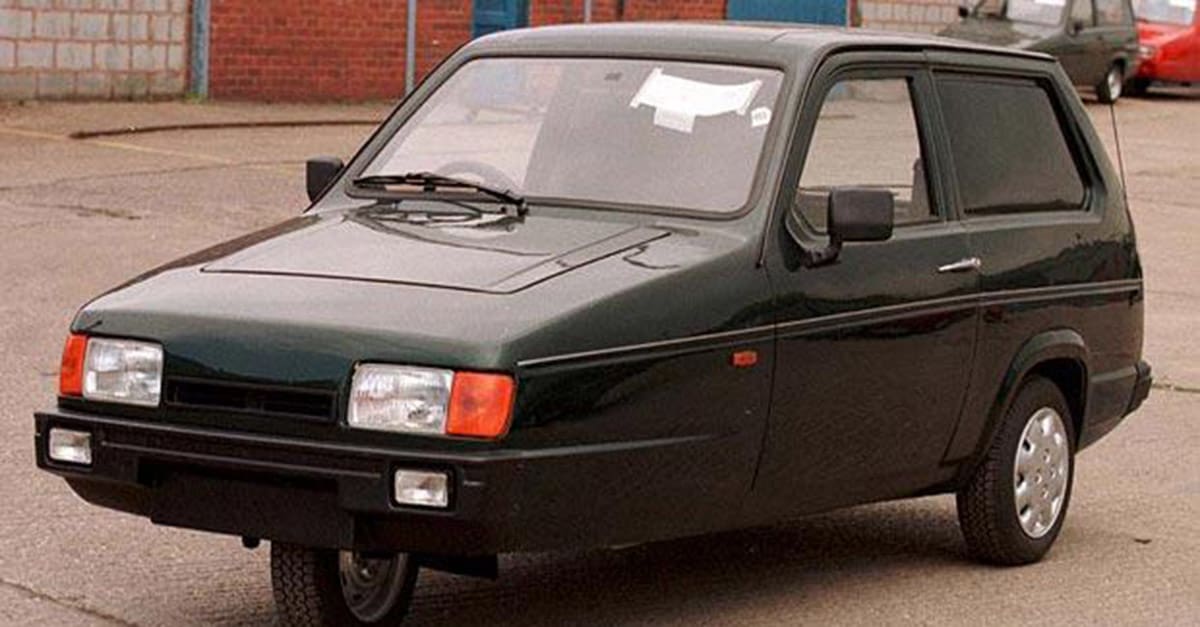 The Reliant Robin was a 3-wheeled car produced in Tamworth, England. It's the second-most popular fiberglass car. Parks like champ, turns like a champ, drives like a car with three wheels.
NEXT: If you thought this was strange, wait until you see the next one!
Monster Fiat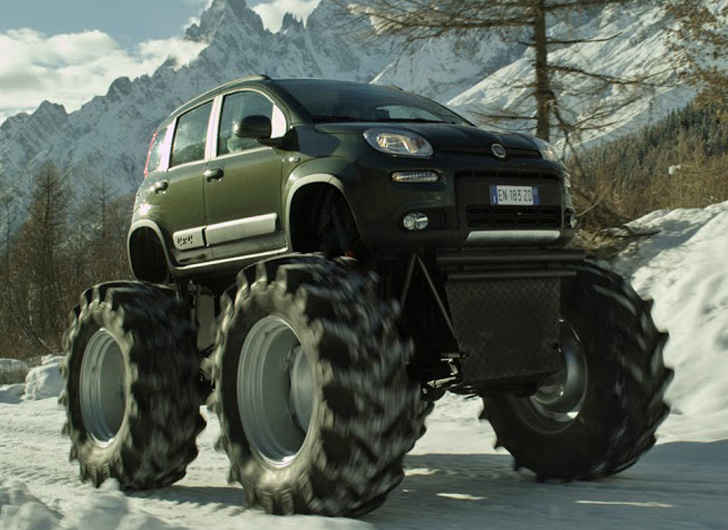 You know what's better than a Fiat, a monster truck. You know what's better than a monster truck? A Fiat Monster Truck. That's right! This sweet ride is unreal in size, and it actually tears up off-road terrain pretty well. An impressive machine, no doubt.
NEXT: No driver needed!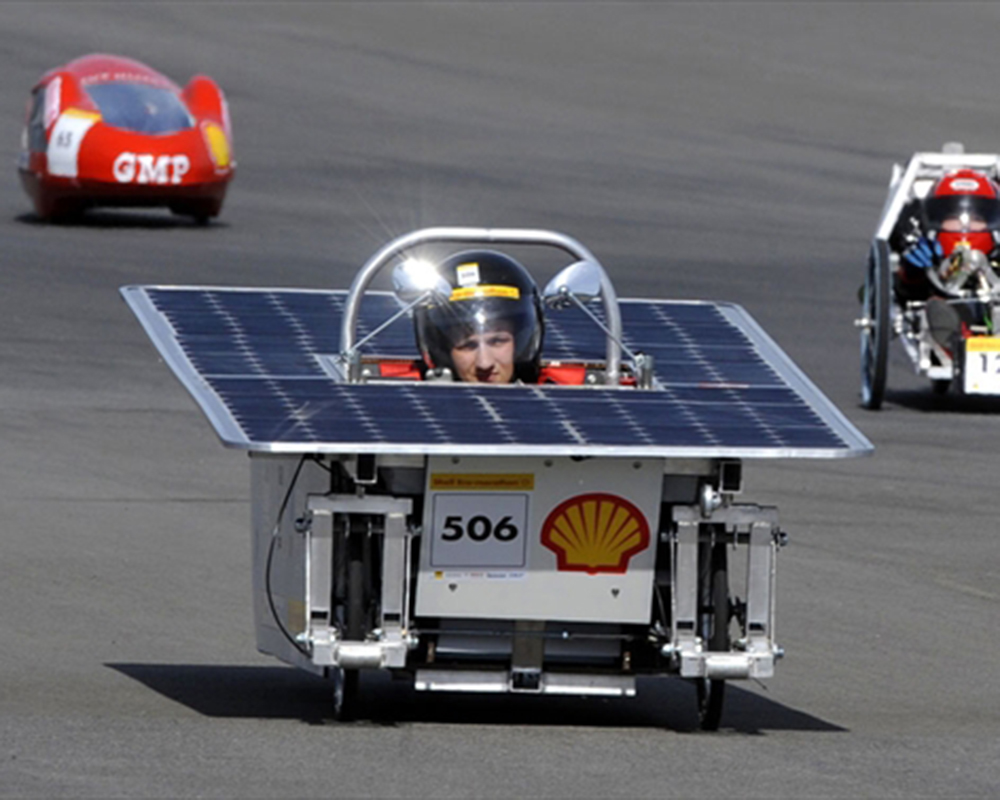 Mad Max Bel-Air
If you've never seen the movie Mad Max then you're missing out. It's gear head's dream combined with an apocalyptic desert topography. Oil is plentiful, water is scarce and the king of the bad guys trolls around in this sweet modified double Chevy Bel-Air combined with monster truck applications. So yeah, you should go check it out…
NEXT: What in the world is a solar-powered mini racer?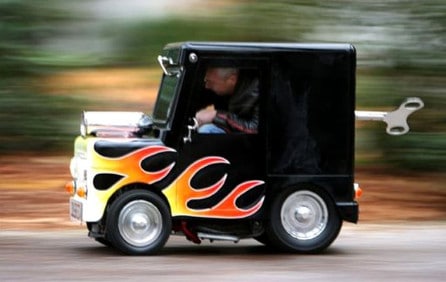 Solar-Powered Prototype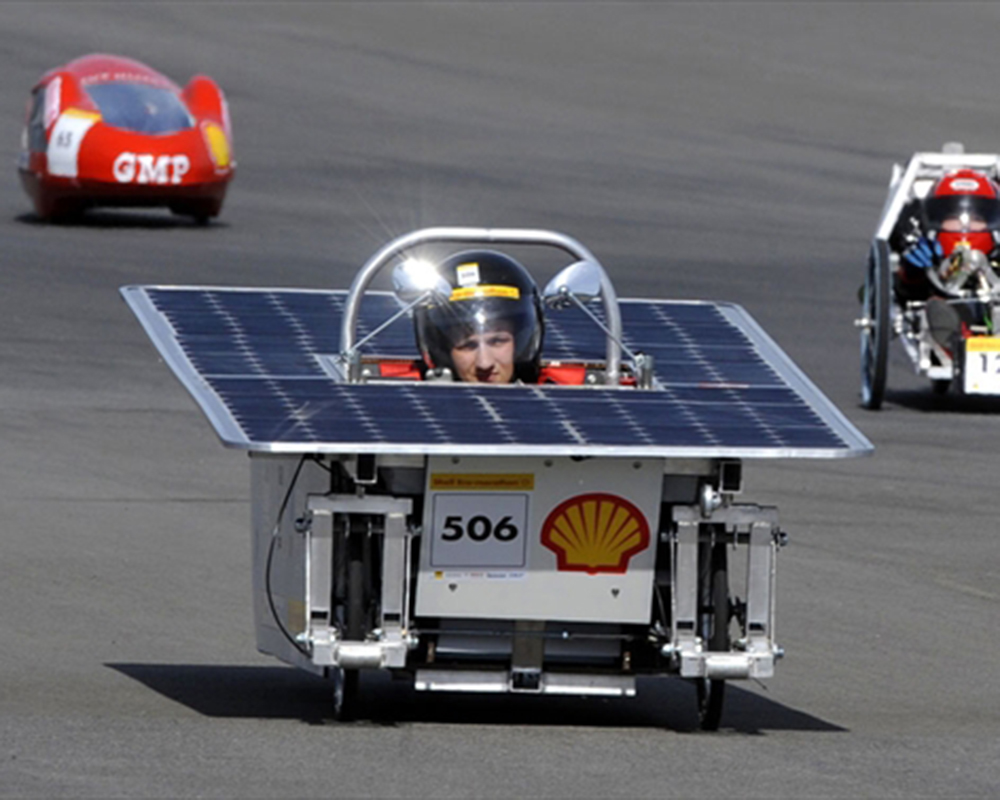 From the official source, "Prototypes drive on the Lausitz racetrack in Klettwitz, eastern Germany during the so-called Eco-marathon, on May 9, 2009. 202 teams out of 29 countries take part in the unusual race with the aim of running as far as possible using the least amount of fuel, while releasing the lowest amount of pollutants. The Eco-marathon challenges students around the world to design, build, and test vehicles that travel further using less energy."
NEXT: If you've never heard of the Ferrari 512S Modulo – well, you're about to!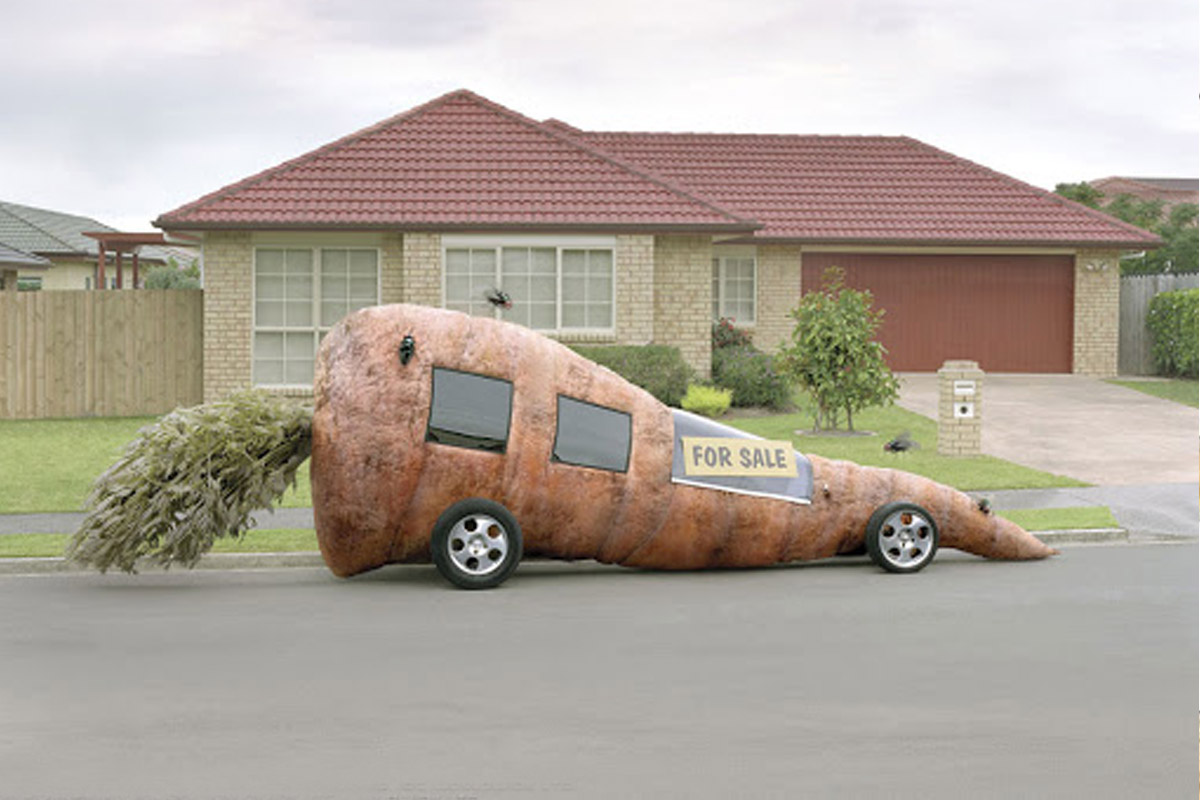 This is What Paul Bunyan's Kids Play With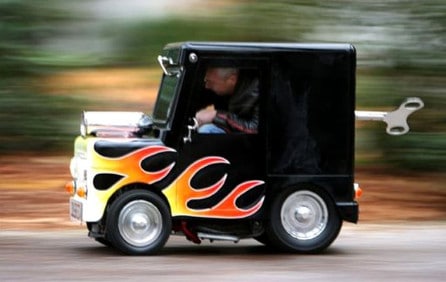 This is the world's smallest wind-up car, only it doesn't really "wind up". It's powered by an engine, but just barely big enough to fit one passenger. This is what you do when you have an extra go-cart hanging around and want to come up with something clever. He presents well though, flames on the side, blower sticking out of the hood, wind up hook in the back. We like it.
NEXT: Imagine if a carrot and a minivan had a baby. We know that sounds weird, but what about ay of these cars isn't weird?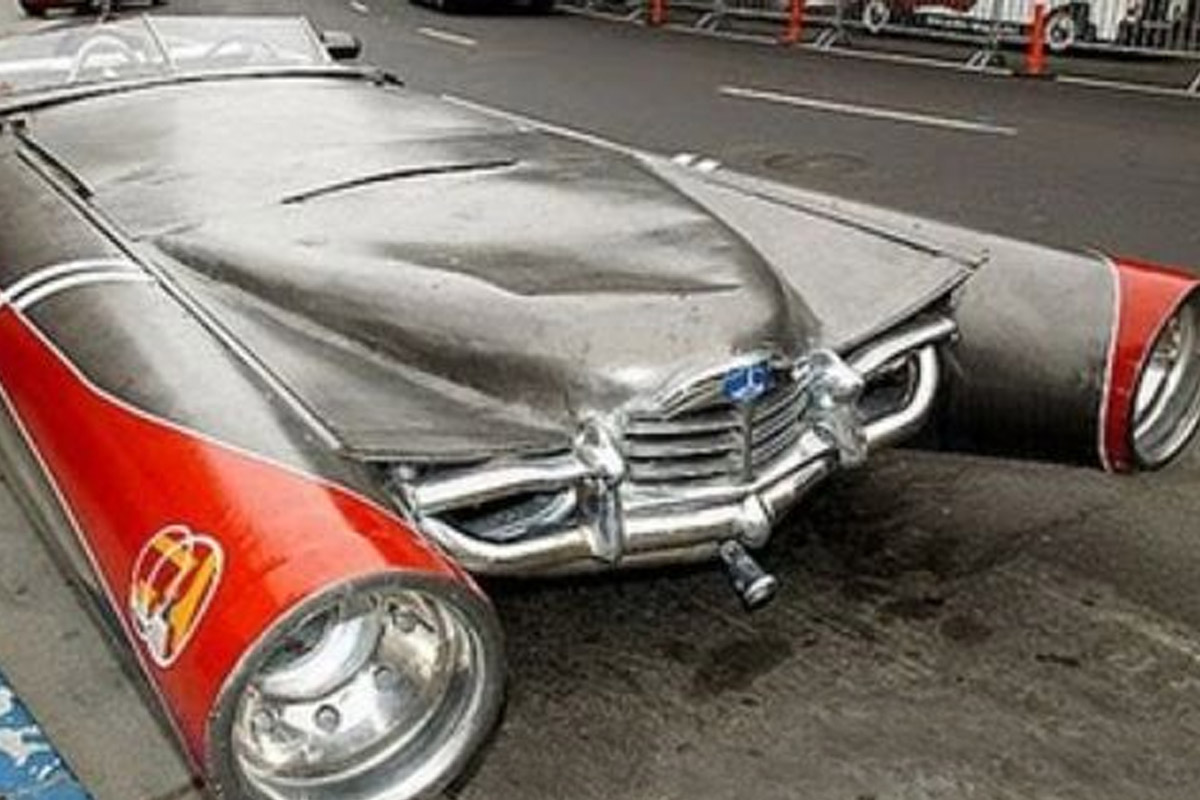 Obviously It's For Sale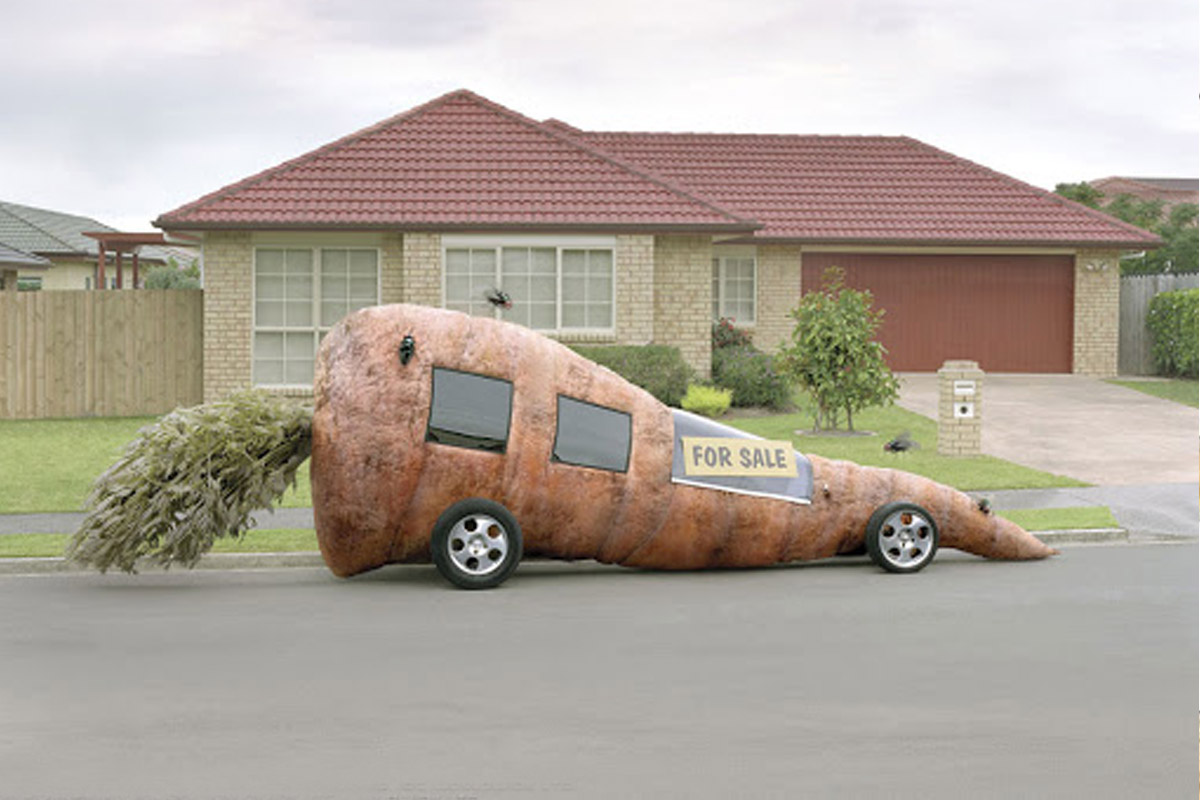 The Carrot Car! Purveyors of natural foods and health advice, there's unfortunately probably a reason the Carrot Car is for sale. An it's probably because that car is insane looking.
NEXT: Check out the headlights on that beauty!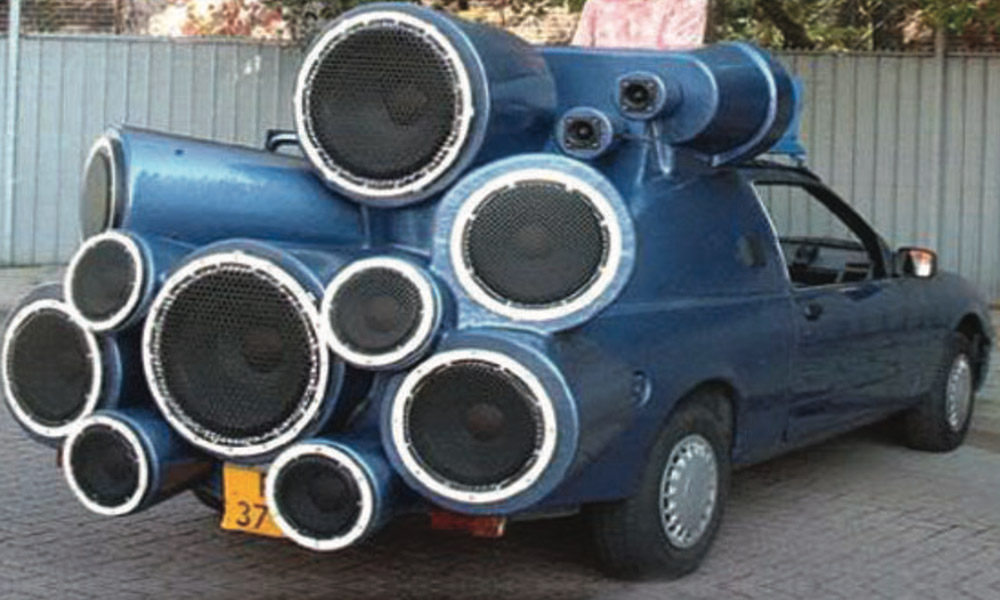 Tree Trunks or Headlights?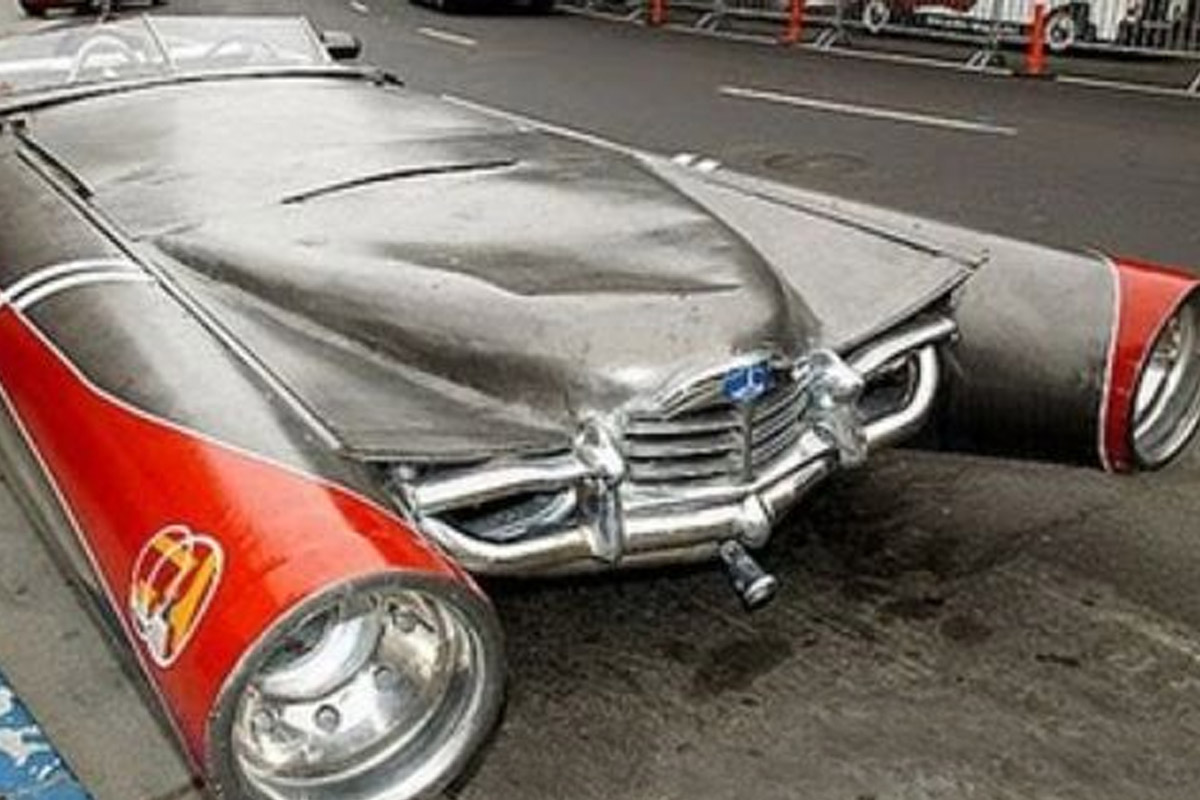 What happens when your car has headlamps that look like battering rams? You end up on a list of "The Strangest Cars on Earth" that's what.
NEXT: For some people, the audio system is much more important than the actual car. Especially for this next guy…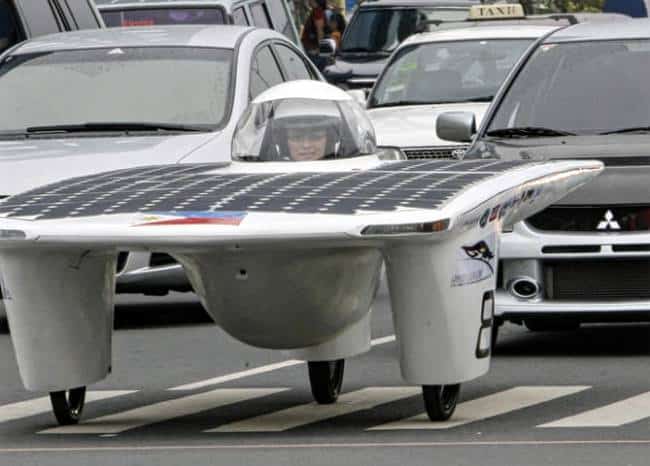 Can You Turn It Up, Please?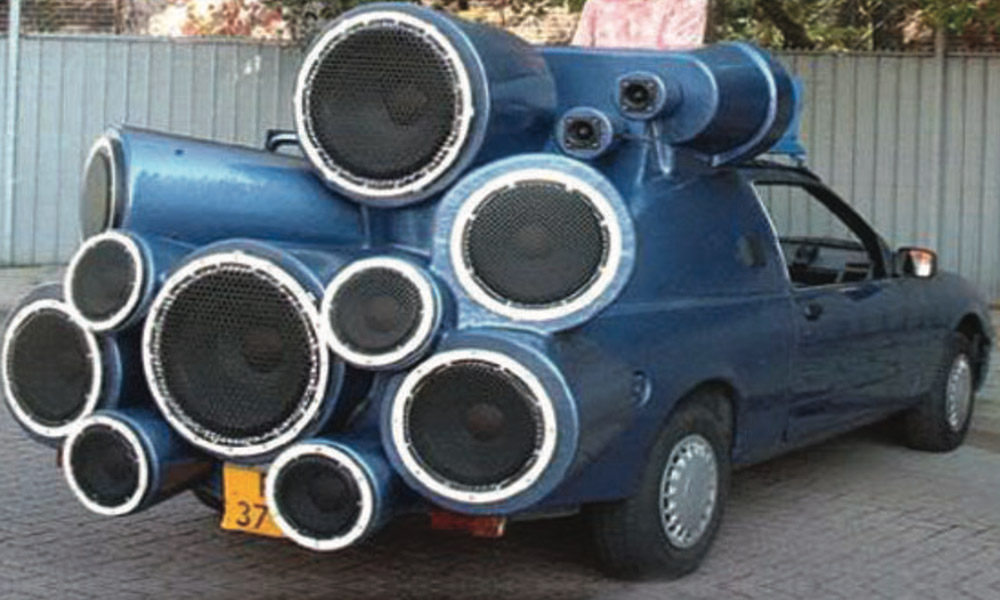 Oh, so this is the car driving by my house every night at two in the morning. It all makes sense now. People always say, "Turn it up to 11!" But this crazy car's sound system can't go below 11!
NEXT: Another solar-powered goofball of a vehicle.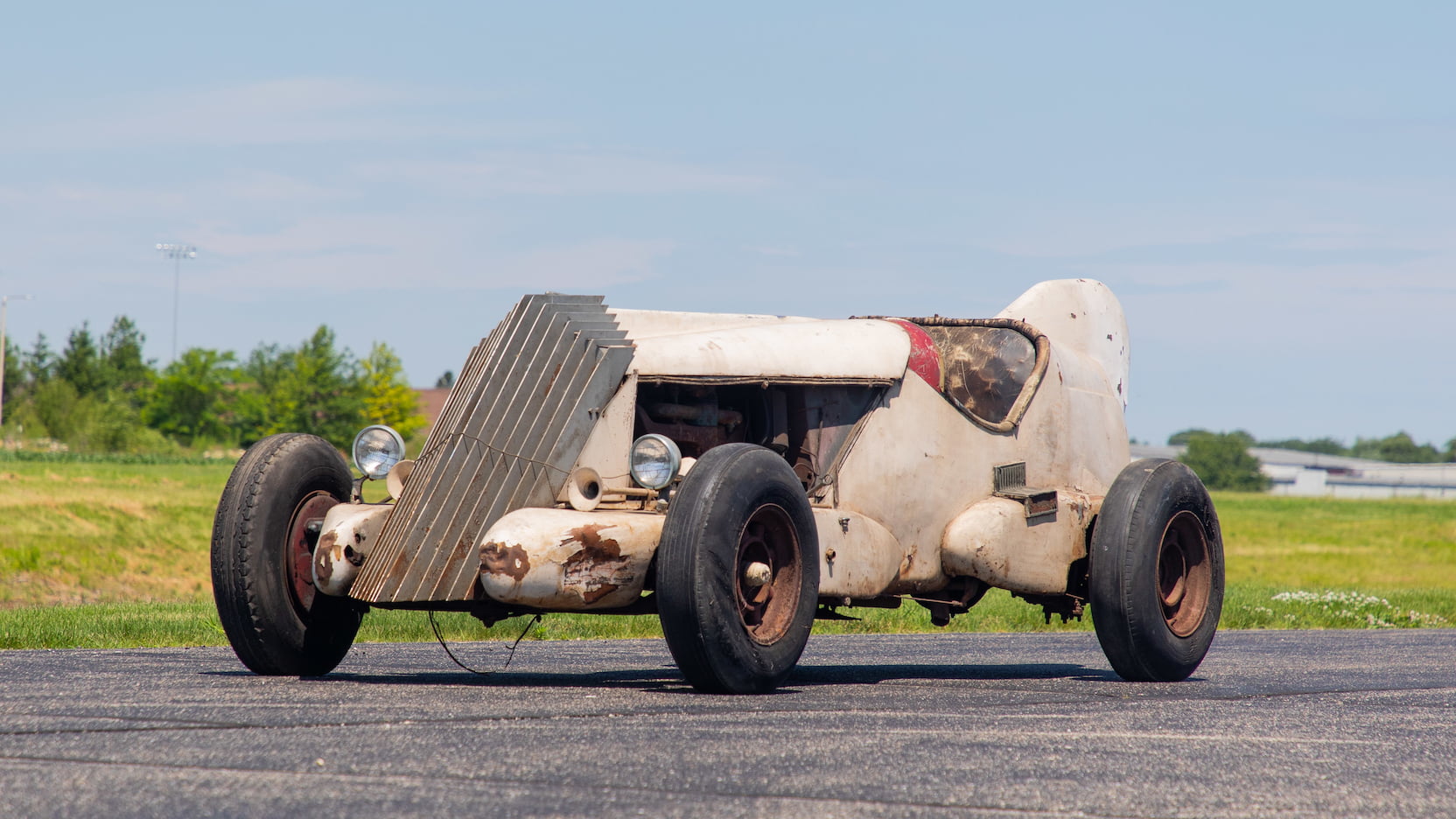 Who Knew The Sun Would Be So Powerful (Answer: Everyone)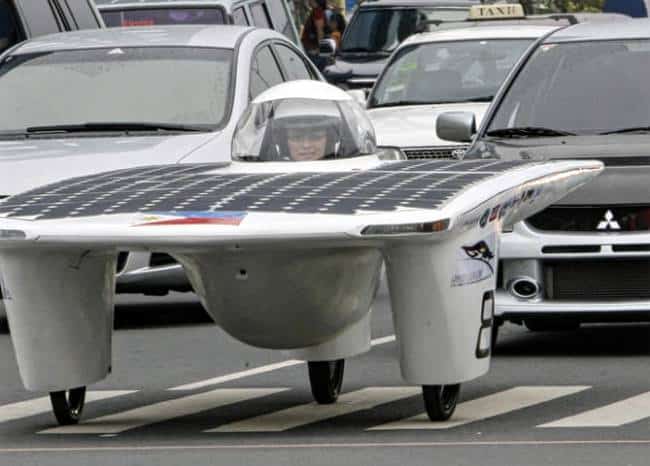 This car may look odd and for good reason. The top has to be flat to fit all of those solar panels. That's right, this is a solar-powered car. There are several flat tops floating around the Internet. This one is very similar to the PrISUm developed by none other than Iowa State University. They made one for their solar car team race, and this one is very similar. The concepts are the same. You can power the car on solar as well as electricity. Electric charges are used to start the car and the solar power kicks in once the vehicle is in motion. It also continues to recharge itself so long as it is in the sun.
NEXT: We don't even know what to call this thing.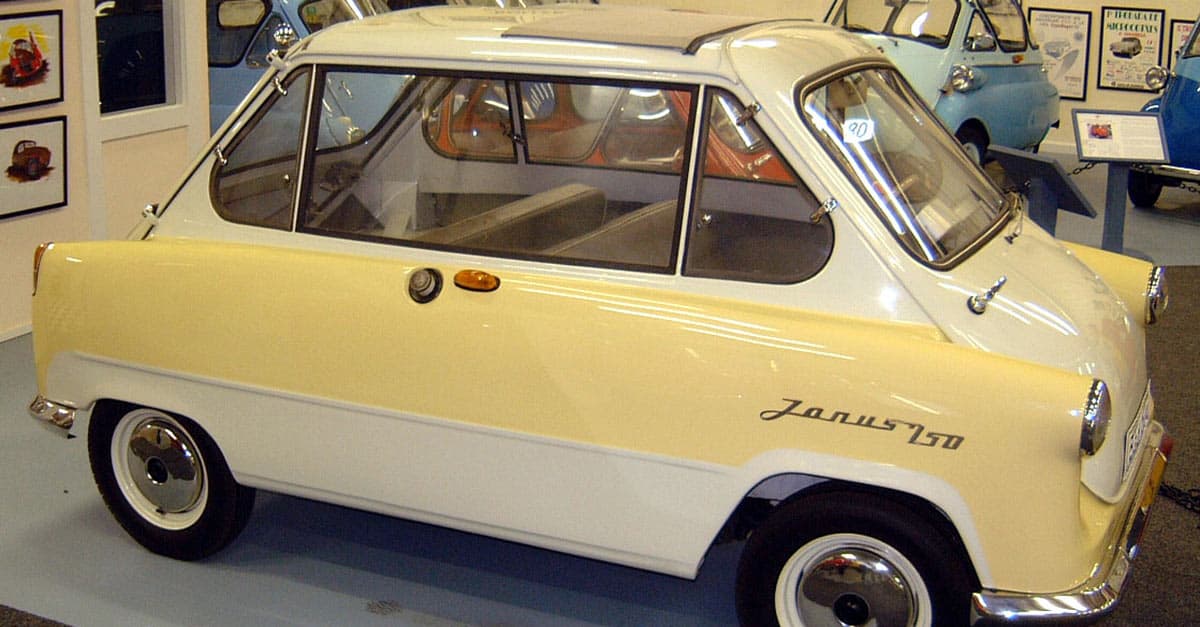 Rolls Royce Minus Anything Luxurious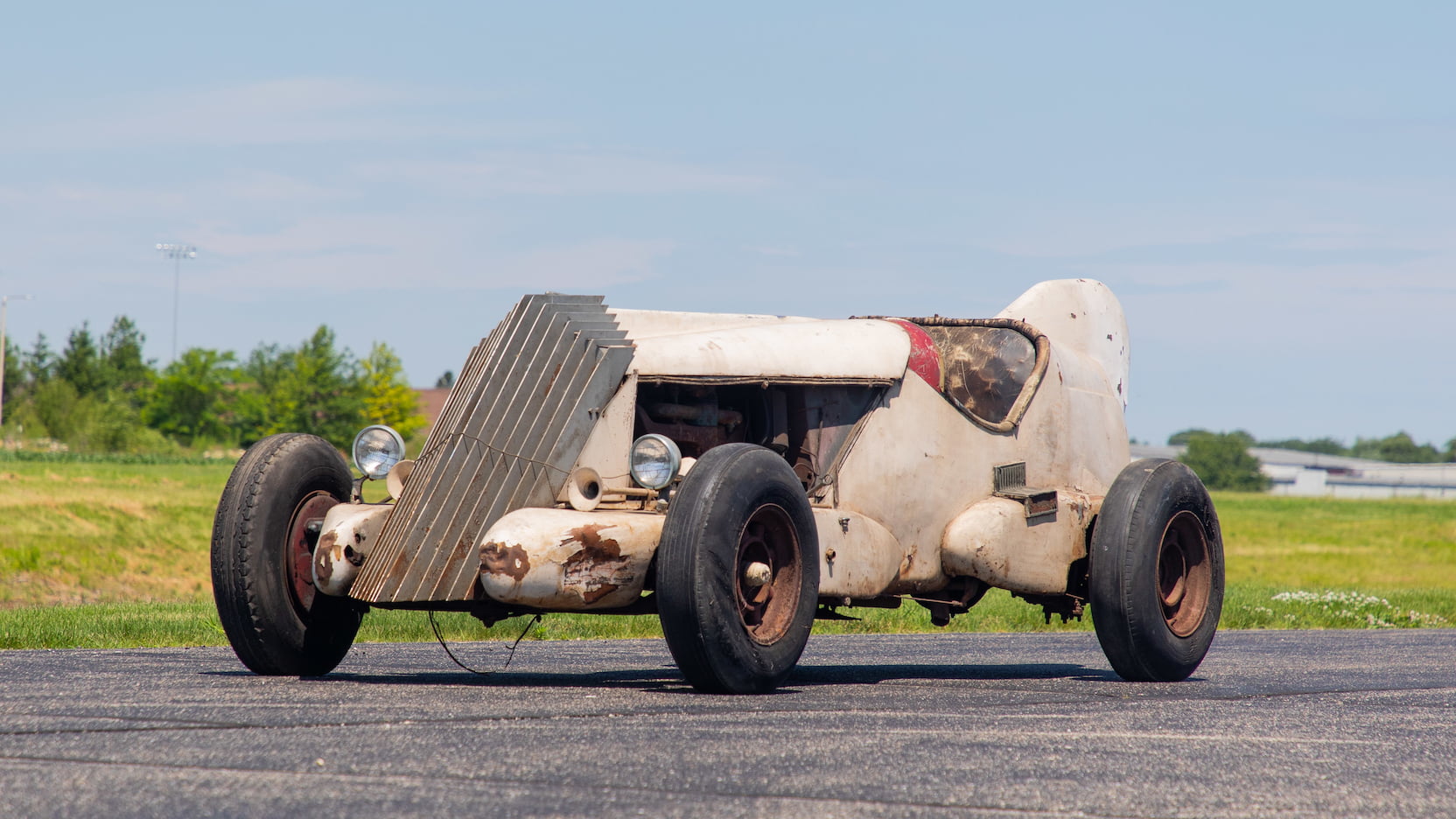 If anyone remembers the legendary mid-2000s show Battle Bots – this looks like a life-sized version of one of those machines meant to get up under an opponent and flip them into oblivion!
NEXT: Is bigger really better?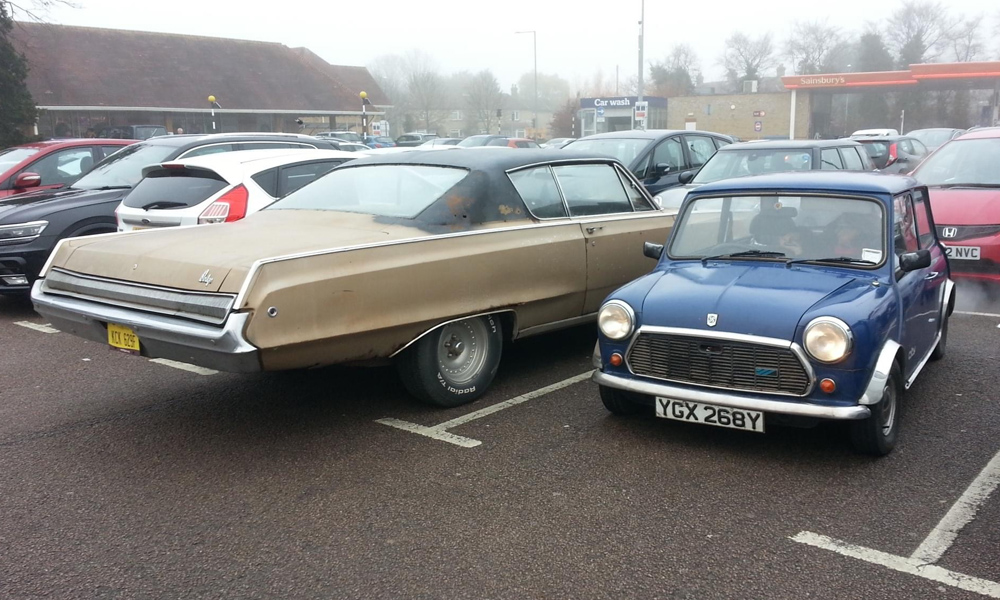 1958 Zundapp Janus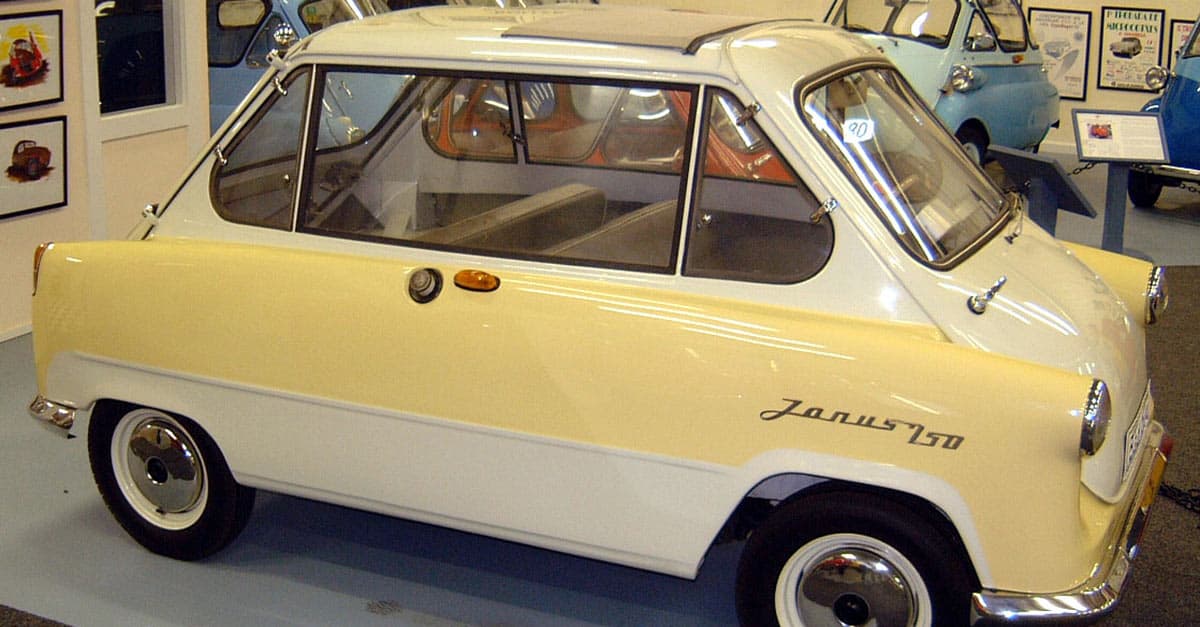 What is this…a car built for ants! The 1958 Zundapp Janus was a microcar made in Germany between 1957 and 1958. It was the only car made by Zundapp. It had doors in the front and rear doors.
NEXT: It's actually smaller than this one.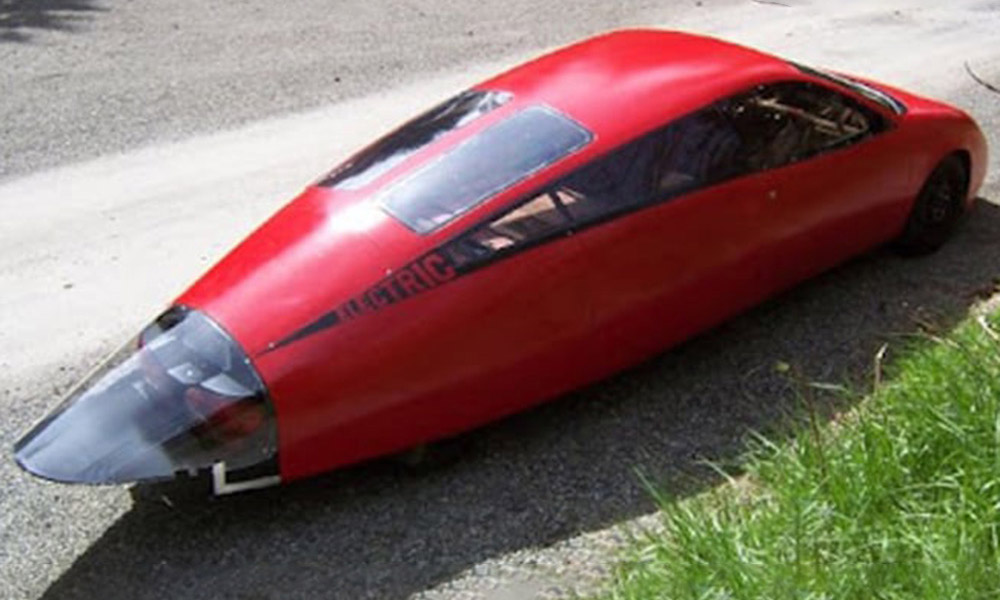 The Land Yacht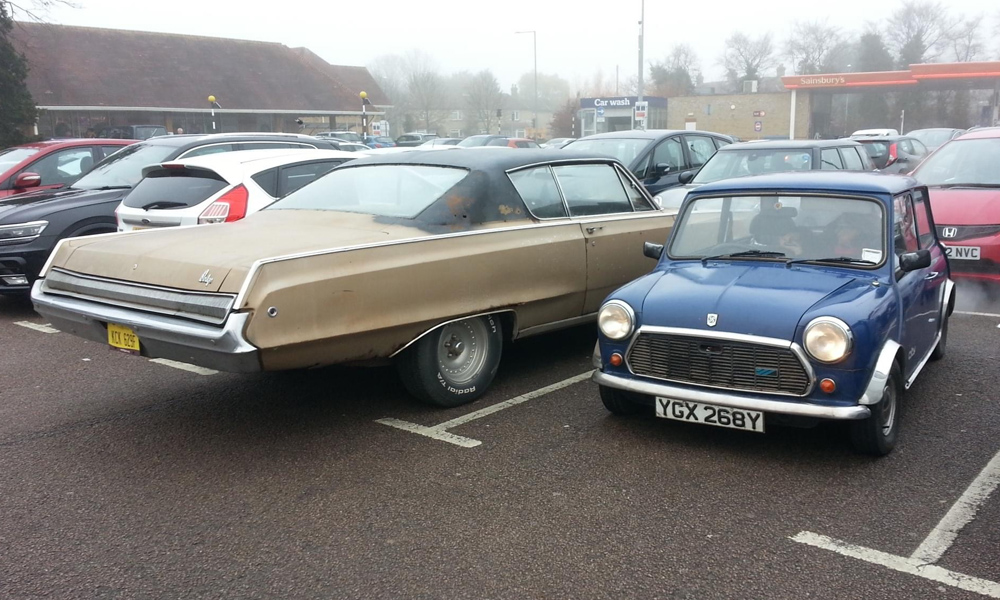 It looks like there is not enough parking at this auto show. We are thankful that this vintage mini cooper is so compact. If not, that other car might scrape against it. That would definitely break our hearts. To all those running an event like this, give us enough space! We rather see these historic vehicles on the streets rather than the shop.
NEXT: What would you call this thing? Because we're stuck.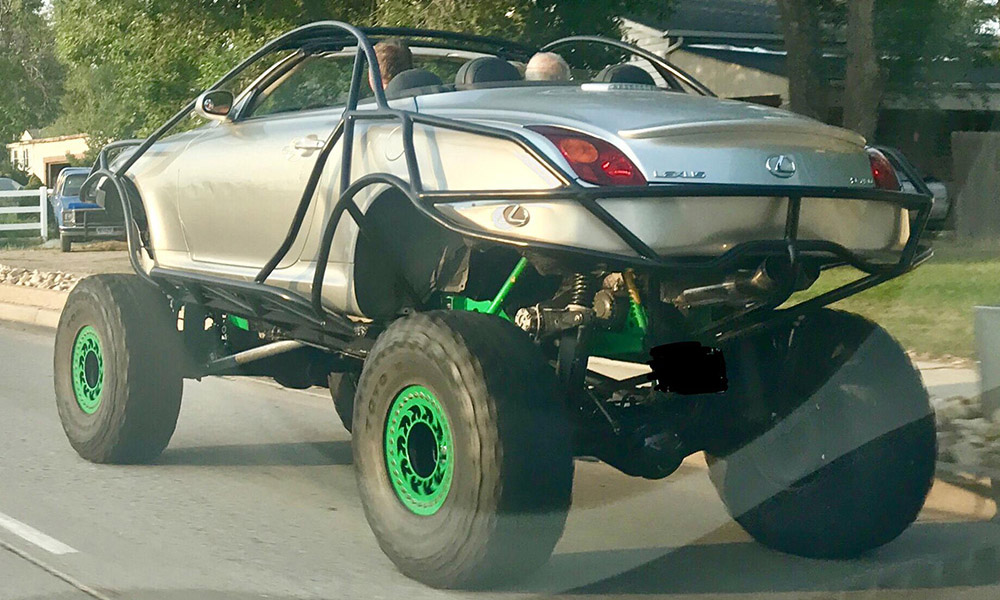 The Land-Based Dolphin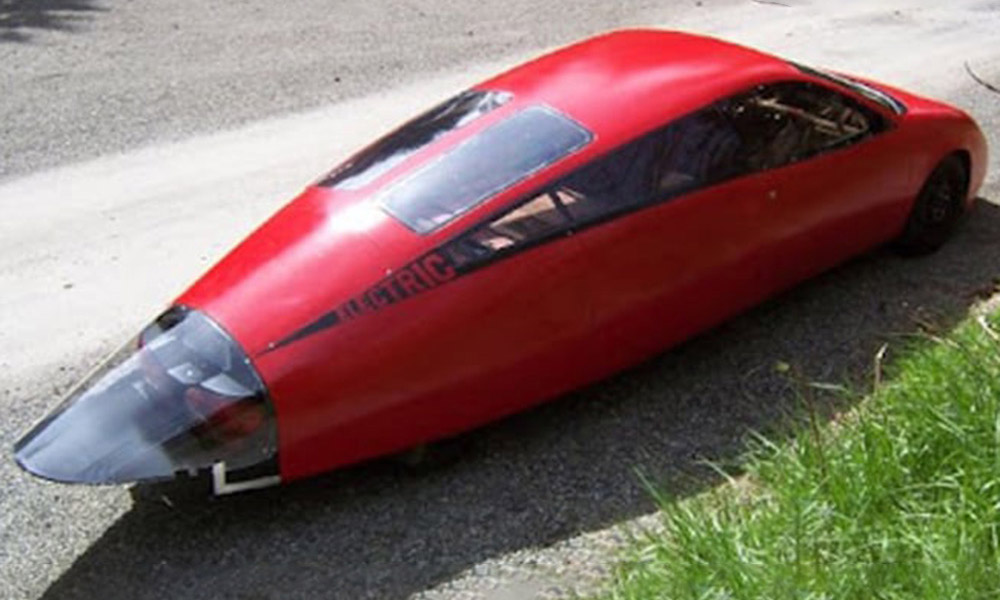 The Dolphin! A man named Dave Cloud once took a standard Geo Metro, and turned it into this homebuilt, fully electronic, aerodynamic oddity you see here. Two Advanced DC 8″ electric motors powering the two rear wheels replace the Geo's regular fuel-sipping gasoline engine and front-wheel drivetrain. Each motor is controlled and powered independently through a 72 Volt controller. The batteries themselves comprise 60 Interstate Various, 12 volt, lead acid cells which each weigh 33 pounds.
NEXT: A Lexus convertible, but make it with monster wheels and a roll cage…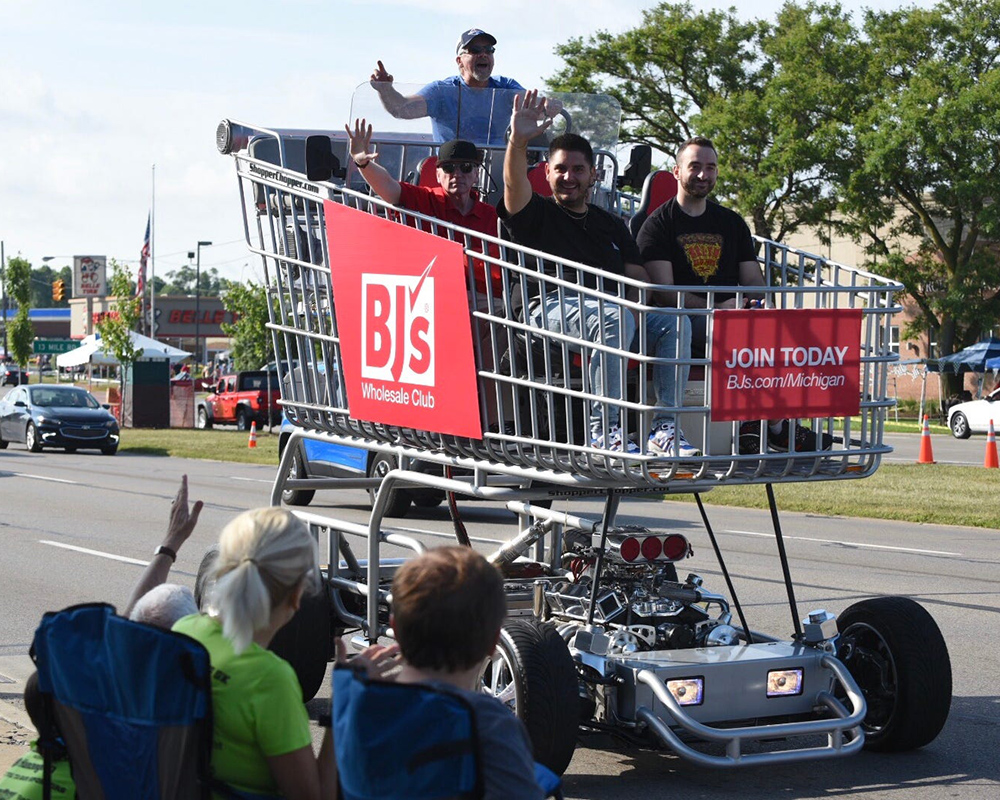 The Monster Lexus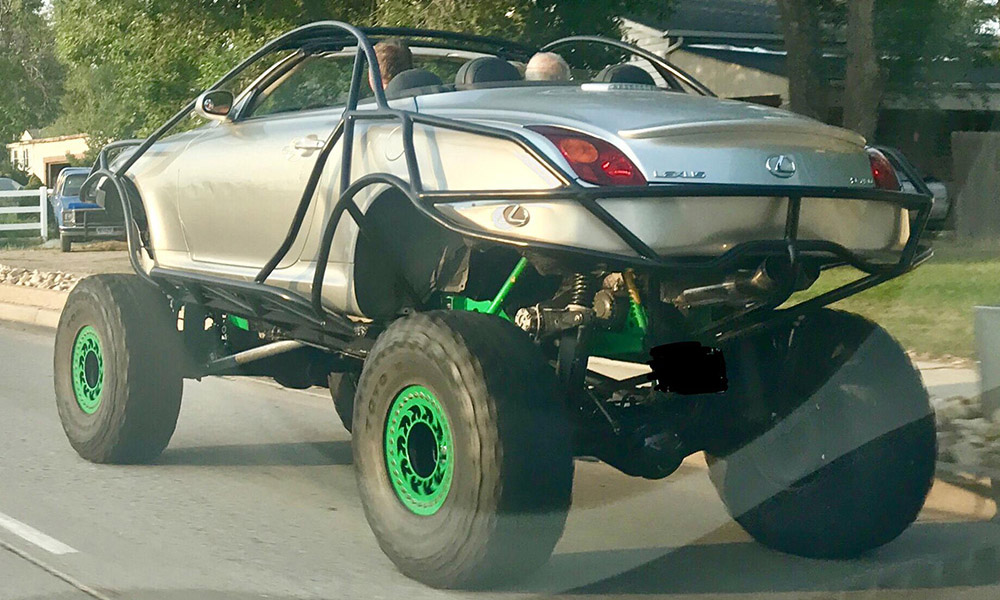 This one is for when you're supposed to cruise though the Sonoran Desert at 5pm but you're got a date in downtown Phoenix by 9pm. This transformed 2012 Lexus Coupe doesn't exactly know what it wants, and that's okay by us.
NEXT: Maybe it drives, maybe it flies. Maybe we'll never know…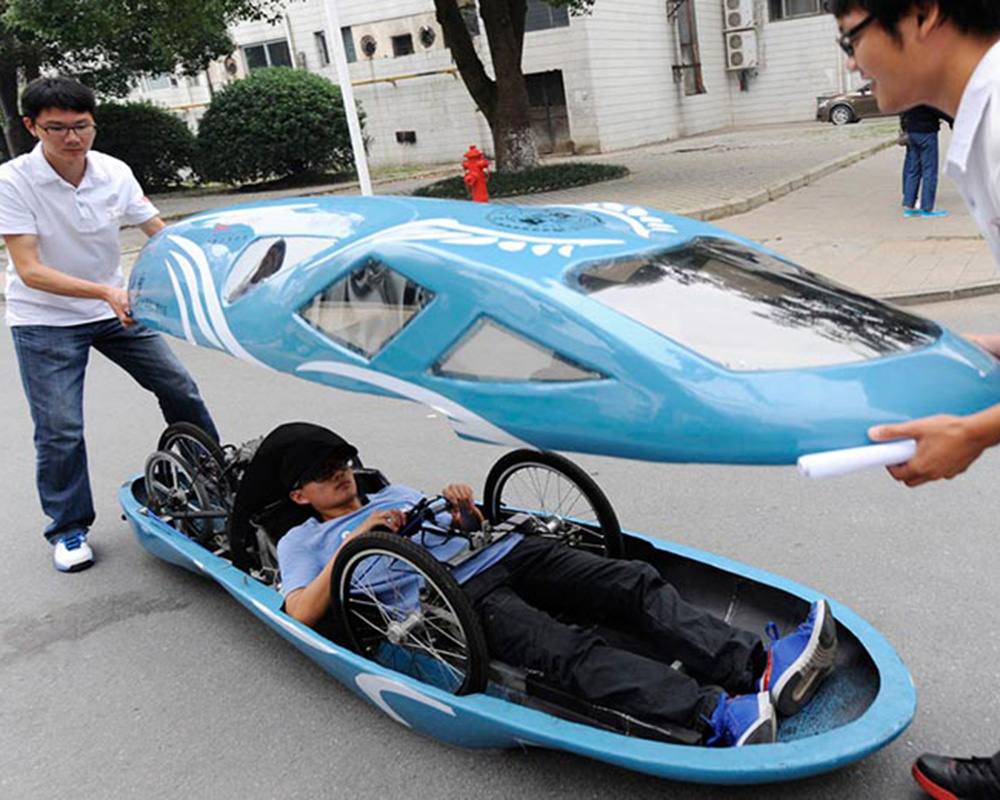 BJ's Wholesale Hot Rod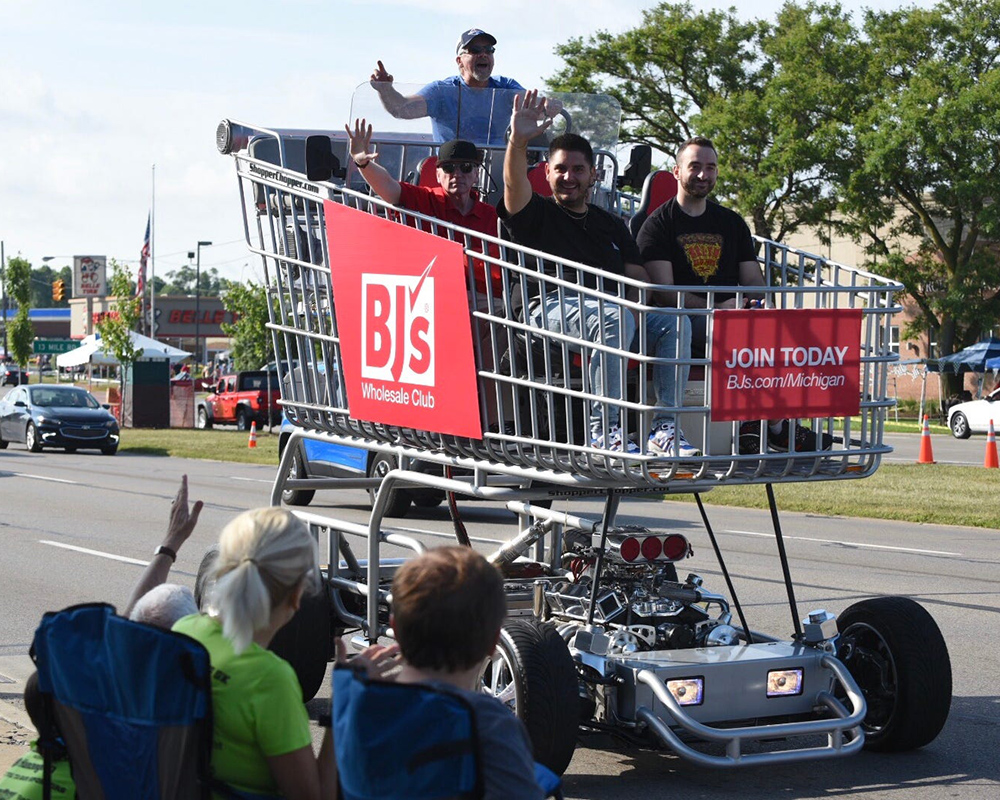 Coming to a parking lot, or a racing strip, near you. We're honestly not sure where this strange car belongs. But what we do know is that boy, oh boy do we love it! Added bonus: it fits the whole family!
NEXT: How many times do you see the roof of a car being lowered by hand?
You Must Be This Tall To Operate This Vehicle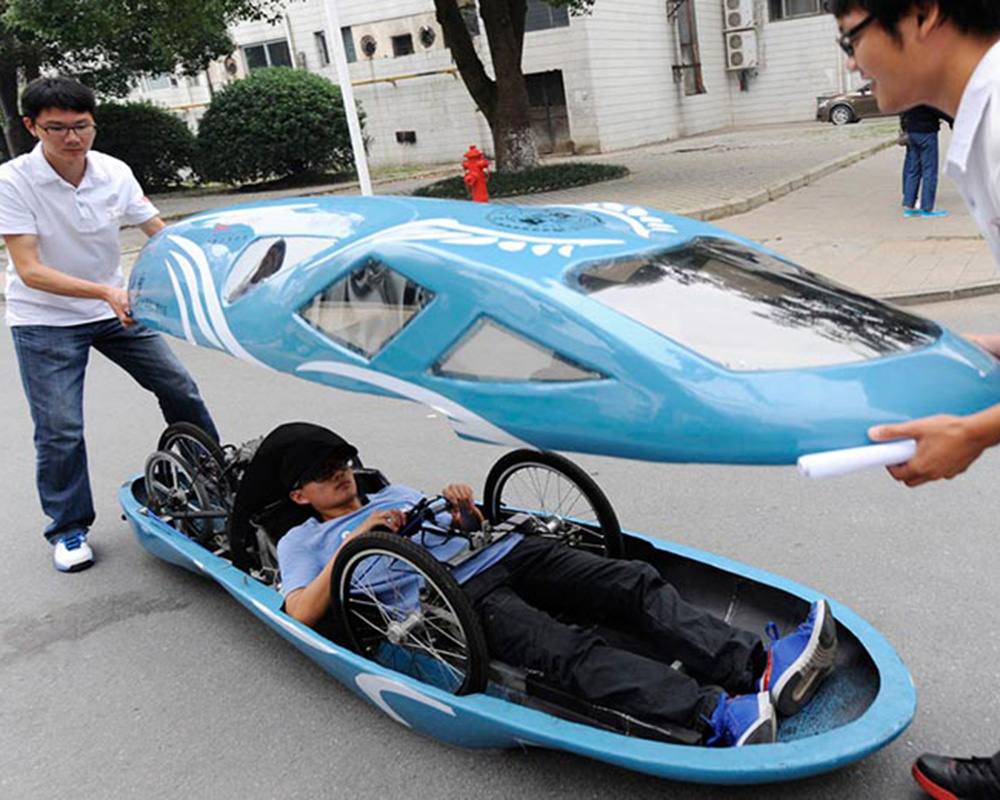 Students will do anything for a good grade. Including laying down and putting their life in the hands of everyone else on the road. This looks so fun, and yet so dangerous. Easily one of the strangest cars we've ever seen!
NEXT: The 1936 Stout Scarab – making strange cars before it was even cool!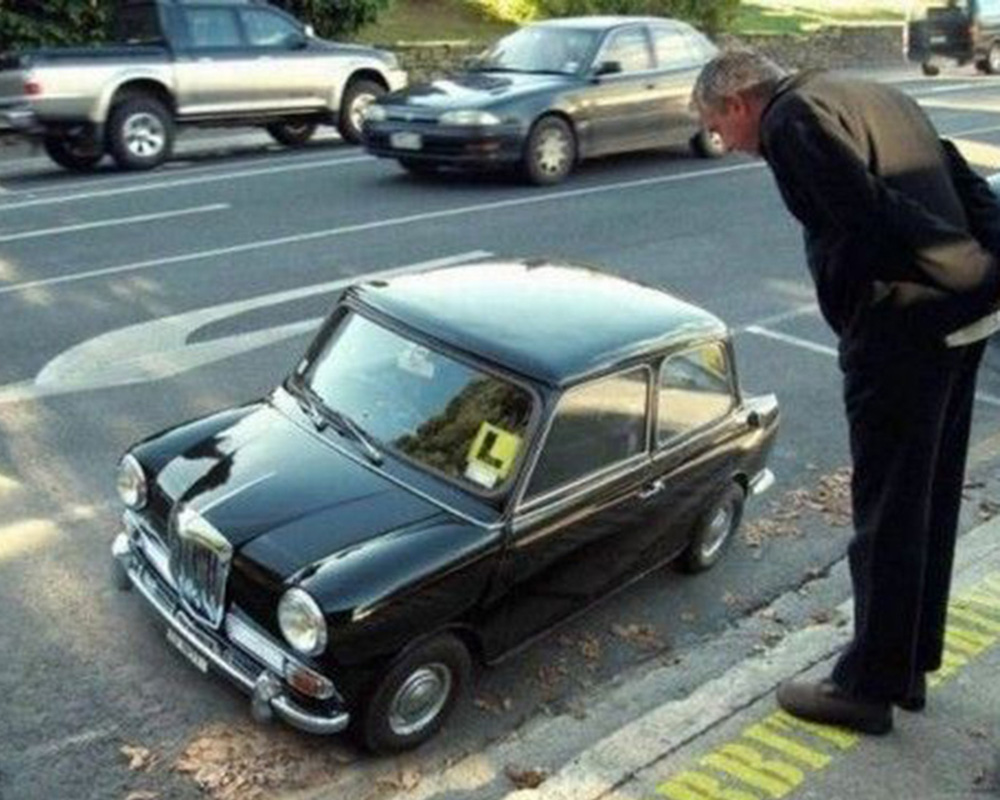 The Mini-Van Ahead of its Time
The Stout Scarab was an American minivan designed by William Bushnell Stout and manufactured in Detroit, Michigan. Stout is credited with making the first minivan.
NEXT: Finally, a car made for squirrels. Or toddlers. Or ants. However you want to look at it – it's a small car.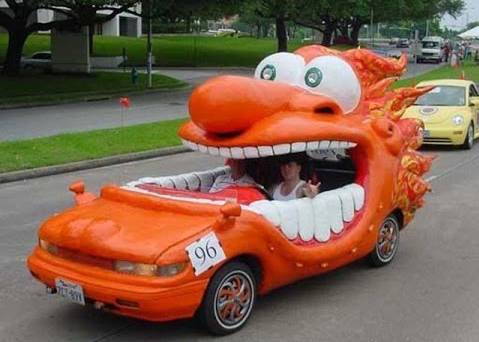 Teeny-Tiny-Mobile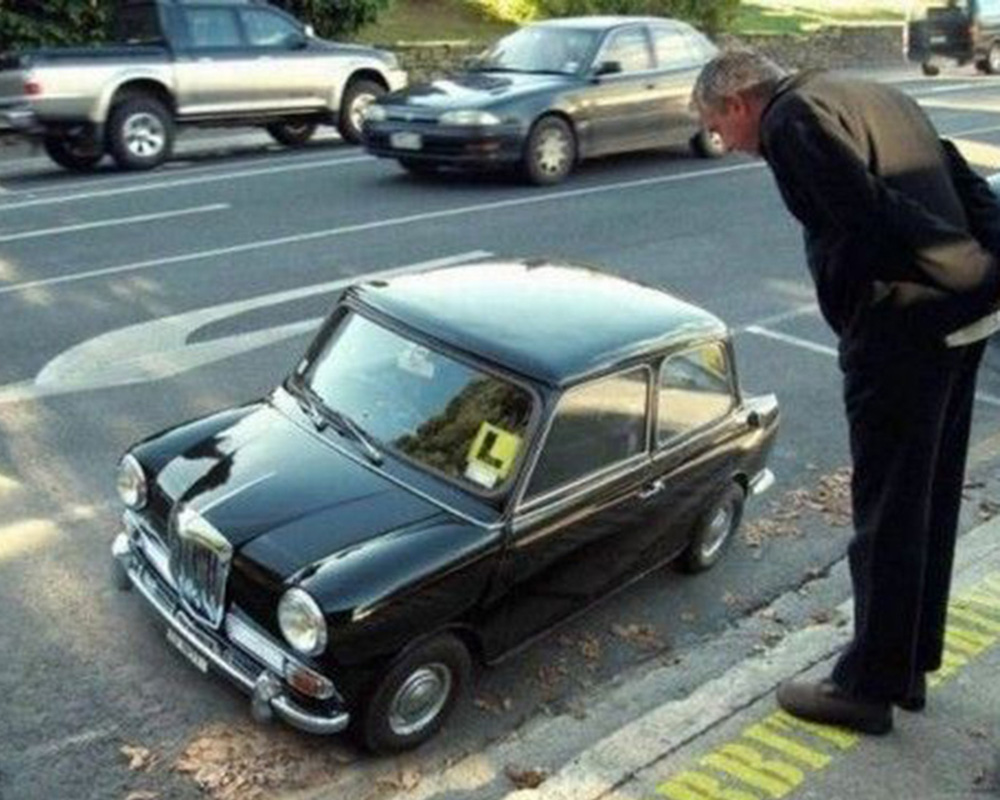 This is Stuart Little's car. But really, these pint-sized vehicles are made for children as a learning guide – not meant to really be out on the road!
NEXT: A fire-breathing, Cheeto-looking, convertible?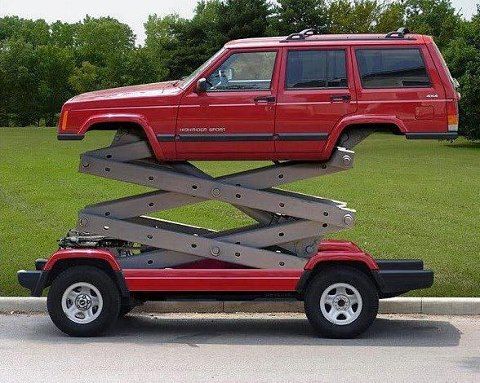 If You Can Think of a Good Name, Let Us Know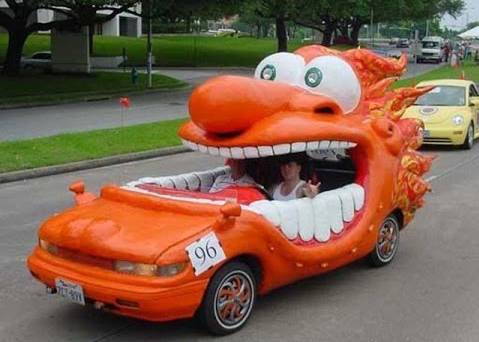 This was obviously a fun car modification. It's amazing what you can do with some fiberglass and orange paint. The top of the car took a bit of work to mold eyeballs and flaming hair I'm sure, but the bottom was decidedly easier. There are a few questions I have about driving it though. For instance, how do you roll the windows up?
NEXT: That's what way to lift your Jeep…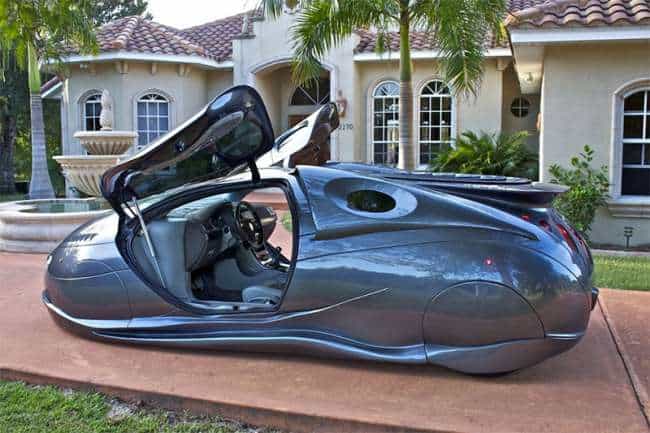 Everyone Wants A Lifted Jeep!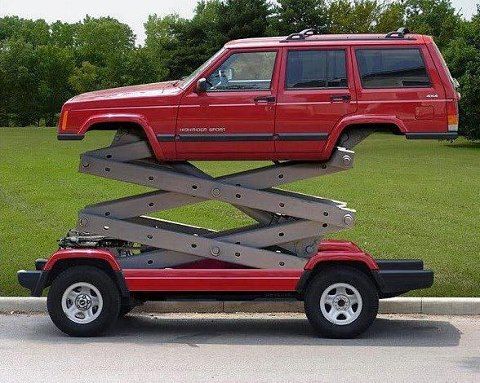 Check out this scissor lift Jeep Grand Cherokee. I'm not really sure why this would be necessary for a vehicle, but it certainly looks pretty cool. It doesn't appear like it would be too difficult to pull off either. You simply need to secure a solid frame mount for the scissor lift, while keeping the engine and transmission components low. It presents well too.
NEXT: This thing looks like it's about to climb back through the black hole and disappear…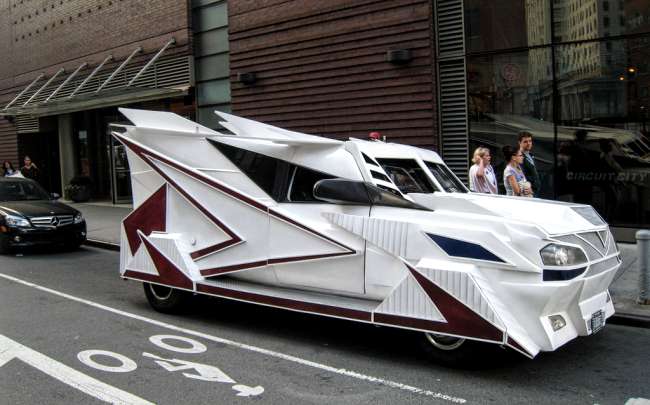 One-of-a-Kind, That's For Sure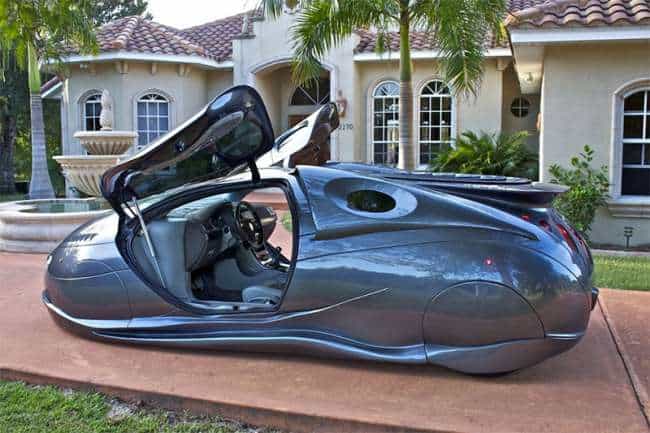 If this looks like a car from the future, you are close. It is actually a concept car from Time Machine. Yes, I said Time Machine. It seems that some people refuse to let go of the possibility that we can actually travel through time and space. This individual in Southern California is one of those. The kicker? His father evidently works at Best Buy and built this car just for fun.
NEXT: A transformer and an anime character combine, and comb the streets of New York.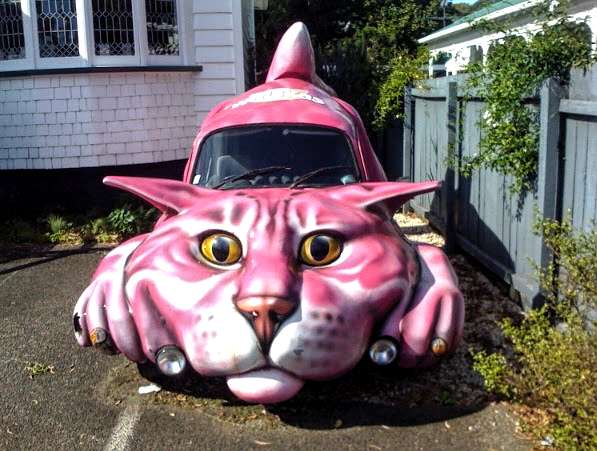 Give Me A Parking Ticker, I Dare You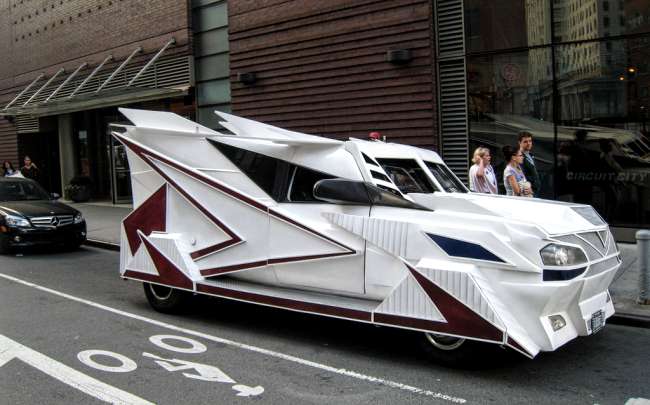 Sometimes when you can't call the Ghostbusters, you can call their cool "transformer". I'm not sure what his name is, but he looks pretty spectacular. This is what I'm sure people envision the Ghostbusters car would look like if it were created in the 2000s. Unfortunately, we are leaving the 2000s and this just looks faded now. Yet, it's still pretty cool to see somebody came up with such a clever idea. The only thing missing here is Slammer and the Ghostbusters of course.
NEXT: Imagine seeing this in your rear-view mirror!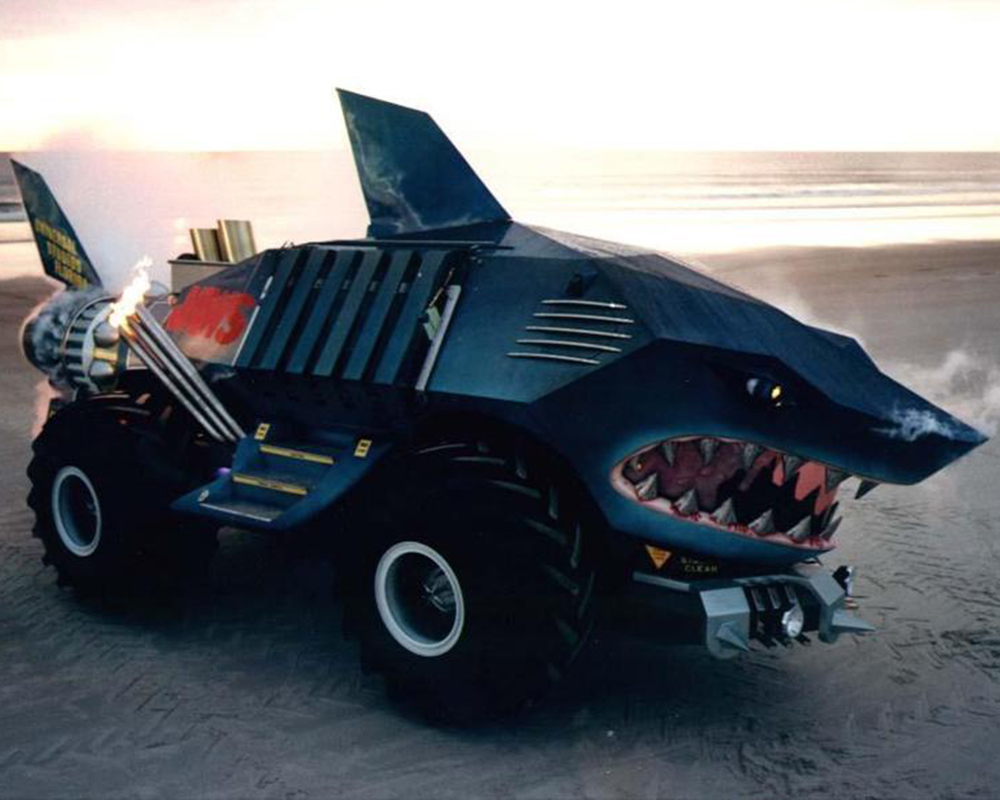 Kitty Cat Quirky Car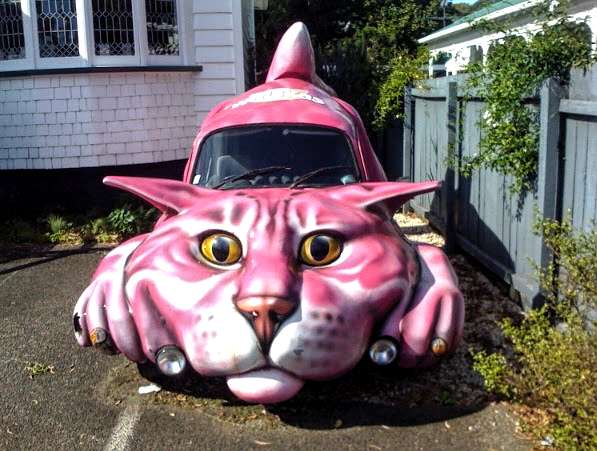 Okay, so here's the thing. I know people that like cats. I know people that like cats a whole lot. Yet, I have yet to meet someone who likes cats this much. If you're the type of person that covers your entire car into fiberglass molding, complete with airbrush design and striking cat features, you obviously like cats way more than most of us. I'm sure you're much more intriguing than the crazy cat lady too, and probably more crazy as well. The only saving grace is this vehicle looks to be some sort of advertisement for a business.
NEXT: A bulldozer, a snowplow and an old-school Cadillac all combine to make this interesting ride…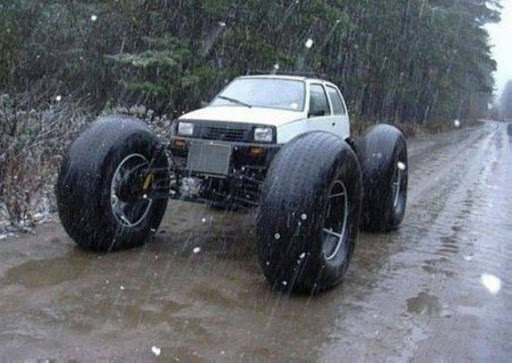 Great White!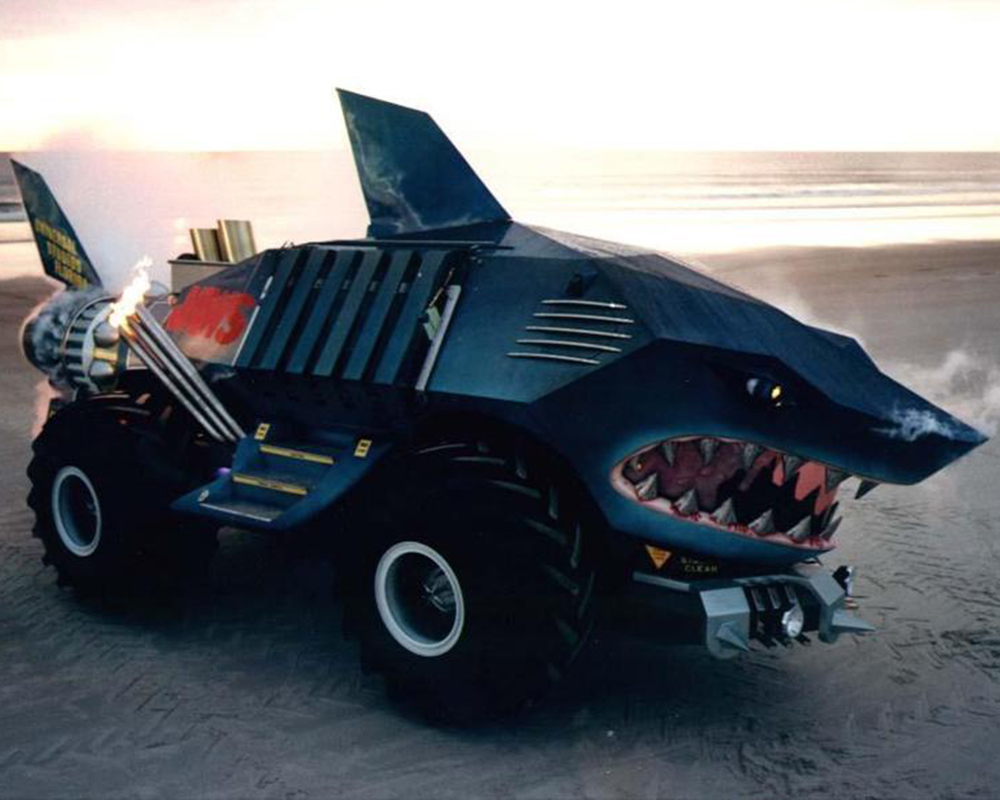 Jaws! To be honest, this is about as realistic as the mechanical shark in the original movie. But don't be sidetracked by the teeth…focus in on the jet engine out back! That's right, another street-legal jet car. This one is somehow more wild than the last.
NEXT: So much room for activities in this next one.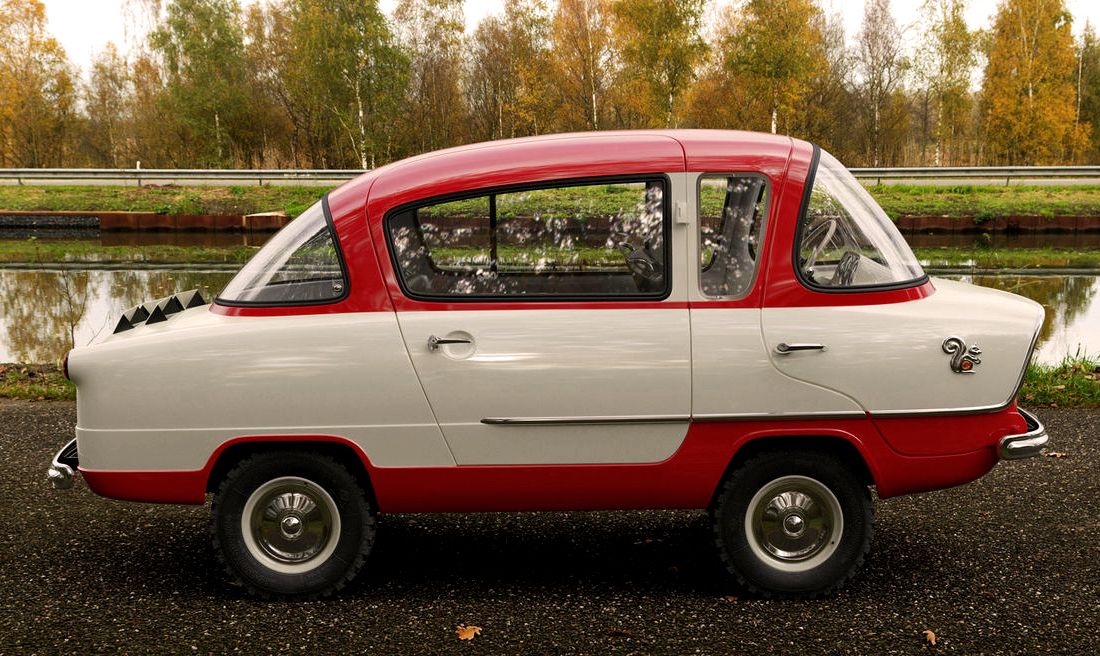 Big Wheels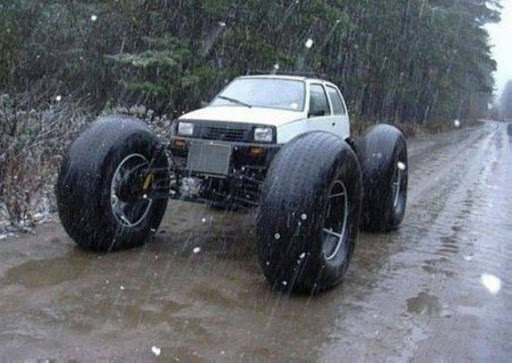 It looks like this car has inflatable rafts for tires! They must be expecting a lot more rain because otherwise, these things are useless. Well, maybe if they were in some deep sand. But anyways, this is quite an oddity!
NEXT: Which way is forwards?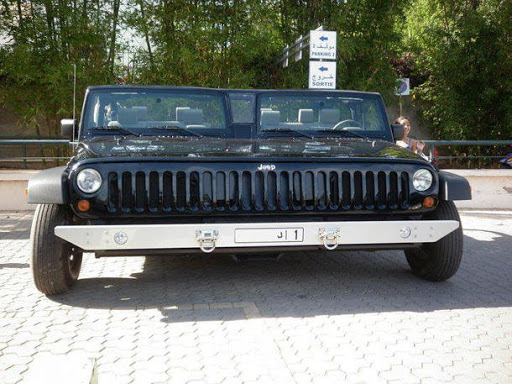 The Front Door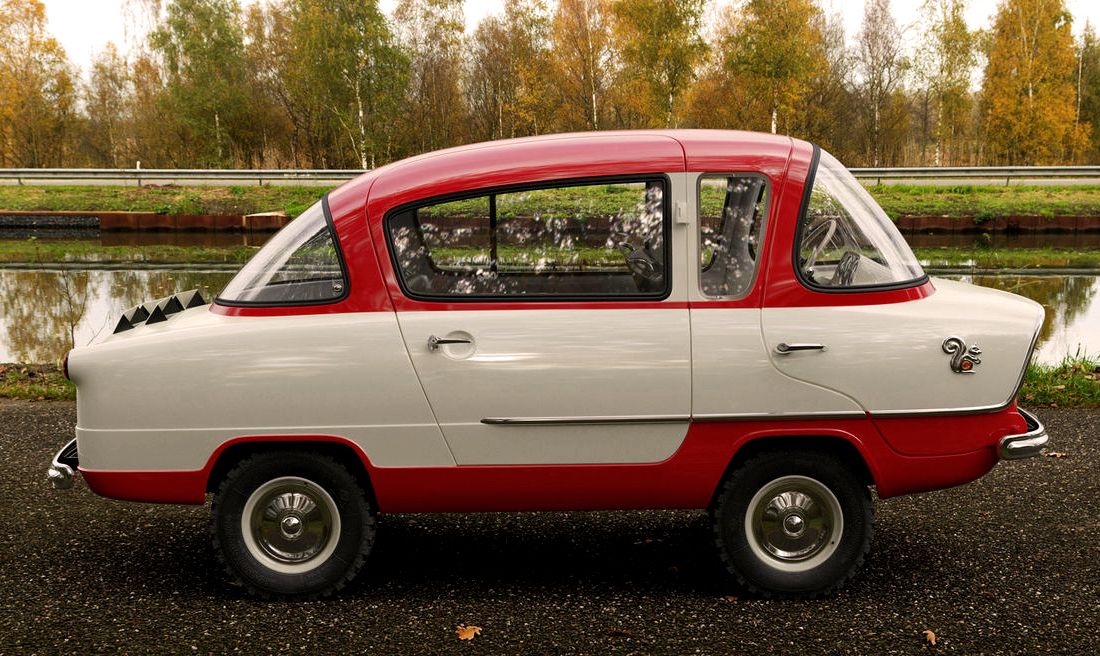 Some cars have 2 doors, some have 4. This strange car? This bad boy has three, and the third door doubles as the nose of this goofy-looking vehicle.
NEXT: Car or Airplane?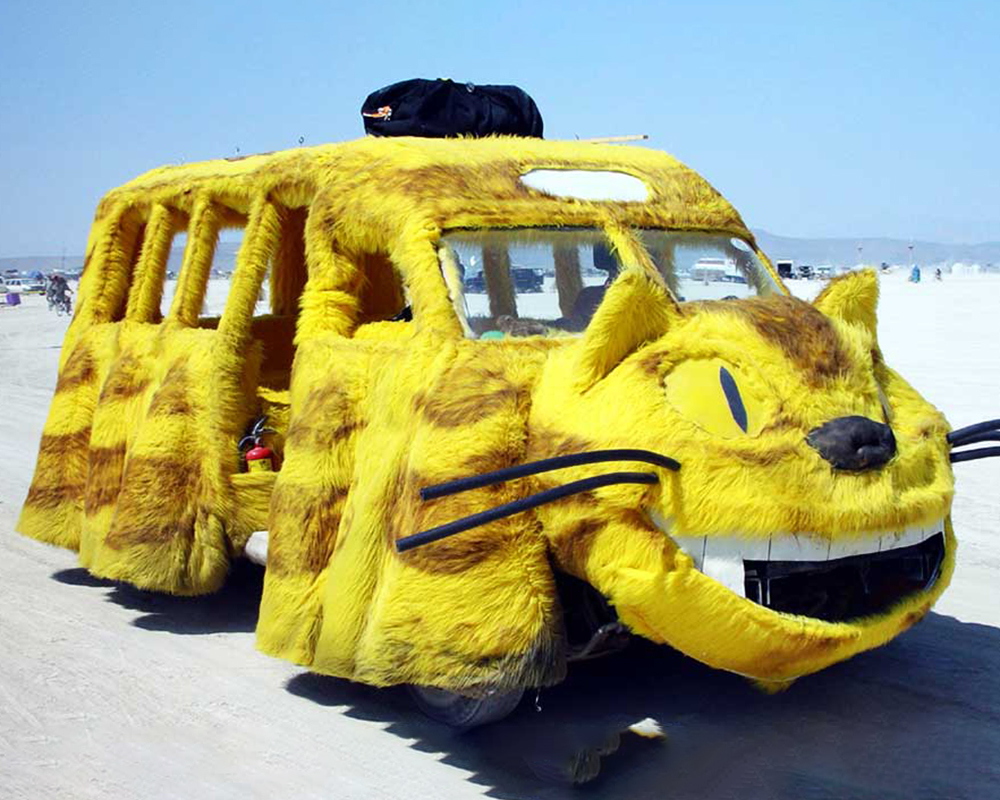 Jeep Jeep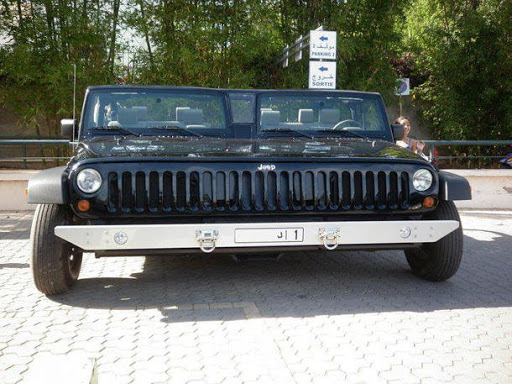 These two put the EE in JEEP! Another co-joined hunk of on-e-of-a-kind machinery, this rare Jeep has the turning radius of a cargo barge. But hey, it certainly looks pretty cool, doesn't it!
EXT: Another cat-centered car, but with more fur and less…normalcy.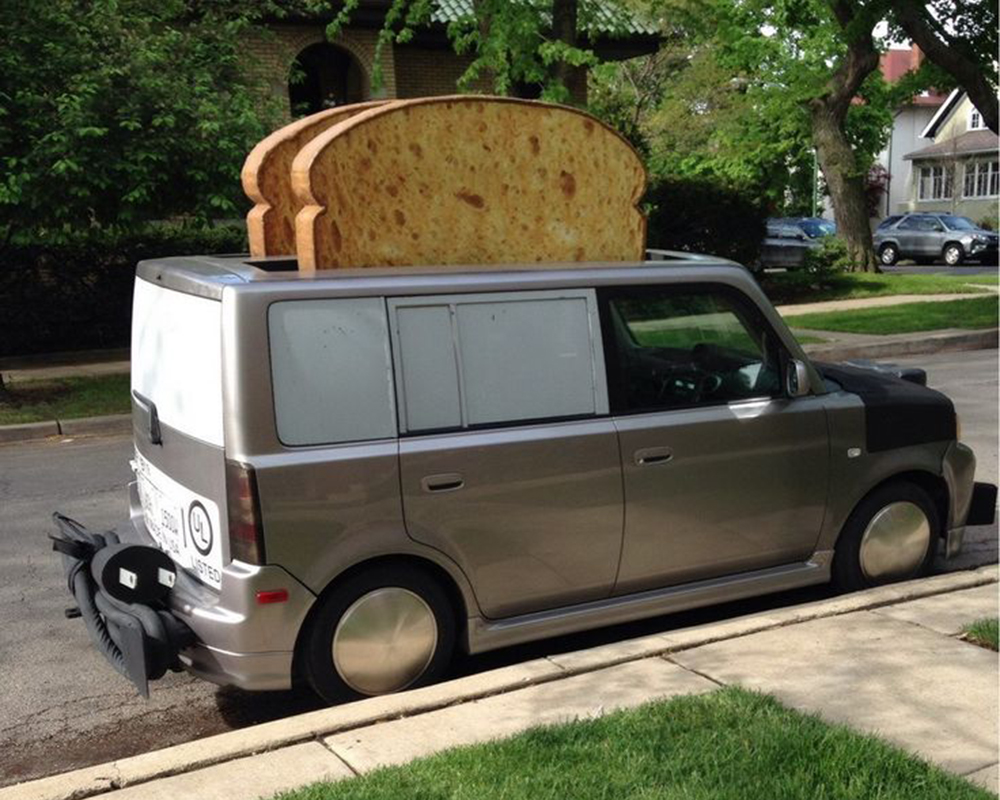 The Shaggin' Wagon!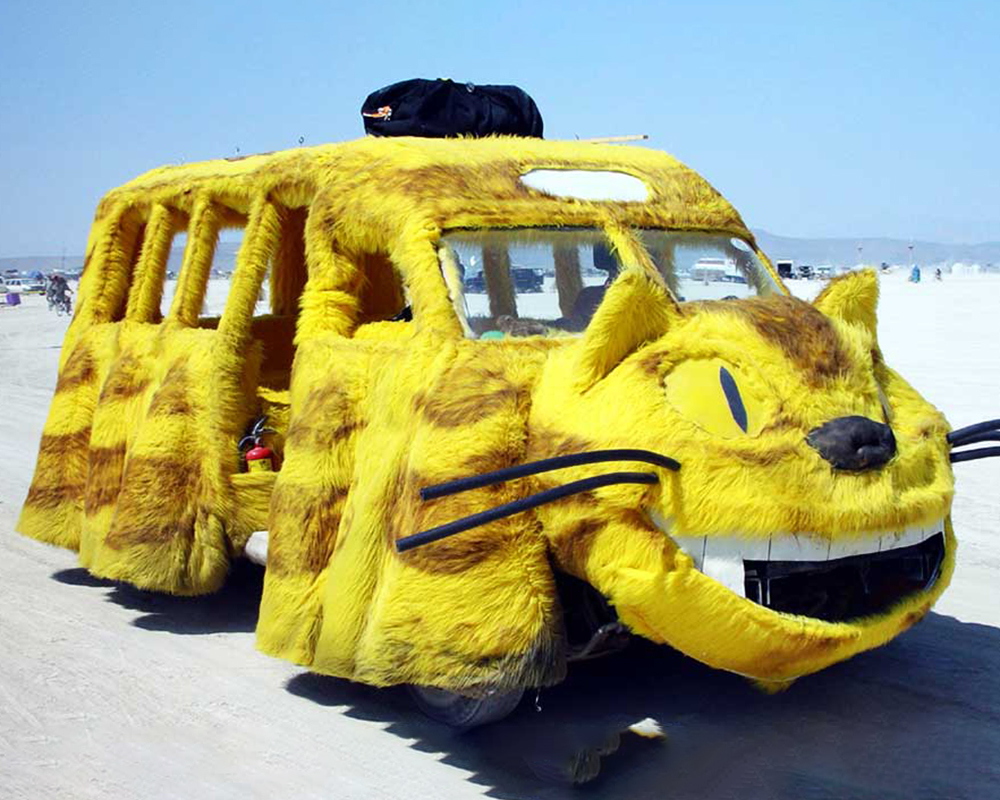 Here, kitty kitty…We wish we could give you some great explanation about why this strange car exists. But the truth is, we have no idea what's going on here. Just go with it!
NEXT: This guy knows how to make fun of himself, and it's hilarious!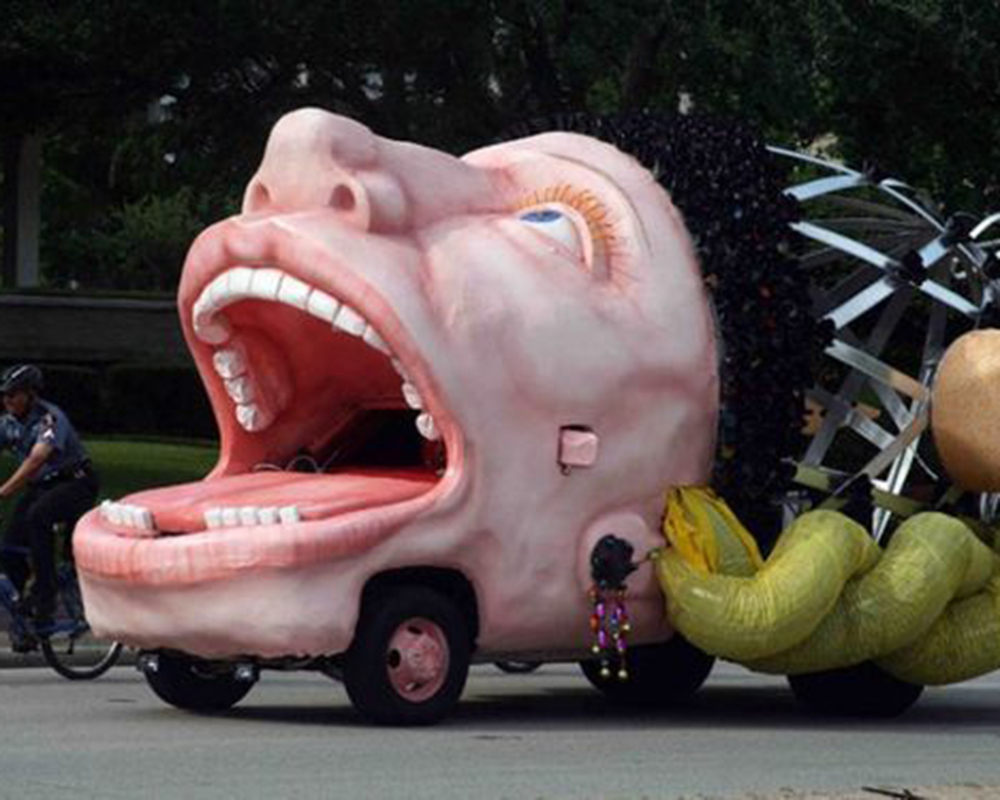 Scion, The Toaster!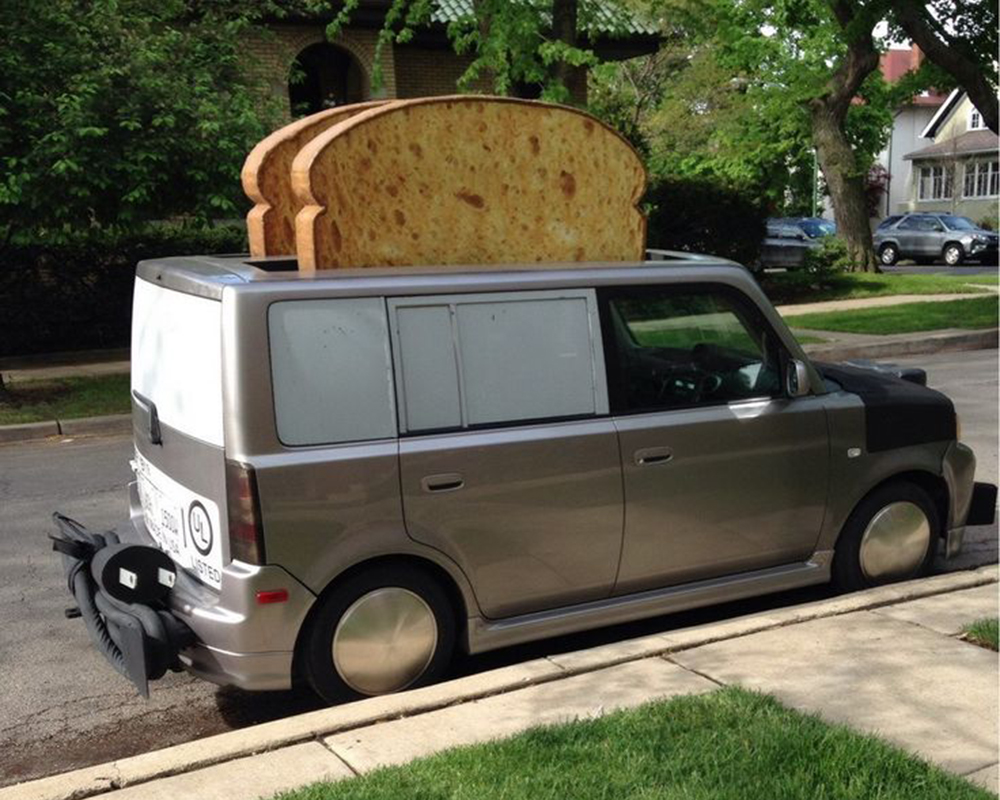 This is perfect. I don't know who made this car, but I love them. The Scion xB is one of the most loved/hated cars in history and it is routinely referred to as "The Toaster Car" – which is exactly what the creator of this was thinking!
NEXT: Open wide…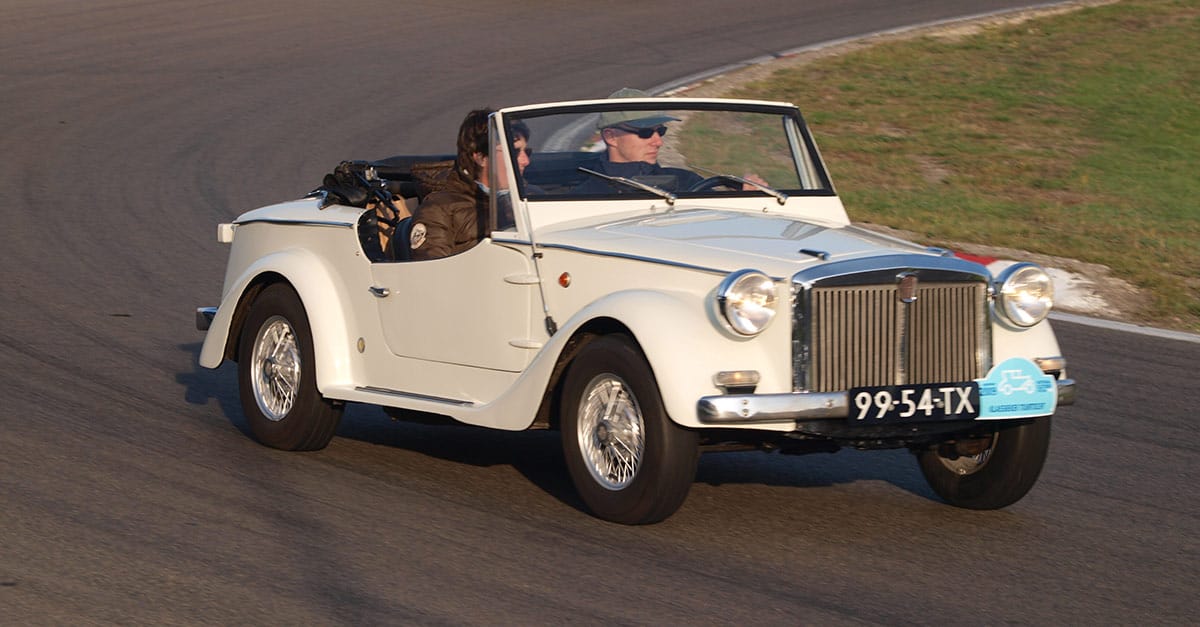 A Parade Float That Will Be Burned In Children's Brains Forever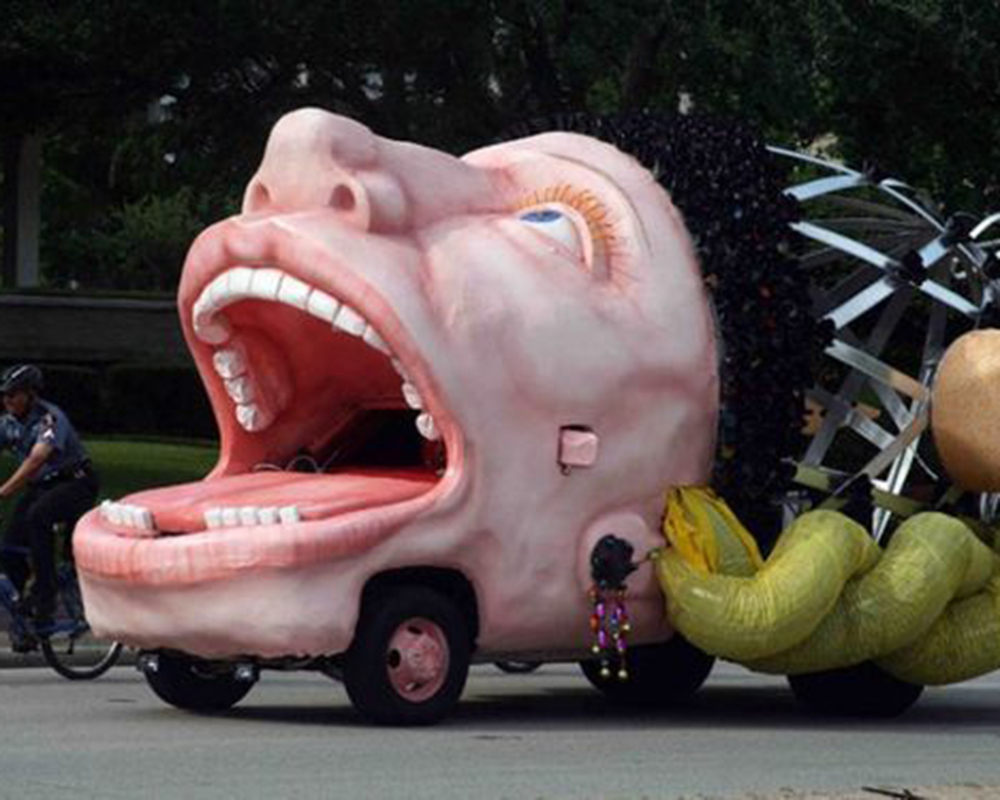 Glad to know we aren't the only ones who've thought "Hmm, I wish our windshield was actually a giant oral cavity."
NEXT: This one is actually pretty nice looking…for a strange vehicle.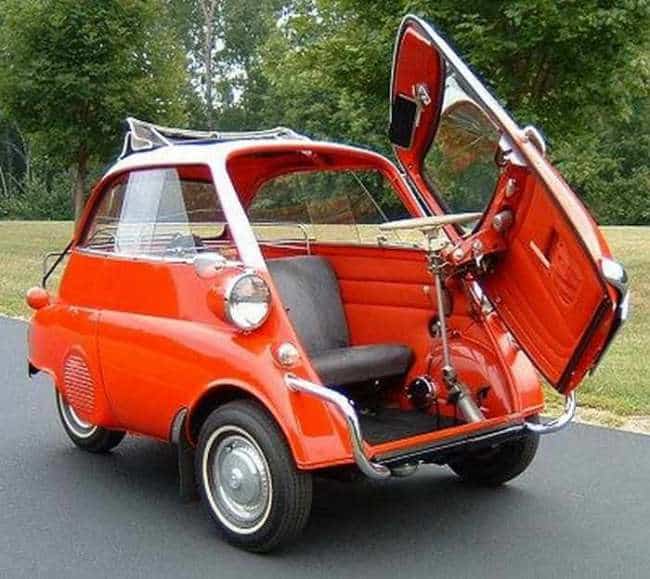 A Little Cleanser For You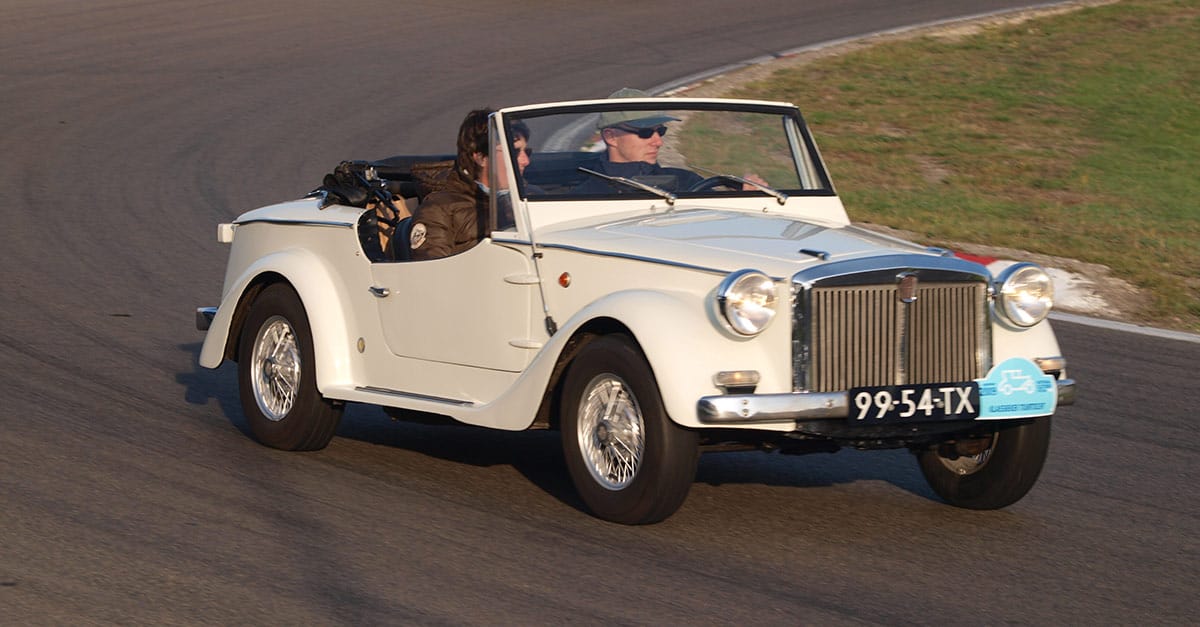 Siata originally sold parts to modify and tune cars made by Fiat. Once World War 2 ended, they started making cars. Compared to normal cars, this one is a bit strange. But compared to the strange cars on this list – this one is quite normal. Now, back to your regularly programmed oddness.
NEXT: What in the world?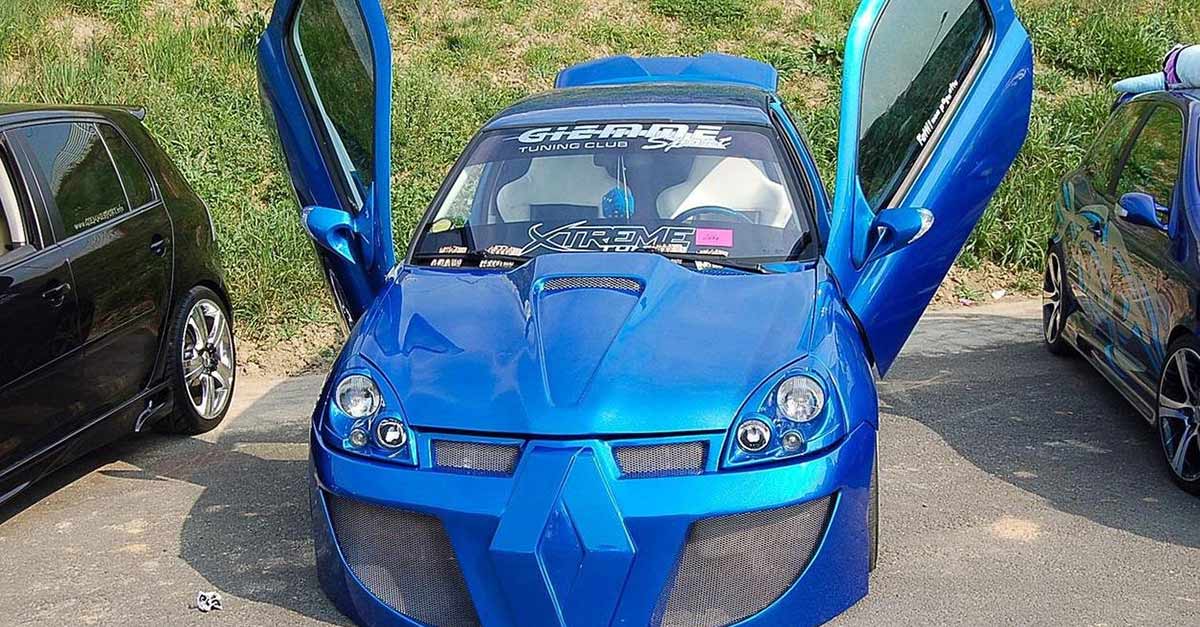 The Front Door is The Hood, Too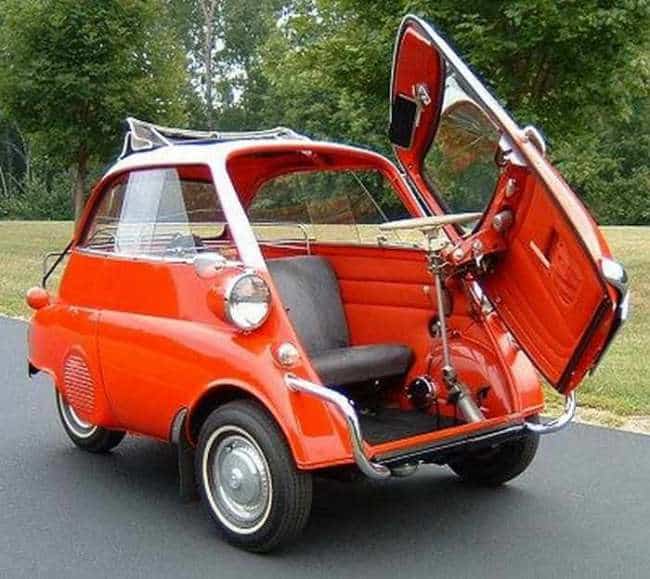 This strange looking spectacle is actually a 1950s BMW Isetta. Most of these vehicles were made with four wheels even though they only appear to have three. However, that does not seem to be the case with this one. At any rate, they marketed the three-wheeled vehicle in countries outside of the US to make them more attractive to buyers as they had lower vehicle fees. It seems like people were much like they are today… always looking to save money. Nothing wrong with that. However, in order to have a lower fee, you have to have the vehicle classified as a three-wheeled vehicle. This is the reason they would mount the two rear tires very close together. This allowed for such a classification and consumers could get out of those pesky fees. However, these tiny "three-wheeled" vehicles didn't gain much traction and people were back to their four-wheeled behemoths just a few years later.
NEXT: Renault with some butterfly doors is something else…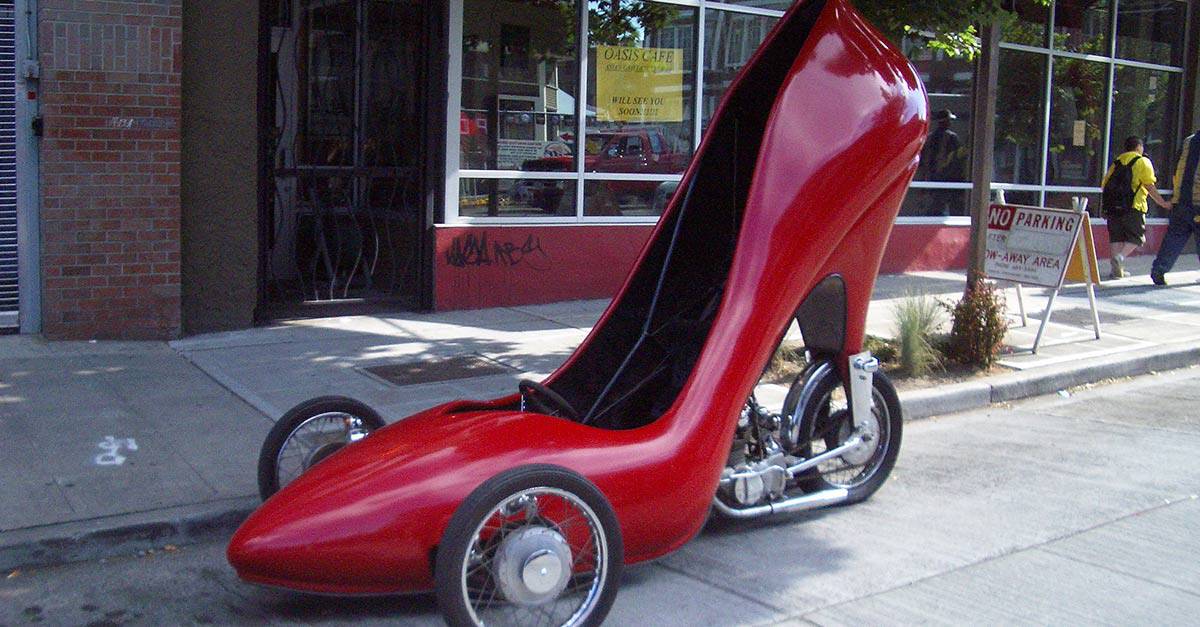 Butterfly Doors Are Fun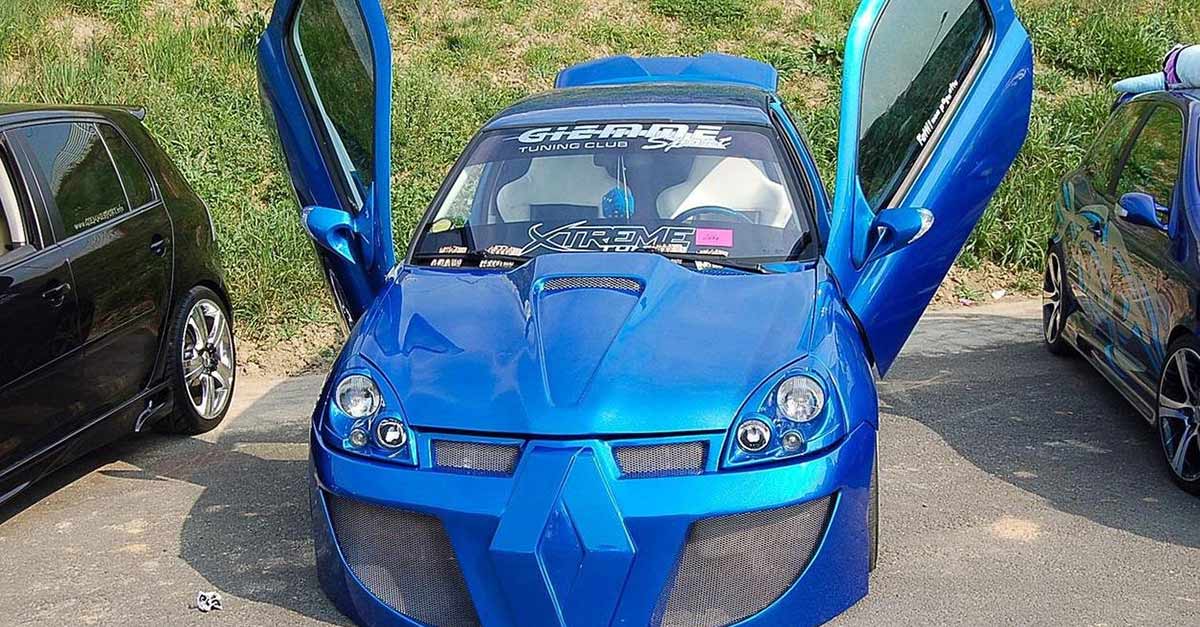 Several Renault vehicles featured butterfly doors. This one may just be the strangest of them all. Clearly in production from a car-lover – this funky modification on a boring old car is met with skepticism and appreciation.
NEXT: High fashion and custom rides go hand in hand…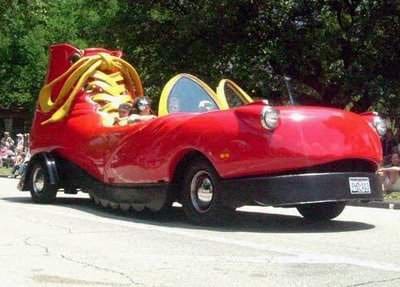 High Heels and Low Expectations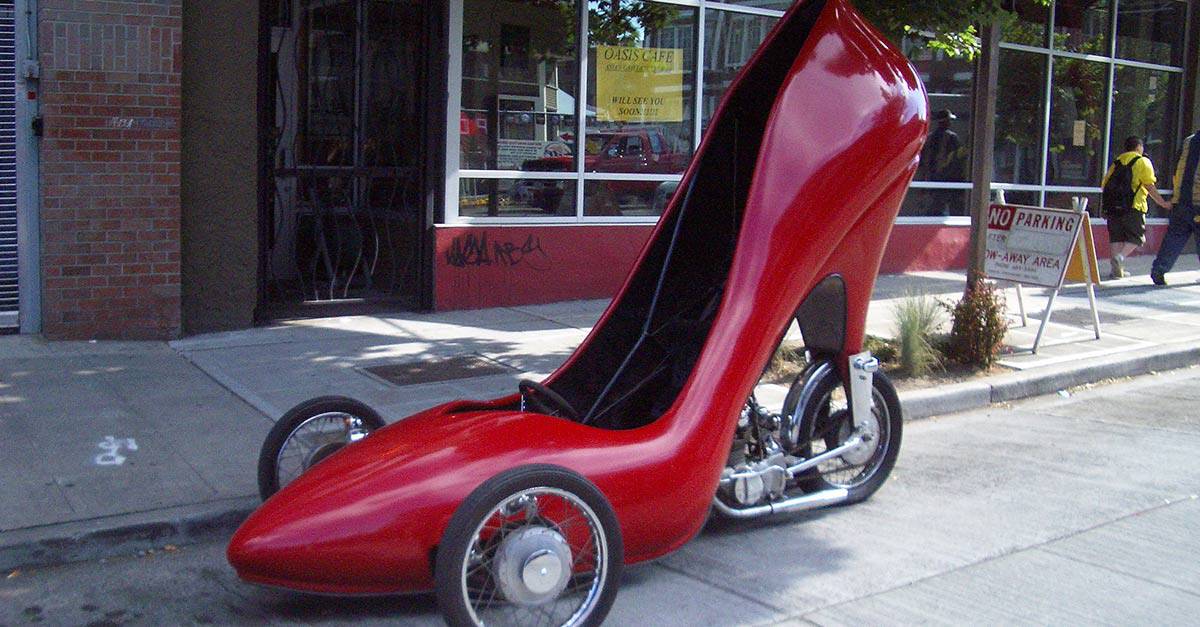 This bike is designed like a high heel shoe. But you already knew that. This reverse-trike is guaranteed to draw some stares around town!
NEXT: Ol' McDonald had a shoe…E-I-E-I-Ooh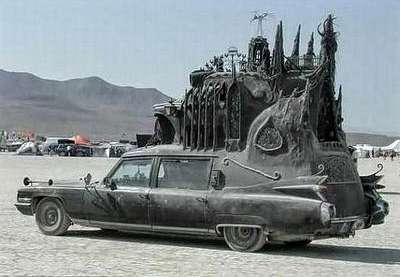 McD's Is Out on the Road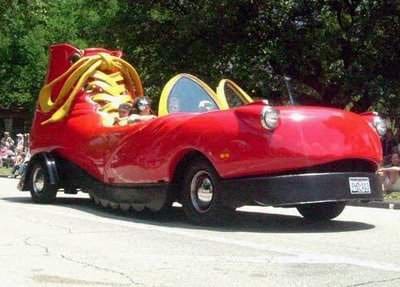 I told you so. It seems like somebody ripped off Ronald McDonald's shoe. Instead, it's just a marketing department from corporate coming up with a showstopper of a vehicle to drive around from location to location, encouraging us all to eat more cheeseburgers. I would say it works rather handily. If I saw that at my local McDonald's I would be there in a heartbeat. So a few facts about the car. The sole, floors windshield and Cal are all steel. The body is entirely handmade. This particular picture showcases the car at a parade in Houston several years back. It was a show stopper and for good reason. Nothing beats a McDonald's hamburger when you are hungry for fast food! I'm sure many hamburgers were eaten that day. Maybe it will come to a city near you soon. Until then, go grab a burger and be happy.
NEXT: The Streamline X Gilda is a sight for sore eyes. Or is it just a sore for eyes?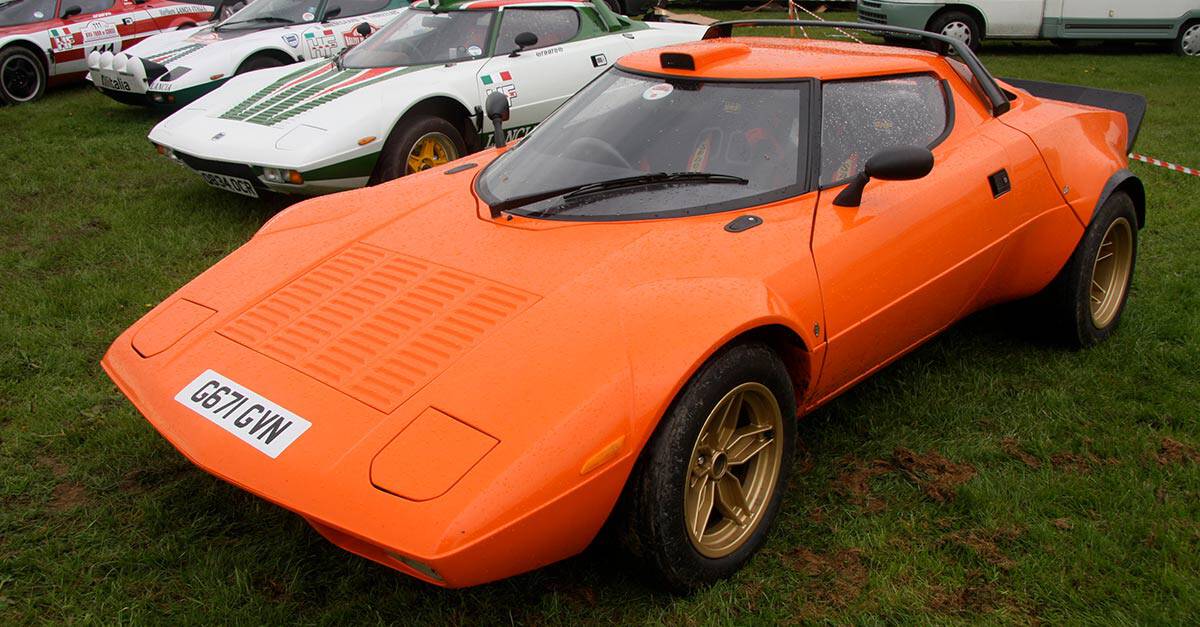 The Cathedral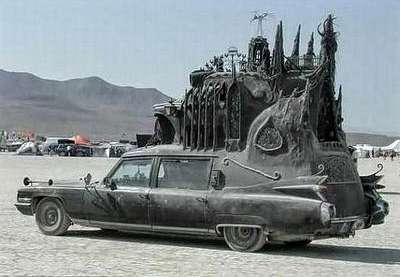 This is called the Cathedral. Get it? It features a Gothic cathedral atop a black hearse. Kind of a morbid, macabre paradox on wheels when you think about it. The hearse holds the dead, while cathedrals are typically regarded as a place for the living. Either way, you wouldn't want to see this thing in your rearview mirror at night, unless of course, you were commissioning the artist. This car was created by none other than Rebecca Caldwell in the year 2000. So how did she make the cathedral? Look close. She actually welded the entire top of a VW beetle onto this 71 Classic Cadillac hearse. I'm sure she can do something spooky to your car, you just have to get in touch with her. She can be hard to find, but she shouldn't be hard to spot when you do if she's driving that thing. Kudos for an awesome car.
NEXT: This one is actually pretty sick. Would drive this in a heartbeat…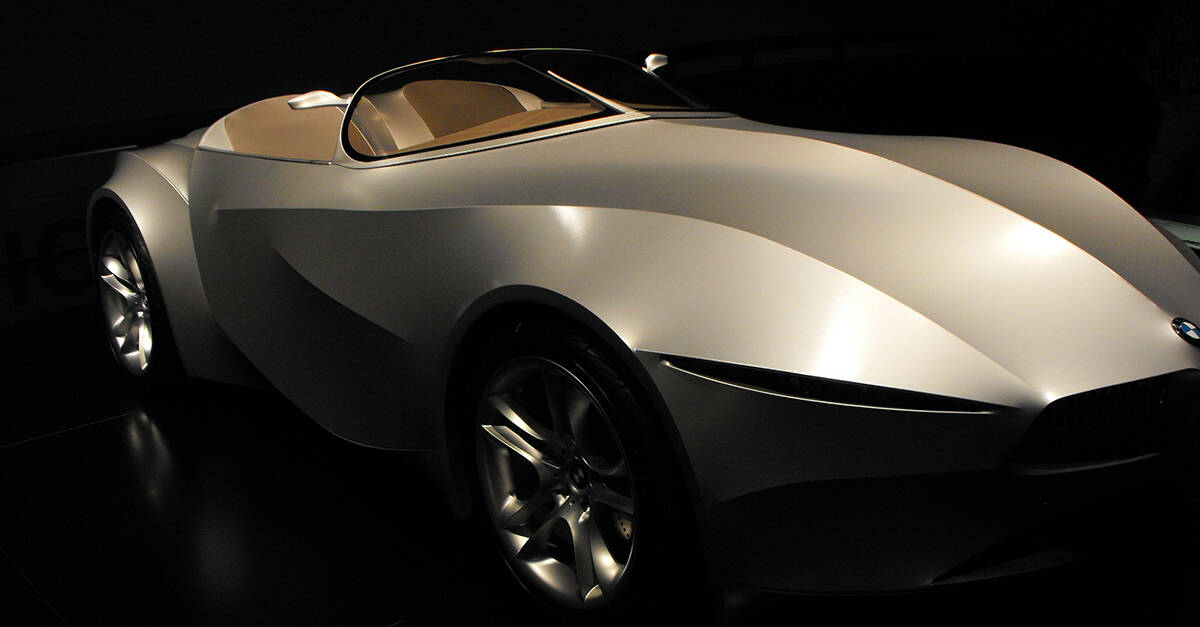 Impact Orange Sports Car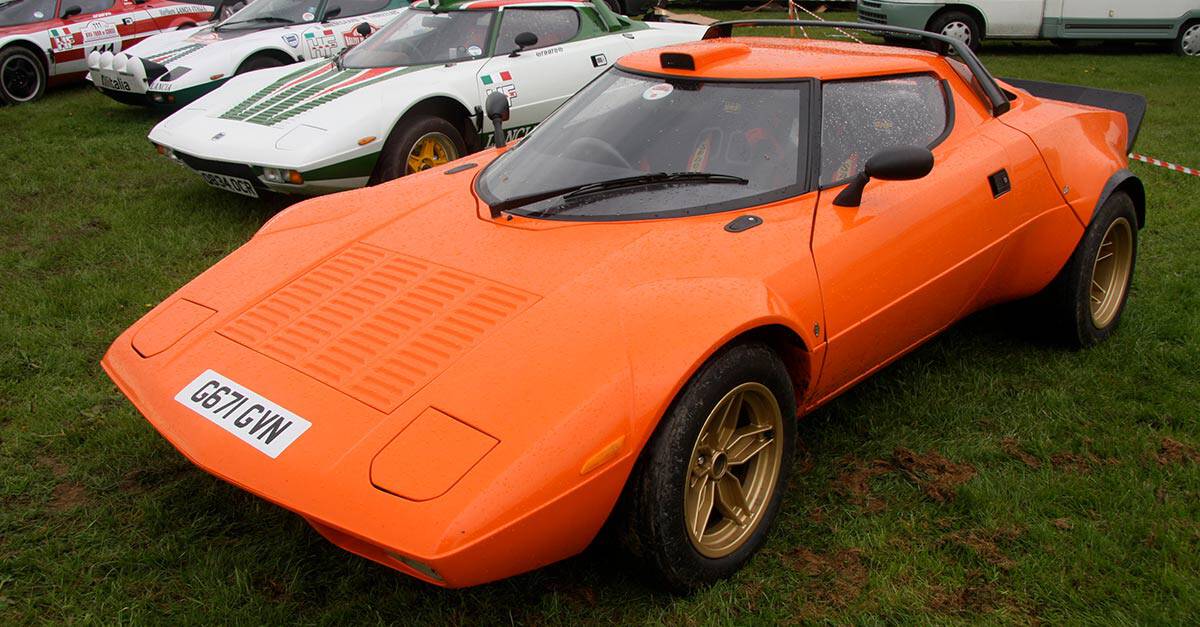 The 1970 Lancia Stratos HF Zero was only 33 inches tall which made it difficult to get in the car. Drivers had to enter through the hinged windshield.
NEXT: What in the….
BMW Went Off The Rails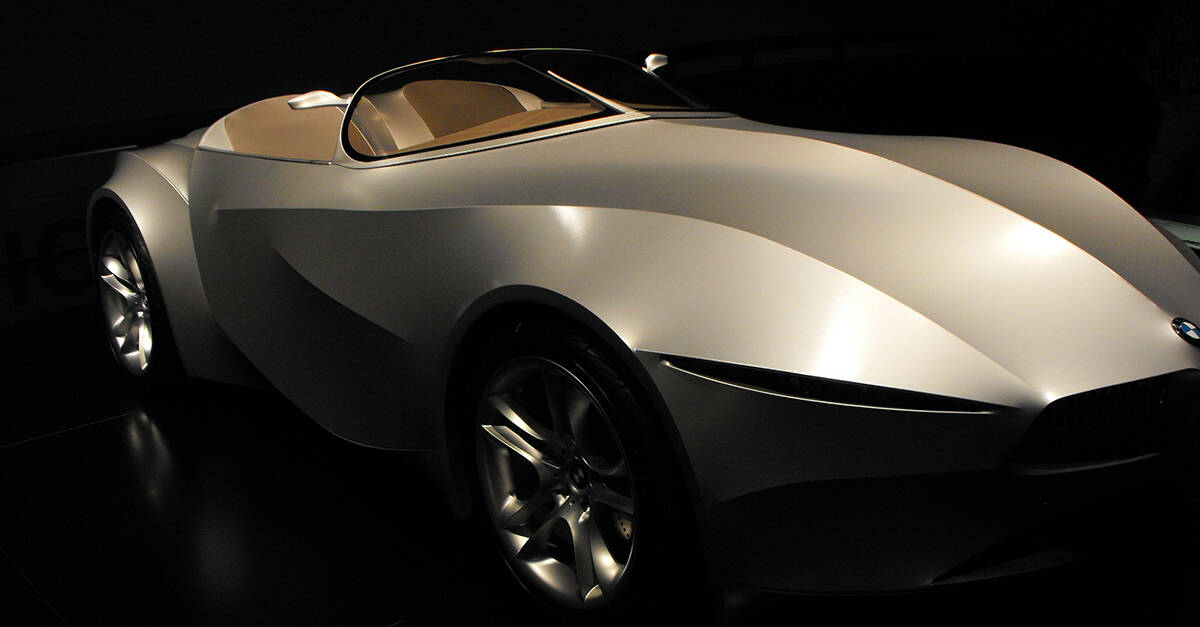 The 2001 BMW GINA Light Visionary Model was designed by Chris Bangle who broke the German auto-maker design style with hard geometry and chunky body parts.
NEXT: Porsche can't decide if they want to be normal or not.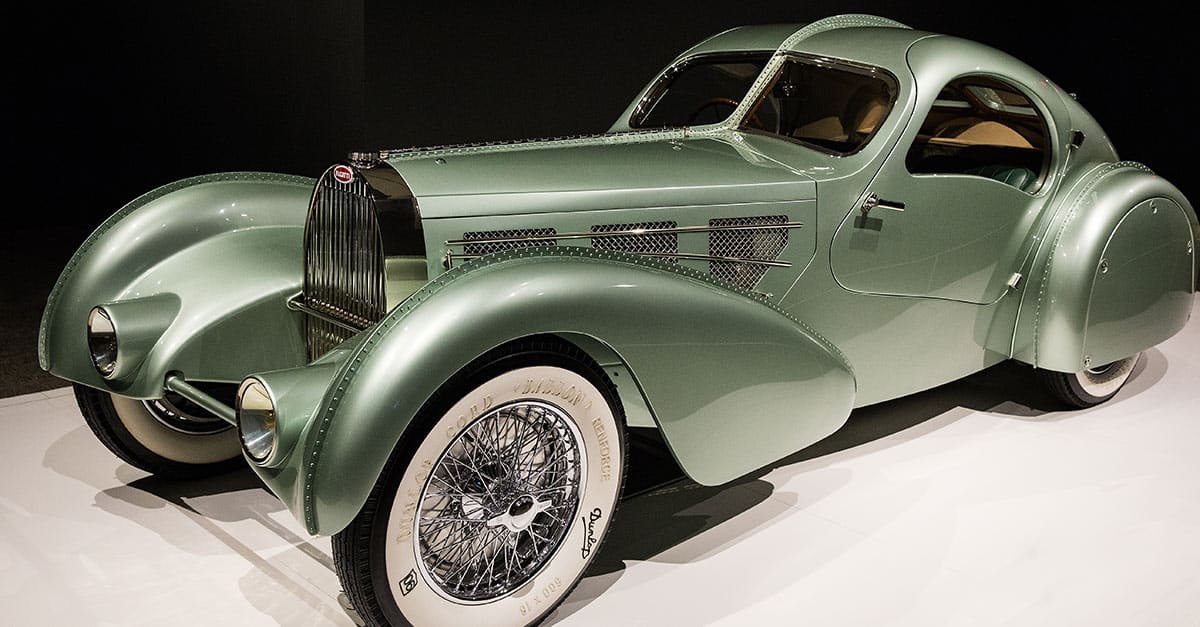 Spyder Concept Car
The Porsche 918 Spyder Concept car debuted at the 2010 Geneva Motor Show. It is what inspired the hybrid supercar Porsche has out today.
NEXT: The cleanest, and strangest, Bugatti we've ever seen. Hint: It's a throwback.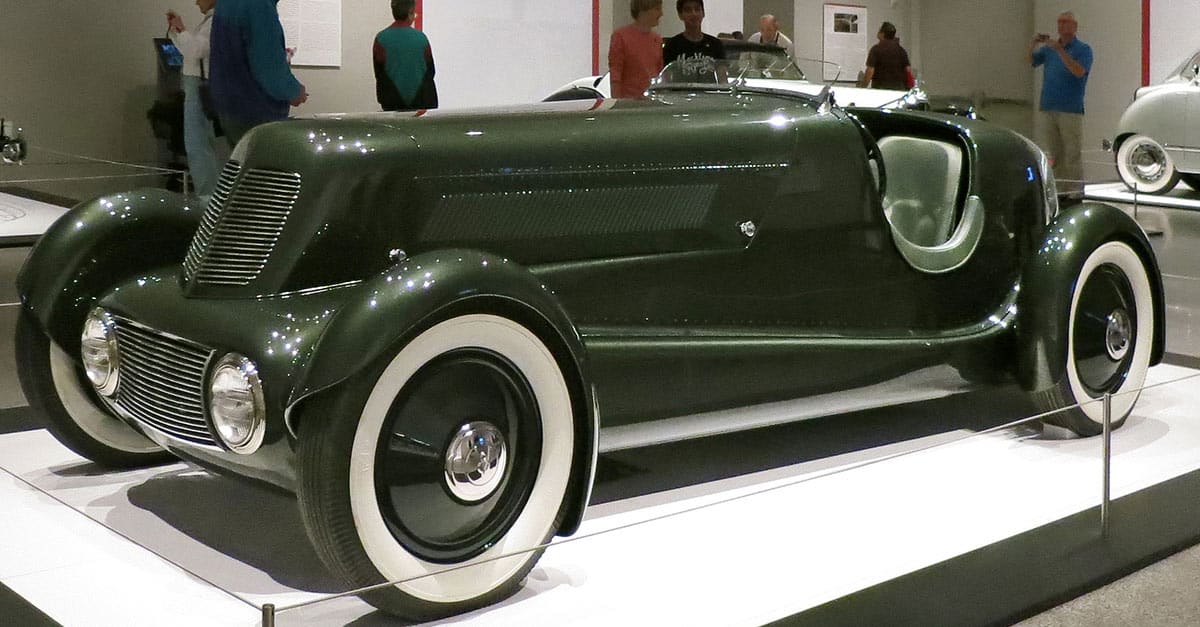 Competition Coupe (What's The Competition, "Who Can Make The Oddest Car"?)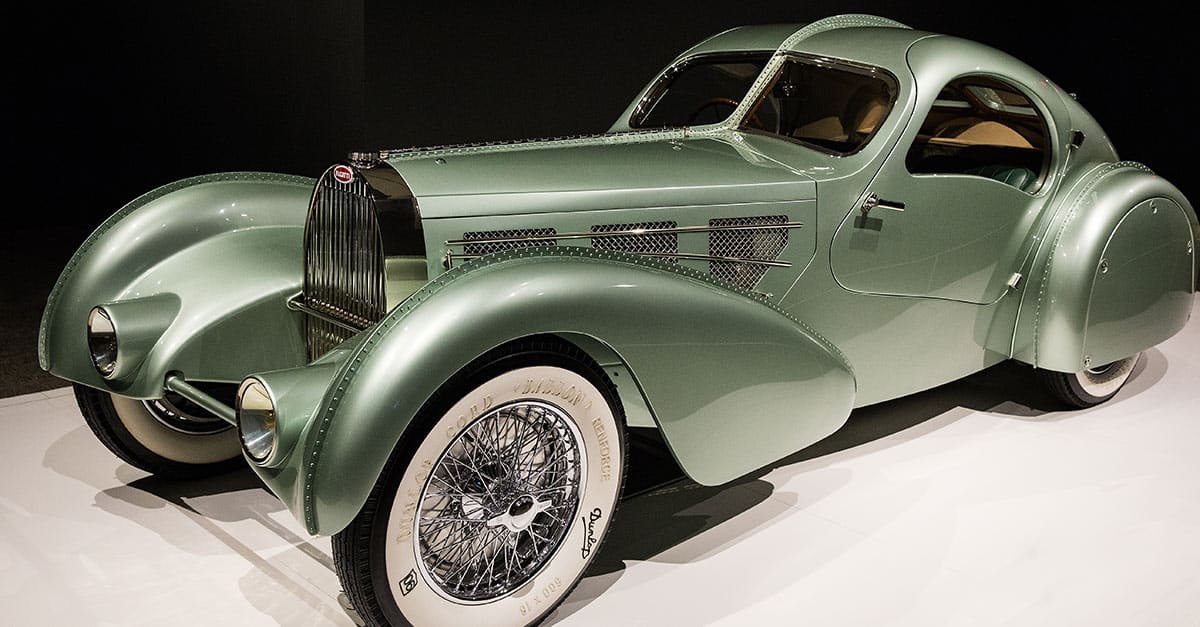 The 1935 Bugatti Type 57S Competition Coupe Aerolithe debuted at the 1935 Paris Auto Show. It was lost after this show. A recreated model is on display which was based on recorded specs, photographs, and an oil painting.
NEXT: Another old-school ride that was probably considered good-looking at the time.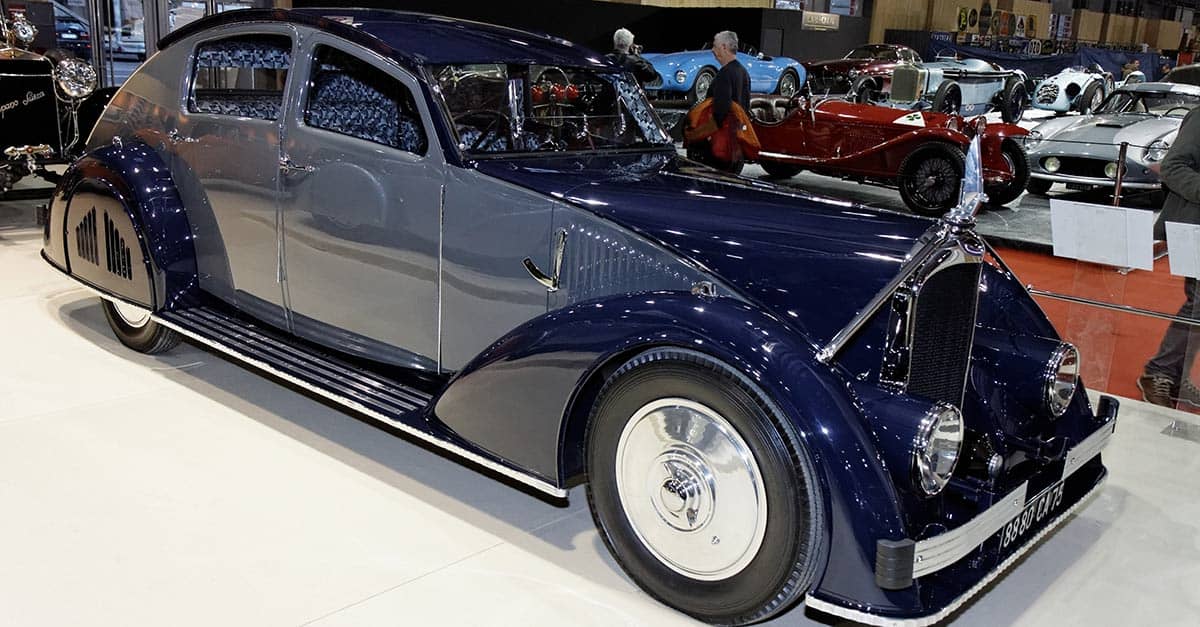 1932 Ford Speedster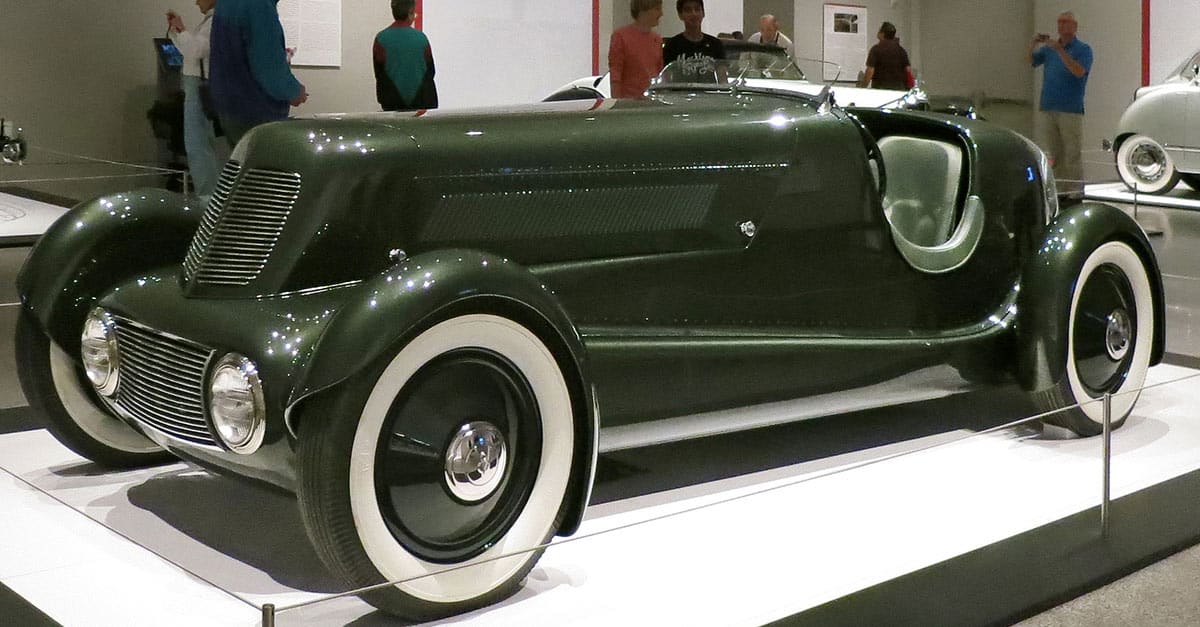 The 1932 Ford Speedster featured a flathead V8 engine and a starter button. This vehicle was the creation of Henry Ford's son Edsel Ford and Eugene Gregorie.
NEXT: These old cars were ahead of their time, and yet completely off-base. What a combination.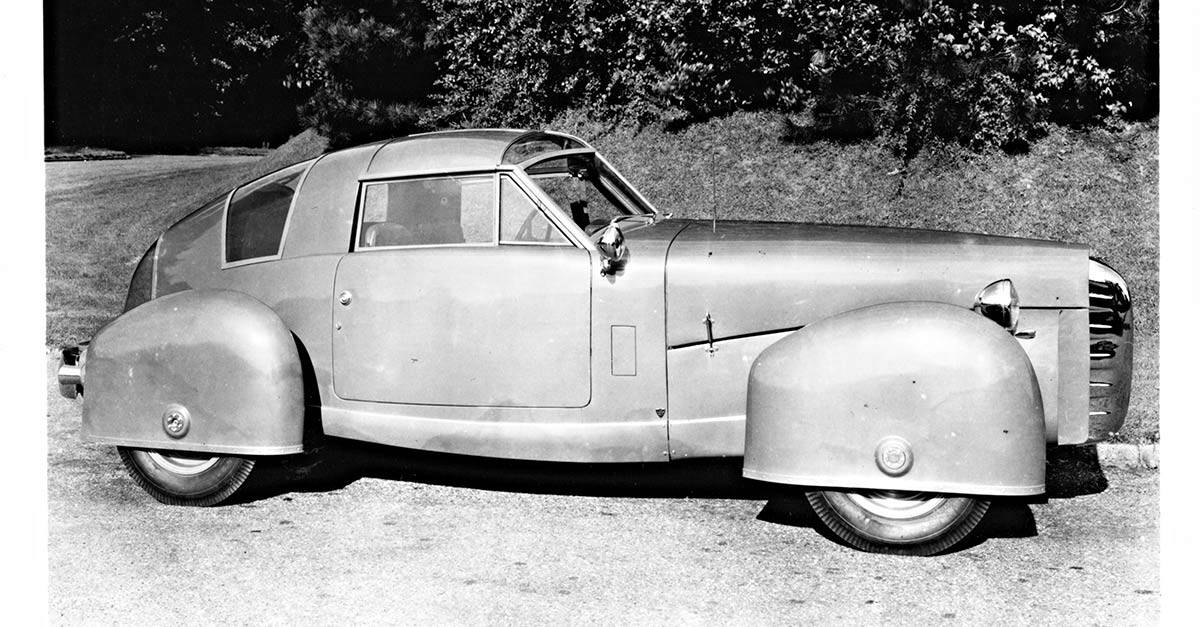 Strange Cars, Even in 1934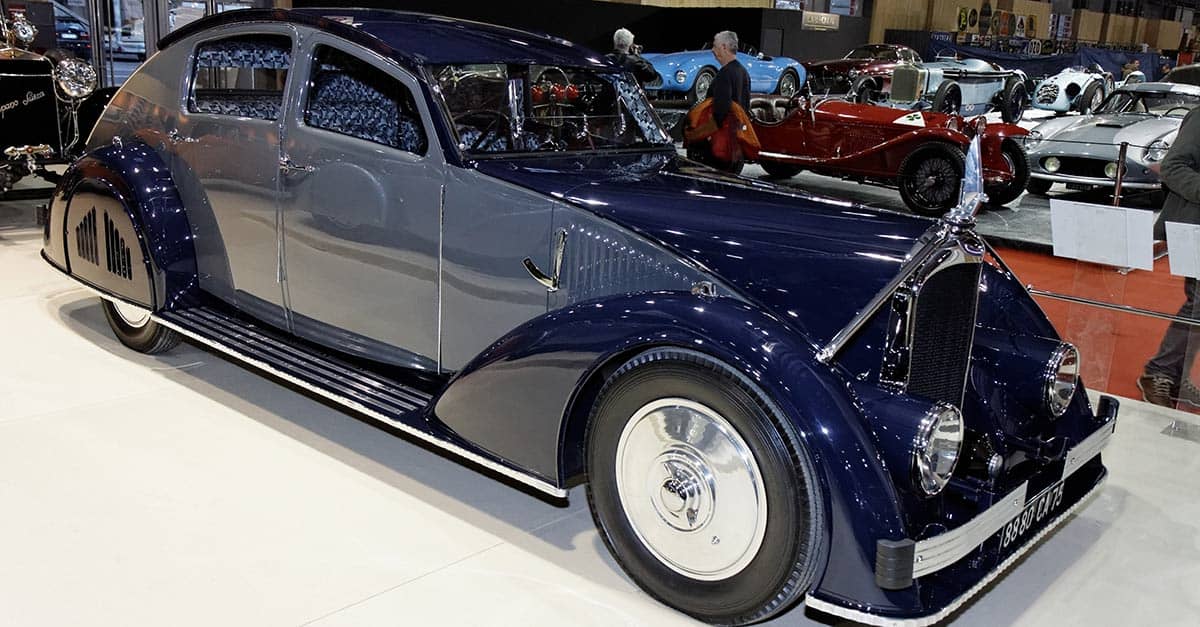 The 1934 Voisin C-25 Aerodyne was designed by Gabriel Voisin who also designed planes. There were only 28 of these made. One of them won Best in Show at the 2011 Pebble Beach Concours d'Elegance.
NEXT: Inspired by fighter planes, and people who did not go to design school…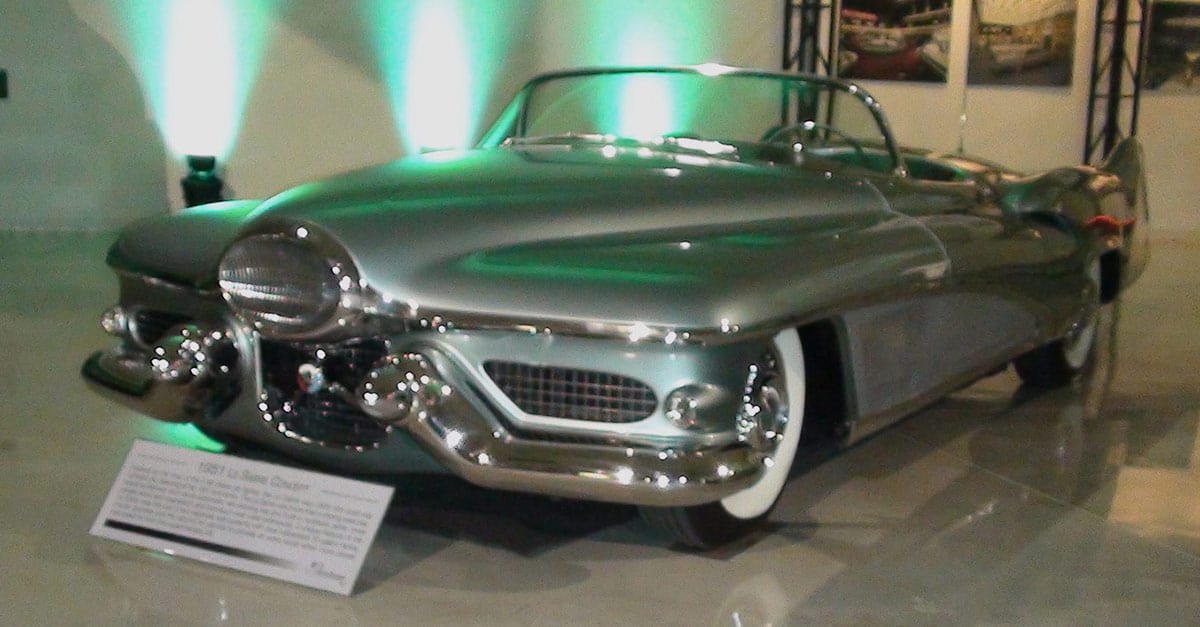 The Tasco!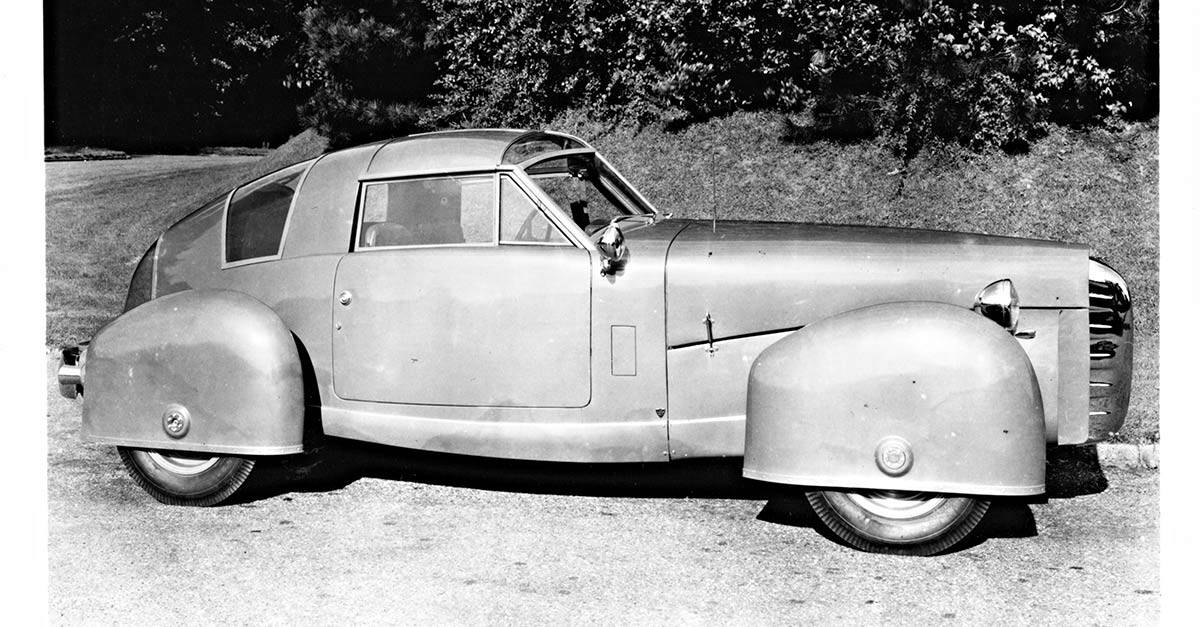 The 1948 Tasco was designed by Gordon Buehrig inspired by World War 2 fighter planes. The car featured fiberglass that covered the front wheels that moved with the steering input.
NEXT: The front end on this next ride is….something else.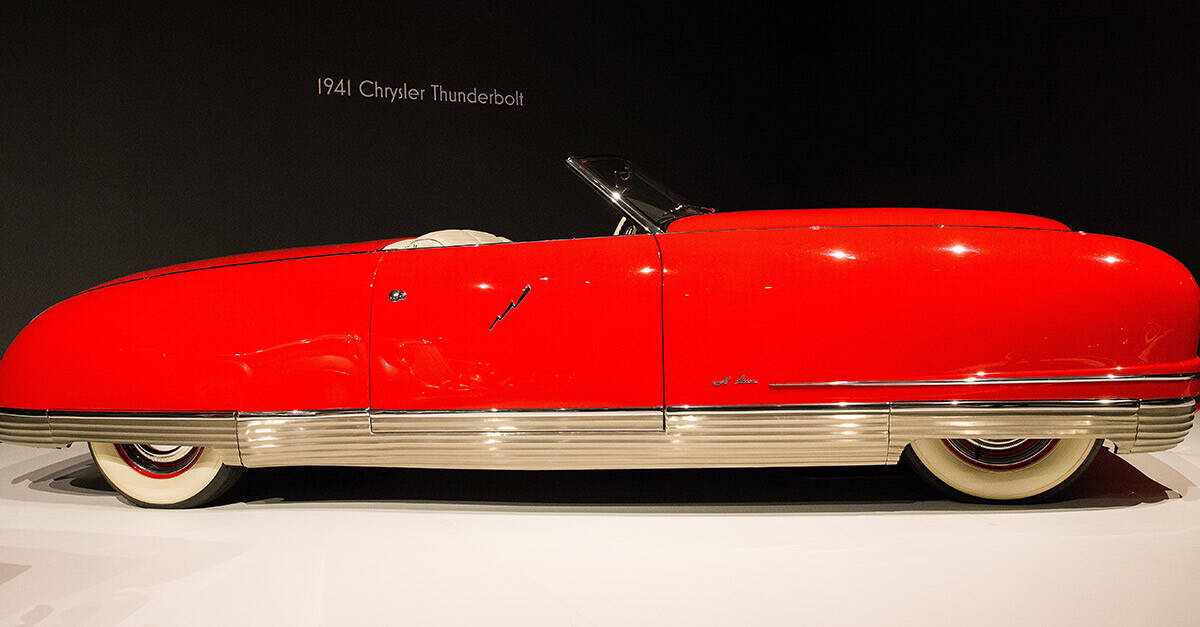 LeSabre Before They Got It Right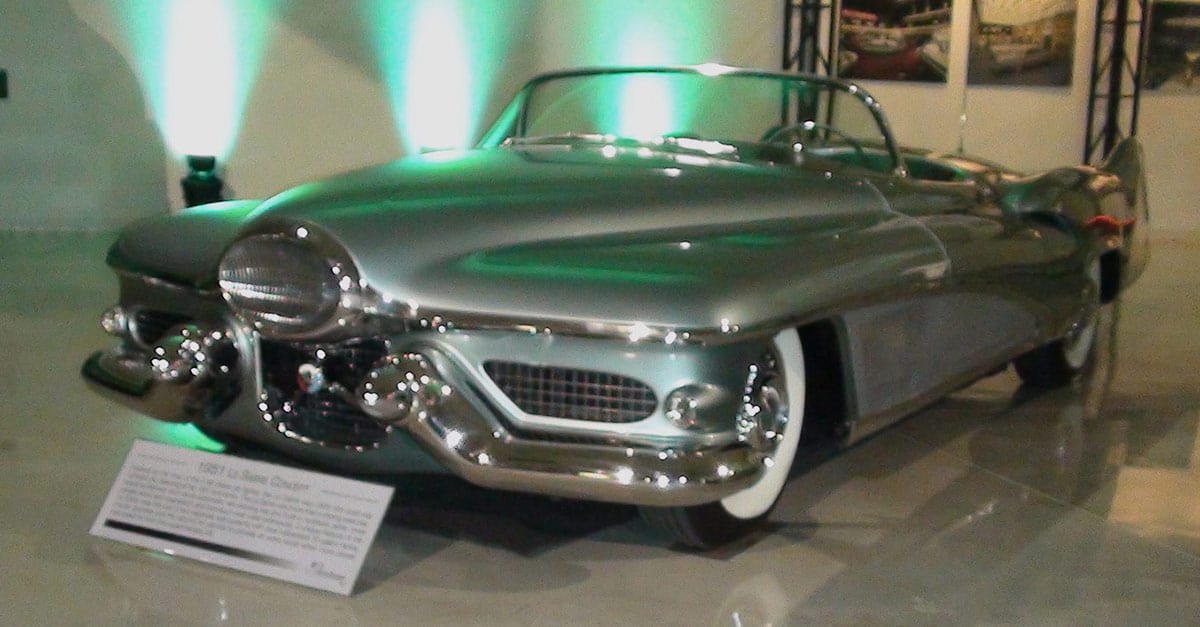 The 1951 GM LeSabre was the first car to feature sports fins and a wraparound windshield. It also featured a moisture detector that would automatically raiser the convertible top if it started to rain.
NEXT: The completely unified 1941 Chrysler Thunderbolt…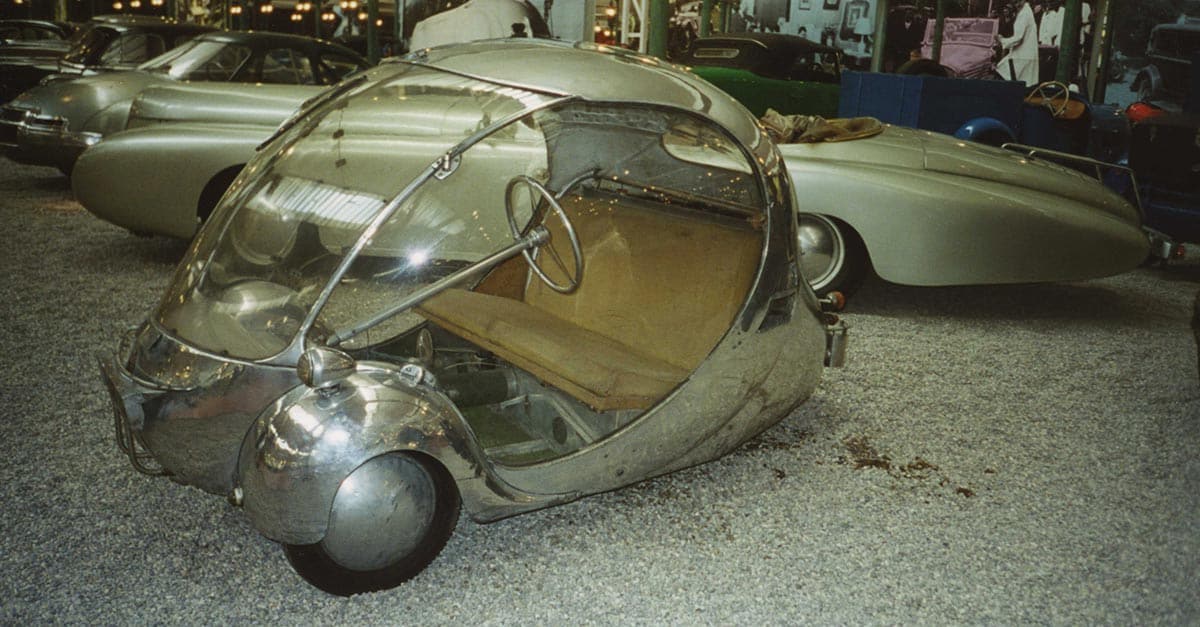 Thunderbolt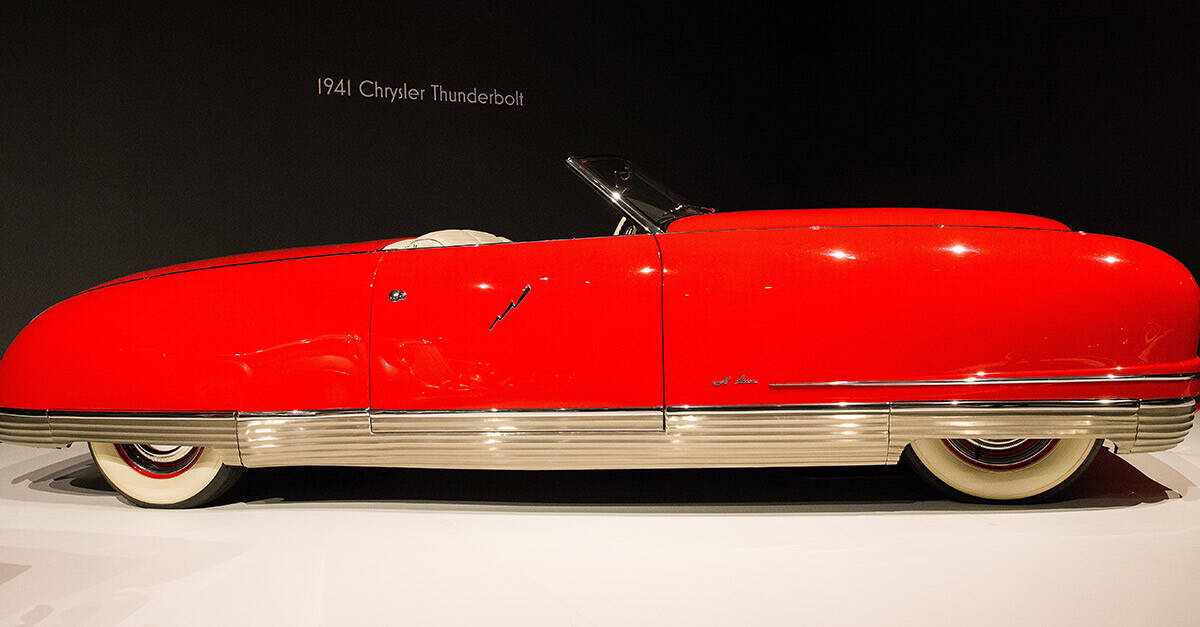 The 1941 Chrysler Thunderbolt features curves that were inspired by streamliner trains. It was also one of the first cars to feature power windows using hydraulic motors, a retractable hardtop, and pop-open headlights. This vehicle was also one of the last Art Deco design styles before auto designers started moving to a more futuristic aesthetic.
NEXT: Another look at the Ferrari 512 S Modulo…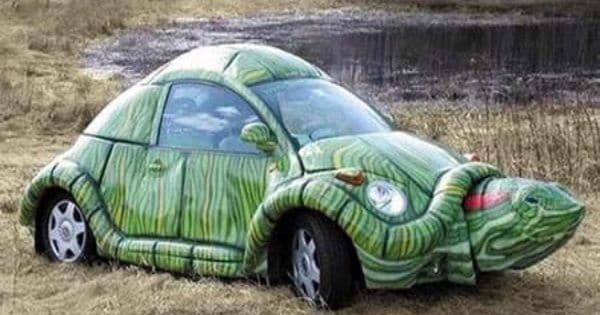 Would You Be Seen In This?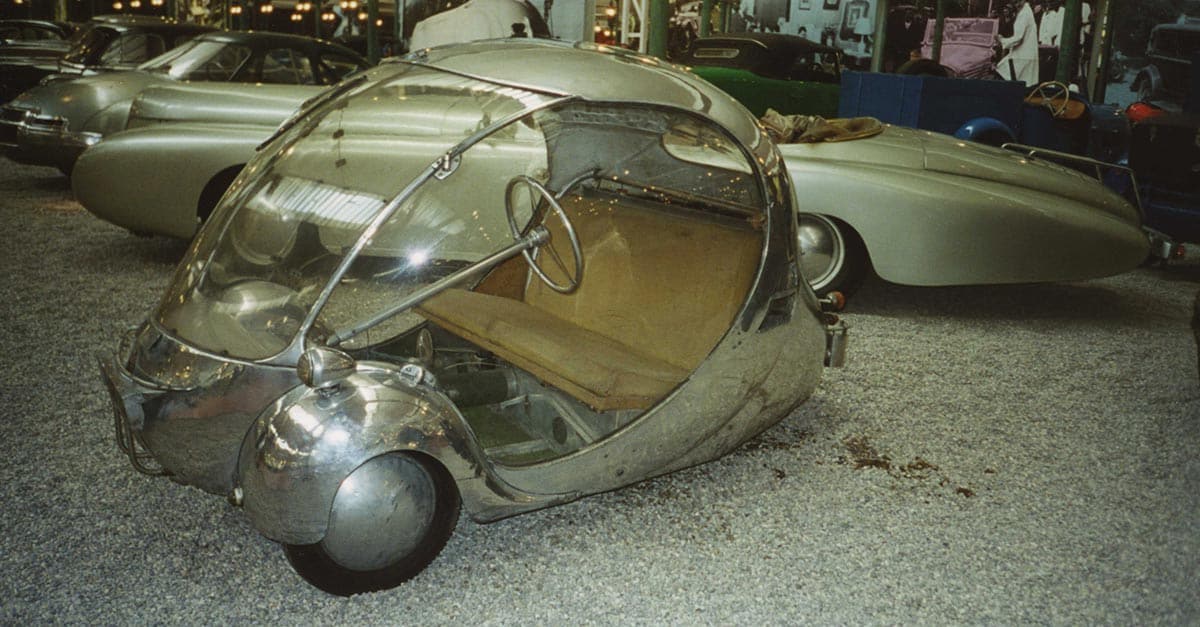 Paul Arzens created this lightweight 3-wheeled electric car called the L'Oeuf Electrique which was also known as the Electric Egg.
NEXT: It's about time we get some turtles involved in this post, don't you think?
Turtle Time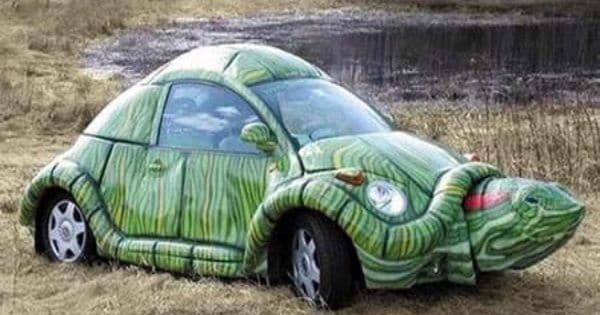 Not much is known about this fantastic turtle car, other than the fact that it is very unique. Looking closely you can tell it's makeup. It's obviously made from a new Beetle, with the front end cut out to showcase the turtle peeking out from underneath its shell. It's also apparently street-legal. You just want to make sure that if you're driving this thing you don't get too close to the guy in front of you or that could make for an awkward time. I know if I had some turtle nosing around in my rear end I wouldn't be too happy about it. It's probably best for this vehicle to be left at the lake, just like we see in the picture. Other than that, I can't imagine driving it anywhere else. Who knows what they were thinking, but again we have seen some very strange vehicles on this list. Why not have a turtle make an appearance, right?
NEXT: Legos! Except, with a motor and wheels.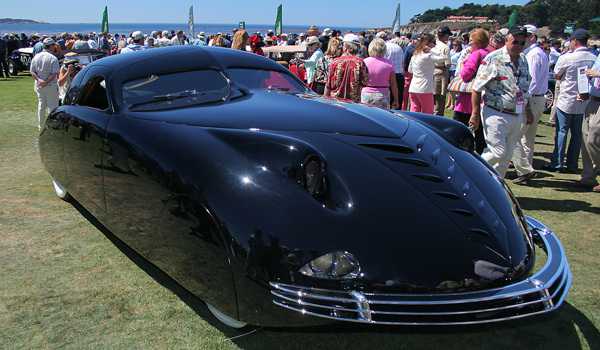 My 9-Year-Old Self's Daydream
This truck was designed with Legos all over it.
NEXT: The Phantom!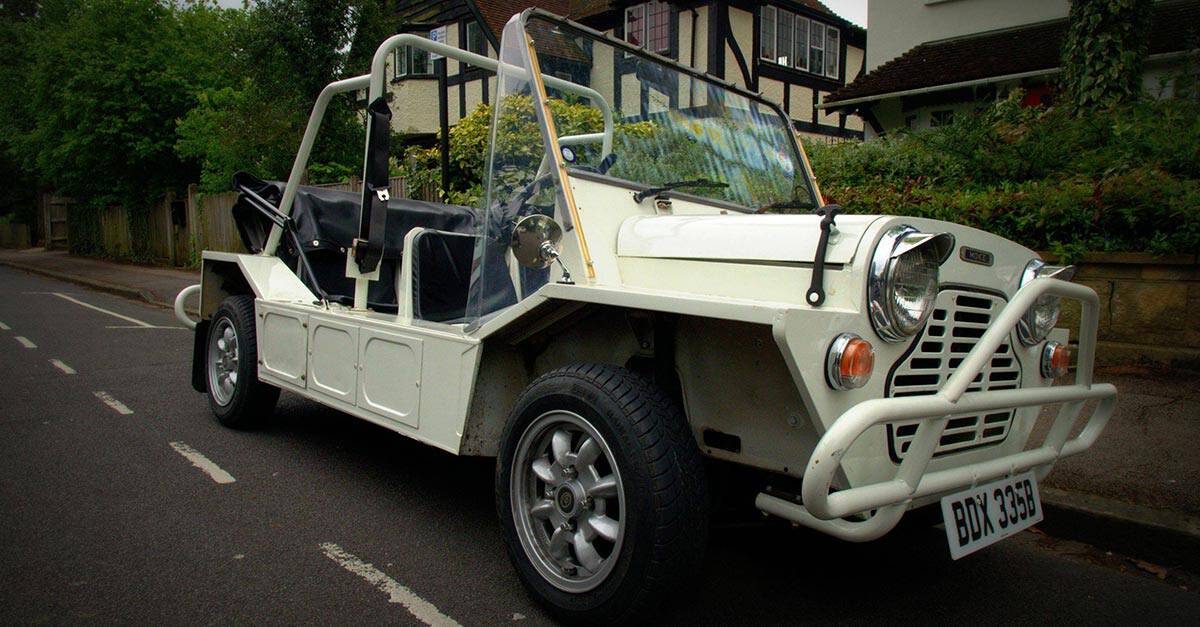 1938 Phantom In All Its Strange Glory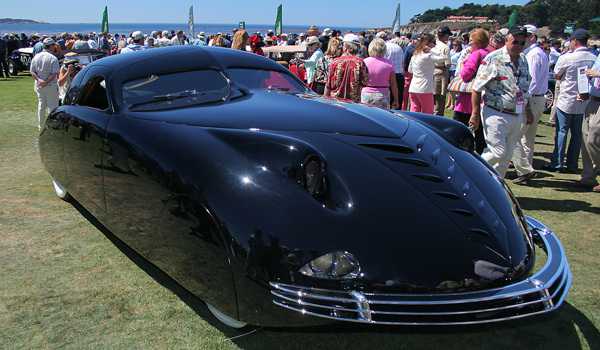 1938 Phantom In All Its Strange Glory
Take a look at this car. If it looks familiar it's for good reason. This is actually a modern version of the classic 1938 Phantom, Corsair. It was originally developed as a prototype, a six-passenger two-door vehicle sedan designed by none other than Russ Heinz. If that sounds familiar, it should. The Heinz family is responsible for the massive amounts of ketchup they produce that we put on just about anything. This vehicle was updated a bit to showcase what defense would look like as a more futuristic, modern type of vehicle. It's pretty impressive. This particular vehicle made its debut at the Pebble Beach classic car show known as the Concours d'Elegance. The show is the climax event for Monterey automobile week and features exhibits, races and all sorts of other events. It's worth it though just to go see a modified classic like this.
NEXT: A European Jeep/tow truck/convertible combo? Interesting…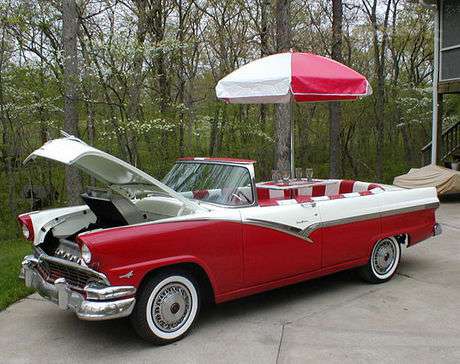 One-Of-A-Kind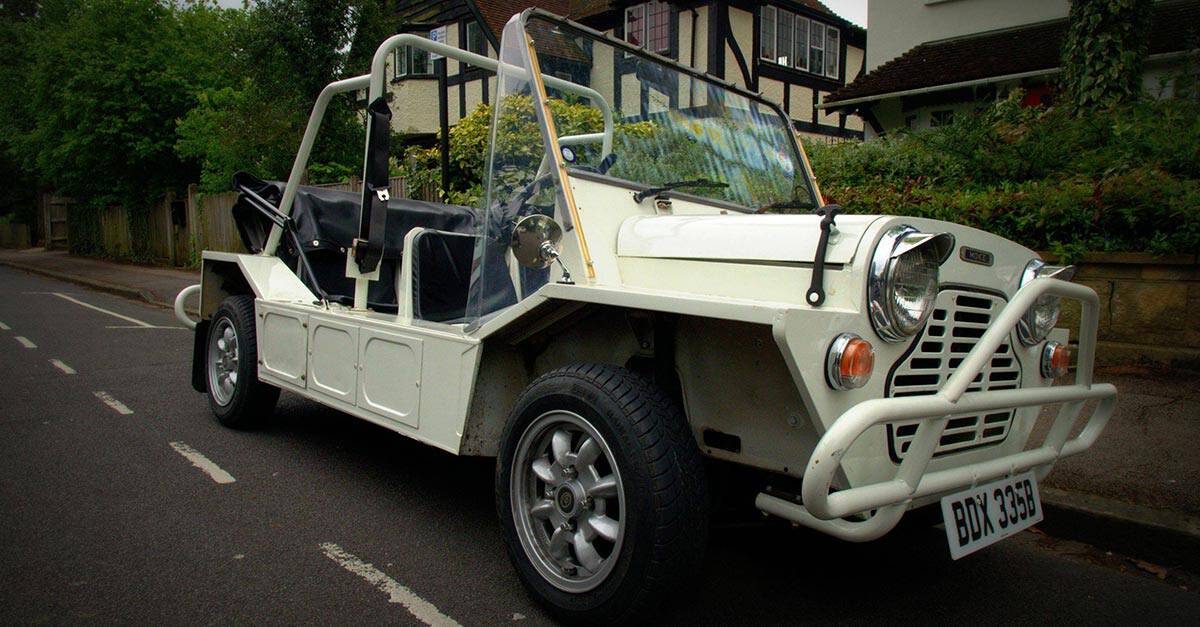 This vehicle looks like the combination of a Volkswagen and a Jeep. We don't know what to tell you about this one, but we know for sure it deserves a spot amongst these strangest cars!
NEXT: A classic 1950s ride with some candy striper vibes…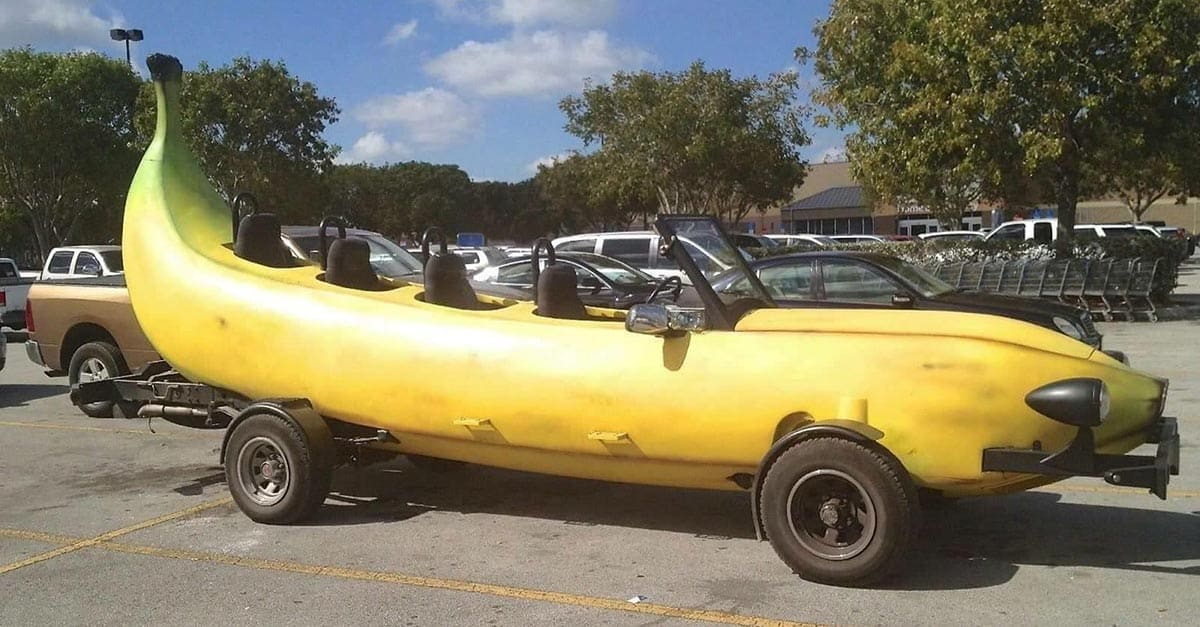 The BBQ-Ready Ride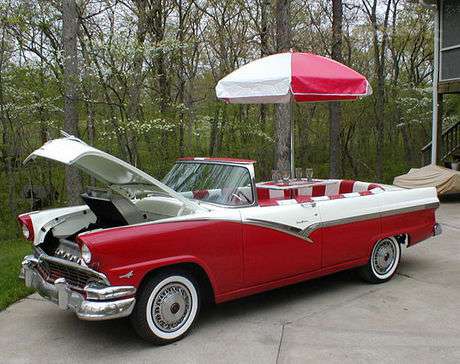 What do you get when you cross a barbecue with the car? You get the world's first "carbeque". Kitschy name, but the vehicle is still clever none the less. This is what happens when you take an old 50s vehicle to a new level. Notice the umbrella shooting up from the center of the vehicle. There's a table as well as seating for five or six people around the interior of the car. Seems easy enough to do, right? Well, maybe so but driving this will be tricky. Take a closer look at what's under the hood. That's no engine, that's a barbecue grill. If you've never seen this type of thing before, well then welcome to my world. I hadn't either. A quick search they will yield thousands of pictures of modified cars turned into barbecue grills. It seems there is a whole community on the Internet that we need to meet because hey, ribs and cars go hand-in-hand. Those are my kind of people!
NEXT: How many seats do you think the 2021 Banana-Mobile may hold?
4-Seater Banana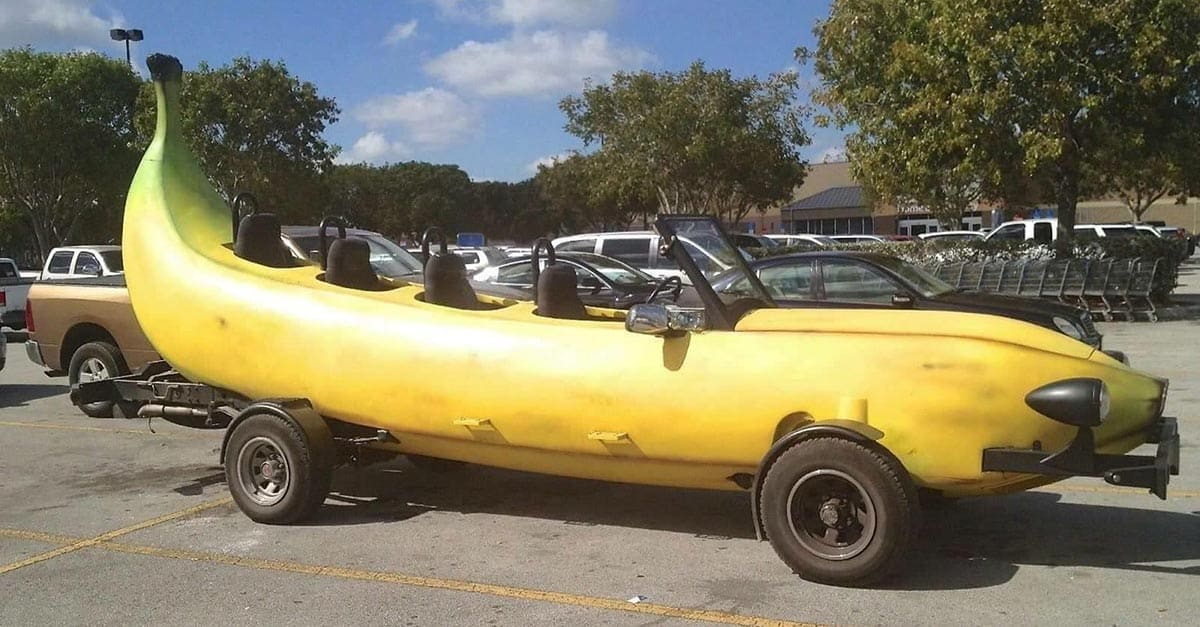 This is a Banana Mobile. Possibly the only thing weirder than the Banana-mobile is the four consecutive rows of single seating. What a time to be alive, huh?
NEXT: Take a picture of this next ride before it takes a picture of you.
Polaroid Van
Okay, so this camera van is made by an individual named Harrod Blank. And I have to say, I'm not sure whether I should be impressed or frightened by this vehicle. The reason I say that is as follows: The van can take pictures of spectators. That's pretty creepy. I understand if you are an exhibitionist and all, but this is taking it to an entirely new level. I don't care if you have fancy-schmancy cameras mounted to the outside of your van to appear innocent, I think it's a bit creepy. A better way to go about this would be to design a custom Canon camera car like Jay Ohrberg. Google it and see what I mean. It's a car made to look like a giant camera. This van has hundreds of cameras all over it, and I would be a bit apprehensive walking past it. Who knows where that picture of me might end up on the Internet. So, as cool as this build is, I would still deduct a few man points for the creep factor.
NEXT: If a door jam could grow and sprout an engine and wheels, it would look like this next car….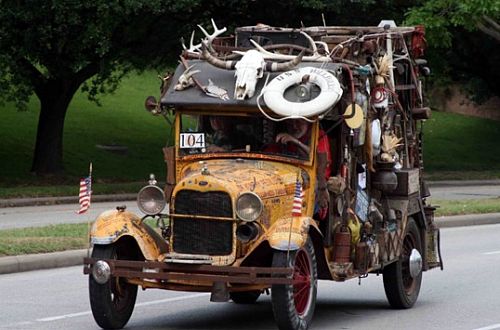 Saphier, The Tilted
Jehle, based in Schaan, Liechtenstein, made a wedge-shaped coupe called the Saphier.
NEXT: One piece at a time. Bit by bit is how this car was built…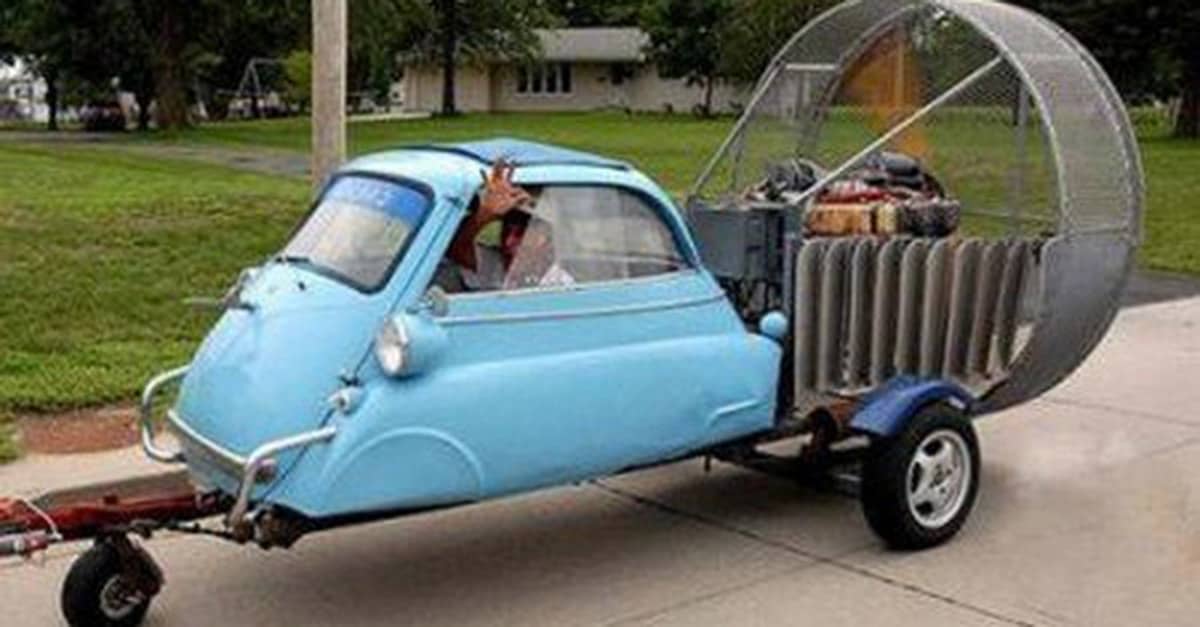 The Kitchen Sink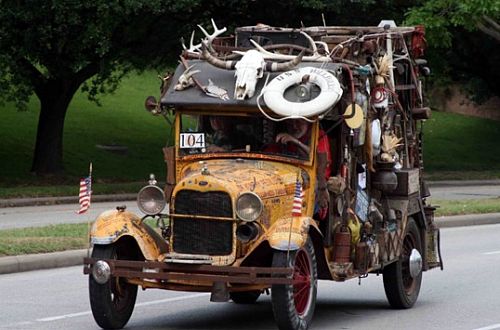 Now this vehicle here is something that the Beverly Hillbillies could be proud. In fact, it would be an upgrade for them. This was featured in the Houston car parade several years ago, and what a showstopper it is. It's what happens when you take an antique 1930s roadster and transform it into a hillbilly Haven, complete with cow skulls, lanterns, and farming implements. It might appear strange, yet it has a certain nostalgia to it. It's the sort of thing that all guys would love to build if we had the time, resources and money to do. Then we could enter it in your own hometown car parade and probably win first prize every time. I'm not sure about Houston though. I would imagine there are several clever cowboys out there that could come up with a few great hot rod junkers or ideas of their own. As for me, this one still gets my vote!
NEXT: What do you get when you put a trailer, a beetle and a boat fan together?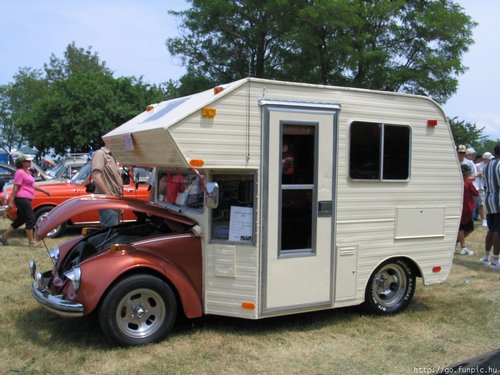 The Isetta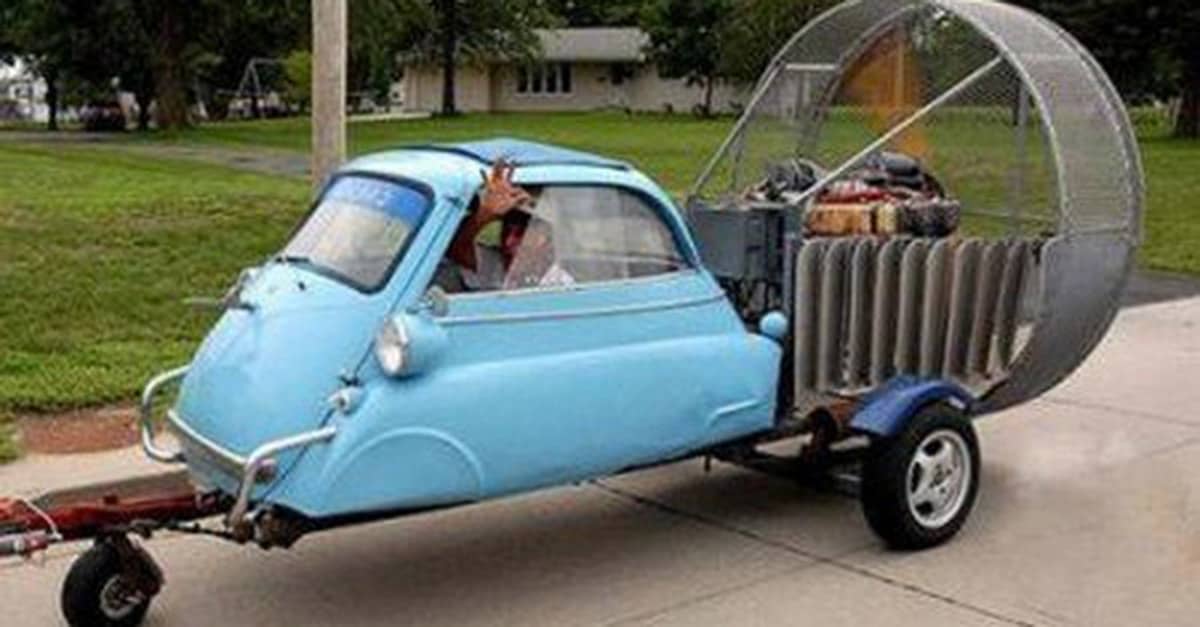 The Isetta is an Italian microcar built in several countries including Argentina, Spain, Belgium, France, Brazil, Germany, and the United Kingdom.
NEXT: Another compact car combined with a mini-camper.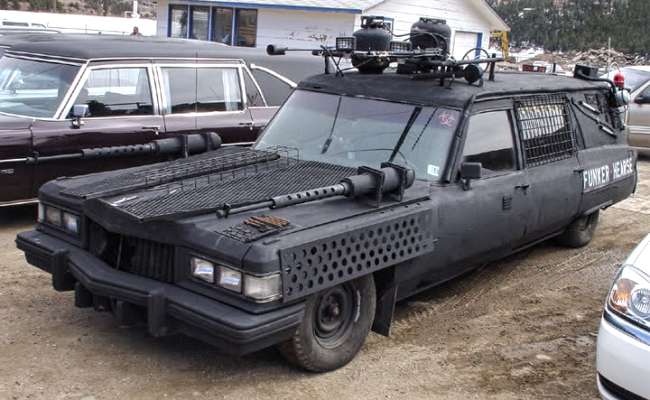 The Beetle Barn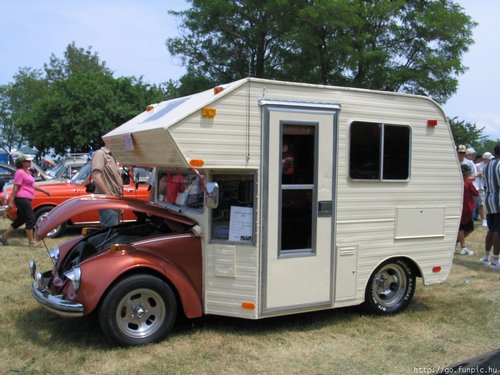 Okay, so we know about Volkswagen Beetles. We also know about Volkswagen buses or vans. However, what if that isn't good enough? What if you want to have your own Volkswagen Beetle turned into a minivan/RV? Well, you simply do with this fellow did. The front half of this bad boy is all Volkswagen Beetle, while the remaining portion is a small travel trailer. Simply mount it onto a standard small wheelbase truck frame and you have yourself a rolling Volkswagen RV on wheels. The build wouldn't be too difficult to perform, it's just finding a place to house the engine that would be tricky. I'm assuming its not in the back where the Beetle engine would normally be, and I'm also assuming that this entire vehicle is not powered by a standard Volkswagen engine. I would imagine you would need a bit more horsepower than that to move this thing down the road. At any rate, it's cool to look at and a very clever idea. Kudos to this guy on a great job.
NEXT: This guy's ready for the apocalypse.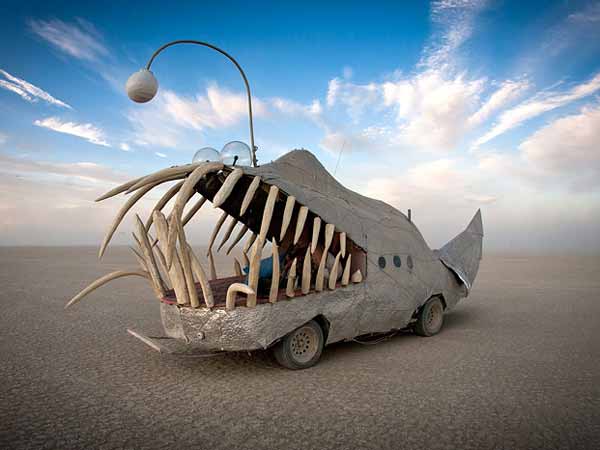 An Old Hearse For New Clients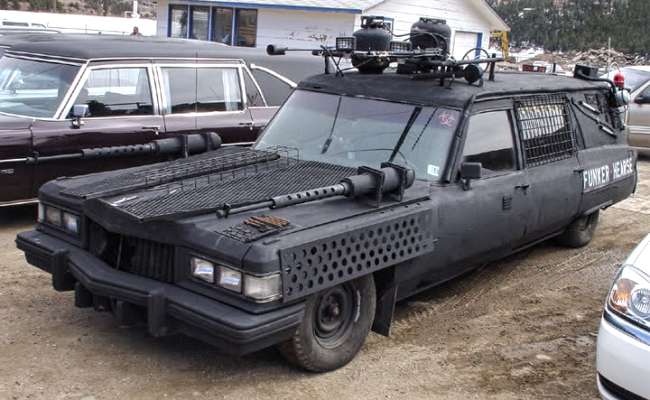 If you have an old hearse lying around, this is a pretty clever use for it. Why not turn it into something that you could take to war if the situation ever presented itself. You might want to make sure those windows are bulletproof, or just keep shooting the whole time you drive. At any rate, it's pretty clever. The guns are obviously fake but crafted to look like military assault weapons. The top of the car is outfitted much the same way but look closely, those are two propane tanks mounted on top. That makes me think you could actually shoot flames from those little nozzles stuck on top. That would be cool, however, I'm not sure it would be legal. Getting back to my first statement, that would be cool! No zombies would come near you for 50 yards or so if you were cruising around in this thing. It is bad to the bone and since it's a hearse, you can load your fresh kills in the back. Yes, I just said that, but you didn't hear it from me if asked!
NEXT: A fish from the bottom of the ocean, resurfaced…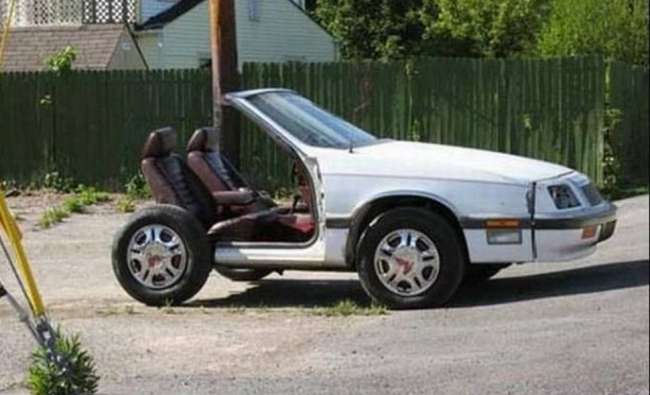 The Jaws of Life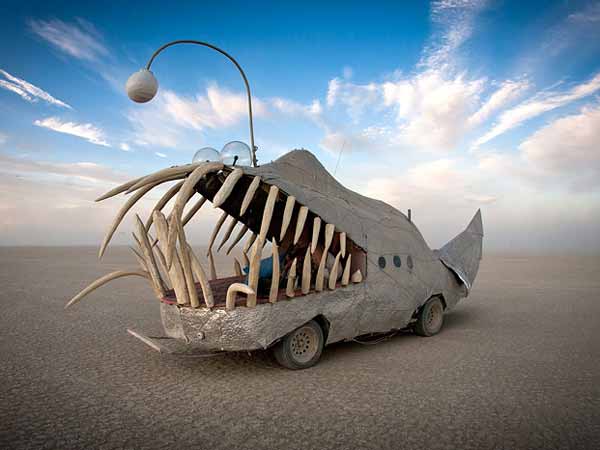 So if you go to the Burning Man Festival you are guaranteed to see some pretty phenomenal things. It's very hard to describe it unless you've been there. Most people would say there are a little more than 50,000 like-minded individuals gathering together for a week of revelry, entertainment and good-natured fun in the Black Rock Desert located in Northern Nevada. Yeah, that's how they would describe it. It's all about radical self-expression, and this vehicle is one way they do it. This car featured one year at the festival is one of many actually. They are known to hold small parades and cruise around at about 15 mph or so to express themselves and let the crowd be amazed at their creations. To me, the car just looks like an angler fish, nothing more. But then again, I'm not Burning Man material.
NEXT: What in the world happened to the back of this ride?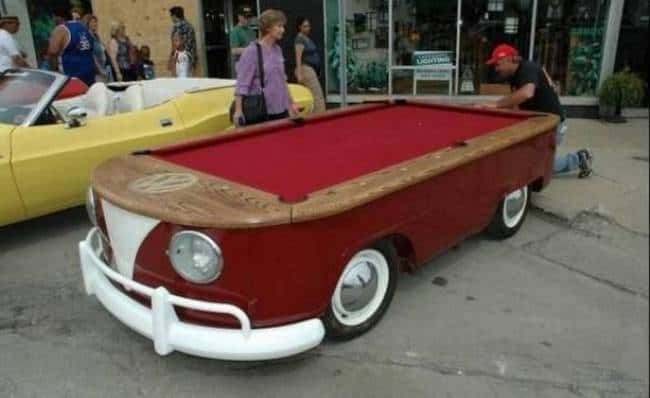 Bye Bye Rear End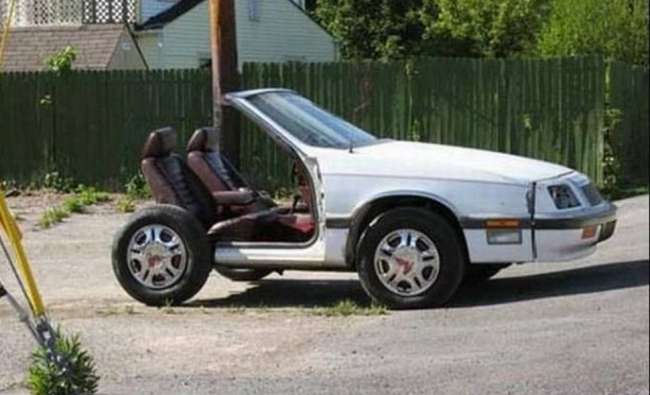 So your friends tell you that your car is too old and you should just take it to the junk pile. They tell you that it's too rusty and you might as well scrap it. But not you. No, my friend, you are a real trooper. You know there is plenty of life left in that car and all you have to do is remove the rust. Evidently, that's what this individual did and they succeeded. They also had to remove the entire back half of their vehicle, and can only drive it when the sun is shining, but we give them five-lifetime endpoints for their audacity. They refused to say goodbye and kept this car alive! For what purpose we are not sure, but they did keep the car alive and there's something to be said for that. Just make sure you wear your seatbelt if you ever find yourself in this one. Failure to do so would almost certainly find you airborne around every turn or bump in the road.
NEXT: Wanna play pool?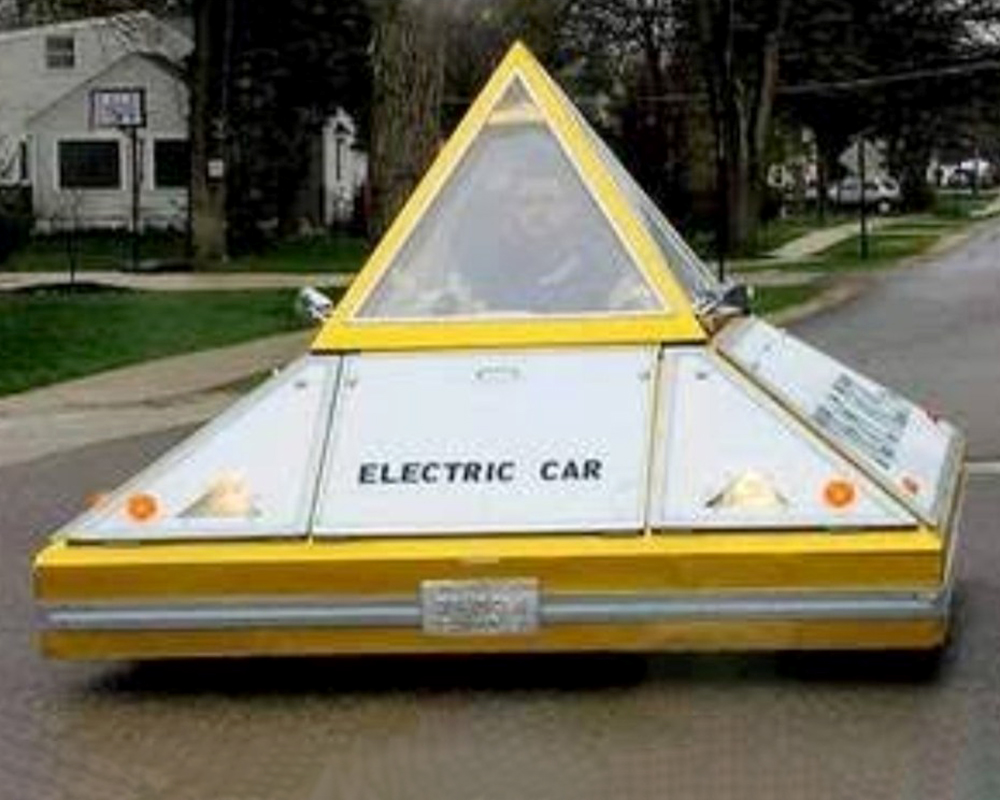 The Best of Both Worlds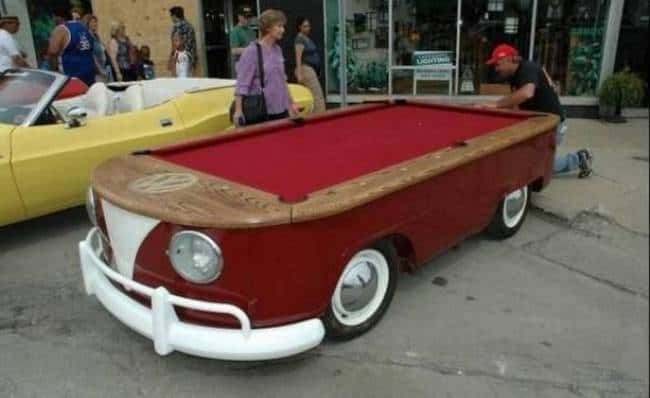 What could be better than being a Volkswagen bus enthusiast and an avid pool player? Combining the two, that's what. This guy did an excellent job at that. This custom build started off in Seattle and began its life as a 1965 microbus. The top half was chopped off and the entire structure was shortened a bit so it could accommodate a regular size pool table. As for attention to detail, notice the badge towards the front. That's pearl inlay, and the side rails of the pool table are all mahogany. The headlights work, so long as you have an outlet nearby. However, the vehicle itself does not work anymore, yet it is still registered as a trailer. All the necessary storage compartments are underneath so you can take your pool game on the road. The cost? A measly $8,200. Not bad for a pool on the go!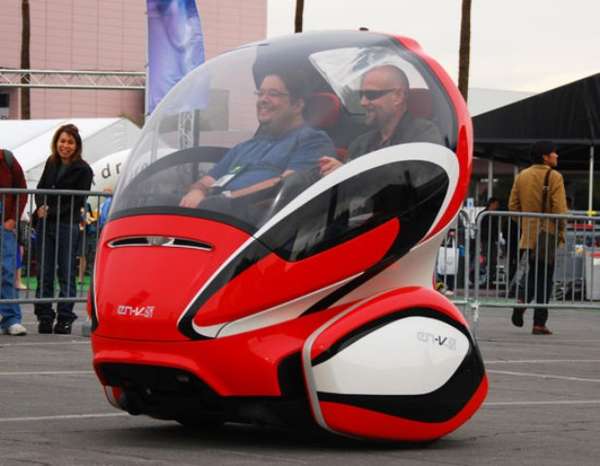 Electric Pyramid Car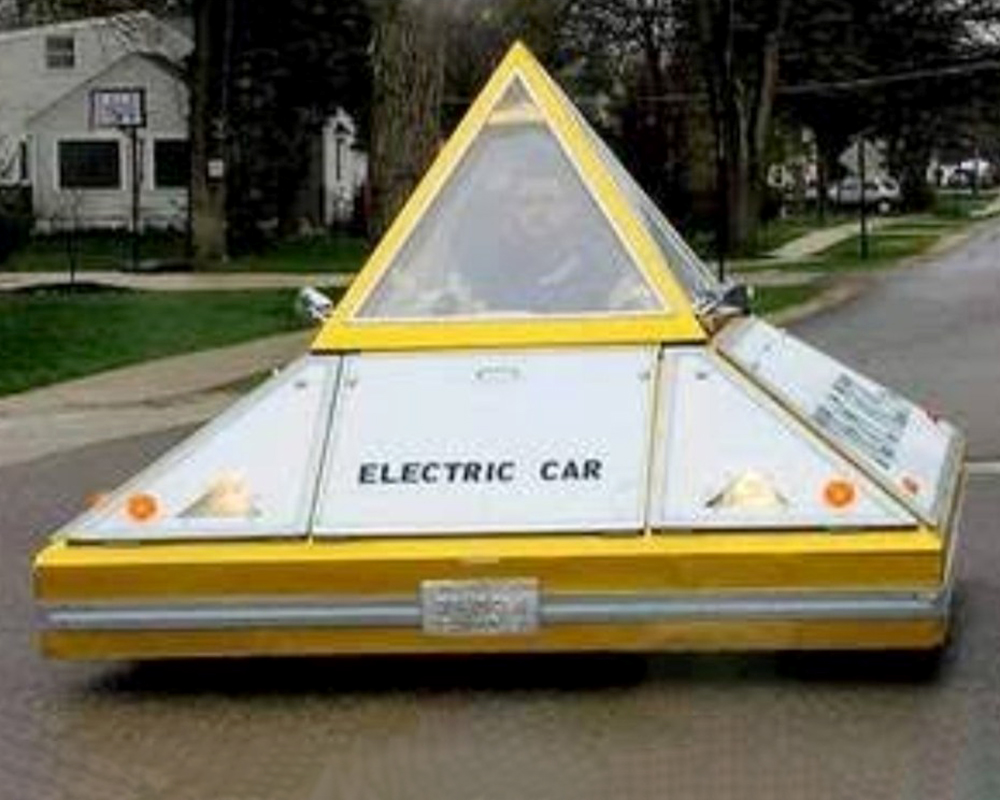 From a car that can climb walls to one that looks like a giant hamster wheel, you won't believe the creativity of these engineers and designers. So if you're a car enthusiast with a love for the strange and unusual, this is the article for you. Keep reading to discover some truly one-of-a-kind vehicles.
NEXT: The weirdness continues…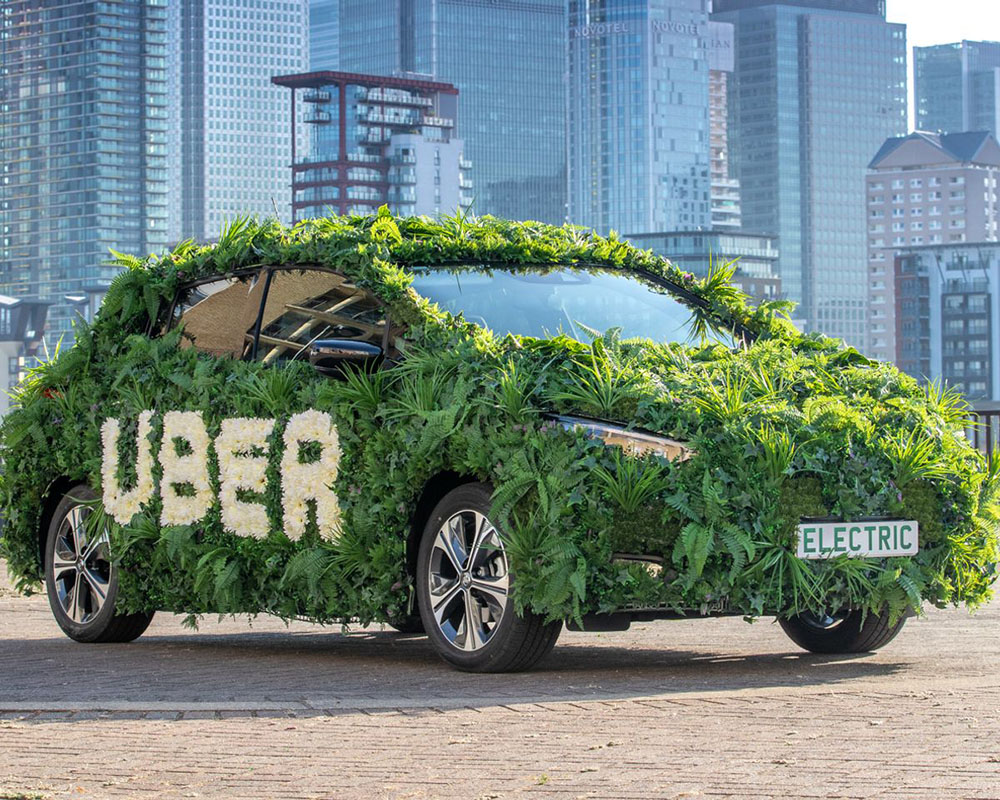 Future Buble Car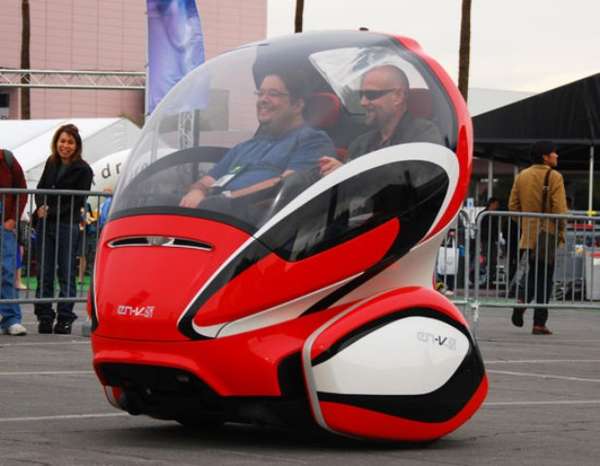 From a car that can climb walls to one that looks like a giant hamster wheel, you won't believe the creativity of these engineers and designers. So if you're a car enthusiast with a love for the strange and unusual, this is the article for you. Keep reading to discover some truly one-of-a-kind vehicles.
NEXT: The weirdness continues…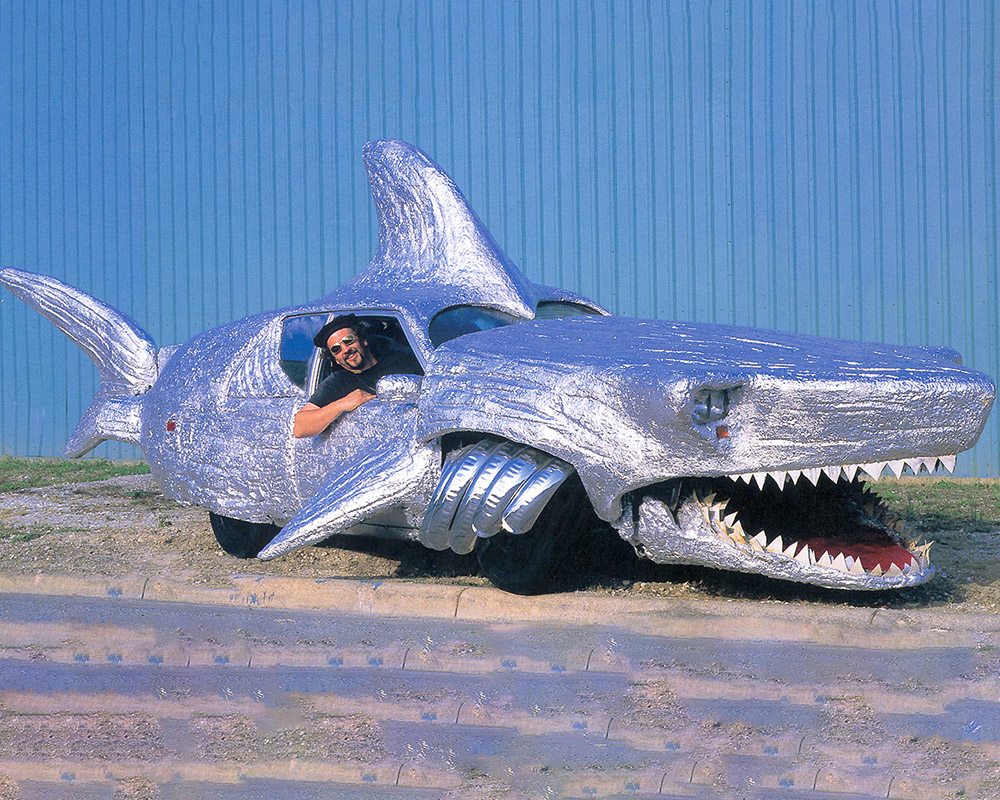 Uber Going Green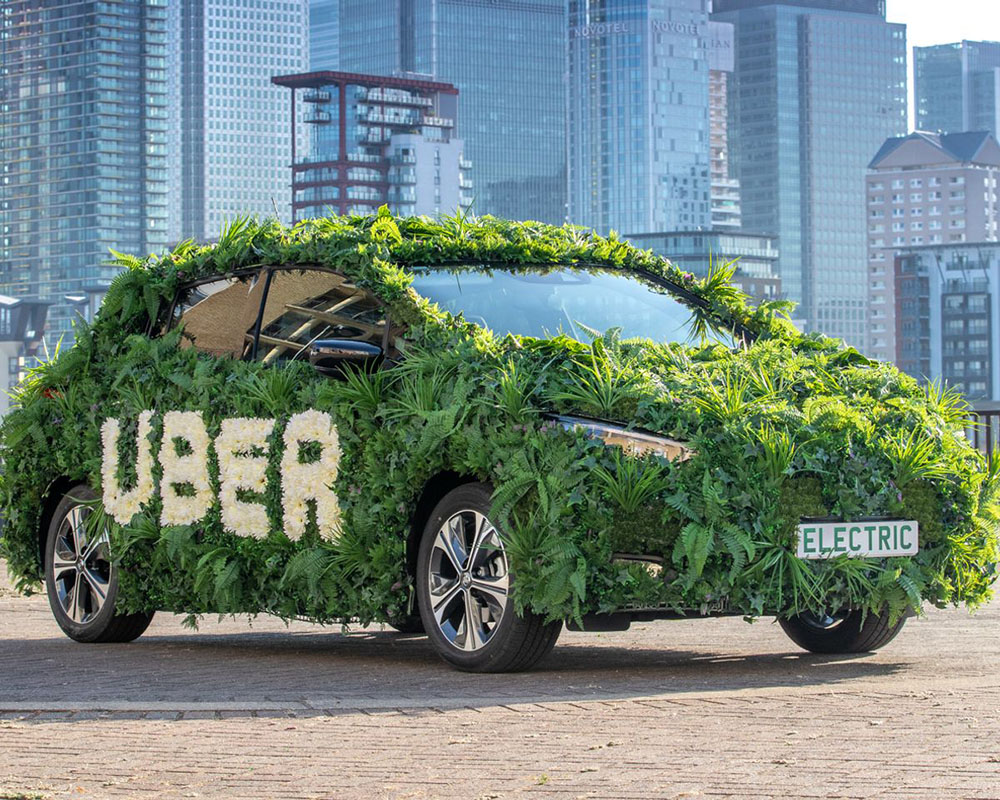 From a car that can climb walls to one that looks like a giant hamster wheel, you won't believe the creativity of these engineers and designers. So if you're a car enthusiast with a love for the strange and unusual, this is the article for you. Keep reading to discover some truly one-of-a-kind vehicles.
NEXT: The weirdness continues…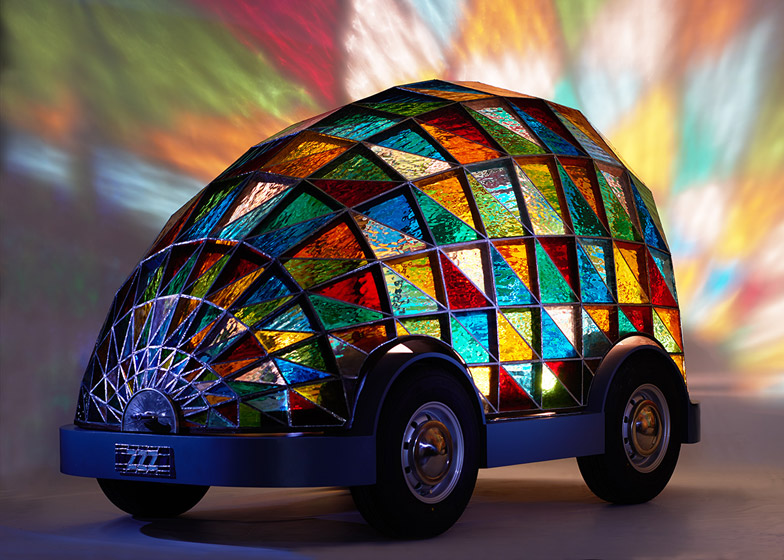 Tarrifying Shark Car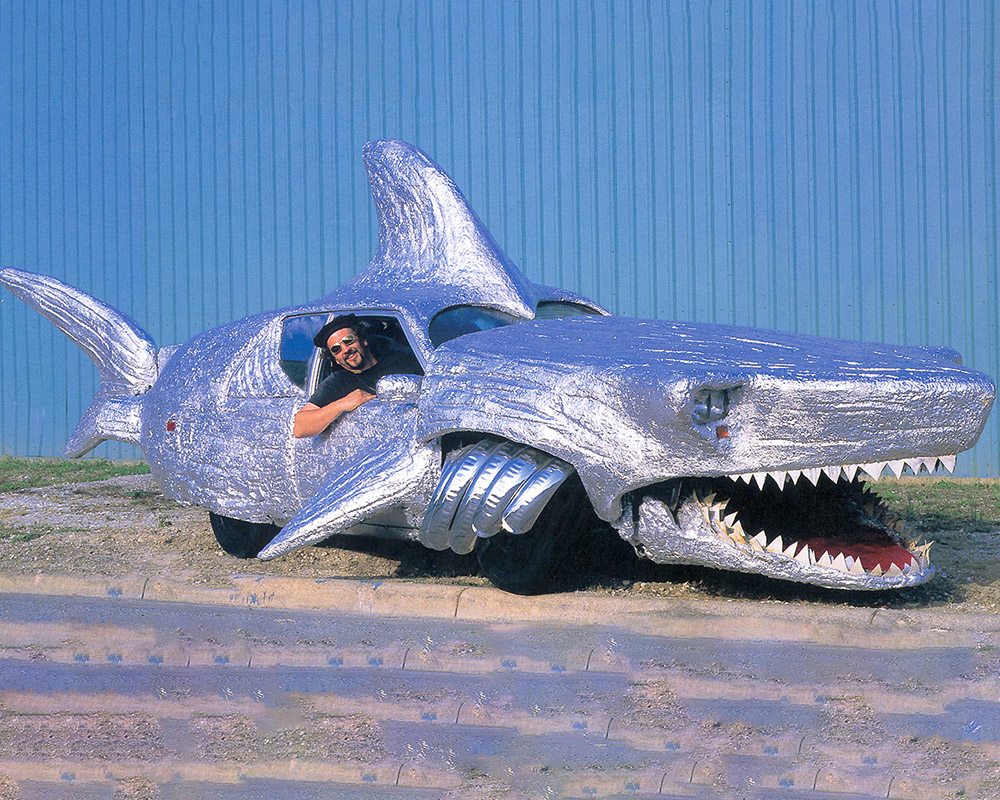 From a car that can climb walls to one that looks like a giant hamster wheel, you won't believe the creativity of these engineers and designers. So if you're a car enthusiast with a love for the strange and unusual, this is the article for you. Keep reading to discover some truly one-of-a-kind vehicles.
NEXT: The weirdness continues…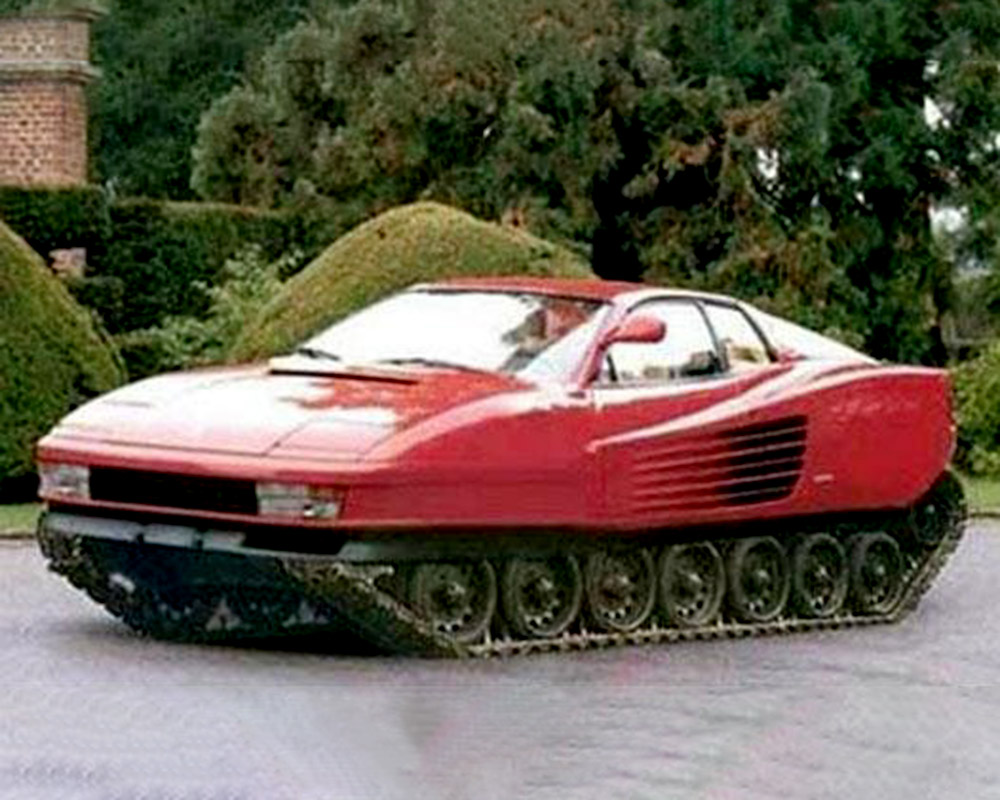 Mosaic Art Car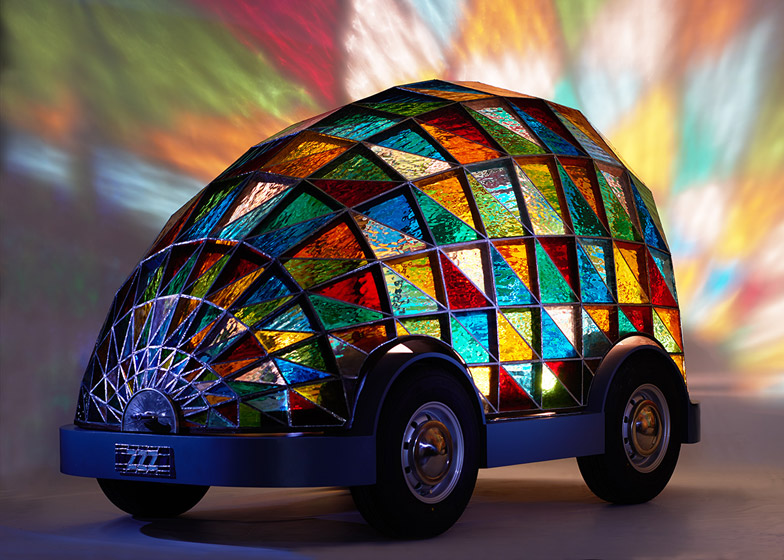 From a car that can climb walls to one that looks like a giant hamster wheel, you won't believe the creativity of these engineers and designers. So if you're a car enthusiast with a love for the strange and unusual, this is the article for you. Keep reading to discover some truly one-of-a-kind vehicles.
NEXT: The weirdness continues…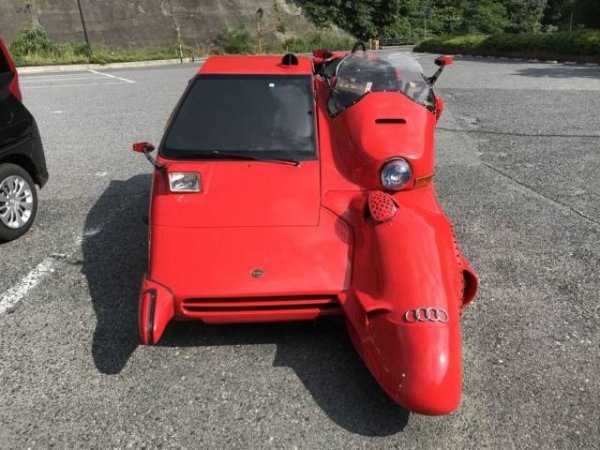 Lambo Tank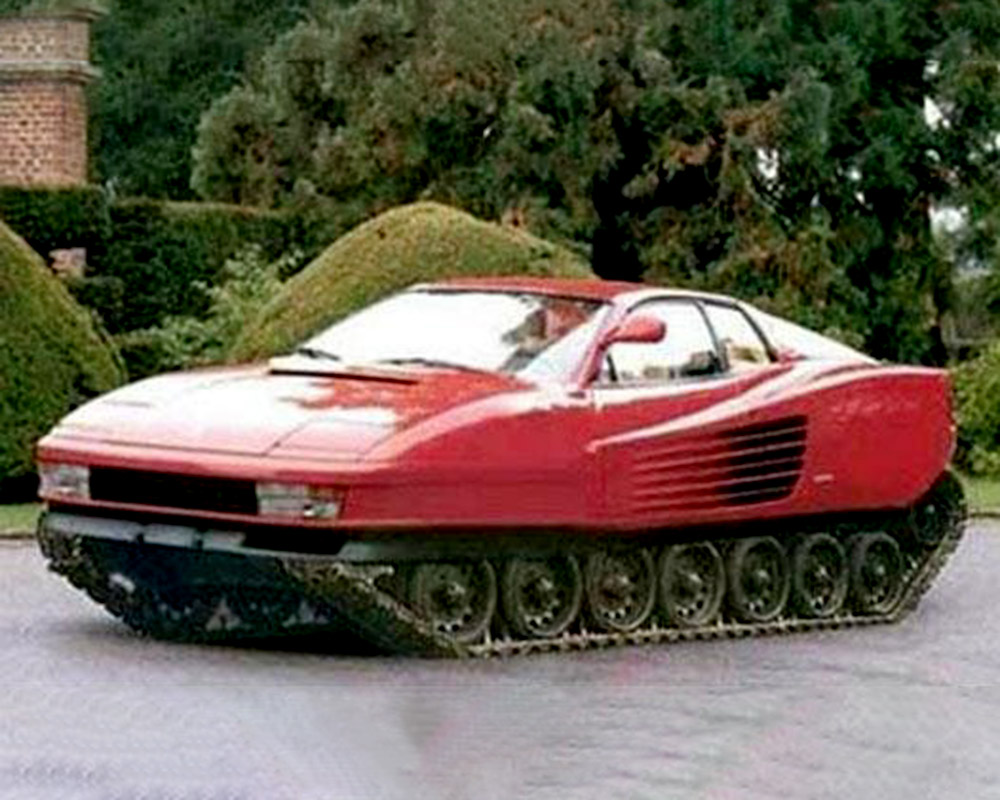 From a car that can climb walls to one that looks like a giant hamster wheel, you won't believe the creativity of these engineers and designers. So if you're a car enthusiast with a love for the strange and unusual, this is the article for you. Keep reading to discover some truly one-of-a-kind vehicles.
NEXT: The weirdness continues…
Motorcycle Car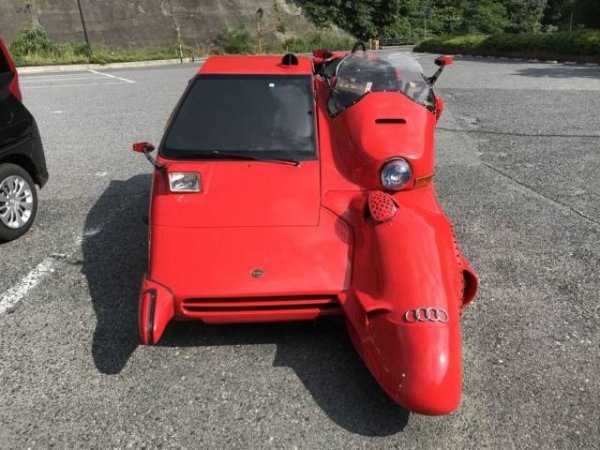 From a car that can climb walls to one that looks like a giant hamster wheel, you won't believe the creativity of these engineers and designers. So if you're a car enthusiast with a love for the strange and unusual, this is the article for you. Keep reading to discover some truly one-of-a-kind vehicles.