Monster Trucks are one of the rare forms of machine that a crowd gains pleasure from when a wheel flies off, or when smoke billows out of the engine. If you've ever been to a Monster Jam – you know how insane these oversized trucks truly are. Enjoy this list of monster trucks, and pick your favorite!
Alien Invasion
This is a custom monster truck owned by FELD Entertainment. It debuted in 2016, driven by Chad Tingler, who had been the driver of Grave Digger. The body style is unique and isn't based on any particular make or model of truck. Alien Invasion has appeared in four World Finals, most recently in 2019. There are a total of fifty feet of green LED lights running through the truck.

Blue Thunder
Blue Thunder may not have won a championship yet, but that doesn't mean it isn't successful. In fact, it's placed in the finals every year since it's debut in 2001. Blue Thunder was originally built as part of Ford's "Ford Tough" campaign. If you've ever thought that Blue Thunder looks a lot like an F series truck, that's intentional. In fact, the body style of Blue Thunder was always meant to be updated for each model year, so that it always resembled the current line of F series trucks.

El Toro Loco
El Toro Loco was originally Bulldozer. The Crazy Bull made it's first finals appearance in 2003, losing the race but earning second place in the freestyle. It was a co-champion in the 2004 freestyle with Madusa. There are seven monster trucks being driven for the team currently, one of which is being run in the Monster Jam Fire and Ice competition, in which the truck is actually driven on ice. The engine is a 540 cubic inch Merlin big block, with a Coan 2-speed transmission.

Avenger
Piloted by Jim Koehler, Avenger was created in 1997. The original truck was forest green with a Chevrolet S10 body. Eventually, that body was replaced with a Chevrolet BelAir body. Avenger is the only truck (and Koehler the only driver) to complete in every Monster Jam World Finals. Jim won his first title in 2003. Aussie Avenger, debuted in 2009 for the Extreme Monster Trucks Australia tour. That truck was bright orange.

Lucas Oil Crusader
Crusader is a newcomer- it debuted in 2011. Lindsey Weenk, former driver of Blue Thunder, is Crusader's driver. Crusader is notable for very nearly winning the finals in it's debut year. It made it to the semi-finals before being defeated by Maxmum Destruction. In 2012 Linsey was the first driver to land two backflips in a single freestyle run. Crusader has appeared in a total of seven world finals since 2011, making it one of the most successful trucks in recent years.

Bigfoot
Bigfoot started out as a 1974 Ford F 250. Bob Chandler, the owner, began modifying it in 1975. Bigfoot is considered to be the first Monster Truck, having been modified to that point by 1979. The name Bigfoot has been used for many monster trucks in the years since then. Chandler found that the auto shops in his area almost never carried the parts he needed to repair his banged up truck after racing it. He and his wife opened up a shop named Midwest Four Wheel Drive and Performance Center, which would remain Bigfoot's headquarters until 2015. Team Bigfoot has won a total of 41 championships, making it one of the most successful monster trucks, in addition to being the original.

Bulldozer
Bulldozer was one of the first monster trucks to have a 3-D body shell. The horns sticking out of the roof resembled El Toro Loco. The truck debuted in 1997 as a promotional truck for Smoke Craft jerky. Bulldozer appeared in four finals over the course of its career, before being converted to El Toro Loco in 2009.

Captain's Curse
Captain's Curse was created by Monster Jam in 2007, with a red and black pirate paint scheme. Captain's Curse won the World's Final freestyle that year with Pablo Huffaker behind the wheel. At World Finals X, Captain's Curse lost it's brakes during the final run, which cause the truck to flip. It eventually landed in the stands of Sam Boyd Stadium, although thankfully no one was injured. The truck experienced constant success after that until being eventually replaced by Pirate's Curse in 2016.

Monster Mutt
Monster Mutt debuted in 2003. It was originally styled after a 1950 Mercury, though it has a custom body now. The truck is painted brown, with two ears coming off the roof. One of the most successful trucks, Monster Mutt has competed in the World Finals every year since it's debut. Since 2010, all of the Monster Mutt fleet has three dimensional teeth on the body, as well as three dimensional studded collars. There are also Rottweiler and Junkyard Dog versions. All have 540 cubic inch Merlin engines.

Maximum Destruction
Maximum Destruction was created in 2000 as part of a partnership with World Champion Wrestling to create monster trucks based on professional wrestlers. Tom Meents, who had risen to fame driving Bulldozer, was contacted to build and drive the truck. Meents, driving Maximum Destruction, won the first Monster Jam World Finals in 2000. The truck was named Maximum Destruction in 2003, having run as Goldberg prior to that. In 2005, Meents jumped Maximum Destruction over his old house, before destroying it with the truck.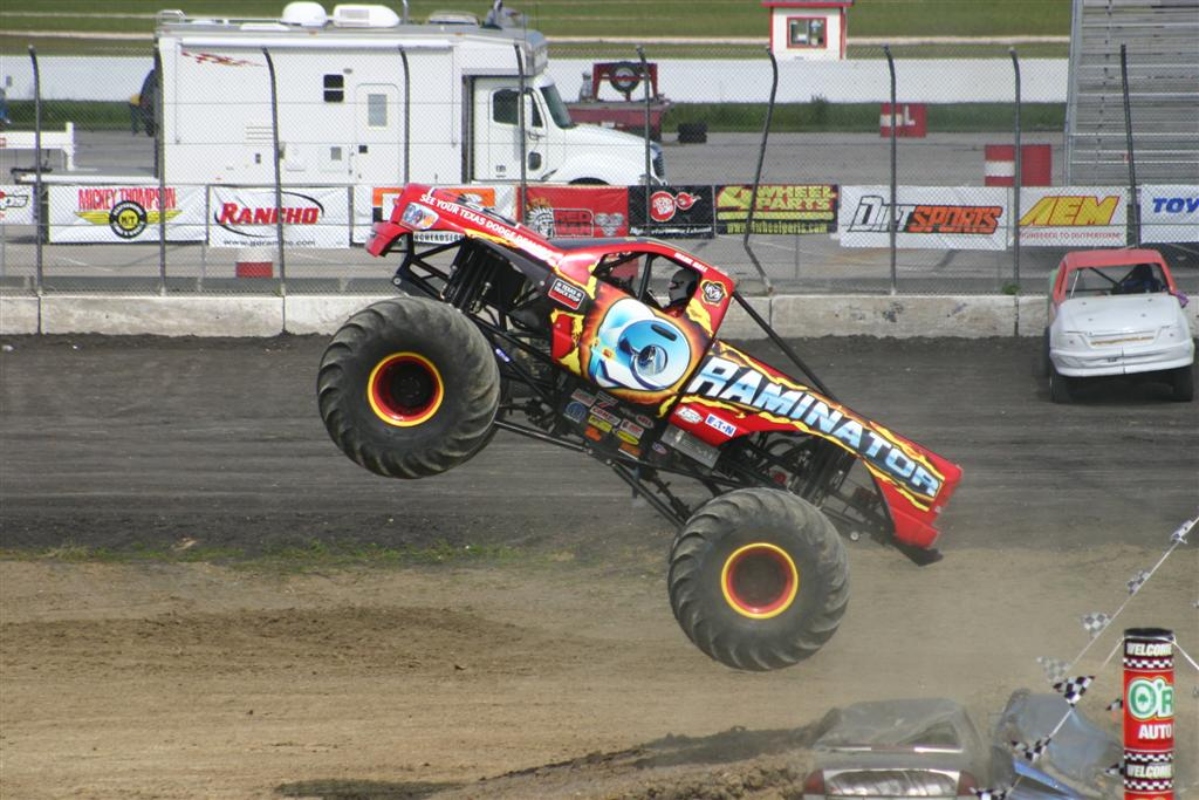 Mohawk Warrior
Mohawk Warrior debuted in Las Vegas in 2010. The body is a 2011 Cadillac Escalade, and was one of the first trucks to feature decoration on the roof- a giant mohawk. It's first finals appearance was in 2011, driven by George Balhan. It also made the finals in 2013, and 2013. Since 2017, it's been known as the Great Clips Mohawk Warrior. The engine is a 540 cubic inch Merlin big block, with a Coan 2-speed transmission.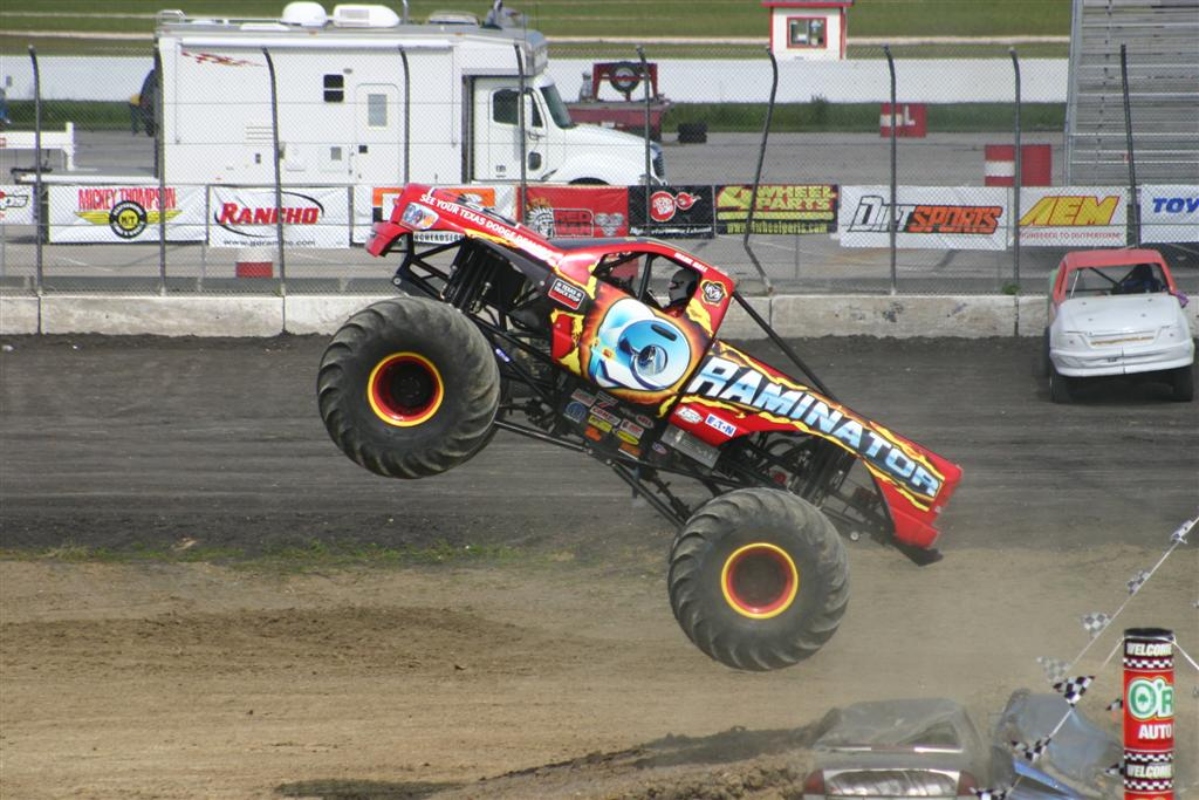 Raminator
The Raminator is, unsurprisingly, sponsored by RAM. It debuted in 2002 and currently is styled after the 2018 RAM trucks. The factory backing of Raminator allows for engine performance gains that are essentially unmatchable for most monster trucks. The extra horsepower has lead to some spectacular freestyles, although the drivers are more conservative than most Monster Jam drivers. The team is proud of that conservatism, and many fans who don't like Monster Jam are avid Raminator fans.

Bounty Hunter
Bounty Hunter is a Ford Expedition monster truck owned by 2Xtreme Racing. It won the 2005 Monster Jam World Finals Freestyle championship, and has been one of the most successful monster trucks in the 2000s. It debuted in 1995 as a yellow Ford F series, and has undergone several facelifts since then. The Ford Expedition body debuted in 2002, and it's kept the Expedition styling ever since. Other teams have also used Bounty Hunter over the years, but none as much as 2Xtreme Racing.

Zombie
Zombie debuted in 2013, and has been a fan favorite ever since. People often show up to races dressed as Zombies to show their support. It competed in the World Finals in 2013 and 2014, though it didn't win either time. The team expanded to two trucks in 2015, and has four to five trucks in the team depending on the year. At one point, each truck used different paint shemes and decorations, but at the moment they're all identical except for the Fire Zombie.

Black Pearl
Black Pearl is run by Over Bored Motorsports. It was originally styled after a 2014 Chevy Silverado, but has been updated to a 2017 Chevy SIlverado Z71. It has a 540 cubic inch Merlin big block engine, with an FTI performance transmission. The Black Pearl will be competing in Stadium Tour Red in 2020.

Snake Bite
Snake Bite is actually not a separate truck, but an alternate name used for Bigfoot trucks when two are appearing at the same event. This was done first in 1991 to promote a Hot Wheels toy, and it was the first monster truck to have a 3D character body. Other than that, there's little difference between Snake Bite and Bigfoot.

Swamp Thing
Based on a 2004 Ford F-350 Super Duty, and named after a trip to the Everglades, Swamp Thing has made it to EMTRC Champions competition five times, never placing higher than 2nd. The engine is a methanol injected 540 cubic inch tall block with a BDS supercharger.

Iron Outlaw
Another one of 2Xtreme's trucks, Iron Outlaw's glory days were 2005-2007, when it was invited to two Monster Jam World Finals. The body is a 2005 Ford Expedition, and the engine is 540 cubic inch blown alcohol with a Hughes Performance 2-speed powerglide transmission.

Jailbird<
Jailbird is a Ford F-150 modified into a monster truck. It's owned by Darren Migues, who has his daughter, Kaylyn, driving it. Jailbird's debut was in 2016, but it didn't appear in Monster Jam until 2017. It won it's first title as part of the Monster Jam Arena Tour in 2018 in Florence, South Carolina. Jailbird traveled to India in 2019 as part of the Monster Jam Experience tour. It has a 542 cubic inch Chevy engine with a Reid 2-speed transmission.

El Diablo
El Diablo was a custom truck owned by FELD Entertainment. El Diablo debuted in 2013 with a classic Chevy body on a Grave Digger chassis. The 3D devil body and a new chassis came a year later in 2014. In 2016, Lupe Soza took over the driving responsibilities and an all-new chassi was debuted. That year the truck completed its first backflip competition in Anaheim. El Diablo's final show was in October of 2016 in Glendale Arizona. The chassis was used for the new Wonder Woman truck.

Stone Crusher
This is a Ford F-250 Super Duty Monster Truck, owned by Monster Trucks Unlimited. It mate its debut in 2005, and has appeared in multiple Fox Sports 1 Championship events since then. The original truck was sold to Spain in 2018, and renamed Race Monkey. It has a 572 cubic inch Ford performance big block engine with a 2-speed FTI performance powerglide transmission.

Predator
Predator is part of the Predator racing team, which includes three other trucks. They mainly compete on the USHRA Monster Jam circuit, and are owned by Allen Pezo. Predator was Pezo's first monter truck. He built it from a 1985 Chevy Silverado when he was just 15 years old. Originally it was named Lone Eagle, but he rebodied it with a 1988 Silverado and renamed it Predator at that time.

Maniac
Maniac is a Ford F-150 owned by Don Frankish. Dave Smith has been leasing and driving the truck since 2016. Frankish first created the truck in 1994 and raced it himself until 2011. While the body is a Ford F-150, the engine is a 540 cubic inch Chevy.

Cyborg
Cyborg is the only two-wheel drive truck in the USHRA Monster Jam series. It also has an independent front suspension, as the drive is a rear-wheel drive. The two wheel drive is a major disadvantage and means that Cyborg has much more trouble with obstacles than most of the monster trucks on the circuit. It's a distinctive look, though, and the front suspension is something a lot of other teams have shown interest in.

Bear Foot
Bear Foot, currently owned by Paul Shafer, was one of the very first monster trucks, along with Bigfoot. It won championships in 1990, 1992, and 1993. It was originally a Chevy, but was rebodied to be a Dodge in 1992 as part of a factory sponsorship deal that lasted until 1997. For years, Bear Foot was Bigfoots biggest rival, and their matches drew huge crowds. After 1997, Bear Foot was largely retired from racing, although it still runs for Shafer's own promotions.

Bad Medicine
Bad Medicine had a short career, only running on the USHRA circuit from 1991 until 1992. It's most famous for it's incredible crash in it's very first race. Driver Don VanLoo was knocked unconscious in a bad landing while his foot was on the gas, cauing the truck to ram into a wall under full power. No one was injured, though. Still, Bad Medicine continued to develop a reputation for being somewhat uncontrollable, including one incident in Niagara Falls that caused the death of one of the track crew.

Black Stallion
Black Stallion started in 1982 as a stock Ford F350. It's first modification was 12 inch lift kit- homemade, since kits like that weren't commercially available at the time. Black Stallion has appeared in five world finals, most recently in 2008, though it hasn't won any of them yet. Michael Vaters owns, created, and pilots Black Stallion. The current engine is a 540 C.I. Ford Racing block, fuel injected, with a 3-speed Ford C6 transmission. Vaters was one of the first people to realize that Monster Trucks would shift to racing in the early 1990s, and modified Black Stallion for that purpose early.
Arachnophobia
Arachnophobia ran from 2003-2010. It was a Chevy S-10 driven by Scott Anderson. It was sold to Paul Strong in 2011 to become Heart Breaker. It had a 427 Chevy alcohol blown injected engine with a 3 speed turbo 400 transmission. The truck was retired in 2011.

Master Sgt. Scott Reed, U.S. Air Force
Air Force Afterburner
Afterburner was sponsored by the US Air Force and ran on the United States Hot Rod Association Circuit. It debuted in 2006 with a 1,465 horsepower Merlin 540 engine. In 2009 it won the Monster Jam World Finals X freestyle. The Air Force dropped their sponsorship in 2011, and the driver, Damon Bradshaw, moved to the Monster Energy Team. Afterburner used a Cadillac Escalade body.

Advance Auto Parts Grinder
Grinder was owned by FELD Motorsports and sponsored by Advance Auto Parts. It debuted in 2009 using a Ford F-150 body with a 540ci Merlin engine. It competed on the Monster Jam circuit from 2009 to 2013. It made it to the World Finals in 2009, where it tied for first place. It's last run was on December 7, 2013. After that, the Grinder trucks were converted into different trucks.

Monster Mutt Dalmation
Created in 2007 as a spinoff of the Monster Mutt, Dalmation has been a Monster Jam stable for twelve years now. It's been in every World Finals since 2007, making it a remarkably successful truck. It's also unique in that it's been driven almost exclusively by women, with only three male drivers in it's twelve year history, each of whom has only driven the truck once. The next time someone thinks women aren't interested in Monster Trucks, just have them watch Dalmation.

Sudden Impact
The flagship truck for Sudden Impact racing was created and raced by John Seasock for years until he sold the team. It debuted in 1991, but didn't make it to a World Finals until 2000. Still, it appeared in four straight world finals, from 2000 until 2003. Sudden Impact was the first truck to include a driveline blanket made of Kevlar. This wraps around the drive shaft to ensure that if it breaks the parts won't fly off into the crowd and injure anyone.

Towasaurus Wrex
One of the only monster tow trucks out there, Towasaurus Wrex races in the US and abroad. The body is a 1946 Chevy tow truck. It has a 428ci Chevy engine with a 400 turbo T.C.I. converter transmission.

Soldier Fortune
Soldier Fortune is driven by Kayla Blood. The truck is designed as a dedication to the men and women of the US Military. It made it's debut in Miami in 2013. The body resembles a Warthog from the Halo video games. It's appeared in three Monster Jam World Finals, from 2015-2017, and 2019. It has a 540ci Merlin engine with a 2-speed Coan transmission.

Time Flys
Time Flys is a 1934 Ford Pickup monster truck. It debuted in 2009 and made an appearance at World Finals 10 in a black paint scheme. It debuted with a yellow paint scheme in 2018, but a series of accidents, including several breakdowns, a blown motor and a broken axle, have caused many to claim that the yellow paint is bad luck.

Whiplash
Whiplash is a Willys monster truck that debuted recently, in 2018. It experienced immediate success, making it to Monster Jam World Finals 19. The body is a 1941 Willys truck and it has a 540ci Merlin engine with a Coan 2-speed transmission. It made another Finals appearance in 2019.

Stinger Unleashed
Originally known simply as Stinger, this truck debuted in 2011. The body style is a Ford Raptor, but the chassis has been updated and changed several times during it's career. The rear end is custom and built to look like a scorpion tail. While it's been a fan favorite since 2011 and won several Monster Jam competitions, Stinger has yet to be invited to a Monster Jam World Finals. That's done nothing to diminish the fans love for it, though, and it remains one of the most popular monster trucks.

Storm Damage
Storm Damage is a Chevy monster truck that's been an East Coast icon since it's debut in 2006. This truck also ran as Zombie and Fire Zombie in 2018 and 2019. While it's maintained it's general look, it has seen several upgrades to the body and chassis over the years. It currently has a 526ci Stouffer engine with a 2-Speed Powerglide transmission.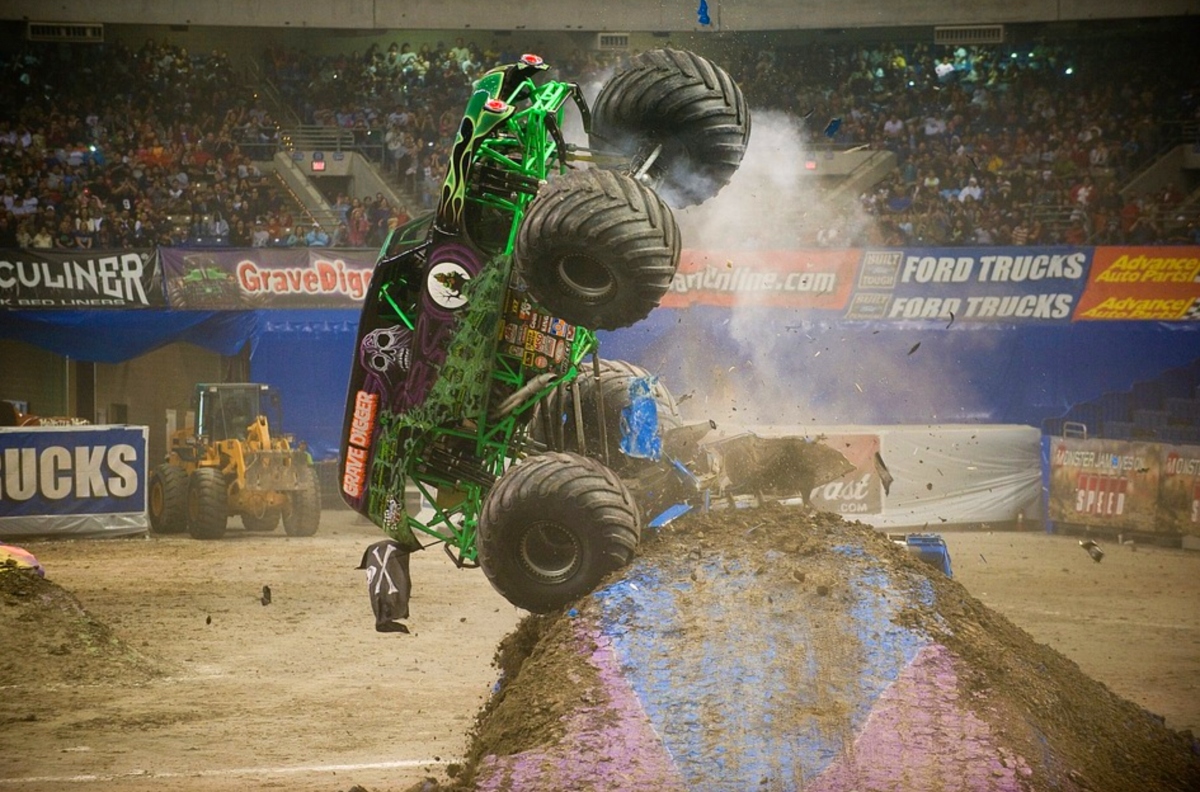 Monster Energy
This is the old Air Force Afterburner truck, rebranded and sponsored by Monster Energy in 2012. Since then, it's been to five Monster Jam World Finals and several Fox Sports 1 Championships. While it definitely has a cooler paint scheme now, it's hard not to wish that there was still a monster truc sponsored by a branch of the US Military.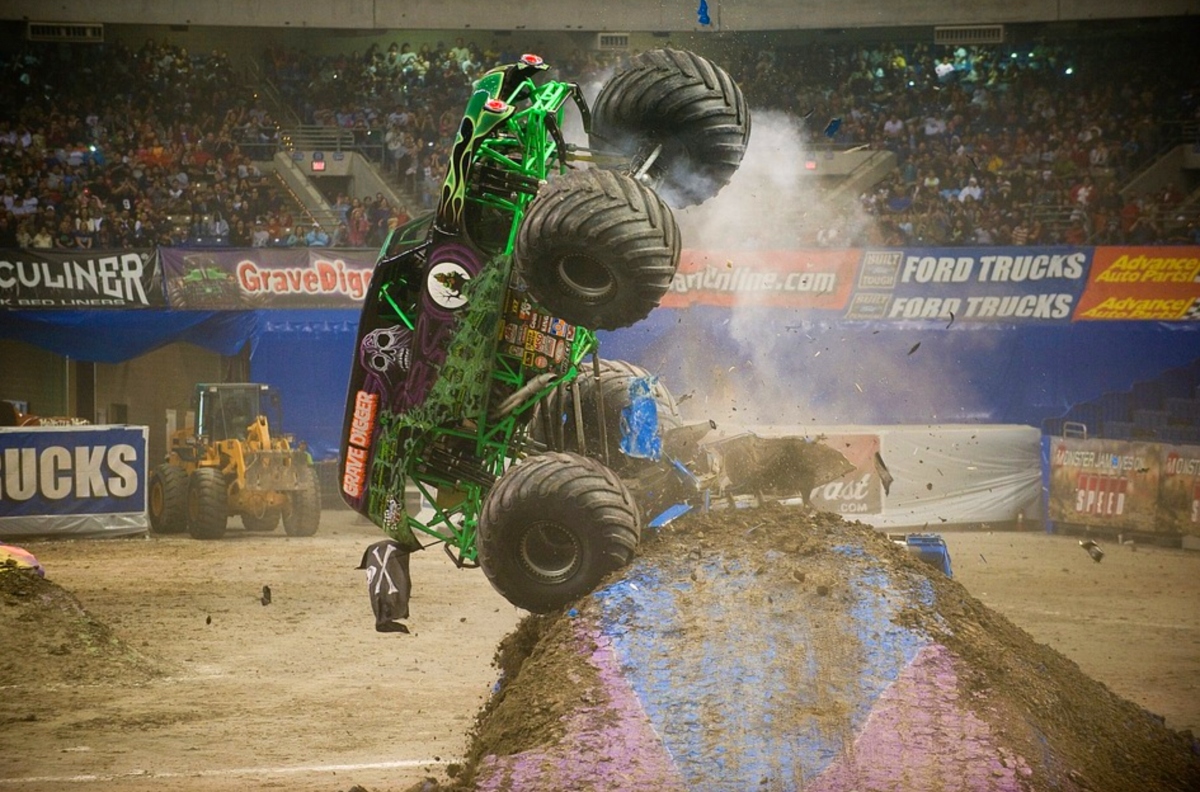 Grave Digger
Grave Digger is widely considered to be one of the most iconic monster trucks out there. Originally built in 1982 as a mud bogger, Grave Digger was a red 1957 Ford truck before being modified. The name came about when Anderson, in the course of trash talking other racers, said "I'll take this old junk and dig you a grave with it." The graveyard paint scheme was painted on in 1986. There have been a total of 41 Grave Diggers over the years, with nine currently active.