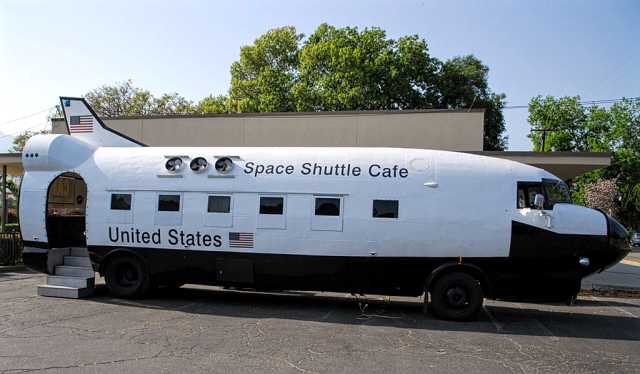 Seattle is known for several things, but barbecue is not necessarily one of them. That is, until you see the Maximus Minimus food truck rolling around the corner headed toward 6th and Pike downtown. It is the brainchild of Kurt Beecher, who worked for years at a family of businesses known as Sugar Mountain.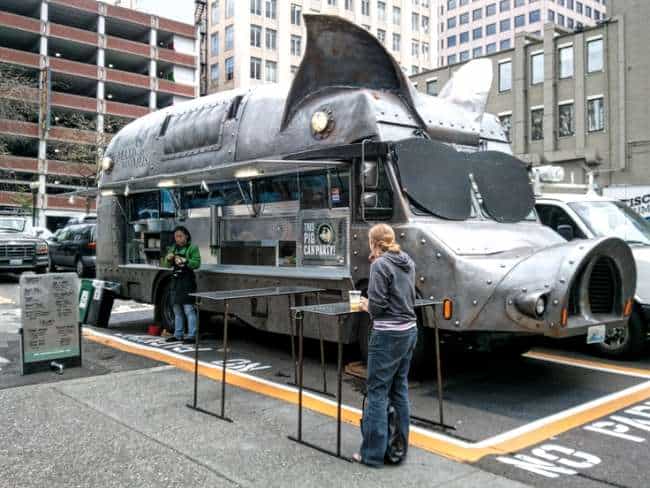 21. Maximus Minimus Food Truck
The concept for the food truck came as a result of him tinkering around in the kitchen preparing meals for the hungry kitchen staff. In the spring of 2008, great BBQ became his focus and the rest is history. Well, they added a little bit of barbecue sauce and the rest was history. The name lovingly gives a nod to his son that at the time was entering his teenage years. His name was Max, and the nickname Maximus was given. It was later used to think the bus out in full barbecue style, complete in the shape of a pig. If you're in downtown Seattle and looking for some good eats, give Maximus Minimus a try!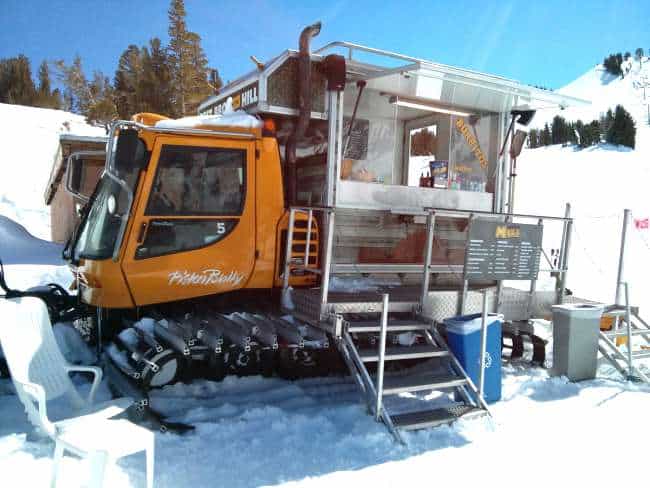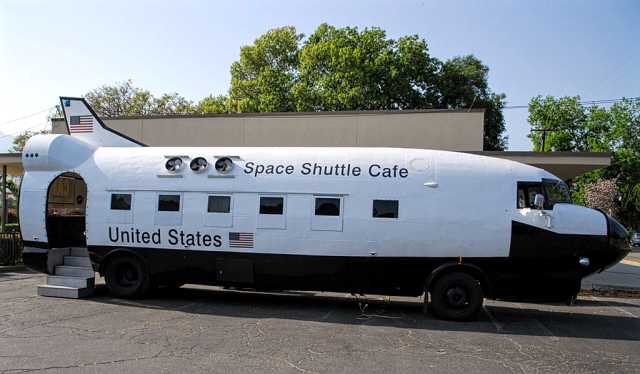 20. Space Shuttle Cafe
If you have a cool $150,000 lying around, then this space shuttle Café can be yours. Originally, it began its life as a World War II era Donald Douglas DC3. It was then mounted to a GMC truck frame, and is now used as a food truck. As for the equipment? Well, it's state-of-the-art and fully able to function as a commercial space. It is been used in the past for events ranging from birthday parties, weddings, graph shows car shows. However, if you buy it you can use it for whatever you like. The inside looks about like what you would expect. It is essentially one long galley kitchen. Clean, functional, code, this special café is ready to send your food business into orbit, or at least take it to the next level. If you have been wanting to dabble in the food truck industry, but lacks the skills necessary for a build, this one is turn key ready. Plus, the space shuttle thing is pretty cool!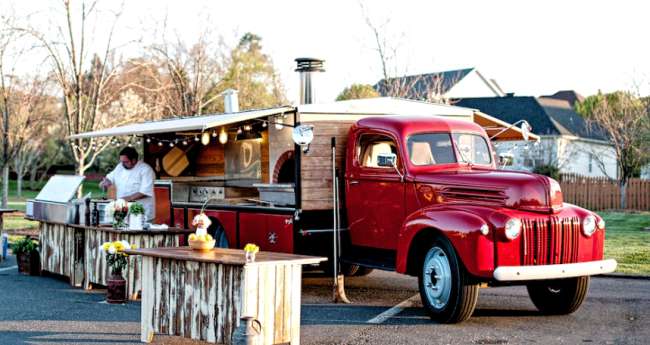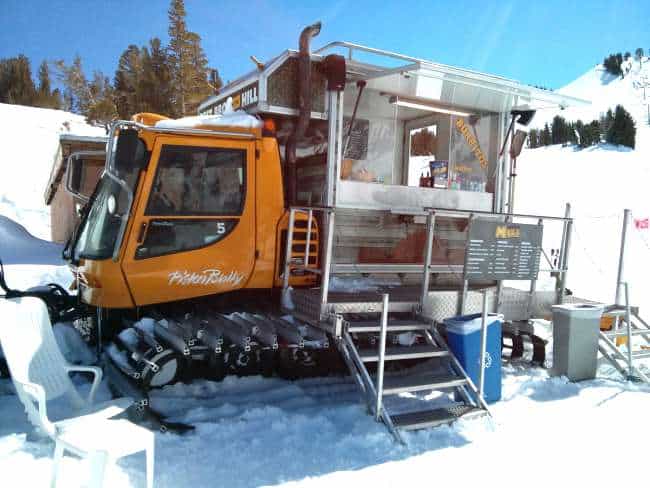 19. Burrito Snowmobile
This is a unique take on the food truck. It's actually not a truck at all, but a modified snowmobile. This Pisten Bully snowmobile delivers Mexican food, namely burritos, to hungry skiers on the slopes. The concept is pretty genius though. No matter how unsettling conditions are, the Pisten Bully can always arrive with a hot burrito. It's a snowplow after all. Retail prices are cheap too. They typically run between $3 and $5 depending on what you order. These are sure to warm the bellies of cold skiers on the slopes. It's quite a novel concept, but it works. You don't need very much space to make burritos after all, and they are the perfect food for those involved in such a physically demanding activity. . It takes a lot of energy to go careening down the slopes at break neck speed. You're bound to get hungry, and when you do, this little snowplow is the perfect solution. Kudos to solving for hunger issue fully, now we want a burrito.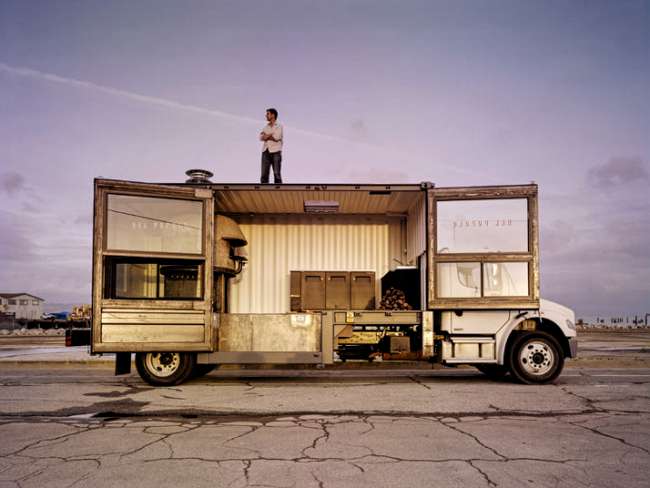 18. True Pizza Truck
What do you do when you're hungry and want pizza and there is nothing to be found? Well, you head over to the True Pizza truck in Charlotte, North Carolina. At least, that's what the locals do. And while the restaurant is a concept location that has been wildly popular with local foodies, they also have a food truck that makes quite a splash as well.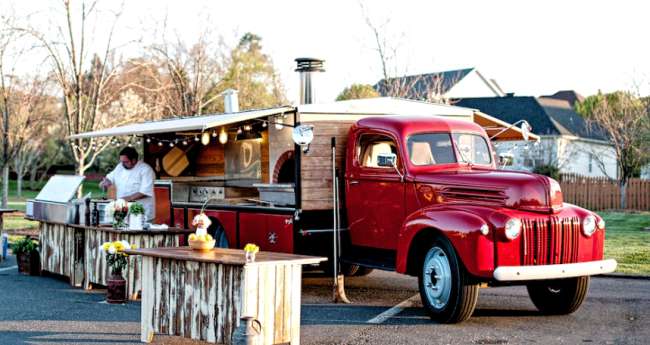 It can be rented for rehearsal dinners, block parties, weddings and just about anything else you can imagine. It's made from a 1947 Ford farm truck that has been completely outfitted and restored to serve as a rolling wood fired pizza kitchen. The oven reaches a temp of about one thousand degrees so you can be sure that your pizza will be well cooked. The smell is enough to draw the customers in like moths to a flame. Now, you just have to get to Charlotte!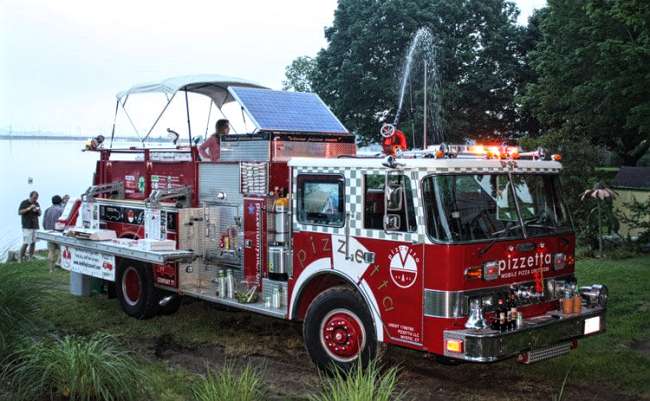 17. Del Popolo Pizza Kitchen
Speaking of mobile pizza venues, check this one out. This food truck may look familiar. If it does there's a very good reason for it. It is actually a shipping container that has been modified to be used as a mobile pizza kitchen. This one can be found on the other side of the coast. Based out of San Francisco, Del Popolo serves hungry citizens around the bay area. It features traditional, Italian wood fire style pizza, served from a modified 20 foot long transatlantic shipping container.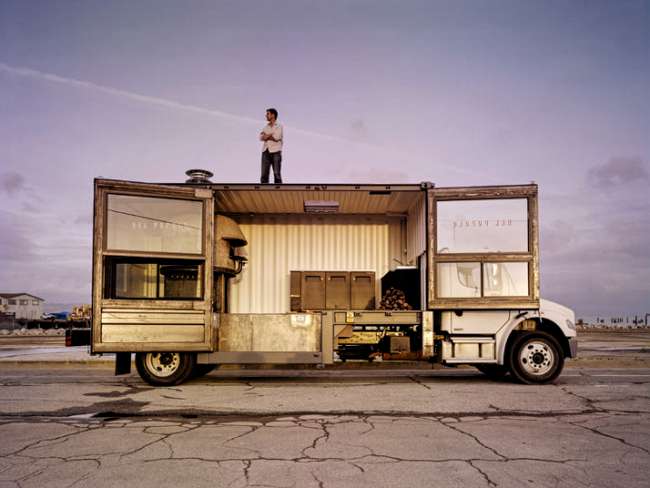 Typically, its busiest times are Tuesday through Friday, with weekends reserved for private events. However, if you see this kitchen rolling through the city down your block, be sure to flag down and grab a slice. People go crazy for this stuff, so you know it's good. That's why they recommend you check their website to see what they're serving schedule looks like. It would be a shame to show up hungry with no food truck site.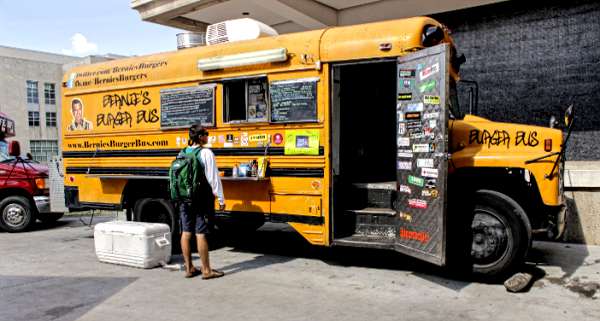 16. Pizzetta Firetruck
Next is something just a little different, yet still remaining in the same food vein. This is the Pizzetta mobile pizza firetruck. That's right, they took an old fire truck, restored it and powered it with biodiesel and solar to produce some of the best artisan pizzas ever cooked! You can find this one rolling through southern California, and it always draws a crowd.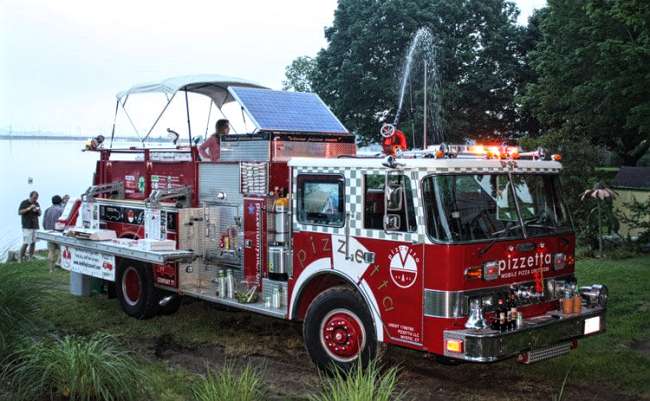 Pizzetta mobile food service is perfect for family, community or corporate events and can host parties from 30 to more than 300 people. They only use the freshest ingredients, and are one of the few mobile pizza trucks featuring stone baked handmade gourmet pizza. Featuring all natural ingredients as well as gluten-free options, Company 77 continues to thrill pizza lovers on the Southern California coast. Plus, it never rains over there so refurbishing a firetruck is a pretty good use of natural resources in our opinion.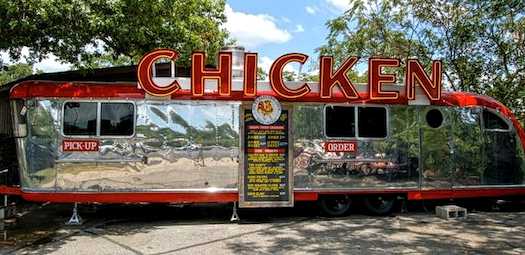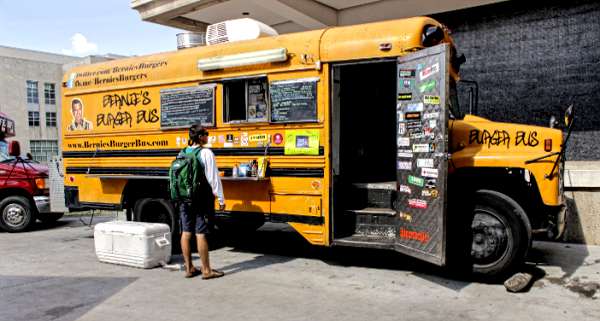 15. Bernie's Burger Bus
If you have an old school bus and are looking for something need to do with it, why not turn it into a mobile food truck. That's what the folks at Bernie's Burger Bus in Houston did,and people can't seem to get enough of it. They bill themselves as "old-school awesome," but they are so much more than just a burger joint. No, here you get to build your own custom burger at the bus. Tell them what you want and they cook it fresh on site. Even better, should you have a corporate event or something worth celebrating, the bus will roll to you to keep your guests from being hungry. So if you want to feed them the best burger in Houston from one of the most iconic mobile food trucks, order in from Bernie's and see what a difference it makes. Small batches, fresh ingredients and no preservatives,no wonder they have been a Houston mainstay on the culinary scene since 2010.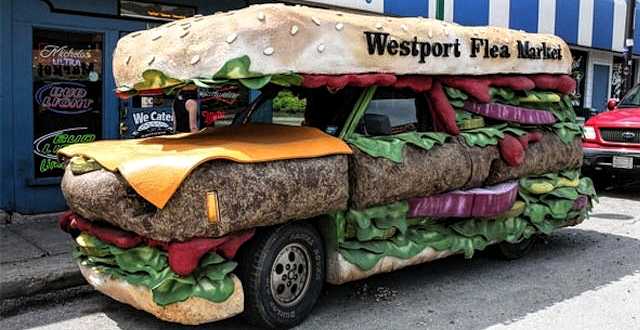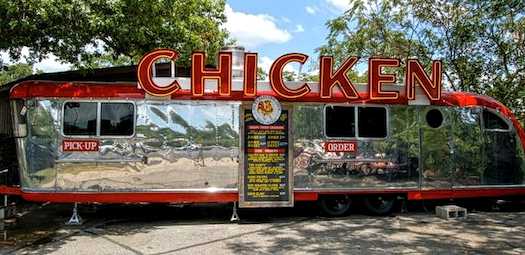 14. Ms. P's Electric Cock Food Truck
So Austin Texas may have their catchy slogan, "Keep Austin Weird!" but that doesn't apply to everything. Take for instance Ms. P's Electric Cock. Sure, it's a funny name, but the food is anything but that. Serving up fresh southern fried chicken in creative ways, they have the right ingredients to keep you well fed for quite some time. All of their chicken features a two-step brining process, complete with 12 spices and fresh herbs. No wonder she has been dubbed the queen of Austin. It doesn't get any better than this. You can often find her parked on South Congress and the food truck block. Plus, they go to extra mile. If you don't feel like standing in line simply call ahead and your order will be waiting for you when you get there. It's just what it takes to keep people on the go in Austin, and nobody does it better then Ms.P. Of course, they fry everything in peanut oil to keep the chicken nice and tender, but don't make the mistake of thinking that's all there is to the joint. No, they have offerings that will make your mouth water and keep you coming back for more. That's what happens every day in Austin, and that's why they continue to stay on top. Try some of their Parmesan fries and seeing if you don't turn yourself into a believer real quick!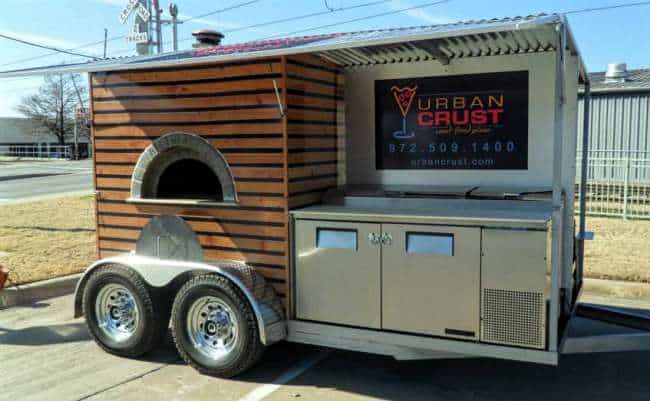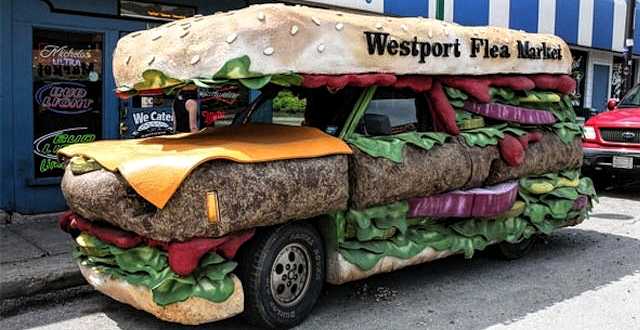 13. Westport Flea Market Bar and Grill
So you're in Kansas City and you're hungry for a burger, what do you do? Well, it's simple really. Just look for the big food truck themed out in full hamburger regalia. That's what the folks at Westport Flea Market Bar and Grill did, and the rest as they say, is history! The only thing that separates this from others on our list so far is one issue… technically, this one is not a food truck. No, the owner uses it as advertising for the Bar and Grill and actually paid an artist from New York to come up with a concept. $800 and a handshake later the burger truck was born and it has been thrilling tourists and regulars ever since! It's what makes Kansas City unique and keeps people coming back. True, the city might be known for barbecue, but the folks at Westport Flea Market have worked hard to make sure burgers continue to be a culinary mainstay on the KC food scene. Zwillinberg (the owner of the truck) has done just that with the Burger mobile, and if you ever find yourself in the area, keep an eye out, and your appetite too. You definitely don't want to miss this.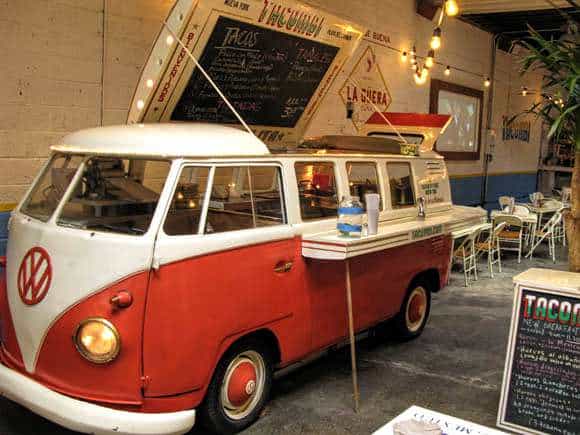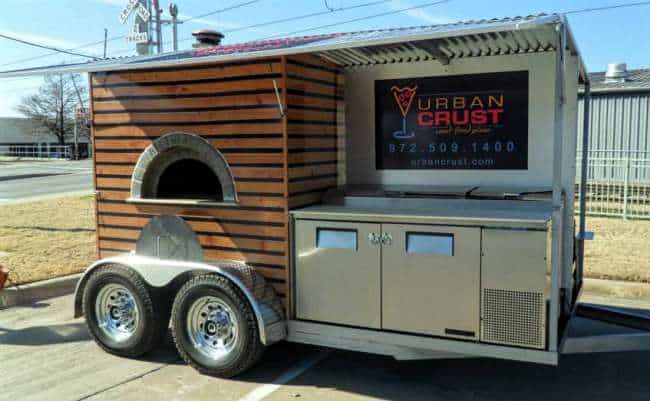 12. Urban Crust
Sometimes, clever food trucks come in the smallest of packages. Take for instance Urban Crust. Their tiny travel trailer is just that, a travel trailer. However, it is also a roaming pizza kitchen on wheels. True, you have to pull the wheels behind the trailer, but that's the price you pay when you want good pizza. The customers don;t seem to mind. They follow this trailer everywhere! Located in Plano Texas, they have regular kitchen and bar hours, but should you need pizza at your place for a lot of people, just order the upper crust pizza trailer to come and put on an event for you. It's a perfect way to ensure your guests receive authentic, wood fired pizza, and also liven up your celebration. The people of Plano will tell you there is none better, and they would be right. Urban Crust has been feeding local patrons and current signs show no hint of this trend coming to an end.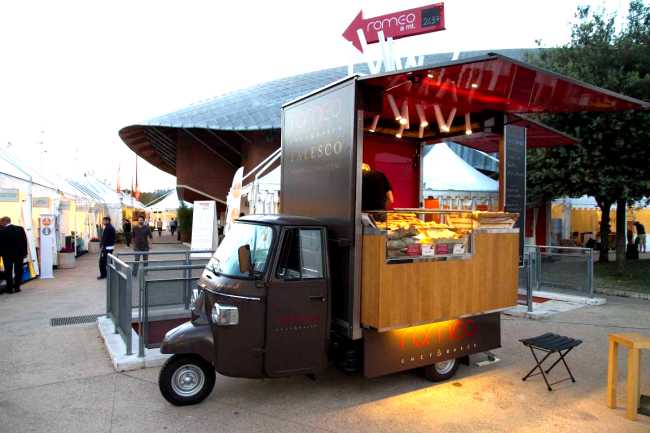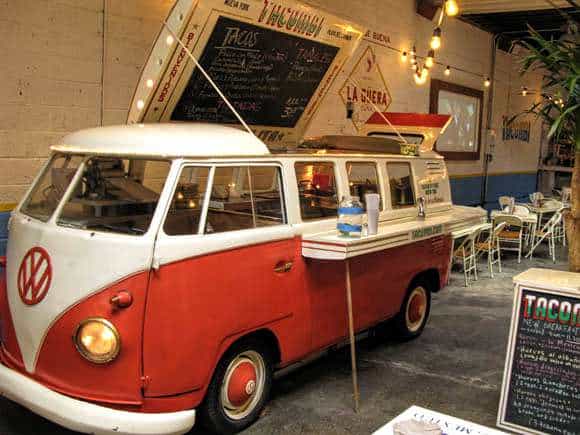 11. Tacombi
Tacombi is a famous food truck van inside a New York City hot spot. They serve tacos every day to crowds of people on Bleeker street and the surrounding areas in NYC. It did not take much to convert the VW bus to a full service taco bar, complete with the capability of serving up every thing from tacos to ceviche. However, it is the novelty of a bus sitting in a restaurant that turns most patron's heads. That is okay though. Once they step up and order some of the famous Mexican fare, they are hooked. Don't juts limit yourself to the inside though. You can order out, place a catering order, or visit one of their other famous locations to experience their world class food. However, if you want to see the bus, you have to go to Bleeker street. Some things are only available in NYC.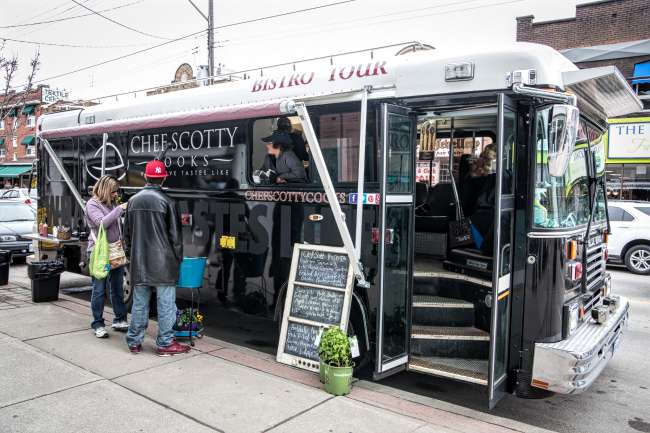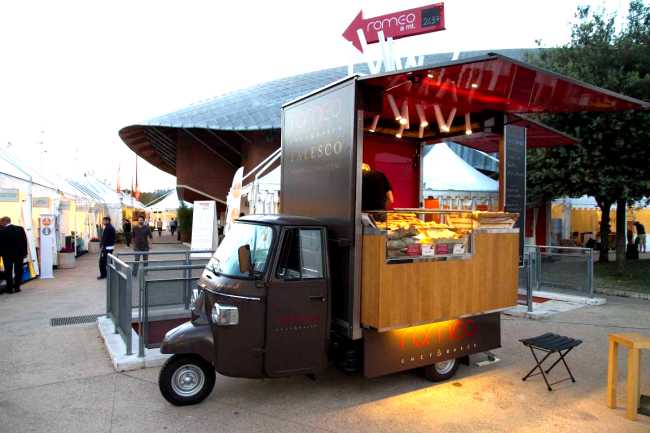 10. Romeo Concept Kitchen
Have a special corporate event or need food at your next gathering? Then why not order from Romeo? You might have to travel to Italy though. That is the only place you can find it. Romeo is an Italian concept kitchen that has been thrilling Italians for a few years now. What you see here is there Vespa mobile food cart. Think of it as a rolling advertisement of sorts. We think it is genius! Imagine pulling up to a festival and ordering food from a vespa!!! That is about as authentic as it gets. Canolis and calzones can be found here as long as someone is behind the counter. It is a great way to advertise for the brand, and a pretty ingenius creation when you think about it. This could very well be the only three wheeled food truck in existence! We would say that is reason enough to book a vacation. What do you think?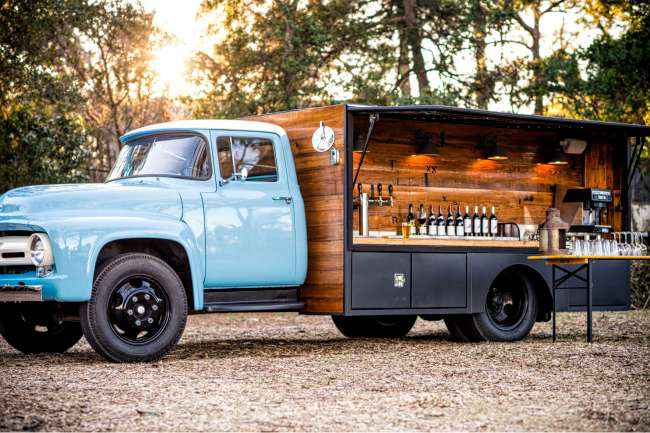 9. Bistro Bus
No, this is not a tour bus. It is a bistro bus! How clever is that? You can get your soup-to-go ON the go. We give that concept five thumbs up. This cool restaurant on wheels is the brainchild of none other than Chef Scotty Cooks of Toronto, Canada. Having a passion for food, he bills his bistro as a one of a kind experience. He is not lying either.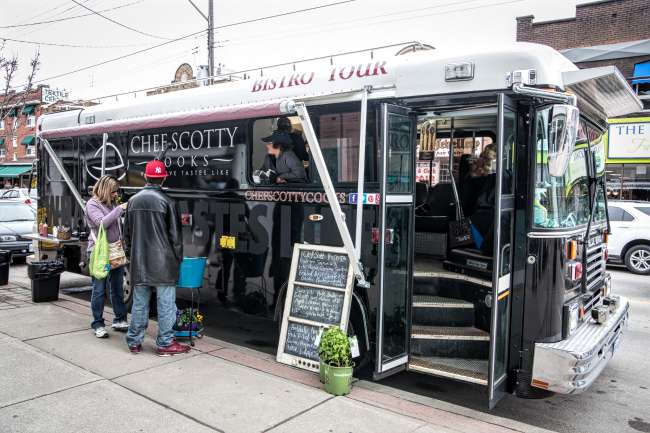 The food truck can be used to serve hundreds or thousands of people. It can also be used to hold private wine tastings for up to 6. Yet, the most impressive thing? You can eat while you ride. That's right, the bistro bus is true to its name. If you need to eat on the run,. The bus is equipped to do just that. Not bad for a Canuck, right? Yep, we thought you would agree. We do too. Now we just need to find a way to get to Canada!
8. Classic Ford Mobile Bar
Okay, so we couldn't go through a list of awesome food trucks without having at least one appearance from something off the beaten path. At first glance, this might look like a normal food truck conversion. And an old Ford produce truck was used as a base. However, this was not turned into an ordinary food truck. Nope, what you are looking at is a full service bar.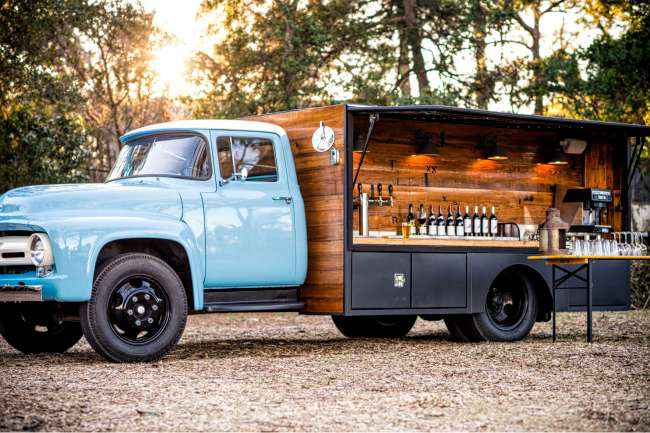 See the four taps on the left? Those can be hooked to kegs underneath allowing you to showcase your favorite brew at your next event. Of course, wine service can be had to. It features a fully stocked wine bar and coffee maker, for those late-night forays. This was a do-it-yourself conversion, and we would say they knocked it out of the park. It is right on par with professional food truck conversions we have seen making appearances on our list. It just goes to show you what can happen if you get creative and let your imagination run wild. Kudos to a good build, this one takes the cake. Now pour me another glass please!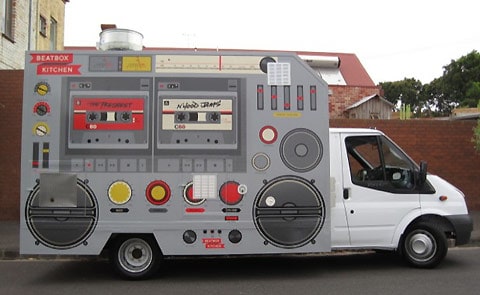 7. Fire and Ice Cream Truck
Here's a clever idea. Taking old Ford firetruck from the mid-1940s, and converted into a mobile ice cream truck. Then, come up with a snazzy name like the Fire and Ice Cream Truck. Completely themed out and restored as a vintage fire truck, this truck is a head turner. In its previous life, it was the lead fire truck for Albion, Illinois. Today, for $32,000 it can be yours.
It features solar powered exhaust fans, and AC window unit, a power inverter, stainless steel furnishings, gold vinyl car seat, cut out windows for serving ice cream, and a completely unique item… A propane fire organ. It's one-of-a-kind and shoots flames from one of the twelves pouts mounted on top. This thing is pretty hot for something designed to serve up cold tasty treats. Everything has been painstakingly refurbished and all details were applied by hand. Not bad for a firetruck. Even better for an ice cream truck. Get this one and you are sure to sell ice cream even on the coldest of days. It's just that cool.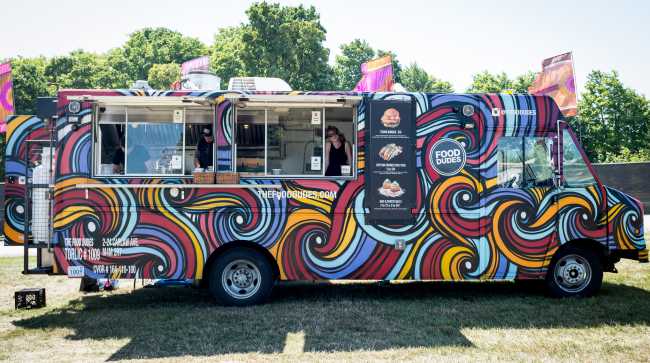 6. Beatbox Kitchen
Remember those old potato chip or bread delivery trucks? You know, the ones with the side cut out so the driver could hop in and out with easy access? They are very similar to the vehicles used by a couple of well-known package delivery monoliths. Well, instead of sending them out to pasture or collect rest, do what these Aussies did and seen them out to serve food for the masses. That's right, you're looking at the world's first and only Beatbox kitchen.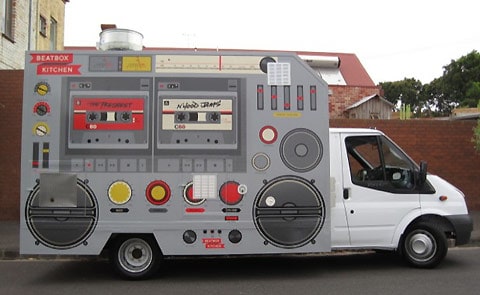 The menu varies, but that's a okay with the fine people of Melbourne Australia. Some days you can find items like shroom burgers, or their famous chicken schnitzel wrap. Other days, the menu is much simpler with a cheese and tomato Piadina, perfectly suited for those small breakfast pallets. This is just a thing to keep food market shoppers at the Finders Keepers Market in Melbourne energized and satisfied so they can continue their daily activities. Of course, smooth vintage rap music can be blasted from the kitchen so you can enjoy some cool tunes while your food is being prepared. Once you eat it, you'll come back for more, no matter what is on the playlist.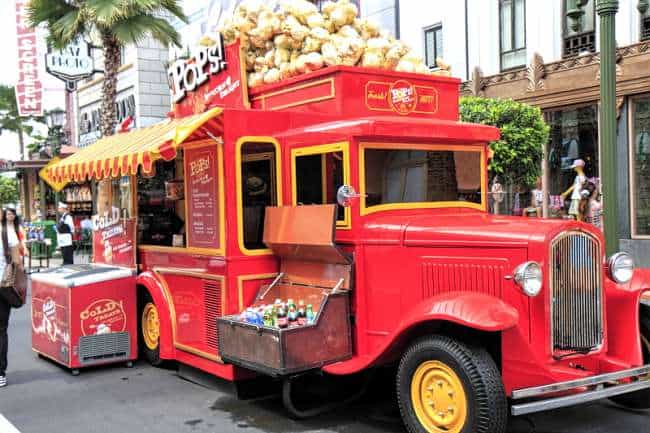 5. The Food Dudes
Here is another Canadian food truck that is pretty amazing. It's put out by the food dudes, and they have quickly made a name for themselves in Toronto. They feature a mobile restaurant on wheels of course, yet their offerings are very eclectic. You can find something to suit your pallet no matter who you are, they really work hard to make sure that happens.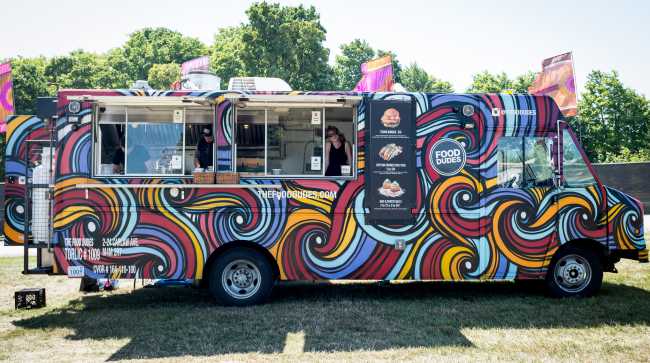 You can start small with something like mac & cheese, then work up to a crunchy fish taco, battered and Cap'n Crunch cereal, and finish off with a Nutella bomb complete with a bourbon caramel cream sauce and whipped topping of course. And don't whine at us about being healthy either. There are plenty of people on the planet to make us feel guilty about our food choices, we should leave the Canadians alone on this one. In fact, I think we should support their efforts and order some dirty chili hash or a nice smoky Reuben sandwich. See what I just did there? Now you are hungry for food that you probably weren't even thinking of before. That's the power of the Food Dude's food truck. Time to move to Canada!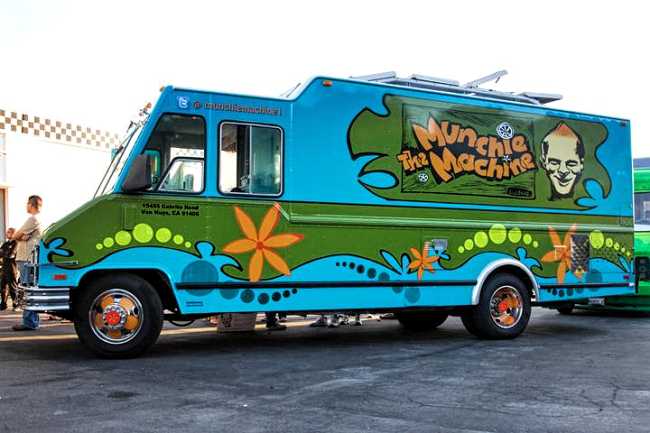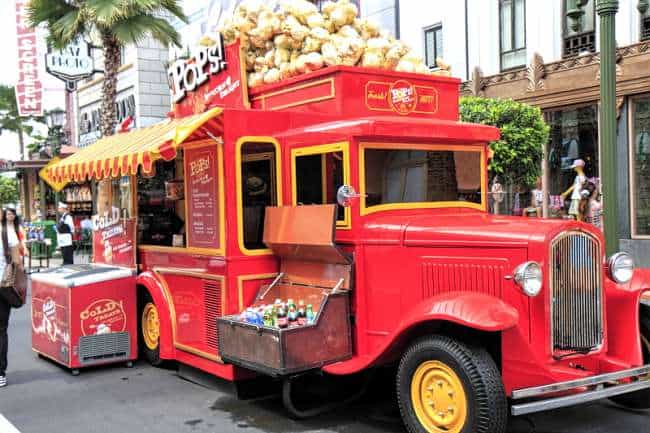 4. "Pops" Popcorn Truck
Taking old 1930s roadster, and converted to a mobile popcorn stand. At least, if you're in the UK that's what you do. Check this one out. It's known as "Pops" and they bill themselves as a popcorn delight. Simply saunter up to the side window, place your order and instantly receive a bag of popcorn with some of the most amazing flavors you have ever tasted. If popcorn isn't your thing, or your pallet is too salty, no problem! Check out the cold treats cooler to the left. Plenty of ice cream sandwiches and other tasty cold confections can be found in there. It's the perfect way to pair salty and sweet, and works very well in Great Britain. Of course, for those hot days they have plenty of soda and water on hand, as well as a few juice offerings. And rest assured, you will never have trouble spotting them. The top of the food truck is unmistakable, and has quickly become a street vending icon. It's enough to make you want to book a vacation to Great Britain, just to try the popcorn. How cool is that!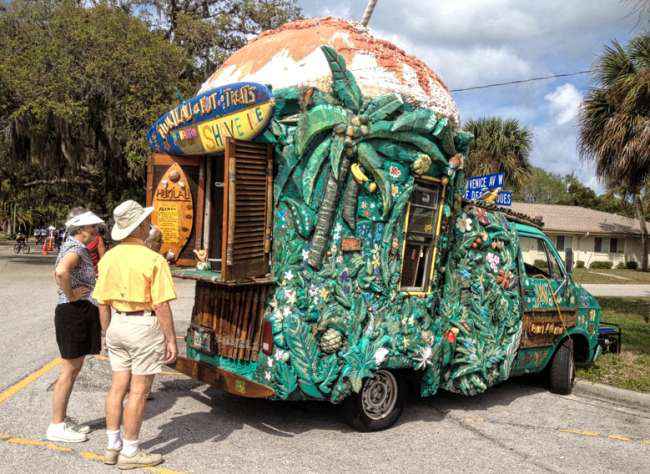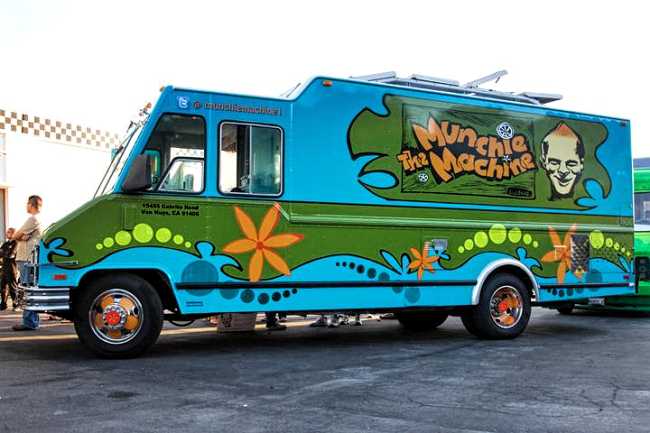 3. Munchie Machine
So you liked Scooby Doo growing up, and have been longing for a way to fold your Saturday morning childhood memories into your passion. Well, simply do what the owner of the Munchie Machine did here. Theme out your food truck as a mystery machine, yet call it the munchie Mahince instead. If you see this culinary wonder rolling down the street, you want to follow it until it comes to a complete stop. Onboard you will find a plethora of offerings from grilled cheese to spicy veggie burritos. They are a Los Angeles mainstay and are known for their s'mores. In fact, they have won awards for their s'mores combos and have more small combinations then you can shake a stick at. Beyond that, I was just trying to see how many times I could pack the words more into a food truck mention. I think we nailed it. However, we didn't know it as good as the much machine. We give them first prize and will keep our eyes peeled the next time we find ourselves in LA.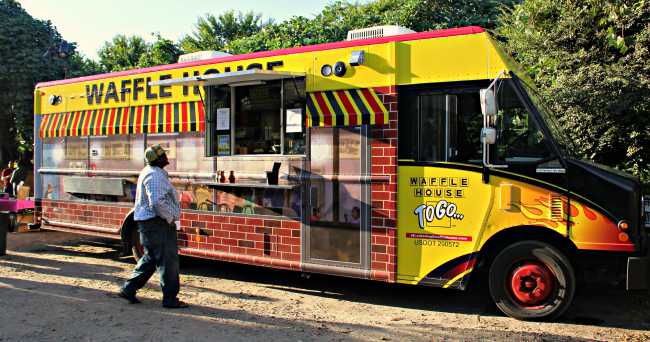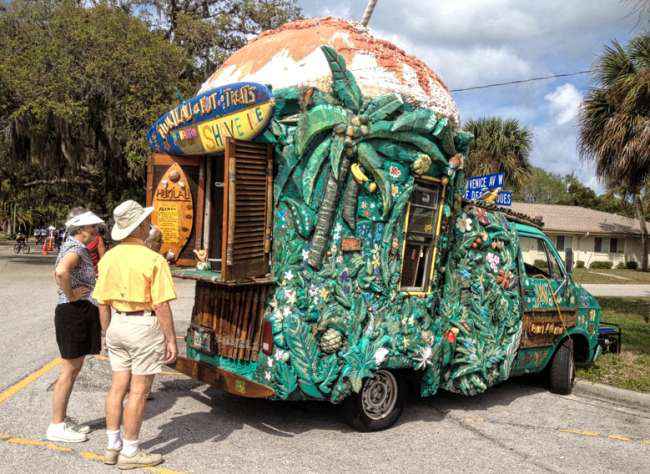 2. Island Shaved Ice
This is a pretty ingenious idea when you think about it. Sure, we have all seen our fair share of shaved ice stand. However, why not seem out an old truck to serve as a rolling shaved ice stand? It works for this guy, and it could work for you. And before you go on and on about how much money it must have cost to same out the vehicle, think about this one thing. Sure, it probably cost thousands of dollars to put palm trees and bamboo decor on this old pickup truck. It probably cost a few more pennies to pop in a serving window and a couple of side windows. Furthermore, it may have cost even more money to create the shaved ice dome on the top. However, once that is complete that's it. You make money every time you hand someone a cone of shaved ice. All you have to do is pay for gas and park it during the winter. We would say that's a pretty ingenious idea, and obviously this guy agrees. Now I want some shaved ice. Maybe this one will roll through my neighborhood or come to a shopping center near me. If only I could be so lucky!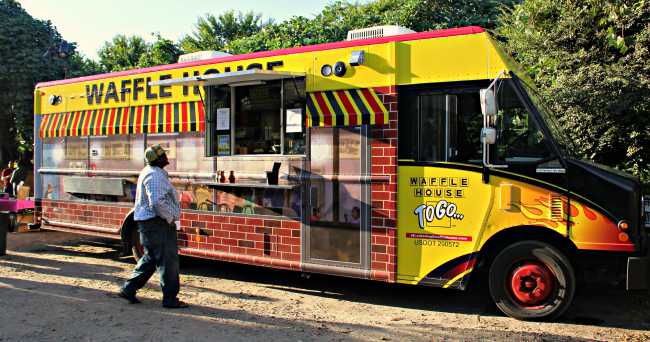 1. Waffle House Mobile Truck
To round out the list, check this one out. Sure, who hasn't been to a Waffle House? If you answer no to that question then you are simply not a human being. We all love to show up someplace at 3 AM and have something scattered, smothered and covered, right? Well, what do you do when there is not a Waffle House near you? You go looking for the Waffle House food truck, that's what! This one is based in Atlanta and is actually used for events such as reunions, corporate gatherings and other celebrations. It's a great way to bring the Waffle House to you, and keep your guests satisfied. Plus, they offer the same menu that the normal restaurants do, so you don't have to worry about a limited menu. All you have to do is bring your appetite, and your friends. The rolling Waffle House food truck will do the rest. Keep looking at the picture. It's enough to make your mouth water, isn't it? That's why this food truck was rated one of the top food trucks in the Atlanta area. Now that's something to scatter, smother and cover right there!
Yup, that's it! Check out more stories below!