25 Clever Septic Trucks That Will Have You Laughing
There's a million jobs that need doing which receive little to no glamour at all. And we salute all of the men and women performing these jobs. But to operate a septic truck, that's a different animal entirely. But to operate a septic truck and have a great sense of humor about it? Now that's the stuff of legend, and that's what we're here to celebrate.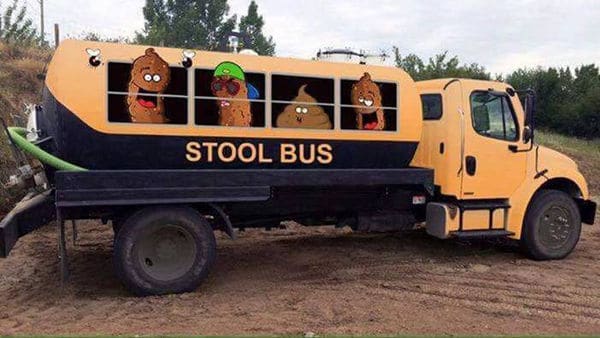 25. The Stool Bus
Cleaning up poop is no fun, but somebody has to do it. And, if you're going to do it why not do what these guys did and have a lot of fun with it. This is known as the school bus. It's actually a franchise believe it or not. You can purchase your own based out of a town in Mexico, and begin servicing septic systems in your area. It's a clever way to market a not so pleasant business, and you can make sure that when the bus leaves, your pipes are clean. Plus, the brand's trademarked so you don't have to worry about anyone else sticking decals on the side of their septic trucks to compete with you. Seems like these guys have thought of everything.