21 Baddest Custom Semi Trucks on Earth
At number 25, this custom semi is all about the engine. Gear heads behold. What you're seeing is a V-24-71 Detroit Diesel, and it's one of the largest semi truck engines ever made. This monster was created and developed by the automotive visionary Mike Harrah of Caribou Industries Inc. out of southern California. He dubbed this the "Big Mike" engine and true to the name, everything about this sucker is BIG.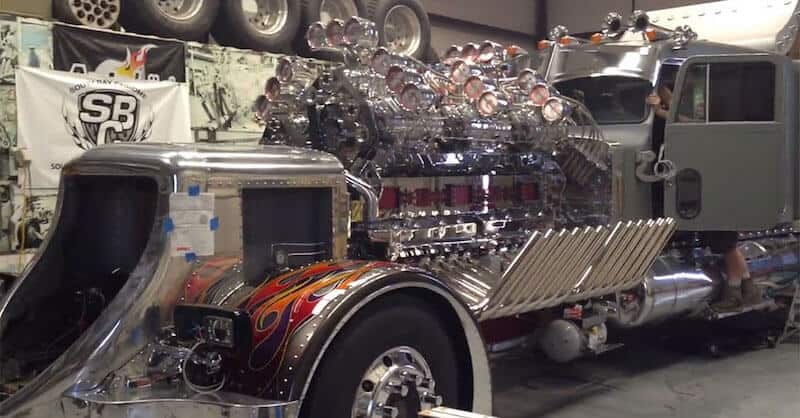 The specs go something like this: 24 cylinders, 12 superchargers, 12 – 871 blowers, 36 butterflies and rated over 3000 hp. In other words, this isn't your everyday custom engine. In this instance, the engine came first and the truck came second. So the questions remained, what does one do with an engine of this magnitude? Mike's answer was to add an Allison transmission and place it all inside a seriously custom 359 Peterbilt with a 40ft long chassis. We know what you're thinking – this thing couldn't be hitting the road, and you would be correct. The turning radius alone would pose major issues. This is a show truck for sure, but custom builder enthusiasts will appreciate the ingenuity, time, and sheer level of mechanic skill required to pull something like this off.