35 Professional Female Volleyball Players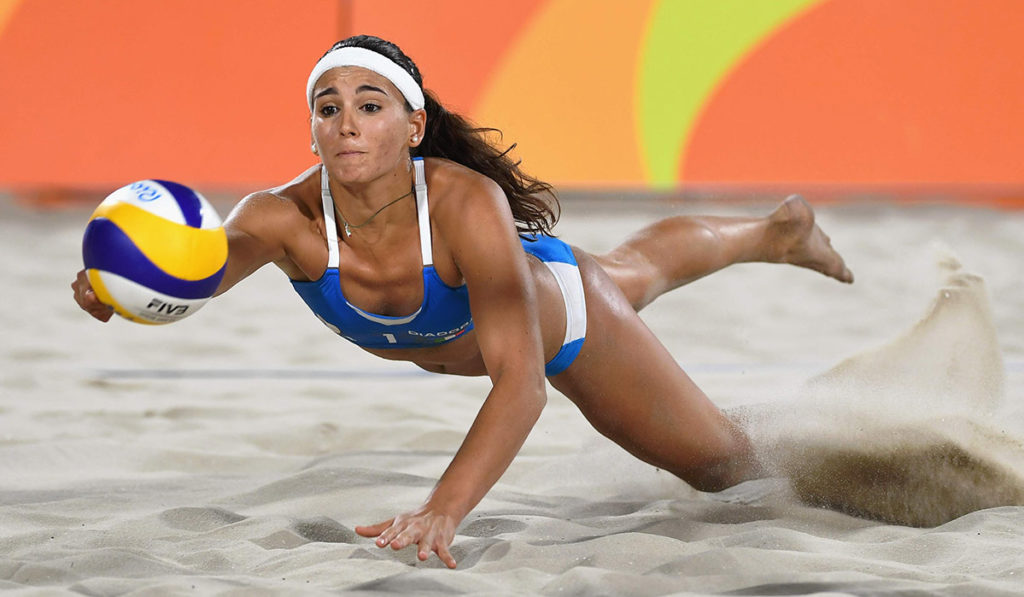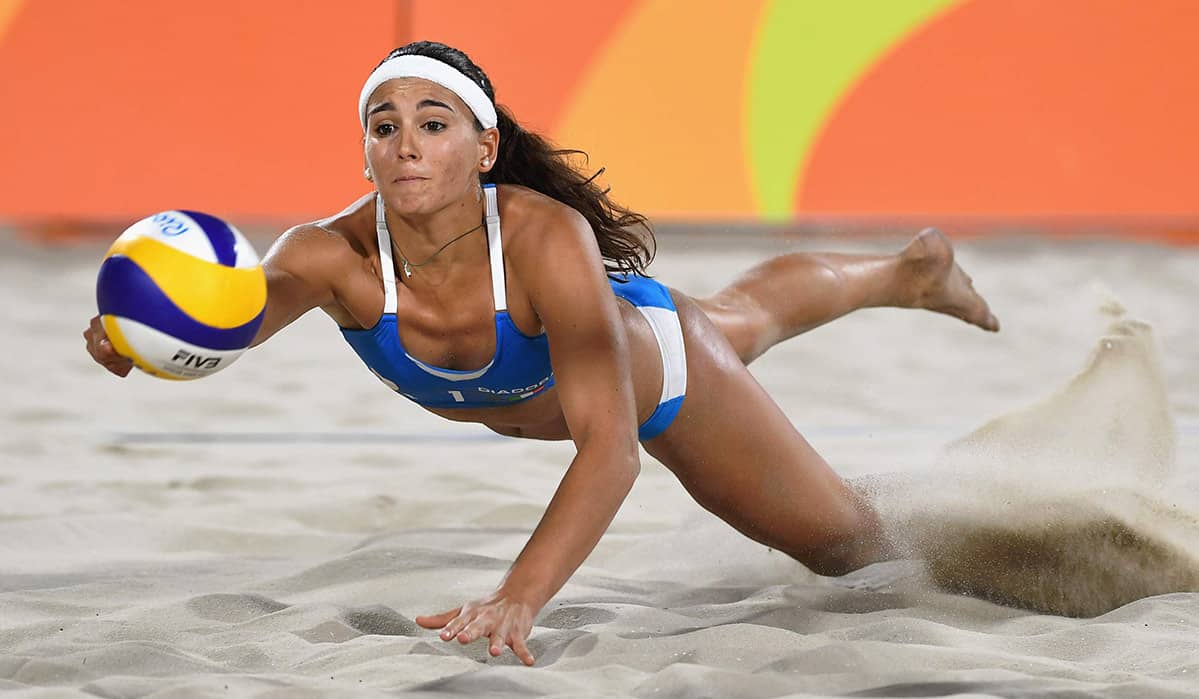 Volleyball is truly an international sport – so many teams and individuals from all over the globe commit their lives to it. What you're about to see is 50 of the world's top female volleyballers. They're all fierce and they're all definitely more athletic than you. You've got to be in primo shape in order to be a professional sand volleyball player. If you like what you see already, then stick around for the top 10. You certainly won't be disappointed.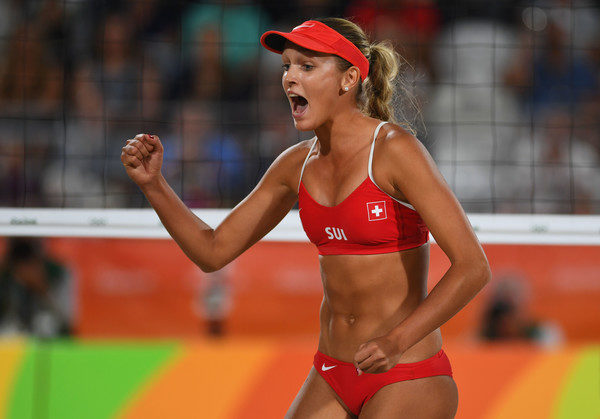 35. Anouk Verge-Depre
Anouk (sponsored by Red Bull) is a Swiss beach volleyball player. She comes from a volleyball pedigree. Her dad played for the French National team and her mother represented Switzerland. She and her partner, Isabelle Forrer, nabbed first place at the Xiamen Open in China (2016,) snagged third place in the FIVB World Tour finals (Toronto) a few months later and placed ninth at the Rio Olympics. She's not all volleyball though. Anouk loves tennis and basketball too. Her favorite foods are pizza and any sort of tropical fruit, and she's won the Swiss national title every year since 2015! W

34. Victoria Faye Kjølberg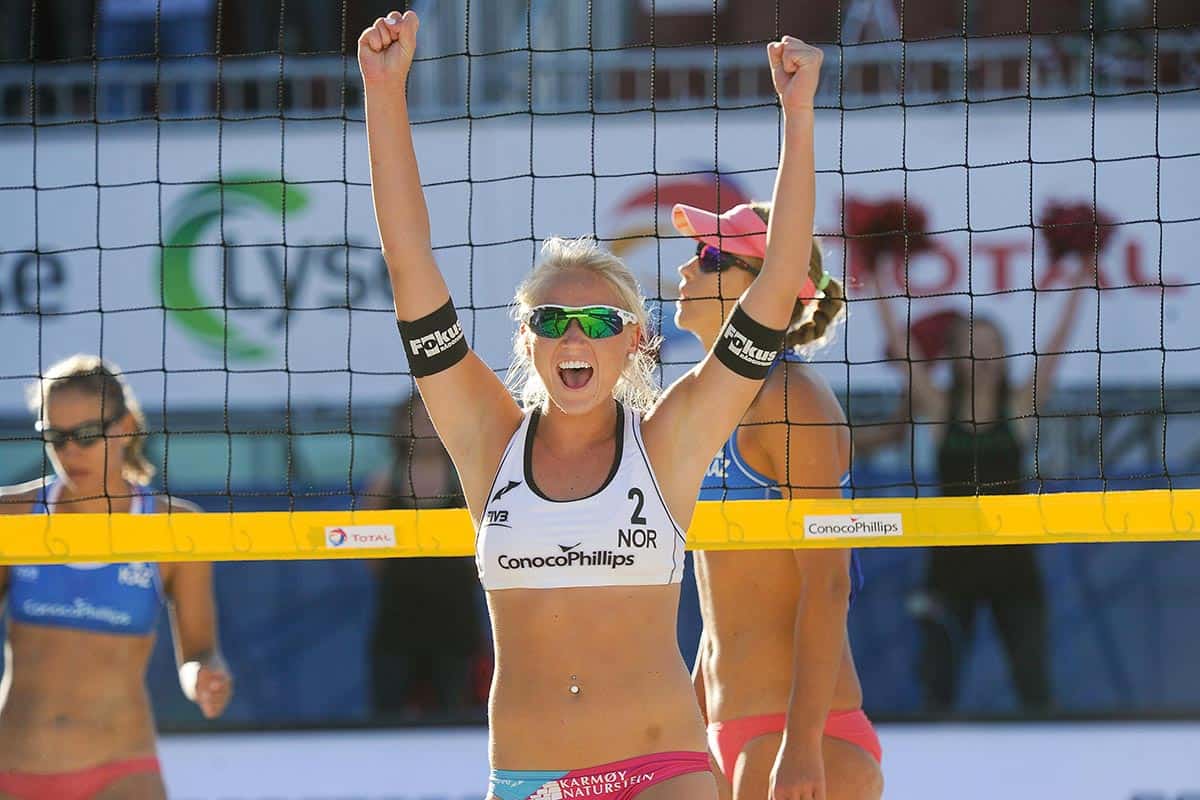 The stunning 24 year old (born in 1994) Norwegian beauty is a bomb volleyball player. Currently, she has an open sponsorship, which means she's up for grabs! She often plays in Oslo and also loves gymnastics. You can find her on the Instagram alt site Deskgram where she has more than 11k followers. Beauty, skills and a tan to turn heads, we love everything about Victoria! We can't wait to see how she performs on the next FIVB tour!
33. Carol Salgado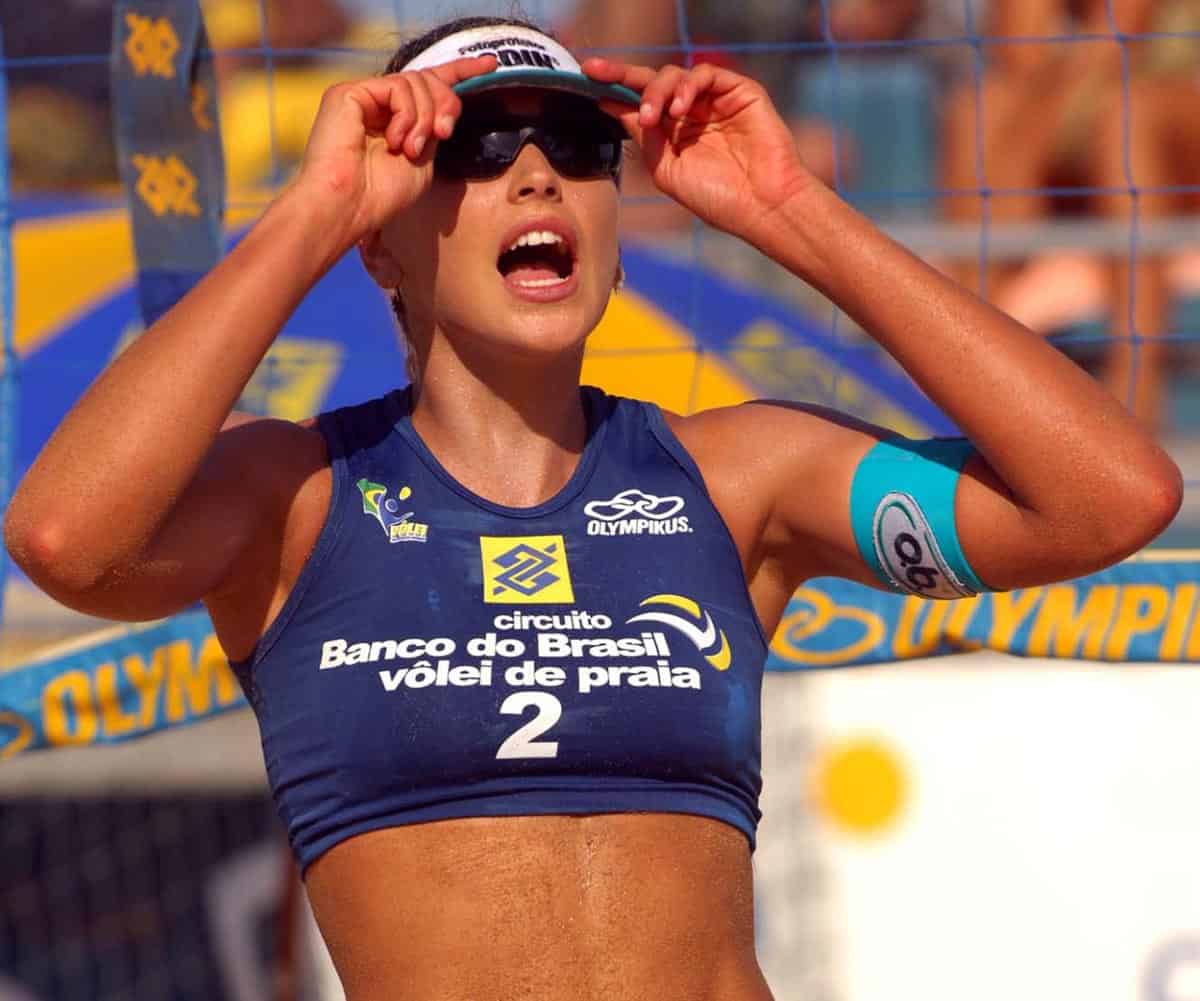 Born in Rio de Janeiro, Carolina Solberg Salgado is one of the sports up and coming beach volleyball phenoms. A Brazilian native, she's kicked up quite a bit of sand for herself. Because she's performed so well in local Brazilian beach volleyball tournaments and overseas competition as well. For instance, she took the gold in the FIVB Under-18 World Championship (2004) and found gold again in the Under-21 World Championship (2005). None of this should be surprising. Her oldest sister Maria, and her mother Isabel, are both incredible volleyball players.
32. Talita Antunes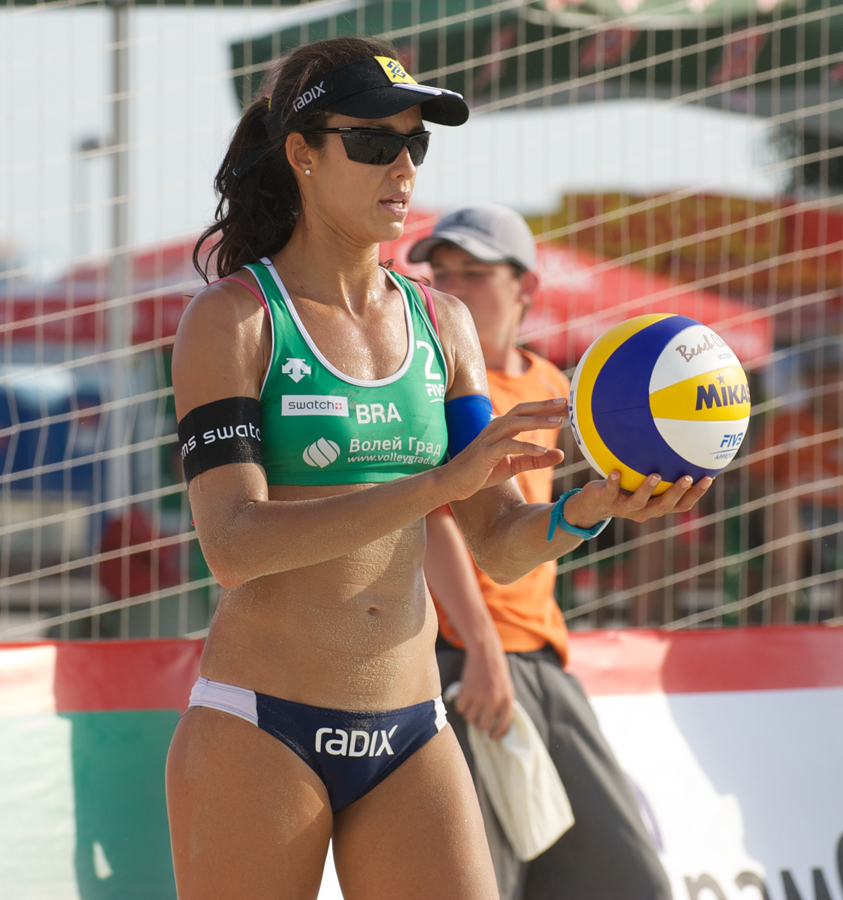 Thirty six year old Talita Antunes is a Brazilian beach volleyball phenom. Playing the position of blocker, she is a two time World Tour Winner (2013 and 2015) as well as Rookie of the Year pick for 2005. Trying to find much more about her online is tough though. For instance, stat site Celebs Trend Now state her net worth being somewhere in the range of $100k- $1 million dollars. That's quite a range! We do know she placed 4th at the 2008 Olympics and volleyball runs in the family. Her husband coaches a male beach volleyball team. For an up close and personal look check out her Instagram account @talitavolei. She posts pics of beach volleyball, life and her adorable daughter!
31. Denise Johns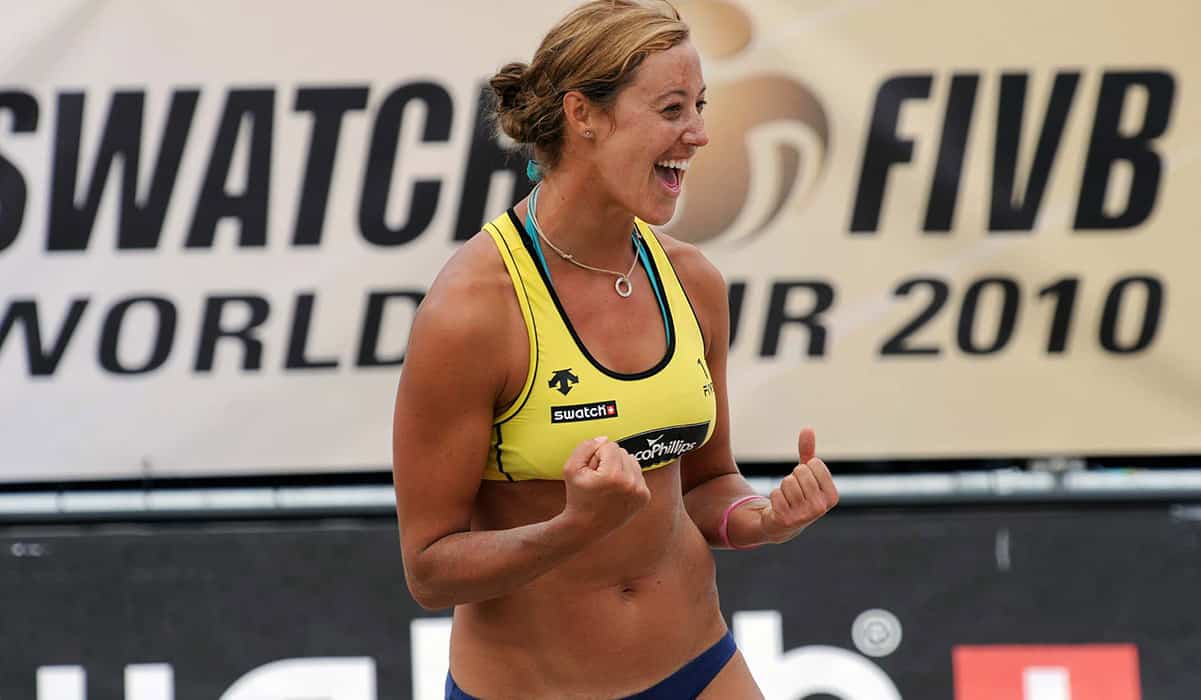 Denise has a winning smile and even better attitude. Yet, she can be confusing, She was born in Luxembourg, raised in the United States, but competes for the United Kingdom. What??!? Yeah, we were confused too. And she says the sport is not what you may think either. Beach volleyball is more than just girls in bikinis! In an interview with the Times she mentions how regimented and exhausting the sport can be. She loves it though. In addition to being a beach volleyball phenom, Denise is an architect. She lives in a 175 year old Cottage with her husband and designs buildings in her spare time. What a beautiful life!
30. Sophie Van Gestel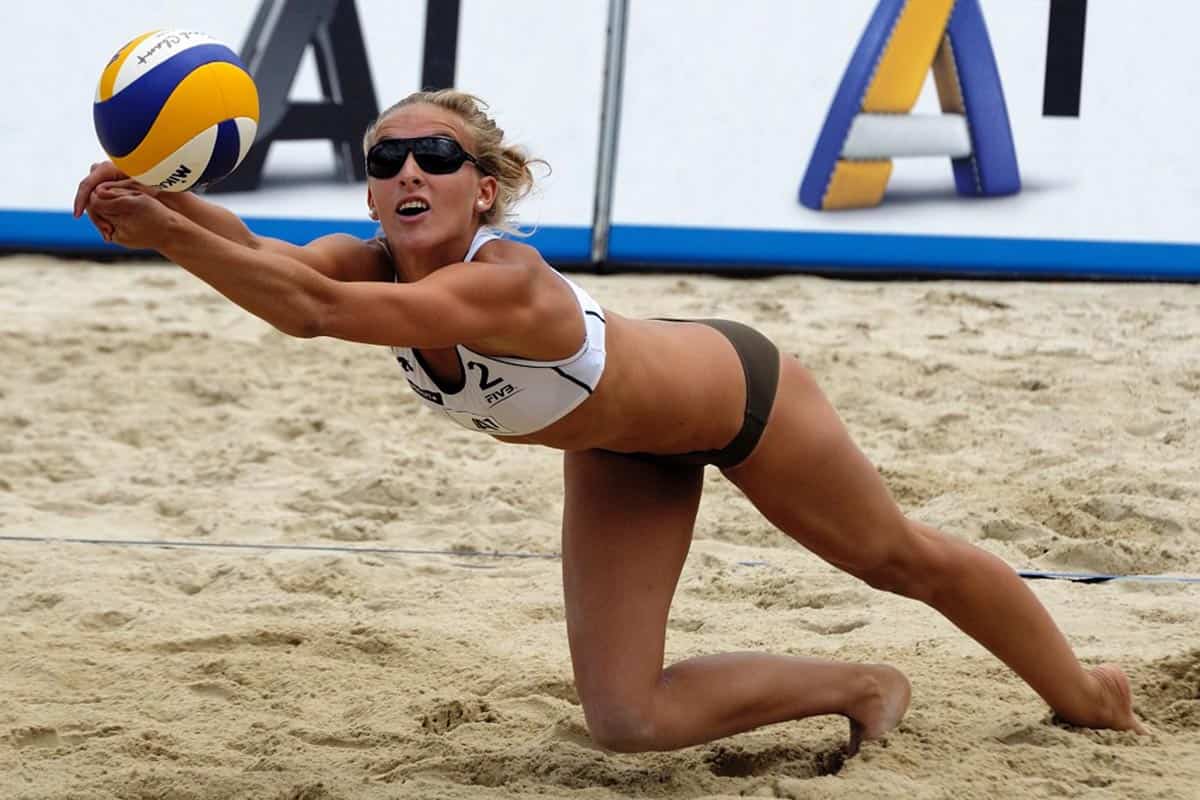 You may remember gorgeous beach volleyball player Sophie Gestel form the 2012 Summer Olympics. She and her partner were eliminated after 16 rounds to the Brazilian team who went on to score the Bronze Medal. Yet, that didn;t slow down the 28 year old Dutch volleyball player. She went on to compete in the 2016 Olympics too. Yet, what we love most about Sophie is her place of birth… Oost-, West- en Middelbeers, Netherlands. Seems like the Dutch and Swedish have all the cool town names.
29. Elina Salomäki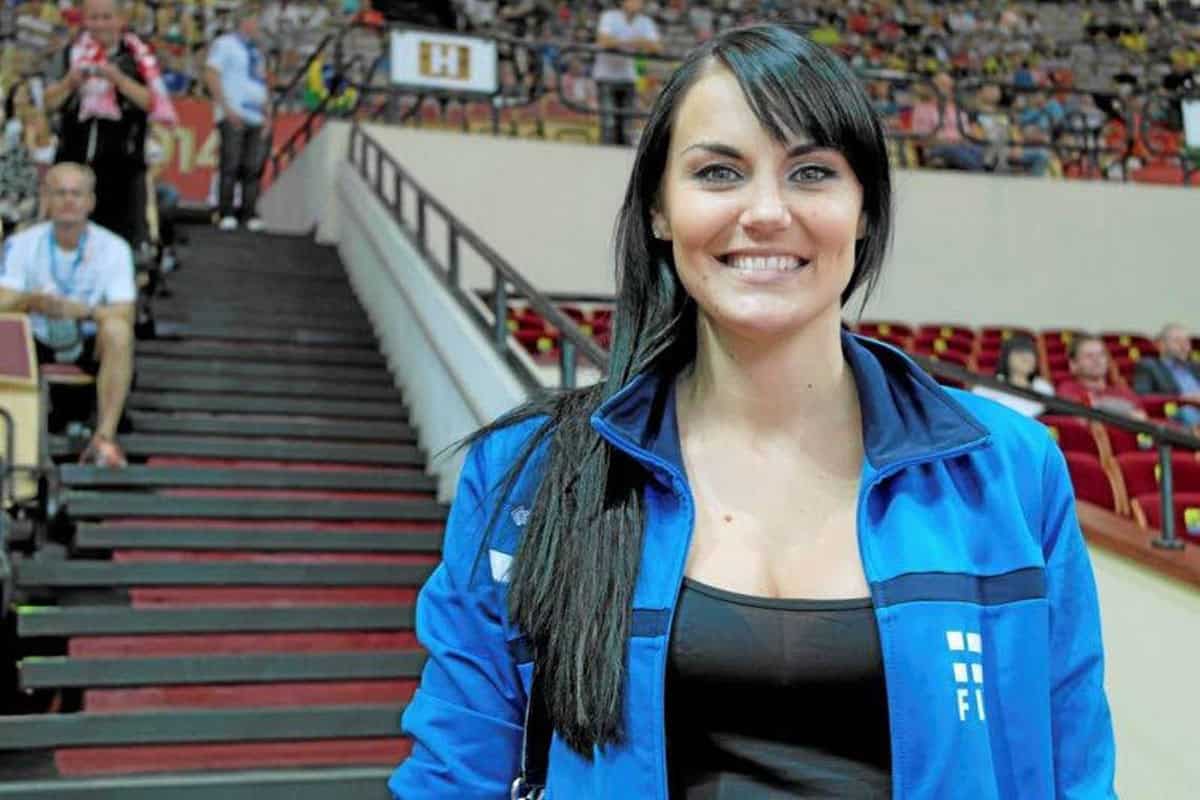 Elina has a lot going for her. She played professional beach volleyball for many years, though it was an on again off again love. Her husband, UL player Chris Cameron, encouraged her to jump back in after their marriage. She did playing for UL. Previously, she played for Finland. Now, she coaches a girl's volleyball high school team in Louisiana, the Ragin' Cajuns! She hopes to inspire the girls to pursue their dreams and follow their passions. Yet, it gets even better though. It seems Elina never rests because she is a psychiatric nurse and psych student too!
28. Francesca Piccinini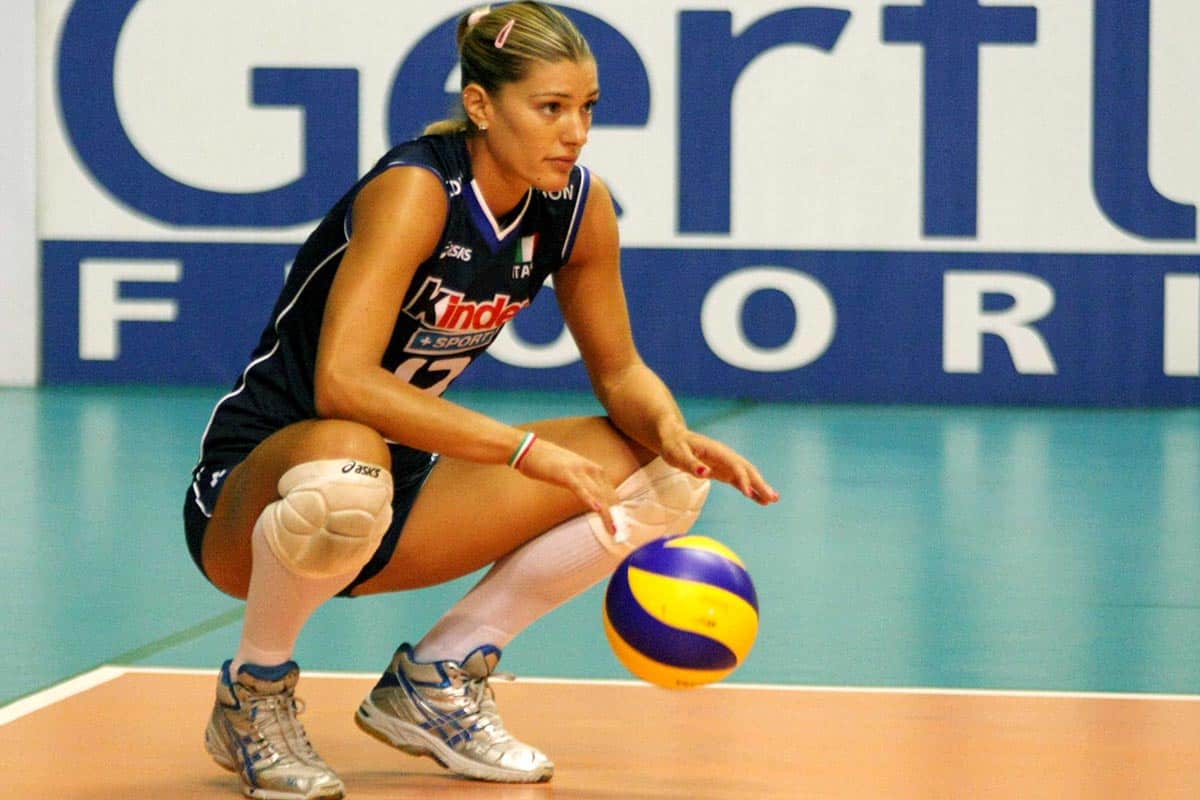 Francesca is a busy Olympian. She has represented her home country Italy four times during Summer Olympic competition (2000, 2004, 2008 and 2012). In 2002 she was part of the Women's volleyball team that took the gold in Germany (World Championship Competition). Yet, the real headlines were made after the 2012 Olympics when it was revealed she had a long time beef with her coach. After leaving the team, her former teammates defended her saying she was, "…an amazing person." She's since retired but still has that gorgeous smile! Oh yeah, and did we mention she once posed nude for Men's Health? Maybe we did, we can't remember.
27. Sarah Pavan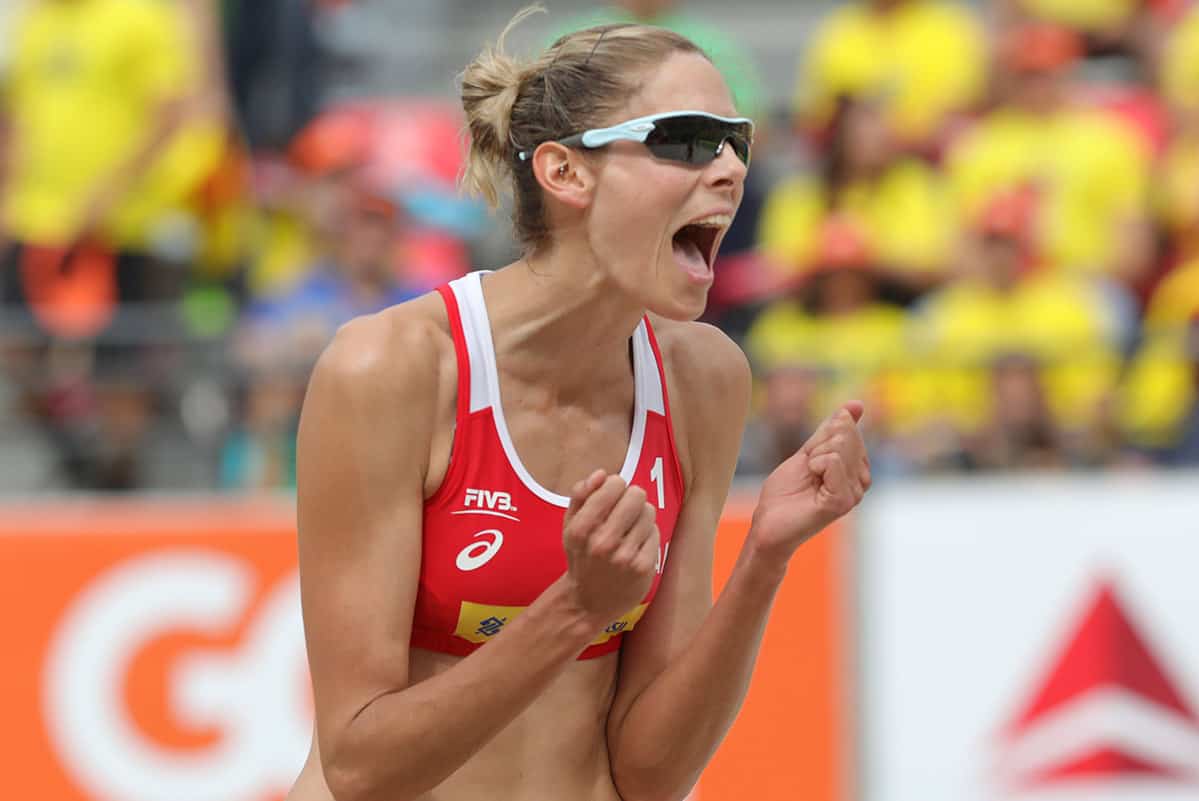 This is hands down the most beautiful beach volleyball player we've ever seen. yet, Canadian Sarah Pavan is so much more. For starters, she played indoor volleyball for years and was part of the Canadian team during the FIVB 2010 competition. In 2019, she won the gold medal at the Beach Volleyball World Championships. She's also a self described "huge nerd." The 30 year old still plays indoor volleyball in China. When she's not busy she likes doing jigsaw puzzles and reading. She also says she nabbed a 4.0 during her college years in Nebraska and has even taken an aromatherapy online class just to see how it works. Nerd or not, she's one gorgeous beach volleyball player!
26. Sara Goller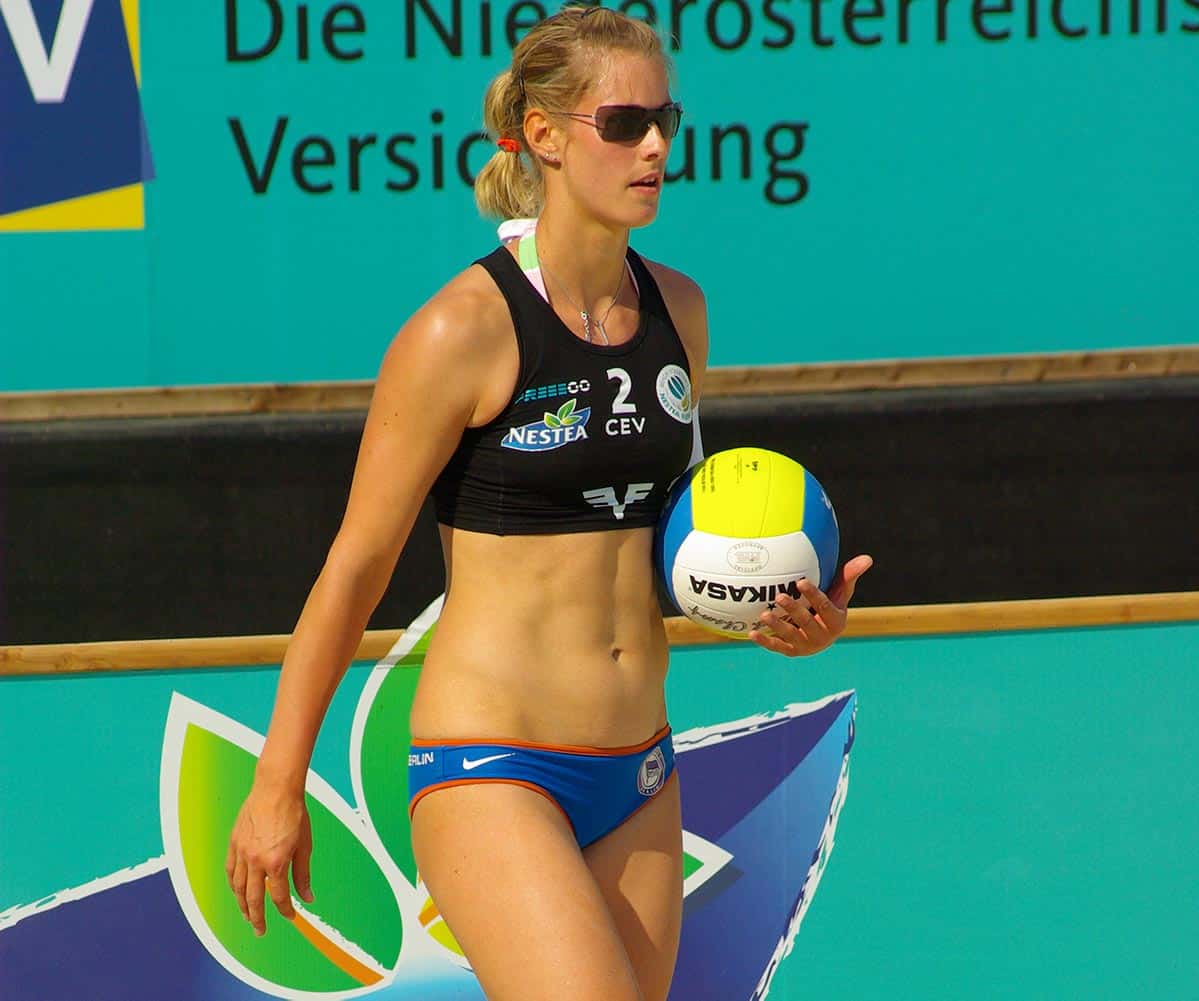 If you're trying to find the most gorgeous former professional German beach volleyball player on the planet, look no further than Sarah Goler. She and her partner swept the U20 European championship in Salzburg, One the U23 European championship, placed fourth during the women's European championship and defended the German Championship title, all by 2007. Her Olympic wins are equally impressive placing ninth in 2008 during the summer Olympics and maintaining a spot all the way through the quarterfinals and 2012. Since then, she's made the leap from professional beach volleyball player to sports reporter. Her beautiful face and figure are sure to keep people tuned into the sport!
25. Gabrielle Reece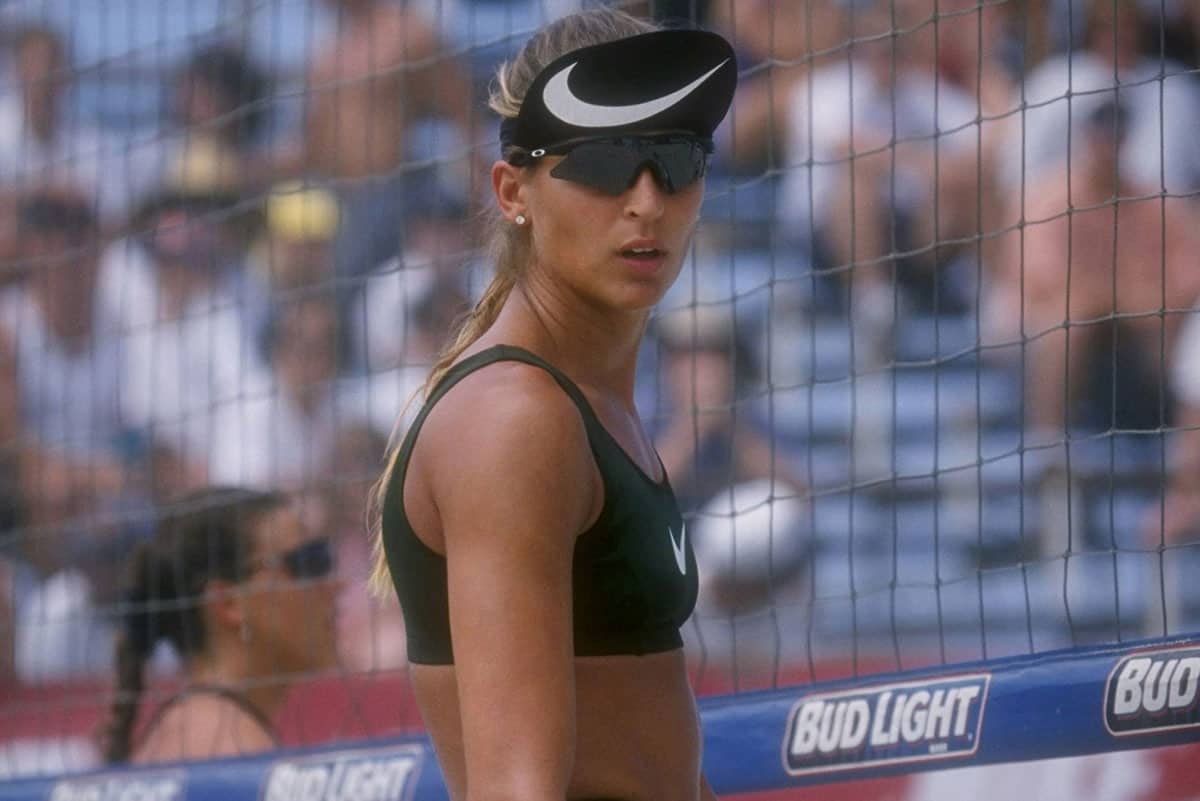 Gabby Reese is not only one of the most beautiful beach volleyball players we've ever seen, she is probably The most famous. With a healthy Instagram following (@GabbyReese) of 143.1k, she still has a lot to offer. For one, her fitness level is incredible. You would never guess Gabby is 47 years old. She claims food is your friend so long as you know what to eat and how to eat it. She probably gets a lot of help with that from her husband, famed surfer Laird Hamilton. Her secret to maintaining shape is exercise and a high fat diet. Plus, they stick to their routines during vacations. No deviants equals a still gorgeous Gabby Reese!
24. Heather Bansley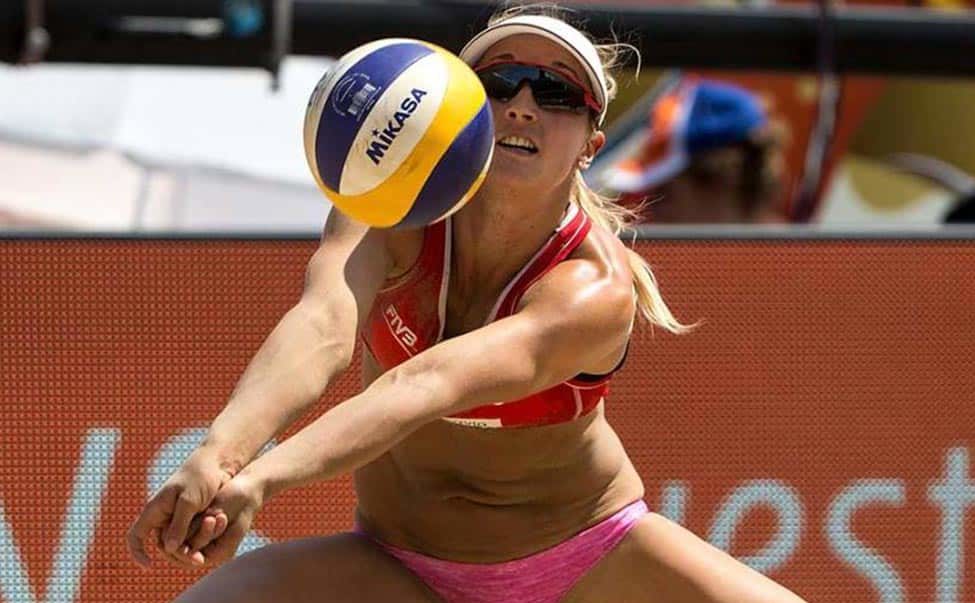 Heather is a 2016 Rio Olympian who has Tokyo 2020 in her sights. She was named FIVB defensive player of the year in 2018. Not bad for a gorgeous Canadian playing left side defender. Follow her Instagram, @Heatheransley, and become one of the more than 10,000 followers eager to see her next amazing beach volleyball shot. Her account is full of action photos, smiles, and of course… Bikinis. Because you can't have women's beach volleyball without bikinis. Oh, and if you notice the other person in the photo it's because we just mentioned her. Yep, Heather and Sarah Pavan are often paired up as beach volleyball partners!
23. Sanne Keizer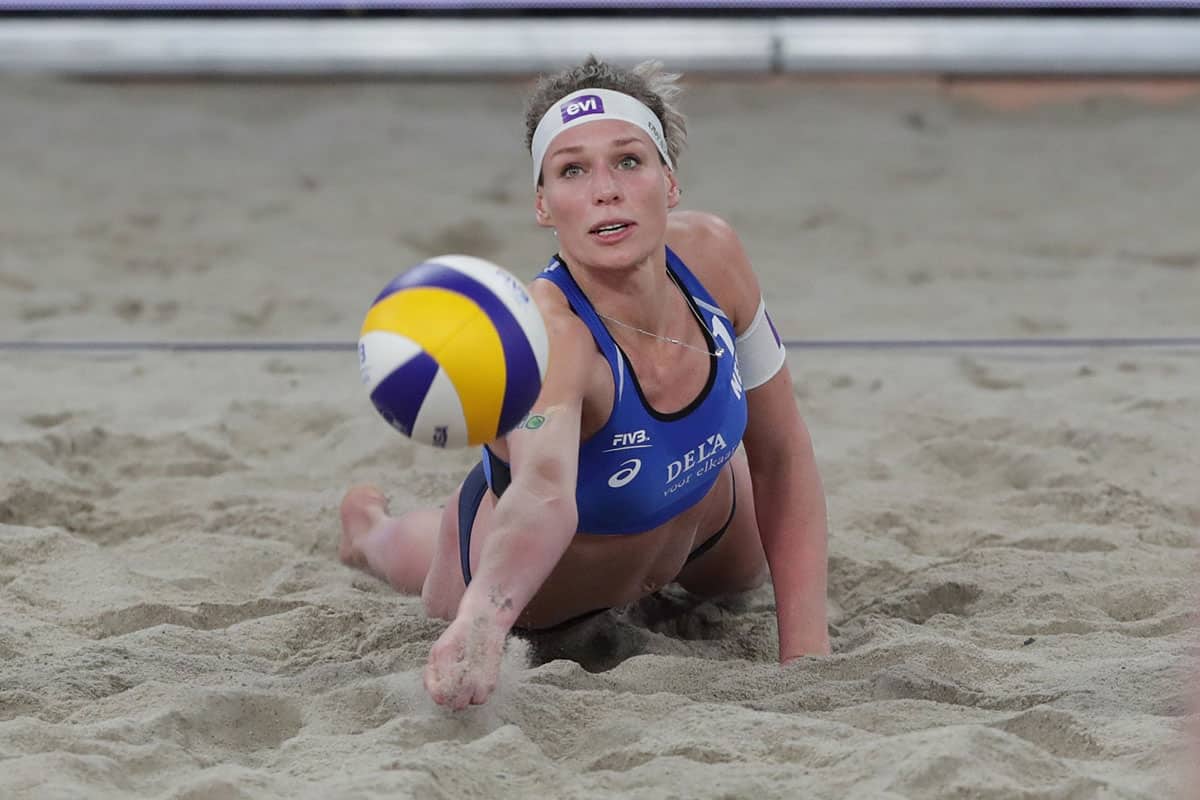 @sannekeizer makes beach volleyball looks effortless. Look at her in our picture. She's focused, but relaxed. But don't let the posture fool you. Sanne is an 2012 Olympian, 2020 Olympics hopeful, MCI grad and twin mom (and that's just from her IG account profile). She also won the European Championship in 2012 & 2018 with two gold, two silver and four bronze medals on the FIVB tour. She's from the Netherlands and consistently ranks as one of the hottest women in beach volleyball.
22. Ilka Semmler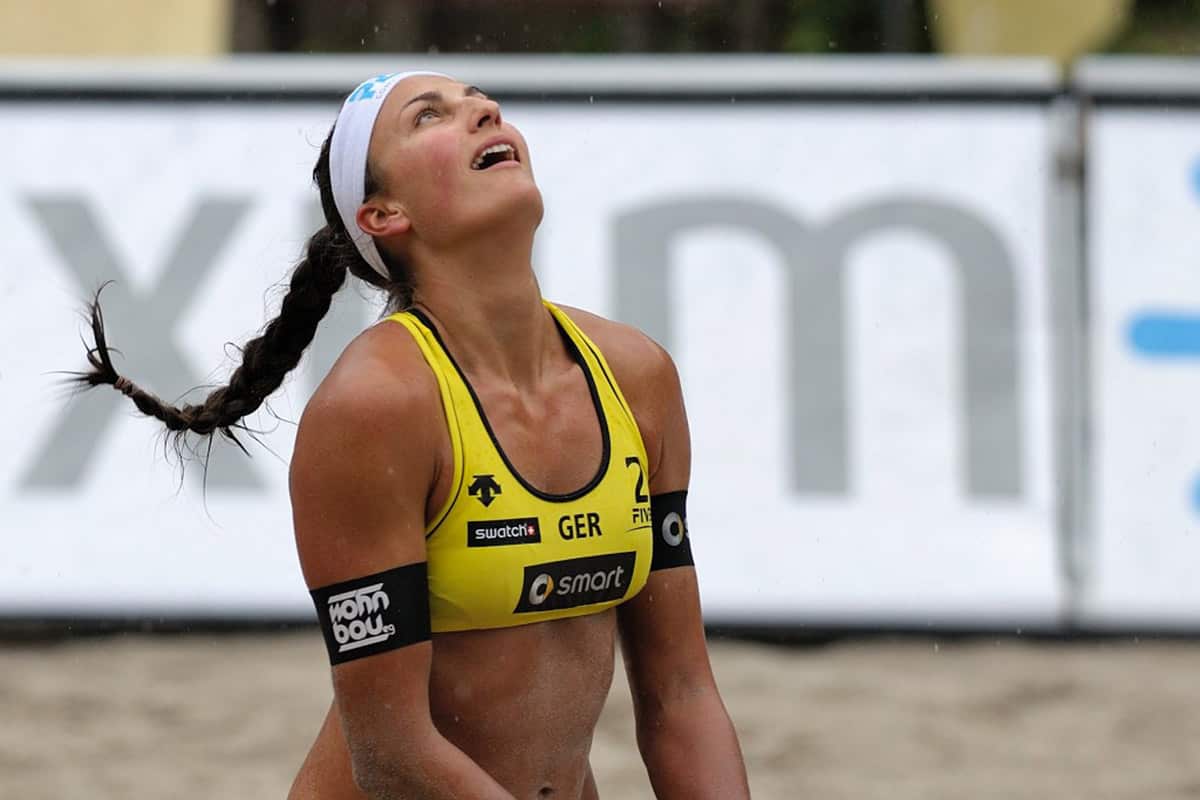 Search the net even a little and you will find Ilka on lists with names like "Top 15 Hottest beach Volleyball Players." She is for sure, but she's also a serious contender. Since retired, she was a fierce competitor between 2006-2016, finding herself as part of the 2012 Summer Olympic Team. She's a tall drink of water too! Many players are 5'11, but Ilka stands a full 6 feet tall. She beats most players bull a full inch! Does it give her an advantage? Maybe, but since she's retired we won't get a chance to find out! You can find her on IG though. Just search for @ilkasem85. her account is full of incredible beach volleyball pictures!
21. Isabelle Forrer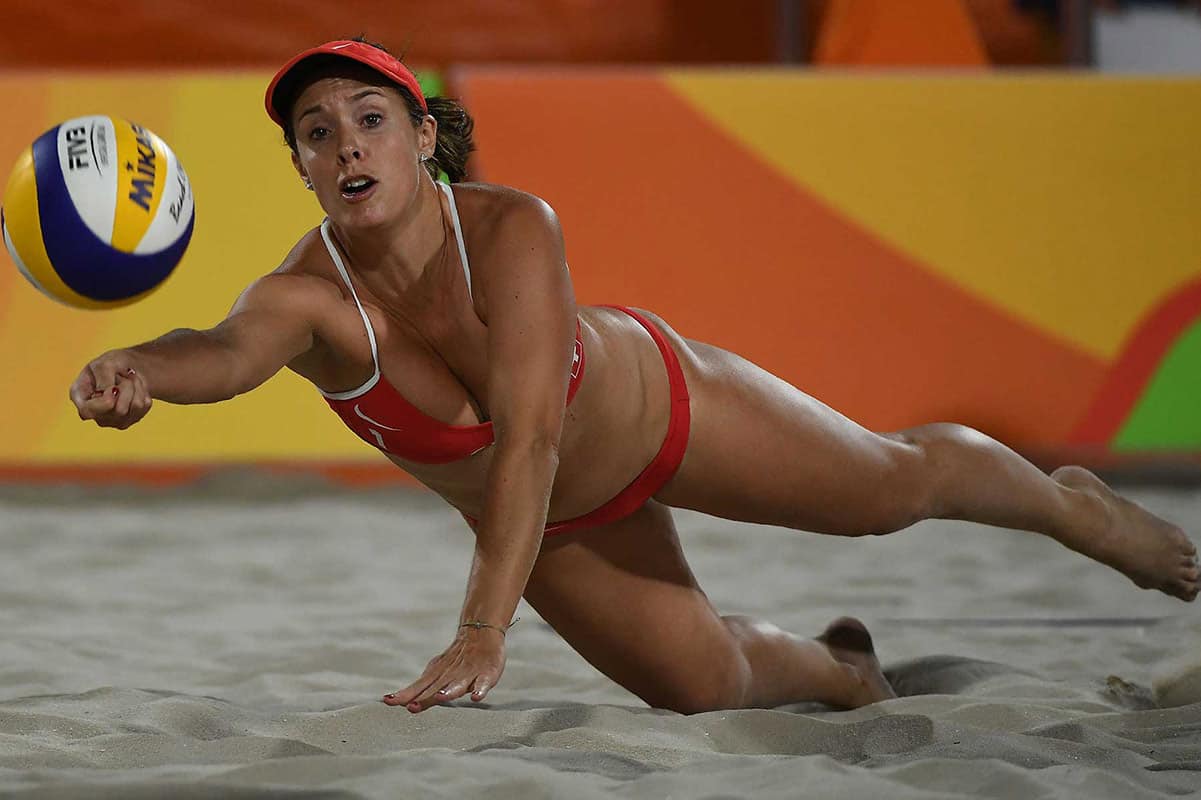 Funny, quirky, beautiful, those are just a few words we could use to describe @isabelleforrer (Instagram). Isabelle's feed is full of life. She says one of the best things after winter is finally feeling the sun on your skin. Sounds like this 2016 Olympian gets a bit pensive at times. She's also a physiotherapist by trade.
20. Sabina Altynbekova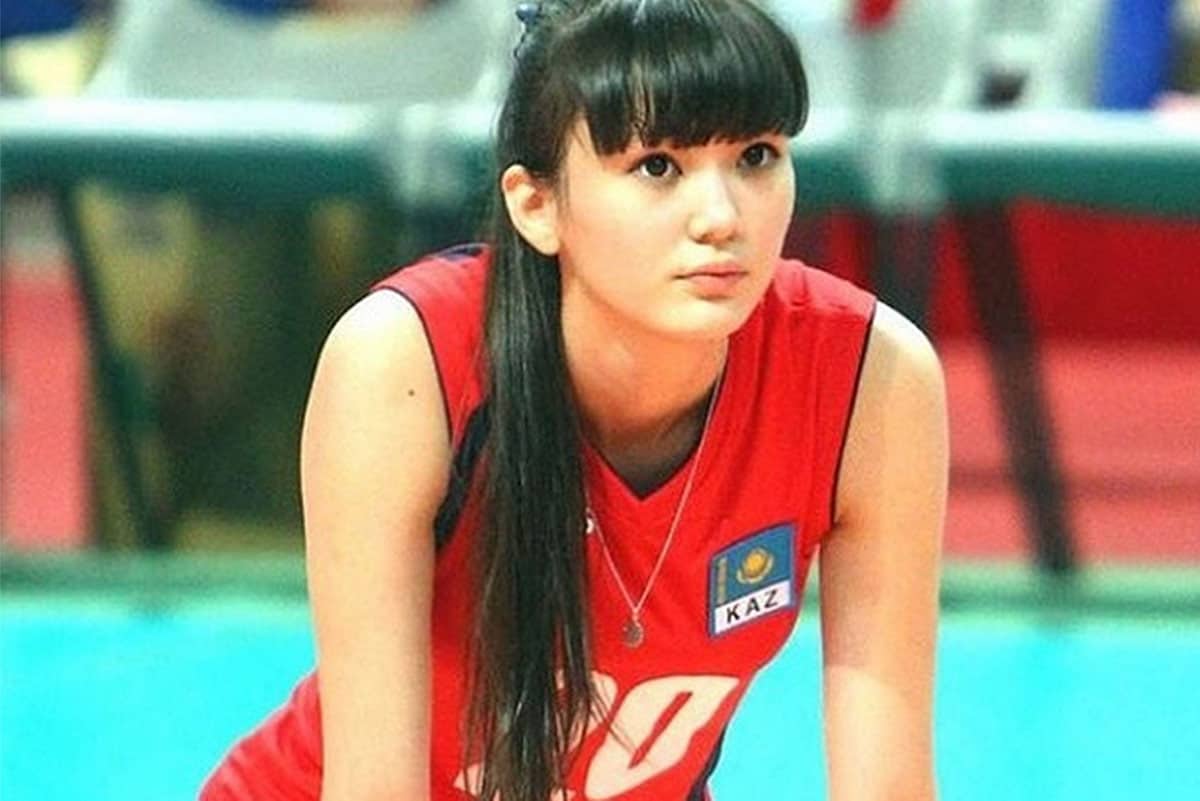 Kazakhstan native Sabina Altynbekova is the whole package. Gorgeous, talented and skilled, she is one amazing volleyball player. As a child, she attended a school for the gifted. Her parents wanted her to pursue a law degree from the gifted school, but Sabina chose to pursue a career as a volleyball player instead. She created quite a stir at tournaments too. Many say she was distracting because she is so pretty and has a near perfect figure. We wonder why that's a problem! Find more of Sabina by searching @altynbekova-20 on Instagram. You won't be disappointed!
19. Riikka Lehtonen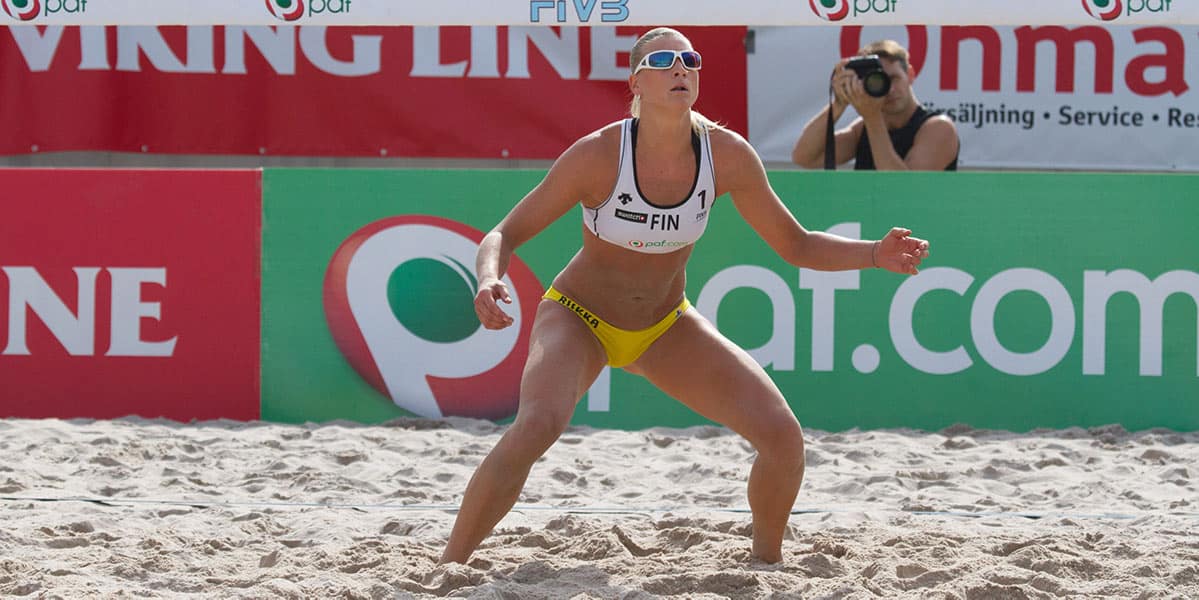 Finland beach volleyball player Riika Lehtonen is so good she makes the sport look easy. She has been a member of several volleyball clubs in Finland, Turkey, Greece, Italy, Japan, France, , and Azerbaijan. She holds the honor of being the most successful volleyball player in Finland. We would say she is the most gorgeous one too! You can find more of her on twitter by following @lehtonenriika. Funny, beautiful and fierce, we love everything about this amazing female beach volleyball player.
18. Jaqueline Carvalho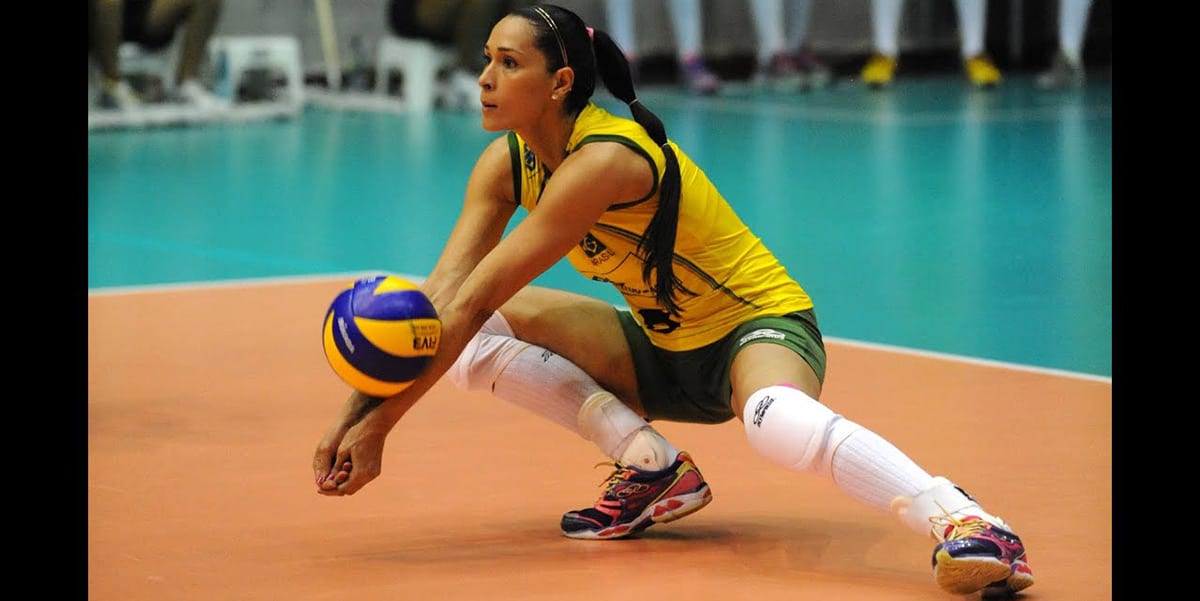 Follow @jaqueline on Instagram and prepare to be amazed! She has almost 1 million followers. Scrolling through her feed it's easy to see why. She is drop dead gorgeous! So the secret thing you don't know about Jaqueline might be she is a model. Yep, seems like in her case looks and skills combine to give us one beautiful female beach volleyball player. She was part of the team that won the 2008 Olympic Games in Beijing and the 2012 London Games. She also has numerous FIVB awards, international wins and club awards. If you step onto the court with her, you better be ready!
17. Jennifer Kessy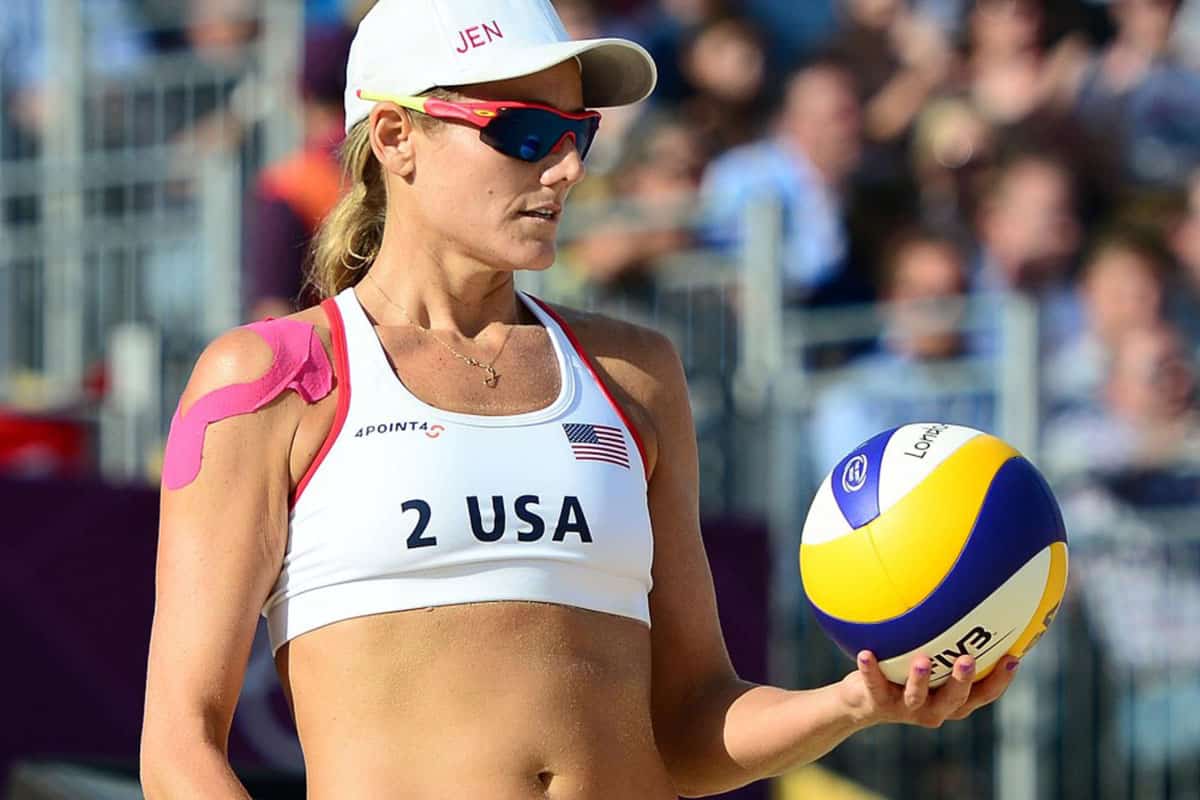 How many retired professional beach volleyball players do you know who look this gorgeous? Jennifer Kessy was a standout on the American 2012 Olympic Volleyball team! During the run-up, she became the 8th women to surpass $1 million in career earnings! At the 2012 Olympics she scored the silver medal with her partner April Ross. Also, she has twice been named the USA Beach Volleyball Team of the Year alongside April (2009 and 2012). Upon retirement, she's served as a volleyball coach since 2017. Find more of her life on IG by following @jenniferkessy.
16. Rachel Wacholder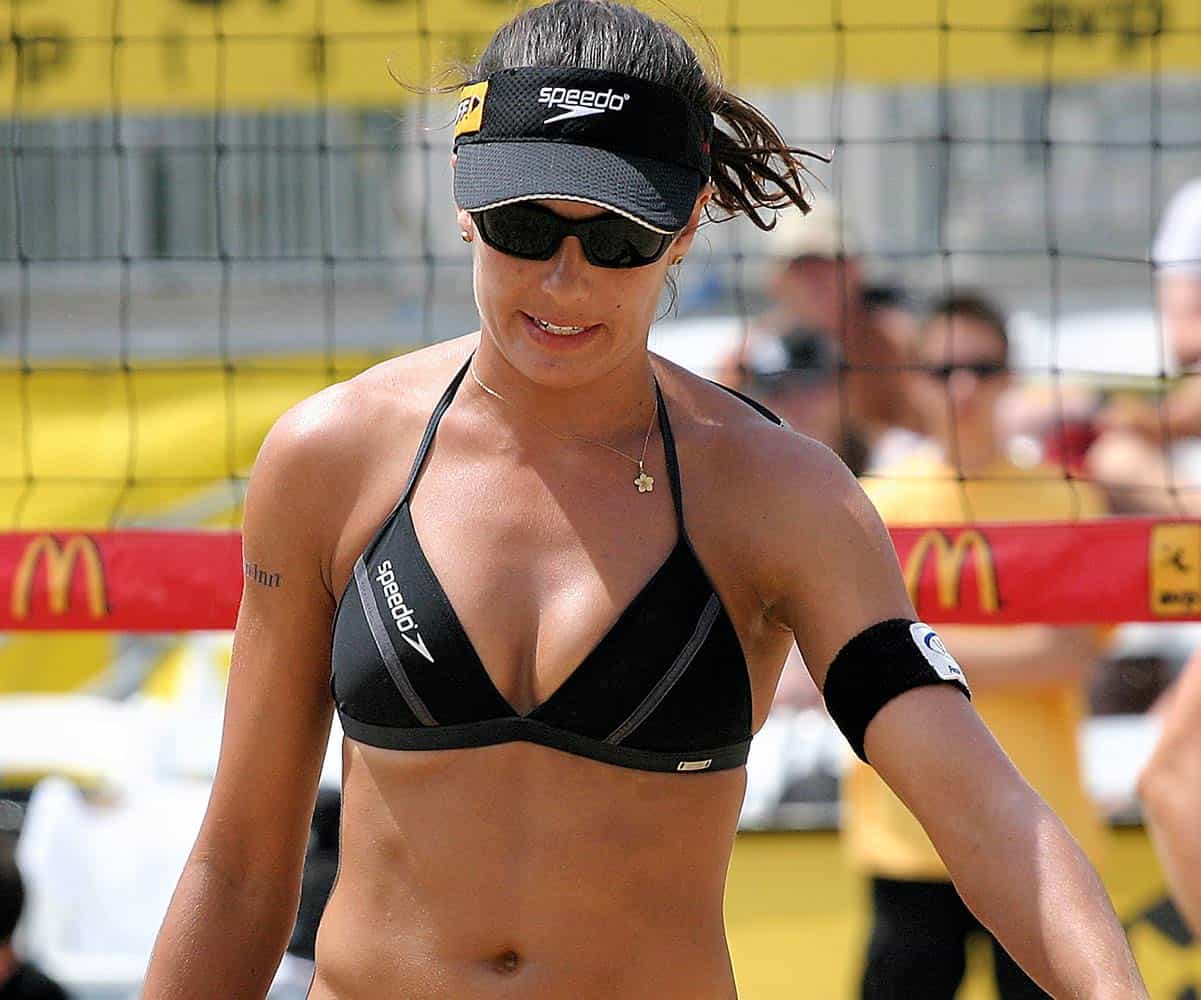 Now known as Rachel Wacholder-Scott, she is probably best remembered for her partnership with Elaine Youngs. The two of them were a force! Together they won five AVP events! Not bad for a California native with a blazing white smile! if you recall, Rachel and her teammate were responsible for ending the 50 game winning streak held by Misty May-Trainor  and Kerry Walsh-Jennings. She's won awards like "Best Defensive Player" and "Most Improved Player" throughout her career. She also happens to be a model, which explains all of the amazing pics of her you find by doing a simple name search.
15. Nina-Betschart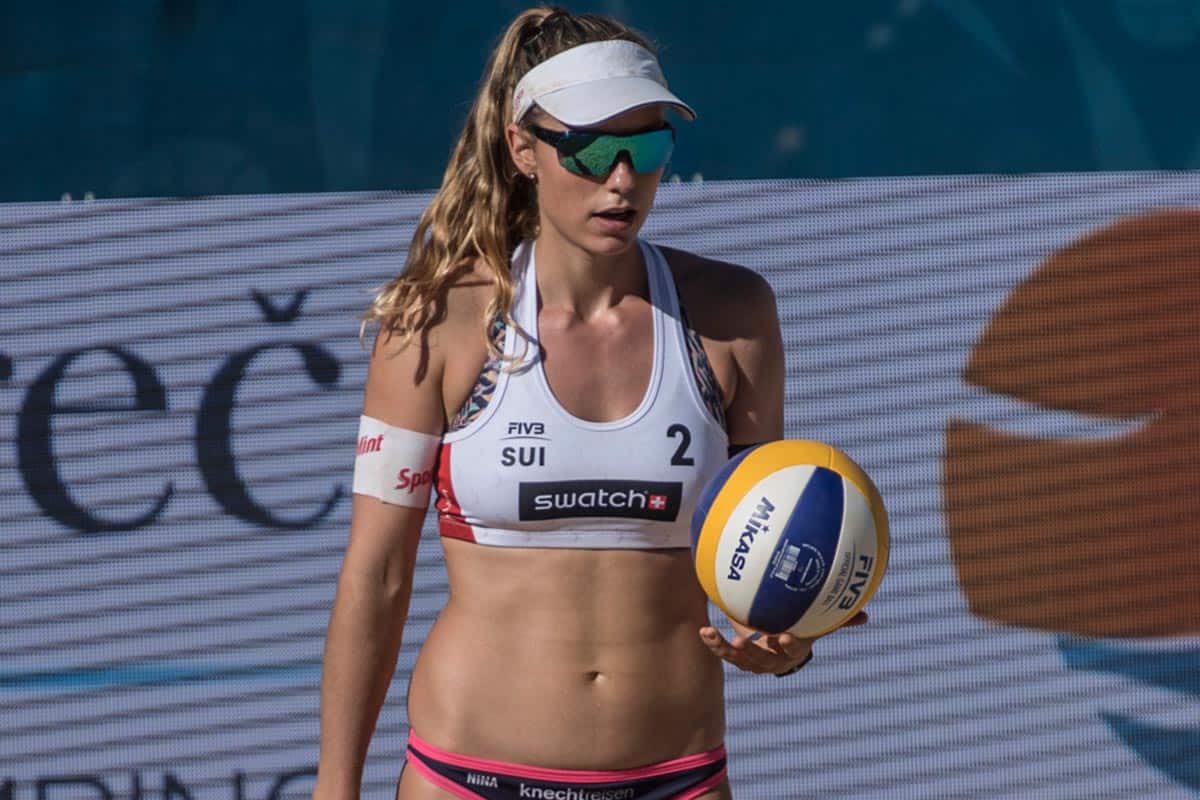 Follow @ninabetschart on Instagram for all of the latest beach volleyball antics from Switzerland. Yep, the Swiss native is gorgeous and has mad sand skills. She was the gold medal winner at the first over European Games in 2015. The amazing 23 year old is 5'9″ tall and weighs 143 pounds. This enables her to be quick and nimble on the court. From dives to crazy saves, Nina is the best. She already has two U21 Championships under her belt as well as four gold medal European wins.
14. Kacie Mactavish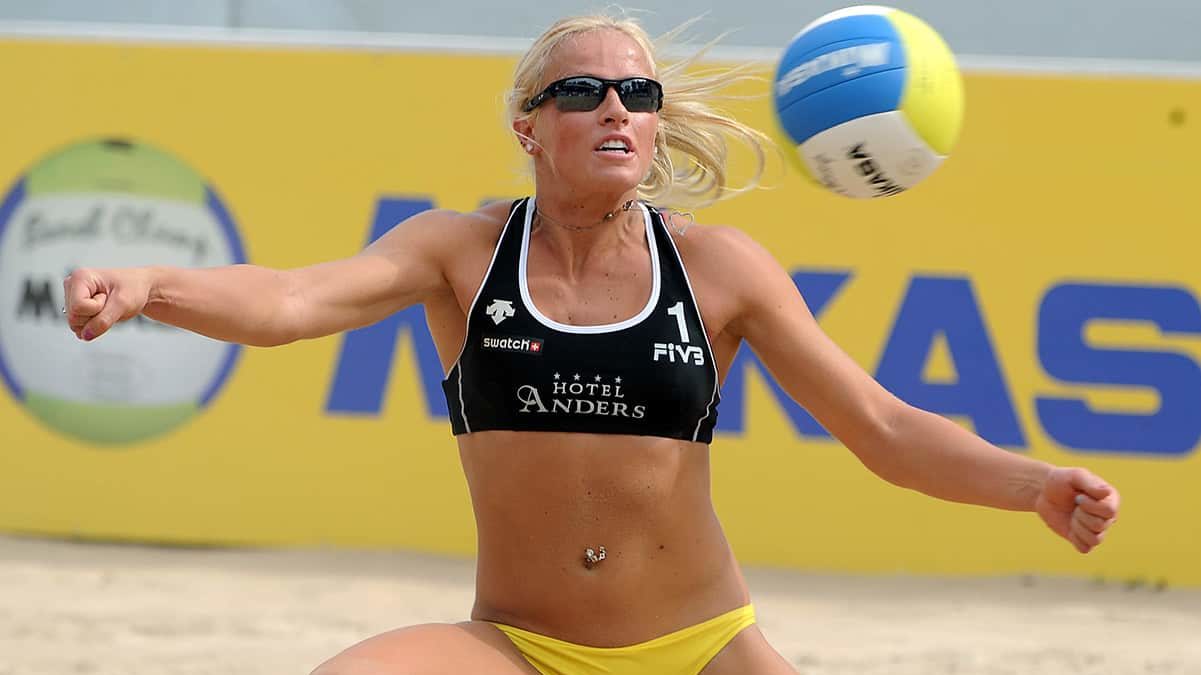 In a recent interview, Kacie said, "It's not fun getting sand in your mouth." Of course it's not, but why would she say that? It's pretty obvious. Maybe it has something to do with the fact she played for Syracuse in college. Her stats were impressive too. Kacie had 909 career kills, 838 digs and grabbed the 10th spot on Syracuse's all-time attacks list with 2,739! She played sand volleyball in the offseason along with many of her teammates. And while sand in the mouth is no fun, she admits it is a LOT easier on the body. Follow her on twitter (@KacieMacTavish) for a dose of both!
13. Karolina Sowala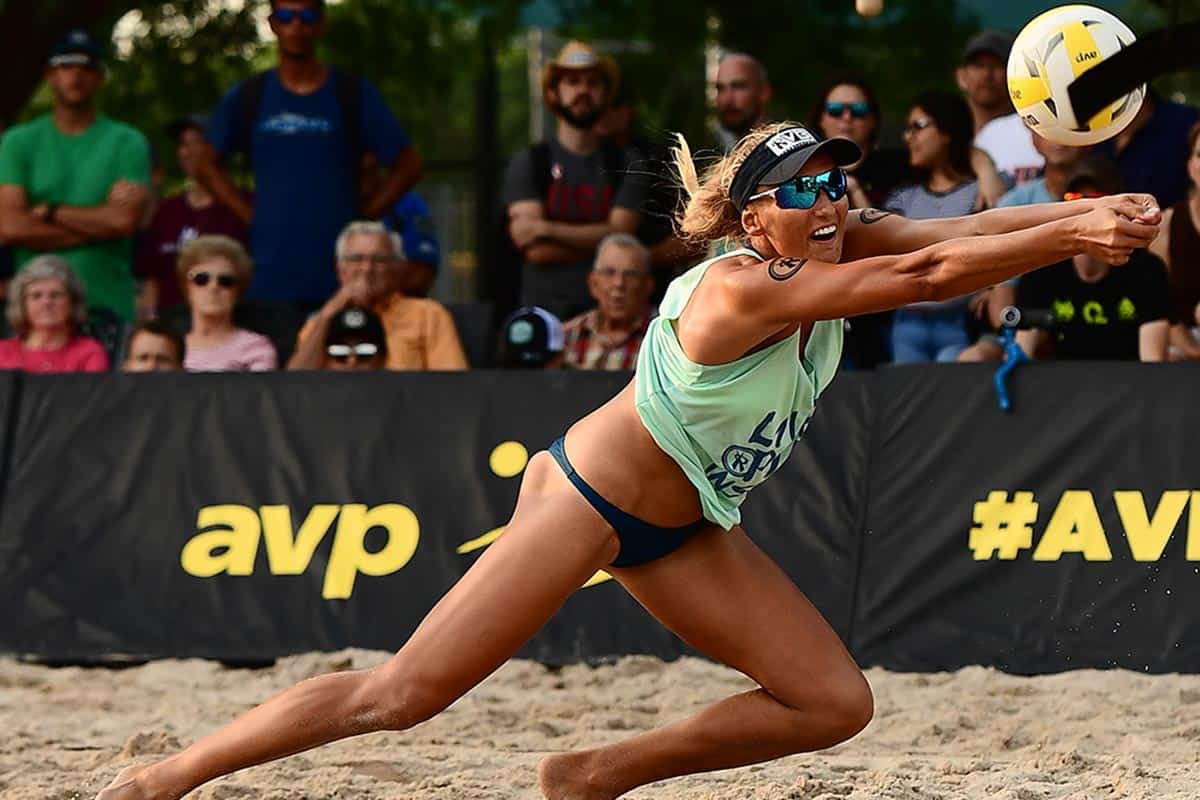 Karolina is the beach volleyball stuff of legend. In 2016 she teamed up with Raquel Ferreira and made headlines as a real star player. Yet, she has humble beginnings. Originally from Poland, she played the sport indoors as a teenager until summer. Of course, summer was only two months long so sand time was limited. They loved it though and it was during one of those times that a national coach met her and offered her a spot on the national Poland team. That's was 2006. She took the offer and never looked . She been playing hard ever since!
12. Nadine Strauss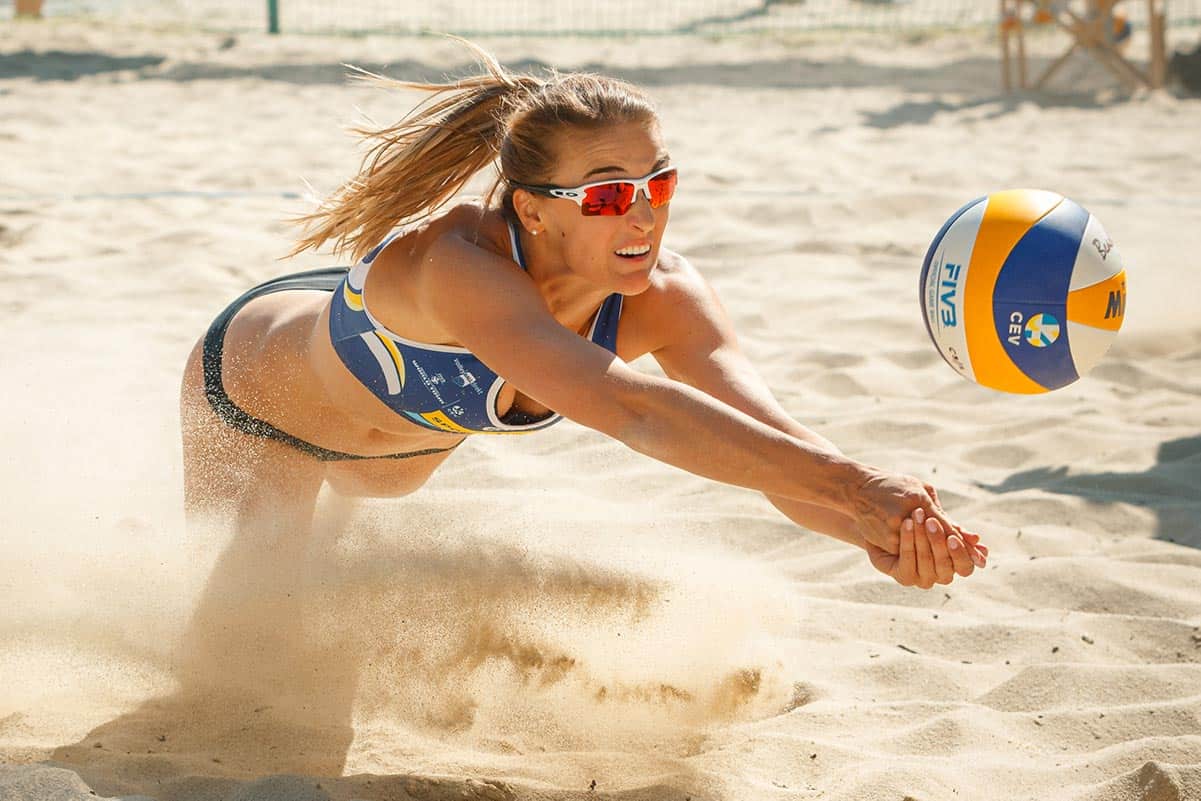 Nadine made headlines in 2017 when she and her twin when they swept their way into the FIVB Beach Volleyball World Tour. It was unthinkable at the time, but they arrived at the Malaysia Open women's semifinals undefeated. during the tour of the U20 circuit people marveled at their synchronicity and harmony on the court. it was described as if they were almost making music rather than playing volleyball. Twins do have that weird thing about them you know. Perhaps it gave Nadine and Teresa an edge. She is one to keep an eye on for sure!
11. Marta Menegatti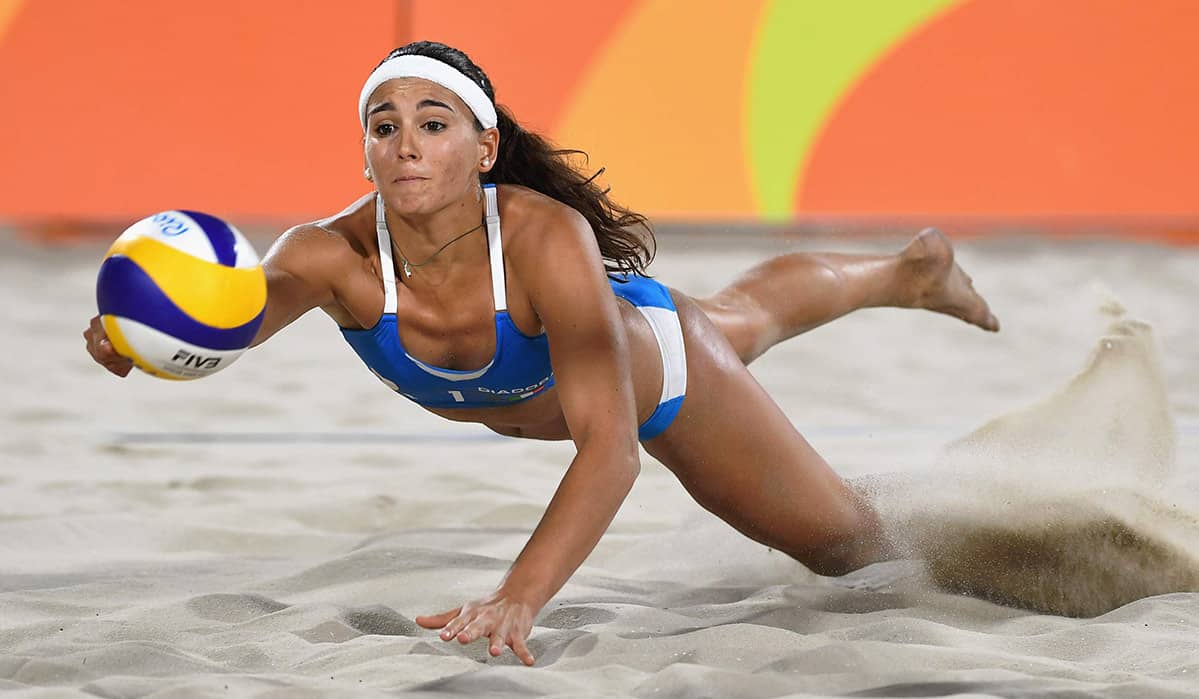 You may remember the 2016 Olympics where Marta Menegatti created some controversy when she paired up with ousted teammate Laura Giombini. They started strong, but fizzled out. It was her second Olympic event and she was a rising star at only 25 years old! She was no stranger to beach volleyball though, At 19, she made a full transition from court ball to beach volleyball, going on to be an Olympic hopeful and ultimately play in two Olympic Games! Follow her online for more. Search @marta_menegatti, follow, and enjoy!
10. Katrin Holtwick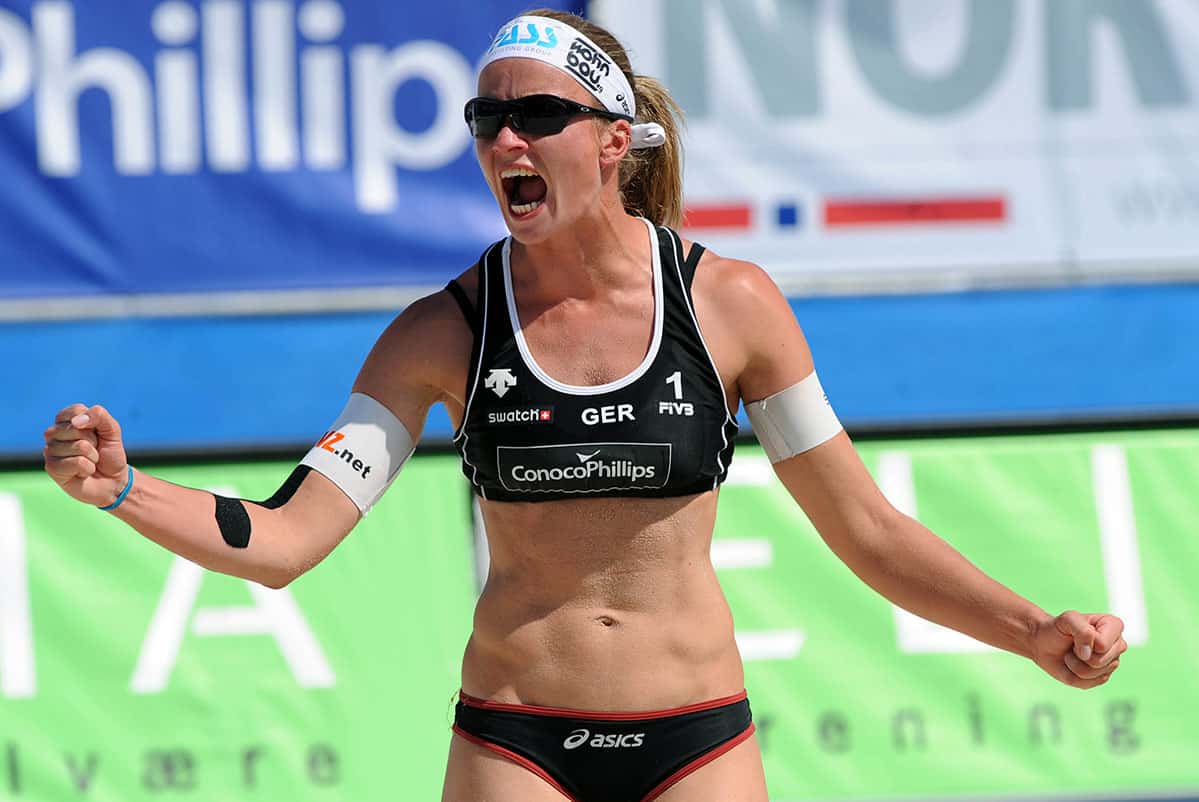 From 2006 – 2016, Katrin Holtwick was a beach volleyball beast! She's since retired, but played with Ilka Semmler at the 2012 Summer Olympics in London. In addition, she also won 2 gold medals, a total of 5 silver medals and an impressive 6 bronze medals in the FIVB Beach Volleyball World Tour. She retired after two losses on the German circuit in 2016, but left a definite mark on the sport. In her heyday, fans would show up early to catch a glimpse of her glorious 5'9 figure gracing the beach in hot competition sponsored bikinis. To see what we mean search @katrinholtwick on Instagram.
9. Marleen Van Iersel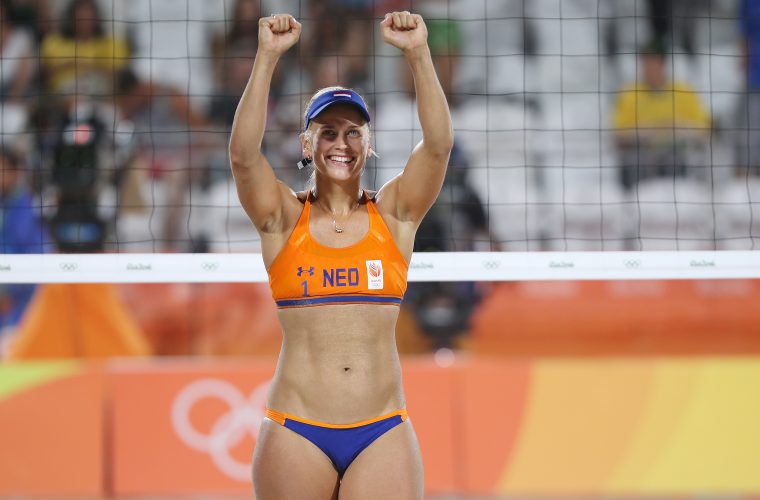 You can find the gorgeous Marleen Van Lersel on Instagram by searching @marleenvaniersel and twitter by looking for the same. She is a wife, mother and Olympian (2012 London and 2016 Rio). Her Instagram has a link to her FIVB win record, but for real-time updates her twitter feed is gold. Funny, beautiful and wicked smart, we always want to see more of her. The Netherlands native is just getting started!
8. Kerri Walsh Jennings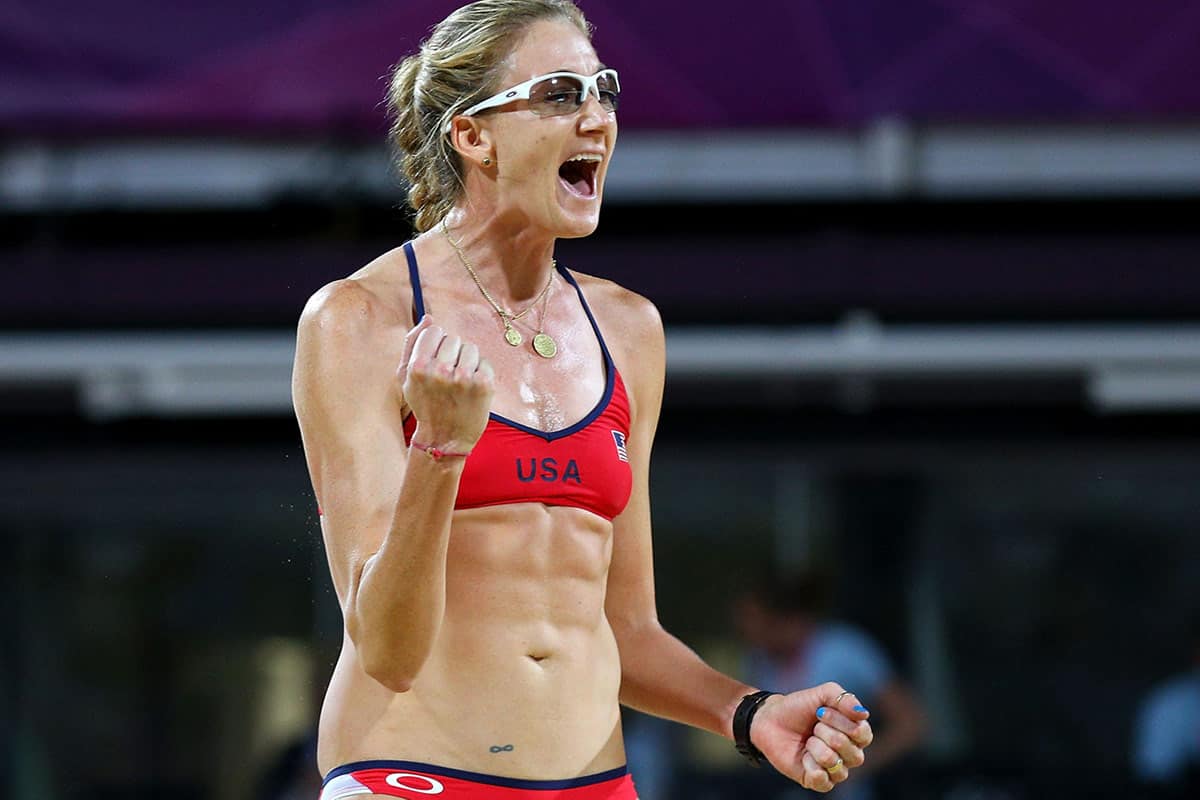 In 2016, Kerri became the most decorated beach volleyball player of all time after she took the bronze medal. At the time she was part of the infamous winning streak alongside her partner, Misty May-Treanor. She is also only one of three famous beach volleyball players to have more than one Olympic medal. We love her smile and determination. it's something we look up too. We would have to anyway. Kerry stand a staggering 6'3! Wow! Find more of this beautifully tall beach volleyball player by searching Instagram for @kerrileewalsh.
7. Markéta Sluková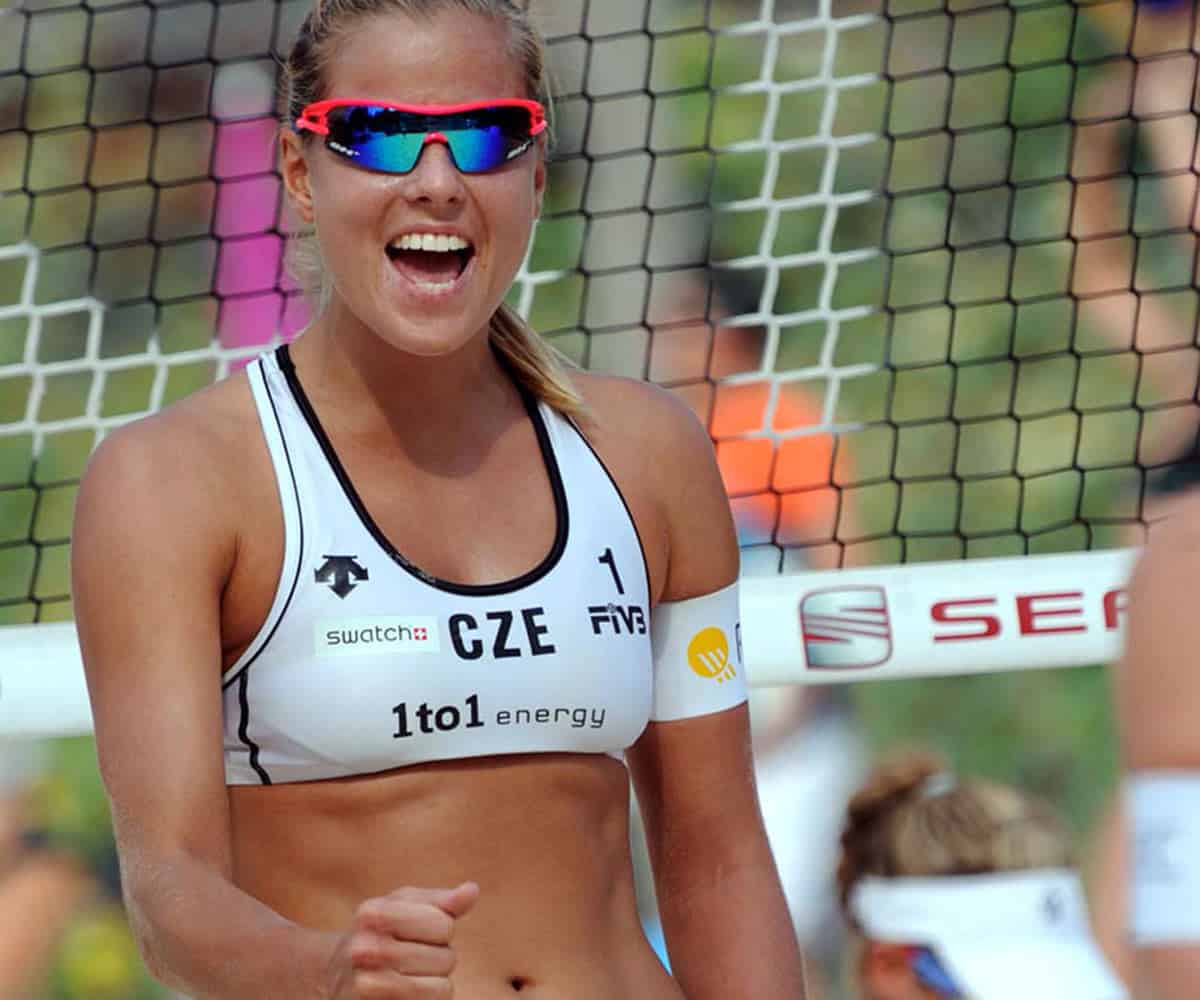 Search @beach_maki on Instagram and receive an instant reward. Marketa Slukova is one of the most beautiful beach volleyball players on the planet. She is an Olympian ( ???????? 5th, ???????? 17th) and FIVB World Tour & CEV medalist. The Czech native is also a self described "dog mama." You can see her gorgeous black pooches by scrolling through her account. Her volleyball roots can be traced back to her interest in gymnastics at the age of 4. By ten, she moved to indoor volleyball courts and transitioned to beach volleyball by the age of 18. She's been nursing up the sand ever since!
6. Krystyna Kolocova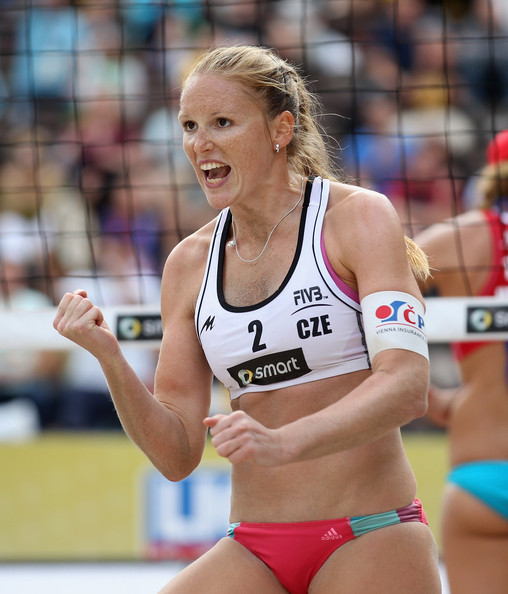 Krystyna is a former Czech beach volleyball player. Her breakdown is as follows. She and her partner, Markéta Sluková, grabbed 5th place at the London 2012 Summer Olympics. They were qualifiers from Group C, and went on to beat Brazilian duo Antonelli and Antunes in round 16. They lost to Jennifer Kessy and April Ross (ultimate silver medalists) in the quarterfinals. She goes by the nickname "kiki" and was actually more nervous playing tournaments in her hometown than she ever was playing in the Olympics. With her smile you would never know!
5. Maria Elisa Antonelli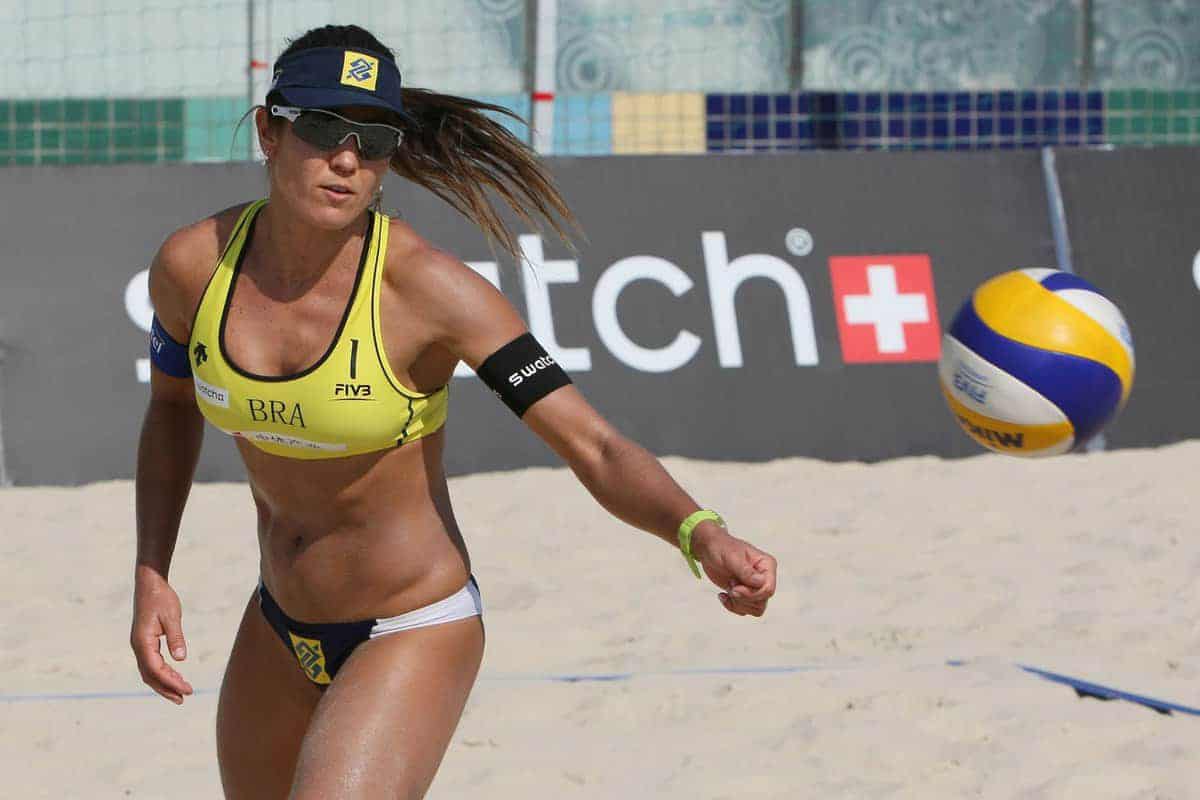 Brazilian beach volleyball player Maria Elisa Mendes Ticom Antonelli competed in the 2012 Olympics alongside Talita Antunes. Say that sentence five times really fast and you could probably pass any Rosetta Stone course! Seriously though, She is a fierce competitor. Here and her teammate qualified from Group E. They were knocked out of competition by the individual we just mentioned. Ouch! Still, we give mad bonus points to anyone from Pola, Istria, Italy just because it is such a beautiful place. Find more of her on Instagram. She is @mariaelisaantonelli.
4. Liliana Fernández
Don't you love when professional athletes give you a glimpse inside their private lives? Such is the case with Liliana Fernandez. Her Instagram account (@liliana.fernandez.steiner) features tons of photos of her and her family. You kind of feel like you know her after scrolling through her feed. Liliana is shorter than most players we have seen on our list. She stands 5'10 tall and weighs 165 pounds. She played in the 2012 Olympics, but her and her partner, Elsa Baquerizo, were eliminated in round 16 by Italian duo Greta Cicolari and Marta Menegatti. She is still a fierce beach volleyball competitor though. Look at her yelling in our pic!
3. Manon Flier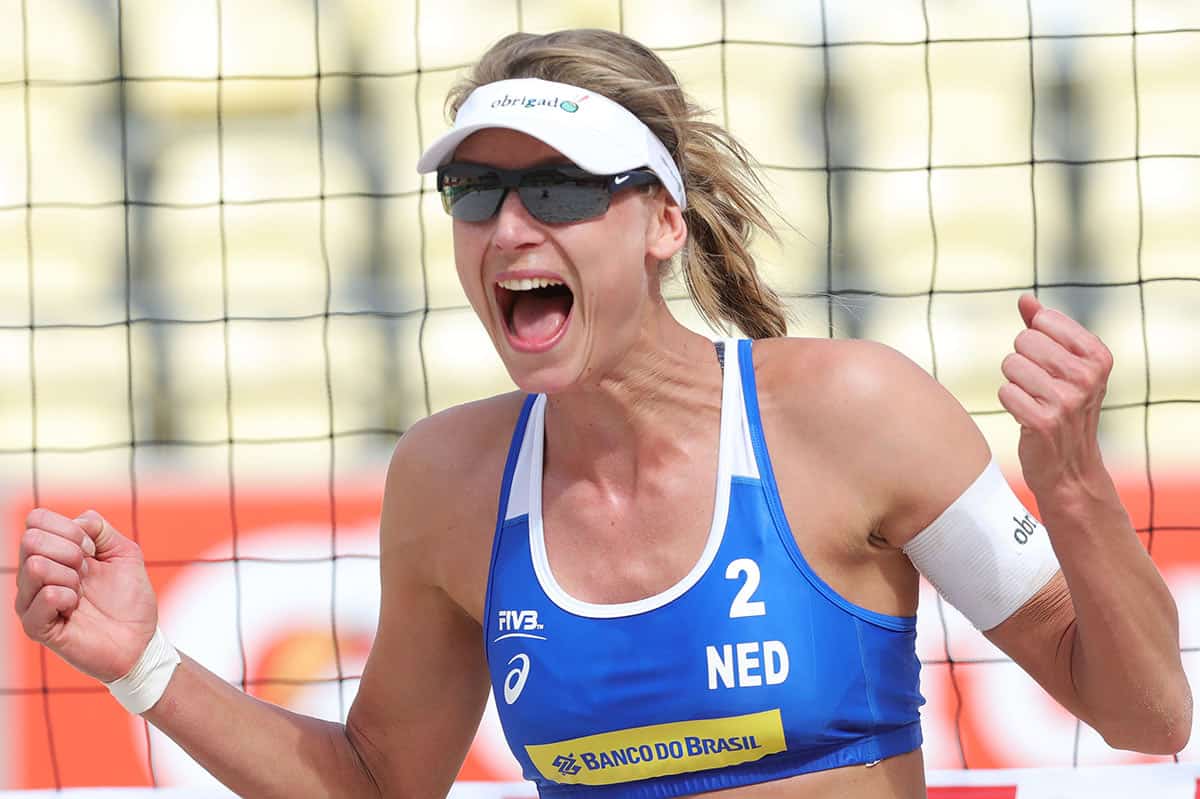 Manon Nummerdor-Flier (yes that's her real maiden name) is a since retired Netherlands volleyball player. She played opposite while she was active in the sport. Manon grabbed the title Most Valuable Player during the 2007 FIVB World Grand Prix. It was held in Ningbo, PR China and the Dutch national team won the gold medal! She is married (hence the hyphen name) to Reinder Nummerdor, a Dutch professional beach volleyball player and they have one daughter. You can still find more of her though on Instagram, Just look for @manonflier.
2. Logan Tom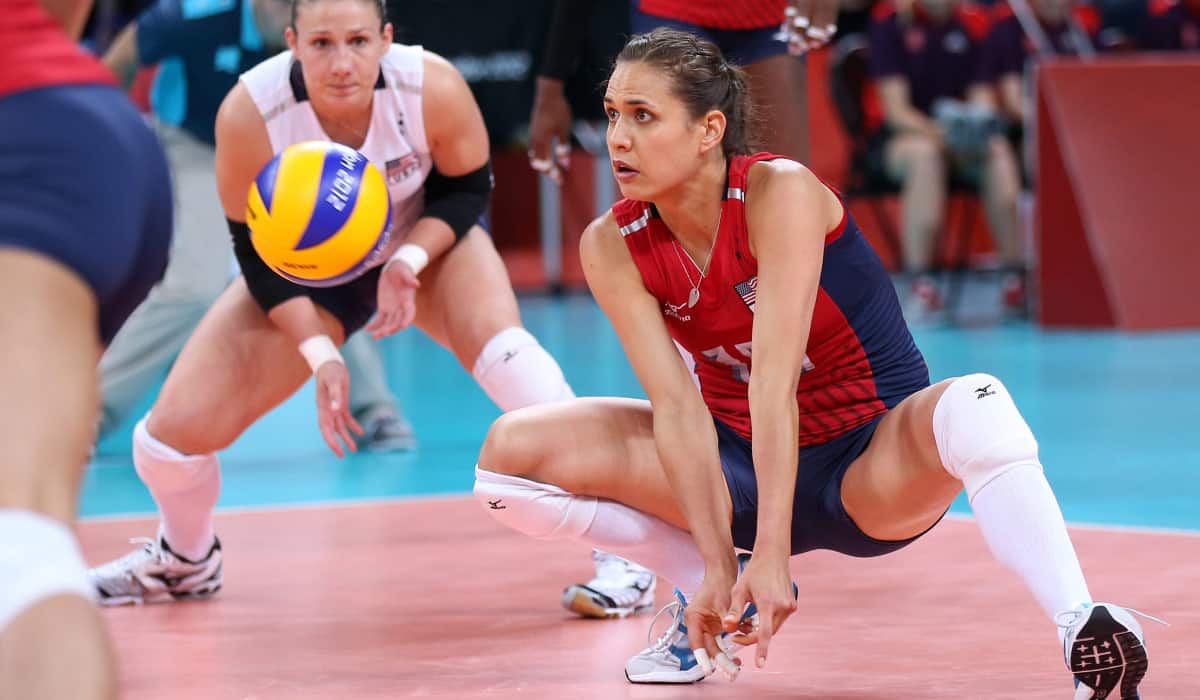 Logan plays both indoor volleyball and beach volleyball professionally. A four-time Olympian she plays outside hitter. At age 19, she became the youngest woman to be selected for an American Olympic volleyball team. Ultimately, she went on to compete in the Sidney Games in 2000. She brings stability to serve receive and defense, because she is a fantastic all-around player. She was a huge part of the national team (2000 to 2012). In Beijing, Logan helped win a silver medal and went on to receive the title Best Scorer!
1. Madeleine Meppelink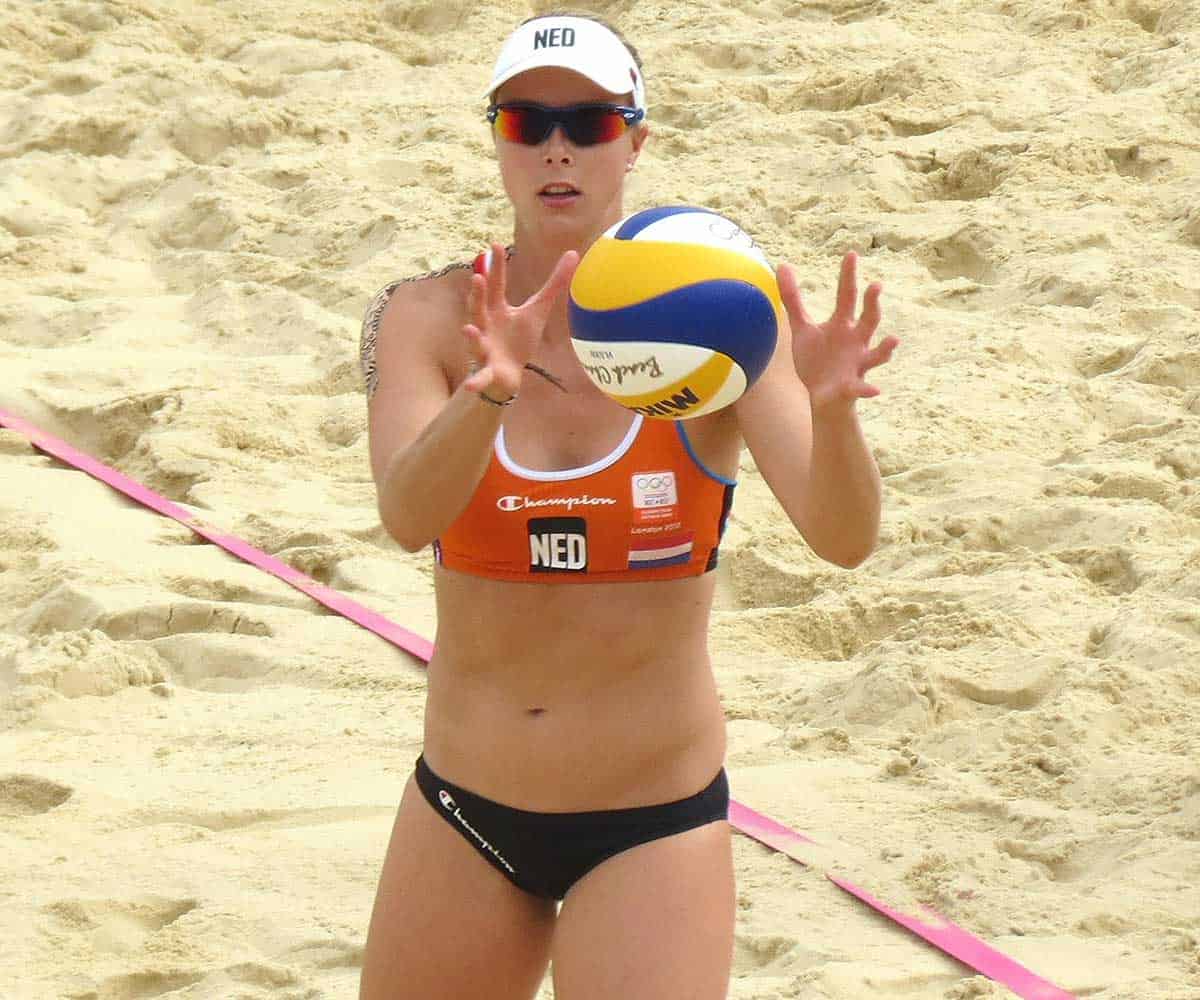 Madeleine's Instagram account (@m_meppelink) is a beach volleyball visual feast for the eyes. She has won numerous FIVB medals, a 2012 and 2016 Olympian, and currently has her eyes set on the road to Tokyo! Yet, perhaps what impresses us most is she was one of a number of professional beach volleyball players who got together to for ma union. Madeleine serves as president. This was after the 2017 season fell short of expectations. Previously, beach volleyball saw a huge increase in viewership during the 2012 and 2016 Olympic games. So athletes felt the sport had potential to grow and expand. Hence, they formed a union to protect their interests and promote the sport. We don't see anything wrong with that!