50 Cool Items You Can Buy on Amazon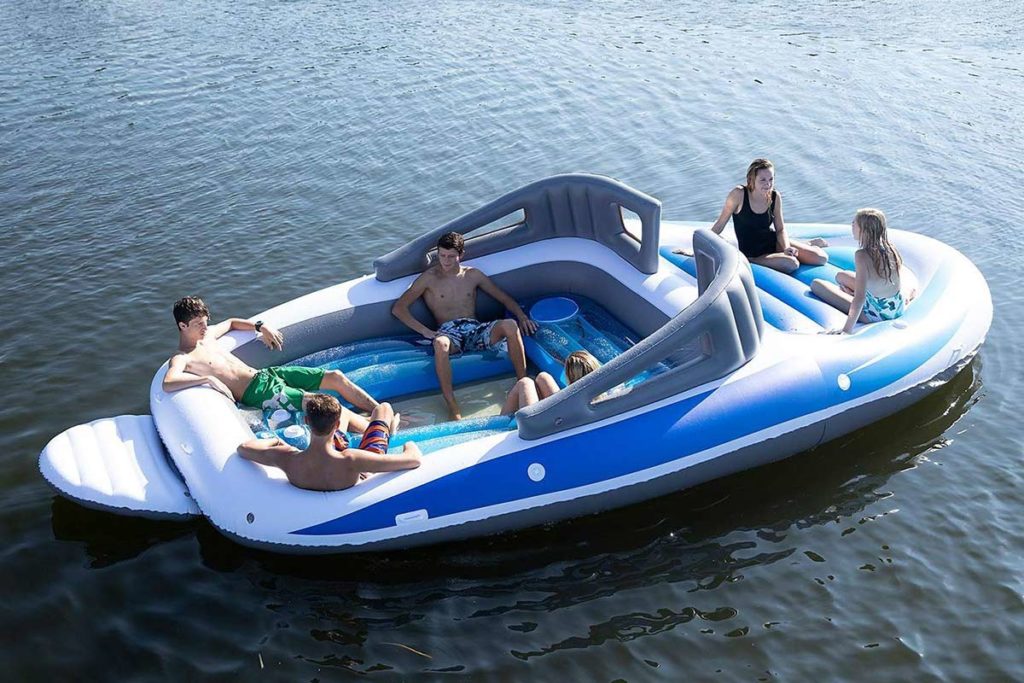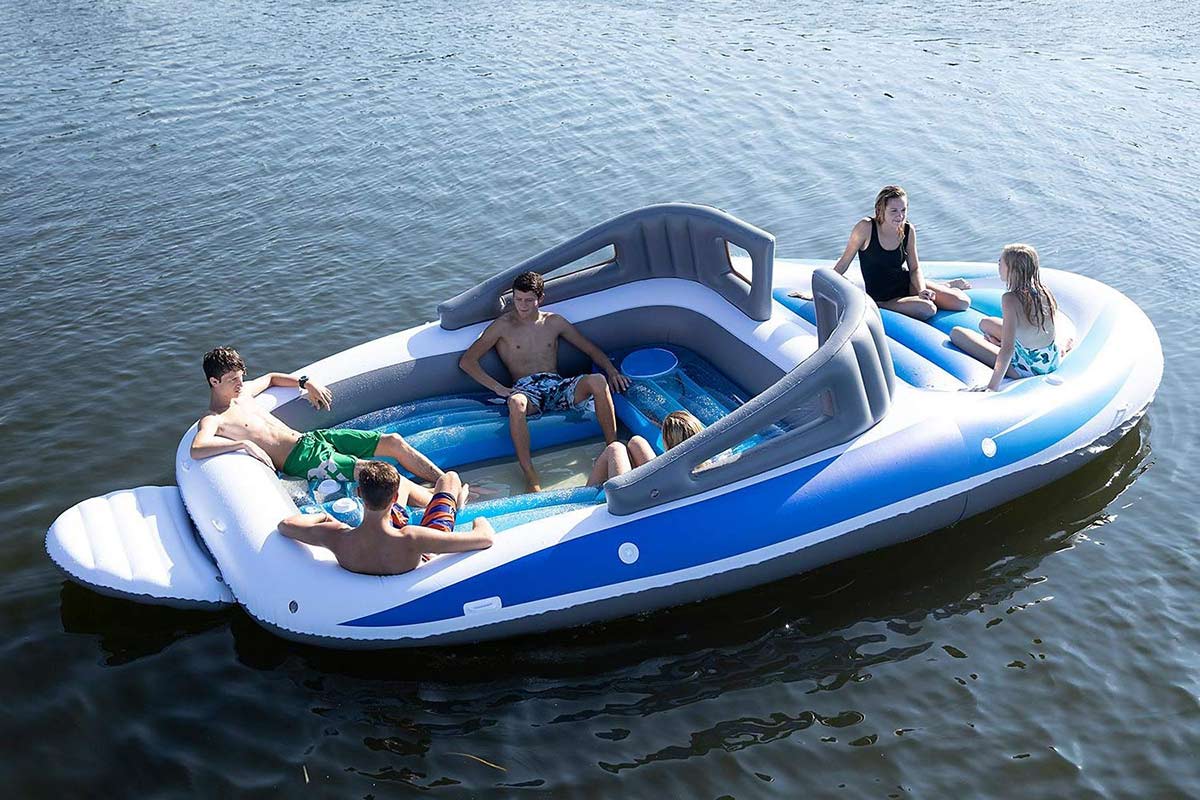 If you are a fan of beaches then make sure to add his umbrella table tray to your arsenal. It is quite easy to install and has a universal fit. With this cupholder by your side, you will not have to look for a place to keep your snacks and drinks, Moreover, it also has holes for phones and sunglasses.  The tray is weather resistant and can handle UV rays like a pro.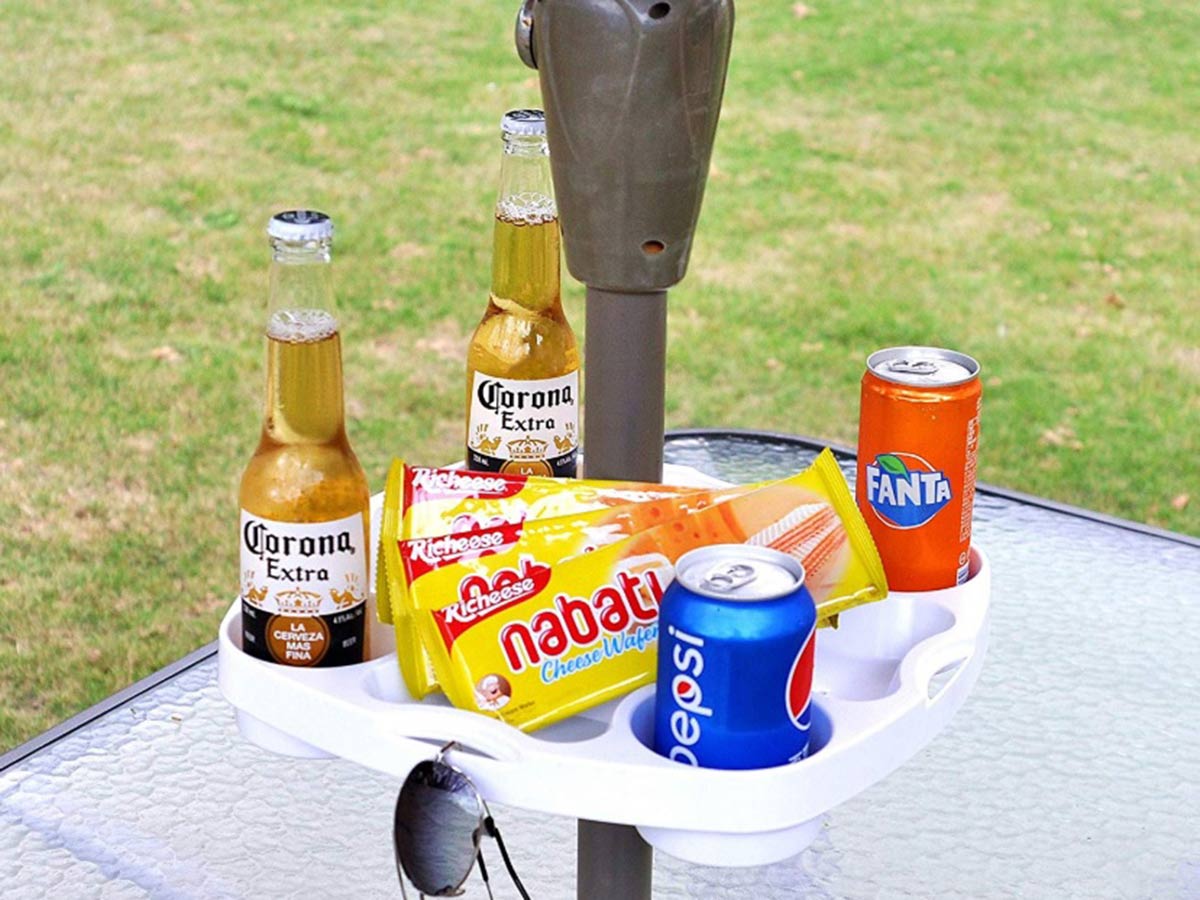 50. Cup Holders
Expect it to last for a good few years. Plus, it comes with a 1-year manufacturer warranty. Also, do not worry about cleaning and maintenance as the tray is quite easy to clean and dry thanks to special drain holes. It can handle up to 5 lbs of weight and is suitable for pools, gardens, patios, and beaches. Buy this on Amazon.
49. 6-Person Inflatable Bay Breeze Boat Island Party Island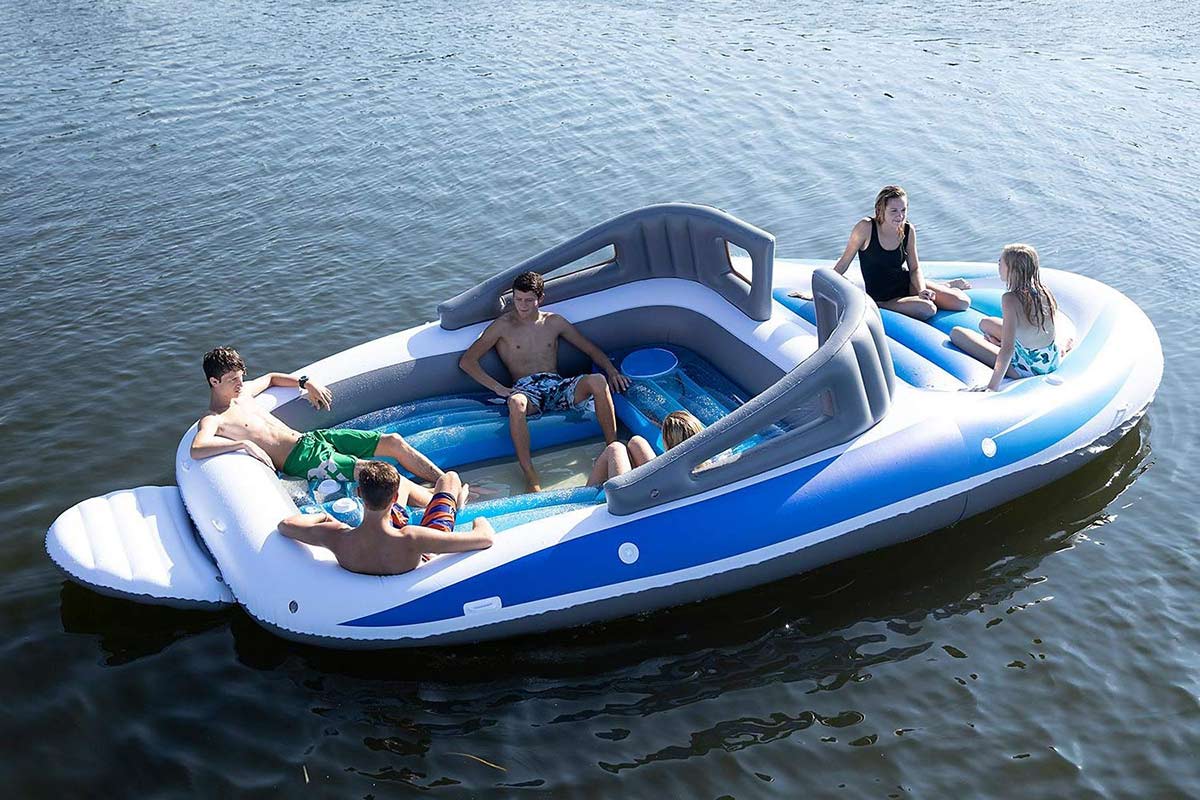 Live close to a water body? Want to have a party with your friends? Why not get your hands on this 6-Person Inflatable Bay Breeze Boat? Suitable for up to six people, this incredible invention can be a great pick for people who want to relax away from the worries of the world. It has an inflated rear swim platform. Plus, the handle makes it easy to mount and dismount it. Do not worry about foods and drinks since it also has cup holders and a built-in cooler. Lastly, it only weighs 60 pounds and is quick to inflate. Buy this on Amazon!
48. BigMouth Inc The Beast Giant Fist Drink Kooler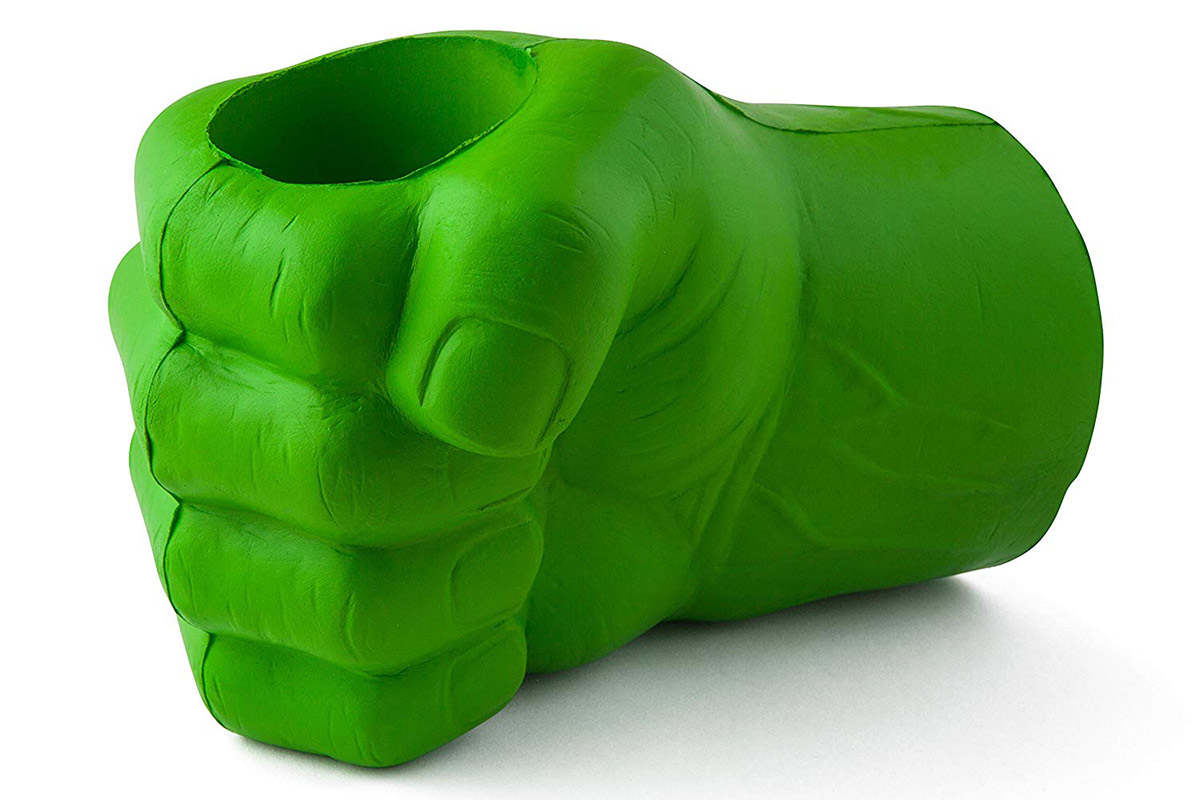 If you are a fan of owning unique items then get your hands on this BigMouth holder designs in the form of a giant fist. The green version reminds us of the Hulk but it's available in other colors as well including blue and red. This kooler is made of durable foam and is quite easy to maintain. Plus, it will keep your drinks cool for a long period of time. At just 8 ounces, the item is quite easy to carry and stands on its own steadily. Going for just $15.99, this is quite a steal and can make for a perfect gift as well. Buy this on Amazon!
47. Wine FREEZE Cooling Cup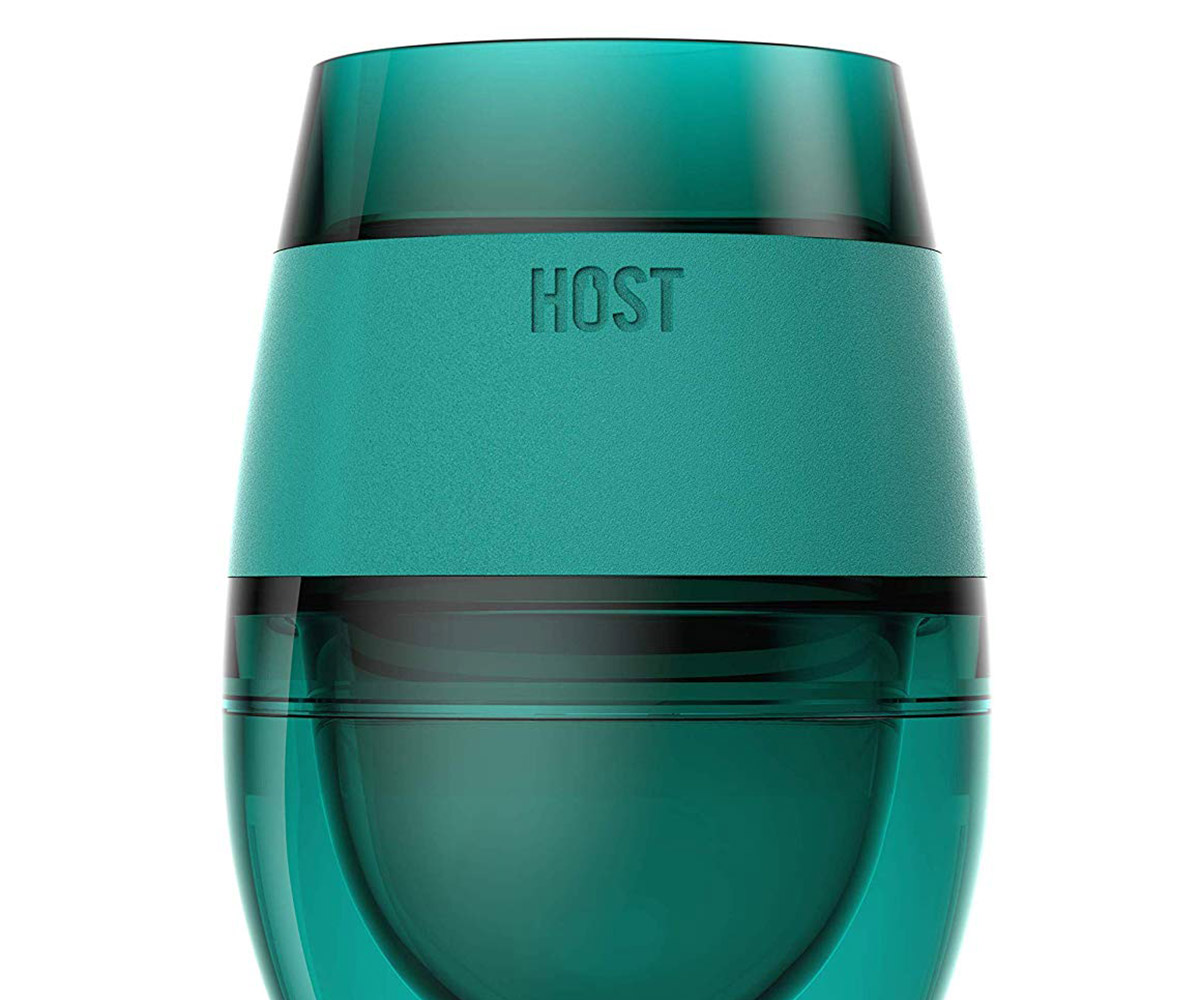 If you are a fan of wine then get your hands on this wine glass that's available in multiple colors. Made for the freezer, it will keep your drinks cold for more than two hours. Made of BPA free plastic, the cooling cup is safe to use. It is built using special cooling gel that is effective even in summers. Do not worry about handling the cup, it offers a firm grip thanks to the presence of insulated silicone band. It's the right size for one person and can accommodate 8.5 ounces of your favorite drink. Buy this on Amazon!
46. Stainless Steel Pasta Forks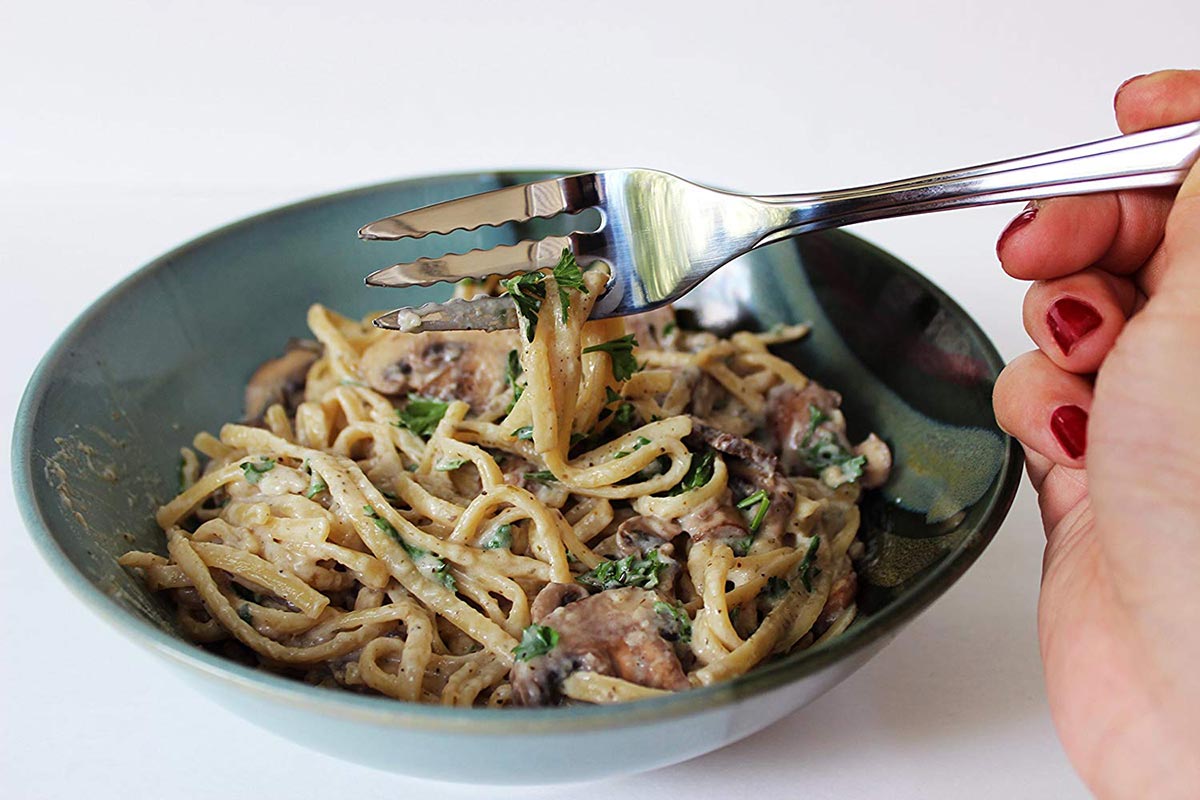 Eating pasta will never be the same with this set of stainless steel forks. These are not your standard forks, they have been designed for pasta and other noodles. With these forks, you will not be having to struggle to keep the noodle in place as their unique shape ensures there is no slipping. You will be able to eat your favorite dish without feeling tired or causing a mess. Plus, thanks to their lightweight and 8″ handle, it will not feel any different in your hand. Buy this on Amazon!
45. Polaroid ZIP Wireless Mobile Photo Mini Printer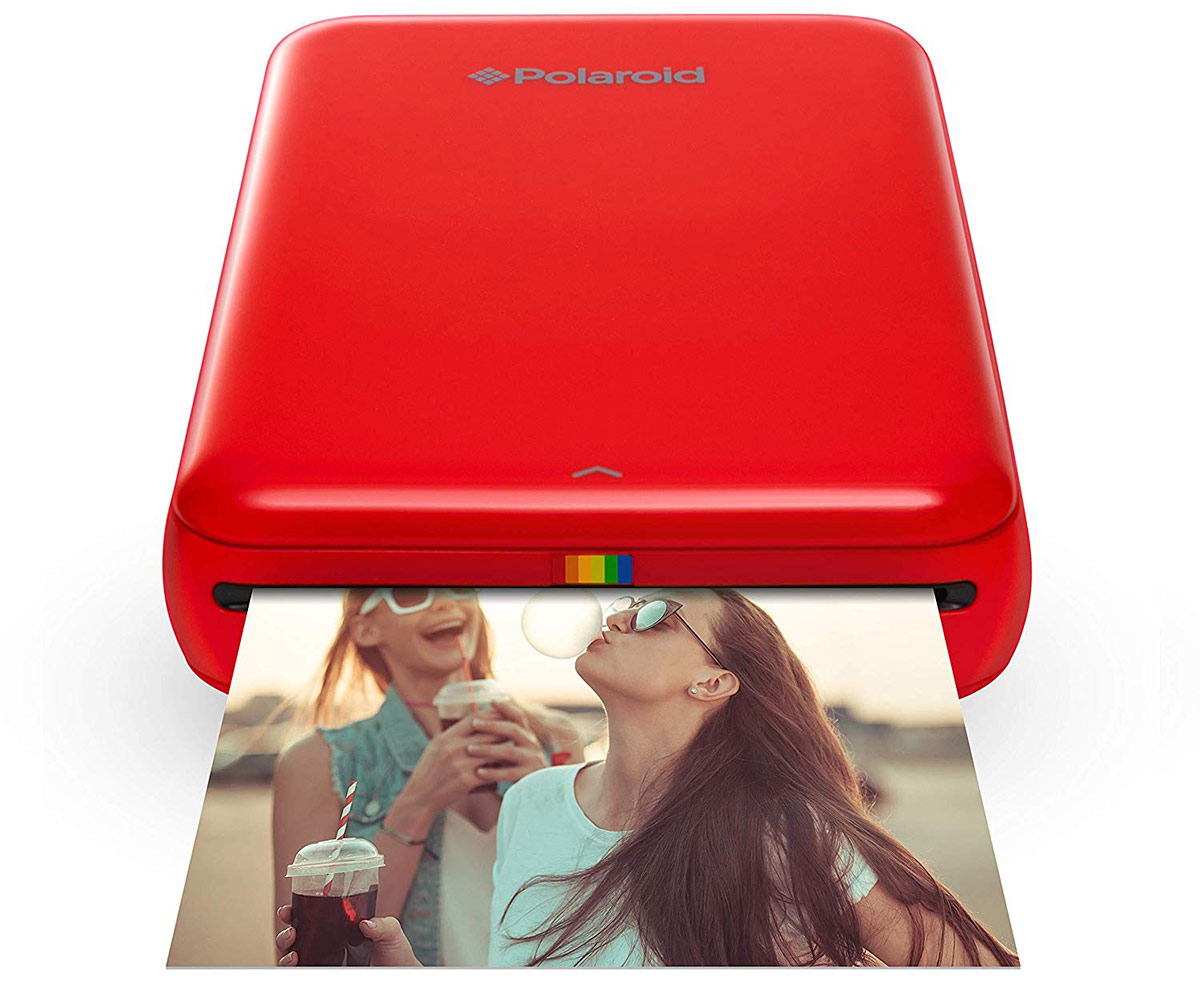 This is the era of selfies and most of us like to keep digital photos but you cannot deny the charm of a picture you can hold. Get over photo studios and welcome this wireless mini printer that uses Bluetooth to connect to your devices and prints out colorful, 2×3″, tear-resistant, waterproof, dry to touch, and smudge-proof photos with a sticky peel back. It connects to both iOS and Bluetooth devices and comes with a warranty. At under $100, it is quite a steal. Buy this on Amazon!
44. Micro-Pop Glass Popcorn Popper-Maker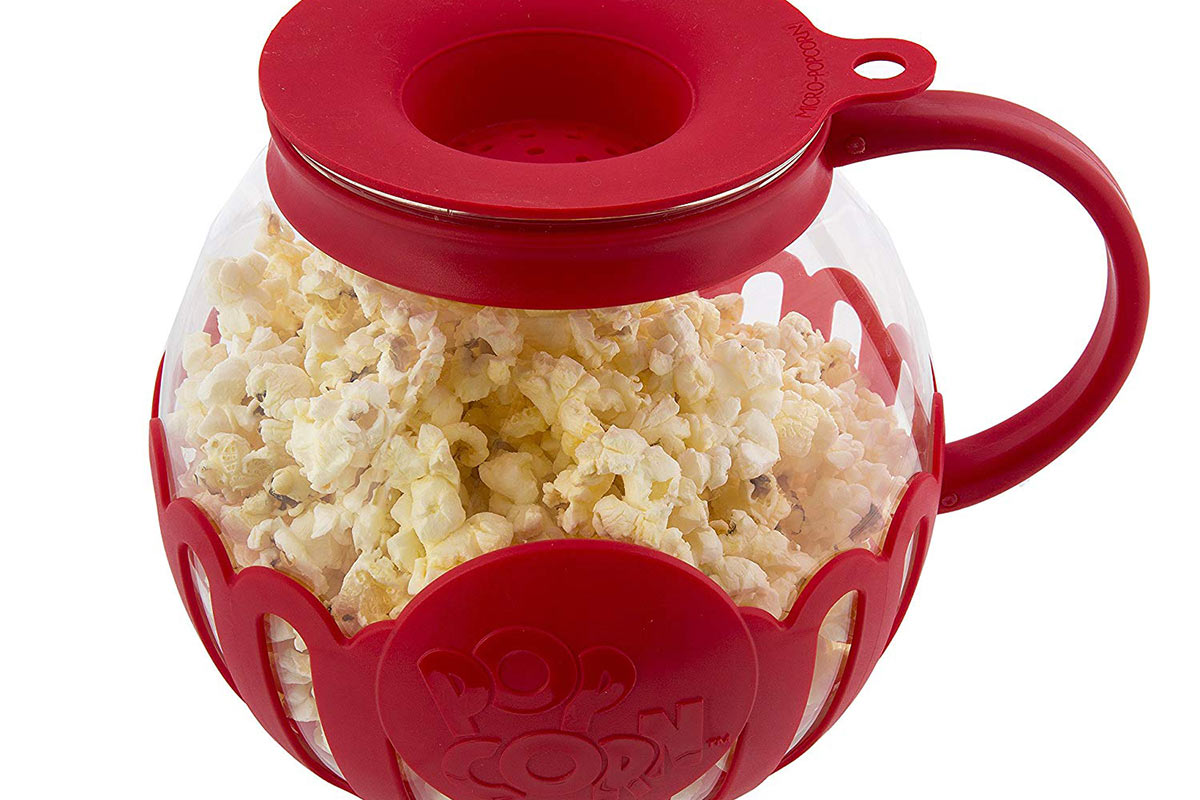 Making popcorn will never be the same again. For $14, you can get your hands on this 1.5 Qt popcorn maker that'll make delicious popcorn for you in no time. Its borosilicate glass is heat resistant and will ensure fewer burns. The lid is carefully designed and works for proper distribution of ingredients. The clean glass will let you see inside to check if your popcorn is ready. This microwavable popper is available in multiple colors and is 100% BPA free, hence safe to use. Plus, it is dishwasher safe. Buy this on Amazon!
43. ICE Harmony Floating Bluetooth Speaker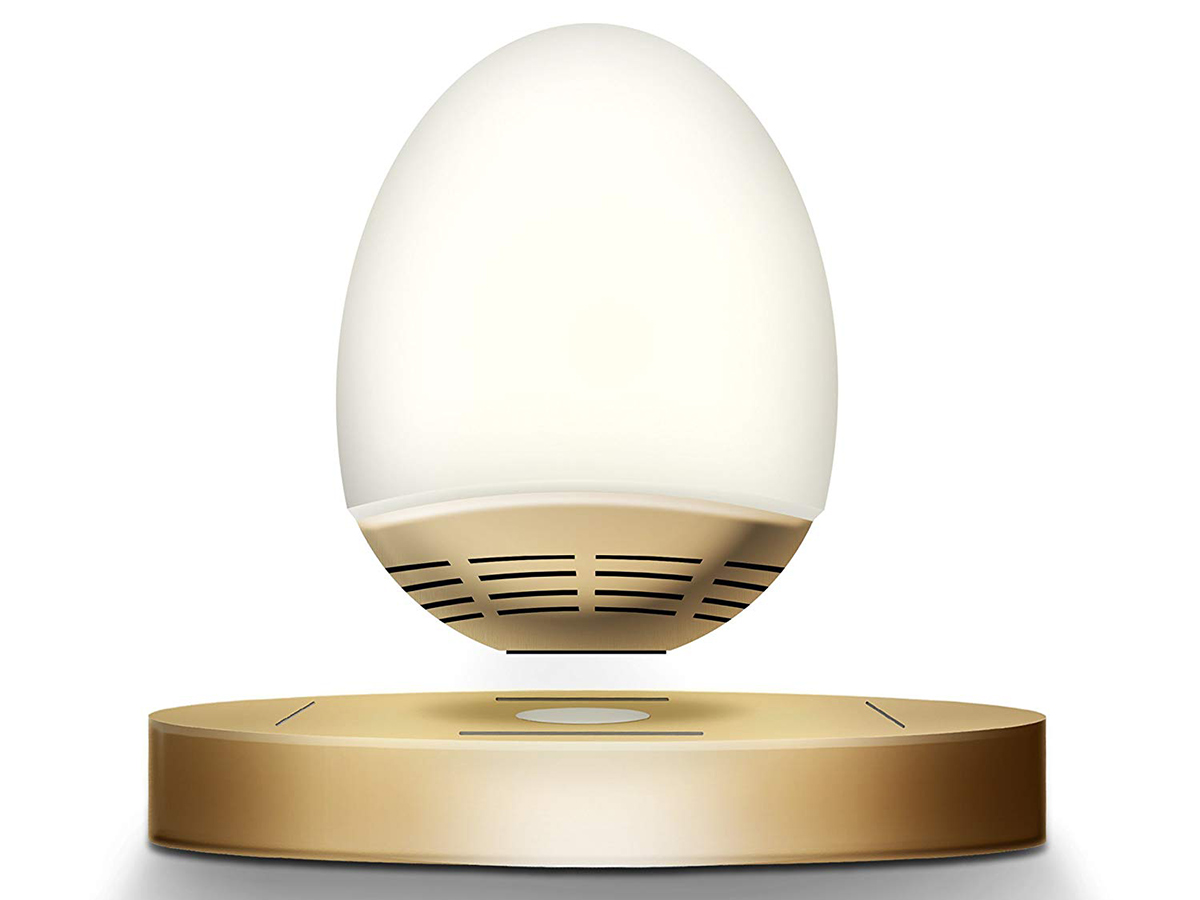 Whether you're a party freak or someone who likes to listen to music sitting in a corner, this Bluetooth speaker can be ideal thanks to its amazing sound quality. Plus, it even looks good as it floats in the air. The champagne color speaker can also be used individually without the base. It supports all Bluetooth-enabled devices and produces loud sounds with 3D effects. The speaker offers a 360 degree sound experience and will charge in no time. Buy this on Amazon!
42. Floaty Pants Hands-Free Party Floatation Device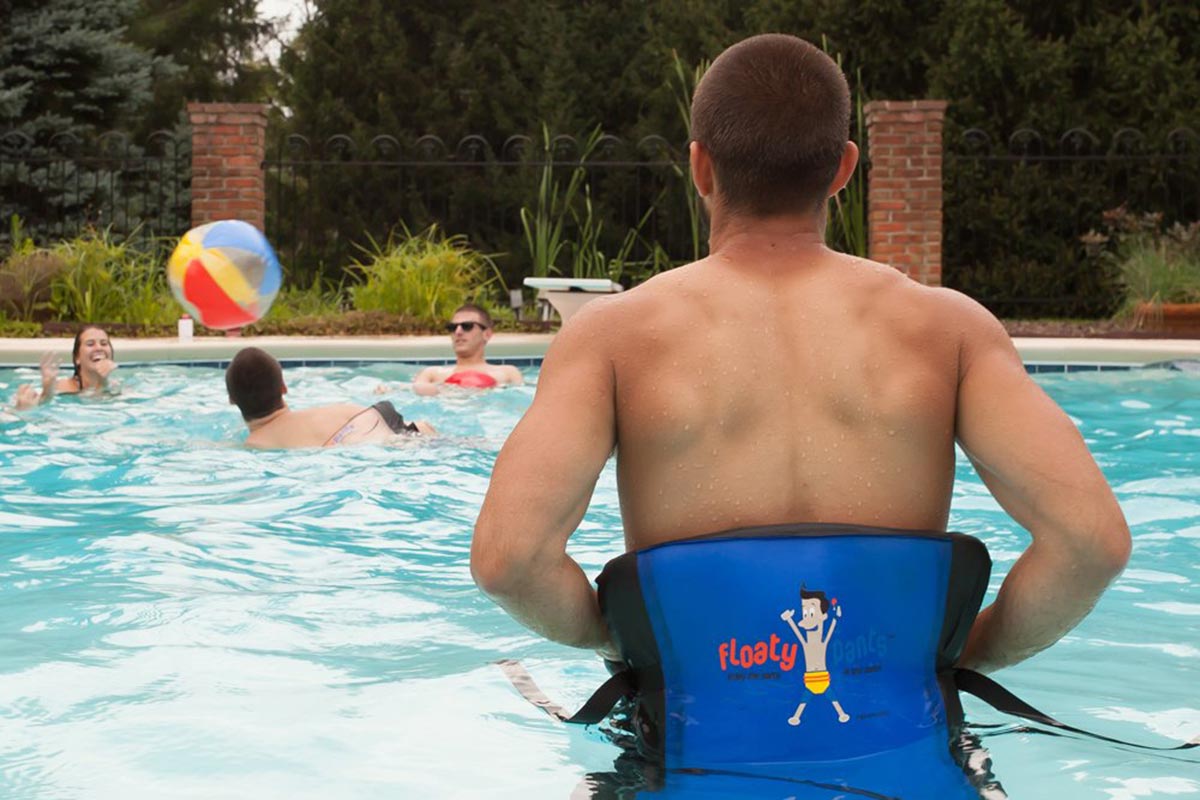 If you love to try something new then we have found you the right item in the form of this party floatation device. These hands-free floaty pants will make you the star of every party. Made of water-resistant foam, it is suitable for adults up to 300 pounds. Since it's available in two sizes, pick one that fits you. It requires no hard work. Get into it and you're ready to relax and do whatever you want to do without having to worry about anything. The fabric is soft and will not make you feel uncomfortable. Buy this on Amazon!
41. Bright Feet Lighted Slippers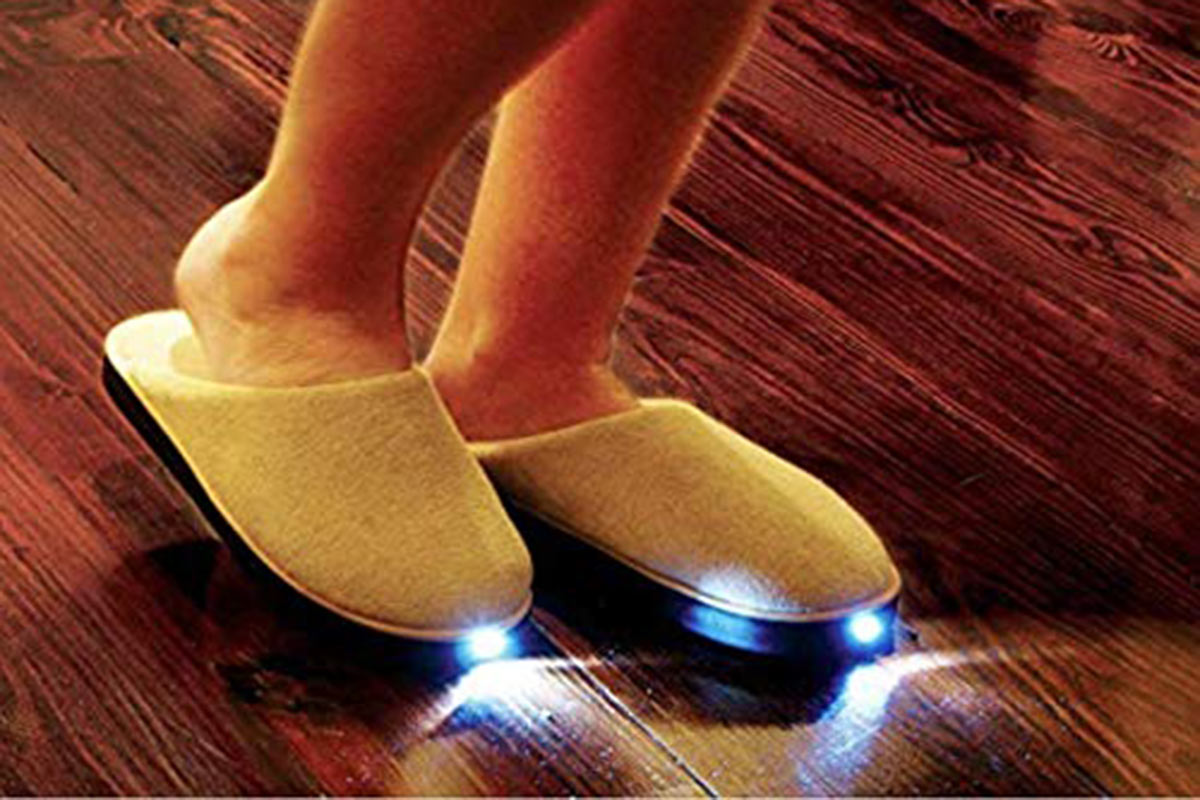 Make your lazy evenings lazier with these adult slippers that come with a twist. They literally lit. Installed with a light, the slipper will make it easy to walk around in dark. No more worrying about monsters in the kitchen when you feel hungry at night. They can also make your photos stand out. Instagram lovers, are you listening? At slightly above 1 pound, the slipper might be a little too heavy but we don't expect you to wear it 24/7. Buy this on Amazon!
40. 1 Pc Finger Ring Bottle Opener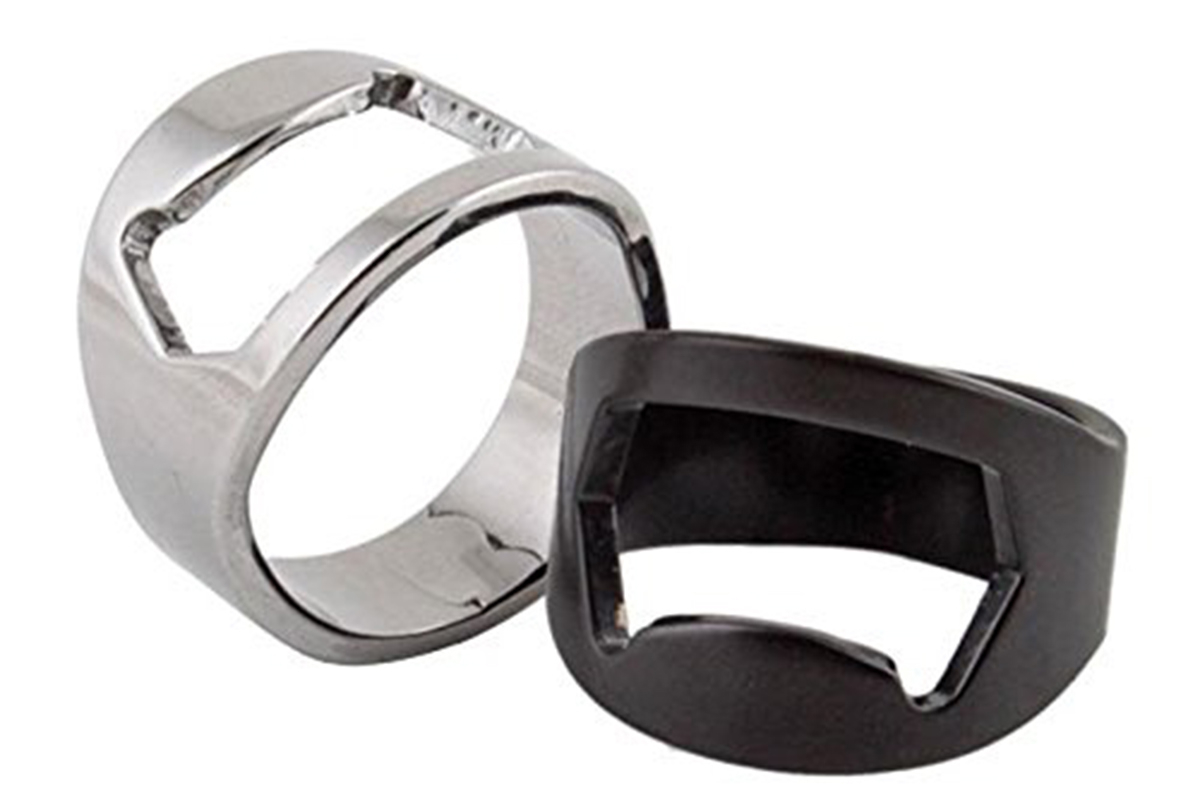 You will no longer have to run around in search for a bottle opener with this finger ring bottle opener by your side or rather in your finger. This stainless steel product is available in two colors but you will get one randomly as the seller does not offer color choices. With a portable beer opened in your arsenal, you will be the star of every party. It is quite easy to use and you will not even have to take it off to open bottles. It works like a standard opener and is quite durable. Buy this on Amazon!
39. Crtch Bike Tail Light Ultra Bright Bicycle Laser Rear Light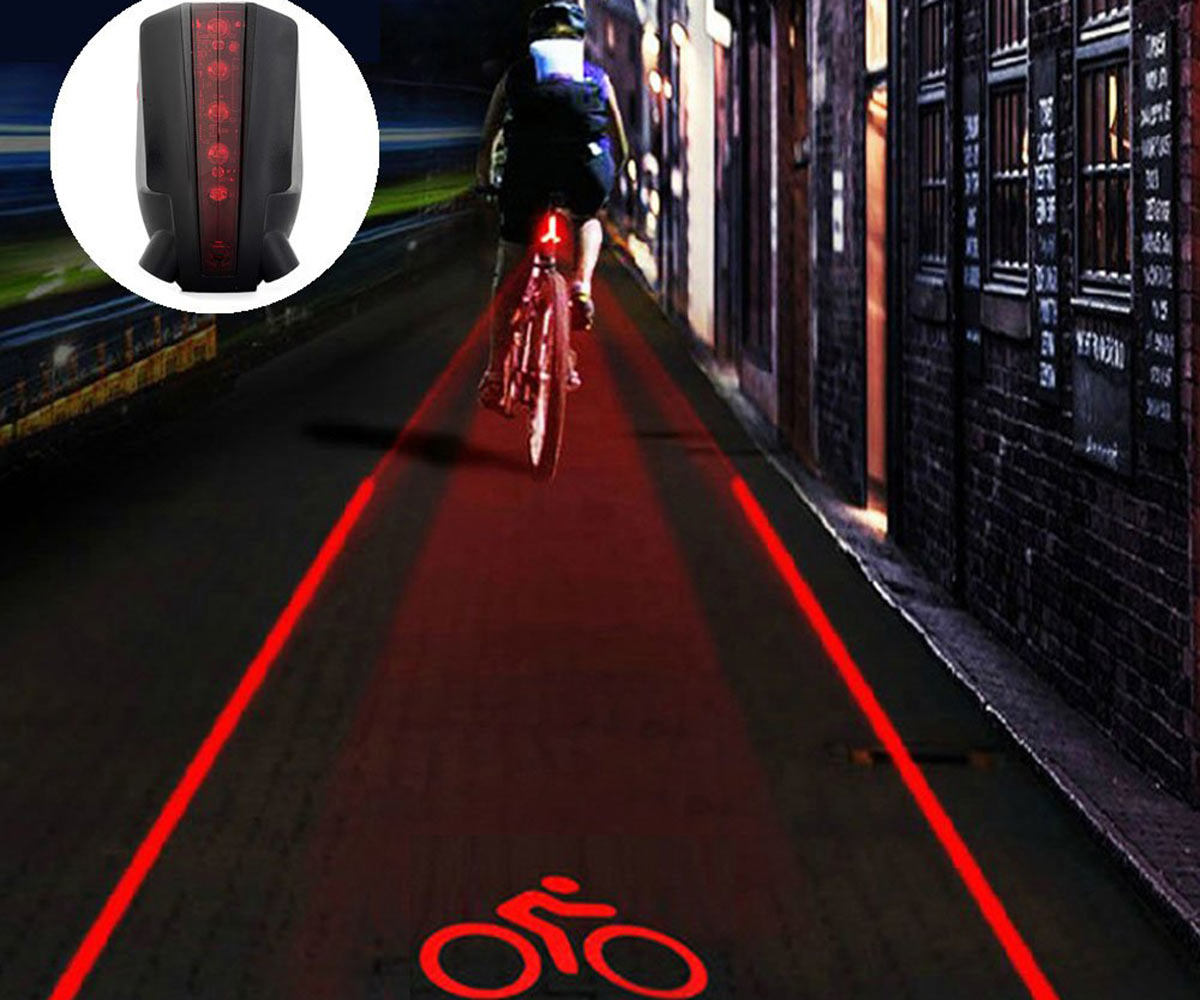 If you love to leave a mark wherever you go then get this bike tail light installed on your bicycle. This water-resistant light is suitable for mountain bikes and works as a warning lamp. It's bright and will add color to your bike. Plus, it is easy to install. You will not have to find a professional to get the job done. The company offers 100% satisfaction guarantee. Two laser lights work together to create your path and 5 LEDs offer 260-degree visibility. The light offers five modes and runs on 2*AAA batteries that you'll have to buy separately. Buy this on Amazon!
38. FlaskTie with Hidden 8 Oz Bladder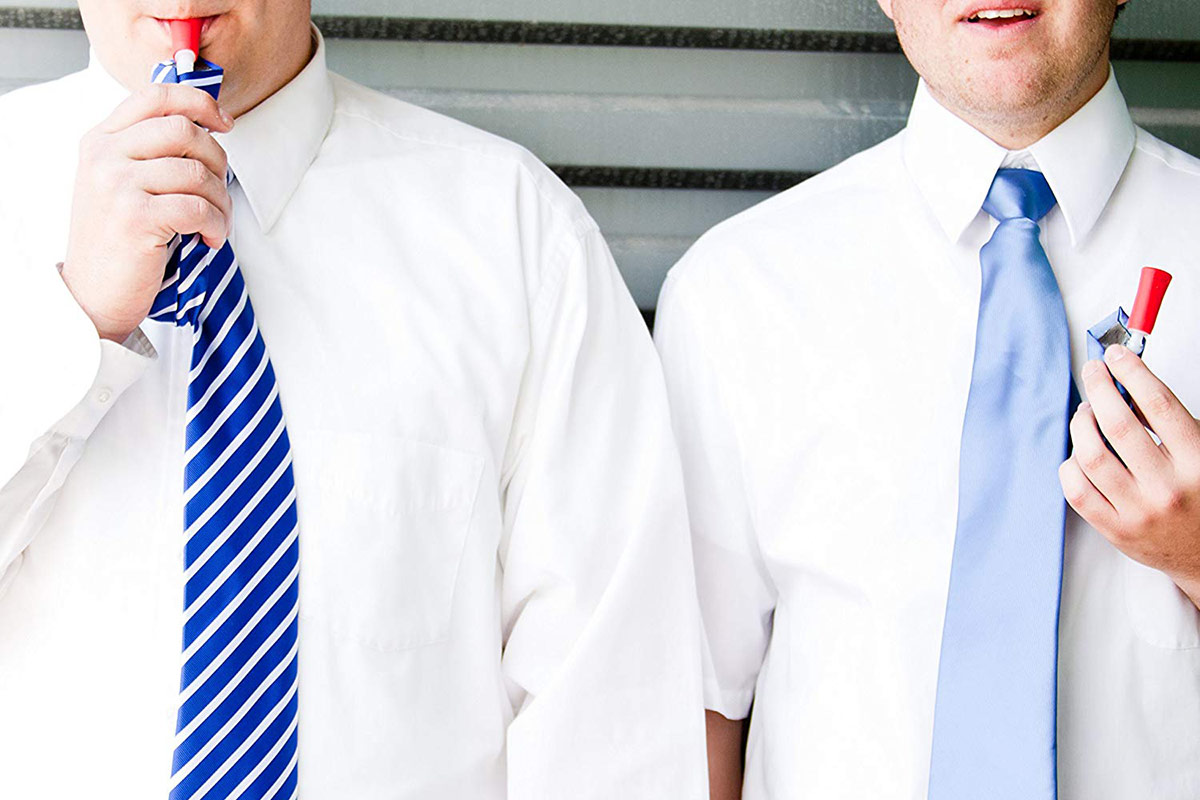 If you grew up watching the likes of Sherlock Holmes then you will love this incredibly amazing FlaskTie that can conceal about 8 ounces of your favorite drinks. With this beauty, nobody will ever find out what you're up to – whether it's your office or home. Available in multiple colors, this $25.95 tie looks like a regular tie and can be worn to work and meetings. It's very easy to fill and drink from. You'll feel as if your sipping out of a cup. Buy this on Amazon!
37. HOOYEE Safe Shampoo Shower Bathing Protection Bath Cap Soft Adjustable Visor Hat for Toddler, Baby, Kids, Children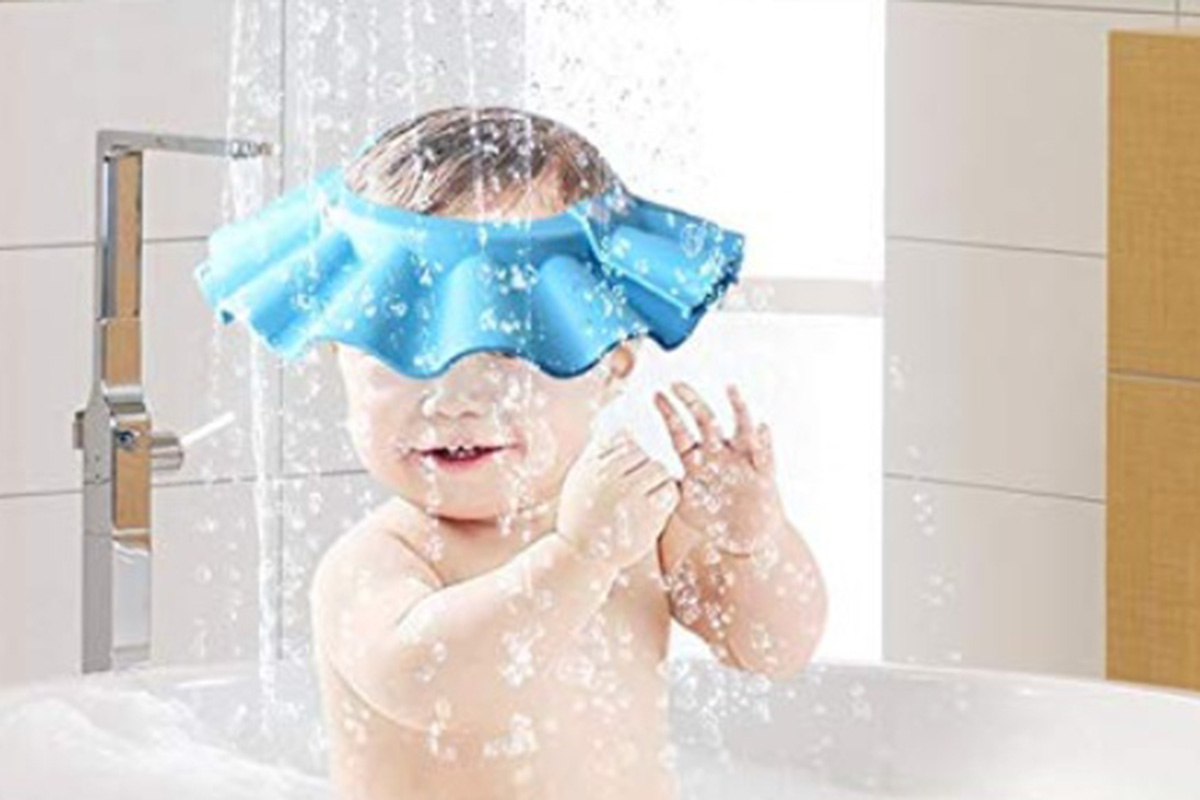 We understand you want to give the best to your baby but choosing a baby-friendly soap or shampoo may not be enough, consider investing in this EVA resin, soft, and comfortable shampoo shower bathing protection cup suitable for babies. This multi-purpose cap will prevent water from entering your baby's eyes. With this beauty, bathtime will no more be cry time. Plus, you can also use it to during haircuts or provide shade to your baby on sunny days. It is suitable for newborns and kids up to 6 years of age. Do not worry about your child feeling uncomfortable. The material is soft and the cap isn't heavy at all. Buy this on Amazon!
36. Mermaker Burritos Tortilla Blanket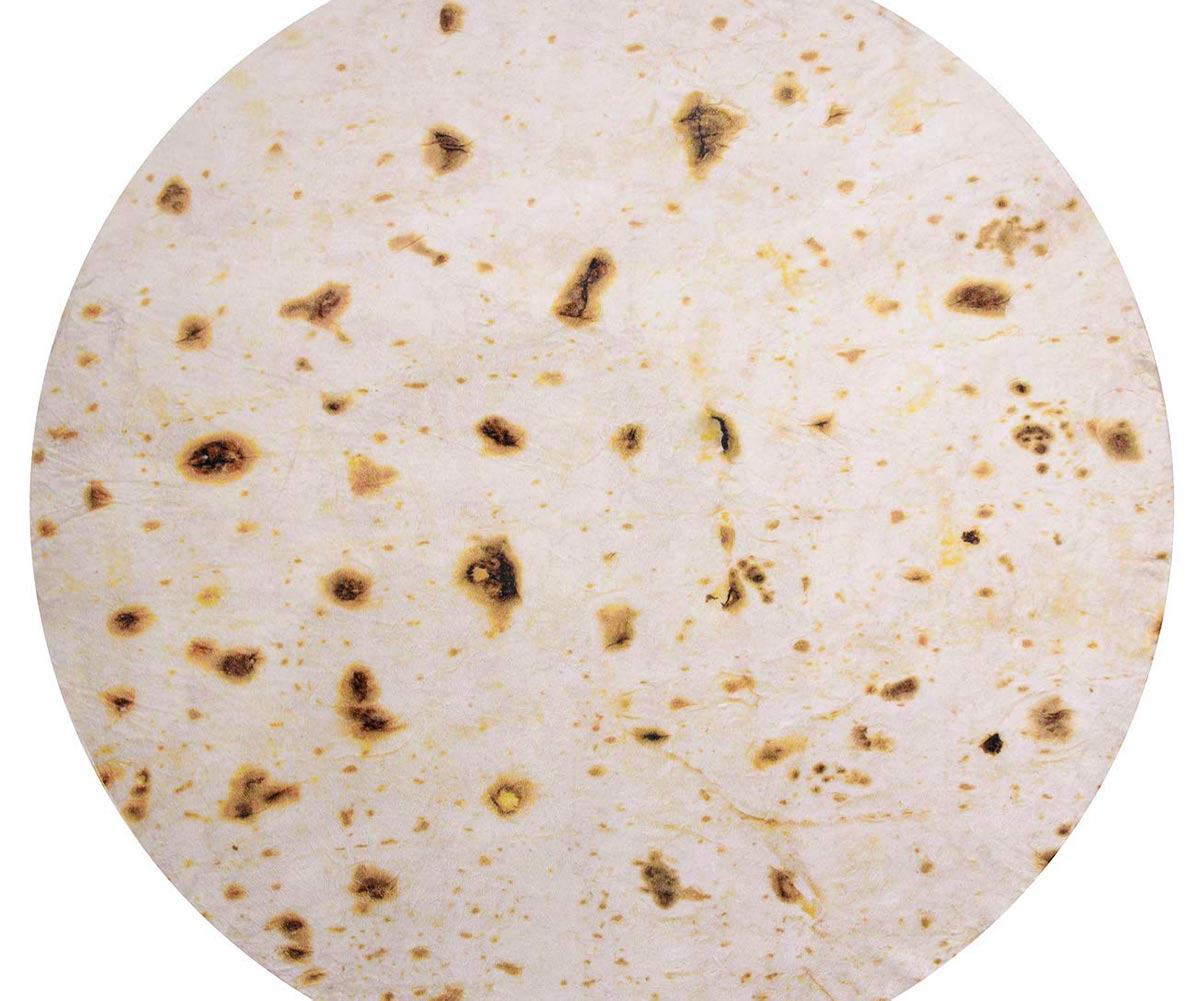 If you love to walk burritos and talk burritos then add more feather to your cap and now sleep burrito by getting your hands on this realistic burritos blanket. Available in. multiple sizes, this round blanket isn't just lovely to look at but it's pretty comfortable as well. The material is soft, non-fading, and lint-free. Plus, it is also easy to wash and maintain. Since it is light, you can even use it as a travel blanket or picnic mat. Moreover, it can also be a great gift for any burrito lover. Buy this on Amazon!
35. Pavlok 2 Habit Conditioning Device with Bonus Habit Change eBook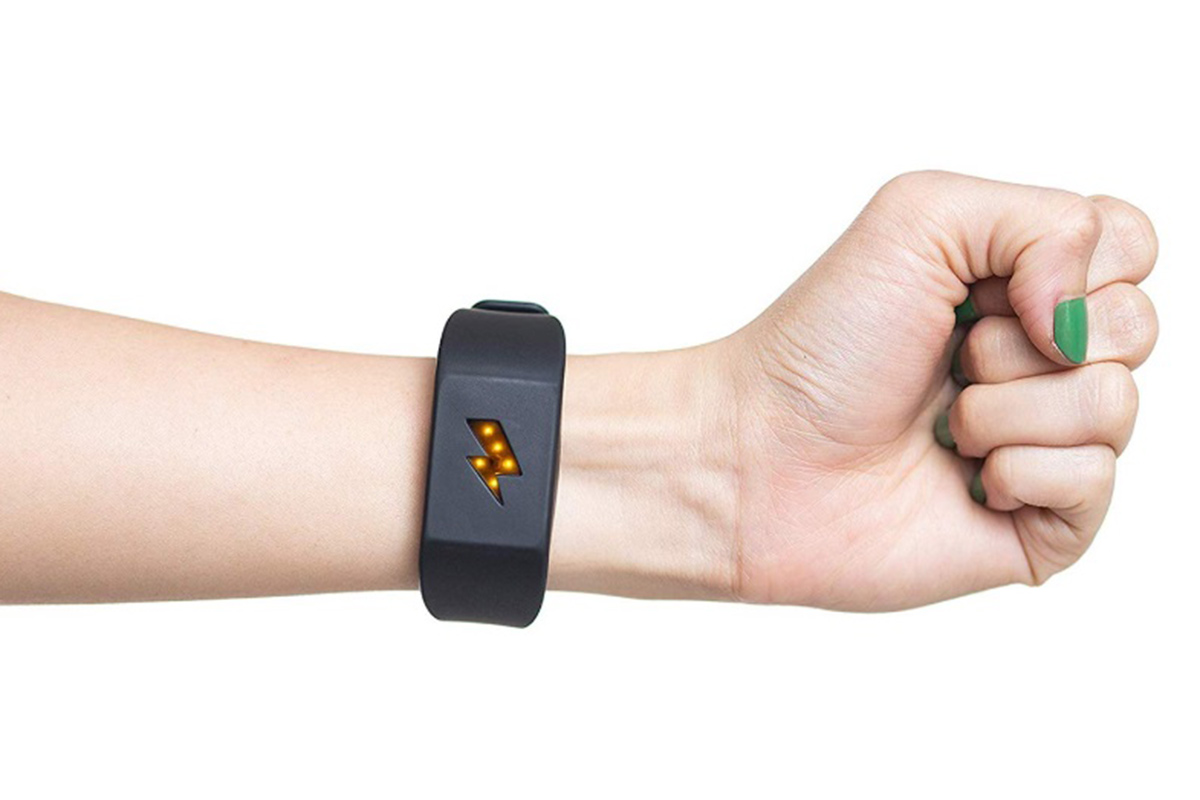 If you or someone close to you is struggling to get rid of bad habits then it is time to get this habit conditioning device that comes with a bonus eBook with tips on how to change your habits. You can use it to motivate yourself to get rid of habits like oversleeping and smoking. Plus, it can also help you catch good habits. Download the mobile app and connect it to the device to get started. It will study your behavior and vibe, beep, or zip whenever you do something that you aren't supposed to do. If you care for someone, you can even give them this amazing discovery. Buy this on Amazon!
34. Shape+Store Master Meatball Making Tool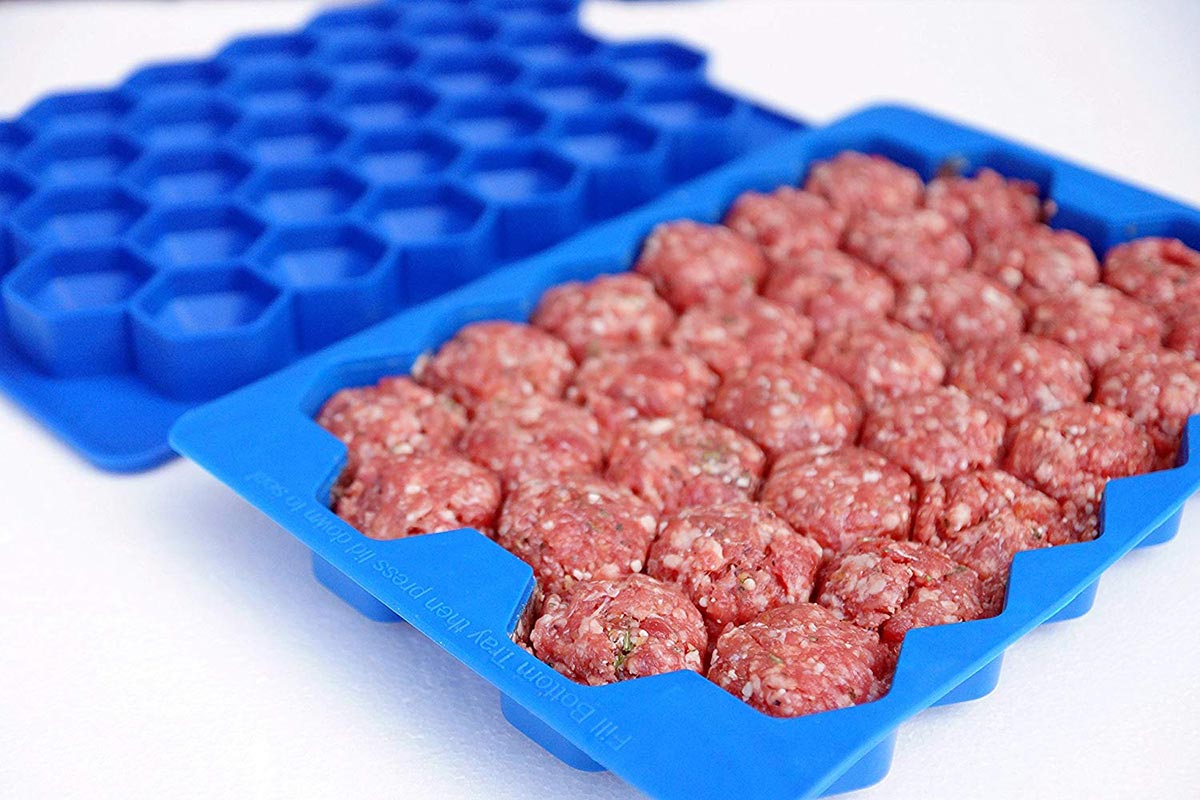 Our mouth is already watering thinking about all the meatballs this beauty can make. The process is simple. Take 2 pounds of meat, put it in this tool, and it will give you 32 equal-sized meatballs. You can cook as many as you want and keep the tool in the freezer for future use. It will keep the meat fresh and you will have no problem in taking out even the frozen pieces. Plus, you can also use it to portion and freeze rice, herbs, sauces, chocolate, and cookie dough. Buy this on Amazon!
33. Wine Condoms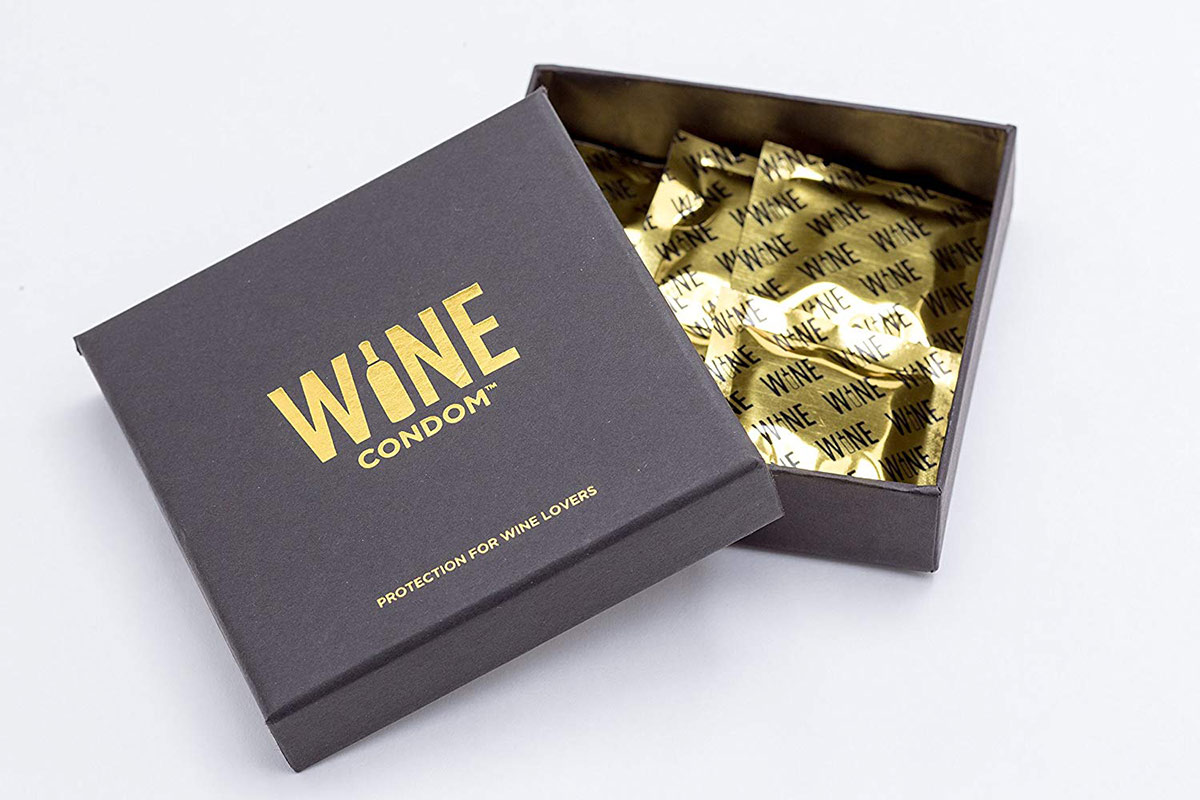 Don't let the name fool you, the product is designed to provide air-tight grip and prevent wine from losing freshness. Despite the funny name and design, this item is quite effective at what it promises to do. It creates an air-tight and water-tight seal that to prevent spills. Also, thanks to its shrinking design, it's suitable for all kinds of bottles and not just wine bottles. The product has been approved by celebs like Mila Kunis, Sharon Stone, Melissa McCarthy, and Amy Poehler. So, why aren't you buying it? Buy this on Amazon!
32. Wacaco Minipresso GR, Portable Espresso Machine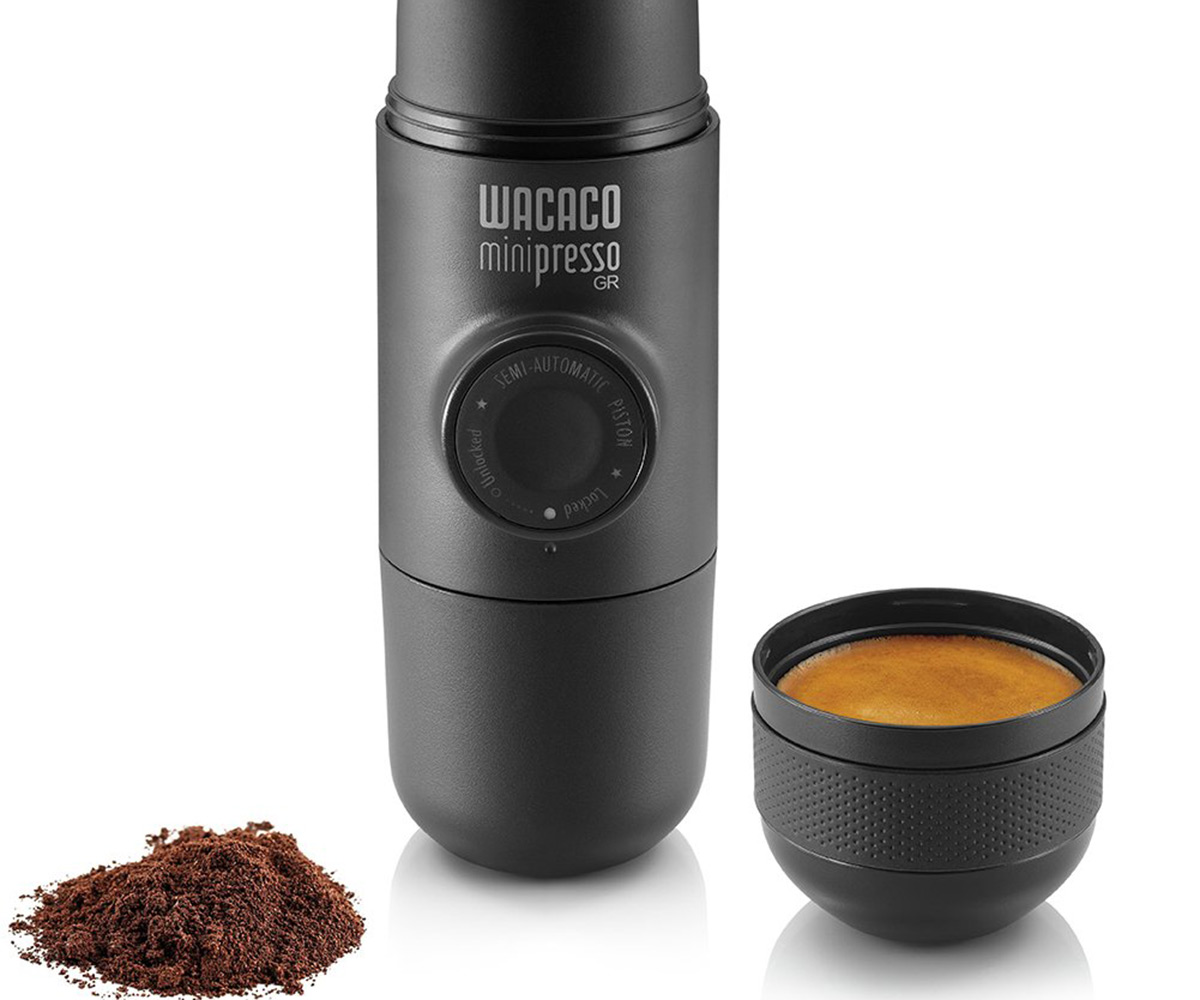 Now, you can have coffee whenever you want, wherever you want thanks to this portable machine that's compatible with NS CAPSULES*. This featherweight minipresso is highly compact and easy to carry. Made for travelers, you can ever take it to work or picnics and prepare hot and delicious coffee within minutes. Despite its small size, it is quite efficient and works like a pro. Plus, you can add accessories to enhance the unit. These include a bigger tank – up to 100ml – if you have more people to share your drink with. Buy this on Amazon!
31. SereneLife Portable Infrared Home Spa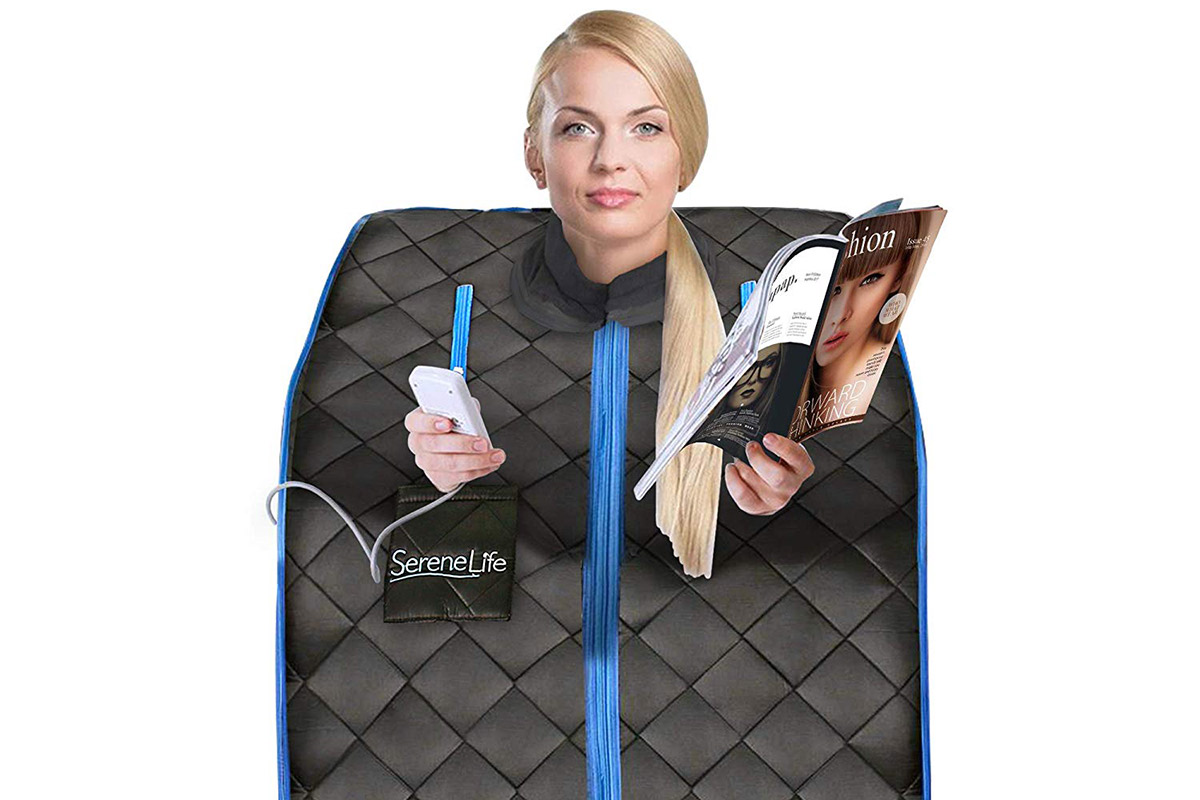 Live a luxurious life at an affordable rate with this portable infrared home spa. Unlike other similar products out there, this one is quite effective and easy to use. It can only accommodate one person and comes with a portable chair and heating footpad. A few minutes of this portable sauna will rejuvenate you, make you feel relaxed, and even reduce pain and discomfort. It offers a maximum temperature of 140 degrees and comes with a wired controller for auto heat settings and timer. Plus, the seller offers an extendable warranty. Buy this on Amazon!
30. PancakeBot PNKB01RD Pancake Bot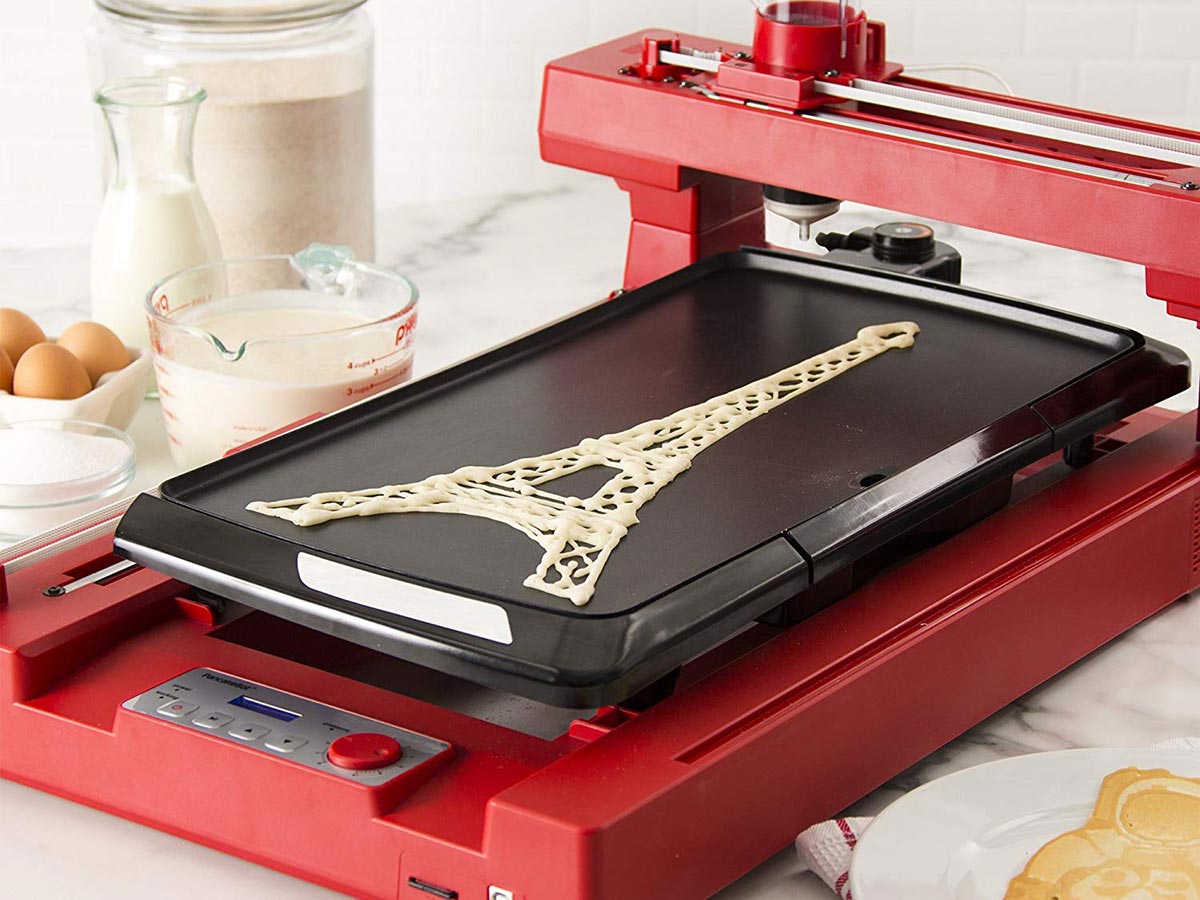 Whether you want to impress guests or make your children eat pancakes with a happy face, this dispending machine will do the job for you. It comes with software that will allow you to design any image or download one from the official website. You will, however, need an SD card to transfer the image from your computer to the machine. The entire process takes only a few minutes. Made from BPA-free materials, the machine is safe to use and will not affect the taste of your pancakes. Plus, it comes with a recipe book and guides to help you get started. Buy this on Amazon!
29. LEGO Storage by Room Copenhagen Storage Box Brick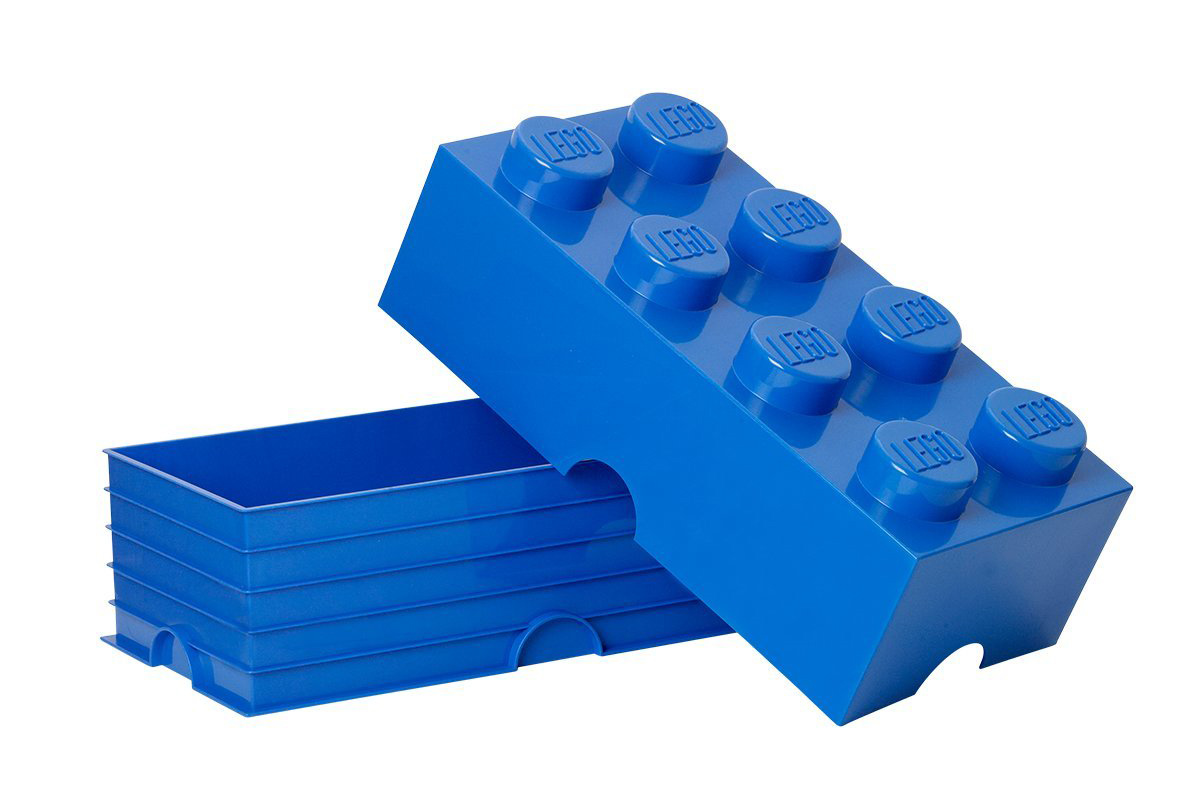 Bring colors to your home by getting this Lego storage made for kids above the age of three. Made from PVC free plastic, the box is safe for children and can be used to keep toys, clothes, and other such items. It's available in multiple colors, so you can easily choose the one that goes with the theme of your room. In addition to a storage box, it can be used to form, build different shapes as it works just like standard lego pieces. In fact, you can buy more to create your own Legoland. Buy this on Amazon!
28. Hashcart Traditional Tea Light Candle Holder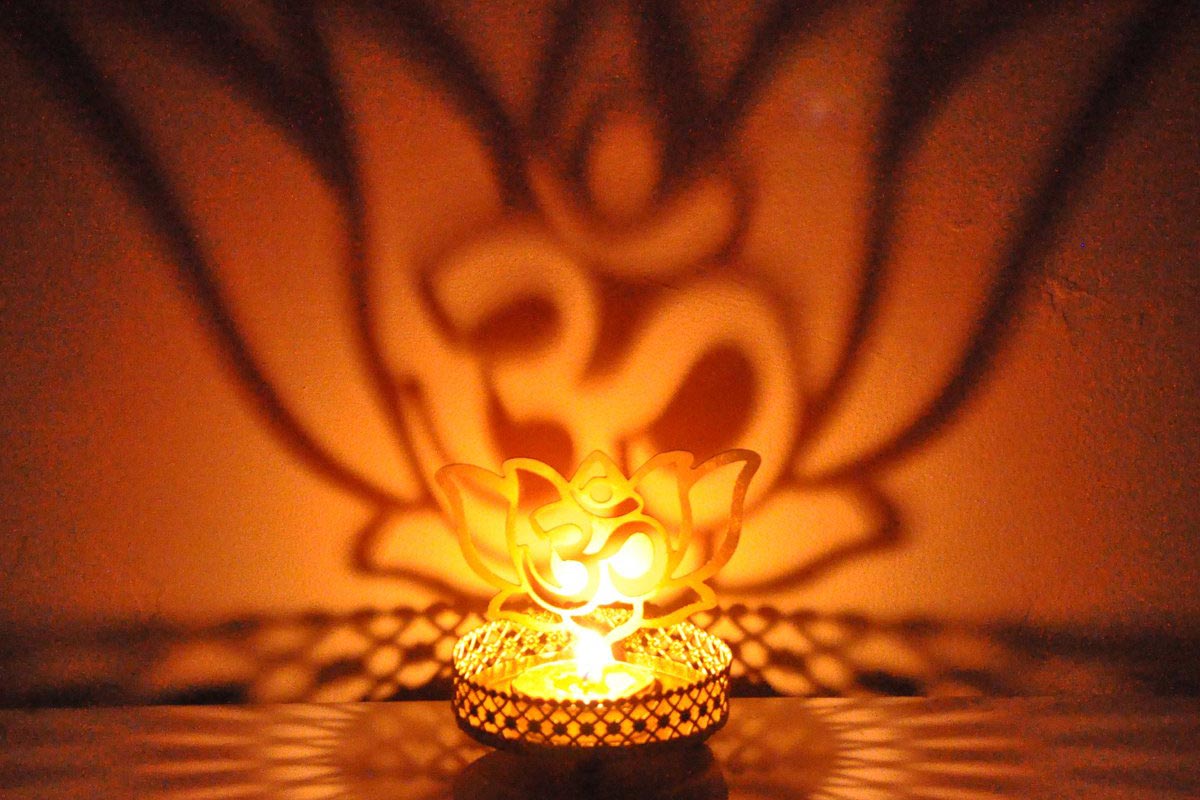 If you are sold on the idea of keeping candles then make it more exciting by buying this gold candle holder that doubles as a table decorative. Made from metal, the holder has an Indian touch to it as the frame is carved in the shape of a flower and 'OM' sign, considered sacred in Hindu mythology. The sign illuminates when the candle is light, adding a unique touch to the environment. Plus, the shade can also add class to the look. At under $10, it is quite affordable and can be a great gift for anyone. Buy this on Amazon!
27. Face Slim Exerciser Muscle Lips Trainer Tightener Face-lift Slimmer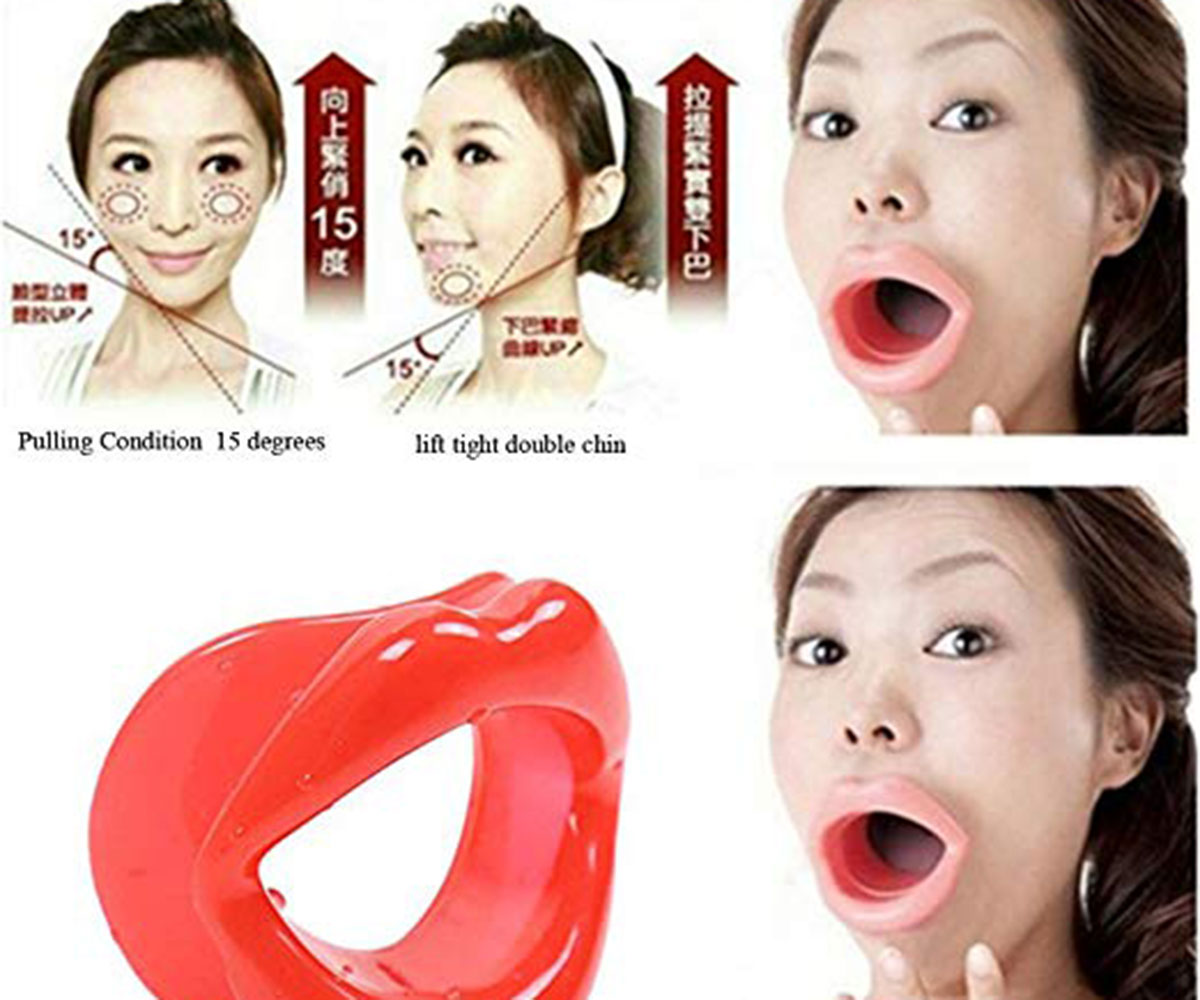 Ever wonder why Asian makeup artists look so pretty with perfect features? Trust us when we tell you, they've been using products like this face slim exerciser. This tool works on different parts of your face including the cheeks and the chin. It can be effective in reshaping parts of your face to highlight the features and make you look younger and more attractive. Using it for three minutes a day can give you great results, according to the manufacturers. This face slimmer is said to be safe to use and comes with a guide on how to use it. Buy this on Amazon!
26. Cool Pup Cooling Pet Bowl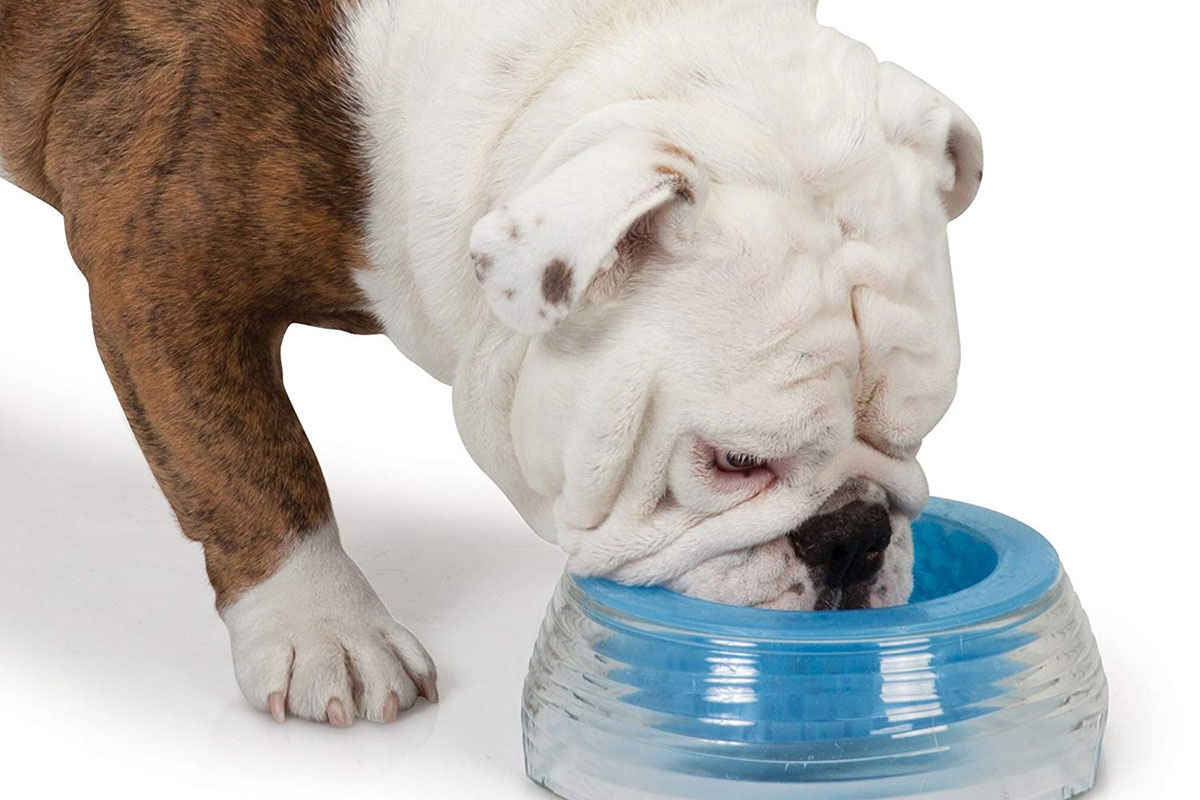 Make your pet feel special by bringing home this cool pet bowl. It's specifically designed to keep water cool and can be very useful if you live in hot regions. The bowl is available in two sizes and is quite easy to use. You can keep it in the refrigerator to cool and its unique properties will keep the contents chilled for hours. Made from acrylic and polypropylene, the bowl is said to be safe to use and can handle about 2 cups of water. Your dog will be glad and you will be, too. Buy this on Amazon!
25. Ben & Jerry's Euphori-Lock Ice Cream Pint Combination Lock Protector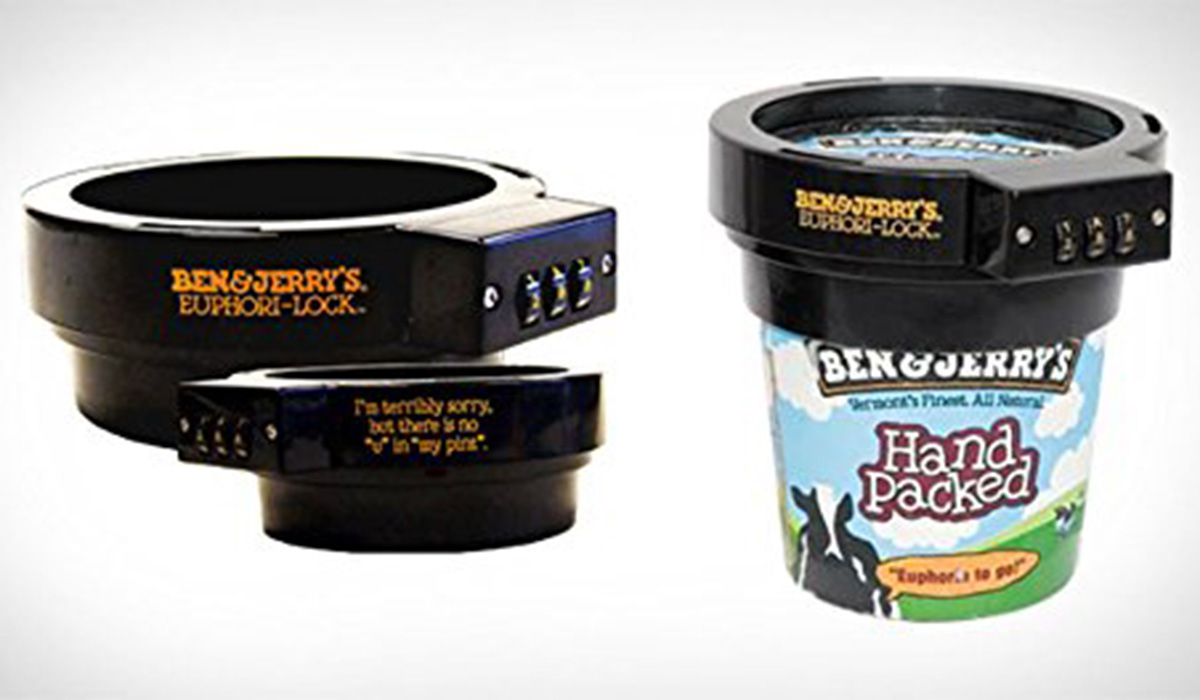 Do you sit in the office thinking all day about the Ben & Jerry's ice cream waiting for you in the freezer but come home to an empty bucket? Well, you're not alone and the company realizes it that's why they have created this incredible combination lock protector that perfectly fits the ice cream box to keep it safe from others. The lock is funky and has a funny message on it, telling others you don't believe in sharing your ice cream. Plus, once you've emptied the carton, you can use it to keep other items safe from intruders. Buy this on Amazon!
24. Albabara Dog Life Jacket
Dogs are natural swimmers but some of them are often too scared of diving into a pool. Plus, not all water bodies are safe for them. Hence, it may be a good idea to get a dog life jacket for your pet. Shaped in the form of a mermaid, it will make your friend look good and feel comfortable. The jacket is made from thick foam and is quite reliable. Plus, it has an adjustable buckle and Velcro to ensure it fits smoothly. Still, if you're not satisfied, know that the company offers full refunds. Buy this on Amazon!
23. Clocky Rolling Alarm Clock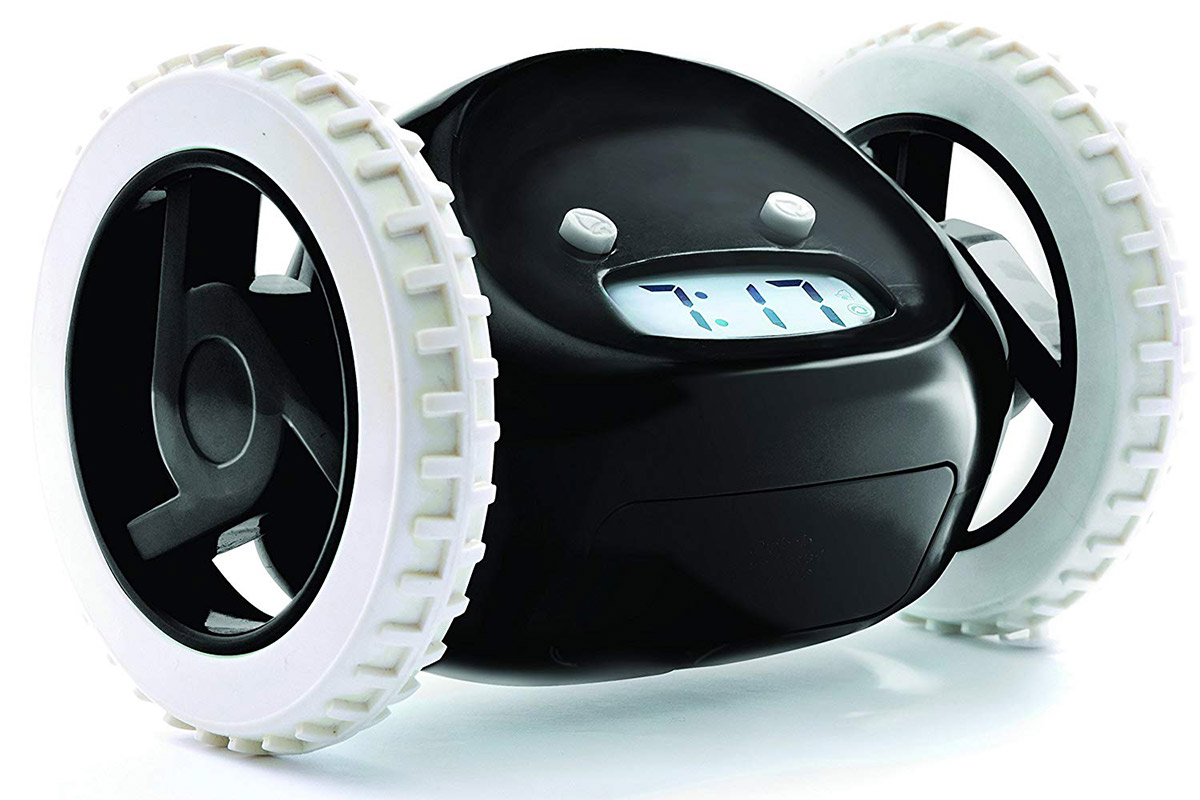 Get a little futuristic with this alarm clock on wheels suitable for both kids and adults. Named Clockie, this cool clock will run away and hide while continuously beeping until you get up and find it. Plus, it is even capable of jumping up to three feet. It has all the features of a traditional alarm clock including a snooze button. It's perfect for everyone, from students to office going employees. Is your partner never turning up on time? Maybe, it's time to gift wrap Mr. Clockie. Buy this on Amazon!
22. EK Cat Crap Lanyard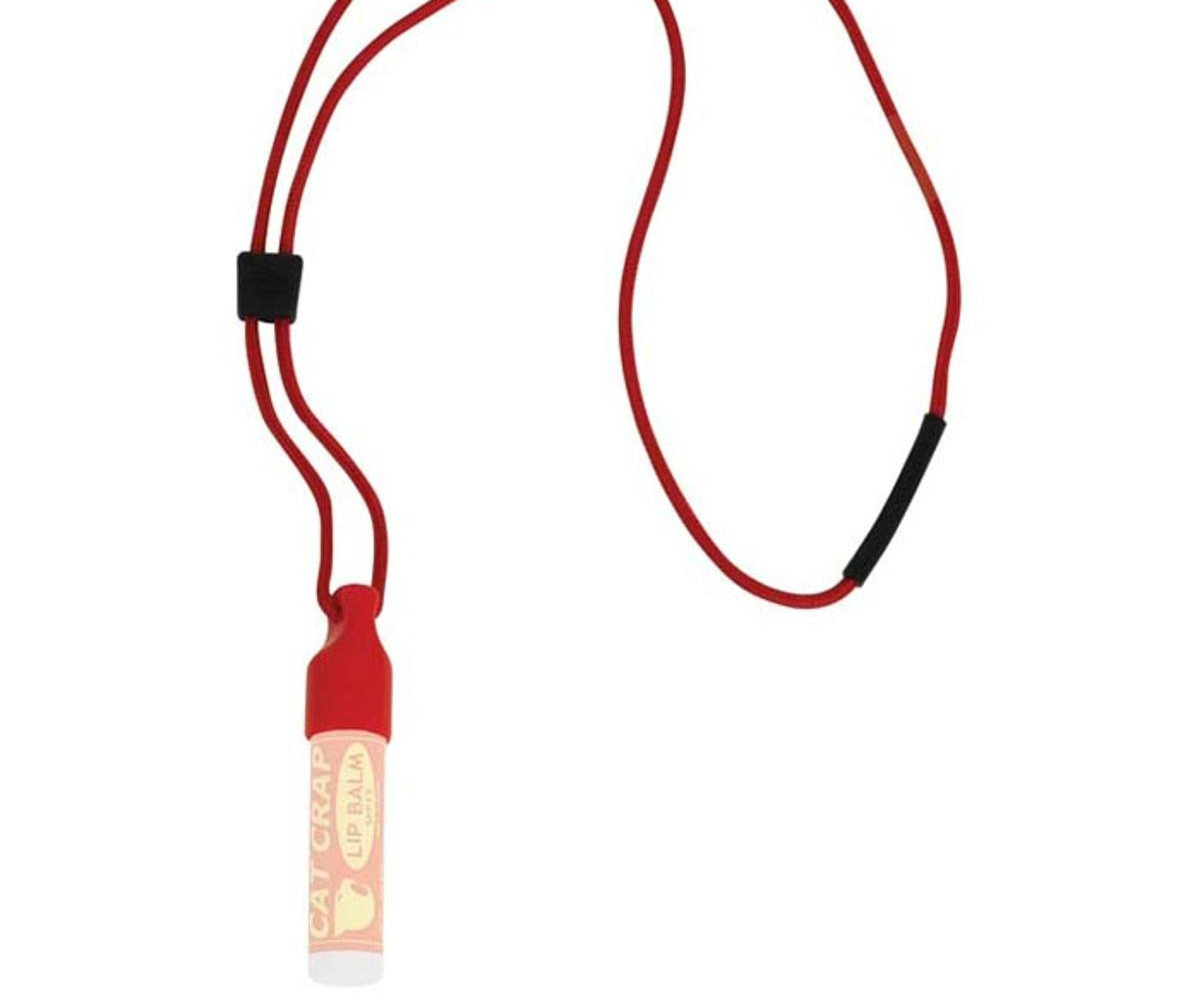 If you keep losing your chapstick then get your hands on this lanyard for less then $10. The bright colored lanyard offers a snug fit and will ensure your chapstick stays in place so you do not have to run around to find it. This little investment will also ensure you do not lose your product so that you do not have to waste money on buying a new one every few days. It's made from soft materials and will not irritate your neck when you wear it. This is why it is also said to be perfect for children. Buy this on Amazon!
21. Hand Cup Pen-Pencil Holder by LilGift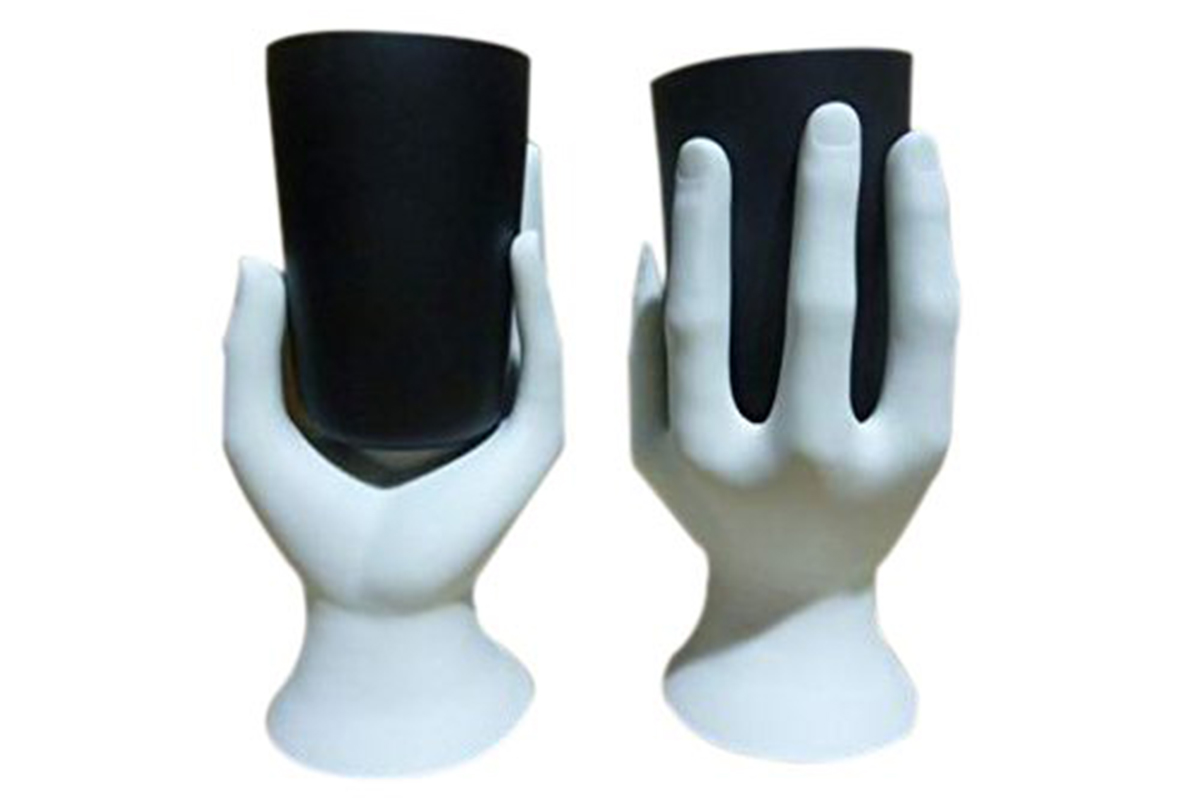 Looking for something unique to hold your phones and tablets? Try this helping hand by Arad. Designed as a pencil or cup holder, this one can even fit some bigger items thanks to its dimensions of 4.5x4x5 inches. It can be a great pick for men and women who love to watch videos on mobile devices. Plus, it will also make video calling a breeze as you will not have to worry about holding the phone in your hands. Lastly, when not in use, you can put it on the table to as a decorative element. Buy this on Amazon!
20. Kumana Avocado Sauce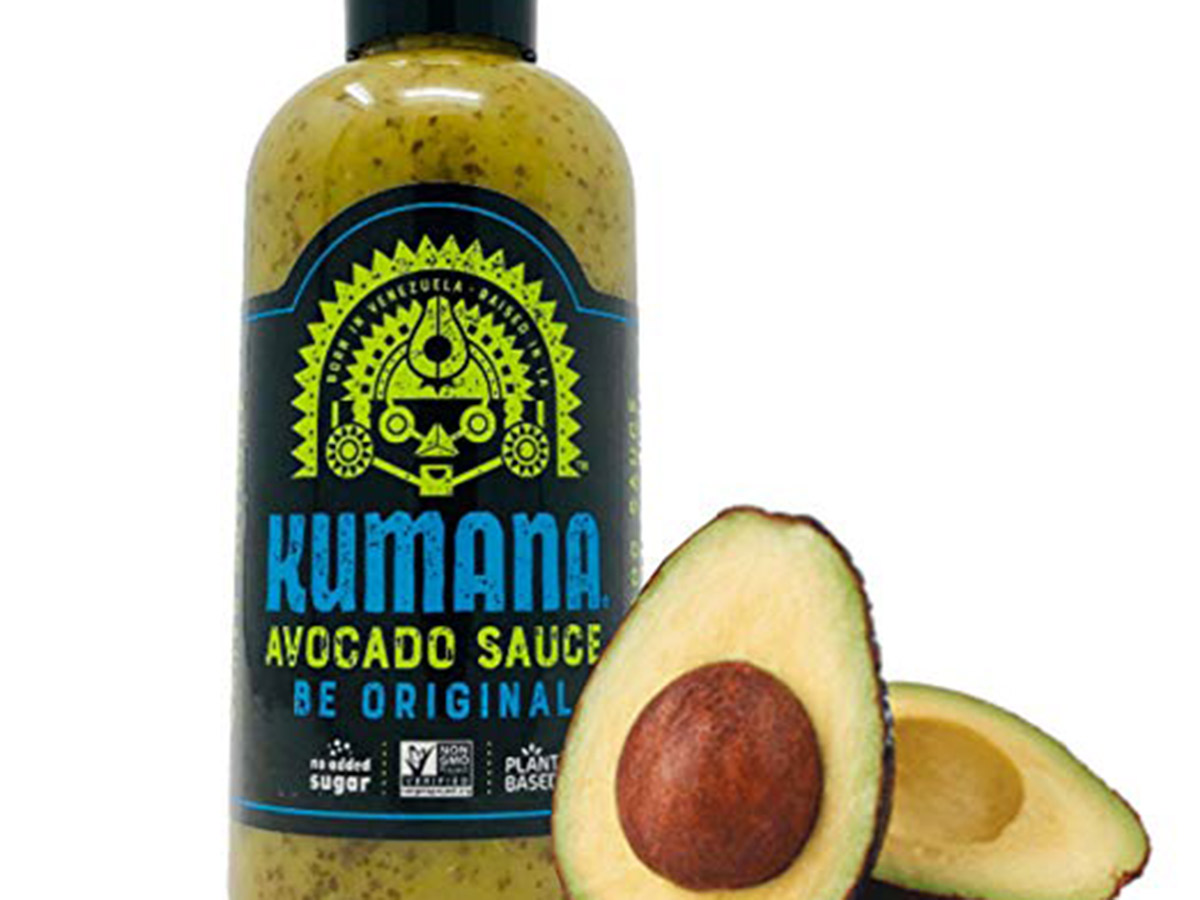 All you avocado lovers out there, here's something you will love. Suitable for those on Paleo and Keto diets, this sugar-free, low carbs sauce is both rich and savory. It contains fewer calories than other popular sauces including ketchup and mayo, hence you will not feel bad for consuming it. The sauce is made using healthy ingredients like avocados and jalapeño chili pepper. You can use it with a variety of foods including chicken and salads to enhance the taste. It can be a lifesaver for people struggling to stick to their diets. Buy this on Amazon!
19. ORBLUE All-In-One Onion Holder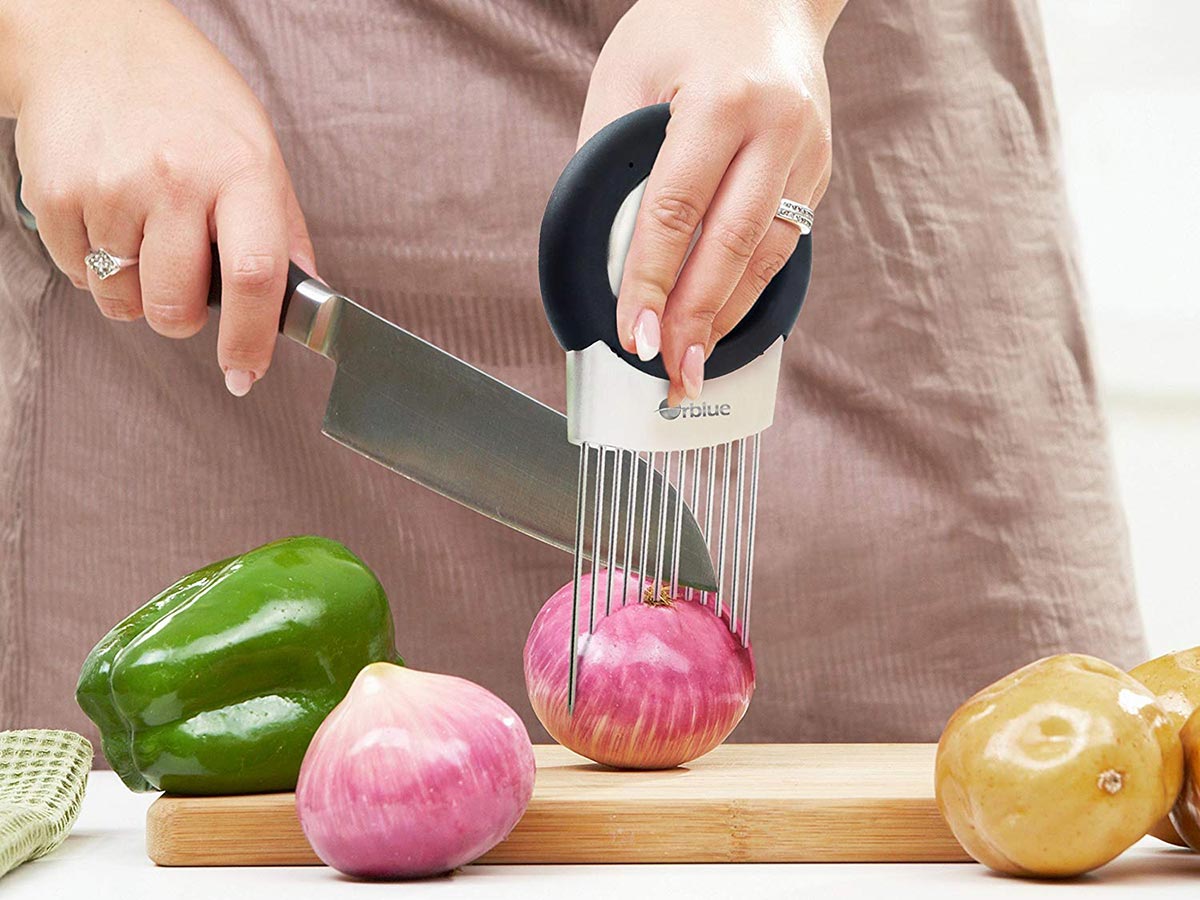 Hundreds of people sustain injuries while cutties onions and other vegetables in the kitchen. Say goodbye to your worries and get this stainless steel onion slicer to hold the onion in place. It's rust-resistant and comes with odor remover attachment, which is great since onion is known to leave its smell. The handle is easy to hold and does not slip. The tines are sharp and do not catch rust. Plus, you can also use it to hold other vegetables like carrots, potatoes, and hard tomatoes. Buy this on Amazon!
18. Serafim Keybo – World's Most Advanced Projection Keyboard & Piano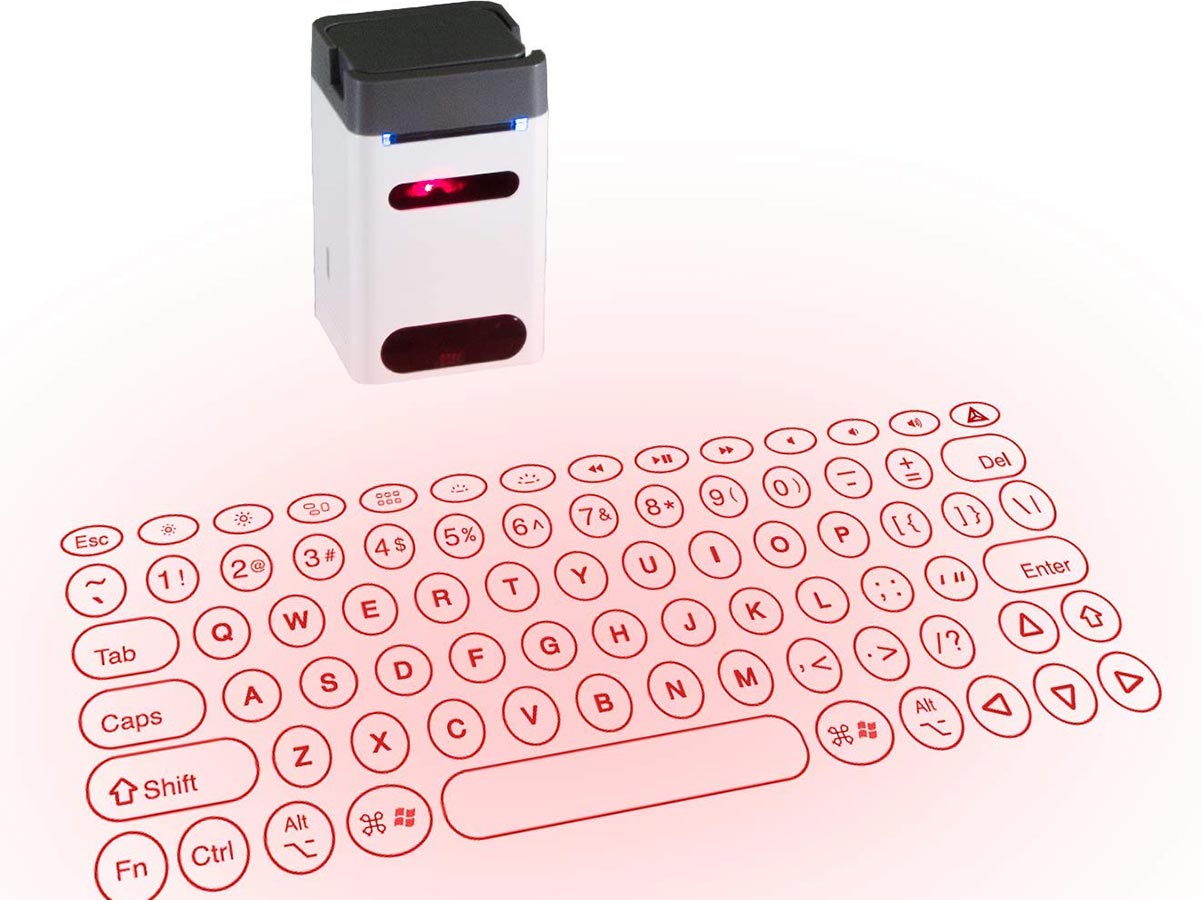 Mashable called it the 'keyboard of the future' and we don't doubt the claim. This projection keyboard doubles as a piano and supports a wide number of devices including PCs, tablets, laptops, and mobile phones. The keyboard layout is pretty interesting. Do not worry about getting used to a new layout as it follows the standard QWERTY design. Also, you will not be making mistakes due to the smart positioning of the keys. Plus, when not in use, you can utilize it as a phone holder as it comes with a cellphone stand on the top. Buy this on Amazon!
17. Umbra Casa Tissue Box Cover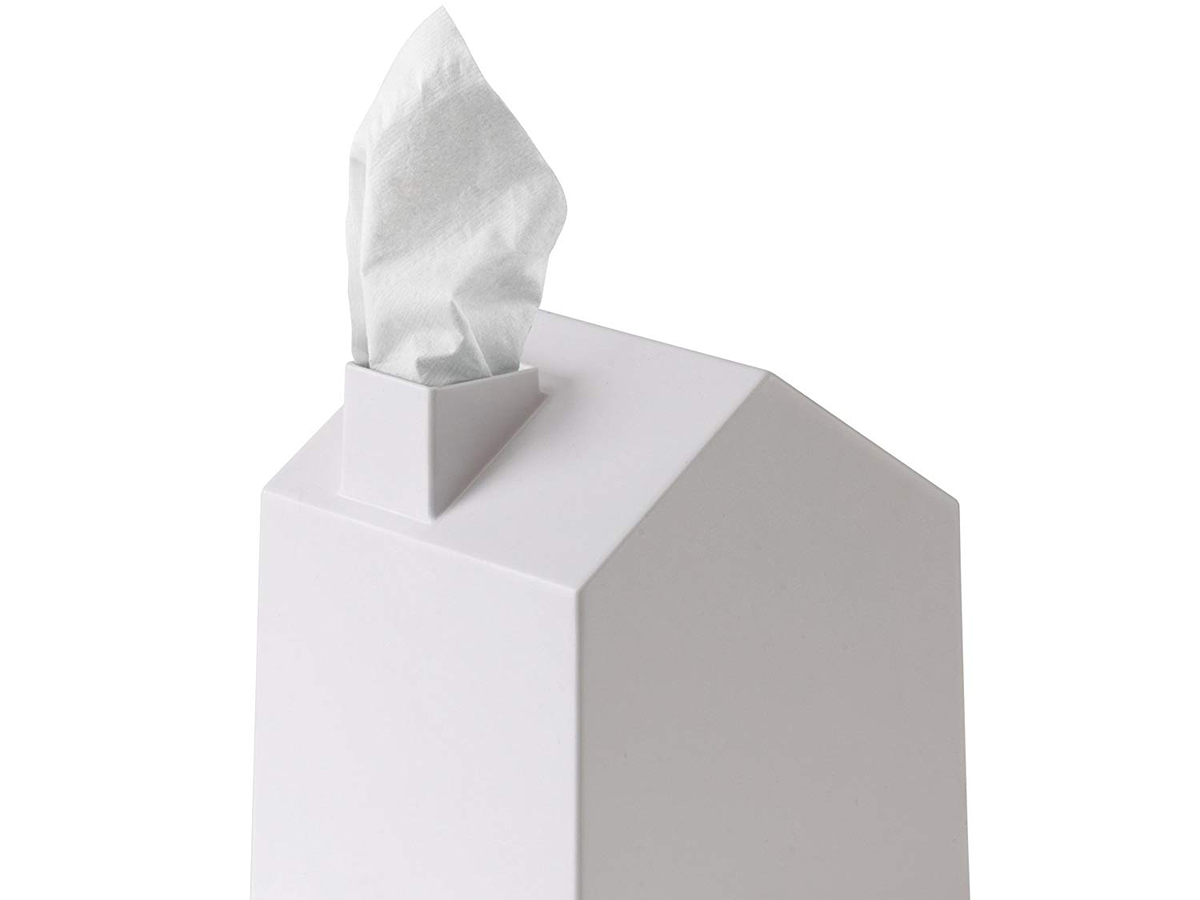 Tissue boxes do not have to be bland and boring any more thanks to this tissue box cover from Umbra. Made to cover standard tissue boxes, the cover is manufactured from plastic and is available in multiple colors. It is designed in the shape of a house with clear corners. Plus, it also has a chimney which is used to retrieve the tissue. Using the box is not difficult at all. You can easily open and feed tissues. Thanks to these amazing features, it can be a good addition to your dining room, living room, or bedroom. Buy this on Amazon!
16. The Beach Glass Acrylic Classic Break-Resistent Seamless Floating Acrylic Wine Glass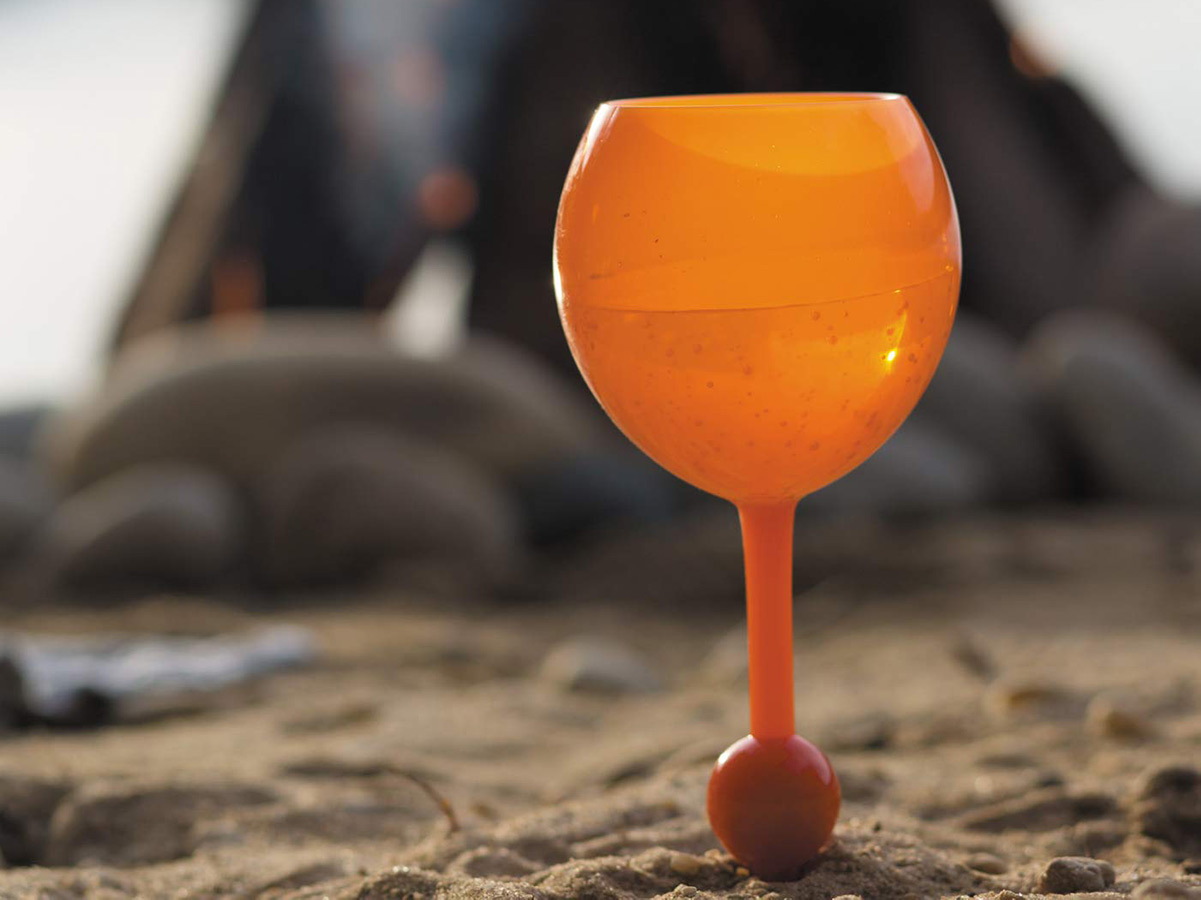 Beaches are fun but finding a glass to enjoy your favorite drinks can be quite a challenge. So, why not carry your own? This pack of 2 cost only $22.99 and is specifically designed for pools and beaches. Its unique stem and ball design ensure the glass stands in grass and sand with no risk of spills. Available in eight colors, the glass sill stay afloat in pools and is made from BPA free materials and hence is safe to use. Plus, it is dishwasher safe. Buy this on Amazon!
15. Rocketbook Wave Smart Notebook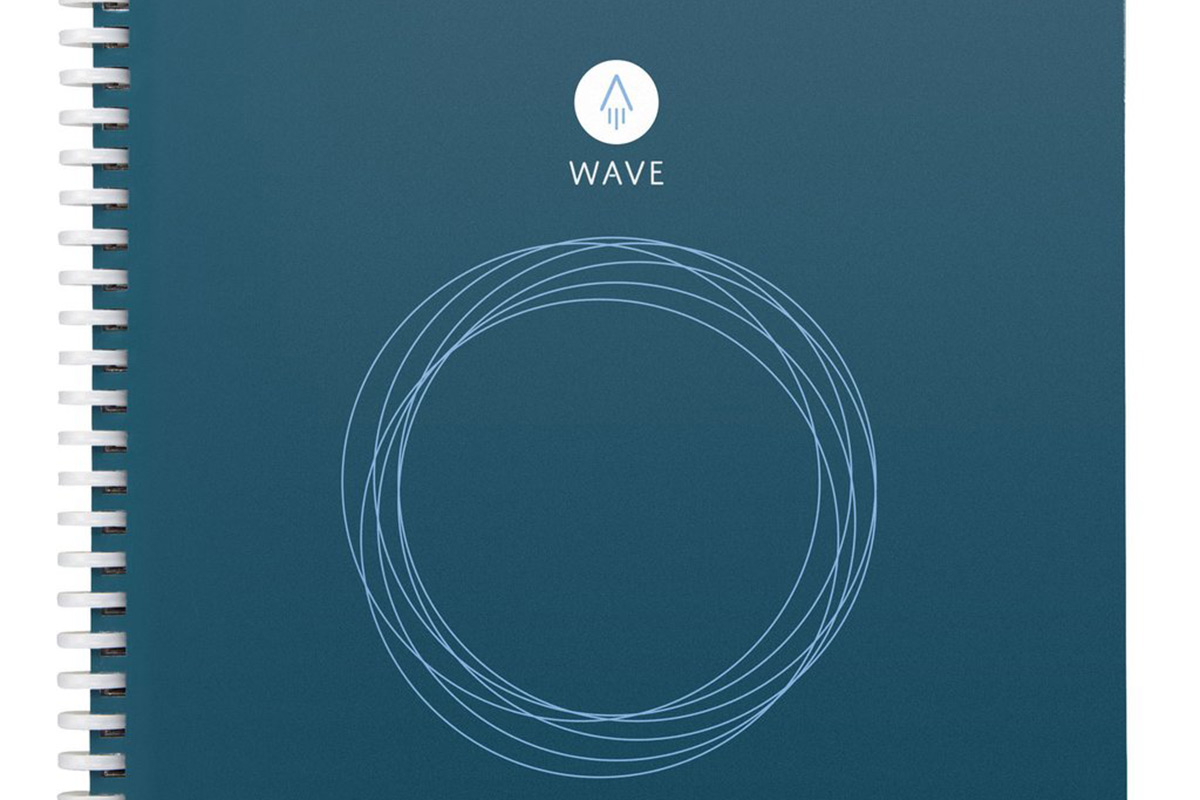 Support the environment by helping the trees. This reusable notebook is the answer to the 'paper' problem as it is reusable. All you have to do is microwave it as instructed and you will get back empty pages to leave your mark. This technologically advanced book can connect to your Android and iOS devices making it possible to send your notes directly to cloud services like iCloud, Dropbox, and even emails. No more worrying about having to carry USBs. Plus, it also allows you to search pages for what you need. This 80 pages book comes with a dot-grid pattern and can be renewed a total of five times. Buy this on Amazon!
14. Nostalgia Retro Pop-Up Hot Dog Toaster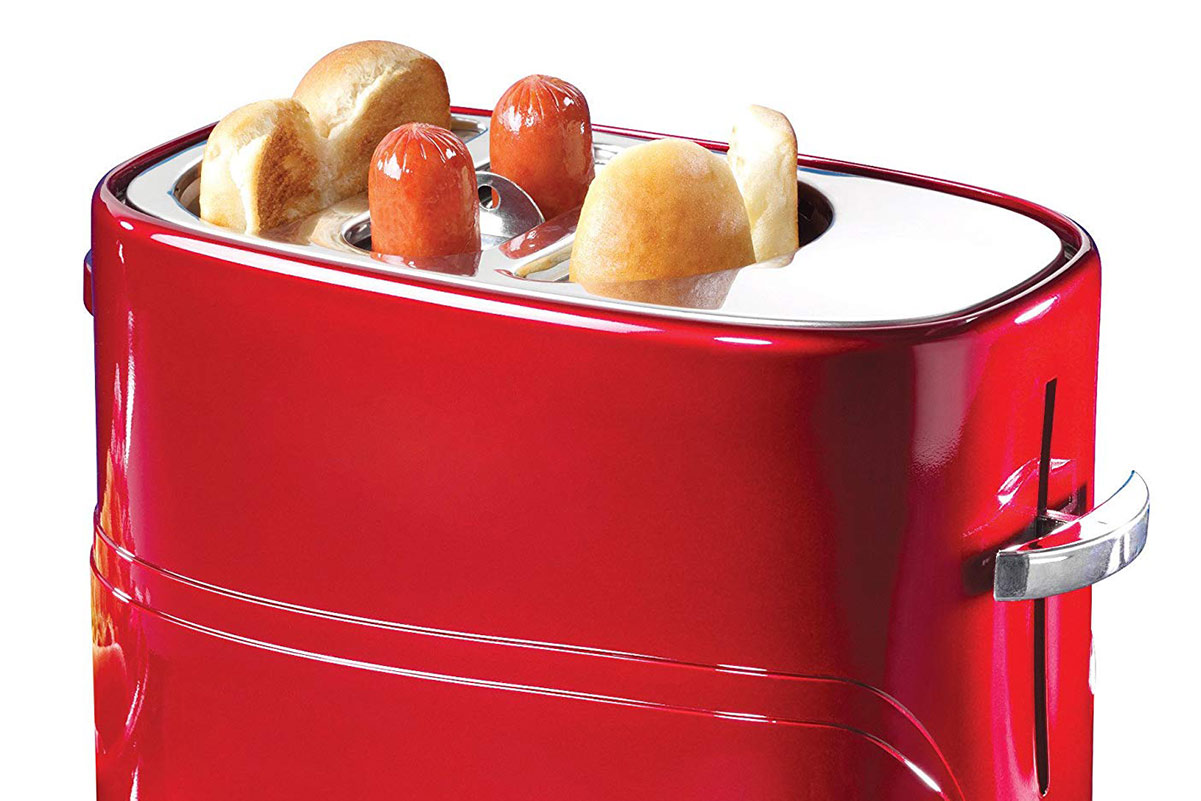 This retro-styled hot dog toaster can accommodate 2 buns and 2 hot dogs at the same time. It offers adjustable settings so you can toast your hot dogs the way you like it. It comes with mini tongs and hot dog cage to easily remove the hot dogs once they are done. No more risk of burning your hands. In addition to hot dogs, you can also use the toaster to toast veggie dogs, turkey dogs, and chicken dogs. It's compact, quite affordable at just $19.99, and easy to store. Buy this on Amazon!
13. iFetch Interactive Ball Launchers for Dogs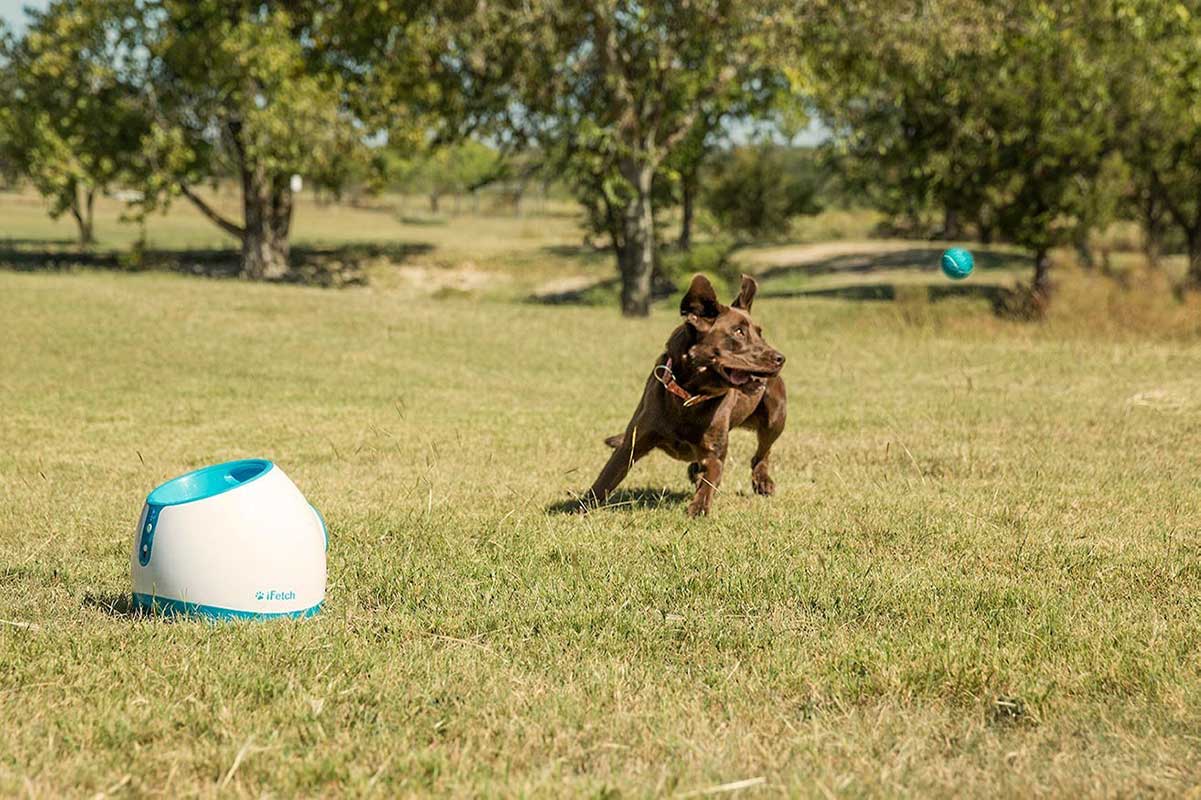 https://amzn.to/2yw5V7K
Make your playtime with your pet more fun with this interactive ball launcher by iFetch. his on-demand launcher comes with three pet-safe, non-abrasive tennis balls, and a rechargeable battery. It can be quite effective in strengthening the bond you share with your dog and give a new twist to the old game of fetch. We're sure even you'll find it more fun to use it. This award-winning product comes with a manual and video guide and is said to be suitable for all dog breeds. We've seen it work and we are sure your pet is going to love. Buy this on Amazon!
12. Fred THE END Dramatic Bookends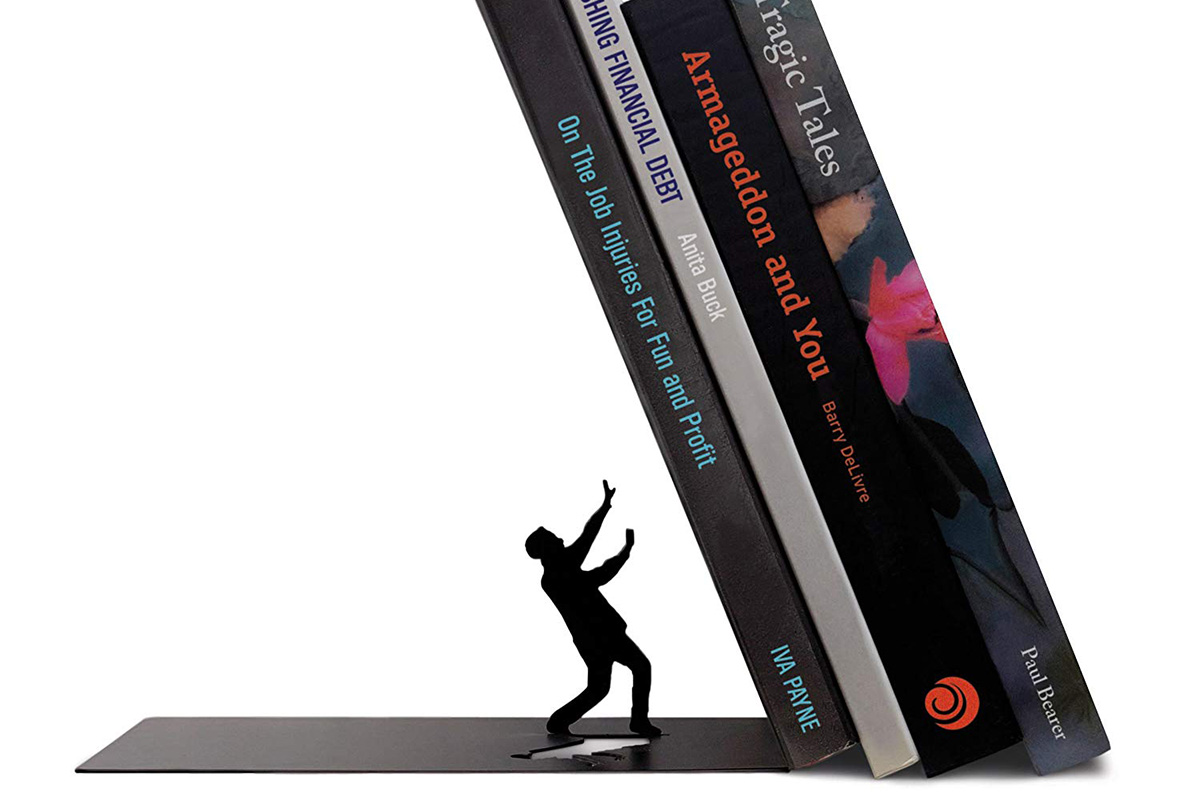 Who said libraries or work desks have to be boring? This bookend comes with a metal edge that can support up to three books. However, it may not be able to handle very heavy books and it is best attached to a wall. Thanks to its unique design, you can also use it as an ornament. It's a bookend that will be talked about, whether you use it at work or your home library. In addition to books, you can use it for other small items as well, such as cups or pen holders. Buy this on Amazon!
11. ECHOGEAR Power Strip Surge Protector with 8 Rotating-Outlets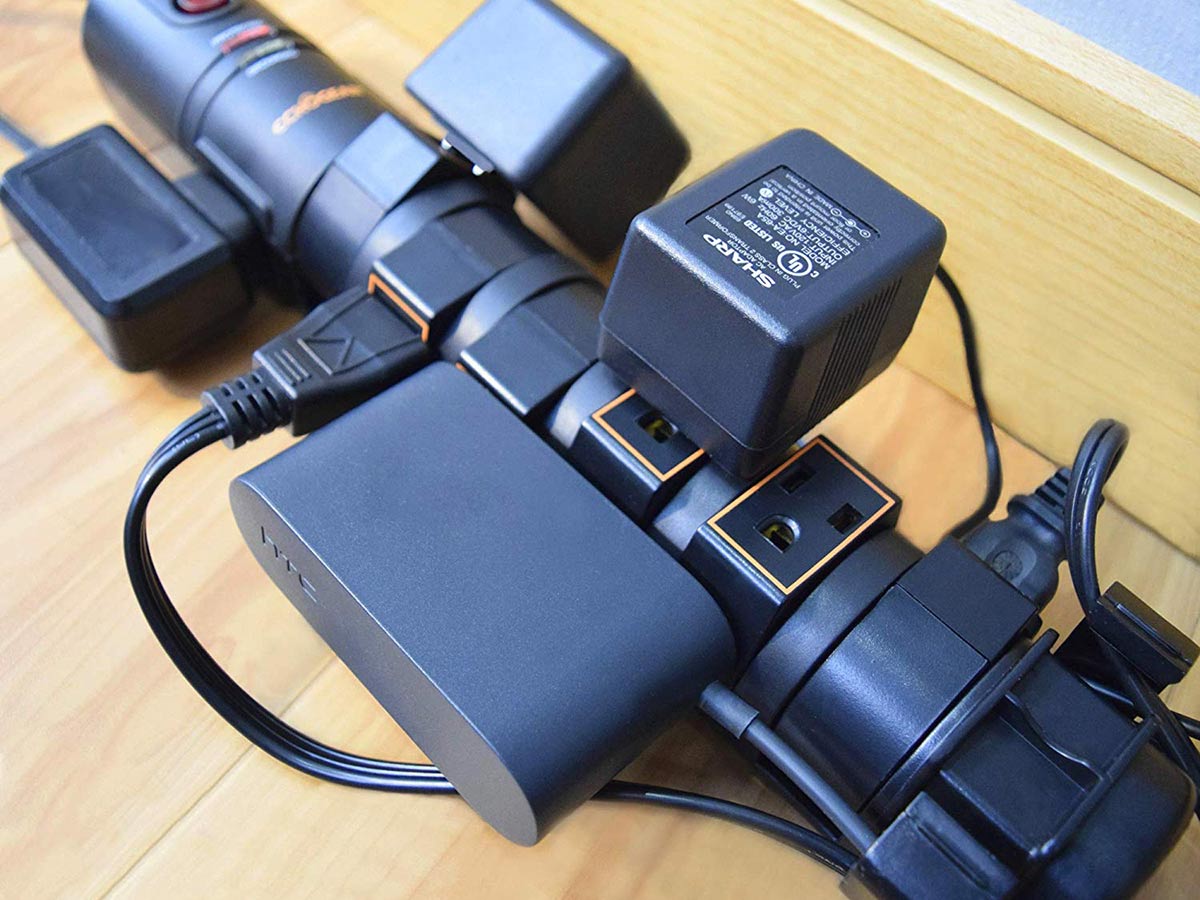 Messed up wires look ugly and can also increase the risk of fall and slip accidents. This cable management tool is efficient in keeping up to wires in one place, all untangled and easily manageable. In addition to this, the device can be effective in protecting your appliances against power surges that can cause serious damage to electronics. If you run appliances on generators or power fluctuations are common in your area then this beauty is a must-have. It offers 2160J of surge protection and comes with a 5-year warranty. Buy this on Amazon!
10. Click & Grow Indoor Smart Fresh Herb Garden Kit
If your indoor plants keep on dying then get your hands on this smart garden from Click and Grow. It comes with LED lights that ensure your plants thrive in all weather conditions. You can choose from more than 50 pre-seeded pods including thyme, chili peppers, wild strawberries, and lavender. You can even opt for a seedless pot and grow whatever you want to grow. This garden is a complete kit and comes in ready-to-use condition. Drop the pods, fill the reservoir, and connect the self-watering planter. Buy this on Amazon!
9. Abzon Transparent Pet Dog Umbrella with Leash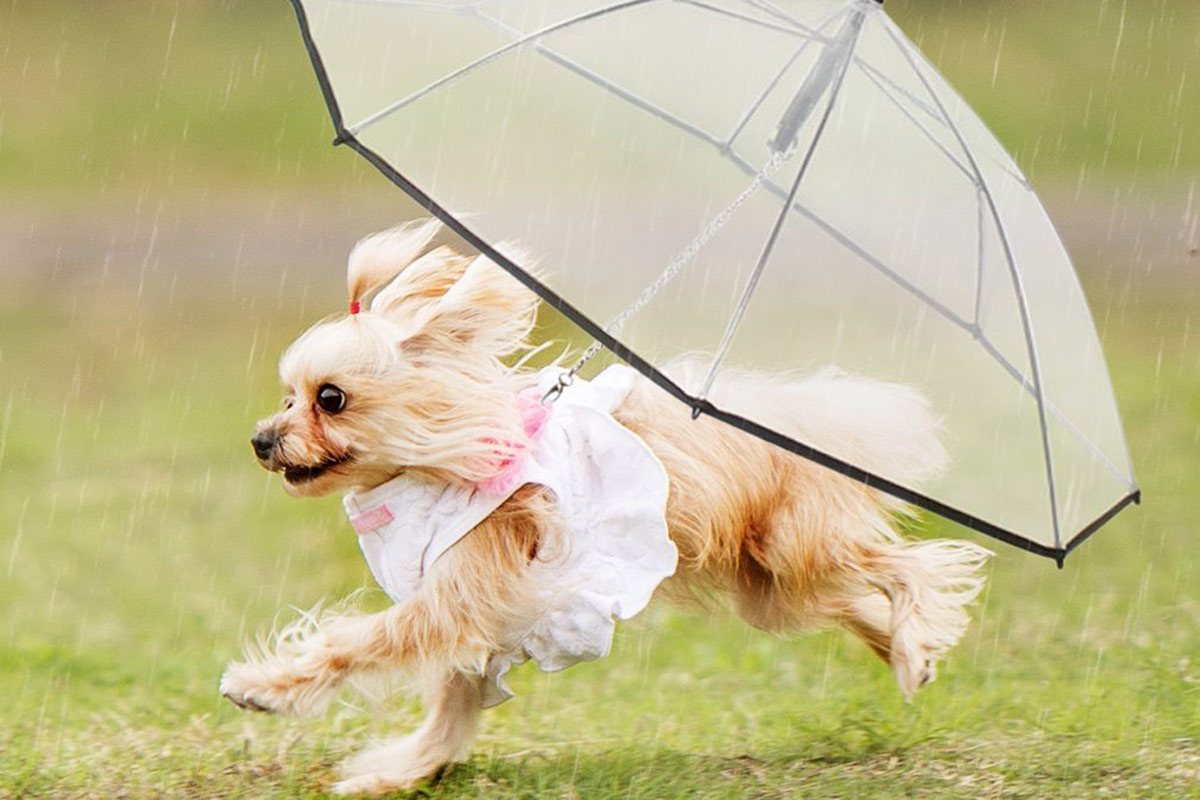 Dogs love to enjoy in the rain but staying in it for too long can cause your dear friend to fall sick and dirty. With this transparent umbrella, you can provide your dog with the security that he needs. This special umbrella comes with a leash and is quite easy to use. The handle is pretty long, hence you will not have to bend or face any trouble when holding it. With this rain, your dog will feel no discomfort in going out in rain or snow. Plus, thanks to its amazing look and design, the pet will also attract a lot of attention. Buy this on Amazon!
8. 14 Piece Chemistry Spice Rack Set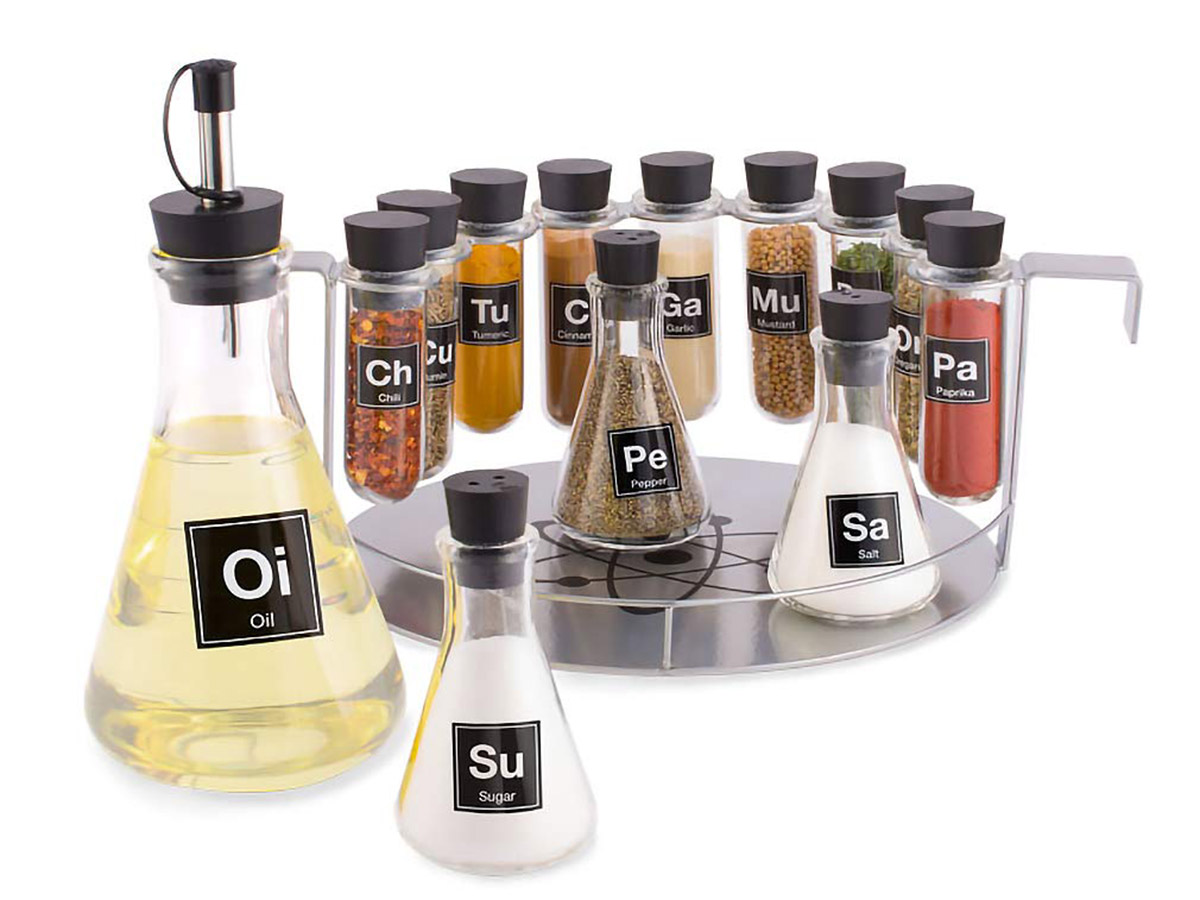 Improve the chemistry that you share with your kitchen by getting this 14 piece rack set that includes flasks and test tubes for all the common spices including salt, sugar, and oil. Made of glass, the tubes are easy to clean and maintain. This rack is not only decorative but quite functional as well. Each flask comes with a rubber stopper to prevent spills. Pepper and salt flasks come with holes for shakers. Plus, there are 36 different stickers to paste on the tubes. Buy this on Amazon!
7. Cat Crib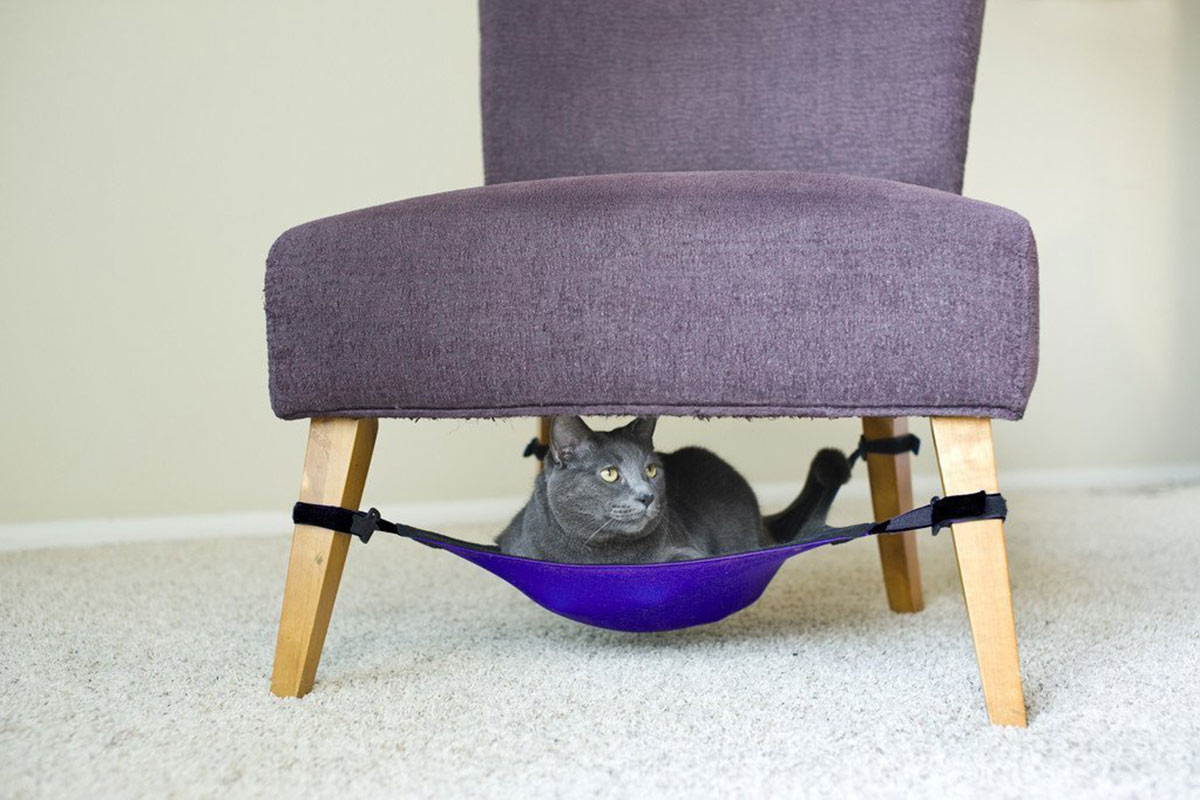 If you have a cat then you must be aware of the tantrums these furry animals throw. Plus, they are also known to clutter the space and make a mess out of their beds. These multiple problems can have one simple solution – this car hammock that's made to fit under any chair. The strap design ensures safety so there's no risk of slips. The material is soft hence your cat will not feel uncomfortable. Plus, most cats can easily fit in the hammock including big felines. Buy this on Amazon!
6. Dreamfarm Scizza – Pizza Scissors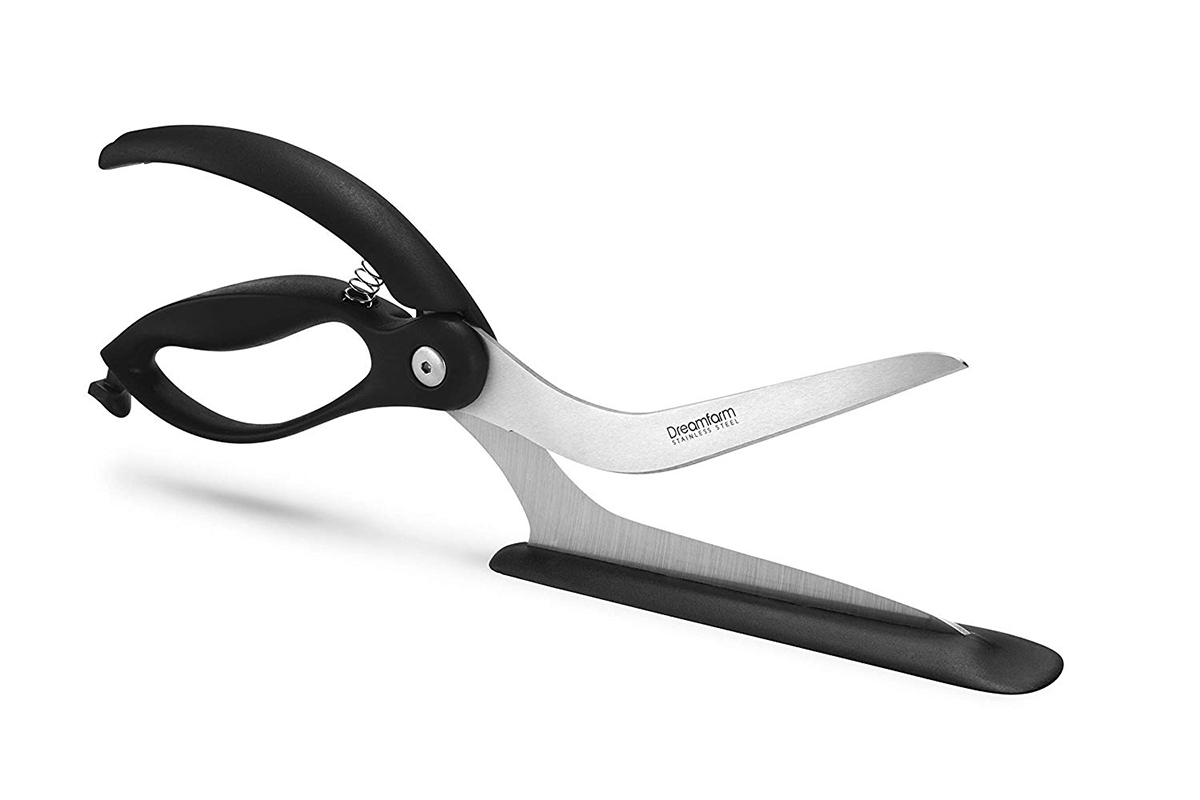 Bid adieu to traditional slicers and get your hands on this pizza scissor that's a lot easier to hold and will provide you the slices that you like. Its non-stick nylon base is heat resistant and will not scratch cookware. It's made from BPA-free materials and is safe to use. Plus, it is suitable for all kinds of pizzas, including deep dish pizza. The stainless steel used to make the scissor is rust-proof and made to last. Named Scizza, this incredible device has 12cm long blades, hence you will not have to struggle when cutting large slices. Buy this on Amazon!
5. Fred PICK YOUR NOSE Nose Paper Cups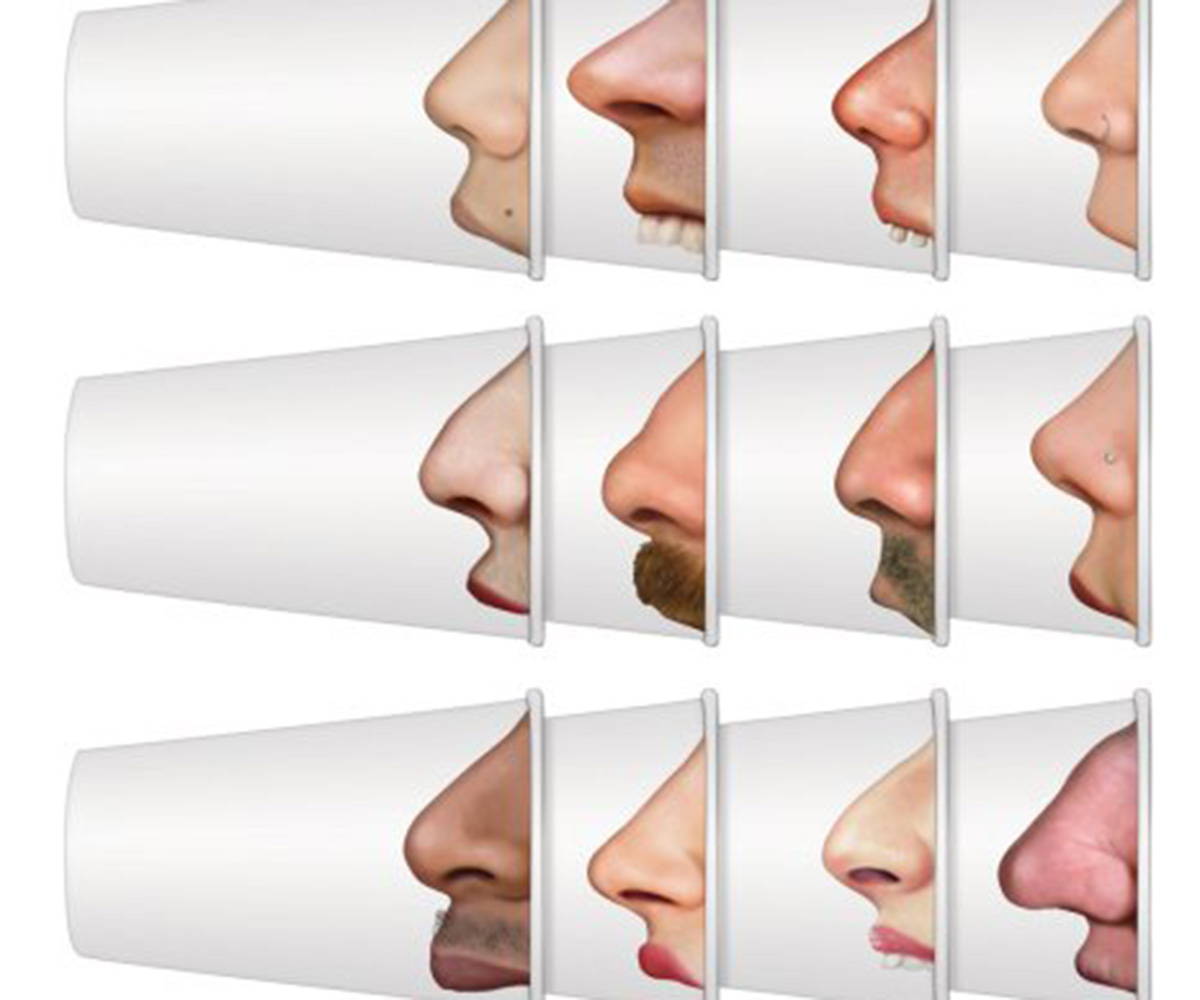 This pack of 24 cups (12 female and 12 male) will add life to even the most boring party. Made from recyclable paper, each cup is unique with a new nose design. You can pick one that goes well with your face. Pictures with this cup will look great – so expect to get more likes on your Instagram posts. Some cups also have a mustache that looks as realistic as the nose. Have fun with your friends and family members while sipping your favorite drinks. Meant for single-use, the cup can handle all kinds of liquids including hot drinks. Buy this on Amazon!
4. IcyBreeze Cooler Chill Package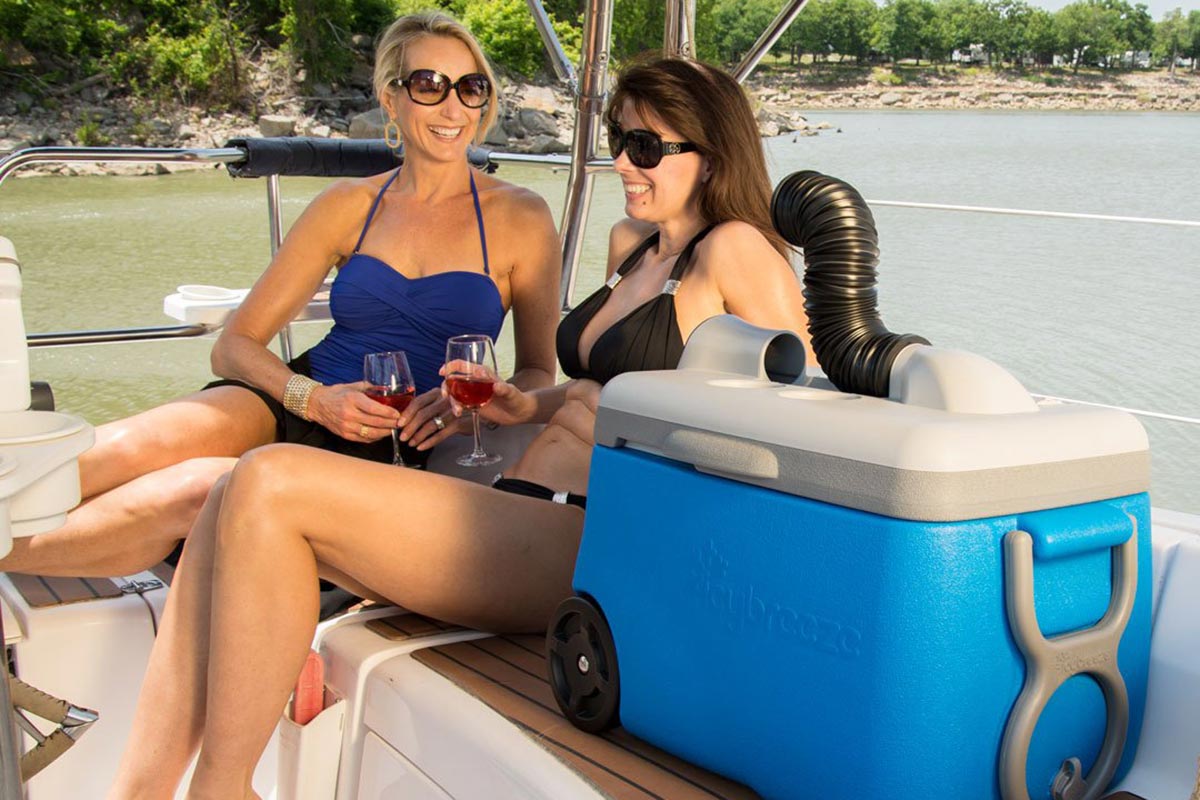 Getting your own portable AC was never this easy and affordable. This cooler chill is available in multiple colors and uses no battery. It can hold up to 30 pounds of ice for about seven days when not using it to blow air. Carry it to your long trips and get access to chilled drinks and water whenever you needed. It also doubles as an air conditioner offering three fan speeds – up to 20 MPH. At just 16 lbs, the chiller is quite easy to move around. It comes with a 12V power cord that plugs into car chargers and uses very little power. Buy this on Amazon!
3. Mustard Condiment Dispenser Bottle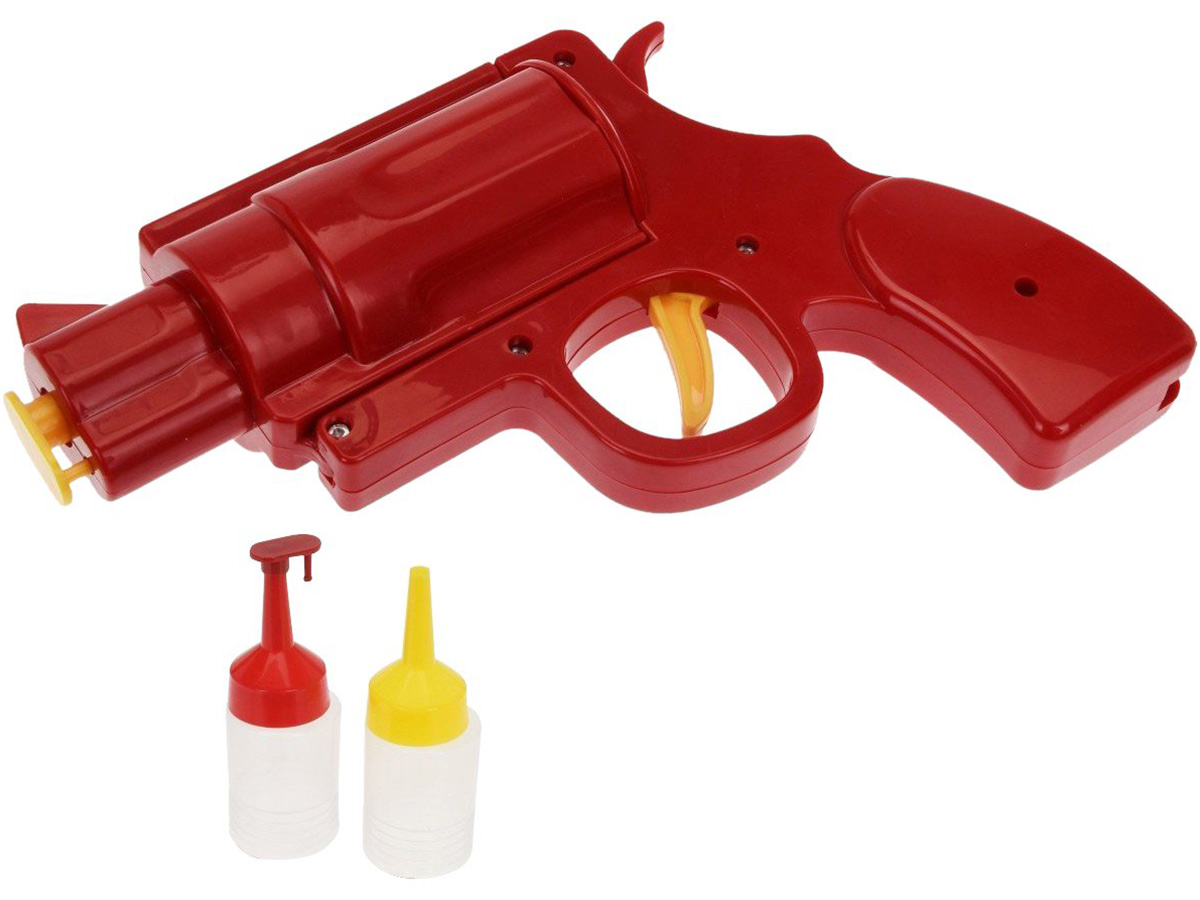 This novelty plastic condiment dispenser bottle is designed in the shape of a gun and shoots quite neatly. It comes with two reusable cartridges that you can fill with the condiment of your choice. The gun is quite easy to use and offers excellent control over the amount of condiment used. It also has a rubber cap to reduce leaks and spills. You can use it for different sauces including ketchup and mayo. However, make sure to keep it away from children under the age of 12. Buy this on Amazon!
2. Prep Solutions by Progressive Microwave S'mores Maker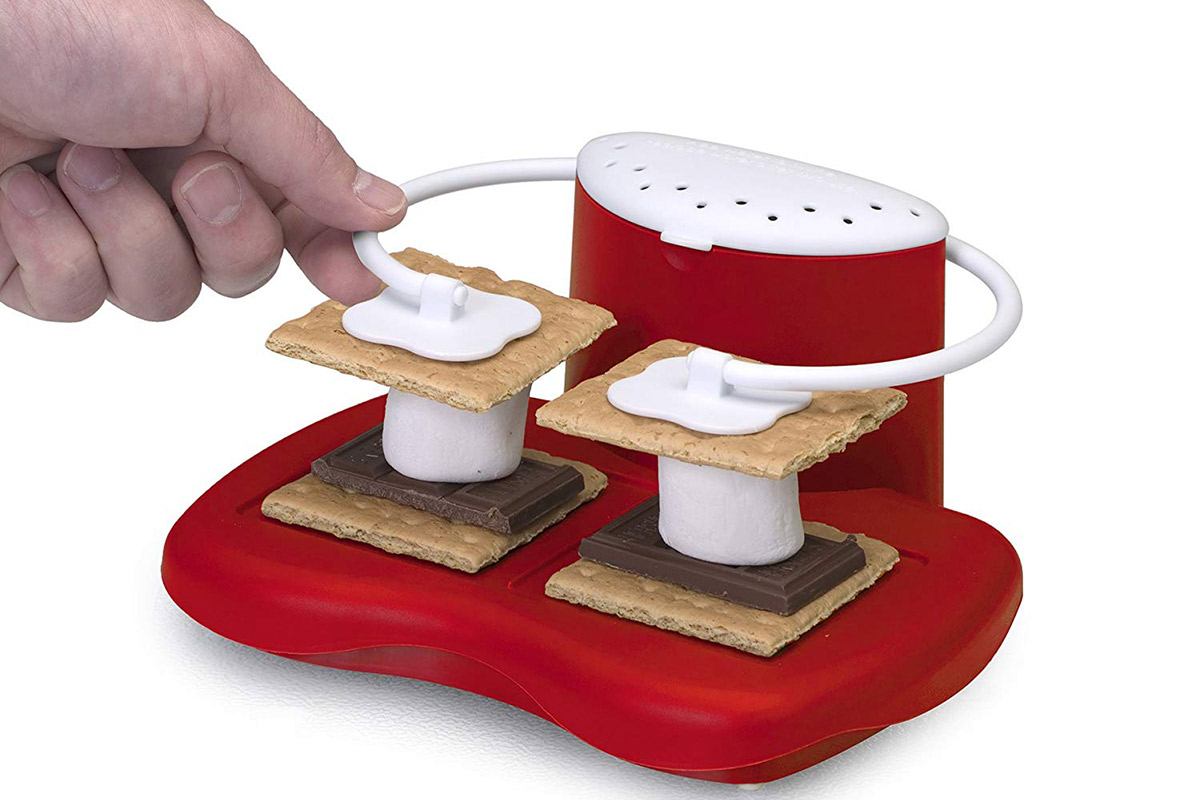 S'more is one of our most loved campfire treats but now you can make it in your own kitchen thanks to this microwave s'more maker. It can cook up to 2 s'mores in only 30 seconds. Its unique design ensures all ingredients are heated properly and evenly. The s'more maker is equipped with arms to prevent marshmallows from overcooking and overspending. In addition to this, you can also use it to make ham, cheese, and crackers. The device is dishwasher safe and quite easy to use. Buy this on Amazon!
1. Suck UK Skeleton Jewelry Organizer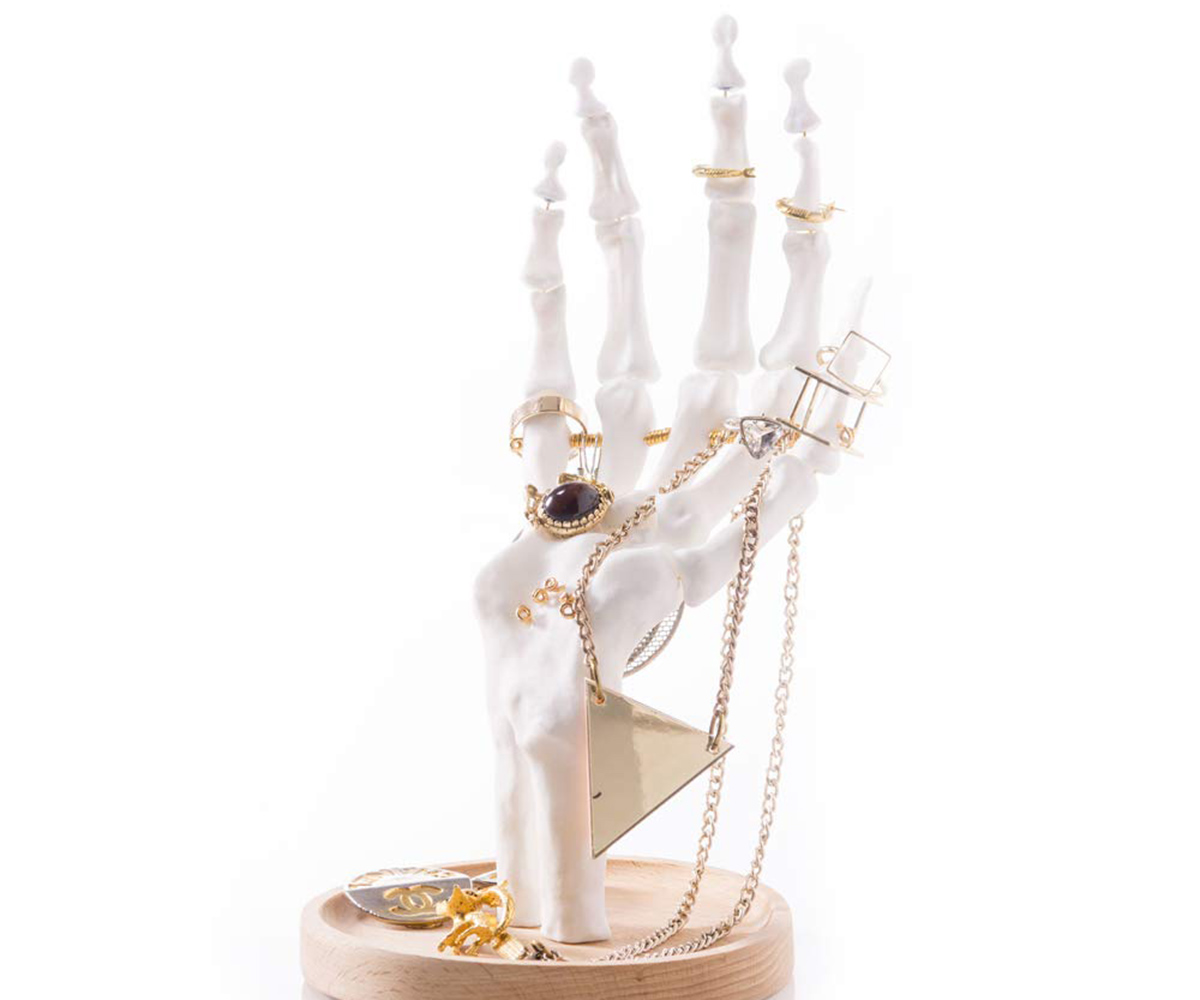 Time to get a little spooky with this very realistic jewelry organizer that doubles as a Halloween decoration. You can use the skeleton to add spunk to your home. Plus, it can also accommodate several jewelry pieces including multiple rings and necklaces. All the joints are movable, giving you the opportunity to be creative and highlight the skeleton the way you like it. Plus, it is available in multiple colors so get the one that you find the most attractive. Buy this on Amazon!