50 Used School Bus Conversions You'll Love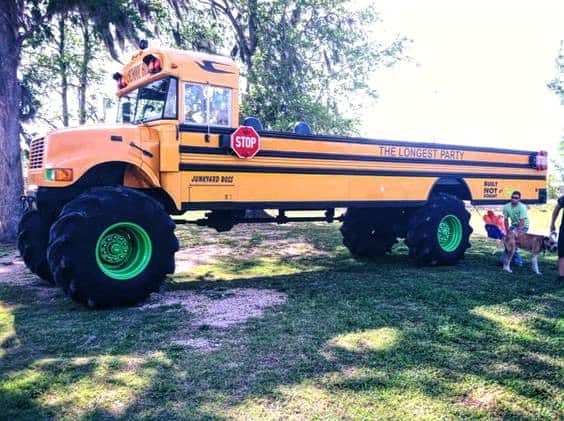 The vehicle that used to take you and your buddies to school has undergone some wild transformations over the last couple of years. As people have realized they don't want to be bogged down by a standard, expensive house they are seeking alternative options. Enter: the standard school bus. People are doing amazing things with old buses, and we think you need to see them!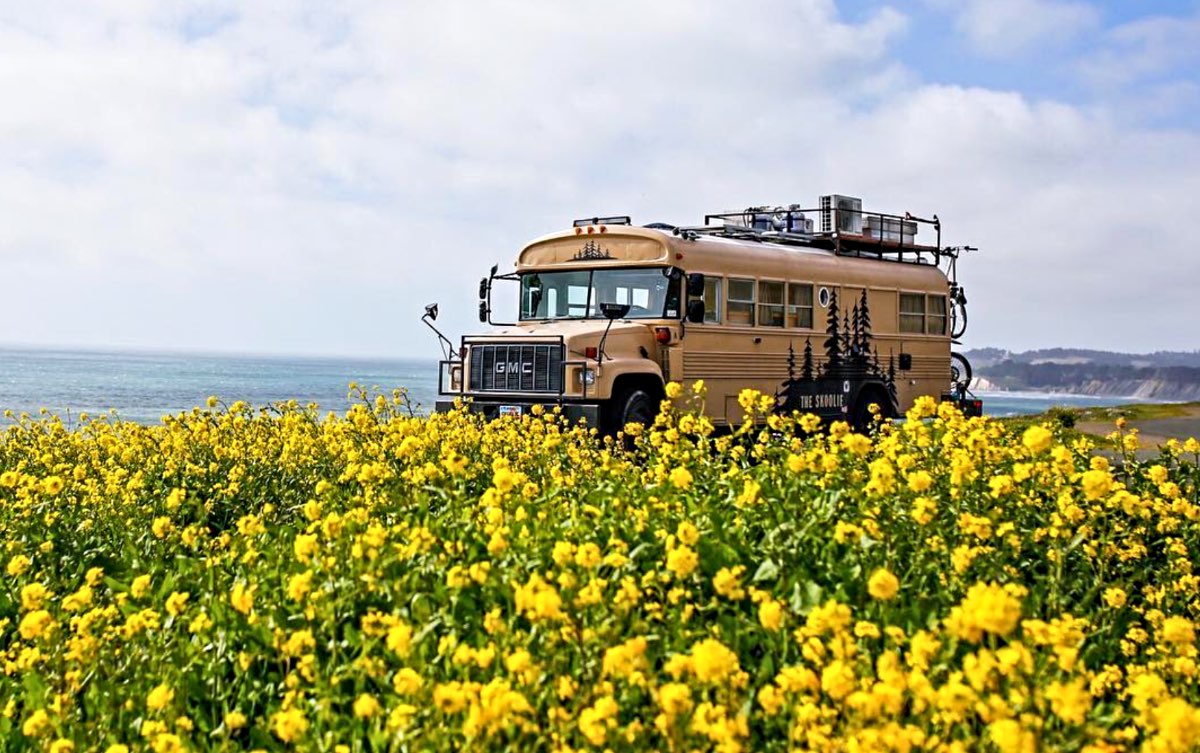 The Skoolie
A fellow named Dean is the owner and proprietor of this school bus called, "The Skoolie". It's a tricked out 1994 GMC Bluebird with a Caterpillar 3116 turbo diesel engine. The Skoolie has propane, 86 gallons of water, and 400 watts of solar power. It's one of our absolute favorite school bus conversions and you'll see another angle or two later on…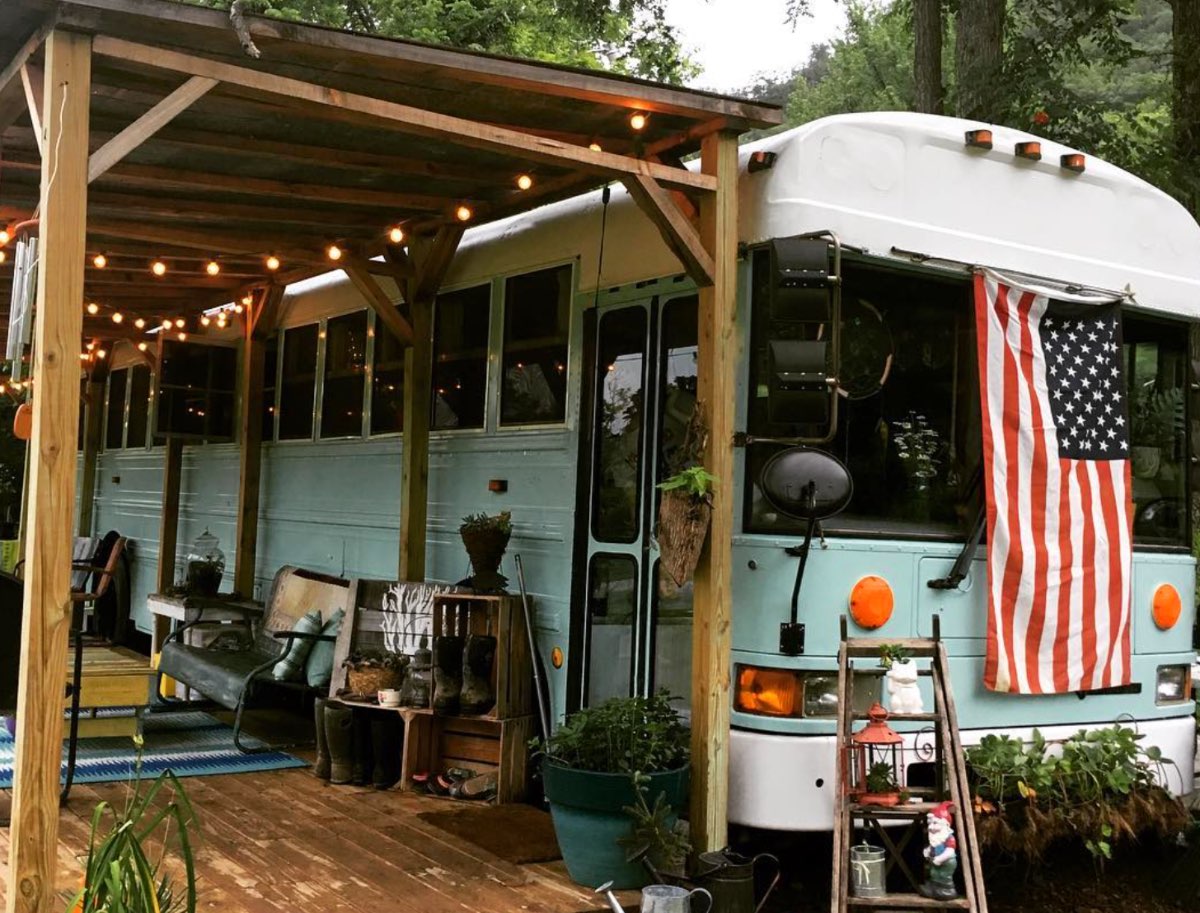 Blue Ridge Mountain Bus
How cool is this homey, charming converted old school bus? This is the handiwork of the folks over at @blueridgemountainbus. This beautiful, late spring shot captures the warmth and convenience of school bus turned into a home. But what would it be like when it's frozen and snowing out? Click through to see…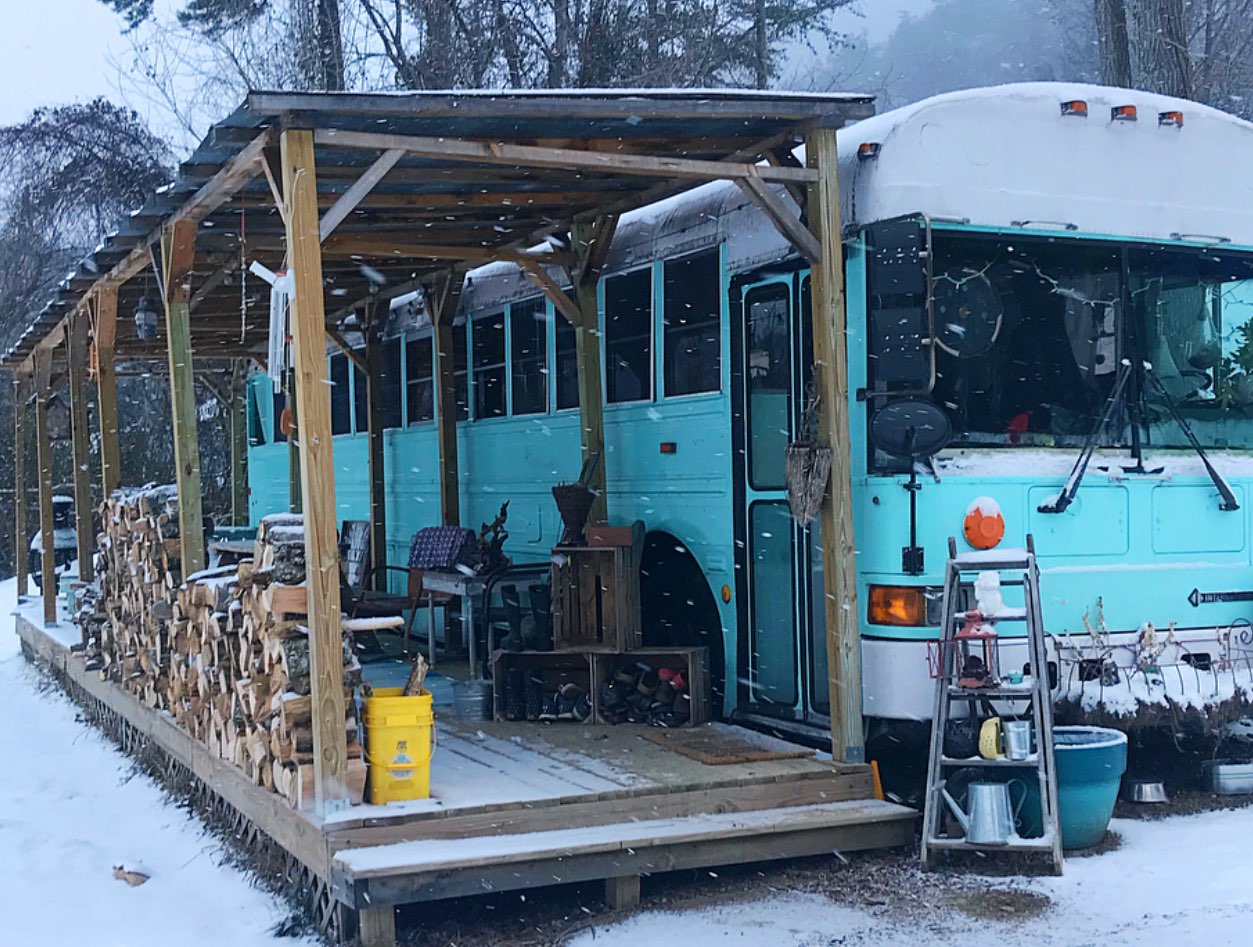 Blue Ridge Mountain Bus
It sure is beautiful in the winter, we'll give it that. The bright blue exterior paint stands out sharply against the snow white and the dormant grey of the trees.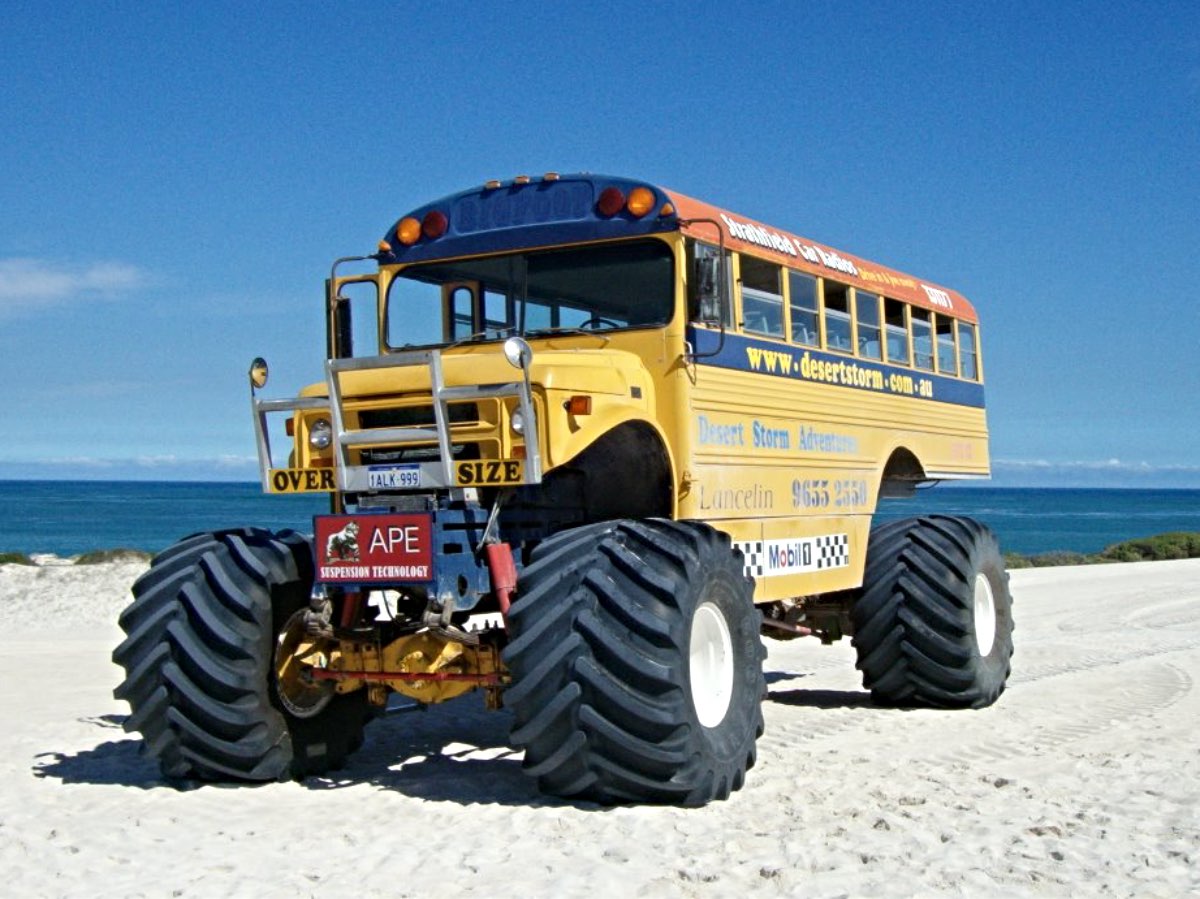 Beach Bus
Ever considered buying a used school bus and converting it into a gnarly beachcomber? Probably not, but it's actually easier than you might think. A simple suspension lift kit, oversized tires, and a new set of axles along with a steering kit are all the components necessary to turn your used school bus into this beach brawler. Of course, you will have to take a bit of time to carve out the metal fenders to make room for those oversized tires, but that's the fun part. Once you do, you can elevate your bus to true all-terrain status. You will still haul students, make no mistake about it. Except the students will be heading to the beach on Spring Break rather than the classroom. Kudos to this individual for the epic build. Take a look at the decals and check out those sites for components used to create this build. You can have your school bus up and running in time to catch that epic sunset!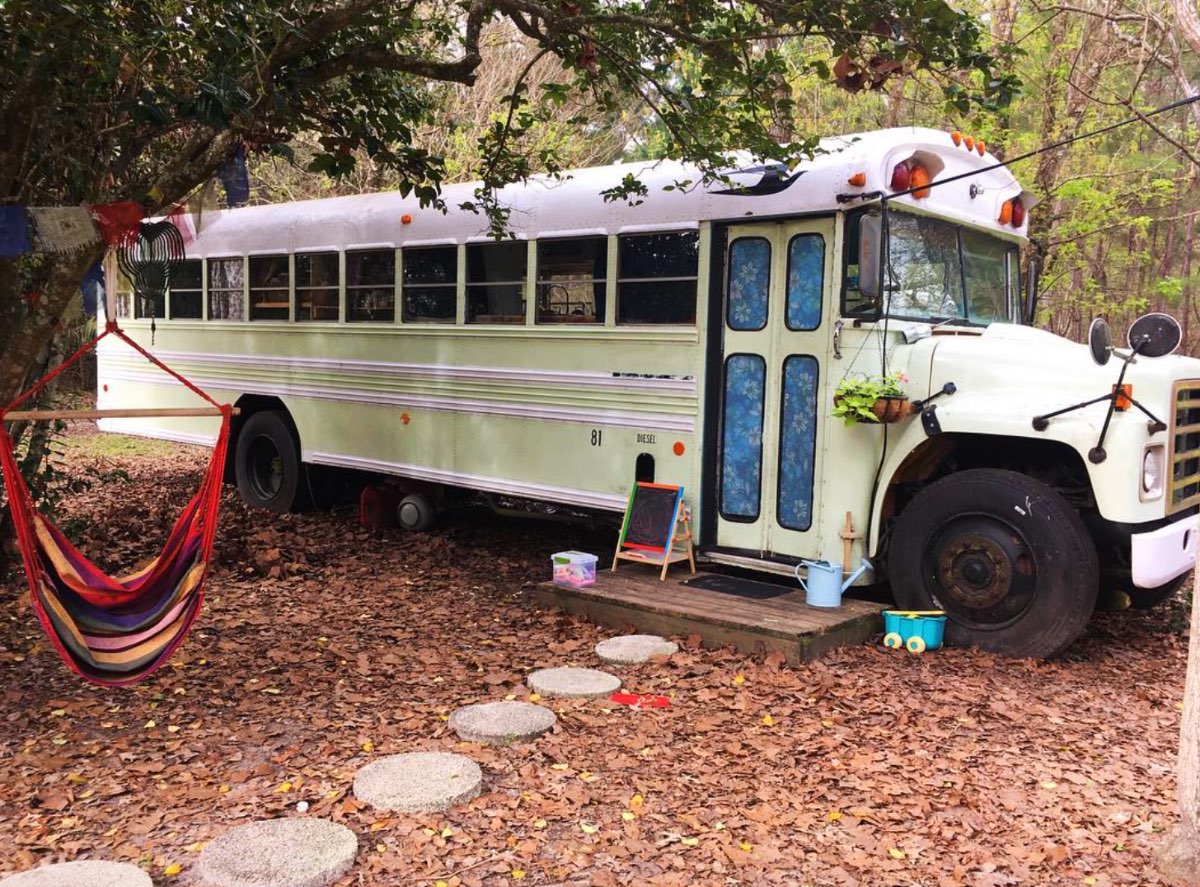 Old Soul School Bus
This school bus conversion is giving us some permanent vibes, but boy do we love it. You can see more of the school bus life and what it's like to raise a family inside of it, if you give @myowndevi a follow on Instagram. Kudos!
So many ways to customize these things. Do you think you could do it? They're for sale on eBay for cheap, check them out.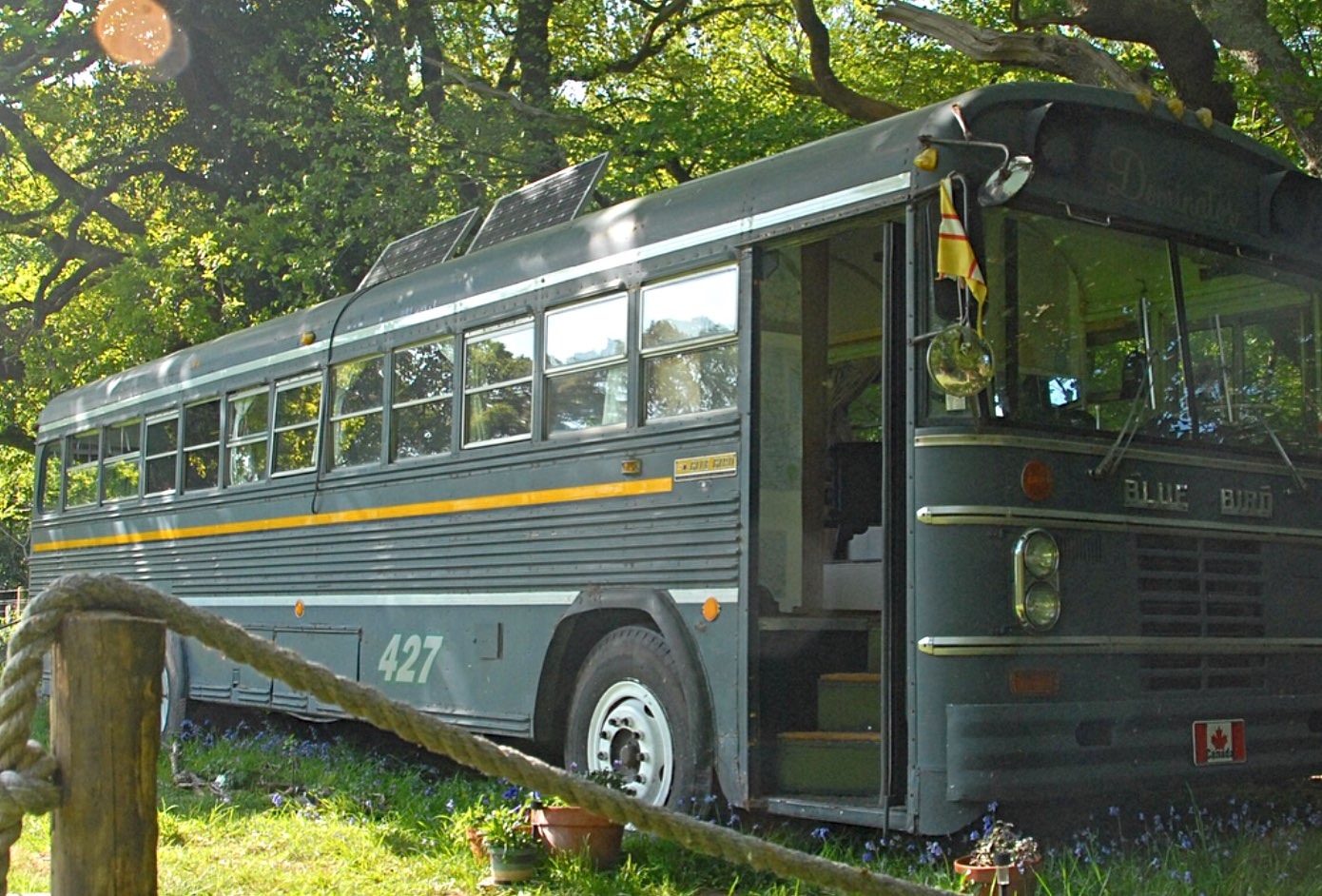 Bus'N'Breakfast
What a great name for this bus, and you can follow the adventure over at their instagram handle with the same title. This baby features a furnace and a really spacious design where the kitchen table is a centerpiece of the whole interior. Like any great converted school bus, it's efficiency inside the cabin is what it's all about. The Bus'N'Breakfast is available to rent by the public for any type of occasion. How fun would that be?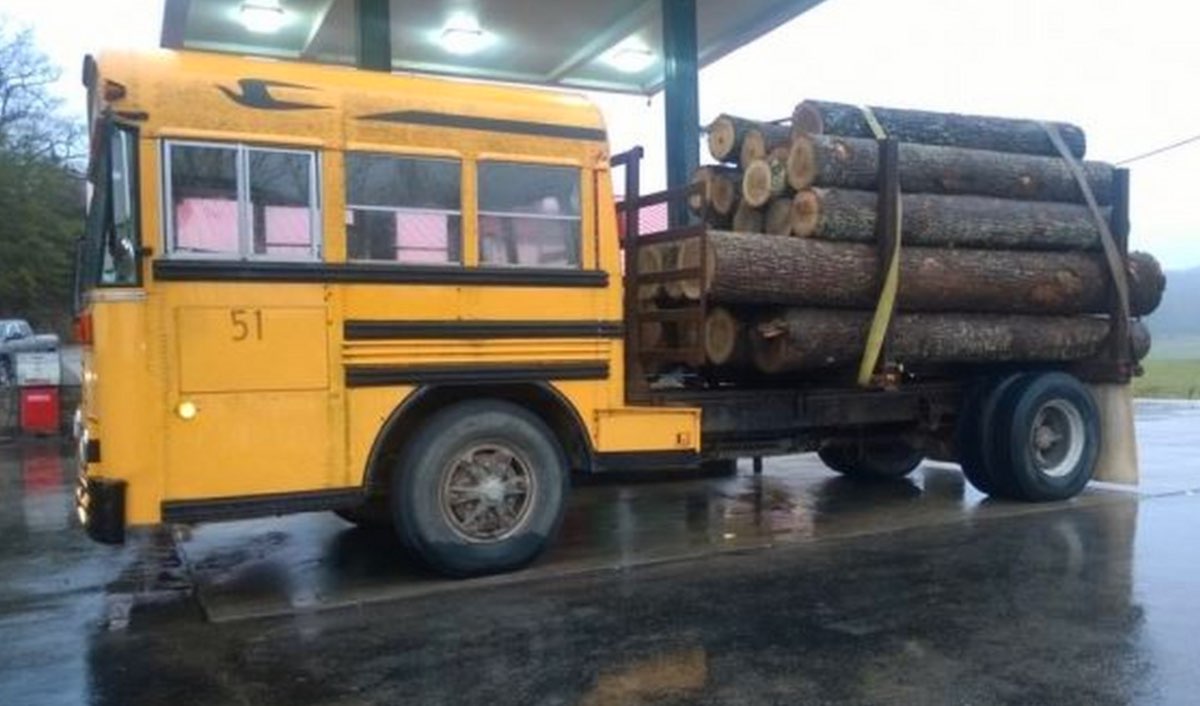 Logs Aren't The Only Thing That Got Chopped
Take a good look at this used school bus modification. It takes a minute to sink in, but once it does the result is pure magic. This is not simply a school bus with the back half chopped off and replaced with a welded log harness. That's close, but not quite the case.

 No, this school bus was modified by completely removing about two thirds of the rear of the bus. If you look closely, you can see that the long wheelbase was kept intact and the log harness was simply attached to it. That's about as easy as it comes with school bus modifications. The only real issue you have to contend with is sealing up the back part of the cabin which is easily accomplished with some sheet-metal and a skilled welding torch. Imagine the look she would get going down the street with this one? It would be worth the modification just to see those heads turn. Plus, it would come in handy if you have a lot of forest to clear or other large loads to haul. Quick and easy, this would make for a great first-time bus mod project.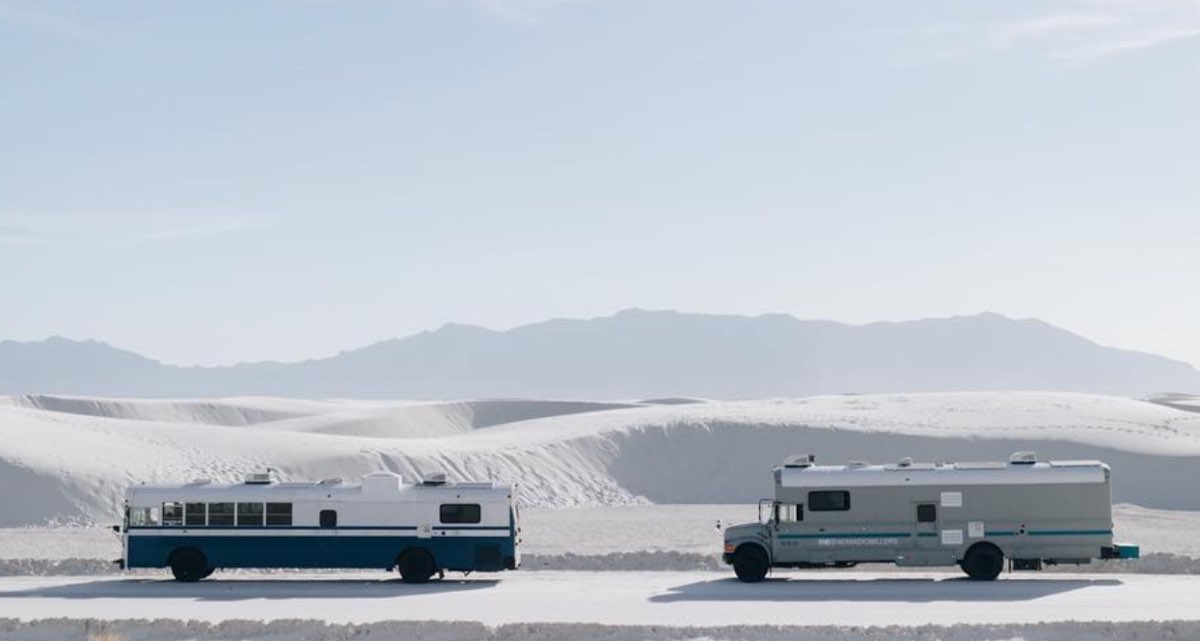 Bluebird Traveler
Well, this is the whole point of living in a school bus conversion isn't it? Hitting the open road. These two old school buses are cruising through the snowy state roads of Utah. What a shot!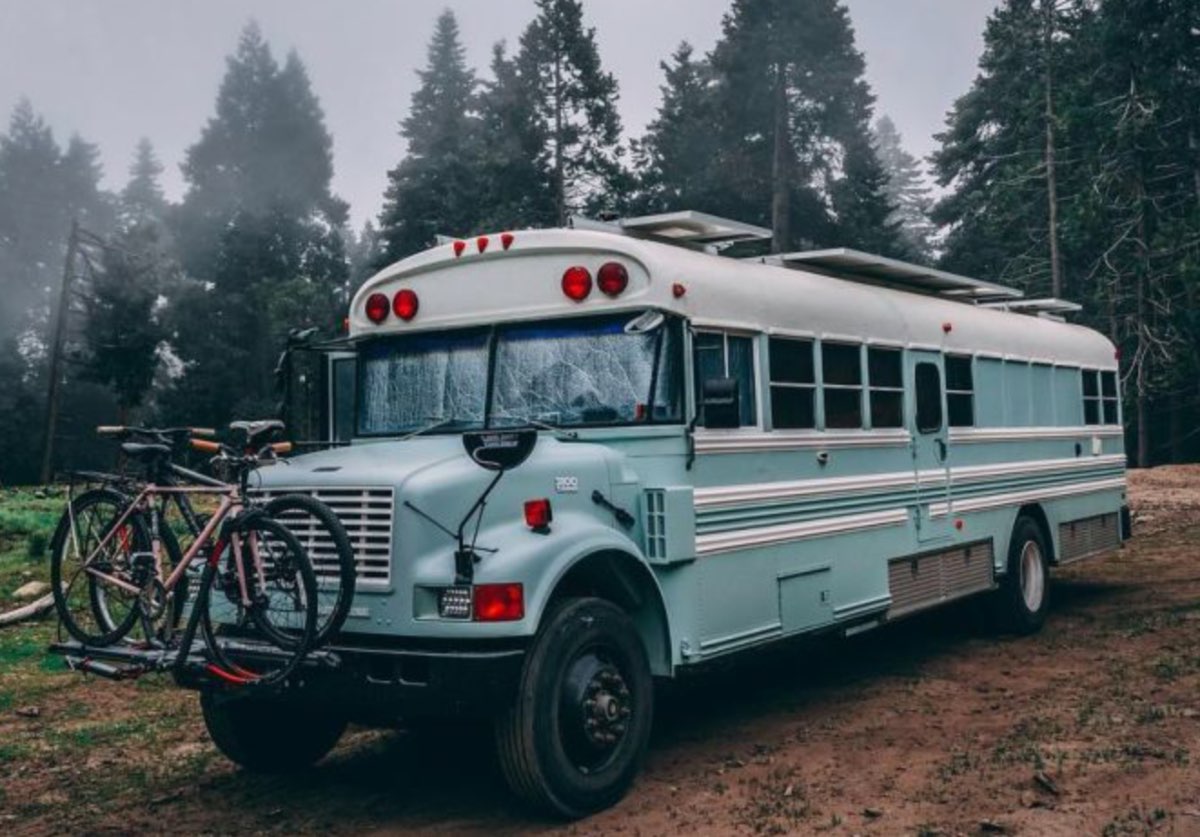 Bus to Bike In No Time
This is the mountain biker's dream. No need to travel to the runs, you can just live there. The inside of this mobile home is bare bones, but it's the reliability of the classic Bluebird bus that is the attractant here….oh and the light turquoise, too. Can't forget that.
The possibilities are endless, see for yourself how easily one of these used school buses could become yours. They're for sale on eBay for cheap, check them out.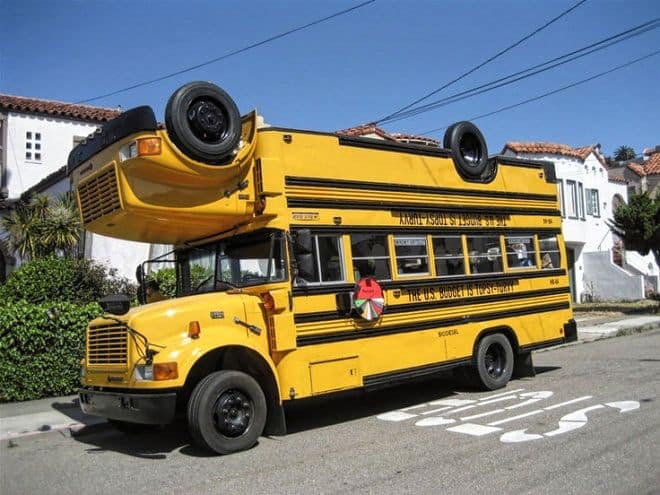 Topsy Turvy
Speaking of easy bus modifications, check this one out. Though it looks complex, it is actually rather easy to perform as well. Simply shave the top of one bus while completely removing the top of the other bus down to the bottom windows. Then flip one upside down, and a few spot welds/rivets later, you have a double decker upside down doozy… Or topsy-turvy as this one is known. A fresh coat of yellow paint across the whole thing makes it present well, but look closely at the wheels mounted on top of the bus. Those won't break the bank because they are simple spare donut and trailer tires. It's good to know that this modification won't require thousands of dollars worth of new school bus tires for the top mount. Simply smack on some old donuts and you have a build that will certainly keep the whole town talking every time they see you drive down the street.
The Skoolie
Another sweet shot of The Skoolie, this time in the Sonoran desert!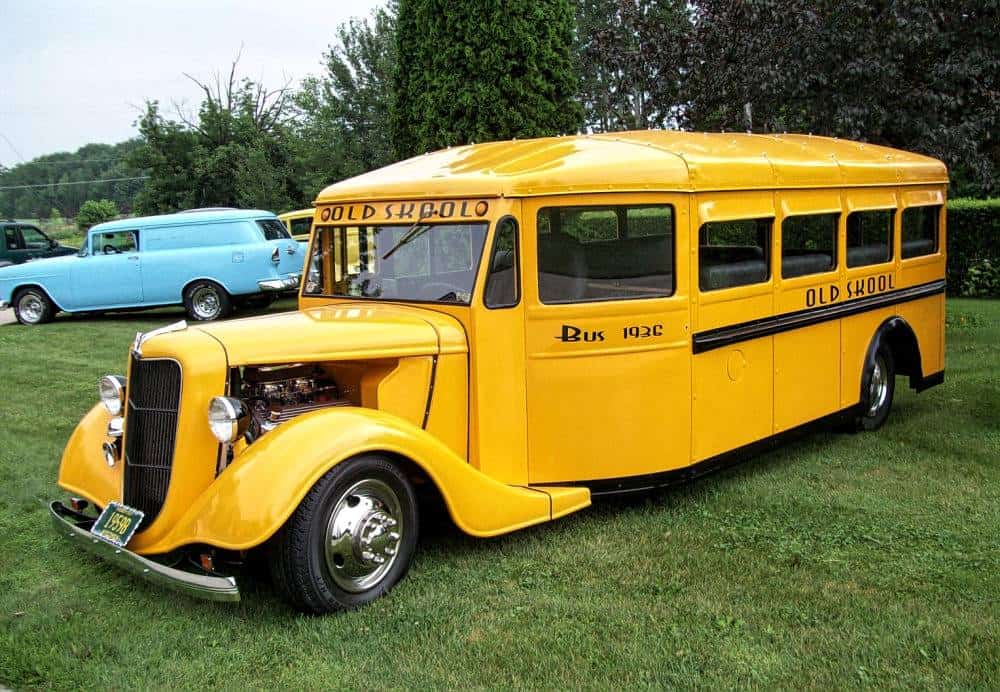 Old Skool Party Bus
This school bus is completely tricked out. It did not start out looking this way though. No, it began as a 1936 rusty bus with cage style windows. If you try to do this build yourself it would cost you a little more than a quarter of a million dollars. All of that to say, this is not for the novice bus builder for sure. It is every bit as impressive and difficult as it appears to be. This beauty is equipped with a 454 Ci engine along with an Edelbrock intake and carbs. It also features all electronic ignition and power everything. The inside is completely customized seating equipped with speakers built into the bottom. Top it off with a nice set of front disc brakes, rear drum brakes and a flat screen TV… and you have all the makings of an old school party bus. The owner even painted it the classic 1987 yellow color, finished with a high gloss clear coat to make it pop. The only caveat? No air-conditioning, so you might want to stick to driving this one in the fall.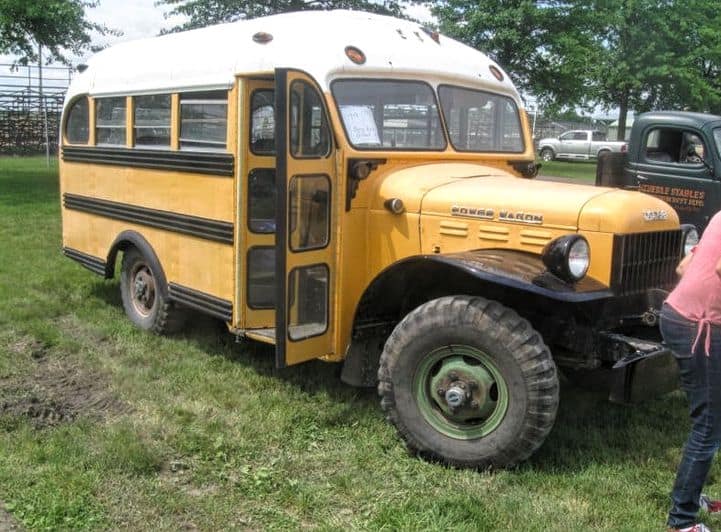 Down n' Dirty Bus
For a quick build, why not try this short power wagon bus. All that is required is a few tender cuts for the front wheels, a nice frame build out to attach a winch or whatever other implements you need like a snowplow or cow catcher to the front, and you have yourself a winner. The antique lights on the side give it a nice Chitty Chitty Bang Bang type look, and echo the curves on the top and rear of the bus. The large, oversized tires will get you in and out of just about any situation, and can be picked up rather cheaply if you trade them out for your old personal set of tractor tires like this individual. It's really easy to modify an old school bus if you get creative and let your brain wander. Get one and give it a try. You will have a one of a kind vehicle that is sure to be around for a while.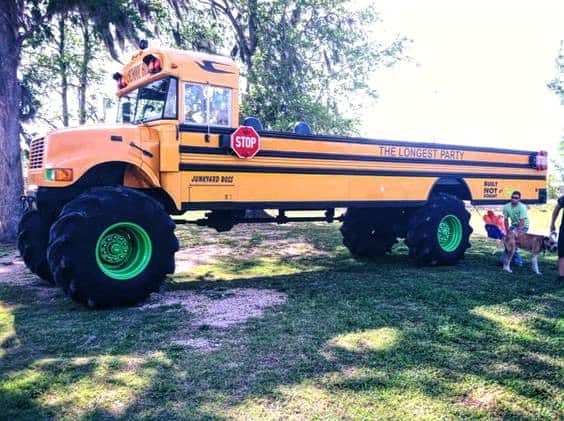 The Big Cheese Convertible
As impressive as this school bus looks, the build itself is actually very simple. Take a look underneath the bus and you will see the whole story come into focus. All you need are a couple of extension kits for the transmission to connect the steering components and rear axles. The oversized wheels are probably the most expensive piece of this build, topped off by an expected pop of green color on the rims. Beyond that, the rest is really quite easy to do. Simply remove the top portion of the bus and install some awesome bench seats to create the world's longest rolling party. Plus, don't worry about air-conditioning. This one has it built in! Imagine the heads you would turn if you took the time to create something like this. Break out your tools for a weekend. It's not very hard to do, and would create a show stopper that would be the envy of your neighborhood.
If Dedication Had A Face
If only we all could have been this creative when it came time to make those disastrous homecoming floats for our high school football games. They would never have been the same. Well, here's your second chance. Check out this awesome rolling mascot on wheels! The front faux wood fenders and large mouth set it off nicely. Ironically though, this bus mod is not difficult. It looks impressive, but essentially consists of fiberglass styling and paint. Molding the fiberglass would take some time, and if you are a novice there are plenty of videos online to help you master the craft. You will be a pro in no time. Plus, look at the end result. That is pretty amazing stuff right there. I would show up to every single game if I had a party bus like this. There would be no reason not too. It doesn't get more dramatic than this folks, and all that is required of you is a few weekends and some creativity.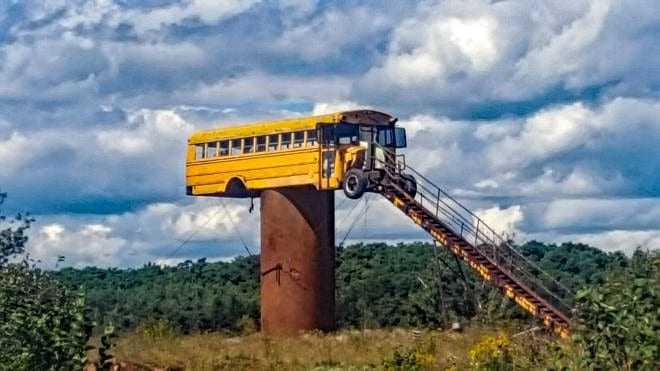 Kind Of Like A Tree House…But Cooler
Looking for something to do with your old junker school bus? That is the best part of having a school bus. You can always use them for something. Take a look at what these guys did. Yep, this is the world's first school bus tree stand. The only materials needed are an old billboard pole, a school bus chassis, and a really long set of steps. We are not sure where they got the steps from – perhaps someone is missing their fire escape? Who knows! Attaching them is not hard though, and the vantage point from the bus gives you superb line of site for bagging that massive buck. One word of advice. You might want to change the color. Even though deer are color blind, the rest of the people within a 50 mile radius are not. They will thank you for the camouflage. As for these guys, the only thing we can say for certain is they will never be docked for cutting class while hunting. They have the best alibi in the world. The bus was late. Check out the next one for an even simpler version.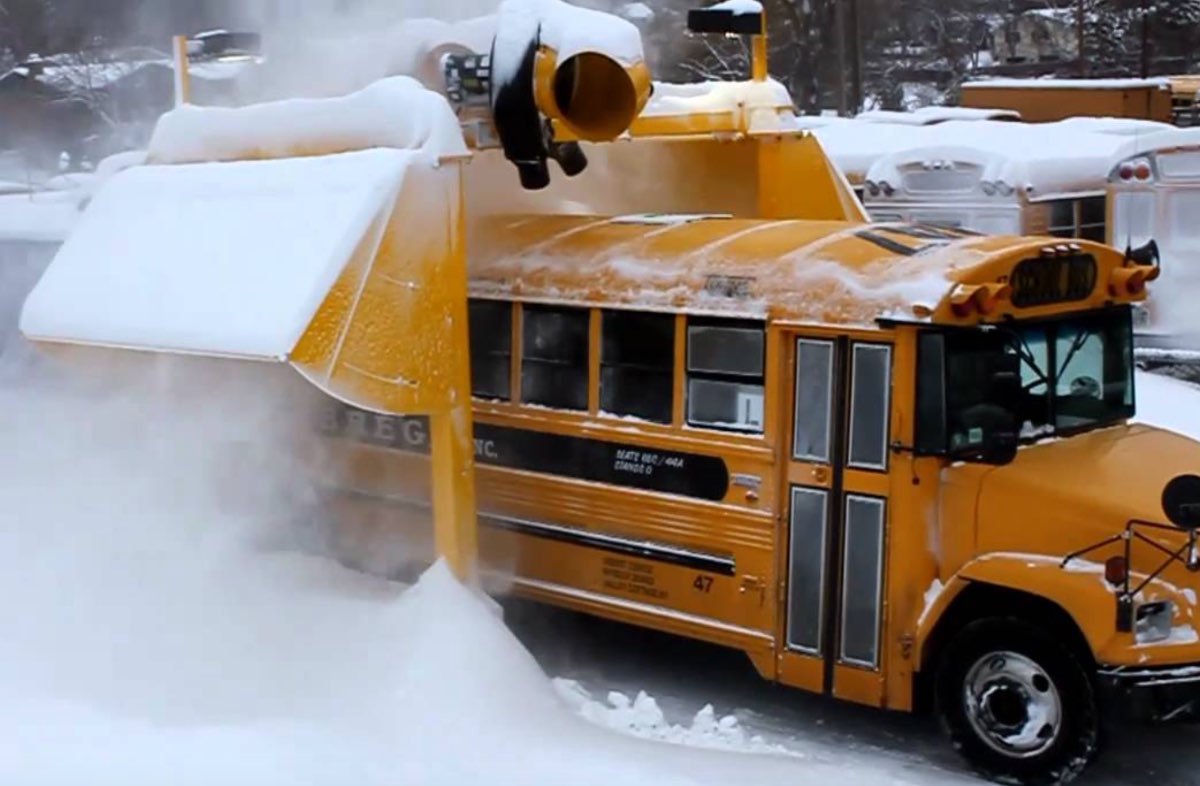 Snow Problem
Driving in snow is no problem for this school bus after it's been converted into working condition. This machine is designed to blow off the excess snow and defrost the windshields in order for the school buses to be converted into driving operability for each day of school. This has to be in some school district near Buffalo or Rochester.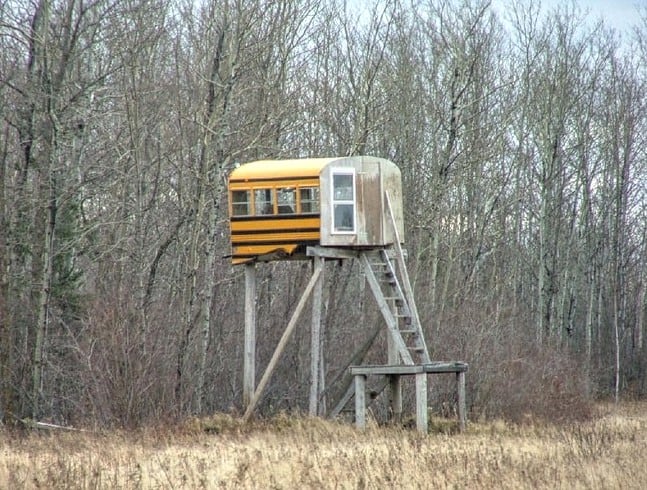 Exactly Like A Tree House
See, we told you there was a simpler version. Remember what I said about nothing going to waste on the bus? These guys took it to heart. This is another modified tree stand of sorts. Actually it is just the back portion of a bus stacked on a wooden platform. Either way, it reads mission accomplished. Look closely at the back. See that? It is a screen door, not a window. What's even more spectacular is the fact that the entire back is just a piece of plywood. Talk about a simple build! No engine to tinker with, no mounting holes to line up, no frame mods or transmission extensions… just the back of a bus on a wooden deck. Even though it is rudimentary, and not the most pleasing thing to lay your eyes on, it is utilitarian. We give mad bonus points for that. Buy an old bus and build your own and we will give you points too!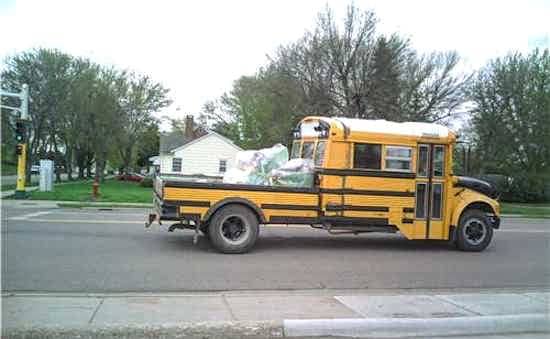 Always Serving the Neighborhood
Eat your heart out heavy trash haulers! This bus is bringing it back in style. How cool would it be to make something like this? Obviously they were going for more of a pick up truck type vibe, but they ended up with something that looks like the love child of an old ford pickup and an El Camino. Look closely and you can see the weld spots where they attached the rear to the bus after shortening it. Also, pay attention to the rear. That is an actual truck bed mounted to the frame of the bus, with siding from the bus applied to keep the look consistent. This is a great idea for transforming your old bus. Trade favors with your buddy who runs his own welding business and you can get this pickup bus road ready in a couple of weekends! You could even pick up a side gig running students back and forth to school. We are sure they would not mind the ride.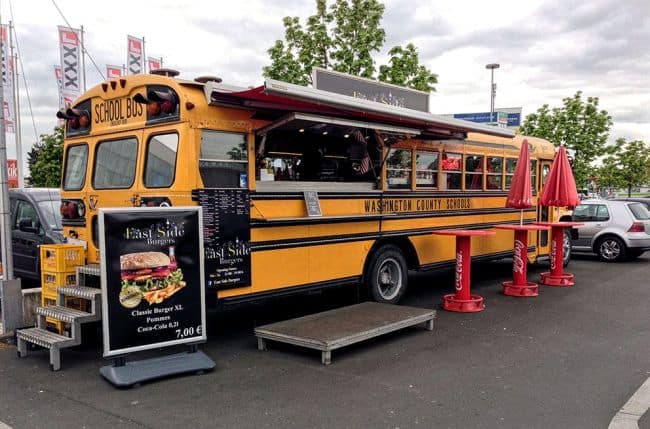 Way Better Than The Cafeteria
Why waste your time with the food truck when you can have the ultimate food device. This is Eastside Burgers' rolling restaurant and what a fantastic job they did creating their mobile restaurant. The kick out window is particularly clever and the mobile seating easily stores inside so they can move from one location to the next. Plus, don't forget the awning. It stretches out and folds down to provide shade for customers as they wait in line on those hot summer days. Outfitting something like this would require a bit of help from a few professional subcontractors, but it could be done relatively inexpensively and in a short period of time. Why? It's simple. Most food trucks require a heat source (like propane), and water line hookups like you see on an RV. Adding these to the school bus would not be a problem so if you're looking to get into the food truck business take a cue from Eastside Burgers and create this mobile restaurant masterpiece.Buy a Used School Bus Here>>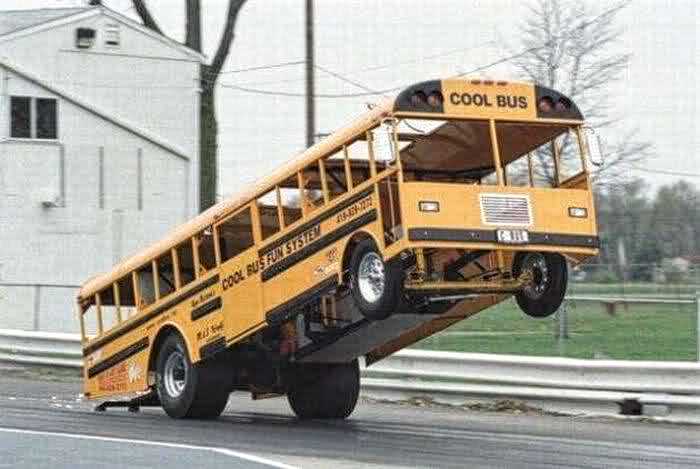 Cool Bus Fun System Dragster
Okay, so most of us have seen our fair share of dragstrip hot rods. However, how many school bus dragsters have you seen? This one, known as the Cool Bus, looks pretty impressive. The front end has obviously been lightened a bit to allow it to leave the ground when the back wheels power forward. Also, the front face has been modified to essentially present as a façade, lightening the load capacity even further. Yet, look at the back of the bus and you will notice the wheelie stops in action. This bus has plenty of power for sure. It's not the sort of vehicle you want to take on the road. It's also not one that you would want to put your children in either, unless they are related to Jeff Gordon or Dale Earnhardt Jr. Then, maybe it would be acceptable. Other than that, be prepared to spend a couple of months building out a frame and outfitting major engine components to get your bus race ready. It's doable if you have the know-how, and would make for a fantastic hot rod project.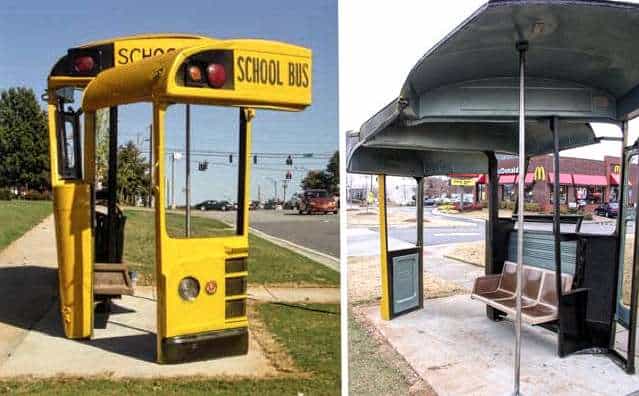 School Bus Bus Stop
Here's a nifty idea. Why not turn your old used school bus into a bus stop? This is probably one of the most ingenious ideas we have ever seen. It requires very little structural support because the bus shell serves as the structure. It's a great way to recycle a dinosaur that might be too far gone to use for anything else, even a tree stand (flip back a few buses to see what we are talking about). Simply slap a new coat of yellow paint on the exterior, install new original bus seats on the interior and you are good to go. The top serves a shelter from inclement weather and waiting here will assure you of one thing… you will never miss the bus. Unless of course, the bus mistakes the bus top for an actual bus, then you might miss it, but other than that, well… you get the idea.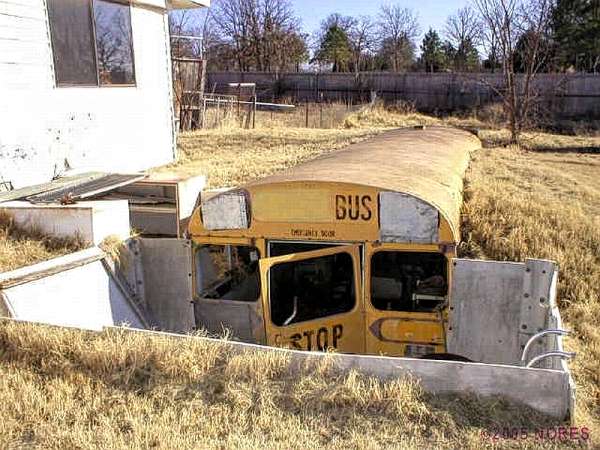 The Bunker Bus
So you live in Kansas and need something to keep you safe from inclement weather, like say an F5 tornado that is bearing down upon your farmhouse? Well, no problem, we have you covered. Take a look at this school bus turned fallout shelter. We are not so sure that it would protect you from a nuclear event, but we are relatively certain it would keep you safe should a tornado decide to cut a swath through your neighborhood. The only trick would be digging a hole large enough to fit a school bus. That's no easy task and would probably require more machine muscle than you could rent for the weekend. Your best bet is to find a friend who owns a construction business and get them to scoop out a path so you can drop your bus inside. Once it is settled in the ground, nothing is tearing it out of there. You and your family will be safe from the storm, and possibly get a great science lesson out of the whole deal. It is a school bus after all.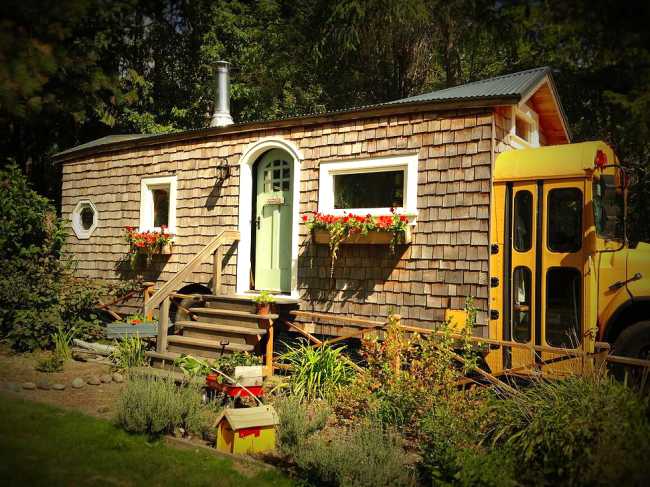 Normal Bus, Tiny House
Tiny houses are all the rage right now, so why not build a tiny bus? It's just as roomy as a tiny house, and more upscale than an RV. Check this one out, it even has cedar shake shingle siding and a nice tin roof. The flower boxes on the outside add to the homey feel, as does the porch light mounted to the side. Also, consider the fact that a well-maintained school bus still has a lot of road life left in it so traveling the highways and byways of America is not a problem. You can explore to your heart's content and live practically anywhere you wanted. The only give-away that this is a school bus stems from the fact that the front portion is yellow. You can camouflage that bit and you might just fool people into thinking you have a house on wheels. Or, simply leave it and let them marvel at the fact that you have converted an old school bus into your own living space.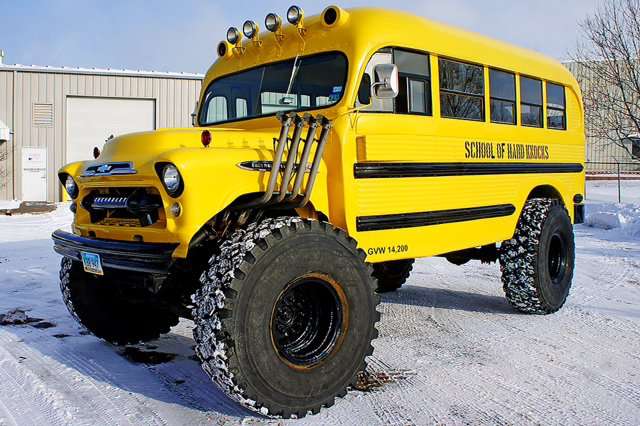 Winter Warrior
There is so much going on with this school bus it's hard to take in. For starters, the body is taken straight from a 1957 Chevy school bus. The interior has been kept much the same, but the engine and exterior are certainly worth throwing about. If you're handy with an engine then building out this custom exhaust with igniters would be no problem for you. It's a 345 eight cylinder equipped with an automatic transmission and is surprisingly a two wheel drive vehicle. However, it does have four wheel steering and a sick custom audio system for a wild weekend at the lake or beach. The yellow paint job complete with clear coat adds to the look and feel of this bus turned rat rod. This is one-of-a-kind and would be a great vehicle to theme your custom mod after. People would certainly take notice!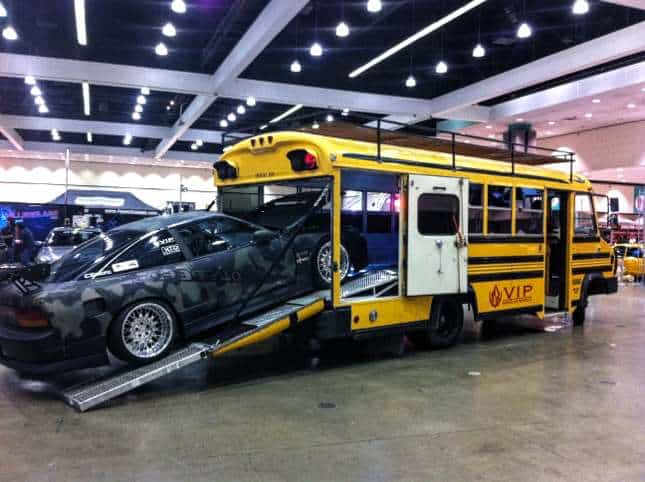 Secret Racer Hauler
Need to haul your luxury race car from point A to point B in style? Or even better, incognito? Well check this custom build out. This bus has been modified to transform itself into a custom travel trailer, complete with side door, slide out loading ramps and hydraulics. The front wheels have been completely removed and replaced with a tow hitch, while the side door has been left intact for easy access should you need to get up close and personal with the front of your vehicle without unloading it. Everything else has been left essentially the same, except the bus chassis itself has been significantly lowered. If you look closely, there is a platform deck mounted to the top as well. This will give spectacular views on race day. It's like having your own personal travel trailer and sports bar in one complete package. What a way to spend the day on the track.


Sunbather's Paradise
This bus conversion is sure to take your tailgate or camping trip to the next level. Notice that the top and sides have been lifted to allow for extra living space. In fact, this entire bus has been converted into one massive RV. The rear is elevated a bit more to accommodate extra sleeping space. The top is outfitted with the deck that, though rudimentary, still functions well. I'm not so sure I would go all Gung Ho placing chairs on the top for fear of sliding off, but sunning on the deck could make for a great lazy Saturday. A word of advice though. If you try to do a build like this, at least attach the ladder to the side of the bus. That makes for a less shaky journey up and down. Oh, and you might want to invest in a larger umbrella as well. Other than that, you are golden.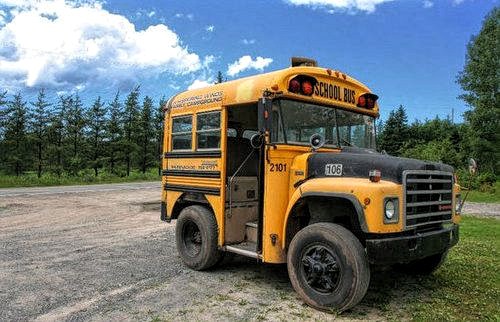 Four-Seater The Hard Way
Here's one of the more creative builds we have come across. At first glance, it looks as if they simply chopped off the front portion of the school bus and added some wheels to make the ultimate shorty experience. Yet look closer and you will notice that they actually removed the front portion of the bus and reset it on a smaller frame. The engine easily mounts to the structure since most of the holes line up. Those that don't are easily persuaded with a metal drill bit and some nuts and bolts. Once you have all of the components nice and tight, simply smack the rear of the school bus against the front portion to complete this little beauty. You have to admit, it is kind of cute and it would be cool to drive around town with a few friends in your short school bus. Plus, considering the fact that you are using less parts, this build can be considered very wallet friendly.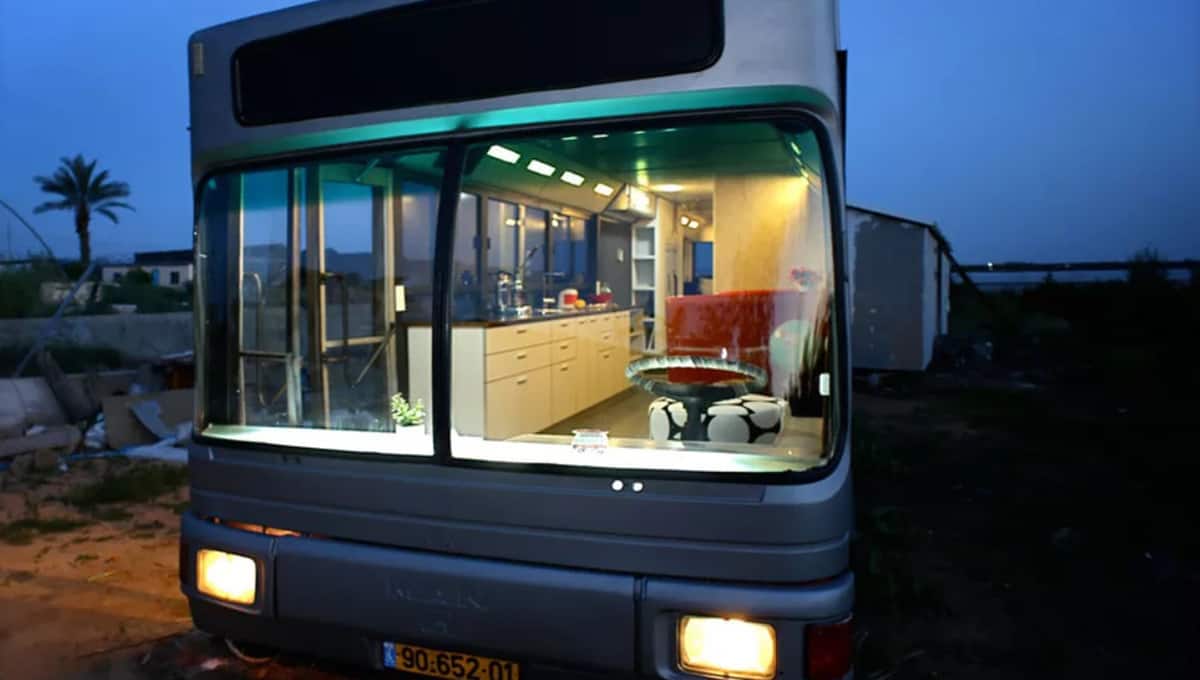 Sleekness Is A Virtue
You can see right through the front window how cool this bus looks converted. This is either a Euro school bus, or just a metro bus, but the expanse of windows and sleek kitchen make this conversion better than most mobile homes. Actually, on second thought, better than my apartment!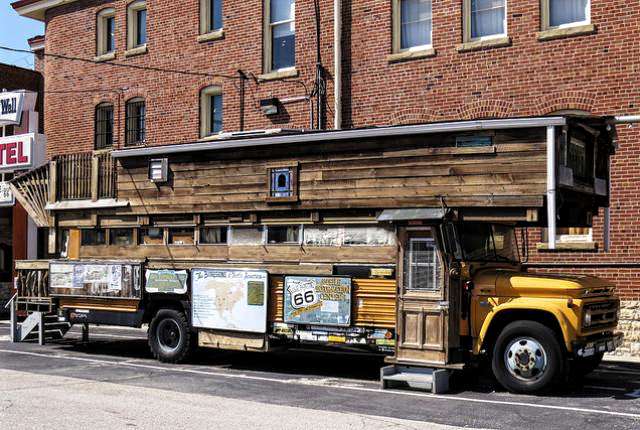 Bar? Haunted House? Mobile Home? Pawn Shop?
Remember the tiny house bus a few pictures back? Well, this one is it's bigger, more rustic brother. Completely trimmed out with wood, it is an impressive sight. However, what's even more so is the inside. Known as the Road Yacht, it serves that very purpose. No expense was spared in re-creating an extravagant home with wood siding, complete with a nice back porch and covered rear awning. The topside serves for sleeping, while the bottom is outfitted with a complete kitchen, bathroom and guest seating. All of the comforts of home are here, and you could fit quite a few people inside to boot. Classy, stylish and rustic, nothing compares to the Road Yacht. It is the perfect marriage between luxury RV and tiny house. You could get more than a few ideas for your own bus build from this one. Just be sure to stock up on wood. You are going to need plenty of it!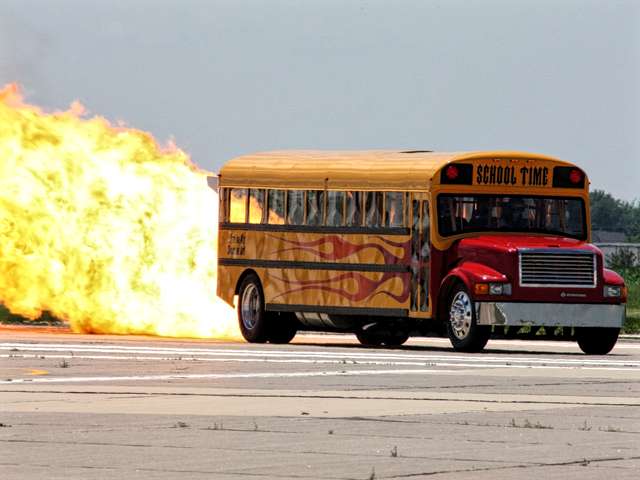 That'll Fire The Kids Up
My ride to school was never this cool for me. If my bus was tricked out like this sucker, I would've gone to school every day… riding the bus! Check out the explosion in the rear. This beast is outfitted with a flamethrower that spews quite an impressive amount of fire. The shots of the bus from the front shows how well insulated and suited up the driver is. That type of preparation is key if you're driving something that is essentially a combustible time bomb. We're not saying that you should do this to your own school bus, but if you do then we would like to be there to film the event, or demise. Either way, it makes no difference to us. Regardless, this yellow school bus with red flames is one phenomenal example of what happens when you turn an old rust bucket into a flame throwing monster.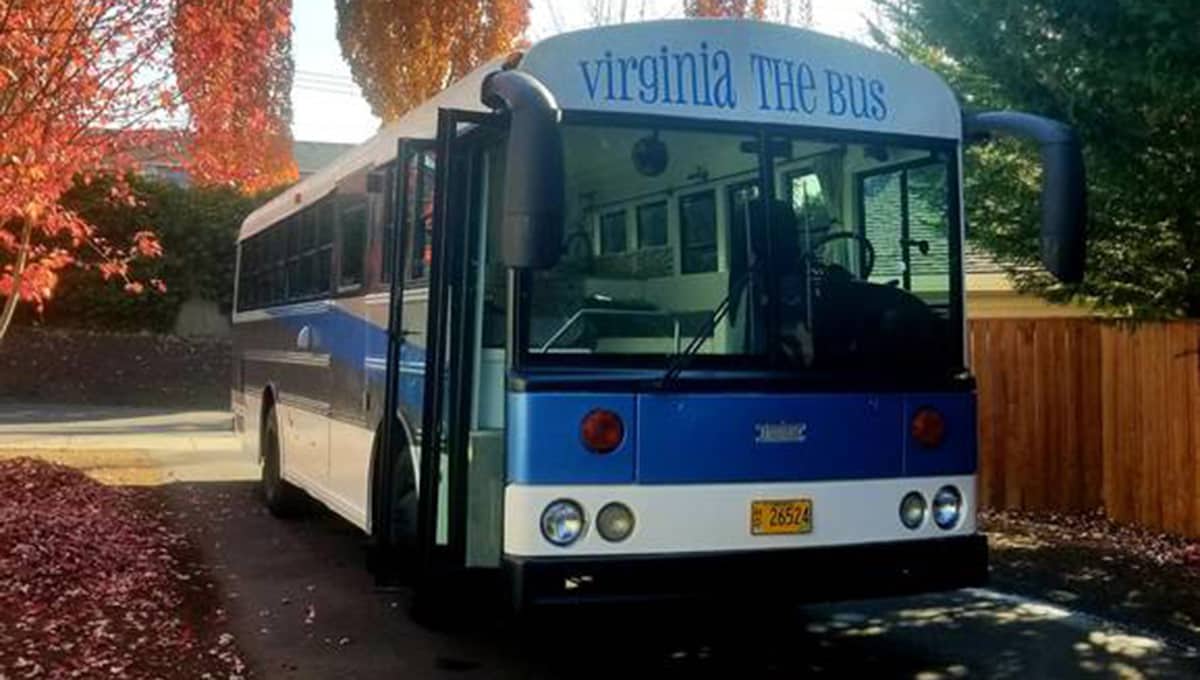 Virginia The Bus
If you look closely, you can see the couch/bed inside the cab, right behind the driver's seat. If there's any bus experts reading this, let us know which one is bigger: the standard school bus or the standard greyhound bus? We're just curious to what this guy could fit inside a this old school bus, vs what someone could fit inside a greyhound? The owner of this cool converted 2003 Thomas Saf T Liner wants to sell this to another proud skoolie owner.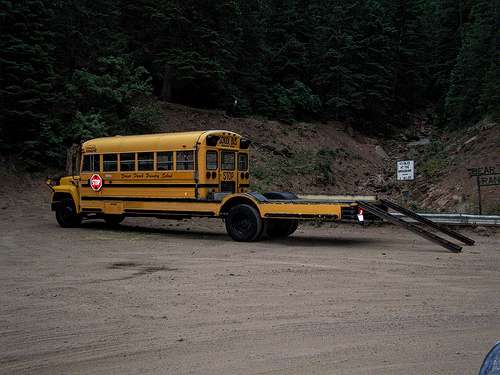 Come On Up
So we are not exactly sure what you do at home with this bus, but is that important anyway? This creation is just plain awesome. Obviously, the rear of the bus has been removed and the back panel was welded to the front portion to yield about eight seats or so. The rear of the bus has been outfitted to be used as a make shift toy hauler so you can bring your ATV, snowmobile, or dune buggy with you wherever you go. This is pretty ingenious when you think about it. Using an old school bus to convert into a toy hauler with seating for eight is handy. You can fit everybody in one vehicle and bring the party with you too. Take a few ideas from this one and work out your own design. It will be worth it in the end just to save the gas it would take to have another vehicle follow behind you.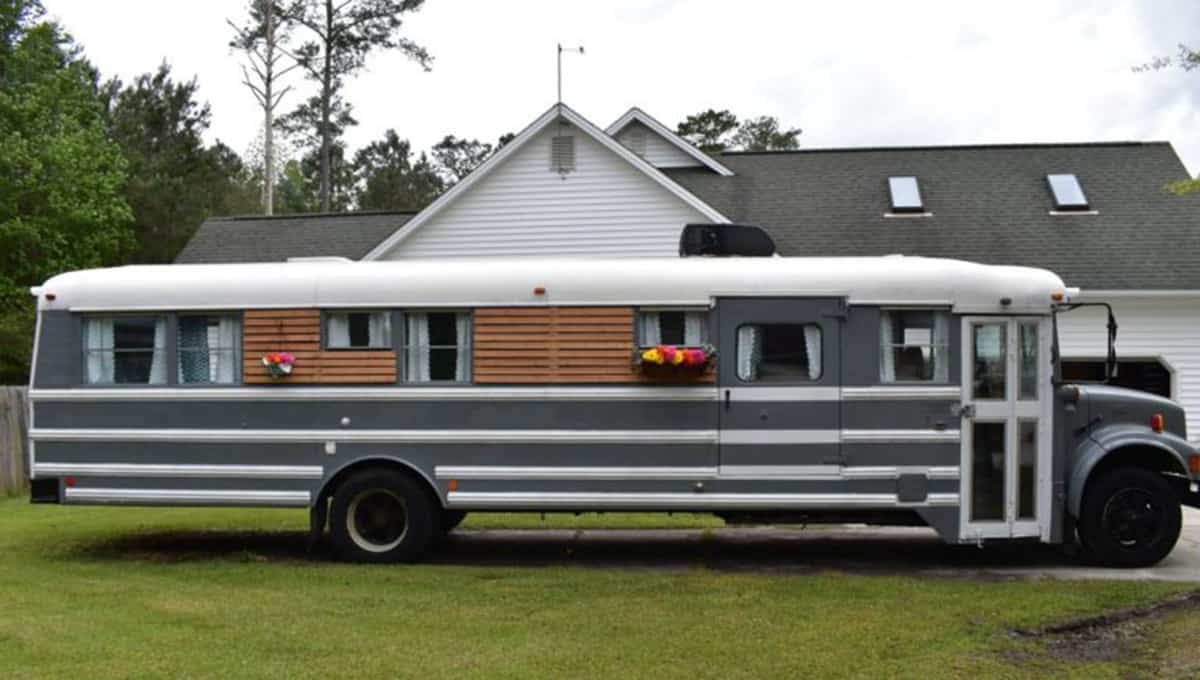 Modern Designed Bus
This sweet remodeled bus features a shower, kitchen, bedroom, and even a mounted TV. The exterior is keeping with modern design practices, with the simplistic wooden planks creating contrast against the flat, monotone grey paint. The White paint accents add enough splash to turn a few heads, but not make this cool bus look heinous. Plus, any converted school bus with flowers has a place on this list all day.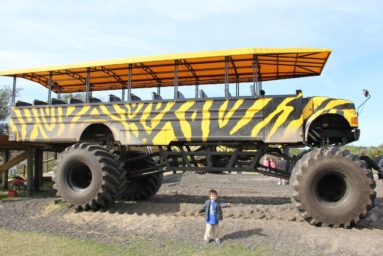 Safari Bus
That kid could fit inside those hubcaps! This monster safari-themed old school bus is truly a sight to behold. It's massive! With the entire top half chopped off and outfitted with a tarp-like covering, as well as the paint job reminiscent of an African safari – this school bus is obviously used for tour-type viewings. From way up there, with no obstructions like a silly old bus body frame to block your view – we bet these people can see for miles and miles! What a cool used bus conversion.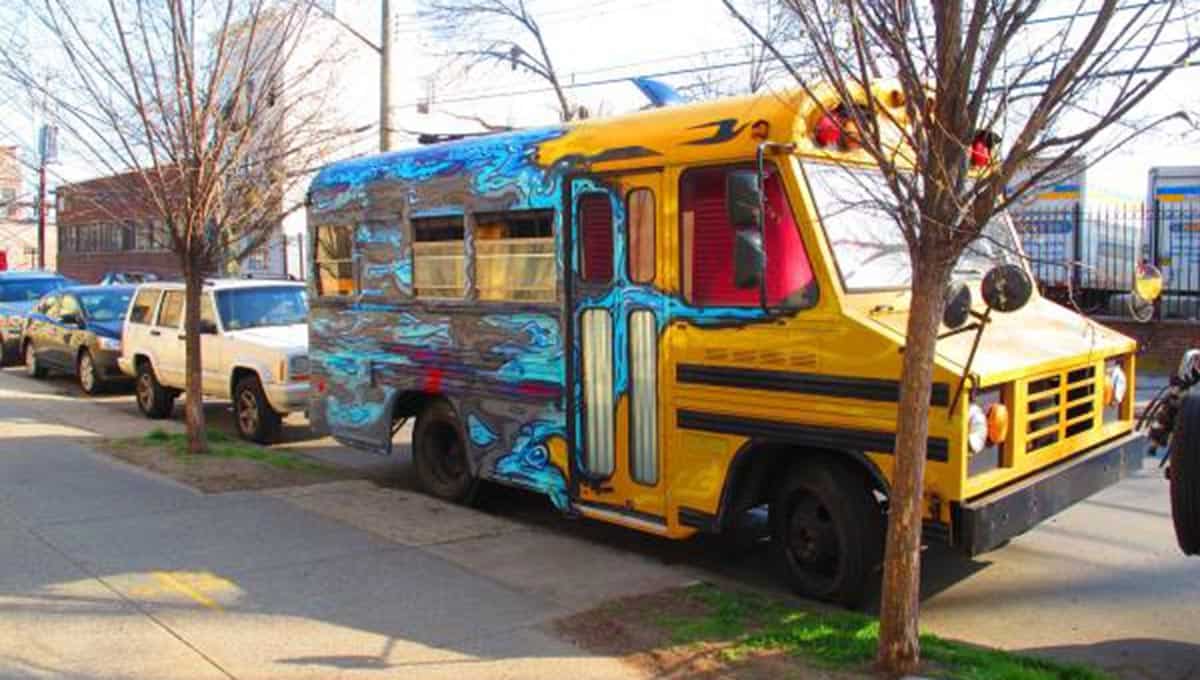 Business In The Front, Party In The Back
This bus with the cool exterior paint job was driven by its owner in New York, and it features a 30-gallon water tank, stove, a loft-style bed, and it's solar powered. Finding a parking spot for this bus in New York has to be a chore, but saving on the rent payment surely makes up for it!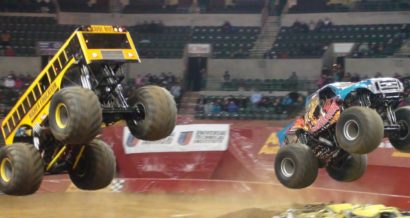 Higher Education
Some kids are scared of monsters. Some kids are scared of school. And even some kids are scared of dirt. But there isn't a kid alive who wouldn't love to see a monster school bus/truck tear up this dirt ramp course! This monster truck made from an old school bus is truly a monster. Seen here alongside the "Instigator" – which is a massive monster truck in its own right – the school bus monster truck completely dwarfs The Instigator. We love to look at this monster truck, but we have no desire to be in the back seats with no seat belts, that's for sure.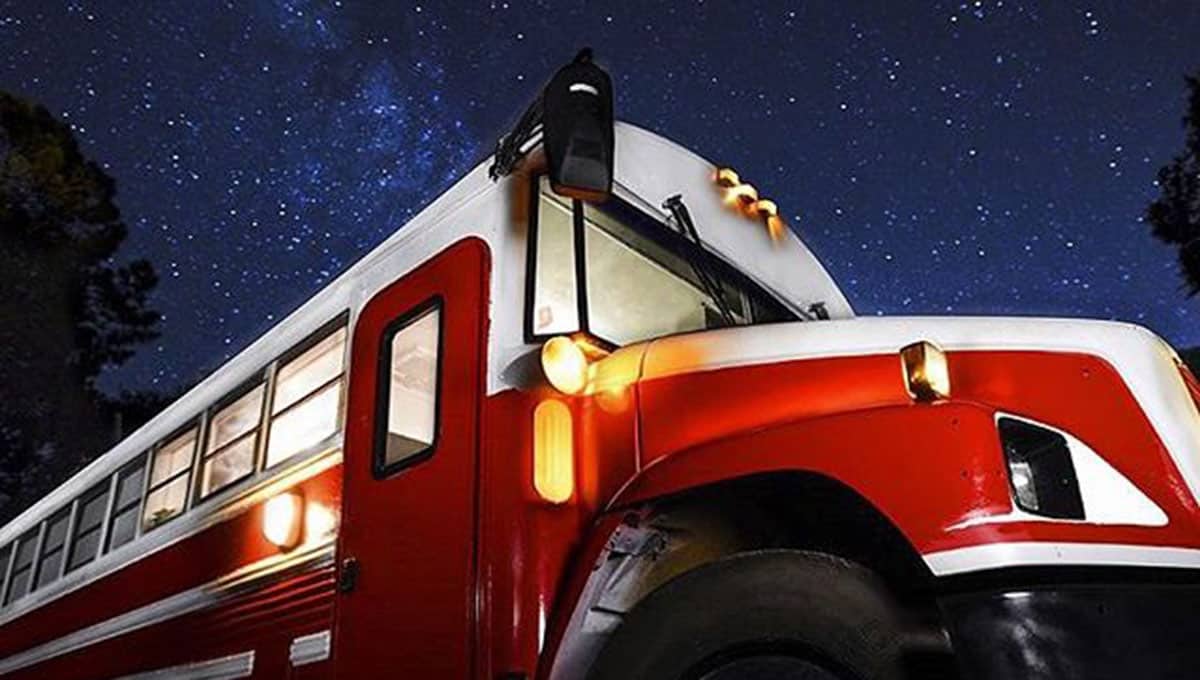 Big Red
Our friends up north, who own this bus are secretive of their project. But they did send us this pic and left the rest up to our imagination. It's a 1990 school bus with fire-house red paint that they live out of full time. It's more spacious that it felt as a kid, that's for sure! This bus has been equipped with a kitchen, bathroom, and bedroom. The bus also looks pretty cool on a starry night.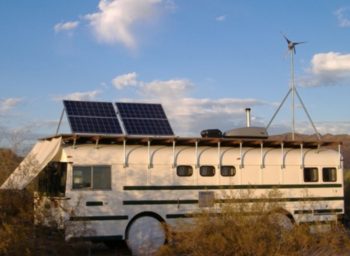 Weather Tracker Team 6
This one's more meteorology station than school bus. This old school bus has been converted into a weather-monitoring device which looks to be powered by the solar panels on its roof. Whoever put this one together knew exactly what they wanted when they started, because there doesn't look to be an inch of wasted space – especially on that roof! Where is this bus, precisely? We're not sure, but based on the shrubs and the mountain peaks in the background, we're willing to guess something along the lines of northern Arizona/Utah. Regardless of where this school bus sits, it's awesome!
Get Schwifty!!
This sweet bus has a van attached to the roof with some amazing and unique artwork. This bus seems to provide a creative environment for artists. It's an updated image too, no more than a few years old. It looks like a maintenance nightmare on wheels, but the message behind the overall bus is a good one. Inspiring creativity and good vibes, the proprietors of this mobile canvas are probably an easy couple group of people. (Shout out to Grandpa Rick up top)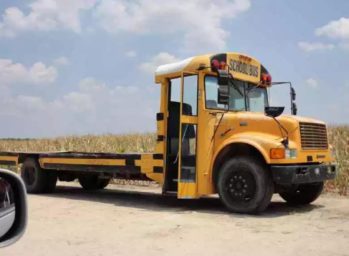 The Nebraska Corn Haulers
Sometimes, in life, all you need is a flatbed trailer. But sometimes, all you've got to your name is some old school bus. But not to worry, at least for the guy behind this handy conversion, because if you can learn to take lemons and make lemonade then surely you can learn to take a school bus and make a semi trailer from it. There's not a single seat left in this old school bus except for the driver and passenger seats. It's all function!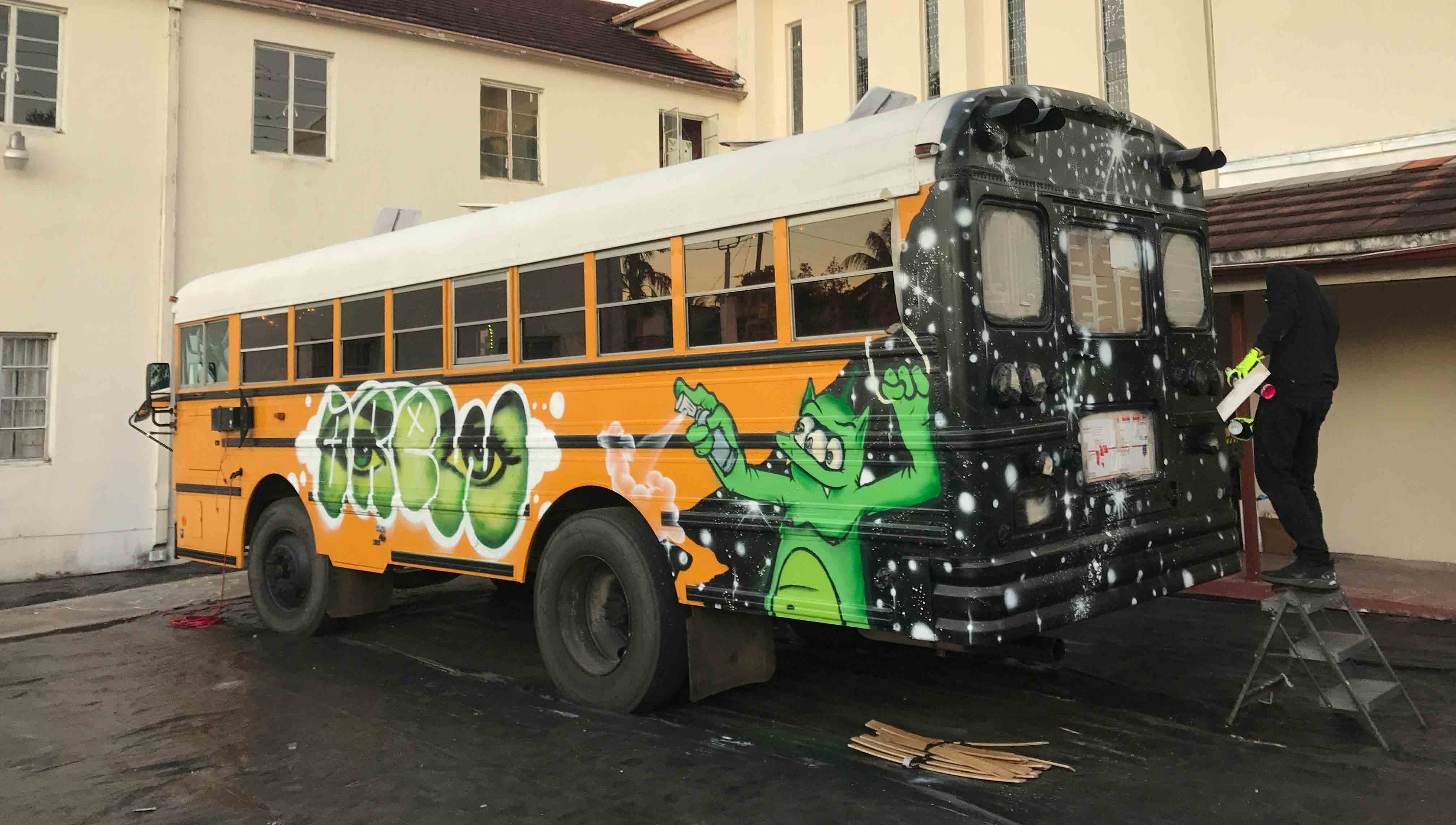 Black & Yellow
Whoever that is on the back painting the night's sky…keep on keepin' on my friend. That back is a killer mural, and so different from the front half the bus makes it really stand out. I'd love to see that thing coming down the road.This bus will soon become a moving mural as artists are adding their creativity through graffiti. If only we could follow it around to see the evolution.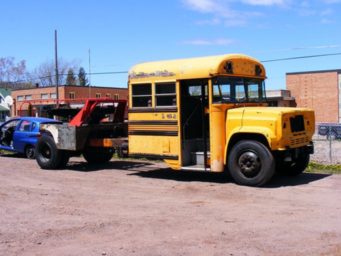 It Tows Much More Than Kids These Days
You've got to appreciate the ingenuity of this school bus turned tow truck. Perhaps this creator of this used bus is the guy in the picture before this one's less patient brother. Either way, this think looks like it can get just about any job done! Can you imagine walking out of a restaurant to see your car being towed…by a school bus! It would almost be so odd that you wouldn't even get mad – almost. What a fun usage of an old school bus.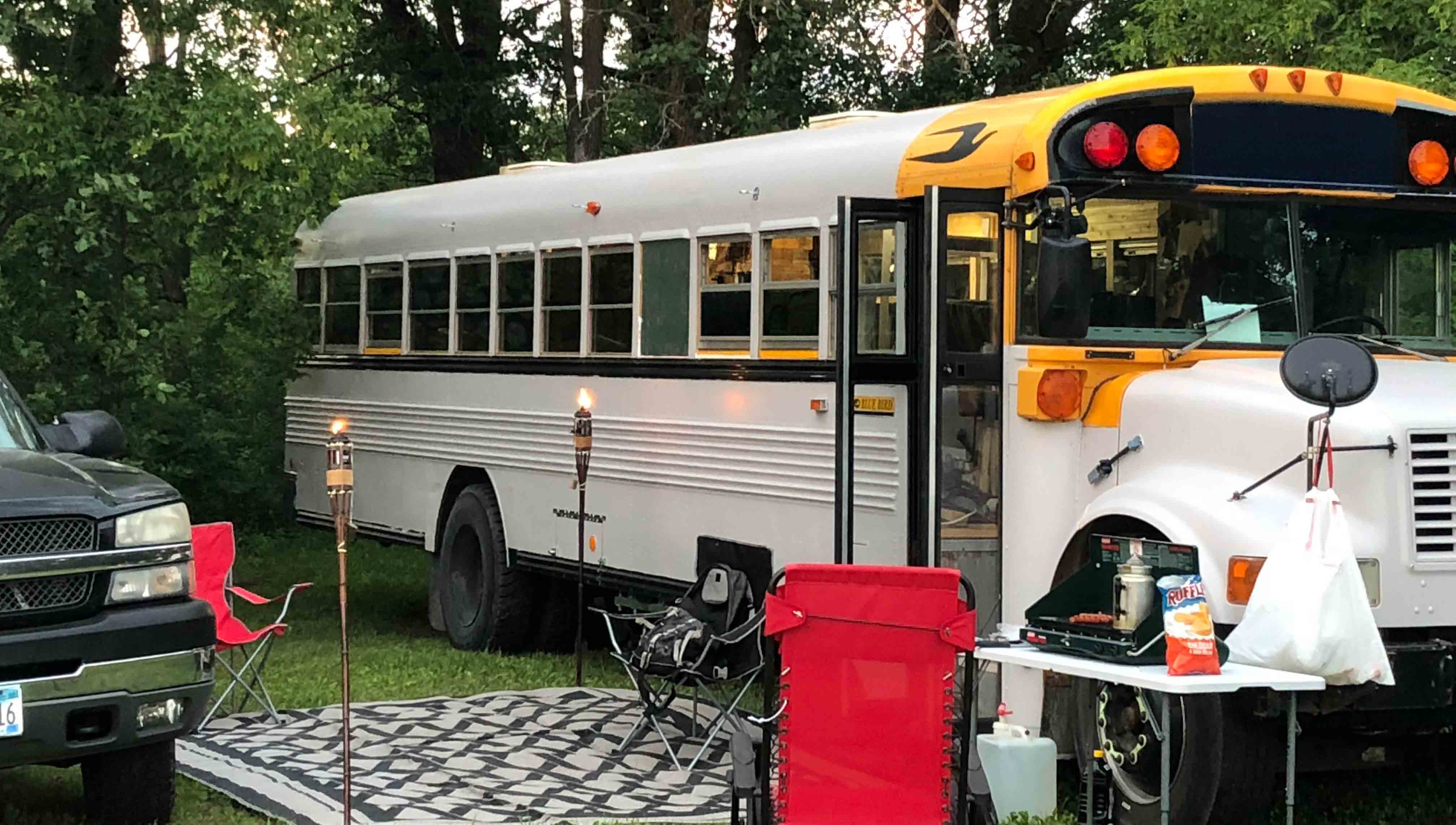 Camper Bus
Bold decision with the all-white paint job, but we love it! It's clean (for now), and they've brought all the necessary accessories for a good time on the campsite. The rug, the chairs, the BBQ equiptment…it seems like they're ready to go for a great weekend. This school bus is ready to go for your outdoor living needs (tiki torches not included).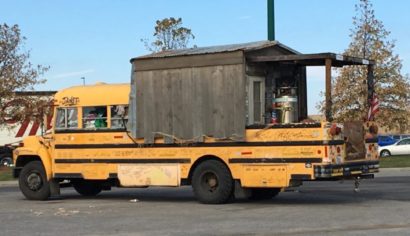 It's A Whatchamacallit
Party shack? Graffiti canvas? Homeless shelter? Listen, we're not really sure what this is. But to be honest, it looks like fun. This haphazard, half school bus, half cabin in the woods is sure fun to analyze! From the looks of it, anyone with a sharpie and a working arm is allowed to come write or sign on it. Complete with a back door to the shack, and the standard doors of the bus – believe it or not this thing still passes a fire safety check. If only we could see the inside!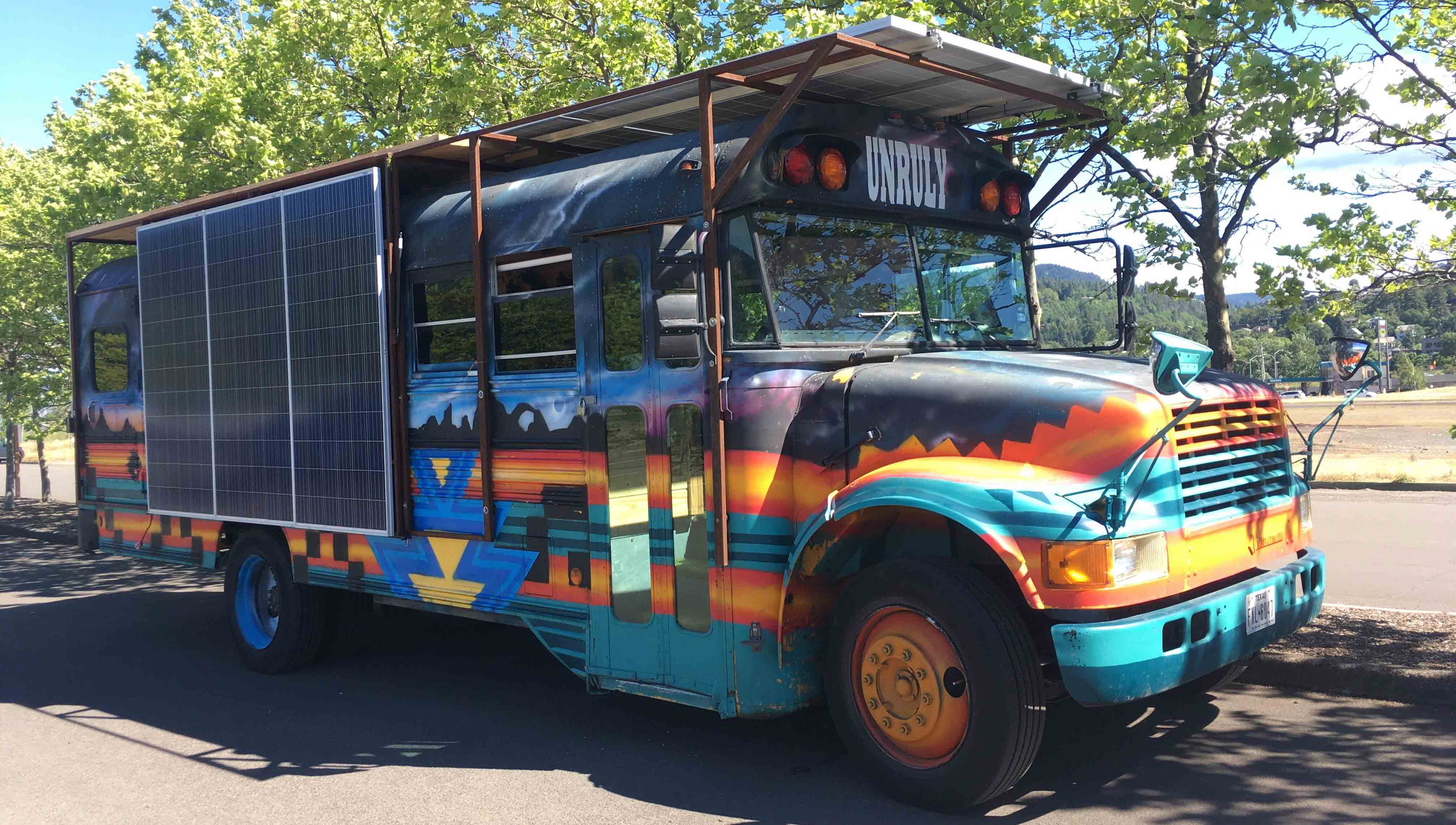 Modern Day Western Cowboy
What a paint job! The details on the hundreds of lines must've taken weeks to complete. There's at least ten different shades.colors involved in the paint job. Plus, whoever is running the show here is obviously interested in the longevity of his project – due to the solar panels. This bus is equipped with 9 solar panels that power living in this cool school bus.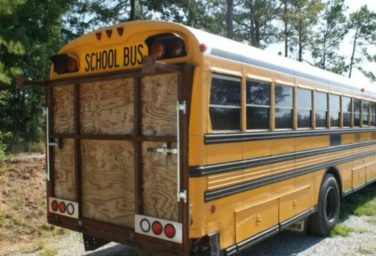 Hop In The Back!
This looks to be an impressive, professional chop job. The back of the school bus has been swapped out for a loading ramp – and done so rather cleanly, may we add. Things that we can think of that would fit into that school bus: ATV's, lawn mowers, small tractors, motorcycles, small cars, a high school football team, a bunch of horses, and about a dozen partridges in pear trees. Just like in the photo before this one, if only we could see the inside! Still, quite the cool used school bus conversion.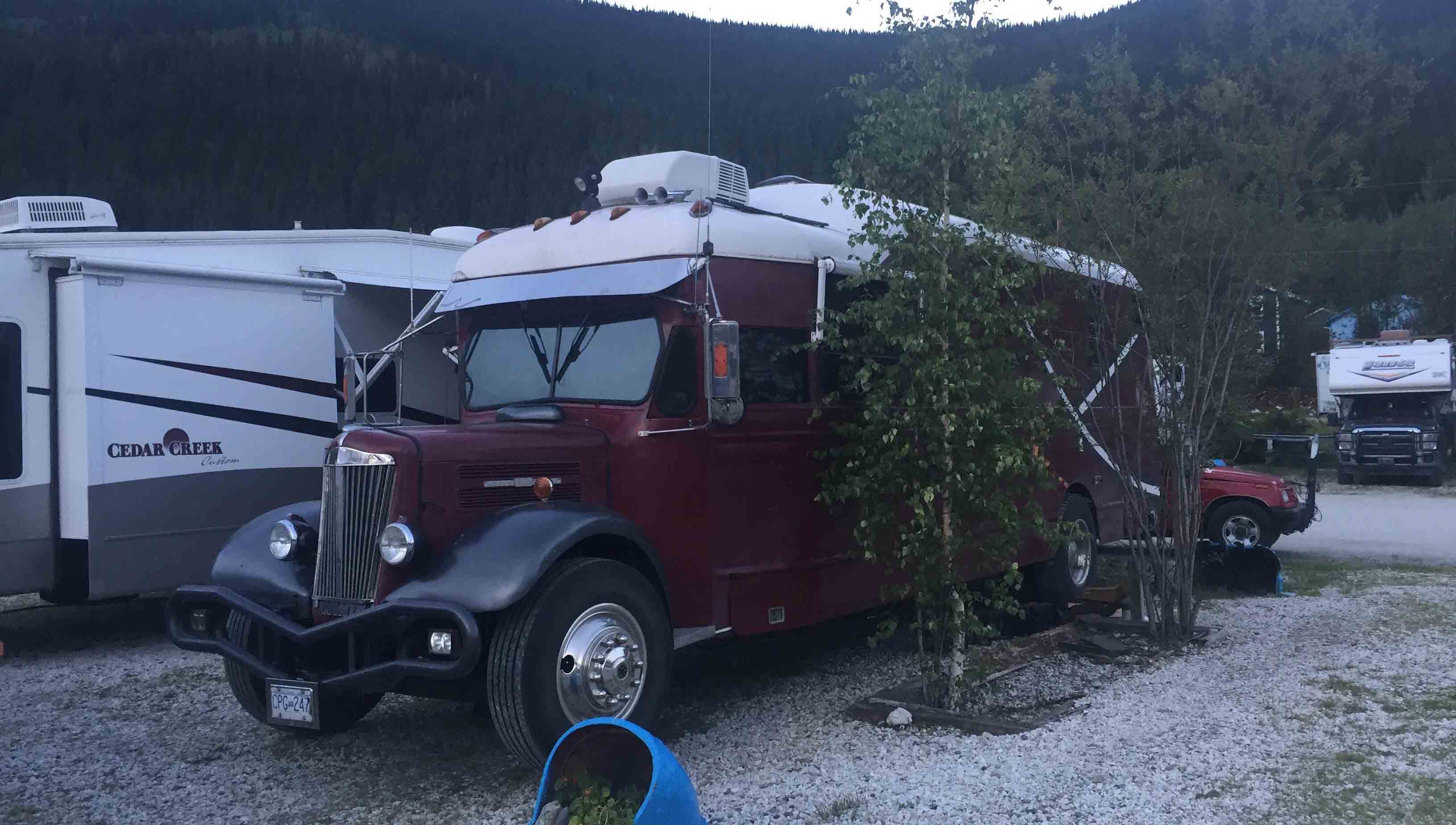 Undercover Agent
There's not much of the school bus left on this one! This cool bus was spotted in Dawson City, Utah. It's a White Motor Company bus mod. But it looks like it's hiding a secret from us. Either it's been somewhere we arn't supposed to know, or maybe it's got a massive Detroit Diesel 60 Series under the hood. Hey, neither of these are likely – but we can dream can't we? Either way it's a great rendition of an old-timey school bus?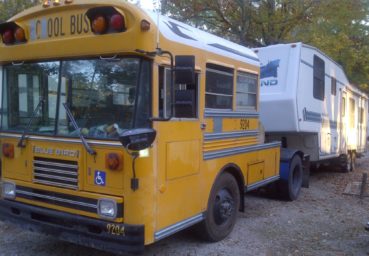 Just a Bus and Its RV
All aboard the Cool Bus! Who needs a Ford F-150 to pull your RV when you've got this awesome, chopped-off, old school bus to lug it around! This family clearly uses this thing quite a bit, and why not…it's so cool! The only way this contraption could get any cooler is if there was some type of portal that could take you from the cab back into the RV…but even without that fun little idea, this is still one cool bus!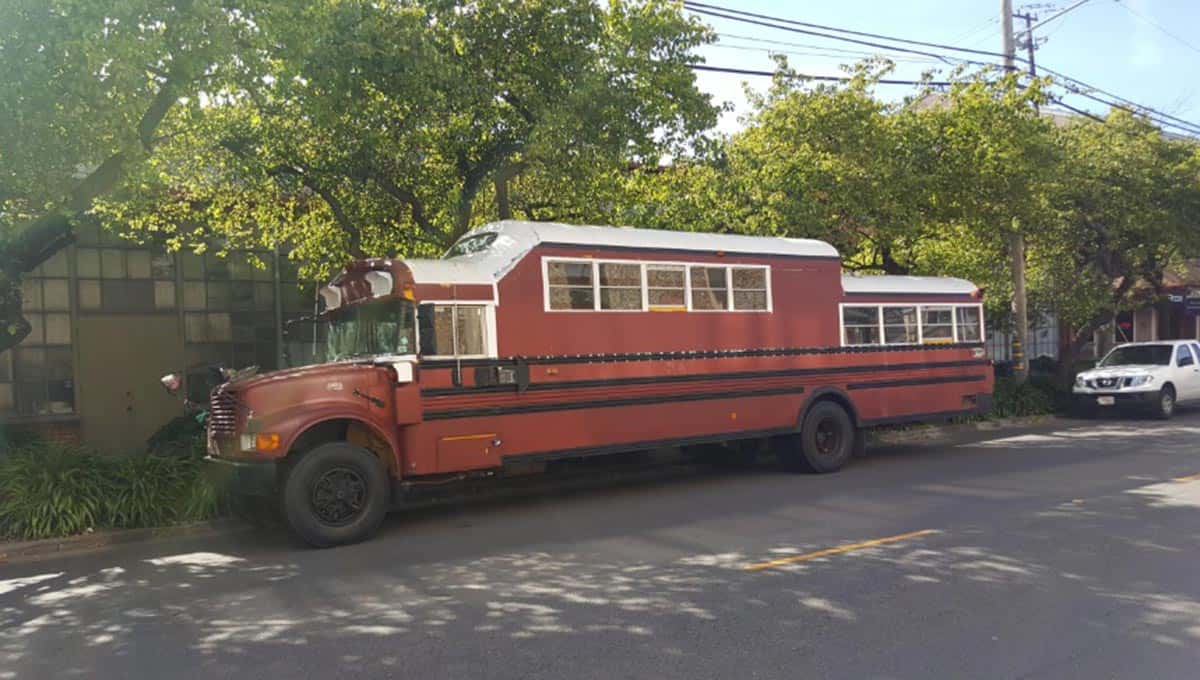 The Mobile Equivalent of "Adding A Room"
This one is the bus equivalent of expanding your house. The middle/top portion was lifted up either for a loft-style bed or just more headroom in the living. And then instead of a backyard, they elected for a big back guest room from the looks of it. Either way, this is one cool bus with the lifted roof. This bus was spotted in Emeryville, CA.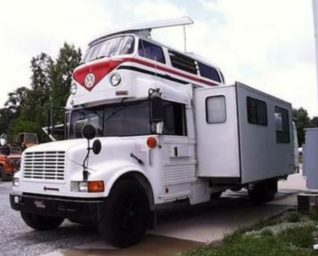 3-In-1
What in the world is going on here? Let's take a step back to gather ourselves and fully take in the misshapen beauty that is this old school bus. So it's looking like we've got an old VW bus, painted red and blue, seamlessly attached to the top of the bus – kind of like an attic or upstairs area to the bus. But downstairs is not regular bus either – whoever created this retrofitted a automatic pull-out camper into the body of the bus. This looks like the luxury version of camping! So much space inside this converted school bus.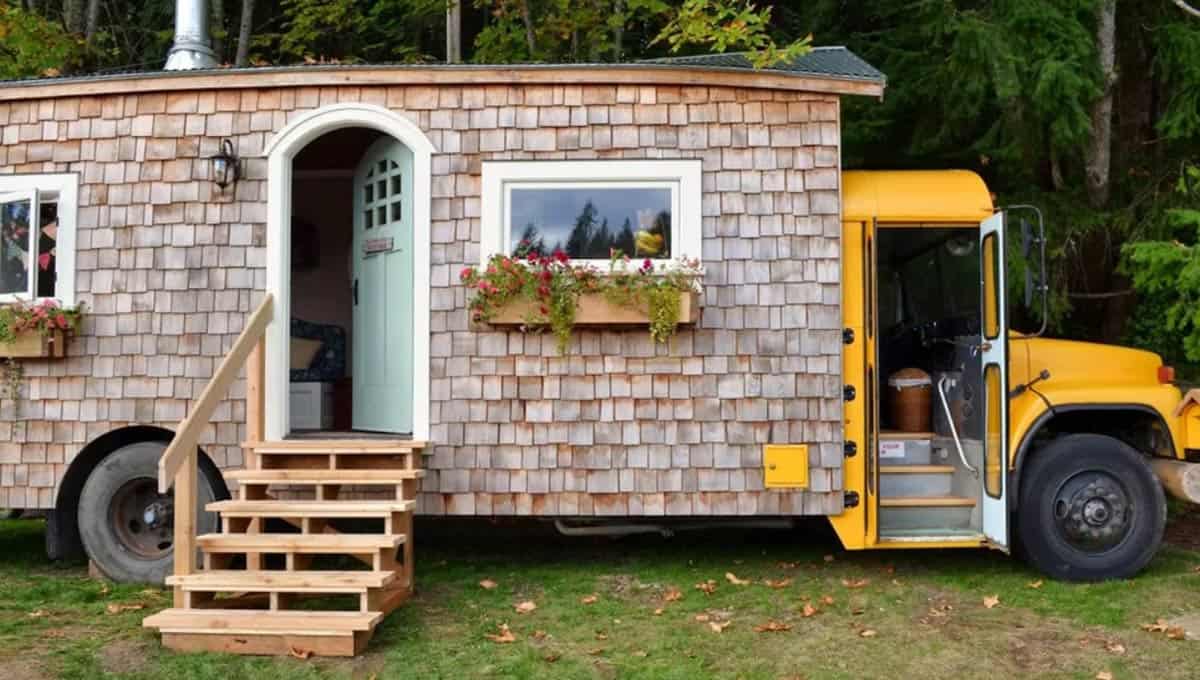 Bus Turned Into A Home
This awesome bus has been converted into a literal mobile home that has window sills and cedar paneling on the exterior walls. Whoever designed this quaint, well-designed tiny home should get an award of some kind! If only we could see what the inside looked like.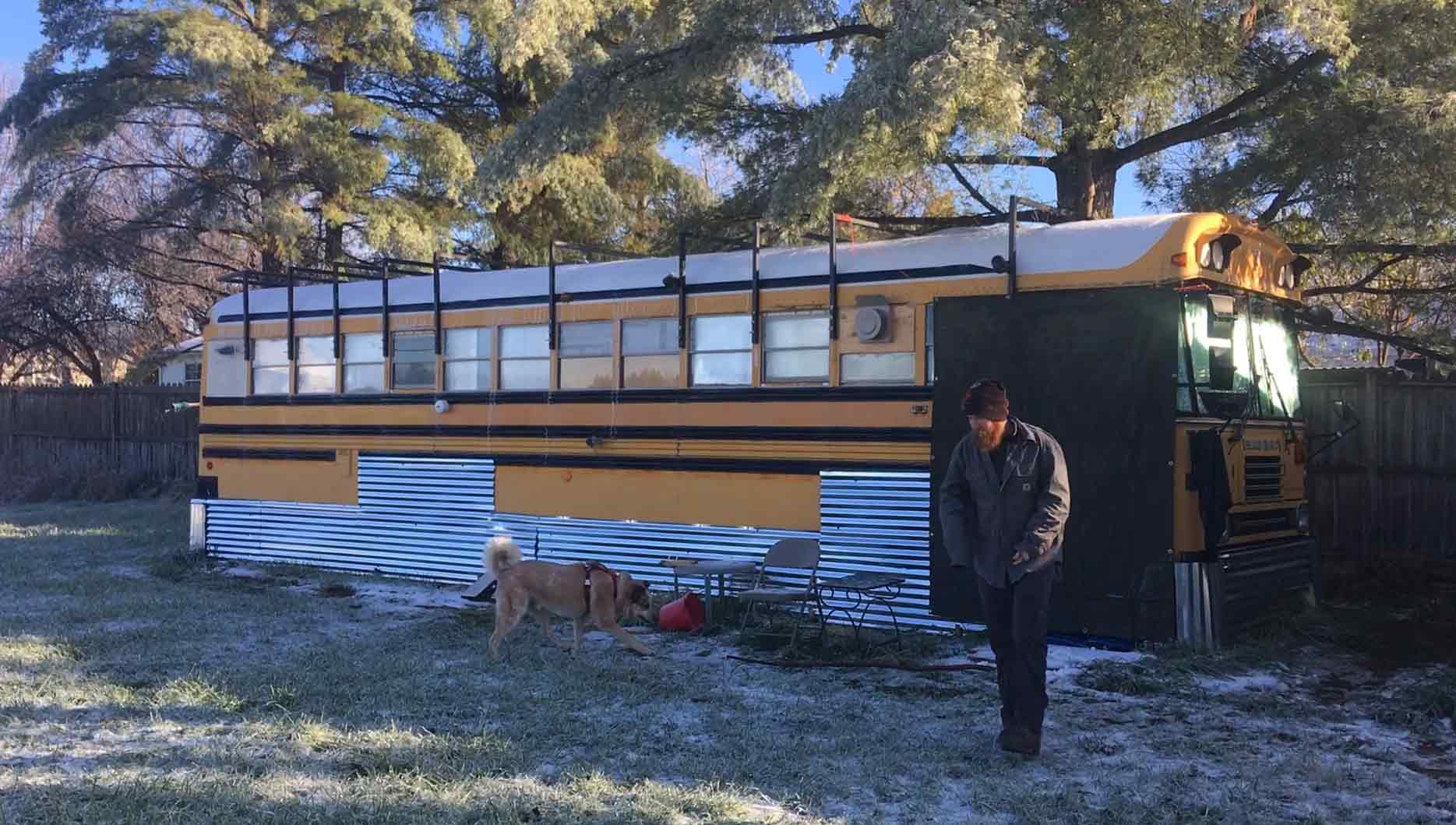 Sheet Metal
This bus home is designed to live in with water and heat. The owner made it through the winter in there. It seems like a stationary project, which allows for greater insulation planning – as is the case here. We're curious to know where this guy lives and what typew of heating system he's working with inside of this bus!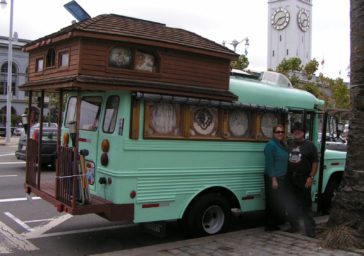 Home On The Road
This couple looks like this is their full-time home. Painted a mint-green with a funky, yet awesome, wooden attic attached to the top – this converted school bus takes their home on the road! Our favorite part is the lawn chairs held by rope on the "back deck" – you can tell these two like to get out and enjoy the ride instead of just driving through. The custom wood windows are also an artful touch that only adds to the overall pleasure that is this old school bus turned vacation cruiser!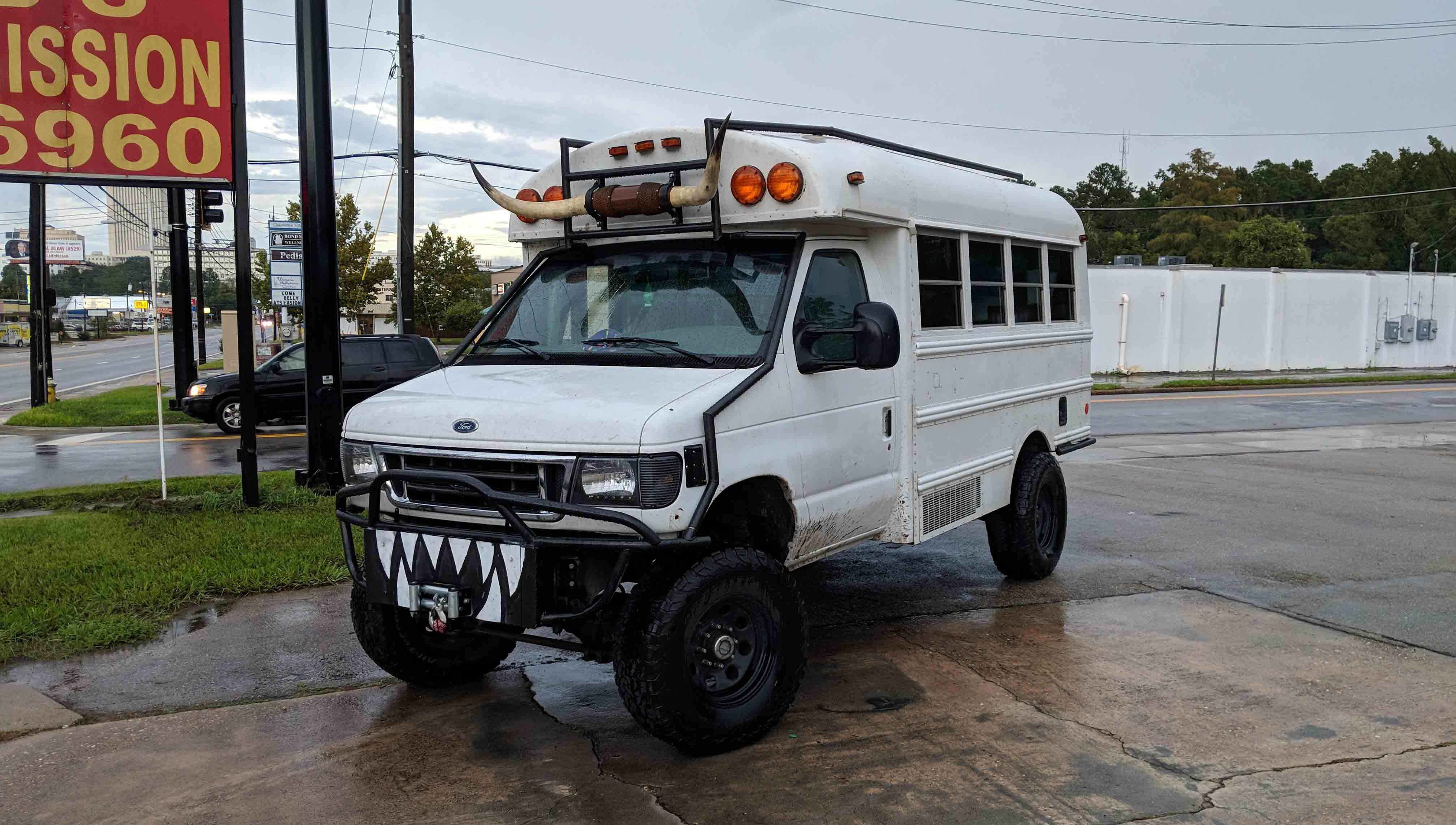 Minotaur
This Quigley bus mod is ready for the road tricked out with bullhorns. It's pretty intimidating at first, but once you look at it awhile you get the impression that the owner of this bus probably has a good sense of humor. Or maybe not, maybe he's just as intimidating as these horns. We'll never know. But we enjoy looking at it all the same.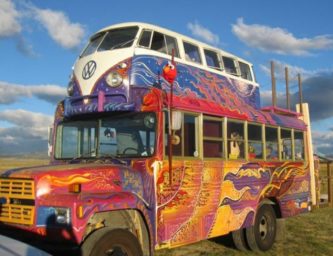 Trippy Bus
Another crazy one! Another VW bus atop an old school bus…it just keeps getting better and better. This one, however, has a paint job that an alien from outer space would find outlandish. No doubt turning heads wherever it goes, this old school bus seems like it knows how to party. With help from master machine work, but also a pretty cool paint job that transitions from bus to bus, it seems like these two vehicles were meant to be together! How cool.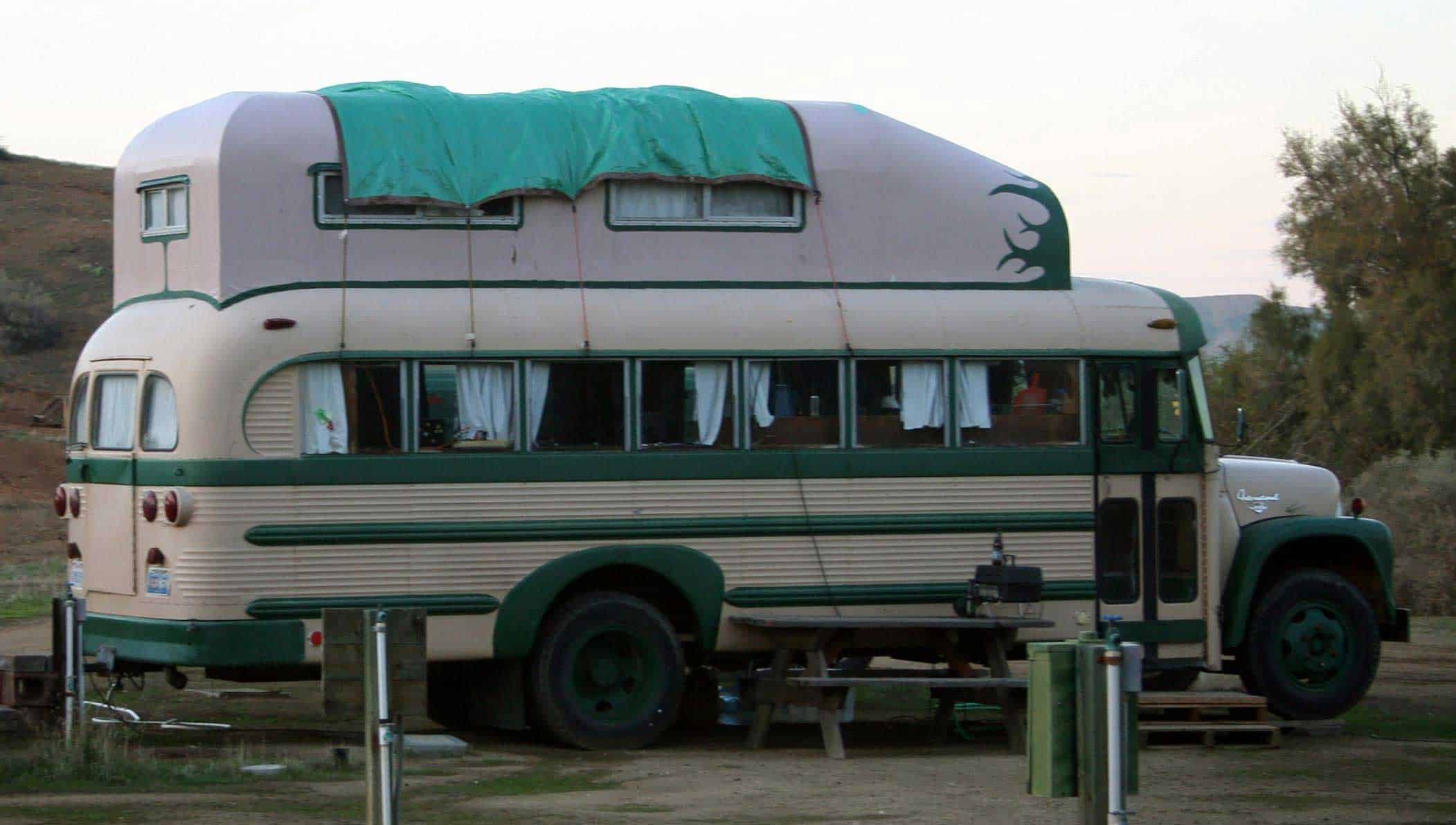 Land Yacht
This bus mod has been named by its owners and numerous guests the land yacht. The bus has a camper attached to the roof. This may be our favroite bus on here. There isn't any specific reason for saything that, it is just calling to us. The cream and forest-green paint job exude confidence and worthiness on the road. And the camper up top is just added layers to what this thing could possibly look like on the inside.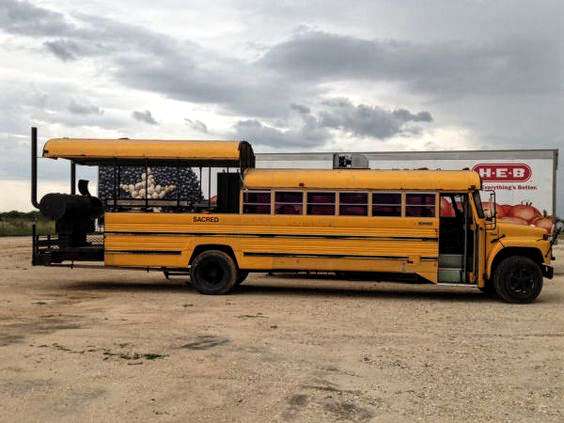 Pitmaster
Check this one out. Sometimes it pays to just keep things simple. Remove the top of the back half of the bus, blow out the sides and replace it with poles and a smoker, and what do you have? The world's best rolling smokehouse, that's what. This would be so easy to do and would really require such minimal modification that you could accomplish the mod in a few days. The hardest part would be trying to find a smoker worthy of outfitting your mobile beast. The other great thing? You would not have to worry about parking either. Think about it, any time you pull up to a place with ribs and Boston butts ready to go, you are not a stranger. People call you friend. So what are you waiting for? Time to find an old bus and get to it. You have plenty of ideas to pull from. We have made sure to handle that part for you!Buy a Used School Bus Here>>