10 Custom Hot Rods That Are Beyond Weird
10/10
The Woodruff Special
Her is the first of our "10 Custom Hot Rods That Are Beyond Weird" list. Quite possibly the lowest hot rod in human history, this custom VW Bug titled "The Woodruff Special" is a head-turner! It's owned by Jocke Gustavssons. The car sits so low the front suspension sits above the hood. This car has been chopped, channeled, drivetrain raised & body dropped about as far as you can go. Any lower & this thing would be underground.
9/10
Over-Compensation Hot Rod?
The next of our custom hot rods is unique. Okay, so this car defies a few things about logic and reason. It genuinely looks like one of those cars you would find in an old Hanna Barbara cartoon (think Laugholympics and you are in the right neighborhood). The rear wheels add to the drama and somehow serve to balance out the vehicle just enough. Yet, the fire on the sides and over stated body styling are the real stars here… after the engine of course. I'm not sure how often you would drive a car like this, but I am sure you would get noticed plenty when you do. We give kudos to this guy for all of his hard work. This is one amazing piece of eye candy. If only we could hear that engine rev to complete the picture, life would be perfect! Maybe we will just stare and make noises when no one is around. Yeah, that's it. I'm drawing my shades as we speak.
8/10
Extremely Hot Temperature-wise Rod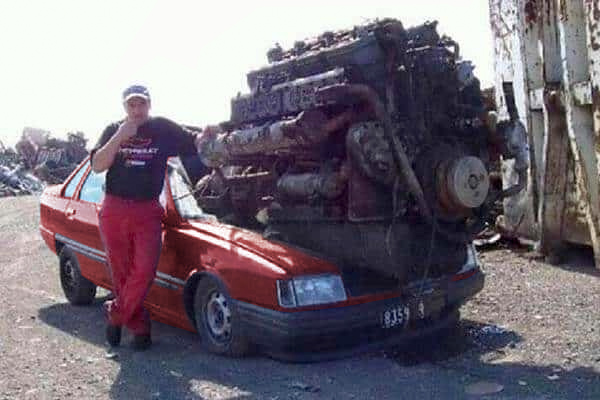 I'm not sure what to call this exactly. It is hard to figure out. This engine is MASSIVE! It produces plenty of power for sure. It also carries a lot of weight (check out the front wheels straining under the load). But I would not be too quick to rush to judgment, my friends. While this engine is large and in charge, and the car is dated, it does look cool!
If you like these, you'll have to see these cool rat rods!
7/10
1958 Ford Edsel Pacer Snowplow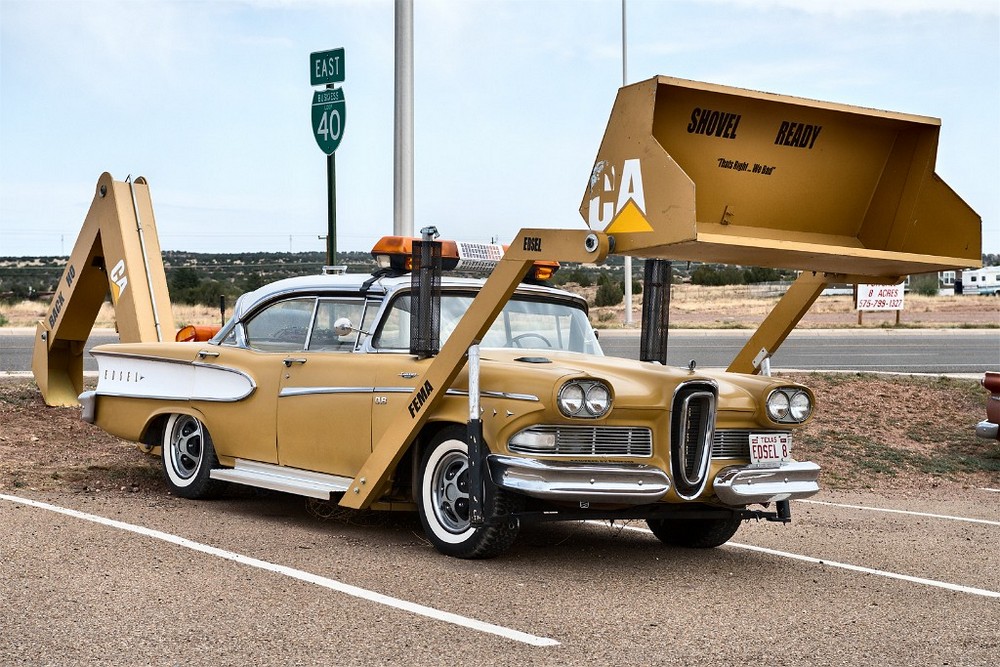 Here are the 10 Photos Of The Most Unusual And Odd Cars In The World. The first on our list is the 1958 Ford Edsel Pacer Snowplow. The Ford Edsel Pacer 2-door sedan was a classic car for all of one year.
But even though it didn't last in Americana – this snowplow version most certainly is going to be ingrained in our memory forever and ever. This version is running the streets of northern New Mexico.
6/10
Hot Rod de Phone Booth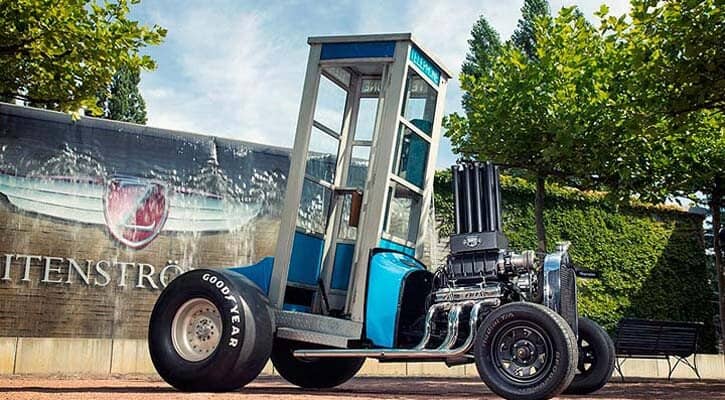 Hello operator, will you please connect my call? Ha! If not, no problem. We will just drive there in my modified phone booth hot rod and meet in person. Why? Because I have a phone booth hot rod that's why! You don't need an operator with this thing. It makes you the operator. And while we are not sure how the seating situation works (might be a bit cramped or standing room only if you are tall), it doesn't matter.
5/10
The Hoarder Hot Rod
The fifth of our custom hot rods you need to see. Okay so we've all been to one of those country things restaurants with license plates on the wall and funky signs. However, what happens when that restaurant falls in love with a vehicle? Well, you get this hot rod, that's what. Check out the rat gnawing on the air filter up top, and the snake slithering his way across the front grill. Those two over-the-top features lend to the overall awesome factor of this vehicle. The suicide doors further the statement, and a Dr Pepper wrapped grill pulls it together for a classic general store look. This hot rod means business, and you better stay out of the way. It will eat your Prius or Volkswagen beetle for breakfast, I guarantee you that much. I told you number six was a thing of beauty. However, I haven't told you about number 17 yet. You'll have to keep going for that one!
4/10
Crime Boss Hot Rod
So imagine with me for a moment that you are Al Capone. You have jockeyed your way into the mafia crime syndicate and are set to take over permanently. Then someone pulls up in this gangster of a hot rod and your days are over. This is the way history could be rewritten if rat rods existed at earlier points in American development. And while it's nice to think of clever what-if scenarios, you can't deny what is. This car is one of them. Themed out with over sized tires that would make Bugsy Malone proud, it is enough to make any gangster, or gear head, salivate. The engine is cleverly covered to maintain the period look of the car, while the exhausts are allowed to poke through the side and flow back, elongating the beautiful lines of this vehicle. A thing of beauty, a best for speed, this rat rod gets high marks from us!
3/10
Argo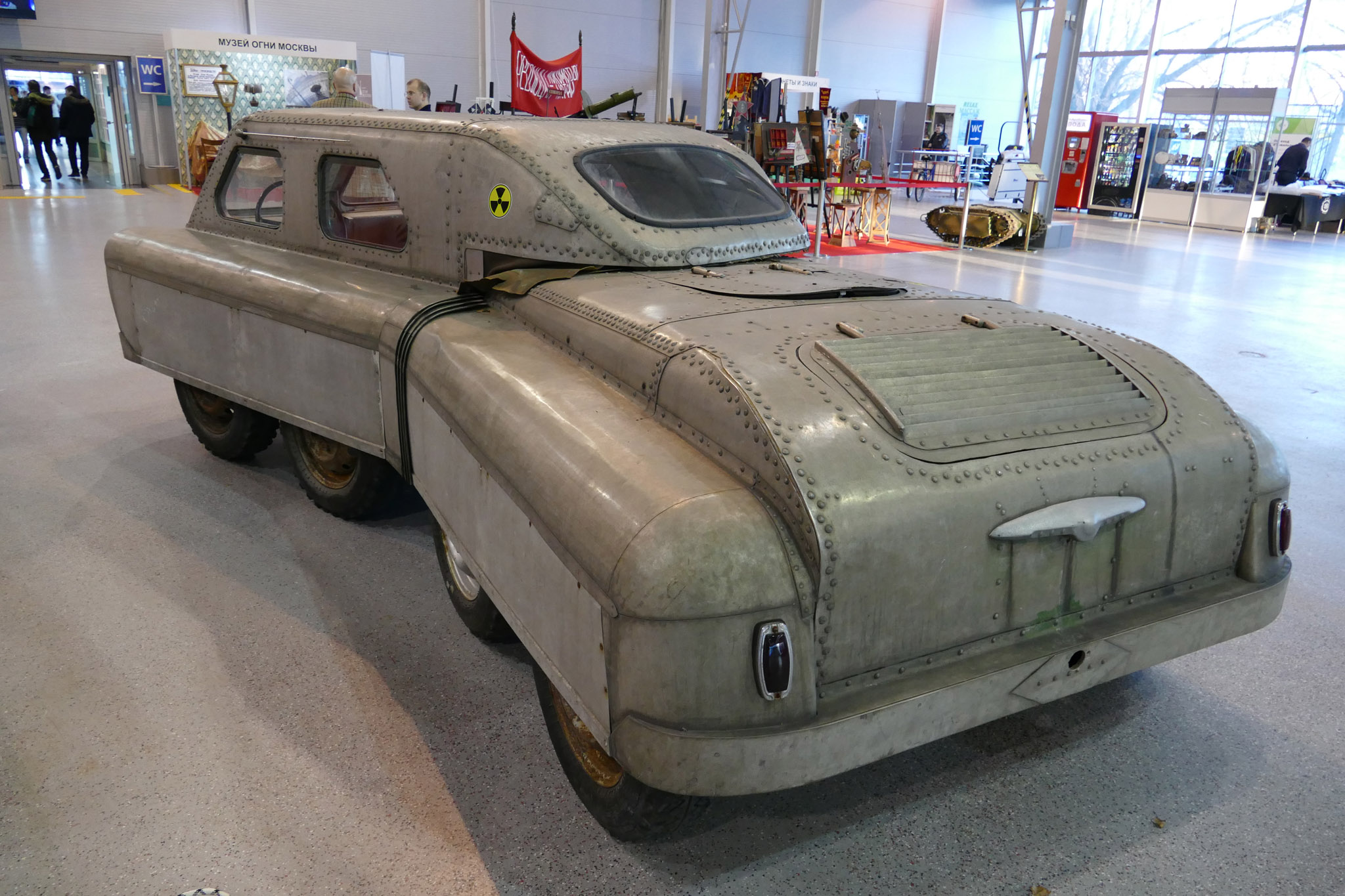 Maxim Melnichenko built this all-terrain vehicle at a Chelyabinsk tractor plant in the Soviet Union in the 1960s. Allegedly he had experience building tanks in World War II and used his knowledge to craft this vehicle for hunting and fishing. It is called the Argo and sat in his garage until his daughter sold it in the 2010s.
2/10
Argentine Flower Car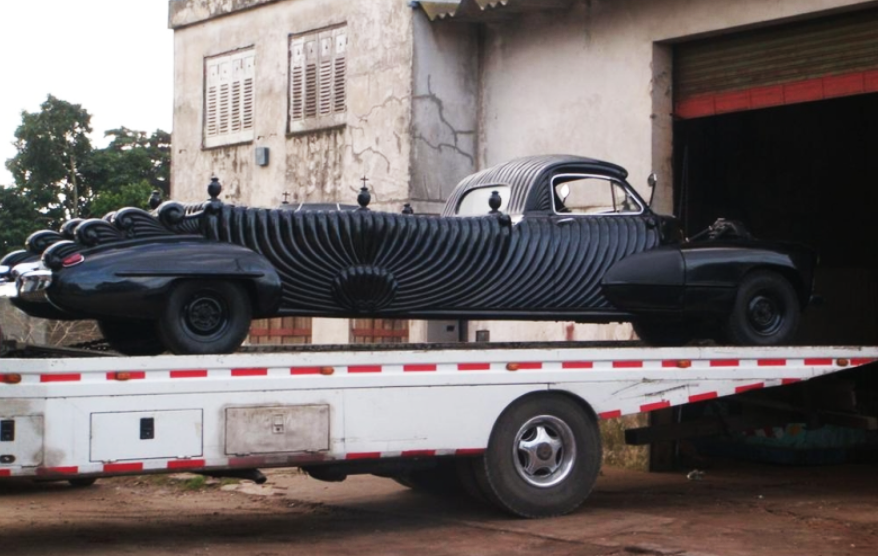 Someone turned two 1940s Cadillac into these hand-carved hearses. The current owner, surfer Fernando Aguerre has no idea who made it. He spent five years restoring the first of these two vehicles. He says the most challenging part was finding old parts and believes the second restoration will go much quicker.
1/10
Big Yellow…Hot Rod?
This bus makes for one of our strangest yet coolest custom hot rods. If my school bus looked like this when I was little, I would have gone to school on the weekends! Okay, so that is a bit of a stretch. Maybe I would have just taken it out for a spin on the weekends, with the bus driver's permission of course. There are so many good things we can say about this bus. The lowered look, the blower popping through the top of the hood, and words "Shortcut High" all work to give this rat rod a completely over the top feel. It is truly impressive and I'm sure the owner has a great time running around town in this thing. Plus, don't forget, it is extremely fast so that can mean only one thing, you will never be late for class! You may even have time to stop and get the teacher an apple on the way. Those are the perks that come with owning a hot rod school bus.
Check out 50 more hot rods not afraid to be different!