Ranking 10 Classic And Powerful Pickup Trucks You Can Buy
2015 Chevrolet Silverado (Duramax) – $18,000 – $40,000
One of the best powerful pickup trucks you can buy is the 2015 Chevrolet Silverado with the Duramax diesel engine. It is easily among the most powerful trucks ever made, generating 765 pound-feet of torque. Amazingly enough, this impressive torque is at only 1,300 rpm.
Such power and torque are necessary given that the auto weighs 7,500 pounds. Despite that weight, the power lets it reach 60 mph in just 7.2 seconds. To top it all off, the interior can be downright luxurious with plenty of space and leather upholstery to stretch out on.
Quick Fact: The engine is a 6.6-liter unit that also has 397 horsepower
2018 Nissan Titan – $35,000 – $47,000
The 2018 Nissan Titan  is another one of the best powerful pickup trucks.  It is agile to an extent that will surprise most drivers.
The engine gives you accurate handling and solid acceleration, perfect for all of your driving needs. You can equip the Titan to tow 9,740 pounds or carry a payload of 1,950 pounds. As with the torque, the figures are impressive but can be beaten by competitors. What reason is there not to buy one?
Quick Fact: The 5.6-liter V8 delivers 394 pound-feet of torque along with 390 horsepower.
2018 GMC Canyon (Duramax) – $19,000 – $40,000
The GMC Canyon is the mechanical twin to the Chevrolet Colorado. Like the Colorado, the 2018 Canyon with the 2.8-liter Duramax turbodiesel generates 369 pound-feet of torque, along with 186 horsepower.
The Canyon gets 30 or 28 mpg on the highway, depending on whether it is 2WD or 4WD. You can add luxury to the strength with the Canyon Denali or enhance its off-roading powers with the All-Terrain Trim. We say it is one of the most powerful trucks you can buy.
Quick Fact: The Truck has a six-speed automatic transmission.
2018 Ford F-150 Raptor – $30,000 – $60,000
Next on our list for the "Classic And Powerful Pickup Trucks You Can Buy" is the Ford F-150 Raptor. It is one of the multiple versions of the popular Ford F-150 that is powerful enough for this list yet unique enough to be mentioned separately. The Raptor gives you 510 pound-feet of torque plus 450 horsepower, ensuring that you will get your thrills as you drive along in the F-150.
The Raptor particularly excels off-road thanks to a locking rear differential and rugged suspension. This is the Ford F-150 to go with if you want high torque and off-roading in your truck. If we could buy all these trucks we would.
Quick Fact: The engine is a 3.5-liter V6 with turbochargers and fitted to work with four-wheel drive as standard.
1946 Dodge Power Wagon – $46,000 – $59,850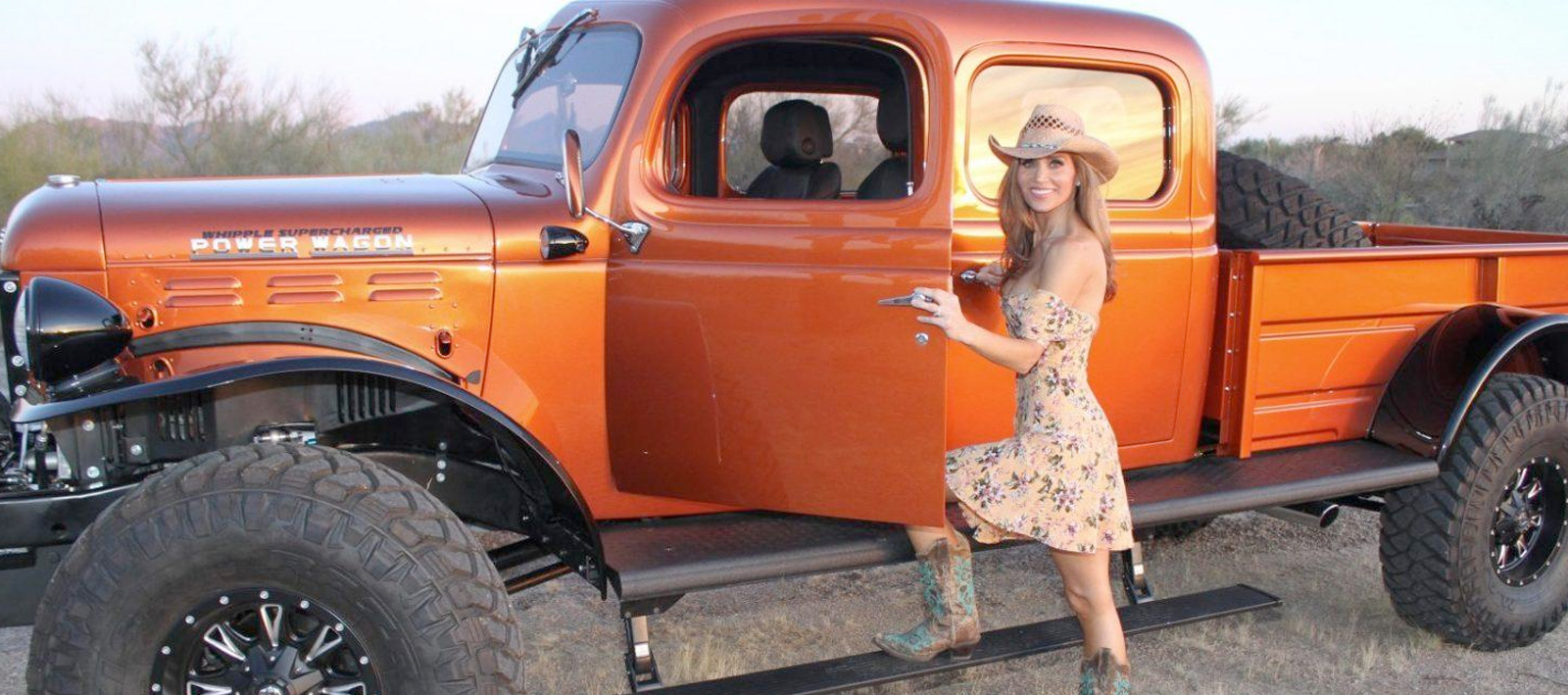 A new owner just bought this beautiful 1946 Dodge Power Wagon Crew Cab. Listing price? A cool $259,950. This is one of Truck Trend's top SEMA builds. Powered by an SRT8 Hemi with a Whipple Supercharger. It puts out 575HP at the AXLE and over 650 at the motor. Maxxis Tires used this as a display. If you want an original Power Wagon, you can go much cheaper.
Quick Fact: The original model include 230 cu in (3.8 L) Flathead I6 engine.
2019 Chevrolet Silverado (V8) – $29,000 – $55,000
Equipping the Chevrolet Silverado with the powerful 6.2-liter V8 gas engine is one of the best powerful pickup trucks you can buy. It gives you an impressive amount of torque, 460 pound-feet, along with a capable gas engine. This top-spec V8 from General Motors also provides drivers with 420 horsepower.
The V8 engine in question that delivers this torque arrived in late 2013, giving Chevy a narrow lead over Ford in terms of top torque and horsepower. The 2019 Silverado continues the trend, maintaining the engine output while maximizing the interior comfort and tech.
Quick Fact: With this version of the vehicle, drivers can tow up to six tons.
1947 Chevrolet 3800 – $5,000 – $42,000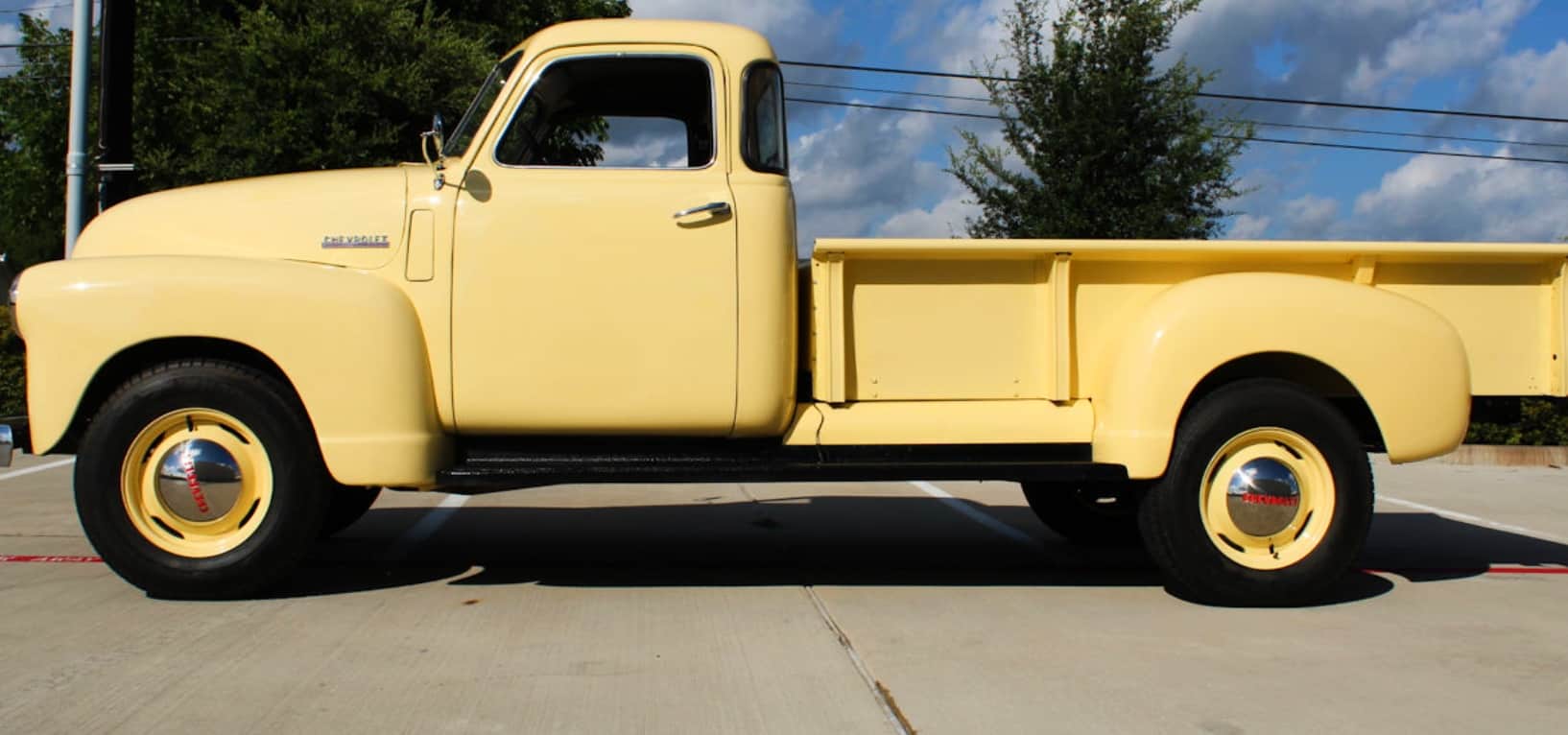 This is a workhorse, no doubt about it. This particular '47 Chevy 3800 received an excellently done complete frame-off restoration, no doubt about that. It's got a 9-foot bed that the team painted Butternut Yellow. Most of the Chevy 3800's you could find might be rusty, but we say nothing is beyond repair. We are glad this piece of beauty and history is in as good of shape as it is! Check out local listings and see if you can get your hands on one in excellent condition.
Quick Fact: The 1947 Chevrolet 3800 was the first truck to use Chevy's new post-World War II "Advance Design" with a 5-bar horizontal grille and rounded profile.
2014 RAM 3500 (Cummins) – $21,000 – $40,000
Configuring the 2014 Dodge RAM with the Cummins turbodiesel engine gives you a vehicle with a whopping 800 pound-feet, working with 370 horsepower. This turbodiesel is a 6.7-liter straight-six. Thanks to this power, the 2014 RAM 3500 can tow 30,000 pounds.
Quick Fact: This truck has a six-speed automatic transmission.
1954 Ford F100 – $18,000 – $35,000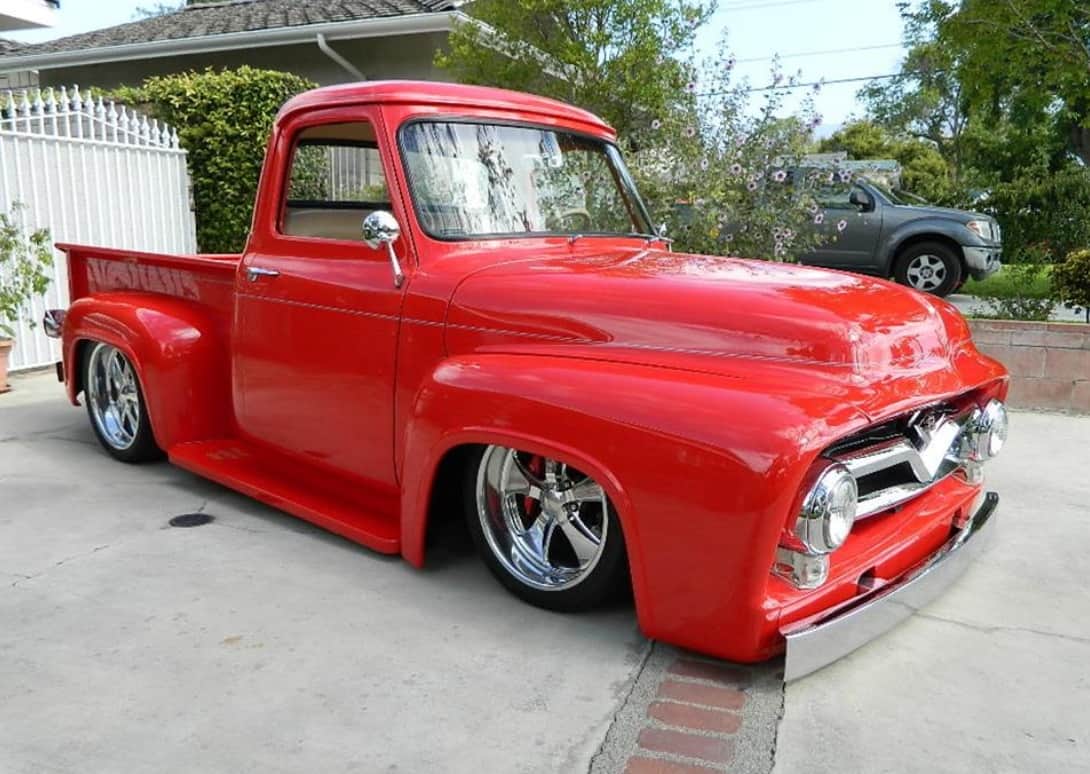 This custom Show Truck couldn't be dropped any lower if even it wanted to. The mechanics retooled just about everything in this F100, and we've got to say…it looks fantastic. Not every drop job can turn out this clean. The red exterior mixed with beige interior gives this 1954 Ford F100 a classic look. The brand new V-8 engine under the hood gives it a modern feel and sound. Given our choice between a pickup built recently and this beauty, you know which one we'd choose! Though take a look at other untouched and restored F100s, a lot of good deals out there.
Quick Fact: In the original 1954 model, it was the final year in the U.S. where Ford used the flathead engine in this series of trucks.
2018 RAM Heavy-Duty 2500 – $40,000 – $60,000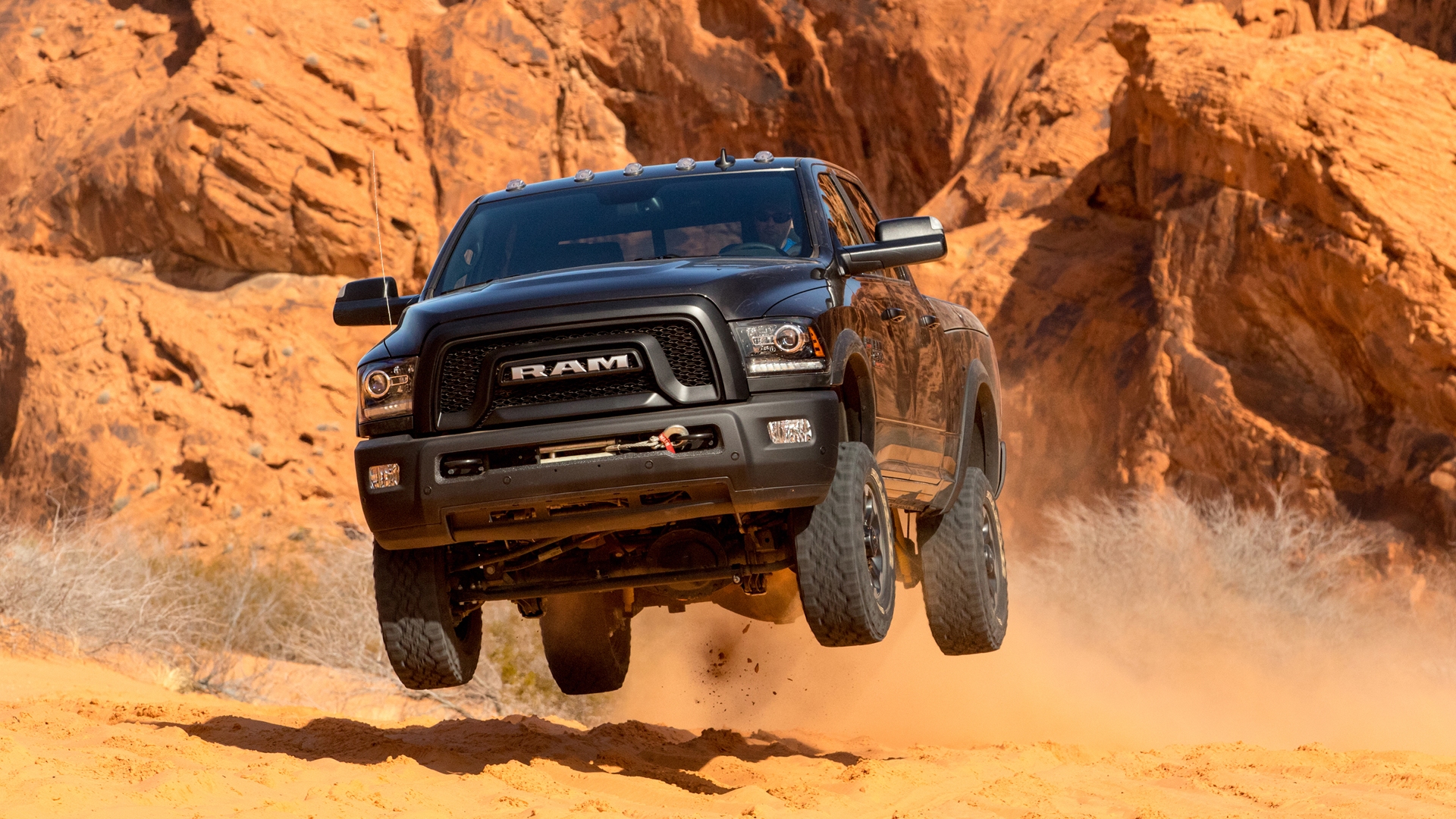 Yet another example showing that RAM knows how to produce powerful trucks, the 2018 RAM Heavy Duty 2500 gives drivers 429 pound-feet of torque along with 410 horsepower. This is not the strongest engine in the RAM 2500 lineup, but it is the most powerful one that uses gas. The 6.4-liter HEMI V8 engine will give you 429 pound-feet, letting you haul 3,990 pounds. It also has a comfortable ride and a spacious cabin.
Quick Fact: This truck can tow around 16,320 pounds.
Do any of these peak your interest or do you just want some more options? If so, check out the 35 powerful trucks on (and off) the road.