Offshore Fishing: Cruising for Barracuda
Fishing can and should be a beautiful thing. Cruising out on the warm subtropical Gulf of Mexico, Devan of the GAFF Girls is out cruising for Cuda. Barracuda are some of the nastiest fish in the Gulf of Mexico – with plenty of vids showing what happens when they hop onto a boat with their razor sharp teeth. So seeing this woman handle a barracuda is certainly a treat for those saying that women shy away from such things. Barracuda fishing can be some nasty business. But Devan appears to have the hang of it.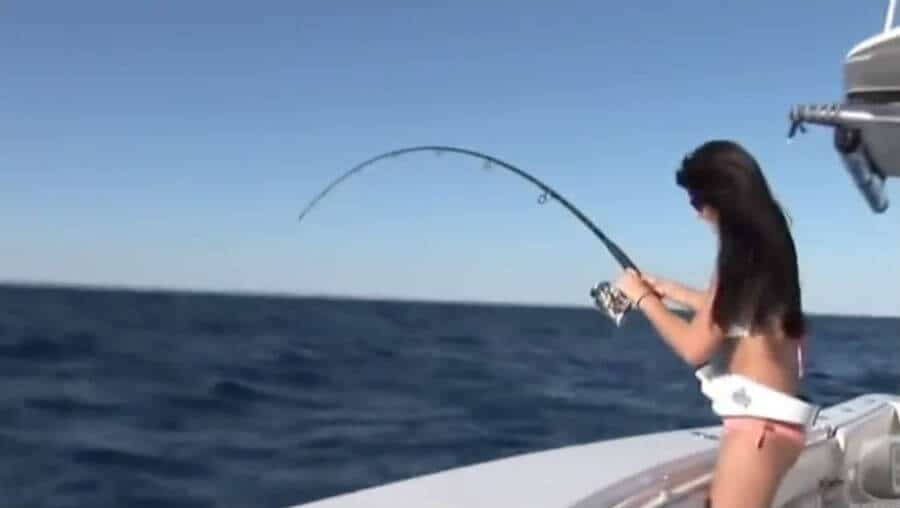 She's wearing a sturdy offshore fighting belt – which gives her the advantage of not having to anchor the end of the fishing pole onto either her stomach or her thigh. And this is where teamwork is especially important – she's got a fellow fisherman to hook the barracuda when it surfaces. No need to risk rows of stitches! I've been on a lot of charter fishing boats and if you're fishing for tuna or any fish over 15 lbs, a fighting belt is a great move. Not only does it save the pain of the next day when bruises form across anywhere the rod was anchored, it keeps the rod steady and let's the fisherman (or woman) focus his or her energy on reeling up.
Available in a variety of different hip sizes, it's a minimally intrusive yet effective option when reeling in big fish. However, when the catches begin to equal or exceed the weight of the fisherman himself, it's time to put on an Ocean Tackle Research (OTR) Harness. Built for serious stand-up fishing, it's completely adjustable and places the rod in a firmly supported position at or below the groin.
(READ MORE)
This is important because it allows the fisherman to leverage all his or her weight into reeling in that sail or marlin. The big difference is this harness is intended to be sat i